29 August 2018
How to Add Links in Emails with Stripo
What do we know about the links except for the general information from Wikipedia? Where to put them in our emails and how to make them meaningful and persuade the customers to click them?
I wanted to enumerate all the pros and cons of using links in email templates but there are no cons at all. Only pros of doing this: you increase the CTR, thanks to the links customers do not have to search for your website online — they get right to the place where they want to, without being distracted by other sites ?
Types of links
Hyperlinks for files and buttons
A hyperlink in emails, also known as simply links, takes us from a website to another one or take us between pages within one site, or to specific images and other media files.
According to the statistics by eSputnik, the ESP we use, an average promotional newsletter contains 20 hyperlinks. Do you think this is too many, especially if your email includes mostly images? No, it's not. In fact, every picture used in a message should have an alternate name and a link.
The alternate name is necessary as there are cases the image is not displayed on a device. This way the readers know what the message is all about.
Look at the click map of our Valentine's newsletter, provided by our ESP: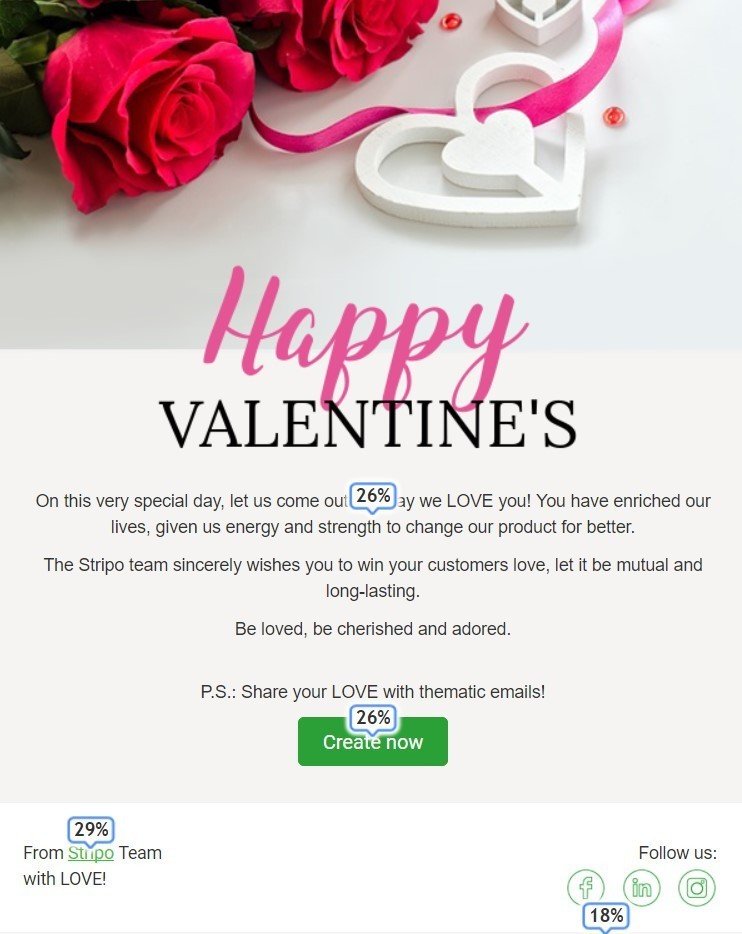 26% of people clicked the banner. The same amount of people clicked our CTA button.
Note: a CTA is an embedded link in email wrapped in a decorative button.
Why would you add hyperlinks in emails? Some clients click everything they see and like in the email. For that reason, it's advisable to make clickable as many details of your message as possible.
The call to action button is also just a link in your email. Where should the hyperlinks take us to? Directly to the proper pages of your website, be it a registration page or any other one.
Hyperlinks for plain text
We may need to place plain text in the email body. Typically, it is done for some kinds of triggered emails.
It's easy to add hyperlinks to text in an email. No knowledge of codes, no HTML skills required here. Easy-peasy to do it.
In order to make the links eye-catchy, it should contain 3+ words, start it with the keywords and be descriptive.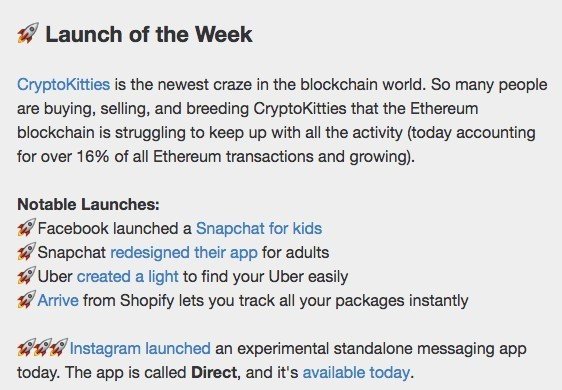 Anchor links
Anchor links in emails are meant to take the readers to specific paragraphs in a text. They are barely used in email marketing for two reasons:
they do not increase your website traffic as they do not lead to it;
for this purpose, your email newsletter should be too long.
HTML code links
HTML codes for countdown timers or GIFs are sometimes called links. Yet they are inserted in a rather different way.
How to add a link in an email
So where do we add links in emails? This all depends directly on the aim your newsletters perform. But the most general ones are added to each and every image, the menu tabs, our contact information, our social nets accounts, survey invitations, videos, and even to the maps.
In one of the previous articles, we showed how to add video links in the templates with Stripo.
We simply insert the link into the video block — the system automatically creates and places a screenshot of the video, adds the alternate text and the play button. Btw, with us, you can choose the color of the latter.
We also showed how to insert countdown timers into your templates — you will need to insert HTML code into the code editor. But very soon we will have this feature embedded into our builder — you will set the timers fast and easily with no HTML codes.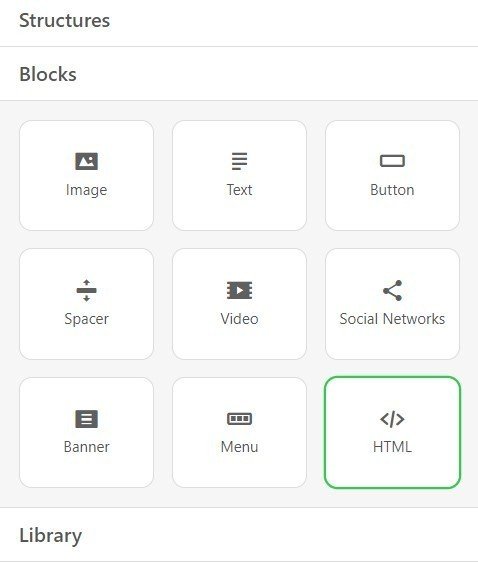 And my favorite part about hyperlinks in the emails you create with Stripo is "smart-elements".
What is it? You need to display 2-50 items of your products, including links, description, prices and, of course, snippets of the products themselves. This is very grueling. Stripo lets us spend less time on this arduous work.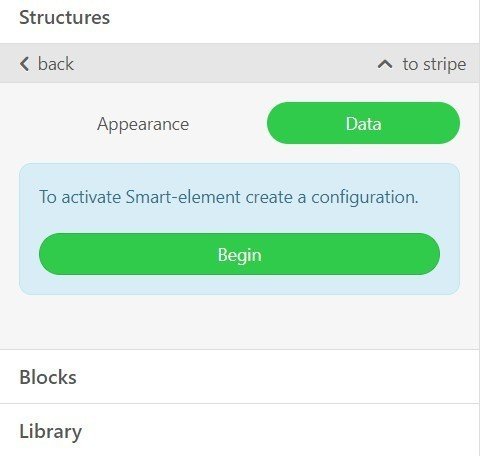 How does it work? We add the link in our product card, and the system obtains all the data about these products from your website, fills in the necessary fields in your template. This unique feature saves us lots of precious time. All we have to do is to choose the structure of the smart-container — the way your product will be displayed. Then insert the links for the proper items. And enjoy the result.
For more detailed information on how to use "smart elements" please read our article.
How to add links to the contact information
Perfect email footer contains our contact information. And if our subscribers have some questions, they would love to connect with us via email. But this is not the best idea to make them highlight our email address, copy it and then go to their email box and compose a message there. It will be much easier if you insert a link " :mailto ". This feature enables your customers to start writing emails with just one click.
How to add links to contact information with Stripo:
add a new stripe to your email;
insert the "button" blocks into the new stripe;
give names to the buttons. I named it "Contact us";
select ":Mailto";
insert a specific email address.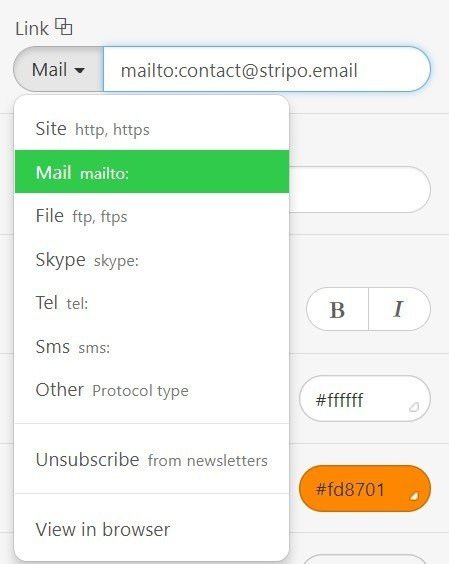 I love this option as every day I need to write dozens/hundreds of messages. And this feature saves me lots of time. I just click the button, and the email with correct address is created:
Note: recommended no to implement this option in promotional emails.
Important: the :mailto link doesn't work in Outlook.mail and on IOS, yet in Gmail, on Windows OS and on Android devices is opened correctly.
You don't have to do this big amount of work every time when creating a new email. You just need to save the contact block/footer to your personal content library. And whenever you decide to make a new template again – you will only have to pull this block into your template. Done.
See how to insert social media icons in your email footer.
Wrapping the links
Once you have put a link in an email, you may use then your rich imagination to decorate them.
Some of the links are applied to media files and the readers do not really see them. But what about the links in buttons? They should not be boring. Work on the design — make them colorful and bright. To the links — actually, the text — in buttons, apply various font colors and size, highlight them with contrast or matching backgrounds.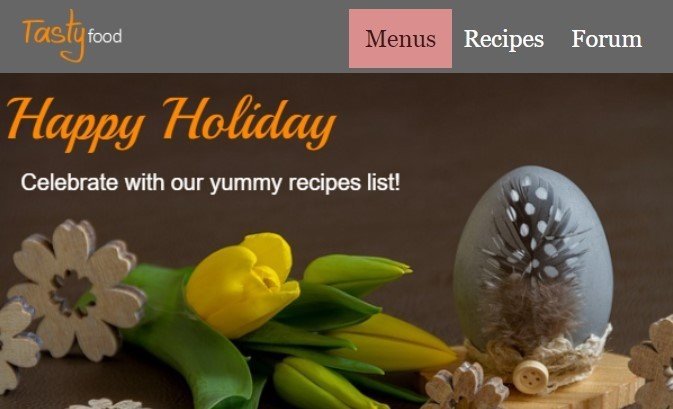 Links in the plain text should be visible: apply a color, which is not similar to the main text's one. Some time back we used to underline the links in our emails. Now it is at your discretion.
In my opinion, simple links with no extra lines under, above or across look the way more attractive and legible.
Conclusion
Using links in emails is an integral part of every newsletter. Each of them requires special treatment. But there are common rules for work with various ones:
Choose the proper type of the link when you insert it;
Add alternate text to every link;
Wrap them up;
Links in emails are your care about the customers.
? Please, be advised that you cannot test the links while working with the editor. Send a test message to try the HTML email links out.
Simplify your customers' lives. Use links to direct them to a website, to your social net accounts, help them easily contact you.
May your customers be always satisfied with the newsletters you send, may they click the links you offer. Our unique technical features and orderly-shaped templates will facilitate this process for you.
For any questions or comments, please connect with us on Facebook.
I wish you all the best!