Promo and new product announcement emails can be really cool and effective enough. But we are going to tell you how to become even more interesting to your customers with teaser email campaigns.
But what does a teaser email mean? With emails of this kind, you intrigue and build anticipation for your products and events without sharing much information on them.
How to make a performing teaser email? See the strategies below and learn from the best. i.e. get inspired by the best examples.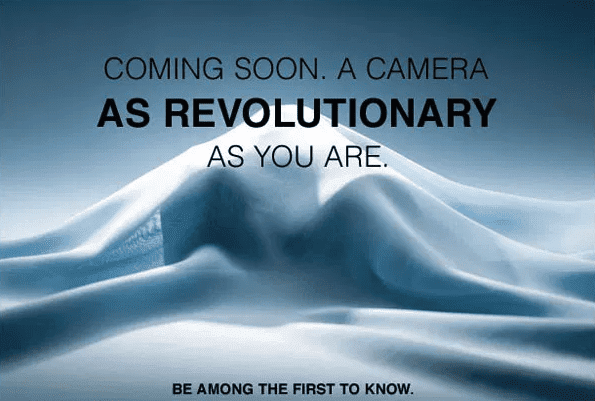 (Source: Photoxels, email by Olympus)
Strategy for successful email teaser campaigns
Certainly, prior to running any campaign, you should thoroughly think the strategy through.
With teaser emails, we usually try to announce three things, and therefore, you will be dealing with one of three types of teaser campaigns:
1. Teaser email campaign for upcoming sales
Undoubtedly, this is the most common product teaser email campaign. Upcoming promotions can be dedicated to any holiday, like Christmas or Black Friday. Any online store or company in any industry may try out this type of teaser email.
Here you may focus on the products you are about to cut prices for or the amount of the discount you offer or on the date. Some marketers think that adding a countdown timer is enough when starting a teaser campaign. But in fact, it's not.
On average, it takes two emails for this type of teaser email campaign. The first one is used to announce the sale, and the second one is to remind customers about the starting date.
Normally, the first one is sent a week or just a day before day X. And the second one is sent on day X.
Yet, you may send just one: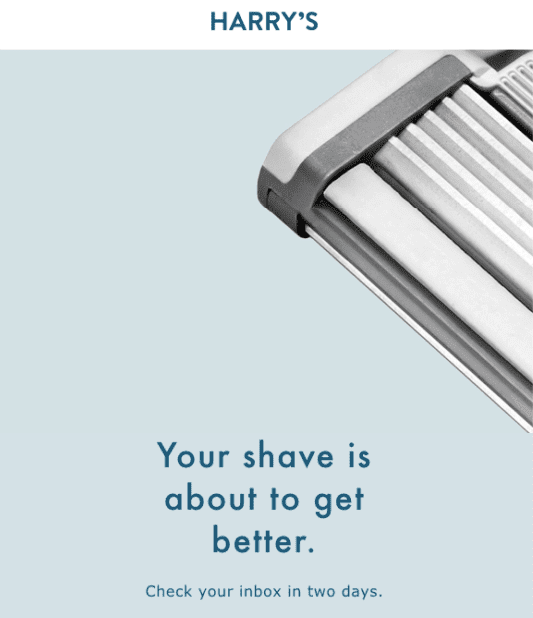 (Source: Really Good Emails)
2. Teaser email campaign for upcoming launch
This is probably the most serious teaser email campaign, as it requires a lot of your attention and effort. This type of email is commonly implemented by those companies whose products are supposed to be long-awaited and are not released often — once a year or less. In fact, a new product teaser email is very similar to a product launch announcement email. Here we do not reveal all the features at once, we do our best to "shed some mystery" on our product.
Well… the focus should definitely be on the product and on its unique cutting-edge features. Describe just one at a time — do not reveal all the features in one single email.
Also, show a few more features of the product or more details regarding the release date on your website. In each email, ask your readers to visit it for more information.
Depends on what kind of product you are promoting this way and on how much time you have left till the product launch date. Normally, it takes from 2 to 5 coming soon emails to build anticipation and to grow it.
In the last email of this series, reveal the majority of the features and invite recipients to visit your website for full information. It could be a product teaser page if you build one.
Certainly, you will need to create a new landing page.
Two-four months before. Apple announces the release of a new iPhone in June, though it is released in September/October. They do reveal details just one at a time. This draws attention to the brand and makes its product launch go viral.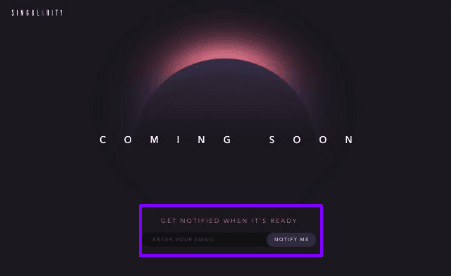 (Source: Pinterest)
3. Teaser email campaign for a special upcoming event
Are you about to open a new shopping mall in your town? Or are you releasing a new movie? Then definitely, you should inform your potential attendees about it.
There are two options to focus on in a teaser email for an event — the event date or on the event itself. Certainly, focusing on the date means that you will only inform your recipients about the date, and will not tell them what is going to happen. If you focus on the event itself, then you mention the kind of event but do not mention the date. Until a definite moment…
Depends on how much time you have left. Two to five would be great. The first one is to build anticipation, the second, third, and the fourth are to keep it warm, and the fifth is to reveal your secret.
But never make the sequence longer than five emails, otherwise, your customers may burn out.
This is what Pixar sent to its subscribers back in 2006 before the cartoon's release: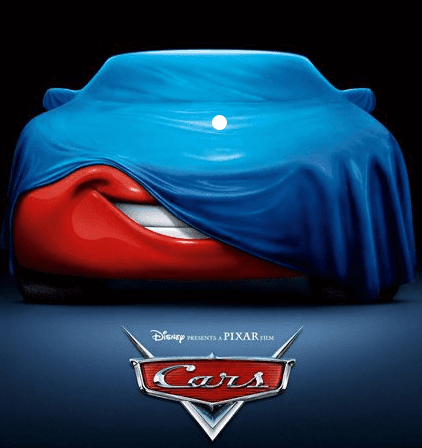 (Source: Pinterest)
We all remember that "Cars" brought $10 billion to its producers, don't we? Teasers really work!
This depends. Usually, events like conferences, meetings with famous people, and movie releases are typically announced 3-6 months prior to the event.
If you are an online store, you may do it just a few weeks or even days before the very event.
10 examples of teaser email campaigns
In fact, there are not many of them. Unfortunately, just some companies come to this trick. Yet, it would be nice to get inspired by the best teaser email examples given below and start your own teaser email campaign.
1. Teaser email from Mini Boden
Subject line: HARRY POTTER ⚡.
I have no idea how an apparel store can use the Harry Potter theme. This made me anticipate the next email from Mini Boden.
(Source: Email from Mini Boden)
What is so good about this teaser email: Its design is perfect. Mysterious, and intriguing.
2. Teaser email from Mercedes
Subject line: The VISION EQS: A milestone in a new era for the automobile.
Mercedes knows how to keep the audience's interest.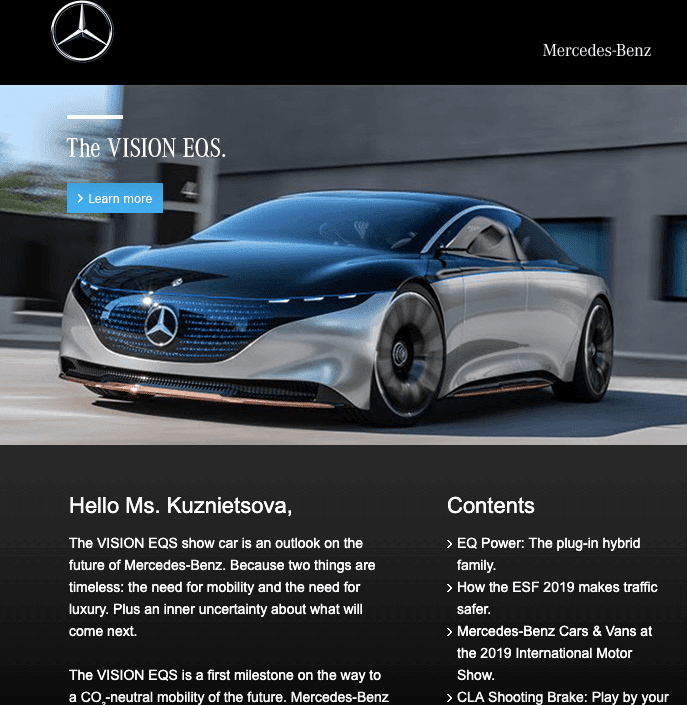 (Source: Email from Mercedes-Benz)
What is so good about this teaser email: Mercedes shares an outlook of the car it's going to release next year. It provides an image and a detailed description and gives a sneak peek of the upcoming product.
3. Teaser email from Birchbox
Subject line: Stay tuned.
This is another great example of an email teaser campaign with a focus on time provided by Birchbox.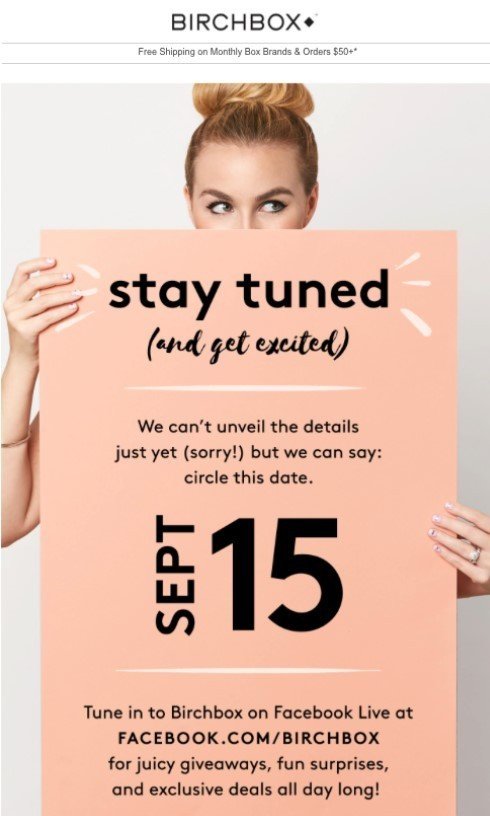 (Source: Email from Birchbox)
What is so good about this teaser email campaign: Just like Apple, Birchbox didn't give too many details but mentioned the full date and a photo of the girl looking somewhere aside as if seeing something really exciting and intriguing just spiced up the "Stay tuned and get excited" inscription.
Yet, to make this trick, the company should be well-known and have a high level of credibility. Apple and Birchbox sure do.
Tesla Inc. also uses this trick to promote new car releases and announce the start of the pre-order period.
4. Teaser email from Tom Raffield
Subject line: Guess where we're going.
We've already shared this email example by Tom Raffield with you in one of our blog posts. But it's really cool and we'd like to highlight it once again.
(Source: Really Good Emails)
What is so good about this teaser email: Not only did this brand puzzle its recipients about where the Tom Raffield team was going, but it also utilized interactive elements to add even more intrigue to their email.
How to make a teaser email similar to this one with Stripo:
drag a three-column structure into your teaser email template;

drop the Image block into each column;

upload your first image;

toggle the "Rollover image" button to activate the rollover effect;

upload your secondary image;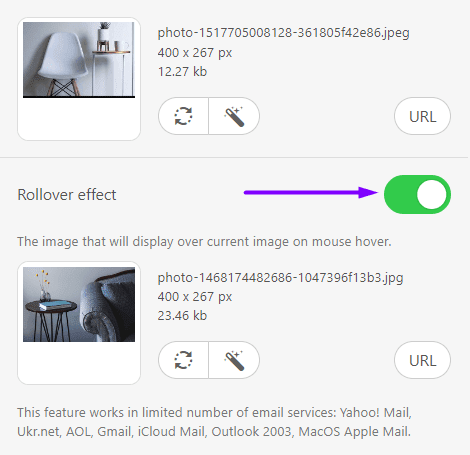 do the same for each column.
5. Teaser email from Bobbi Brown
Subject line: The "It's big" series.
Apple's not the only brand that can intrigue its subscribers with teaser emails. Some other companies are good at it, too. Now that we have seen two great examples above, we may not get surprised by one more email like this.
Yet, you need to take a look at it as long as it has continuation: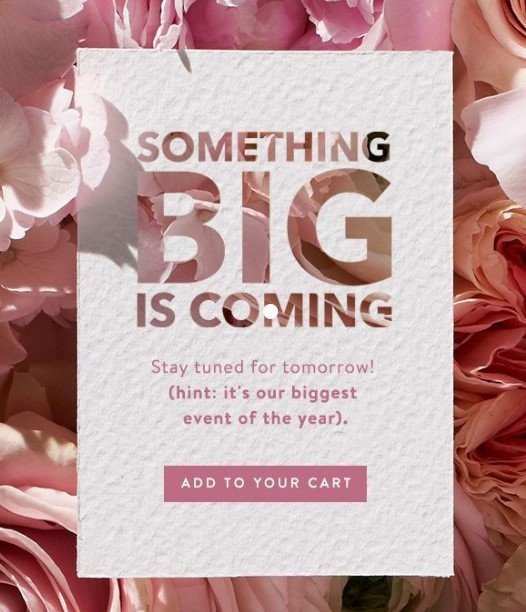 (Source: Pinterest)
"This starts now". But this email was preceded by:
(Source: Pinterest)
What is so good about this teaser email: This is a sequence.
"Stay tuned for tomorrow" — seems like a great idea to make customers anticipate the next campaign.
6. Teaser email from Apple
Subject line: Save the date.
The Apple marketers know for sure how to create a perfect teaser email campaign. Apple products, like iPhones, are the most awaited products of the year. Are they the only ones who produce good smartphones or smartwatches? Definitely, not. But their marketing teasers make us anticipate the product launch.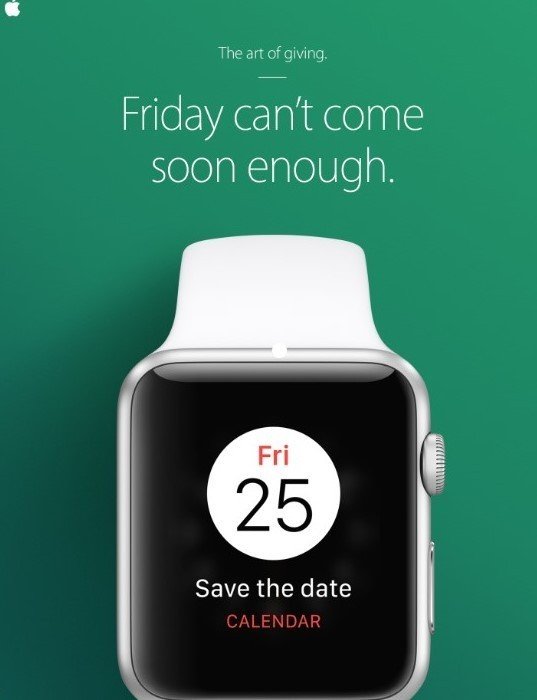 (Source: Pinterest)
What is so good about this teaser email: They do not tell us what is about to happen, but ask us to save a specific date. No additional info is needed here.
Make sure you have something really special to offer to justify customers' trust.
7. Teaser email from Porsche
Subject line: We are bringing our vision to the road: Mission E becomes Taycan.
Sharing the details of a new car with car enthusiasts sounds like a good idea. Porsche is an 80-level expert in teasing clients because it does not share any detail in the teaser emails, it just reminds its clients they are working on a new car. The silhouette of a car, hidden behind a veil, arises even higher interest and curiosity among Porsche enthusiasts.
(Source: Email from Porsche)
What is so good about this teaser email: Not only did Porsche hide the details of what its new car is going to look like in the email, but it did not reveal details even in the video.
8. Teaser email from Samsung
Subject line: Be the first to experience it.
That sounds like a good reason to attend the presentation of a new product. Here, they play on our desire to be higher than others, stronger, to be the first! Shortly speaking, appeal to vanity.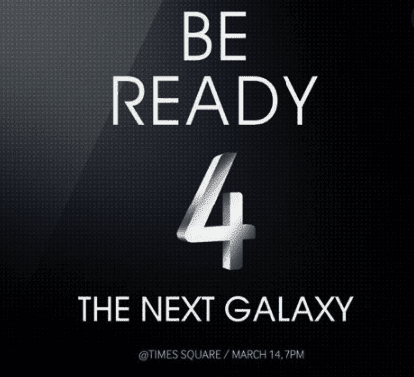 (Source: Email from Samsung)
Hurry up! Because only one person can be the first!
9. Teaser email from the Hotel Management
Subject line: Can you keep a secret?
I'm not sure. But I would love to hear it though! How can I get to know what it is all about?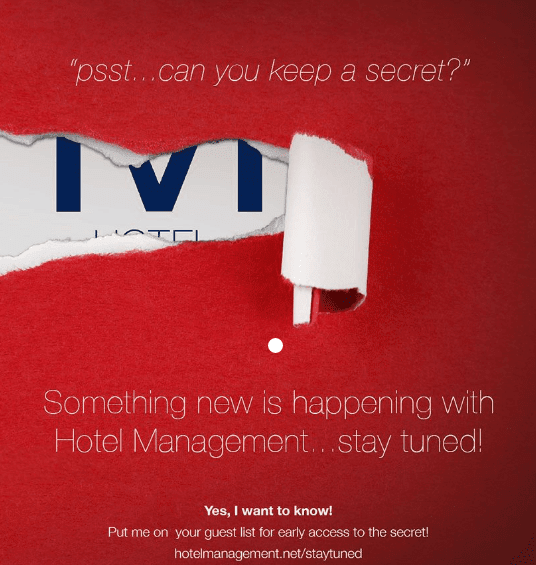 (Source: Pinterest)
What is so good about this teaser email: The Hotel Management did not mention what they are about to change. It can be anything: interior design, new ways to entertain guests or new hotels somewhere on the islands of the Mediterranean Sea.
And customers will love to join you!
10. Teaser email from Havenly
Subject line: Something new is coming to Havenly.
Just another great example of a teaser email campaign.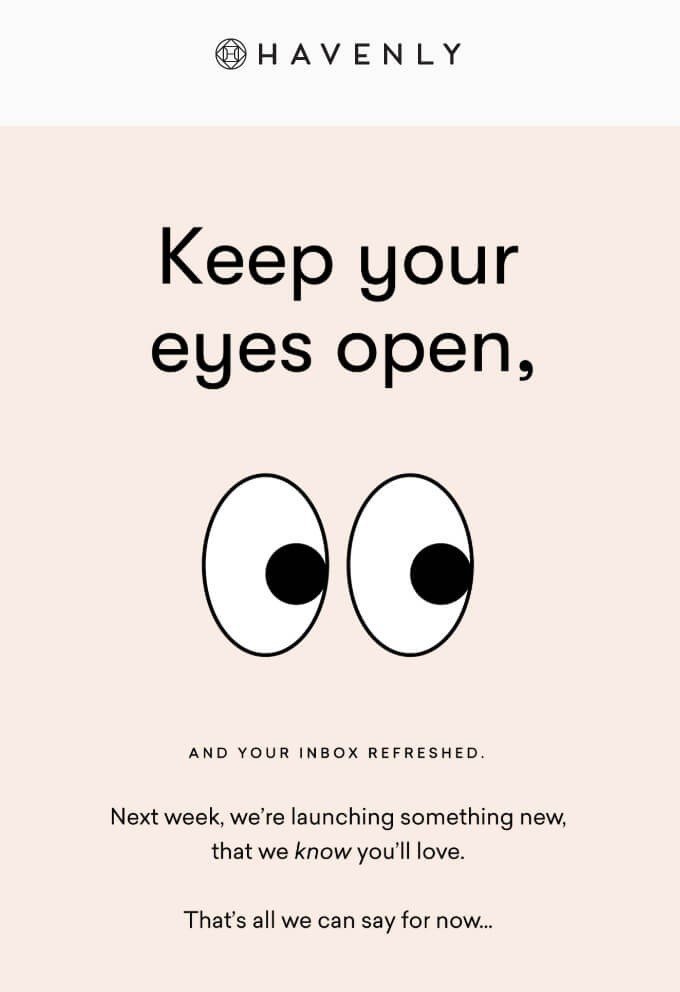 (Source: Email from Havenly)
What is so good about this teaser email: I loved its design, especially the banner. And the fact that they asked recipients to check their inbox the following week.
We've shown the best teaser email campaigns to get you inspired to build your own one. But how do you get recipients to see those emails? You build powerful subject lines.
Teaser email subject lines
But let us always remember that it all starts with the campaign's message that is carefully expressed in the subject line no matter how beautiful your email is. Some big companies can say "Guess what it is" or "Guess what's inside?" and it will work for them. But small companies need to fight for a higher open rate.
Make it intriguing, yet clear.
Examples of teaser email subject lines
All the titles that we used for each example in the previous section are the real subject lines.
Looking for a caption for new product launch example? Check these ones out:
Psst... Coming Soon — Monica Vinader.

Introducing Tease Crème Cloud ✨ — Victoria's Secret.

Big news to unbox — Monica Vinader.

The Mermaid Tote Is FINALLY Here — Brighton.

A Dream Come True — Victoria's Secret.

The Taycan dream, closer to reality — Porsche.

It's coming — Harry's.

Coming soon to your favorite screen — The MarketingProfs Team.

For the First Time Ever — Chubbies.

Electrified at a New Level — Porsche.
It is worth mentioning that you can also work on the Hidden Preheader text. It can be like a continuation of the subject line.
With Stripo editor from now on, you can set preheader text and email subject right within the template.
Click the "settings" button above the template you are working on: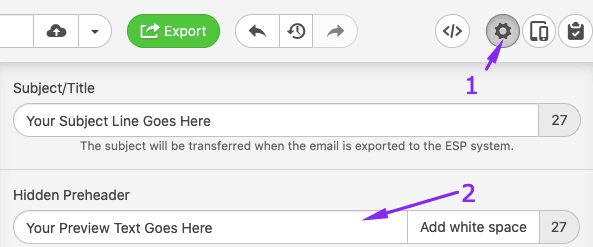 Wrapping up
Apart from the creative teaser campaign ideas given above, there are some things we still should mention:
Work on your teaser email design
Looking back on all the teaser email campaign examples, we can say the teaser email design depends totally on the object of your focus. And here you have no restrictions at all. The only rule is to make it eye-catching and really intriguing.
This will take you a while, but the result will likely pay off.
Work on your teaser email copy
Email content is a great part of the successful teaser email campaign. Your catchy subject line, preheader, and email copy should build intrigue and desire to get to know more information.
Add the call to action buttons in teasers
In email campaigns like these, if your email is focused on a date, be sure to include the "Add to calendar" button, and only one single call to action button if the email is focused on a product release.
Choose the right time for your teaser emails
There's no need to come to this trick very often.
Do it only when you have something really huge to offer to your clients!
One announcement at a time
Dedicate your whole campaign to one thing only. Keep the focus.
Use follow-up emails to reach the goal
Complex email marketing is not limited to a single announcement email. Be sure to remind them about your offer again, especially on launch day.
Was this article helpful?
Thanks for your feedback!