21 May 2018
How to Create Email Newsletter Template for Outlook with Stripo
Until recently, it was difficult, almost impossible to send HTML email newsletters through Outlook that would be displayed correctly. And Stripo found the way out. From now on you can export HTML email templates from our editor to Outlook.
But why would you need to use Outlook when you can send emails with GetResponse, eSputnik or any other ESP?
There are the reasons…
Why we decided to add direct export to Outlook
Many of our users reached us out to ask about the way they can export templates to this email client.
So, our developers started working on this project. And we have released this option.
According to Litmus, 7% of people currently use Outlook. Mostly, they are corporate clients who need to send out internal newsletters, be it an annual report or company's news and updates. Definitely, this requires an HTML email template to make email/report orderly-structured, responsive, and maybe even interactive with tables, video-instructions or video-greetings embedded.
All emails of this kind, especially annual reports, should be kept confidential. Thus, you are unlikely to send them via a third-party service. Even though all ESPs guarantee the safety of information.
Also, direct export to Outlook saves you lots of time as you would not have to export your private contact base to any email service provider.
Besides, you will not have to waste a high amount of time on procedures listed below.
The way it used to work before our direct export option
Of course, before we implemented direct export to Outlook, there had been three ways to export your email template to this email client.
There are many articles on the web describing those methods in details. But did they really work?
Way 1. Inserting HTML files
Yes, you were able to export/download the template you'd created as an HTML file. And then import it into your email client account. But that was not easy.
How many times have your attempts to import HTML email templates in Outlook failed?
You needed to save your email template as an HTML file. Then you had to convert it into Word Document file.
Then you would need to compose "New Email", insert the template file as the plain text. Of course, you were supposed to use Macro Script to save the template just the way it was, if you had downloaded this app. And finally, restart your Outlook account to make the changes active.
The entire process would take a few minutes of your precious time in case nothing goes wrong.
Because, during the import process, your template very often could get corrupted. This would happen because Outlook uses Vector Markup Language — VML. And here, you would have to "edit" the template. Those, who faced this problem, know how difficult it is to do it in the email client.
Source: Outlook-apps.com.
Note: when using this method, make sure you remove your personal signature if you have set one.
Way 2. Creating email template with media files right in Outlook
Certainly, you could create an email template right in this email client. But first of all, it did not provide you with the features and blocks an email editor does. Consequently, it would take you much longer to create a template with Outlook. And secondly, all emails with media files created in Outlook will not be properly displayed on other email clients.
In fact, none of the two methods mentioned above guarantees that your email template would be displayed on recipients devices correctly.
Way 3. Following Outlook recommendations
To make it possible to insert the HTML code into your Outlook email, use the "Bells and Whistles" add-in provided by Outlook. In fact, this app simply adds the "Insert HTML" button. But even here with this app, you will have to take many steps to get your email displayed correctly.
For detailed information, you can read an article on the Outlook website.
No tests needed any more
One more reason why we started working on direct export to Outlook was that this email client does not always display messages with media files correctly. Not the way you planned or wanted it to.
You needed to test email templates with Litmus to see the way your colleagues would see it.
Now you do not need to do it anymore as you know what your email will look like in your boss' inbox — just the way you see it in your account with Outlook.
The way it works now
We are proud to announce that Stripo is the first and currently the only one email editor that allows creating email newsletter templates for Outlook. On May 21, 2018, we released this brand new option: exporting email templates to Outlook.
Once you have created a newsletter template for Outlook with Stripo, you need to:
click the "Export" button;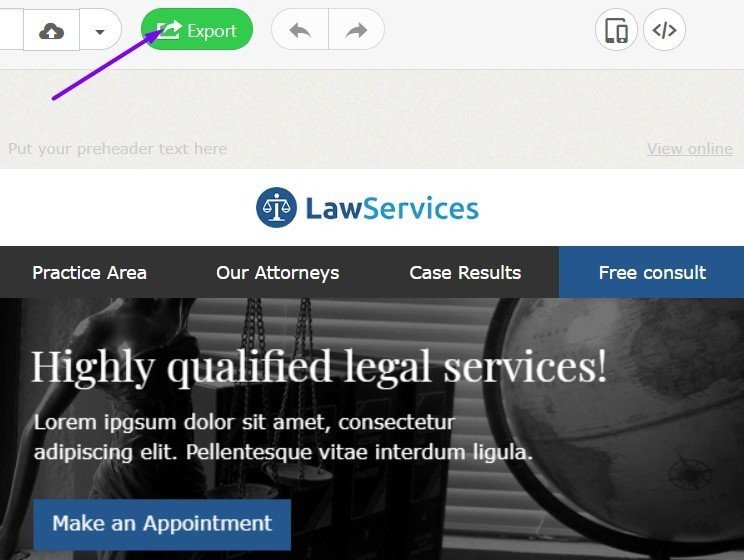 select Outlook from a number of ESPs suggested.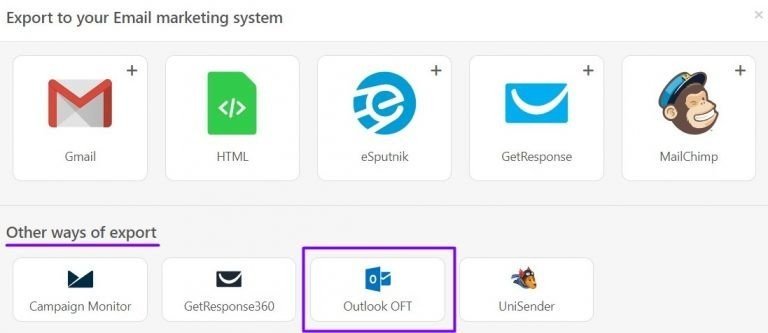 Done!
Note: once you have exported your email template this way, the next time you will see Outlook export option at "Export to your Email marketing system" line.
Your template will be downloaded to your computer as an OFT file — Outlook File Template. By clicking the file, you have an Outlook window with your ready-to-send email template opened.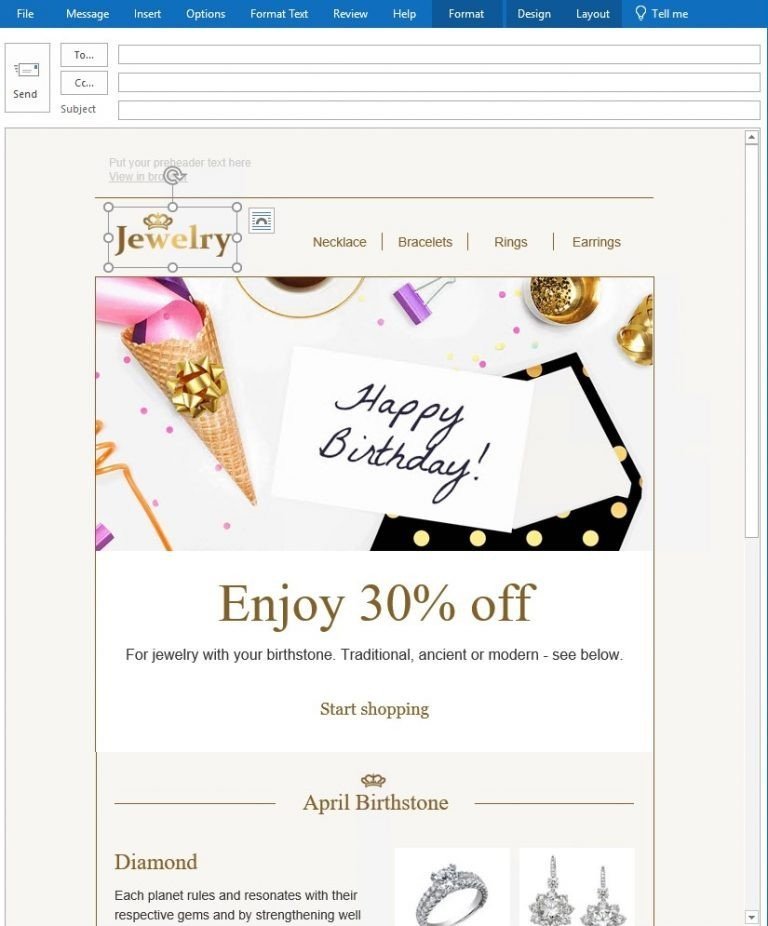 Note: in order to insert HTML or OFT files, you will need to download an Outlook app to your computer instead of using a web version.
Here, you will see it exactly the way your readers will. In this window, you can edit the template if needed.
Note: Microsoft Outlook may not display background images for entire emails on your recipients' devices. As this depends on the version of the email client they have downloaded. Please, find more details here.
Insert the recipients' name in the address line. Done!
Save all Outlook email newsletter templates to your personal content library with Stripo. Export them to Outlook with just 2 clicks at any time you need.
Summary
Dear Outlook users! If you have any questions or concerns, please contact us on Facebook or email us at contact@stripo.email.