Table of contents
What is a developer preview and why do we need it?
How to enable dev preview in Outlook.com
How to send AMP emails to all Outlook users
Word of advice
Final words
1.
What is a developer preview and why do we need it?
UPD: On October 1st in 2020, Outlook ends support of AMP.
On September 6th, Microsoft announced it rolled out its developer preview of AMP for Email.
It means that MS Outlook actually supports AMP — very soon those recipients who prefer this email clients over other email clients will see your AMP-powered emails.
What is a developer preview and why do we need it?
According to the Outlook blog post, the developer preview was rolled out for testing purposes. Because AMP support in Outlook is not for a wide audience yet and is not on by default.
Important to note:
It works in Outlook.com only!!
In fact, dev preview is like a preparation step.
It allows us to see if our AMP emails work in this particular email client. If they do not, we have some time to fix bugs that occur.
How to enable dev preview in Outlook.com
Today AMP emails do not render in Outlook.com by default. You need to activate the Dynamic Emails option.
How you can do it:
in your account, at the top-right corner, click the "Settings" icon;

enter the "view all Outlook" tab;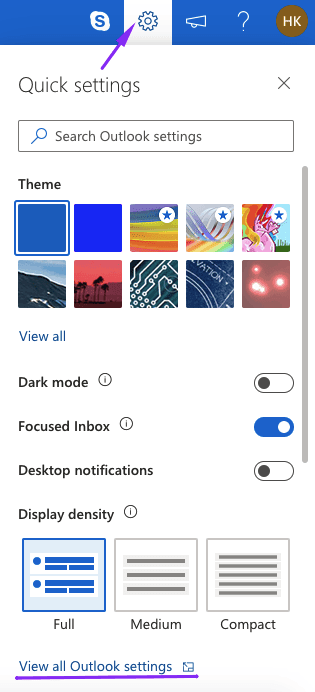 in the pop-up window, enter the "Message handling" tab;

then find "Dynamic email";

check the "Enable dynamic email in my mail" box;

click "Add" and enter an email address that you are going to send test emails from — info@stripo-test.email. By doing this, you allow Stripo to send AMP-powered emails to your Outlook account. But you may enter any other email address if you are going to use another email builder or send test emails directly from your ESP;

click "Save".
Important to note:
You can add as many trusted email addresses as you like.
How to send AMP emails to all Outlook users
For now, dynamic emails can be enabled manually and render in Outlook.com only.
In the short-run, this option will be on for all the Outlook users by default.
So, what are the conditions to send AMP emails?
In fact, they are too similar to the conditions requested by Gmail.
There are just a few of them.
You need to:
DKIM authentication;

SPF authentication;

DMARC authentication.
For more information on all these terms please refer to our dedicated blog post.
2. Send test AMP email
When your test AMP email is built, send it to: amphtmltest@outlook.com.
Write down the date and subject of this email — you will need it for the registration form!
Please be advised that you need to send a test email from the address that needs to be approved by Outlook.
How to build a valid AMP email:
All AMP emails that render in email clients need to:
have a clean and validated AMP HTML code;

have fallback written in the traditional HTML code — for those users who do not see AMP emails.
All AMP email templates that Stripo offers are validated, have both AMP HTML and traditional HTML versions and meet all the AMP for Email best practices.
3. Fill out the registration form
The third step is to fill out this registration form.
It contains just 12 easy and short questions.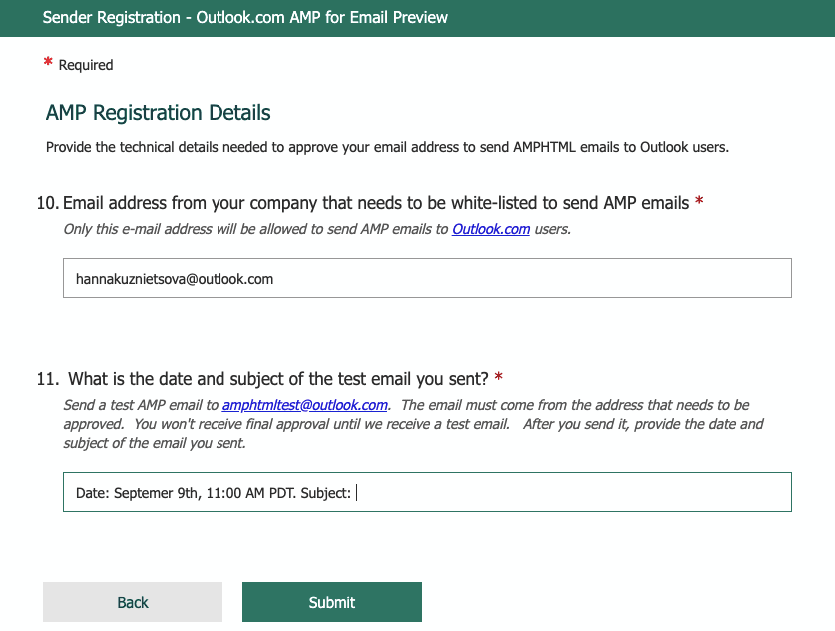 Your email will be reviewed within 10 business days.
Then you are supposed to get notified by Outlook if you as sender have been approved.
We are about to fill out this form now. When we get any response from MS Outlook, we will update this post to either let you that it's not that difficult to get whitelisted with Outlook or tell you what mistakes we've done so that you can avoid them :)
Word of advice
Here's just a friendly reminder. To be able to send AMP content, you need to:
fix all the bugs if any occurs. You will see them in the Preview mode (otherwise users will see HTML email);
add the fallback — HTML version — in this email;
make sure that your ESP/CRM is capable of sending AMP emails;
keep in mind that currently only Gmail (both web and mobile apps on all OSs) and Mail.ru are capable of rendering AMP emails. Yahoo and Outlook will join the list soon;
AMP emails lose their AMP components if you forward them.
Final words
Please remember that you can build valid AMP emails with Stripo with no coding skills by:
Stripo allows previewing both AMP HTML and traditional HTML versions of your emails.
Was this article helpful ?
Thanks for your feedback!