Table of contents
What is a product launch announcement?
5 emails for announcing a new product via newsletters
20 effective product launch email examples
Product launch email subject lines: Examples
How to build a product launch email with Stripo
Final thoughts
1.
What is a product launch announcement?
What makes iPhones the most-awaited product of the year? We know there are smartphones out there that are not worse than Apple's products (dear Apple developers, I beg your pardon), but most people don't pay close attention to those products' releases and updates.
Of course, one may think that Apple is so awaited because of the power of its brand name. However, this brand was not always this famous. But their first release was widely discussed. They owe their success to a well-thought-out product launch campaign and a proper new product launch announcement email.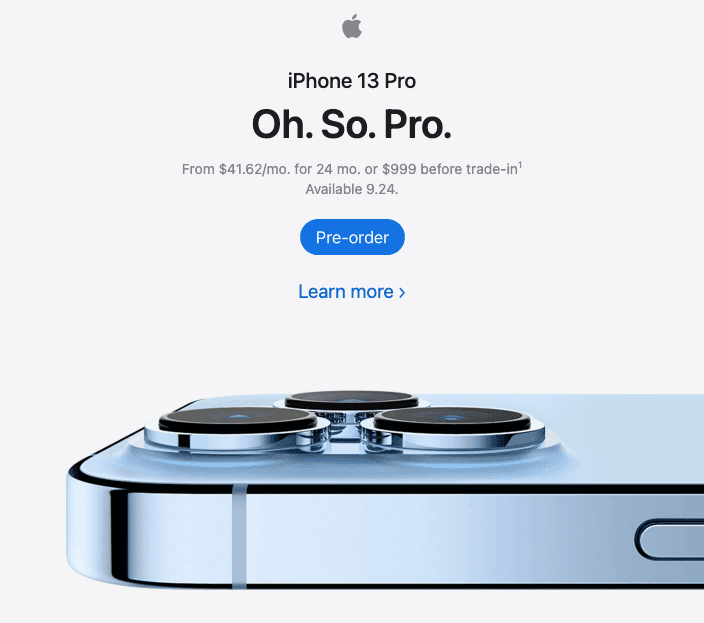 (Source: Email from Apple)
Famous brands evoke anticipation and desire in prospects to buy and use their products. How? We'll share examples of the best product launch campaigns run by world-famous companies.
What is a product launch announcement?
The product launch announcement is a set of activities aimed at promoting a new product.
Hopefully, your new or upgraded product's features meet customers' needs and even exceed their expectations.
Prior to promoting and announcing your up-and-coming product, try it out, and define its pros and cons. And be honest with the target audience during the whole announcement campaign.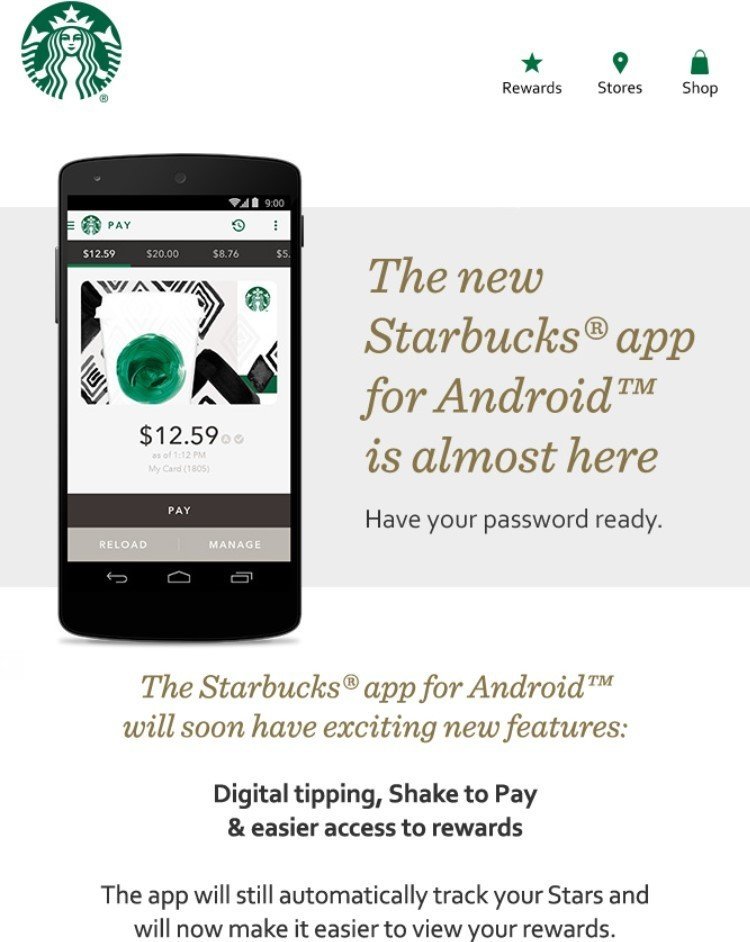 (Source: Email from Starbucks)
5 emails for announcing a new product via newsletters
You will need to build a product launch email sequence to keep the target audience updated and keep them interested in your product. Here is an example of an effective email sequence:
Teaser email.
Product launch announcement email.
Product announcement email with the Pre-Order option.
Product launch email.
Follow-up email.
Let's take a closer look at these emails:
#1 — Teaser email
The first email — a teaser email — is to inform recipients about the upcoming launch. In this way, you build anticipation. Here, you can mention a few unique features that your product possesses, or may just say that something huge is coming.SahringSpecifying the launch date is optional at this stage.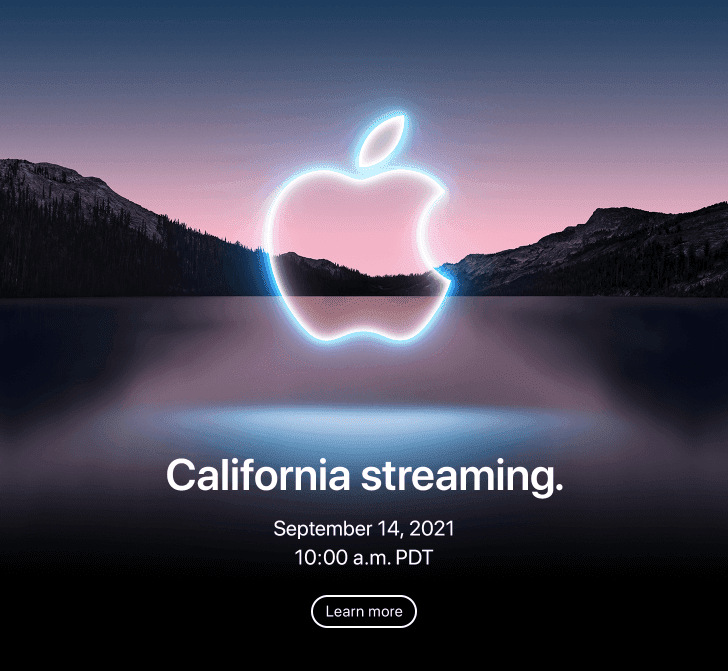 (Source: Email from Apple)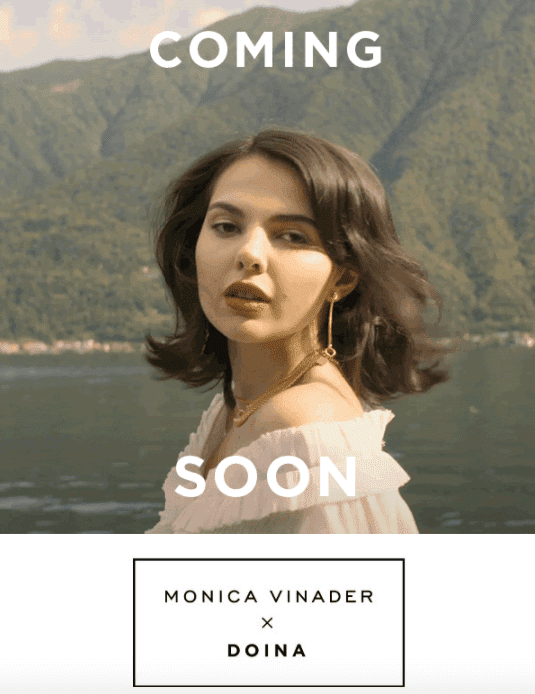 (Source: Email from Monica Vinader)
#2 — Product launch announcement email
The second one is to update your users. Remind them about the features you mentioned in a previous email and add a new one.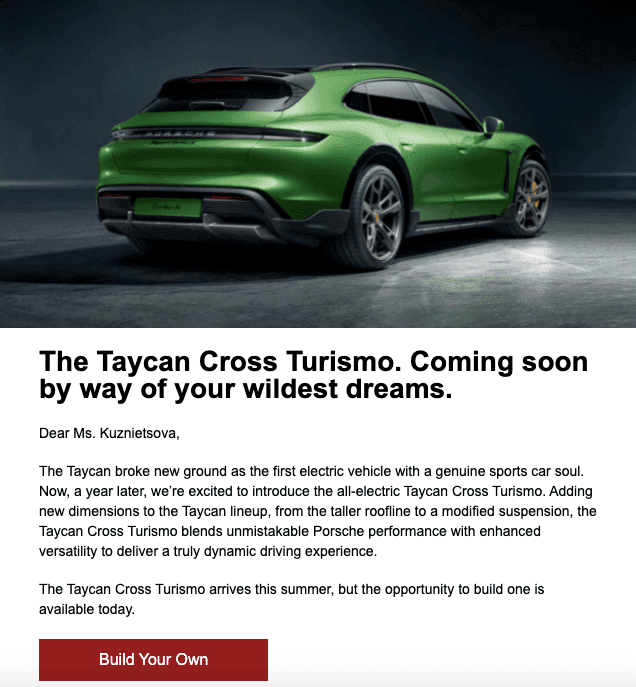 (Source: Email from Porsche)
Or share some information on your product if you have not done this in the previous email. Be sure to include some photos of the product.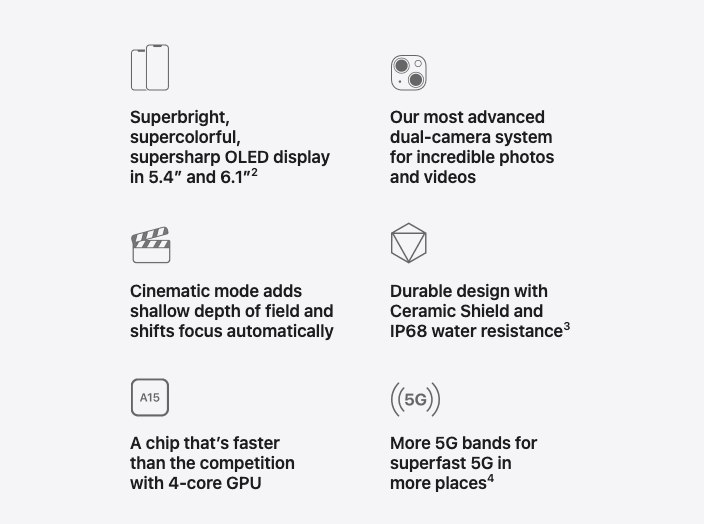 (Source: Email from Apple)
#3 — Product announcement email along with the Pre-Order option
In the third email, after you have revealed the product's main options, add photos and the "Pre-order" button in this email.
Many staunch fans would love to be the first to own your product.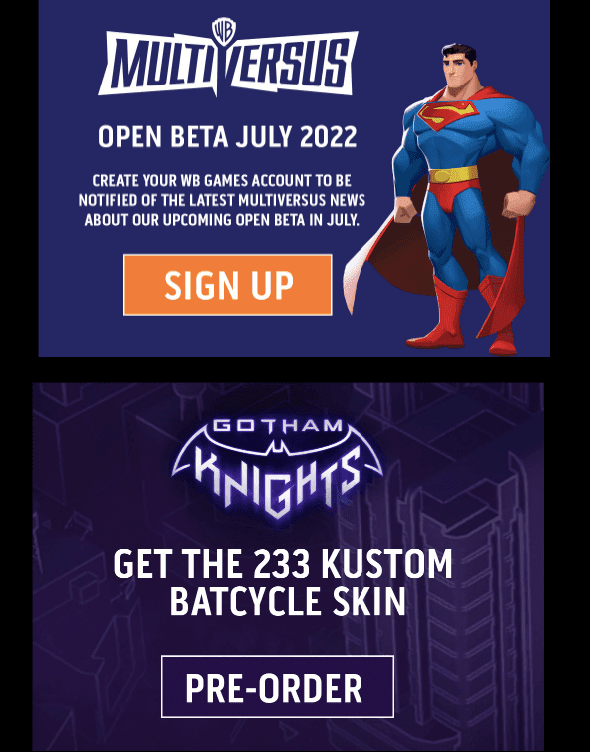 (Source: Email from WB Games)
#4 — Announcing that the product has been launched
The fourth product launch email is to inform recipients that the product has been released. Here you explain to customers how they can get this product.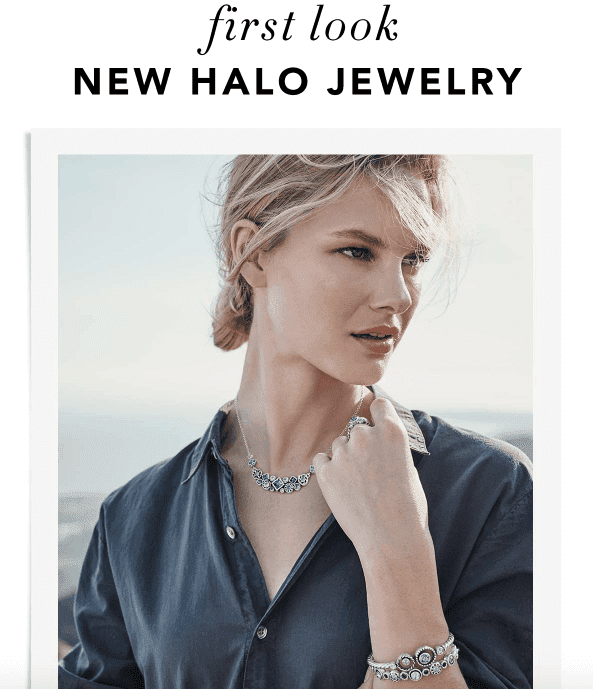 (Source: Email from Brighton)
#5 — Follow up email
No matter how ardently your customers had been waiting for your product, some still might have missed the new product release email. Remind them they can still buy your product.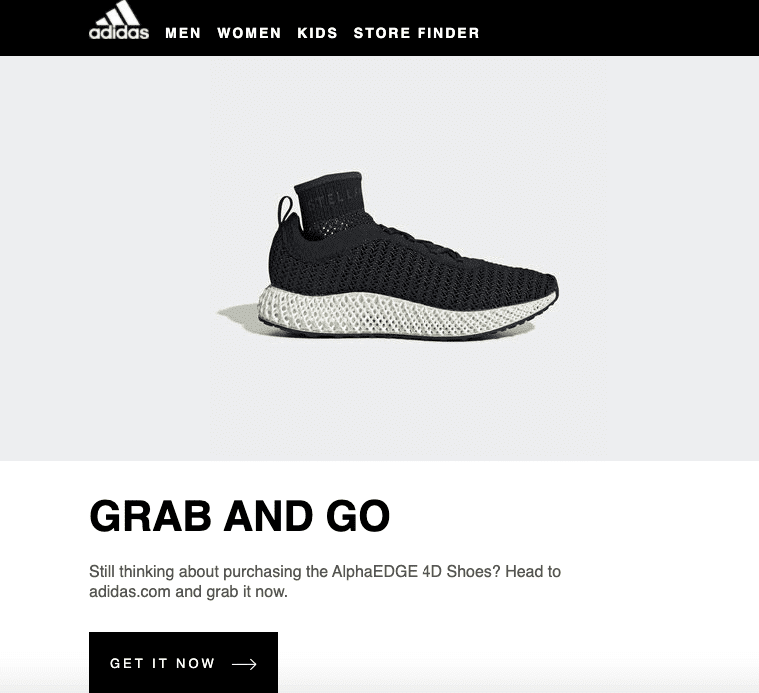 (Source: Email from Adidas)
Important to note:
If you start the new product announcement email campaign a few months/year prior to the release date, then you are welcome to extend your sequence to 4-6 emails.
20 effective product launch email examples
We hope these samples will get you inspired to build your powerful product launch emails.
Example 1. Keep customers intrigued till the last moment — Lamborghini
This famous automotive brand knows how to maintain customers' interest without saying a word about what they are going to launch. Instead, they are inviting their brand enthusiasts to an event where they are going to share the details of the new product. Even the image in this new product release email sample does not say anything about the future launch.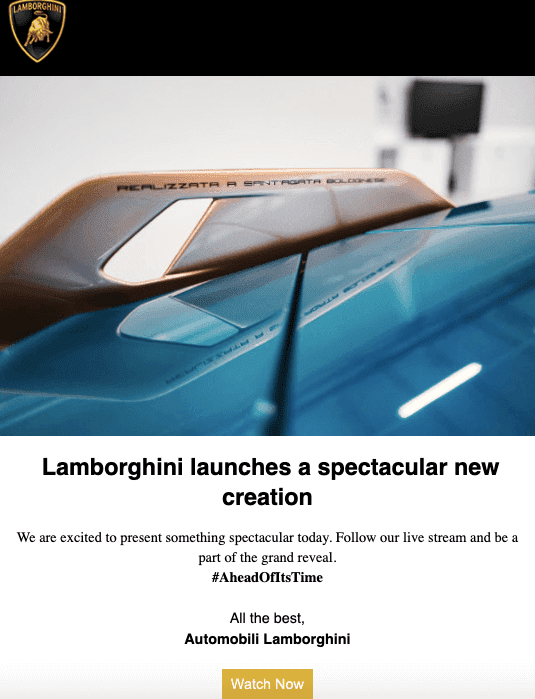 (Source: Email from Lamborghini)
Example 2. Give your brand fans early access to the new products — Athleta
Allow early access either to those customers who buy from you more often than other users, or to those who downloaded your app, just like Athlet did it.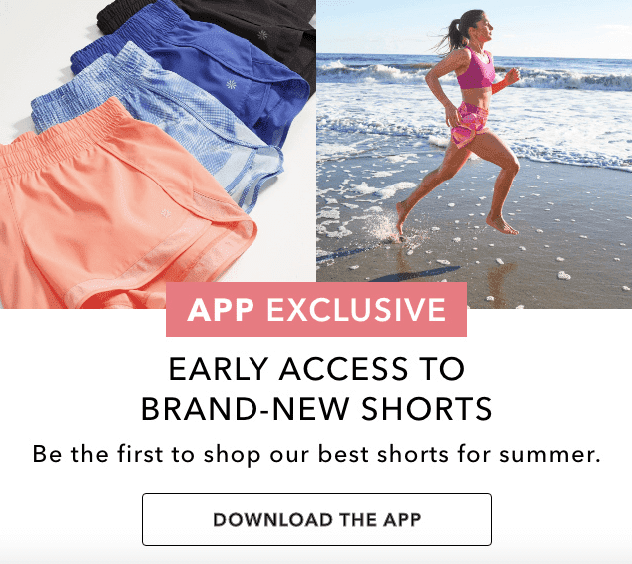 (Source: Email from Athleta)
Example 3. Let your staunch customers be the first to know — Adidas
In this email, Adidas promised to notify customers about the product release a few hours before they send over the product launch announcement email to the entire contact base.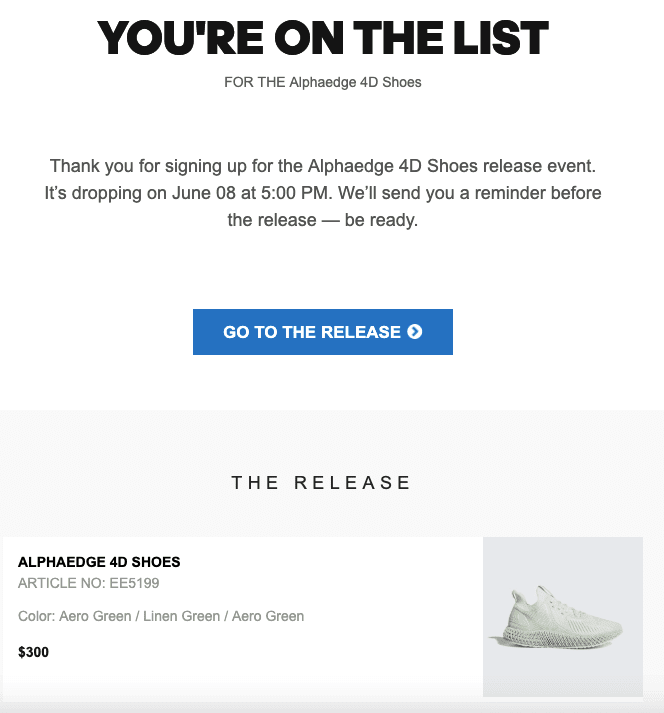 (Source: Email from Adidas)
Example 4. Add some mystery to your emails — Mercedes Benz
You don't really need to show the product you are about to launch in a product launch announcement email. Show its prototype.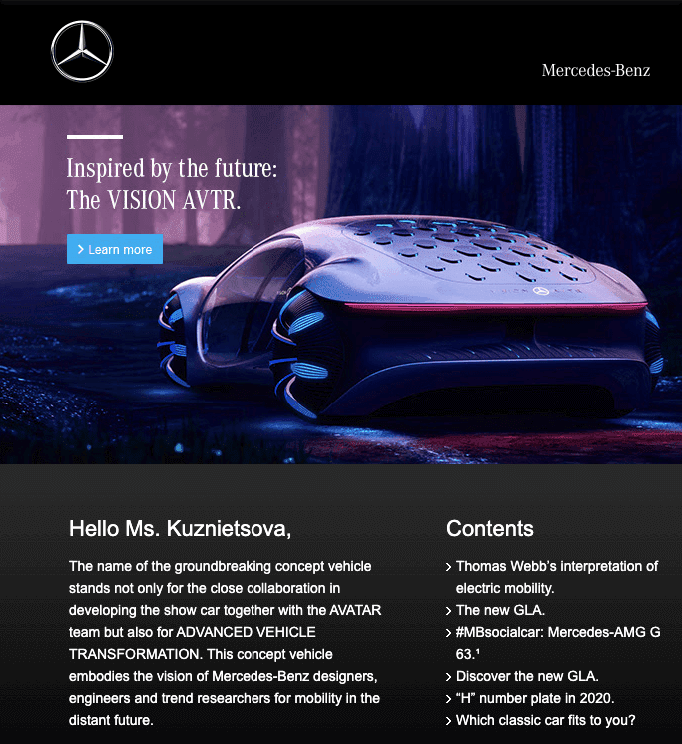 (Source: Email from Mercedes Benz)
Example 5. Provide detailed information on the product — Email on Acid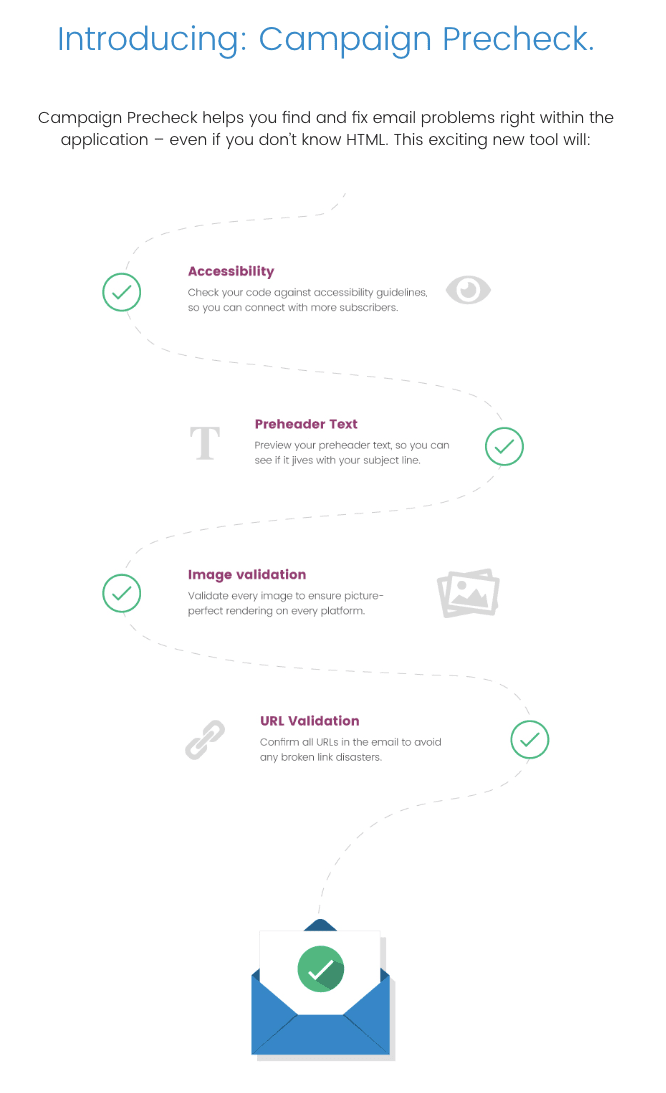 (Source: Email from Email on Acid)
Be descriptive. The more details you share in the product introduction email the better.
I can't omit the infographics in this email — it's awesome.
Example 6. Show the product from different angles — Hill City

(Source: Email from Hill City)
There are cases when an image is worth a thousand words, especially when it comes to product introduction emails.
Example 7. Let the designer present their own collection — Brighton
Personally, I love this tradition implemented by Brighton, the jewelry store.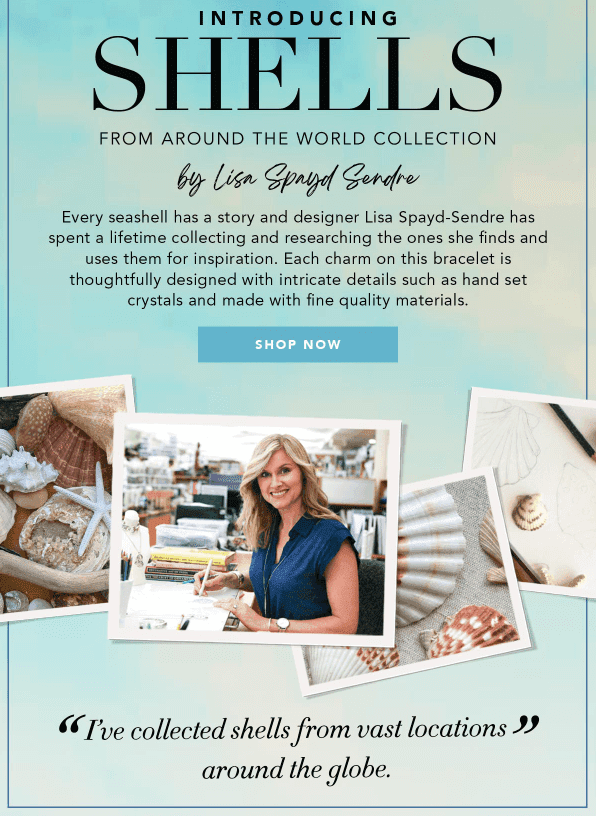 (Source: Email from Brighton)
Every time, when launching a new collection, Brighton lets the designer present it by him/herself. The creator of the collection speaks from her heart and explains what exactly motivated her to craft this particular line.
Example 8. Be supportive — Everlane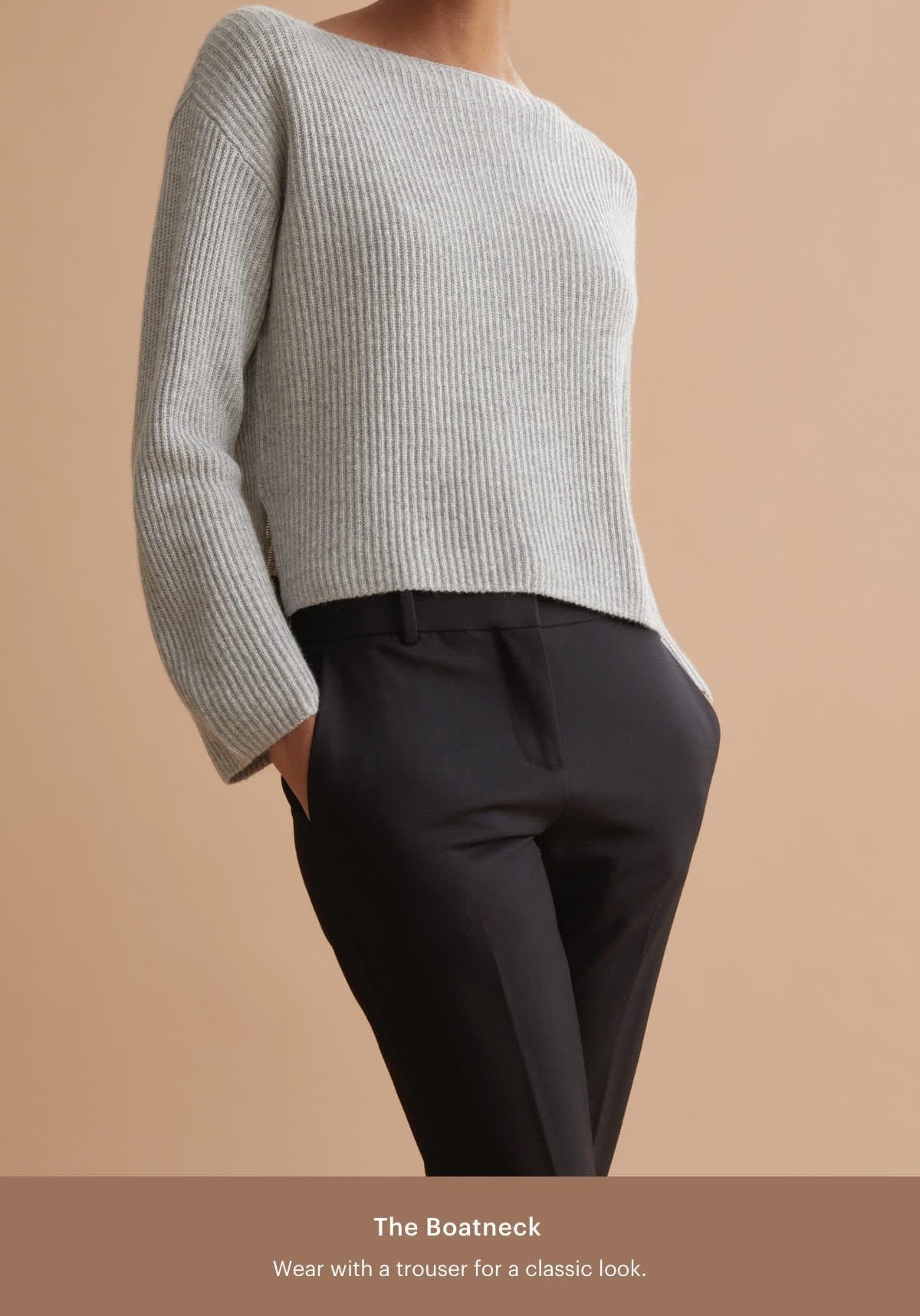 (Source: Email from Everlane)
This is a new product item and prospects do not know whether it's about to go well with the rest of their wardrobe. Be supportive — provide them with fashion recommendations on how to wear this cashmere rib with other pieces of the brand's apparel. Everlane even shared photos of what it is about to look like.
A nice trick to increase sales, huh?
This is one of my favorite clothing line launch newsletter examples.
Example 9. Persuade to buy from you/play on people's vanity — Maybelline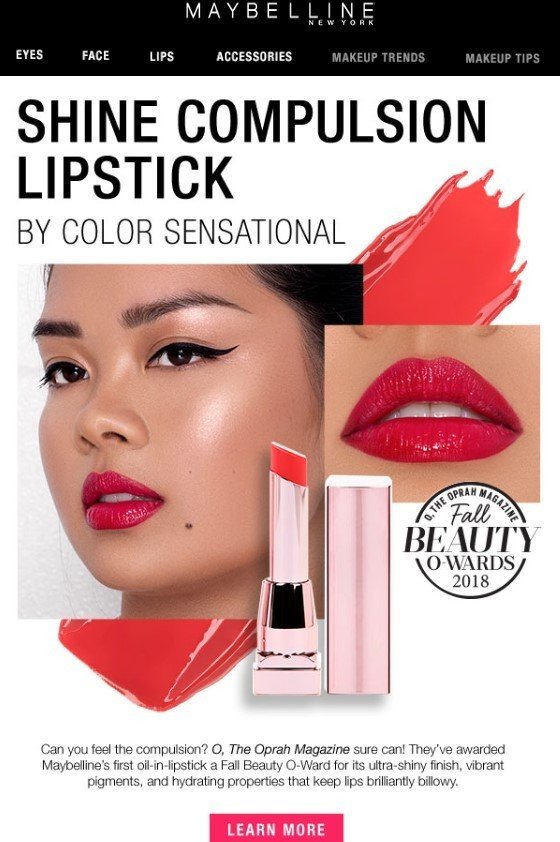 (Source: Email from Maybelline)
When it comes to fashion and trends, for a number of your subscribers, nothing can be more convincing than feedback by prominent people. The Oprah Magazine awarded this lipstick, right? — Then definitely, I should try it, too.
Example 10. Make it clear — Tesla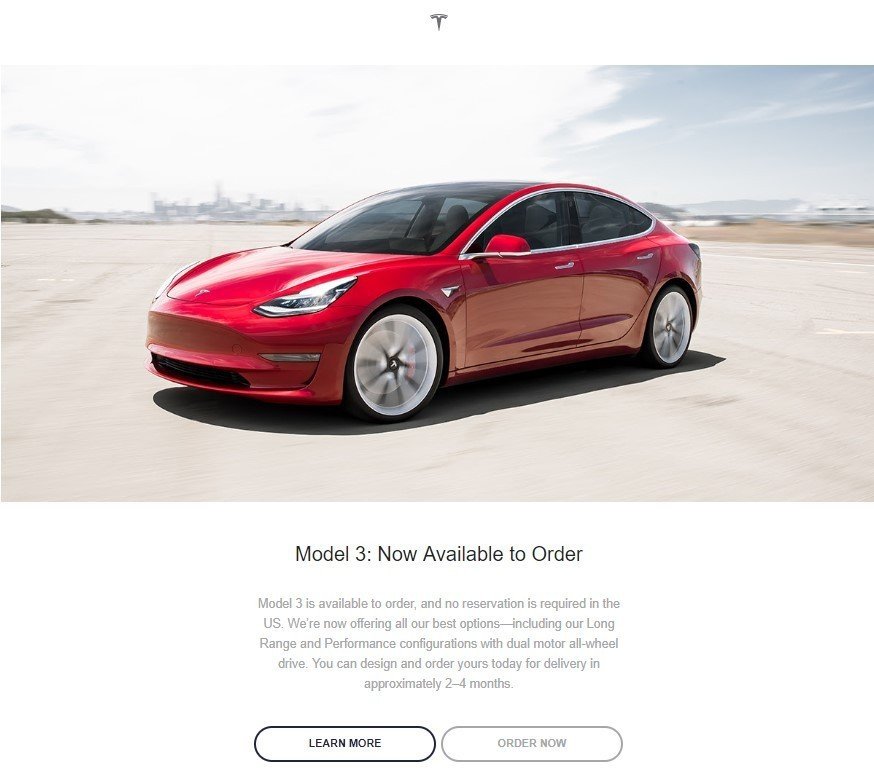 (Source: Email from Tesla)
Certainly, you do need to be mysterious, and intriguing, but not on the product launch day. Once the product is available to order or pre-order, make your copy straight. Add photos or even videos of the newly launched product. There should be no misunderstanding.
Example 11. Use videos in product announcement emails — Appcues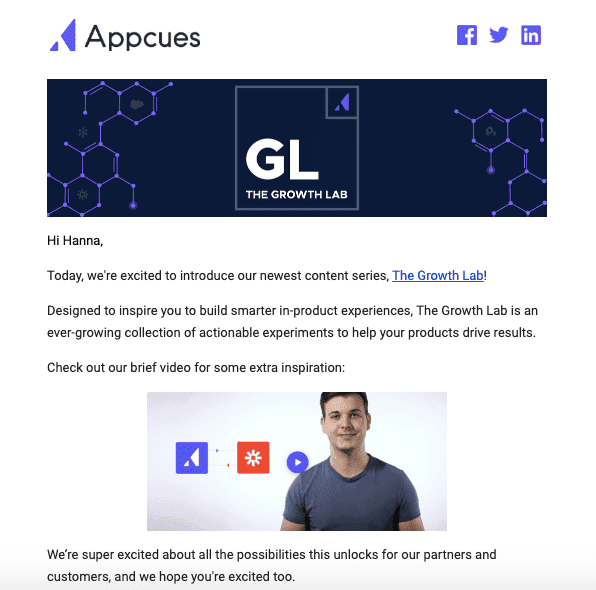 (Source: Email from Appcues)
Only the person who is in love with the product can describe it at its best. And who loves the product most? Right, the CEO and developers. In some cases, it is the same person.
Let the CEO speak, and record a video where he or she describes the pros of the product in the smallest details.
Example 12. Send an invitation to a live presentation — Tesla
If you are hosting an entire offline event where a speaker on behalf of your team presents a just-launched product, be sure to send the event announcement email to your contact base, including existing customers.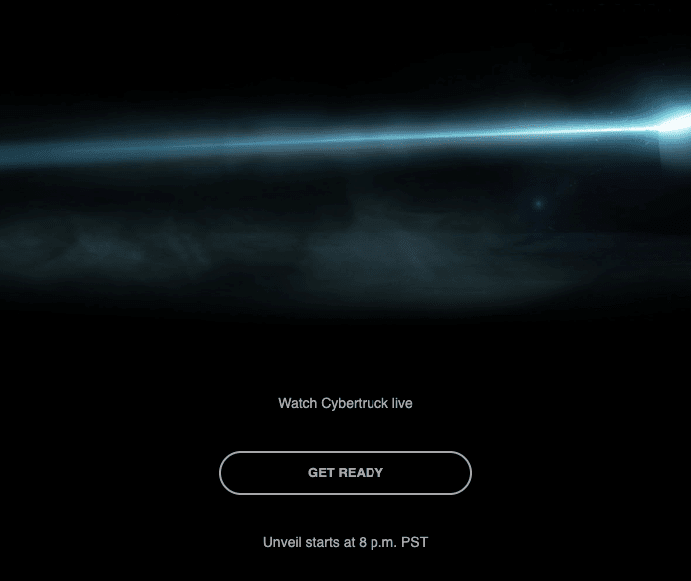 (Source: Email from Tesla)
Tesla sent this invitation like an hour before the very event.
However, they had also promoted this event via social media channels.
Example 13. Encourage to purchase your product — Apple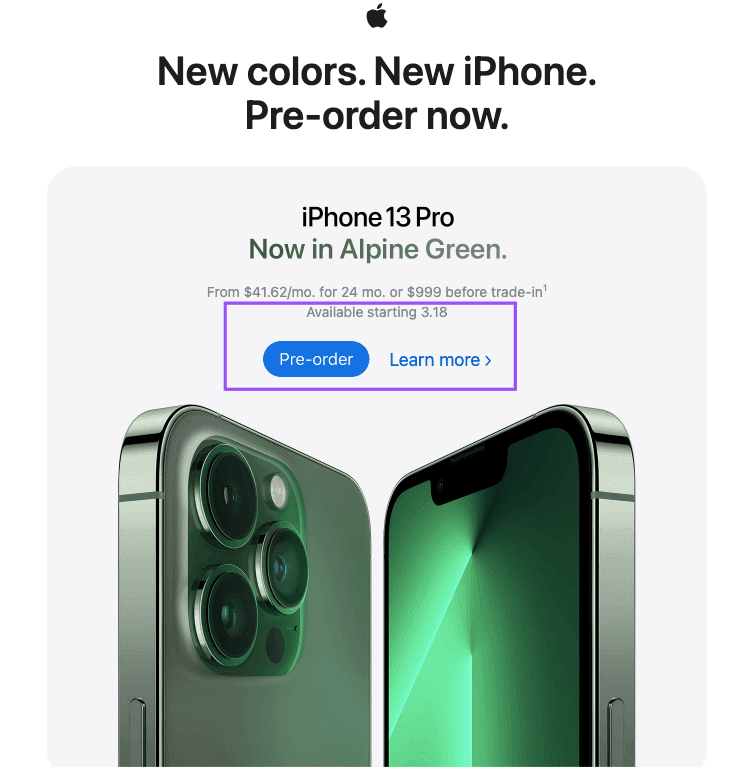 (Source: Email from Apple)
Apple is probably the best at running product launch email campaigns. Every word, every character matters.
One more thing that makes them unique — once the exact product launch date is set, they hurry to share it with prospects!
Example 14. Be appealing — Ferrari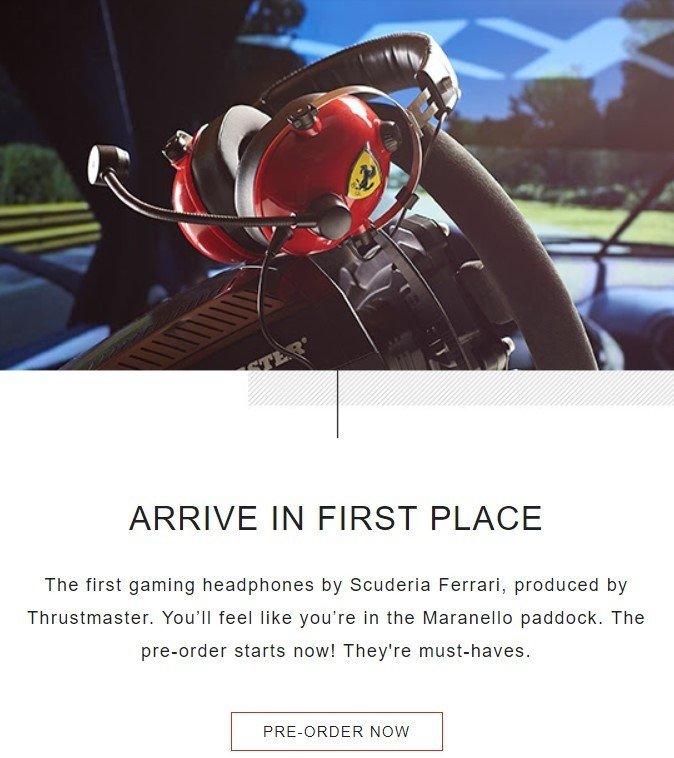 (Source: Email from Ferrari)
This is a perfect announcement of an upcoming product. Ferrari here appeals to vanity :)
Because who wouldn't like to be the first to possess something luxurious? And to win...
The "Pre-order" button helps — it means I won't have to stay in line, I will receive my parcel on the release day, I will be really the first to try.
Example 15. Emphasize the feeling of anticipation — Grammarly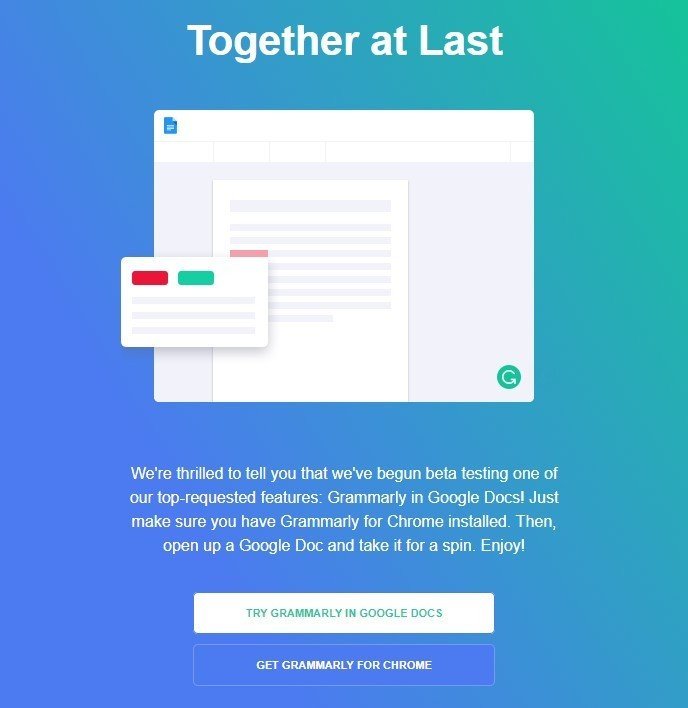 (Source: Email from Grammarly)
Top-requested feature… nice trick! Even if some of your prospects did not care about this option, they are now likely to try it out to find out what made it so anticipated.
Example 16. Highlight the new features in detail — Nokia

(Source: Really Good Emails)
I find this email campaign perfect for three reasons:
The two CTA buttons that repeat themselves.

Brian Crecente from Rolling Stone praised this product.

Nokia highlighted the top pros of Steel HR by listing and illustrating them.
Even if just glimpsing at this email, prospects will still see that this watch is worth considering if not purchasing.
Example 17. Remind how soon the product will be launched — Brighton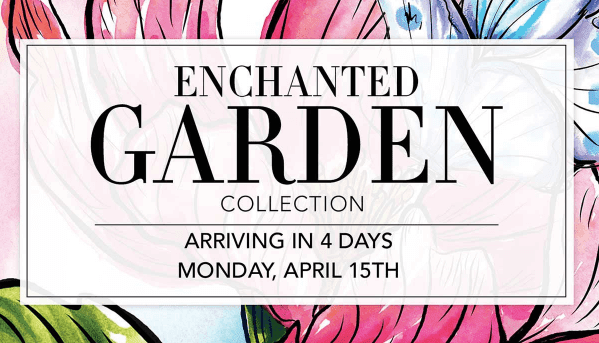 (Source: Email from Brighton)
Brighton mentions the launch day across all emails, across all promo emails. Even if the email is not a piece of the product launch campaign.
Good way to not let your customers forget about your releases.
Example 18. Build a product launch email sequence — Everlane
Everlane sent out 4 emails.
Email 1
They just informed us that every minute a million plastic bottles are made. And added they are about to do something about it:
(Source: Email from Everlane)
Email 2
They notified us they are going to eliminate virgin plastic by producing outwear out of it: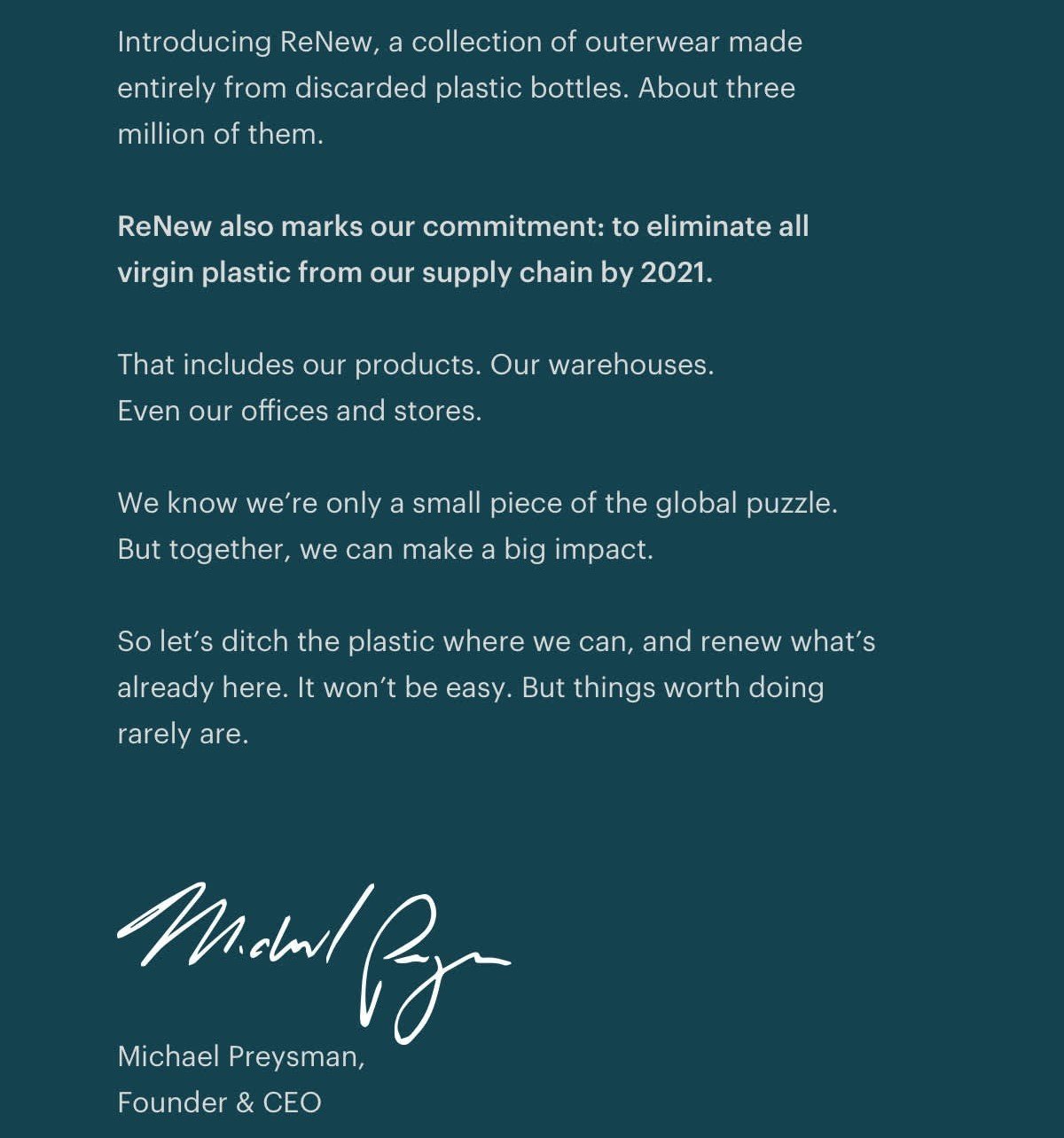 Email 3
They finally let us take a sneak peek at the upcoming product.
Email 4
They finally announced the sale has been started and added the CTA button.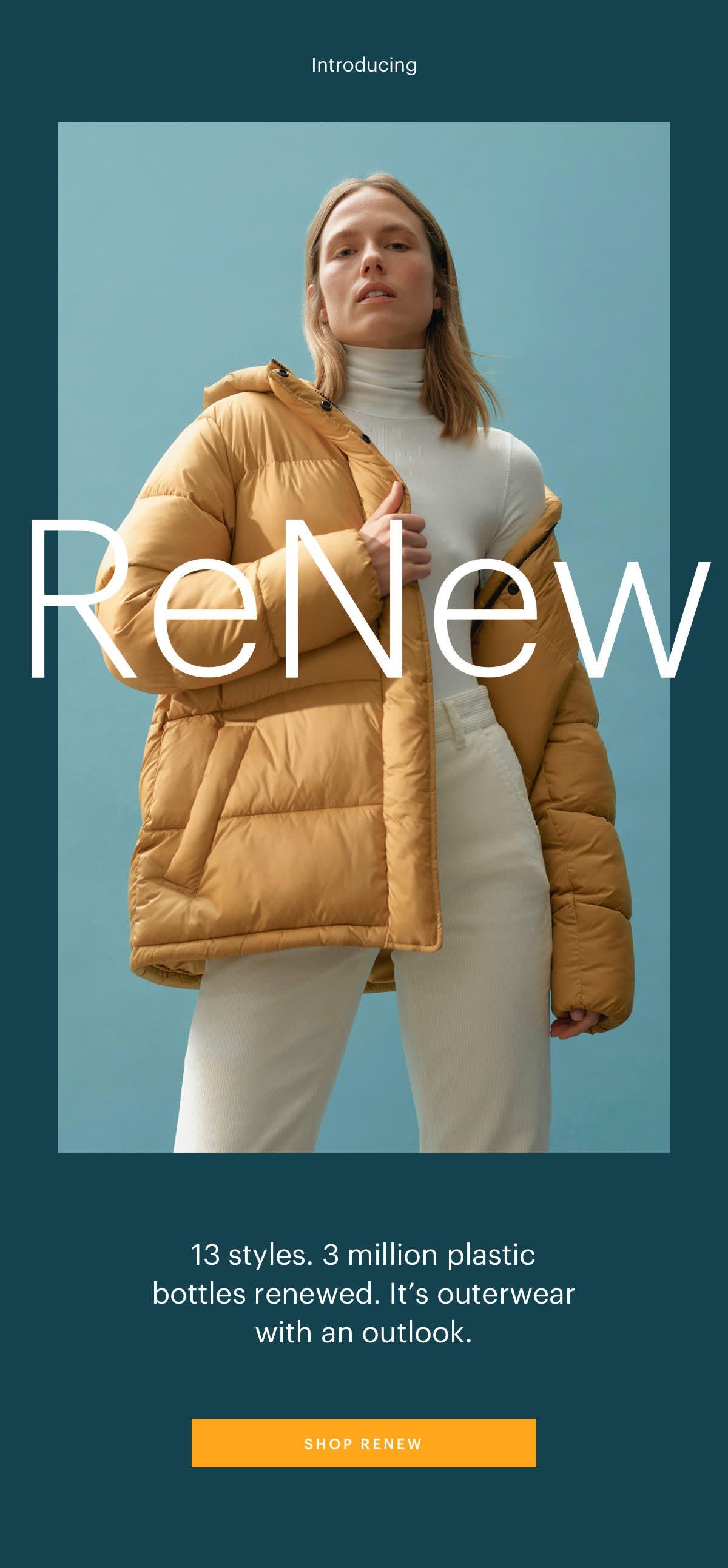 This is simple yet amazing!
Example 19. Structurize your email for easier perception — Stripo
New product launch email template: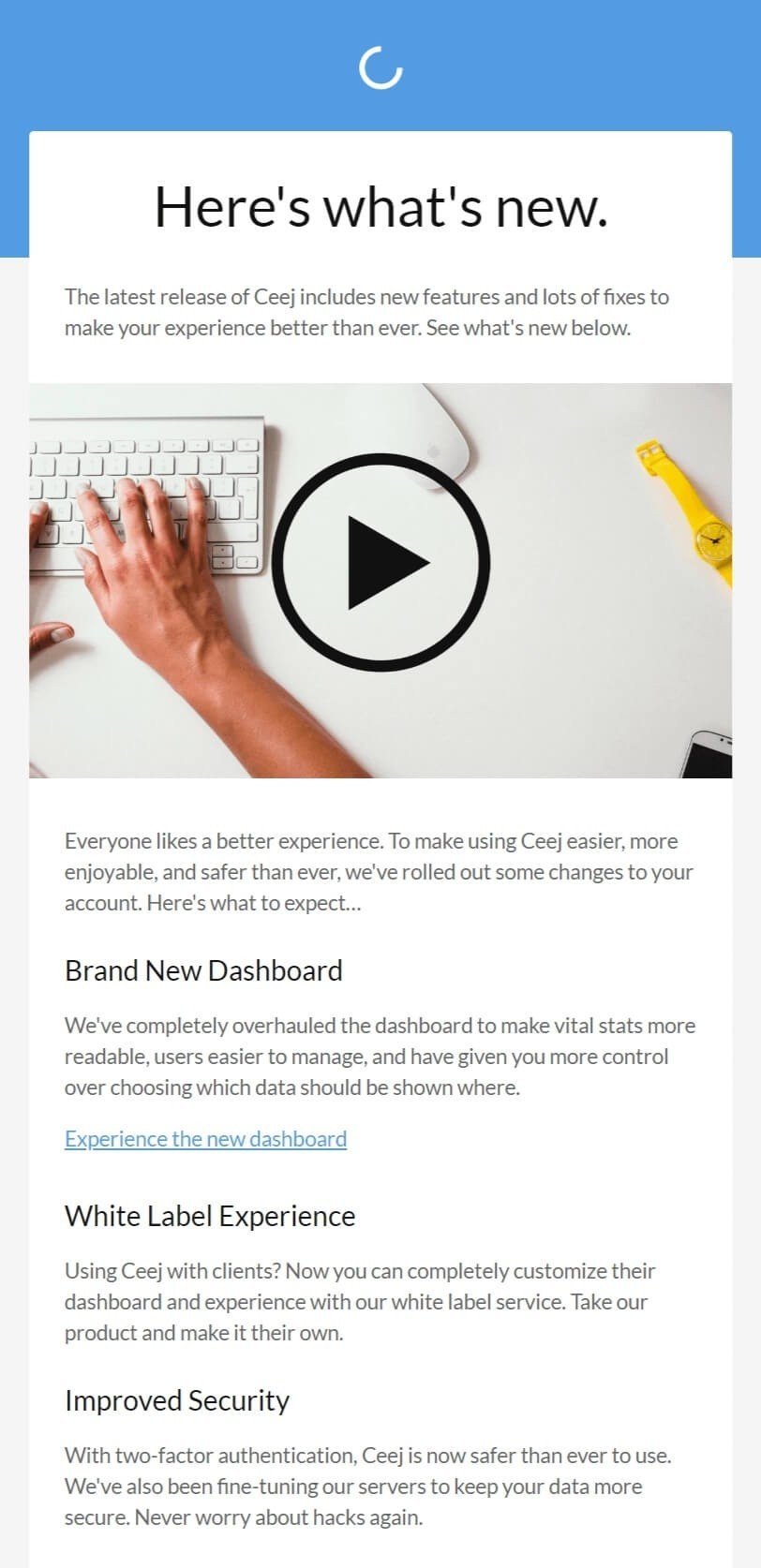 This email template contains room for heading and CTA text, video block, and description fields. All content is structured. Which makes it easier to perceive information and makes your email more appealing.
Once you pick it for your future product launch email campaigns, you will only have to slightly edit it: replace our content and logo with yours.
Example 20. Connect a new product release with previous releases or your brand history — Porsche
Let your customers buy not only your product but your story. Things that have a history normally cost more and are cherished more.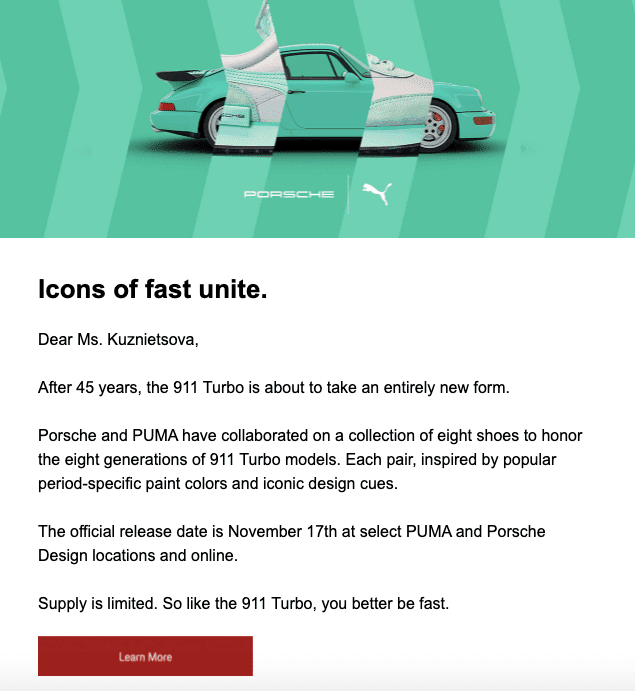 (Source: Email from Porsche)
Product launch email subject lines: Examples
The subject may be creative, yet clear and descriptive.
You have signed up for the Alphaedge 4D Shoes release — Adidas.

We are bringing our vision to the road: Mission E becomes Taycan — Porsche.

Introducing Campaign Precheck — Email on Acid.

Introducing the seamless Train Tee — Hill City.

JUST RELEASED: An Exotic New Collection! — Brighton.

Cashmere Rib Is Here — Everlane.

Introducing Shine Compulsion Lipstick's Newest Shades! — Maybelline New York.

Tesla Updates: Model 3 is Available to Order — Tesla.

Introducing The Growth Lab! — Appcues.

Get Ready — Livestream Cybertruck Unveil! — Tesla.

The first Scuderia Ferrari gaming headphones: don't miss out! — Ferrari.

Grammarly's Chrome Extension + Google Docs, Together at Last! — Grammarly.

Nokia steel HR has arrived — Nokia.

Inspired by the future: The VISION AVTR — Mercedes.

In 7 Days: ReNew — Everlane.

It's Time to Renew — Everlane.

In 2 Days: ReNew — Everlane.

The Wait Is Over: ReNew — Everlane.

AlphaEdge 4D Reflective: Coming soon — Adidas.

Meet the Superhero of Jeans — Athleta.

Introducing the first ever Gap Home Collection — Gap.

We asked, we listened, we launched! — Monica Vinader.

YEEZY LAUNCH STARTS IN… — Adidas.

In The Details: Launching Enchanted Garden — Brighton.

The new Taycan Cross Turismo. Arriving Soon. And Fast — Porsche.
Some of these examples are trivial, some are bold. There are no best practices on how to write effective product launch subject lines. There is one rule only: Be creative and bold when working on a new subject line for your launch messages.
How to build a product launch email with Stripo
You can pick any from our "New collection", and "Product update" email templates.
Also, you can effortlessly build one with us:
Step 1. Pick a template
To do so, in your account, click the Templates tab, then enter the "Prepared templates" tab, and pick the one you like.
Step 2. Work on product launch email header
Upload your logo and insert it as an image.

You can also add a menu if necessary. However, famous brands almost never do it for product announcement emails.
Building a banner for your product release email
The banner can be represented as an a) banner image or a b) carousel of banners.
a) banner image
upload your banner image;

then choose orientation;

apply matching filters;

add a copy over your banner image to make it compelling;

you can also upload a picture of a CTA button drawn by your designer over your banner image.
For more information on how to build an effective banner with Stripo in under 10 minutes, please refer to our blog post and watch a short video.
b) carousel of banners
There are two types of carousel — CCS and AMP image carousel.
The second one is supported now by Gmail and Yahoo both desktop and mobile apps.
How does it work? Users swipe from one to another banner image.
Interactivity, especially, in product announcement and promo emails increase customers' engagement.
Stripo allows adding up to 16 slides:
drag an AMP carousel block in your product announcement email template;

enable "Preview images", set their size — the preview images will be located below the image carousel;

upload your image;

edit it if necessary;

place a CTA button over it if you like;

click the "Add slide" button;

upload a new image, etc.
Add AMP carousels to your "Coming soon" email template
Join Stripo
For more information on how to build AMP carousels with Stripo, please refer to our respective blog post.
Adding video
Video, where you highlight your new product's features or show how to use it, can increase the conversion rate.
Easy to embed one with Stripo in your emails:
drag a video block into your email;

insert the link to your video that you've previously uploaded to Youtube or Vimeo in a respective field;

Stripo will add video's alt text automatically;

choose the play button color;

upload a custom thumbnail image to make it more meaningful.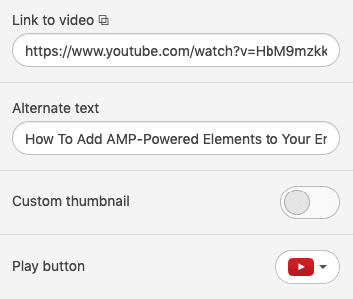 Adding countdown timer
Timers are critical for emails of this kind.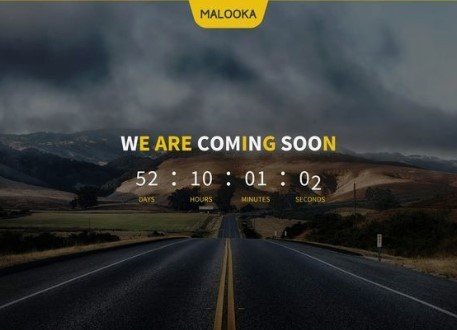 (Source: Pinterest)
Stripo prevents you from the necessity to build a timer elsewhere outside an editor, then paste the embed code and work on the timer's responsive design.
With Stripo, you can build and customize timers directly in our editor:

Designing a CTA button
Have you convinced potential customers they need to buy your product? — Great! Show them where they can do it.
Build a CTA button that is quite noticeable:
open the "Appearance tab";

go to the "General" settings;

enter the "Button" tab;

work on the button's design — this way, you apply these settings to all the buttons you are going to use in your email;

enable the "Highlight hovered buttons" option if you like — your buttons will change color once a user places the mouse pointer over your button;

toggle the "Support of Outlook" button — if you want your buttons to save them shape in Outlook;

drag the button block in your email template.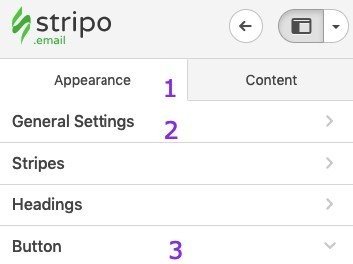 Build sophisticated product launch announcement emails with Stripo
Get started
Please, find more information on the types of buttons in our "Email Call to Action Best Practices" blog post.
Final thoughts
Email is a powerful channel. We just showed how to properly email a customer about a new product.
But we recommend that your launch campaign also includes social media announcements, and ads on mass media — to make your product launch campaigns even more powerful.
Was this article helpful ?
Thanks for your feedback!