How one of Forbes' marketing divisions uses Stripo to prepare email marketing campaigns for the B2B demand and lead generation, says Will Delehanty, Executive Director of Forbes Demand Generation.
About Forbes and its Demand Generation team
Forbes is a global media company focusing on business, investing, technology, entrepreneurship, leadership, and lifestyle, with over 45 global editions, 120 annual lists, and 100+ highly anticipated events. Their Mission is to give people the knowledge, resources, inspiration, and connections they need to achieve success.
Forbes has dozens of marketers across the company, each with specific objectives. The Demand Generation team is responsible for B2B demand and lead generation, ensuring the sales team has a steady pipeline of warm leads.
They do this by creating content, promoting the latest list launches, upcoming events, and new products, as well as specific campaigns about what makes a Forbes partnership great.
Email marketing as a part of communication and marketing strategy
For the Demand Generation team, email marketing is the primary channel of communication with potential clients once they're in the database. Email cadence varies due to audience segmentation, campaign goals, and additional variables.
Email campaigns target potential advertisers of Forbes.com, Forbes Magazine, ForbesLive events, etc. The team highlights upcoming sponsorship opportunities and the benefits of connecting with the Forbes audience through performance case studies, audience stats, and more.
Challenge: What the team expected from the email template editor
Before using a standalone builder, they used out-of-the-box Salesforce Pardot templates, which were sometimes cumbersome, and eventually ended up relying on their development team to customize. From there, they started coding their own sends, which as marketers, took a lot of time away from actually pushing out content.
Here are some of the pain points that the team tried to solve with a handy template editor:
increased efficiency;
responsiveness;
flexibility;
customizability;
ease of use for marketers.
Working within a nimble team at a fast-paced media company that is constantly evolving, flexibility and ease of use were the features they needed most out of an email builder.
As you can see, the team needed a flexible tool that is easy to use and optimized for email clients, allowing them to spend more time getting content in front of audiences instead of spending time outside their skill sets.
And the Stripo editor turned out to be that tool.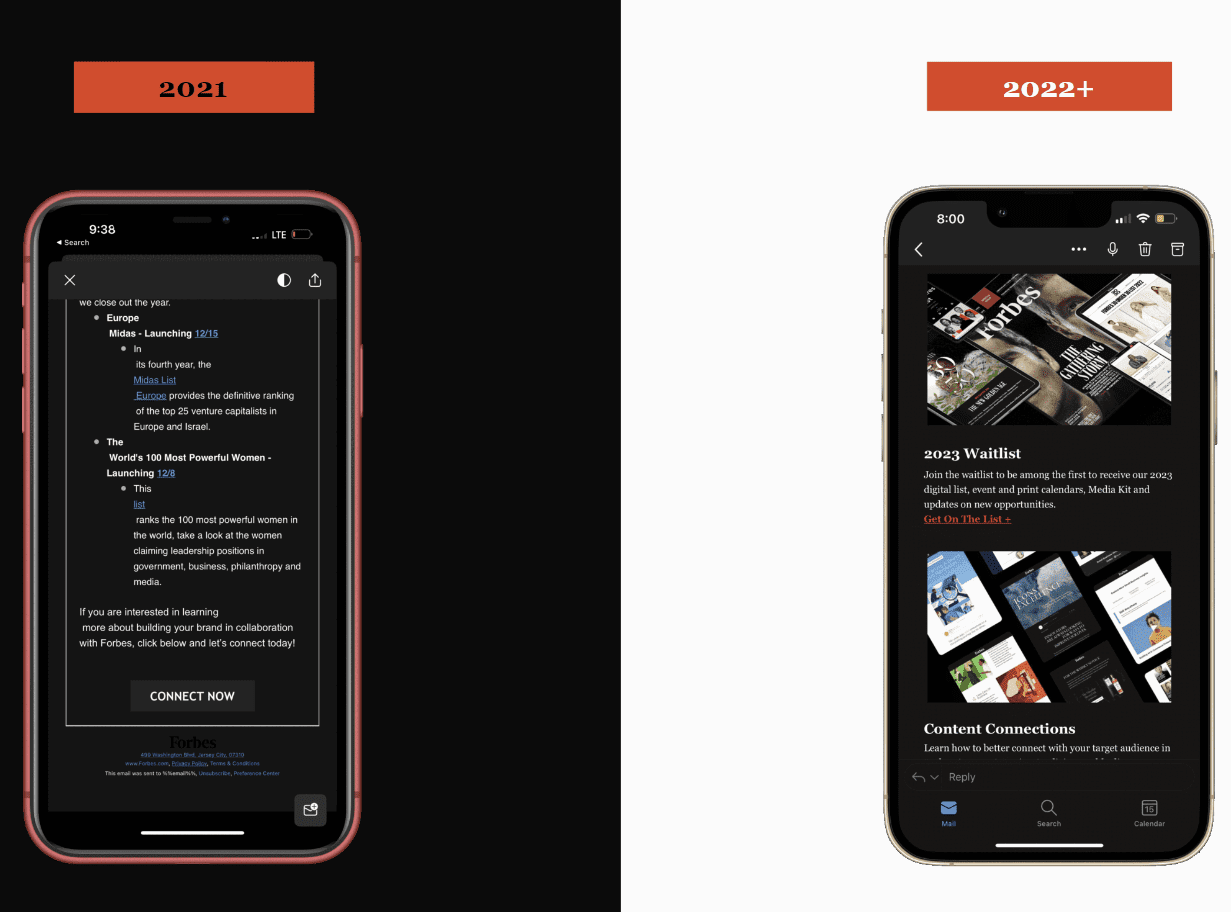 Above, you can see just a short illustration with email views "before" and "after" using Stripo.
Solution: Why they chose Stripo and how they use it at work
They did in-depth research for a slew of different editors and chose Stripo for its flexibility, responsiveness, and ease of use. And now, their Demand Generation team is leveraging Stripo to generate awareness of Forbes products and prove their success.
The team noted a brief adjustment period while they got up-to-speed, as with all new tools, but the Stripo support team was extremely helpful with quick responses to questions from the initial setup to more advanced capabilities.
Workflow for creating email campaigns
The workflow for creating email marketing campaigns in the Forbes team usually goes like this.
One person is typically responsible for each campaign, including copy, creation, list building, design, and segmentation. They have around 12 users within the Stripo platform, each responsible for the campaign they're working on from start to finish.
Since each user owns the process, they work together more on brainstorming concepts, learning from the constant testing they're doing, and sharing industry news.
For larger campaigns, they rely on input from internal stakeholders and have access to a fantastic design team for more complex visuals. Stripo has been instrumental in the team's success, allowing them to create and push out campaigns very quickly and adapt to any changes needed efficiently.
Basic tools for excellent email marketing
In addition to Stripo, in which the team builds the email templates, the following tools help them:
Smartsheet for marketing calendars and project tracking;
Google Docs to create a shared copy overview with the team;
BlueConic as a customer data platform to build send lists;
Pardot as an ESP for marketing automation and email deployment.
Results: What benefits the Forbes Demand Generation team saw after implementing Stripo
After implementing Stripo into the workflow, the team saw the following benefits and results:
An open rate increase of ~7% YoY. They attribute this to responsiveness and the ease of including preheaders within the platform.
Engagement rates increased (CTR, form fills, etc.) from more advanced segmentation.
The ability to surface different formats and content to a more targeted audience allows them to spend less time creating emails.
The features that automatically add a Preheader and UTMs in every email they create in Stripo are incredibly easy to use and save time from manually entering this information in Pardot.
The ability to create and save modules has also been a big time saver. It allows them to easily reuse aspects of previous emails at the click of a button, including compliant footers that can be updated across the board immediately.
Inspirational example from the Forbes team
Here is an email that targeted agency prospects and highlighted Q1 sponsorship opportunities for their clients. This was their best-performing email in 2023 so far based on Click to Open Rate. The team created this email using Stripo modules and content blocks and utilized the ability to hide blocks on mobile and desktop for optimization.

(Source: Email from Forbes)
Plans and new features
The Forbes team plans to continue using Stripo for their email marketing campaigns. In the future, they'd love to see the ability to create landing pages within Stripo that can be imported and used in Pardot and support for dark mode previews within the preview tool.
Was this article helpful?
Thanks for your feedback!