Table of contents
Why using video and email together?
When exactly you need to add video in emails
How to create a perfect video email
2 ways to show video in email
Liven up your emails with video
1.
Why using video and email together?
According to a study by Statista, email is the third most popular marketing tactic for small businesses in the US. As the pioneer of digital marketing, email is still going great guns because it offers everything marketers and advertisers need to promote their products and services.
Although advertising is becoming more automated, a human message is way more powerful and effective in any industry.
Businesses can include any kind of content in an email to attract potential customers: text, images, audio, and video.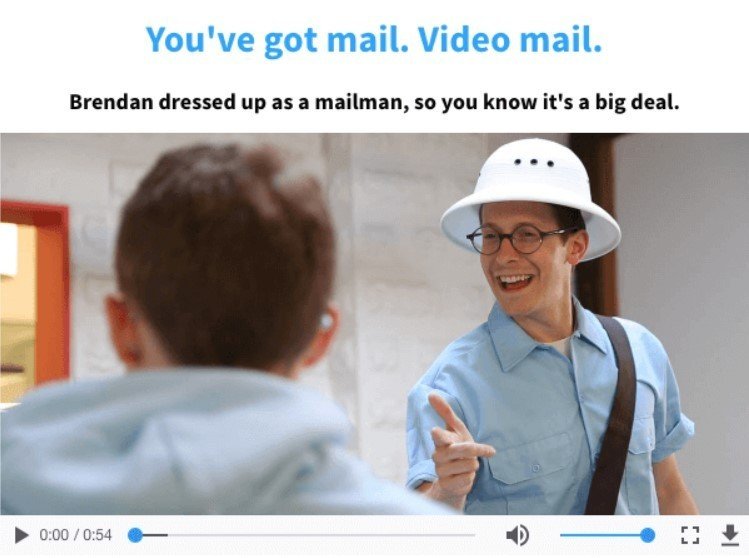 But video in emails can be a marketer's winning hand.
Why using video and email together?
A report from eMarketer claims that people primarily consume media on mobile devices. In 2019, US consumers will spend more time with their smartphones and tablets than watching TV.
Nearly 90% of time spent on smartphones is in apps. Obviously, these include Facebook, YouTube, and Instagram — the three top digital platforms for video consumption.
When it comes to Facebook, video gets more engagement than any other format used by publishers.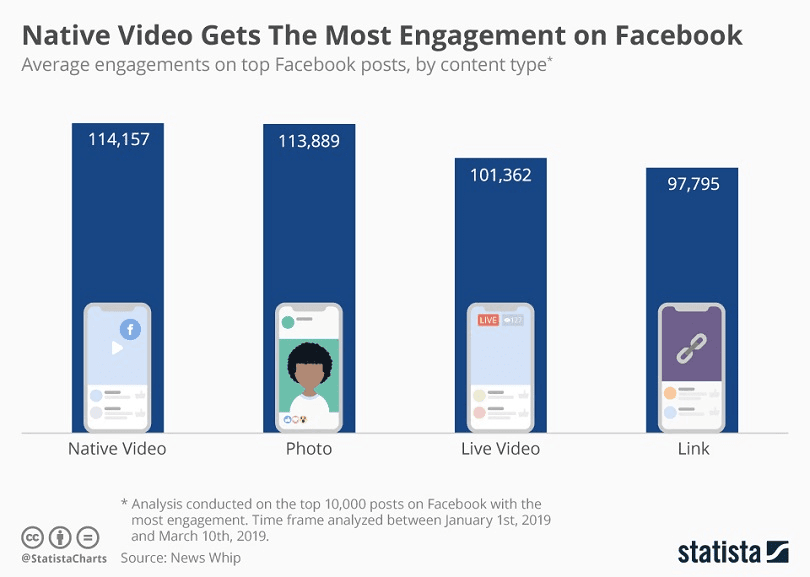 On the internet in general, people watch more video than ever before. By 2022, video will account for over 82% of all internet traffic according to Cisco.
Video marketing is powerful for achieving all major business goals: understanding users, generating leads, and increasing traffic and sales.
The benefit of video email marketing is that it can do all this way more effectively.
When exactly you need to add video in emails
Never add a video just for video. It must carry some value for customers.
in promo campaigns to better introduce and describe your products;

in holidays emails to congratulate customers on special occasions;

in onboarding emails for welcoming new customers and for explaining how to use your tools;

for sharing the agenda of upcoming events;

for inviting to webinars and concerts.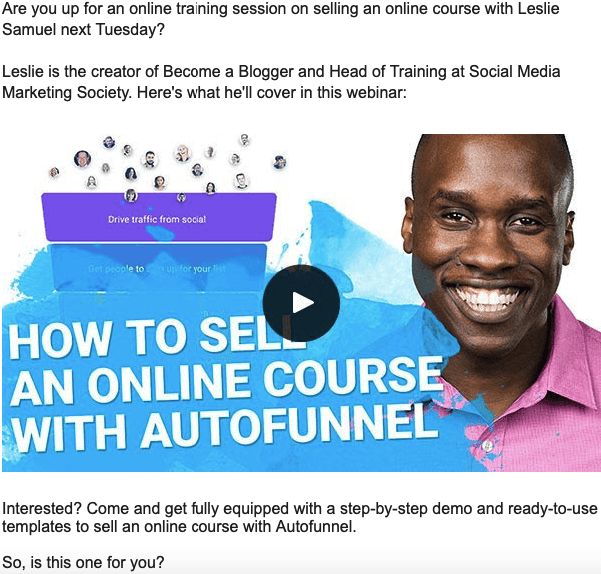 How to create a perfect video email
If you want to use video in an email, you should come up with a perfect recipe to get your customers to open the email and then attract them with your offer.
The Subject Line Teaser
The subject line is the first thing newsletter subscribers see when they receive your email. Nearly 35% of recipients open emails that have a catchy subject line.
To catch users' attention, follow these two basic rules.
First, add the word "video" to your subject line to tell customers they've received a video email. It increases open rates by 19% on average.
To make the word "video" more noticeable, you might want to put it right at the beginning of your subject line. For example, "Video: How to spend less during your vacation".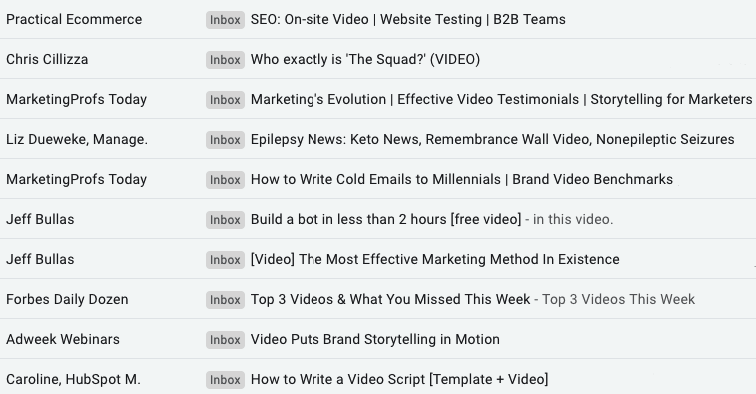 To engage customers with videos in your emails, you can also use preview text, aka hidden preheader. This extra space is a perfect way to enhance the subject line message.
The call to action
Call to action (CTA) advertising is a tried and tested technique that's been used by marketers for years.
There are several ways you can use CTAs when advertising products or services through video emailing: with the subject line, text, or a button.
A call to action button is the best method to focus recipients' attention on your offer. But is a CTA button a must for every video email?
It depends on how you display your video and the number of offers in your email.
If your video has a play button, then you, certainly, should not add the CTA button to your videos. Though, some CTA text will never harm.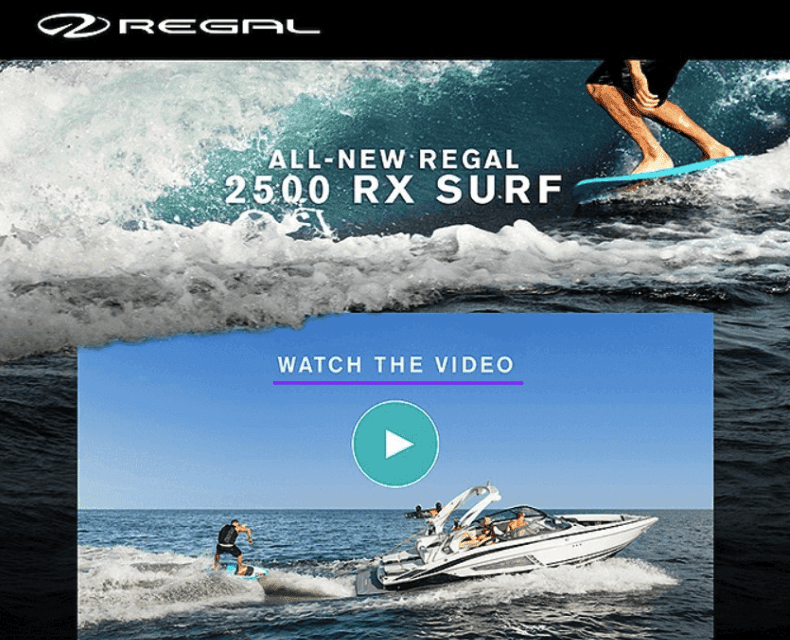 As for thumbnail images, you certainly need to add the button over them to let readers know there's a video behind the image.
Please, be advised that Stripo allows choosing the color of your play button.
Choosing a perfect thumbnail image
You can add your custom thumbnail image to draw attention to videos.
If for some reason you would like a bigger "play button" for your videos, you can draw it over images with Photoshop. In this case, you need to enable play button in the editor when building your video email.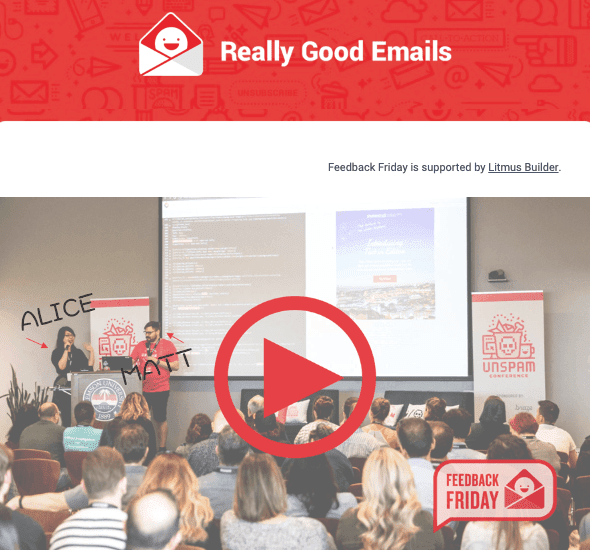 Sometimes, you can use GIFs as thumbnail images. This can be a GIF that describes your video best with the play button over it. Or this could be an animated play button as a custom image.
Use your rich imagination.
Just make sure that your button will perfectly match the layout of your email.
How to add custom thumbnail image with Stripo:
add the Video block in your email;
insert the link to the video. Alt text, title and preview image will be retrieved by Stripo automatically;
toggle the "custom thumbnail";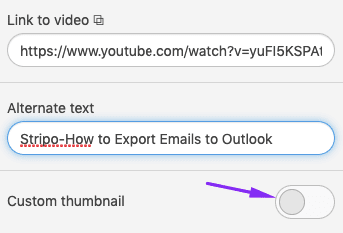 2 ways to show video in email
There are two ways of adding video in your email marketing campaigns:
adding links to Youtube or Vimeo;

embedding video in emails.
This is totally up to you which method to use. Some prefer sticking to the first one as it is totally websafe and renders well across all email campaigns.
Some prefer using the second method.
Though embedding a video may be a little challenging, this way of adding videos in emails has a crucial advantage: users appreciate the instant experience. If they can watch a video without leaving the app, chances are high that your click-through rate (CTR) will grow. Not to mention that you'll minimize the number of touchpoints on the customer's path.
At Stripo, we offer a universal code that is applicable to both methods. Once the video is opened in Gmail or Outlook, users when clicking on the video will be directed to Youtube or any other video hosting website. But if the video email is opened in Apple Mail, users will be able to watch the video right in email.
To build this video email, you need to either insert the very code in your HTML email or use our prepared email template where you will only need to replace the links.
Please find more information on how to add videos in emails with Stripo in this blog post.
Liven up your emails with video
The growing popularity of video content helps marketers find more ways to acquire customers. Video email marketing is one of them.
Using video in email has its own peculiarities. However, these are more formalities than obstacles. And thanks to artificial intelligence, you don't have to edit and render video anymore.
Go ahead and create a video email. There's really nothing stopping you!
Was this article helpful ?
Thanks for your feedback!