Table of contents
What is content marketing?
What are the benefits of content marketing?
Successful content marketing examples
What do we learn from these brands?
Wrapping up
1.
What is content marketing?
Marketing has evolved over the years, and this is why it is important to keep up with marketing trends across the board to propel your business forward. Studying trends and carrying out research is therefore critical to optimize marketing for your business.
It is crucial to stand out and diversify your content format. Infographics, videos, emails, top-quality user-generated content, and podcasts can be great tools to increase your brand awareness and customer engagement. We will explore some great content marketing examples and share some tips on what we can learn from them.
What is content marketing?
Content marketing is the process of recruiting, interacting with, and gratifying your target markets to support your business.
Making customers adore your brand begins with content marketing. It could be a well-composed and informative blog post, an engaging video, or a beautiful email with interactive content. The goal of content marketing is to establish a long-term relationship with your target audience by providing them with relevant and high-quality information on a regular basis.
It involves posting written and visual content online with the goal of generating more leads for your company. Blog posts, landing pages, eBooks, infographics, videos, and other content are examples of this.
Regardless of the format you choose, you should tailor your content to your target audience so that people discover you through inbound rather than outbound channels.
What are the benefits of content marketing?
When done properly, content marketing can:
inform your leads and potential customers about the goods and services that you provide;
enhance conversions;
create connections with your customers that will improve their loyalty to your brand;
show your audience how your goods and services can help them solve their problems;
establish a sense of community around your business.
Successful content marketing examples
These examples were selected for their originality, efficacy, inspirational power, and emotional resonance. We hope they will help you find your voice and approach and guide you to ongoing commercial success.
1. Duolingo — TikTok account
We all know Duolingo as that app that helps one learn a new language, and at your pace too. The company's self-acclaimed "unhinged" mascot helped it gain a sizable following of 5 million and counting on TikTok. On this platform, the company churned out consistent content featuring its iconic green owl mascot.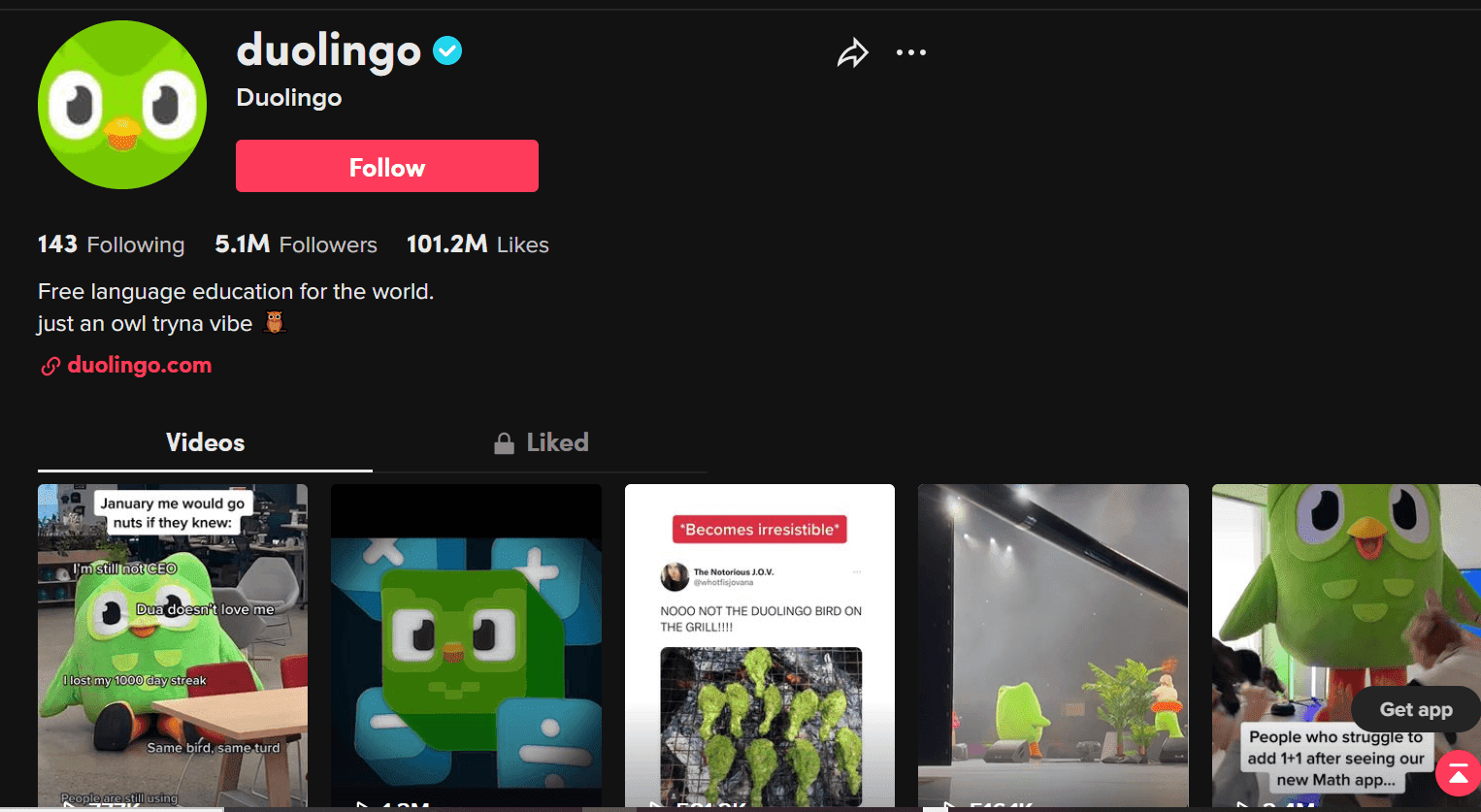 (Source: Duolingo's TikTok)
Duolingo's video strategy may appear simple to viewers, but it was developed through a TikTok marketing strategy that includes meticulous A/B testing, outstanding social listening, and taking calculated risks.
What stands out: Although many of the videos do not mention any of the company's products or services, it has been able to raise awareness about the company on the app.
Tip: Finding and producing relatable content, especially using videos and pictures, is a great way to enable your customers to identify your content among the rest of your competitors.
2. Spotify — Wrapped playlists
Spotify Wrapped started in 2017, and it is one of the music streaming app's most successful content marketing campaigns. Every year, around the holidays, Spotify users receive a compilation of all the songs they've listened to throughout the year which is presented with graphics in vibrant colors and is divided into genres, albums, musicians, and more.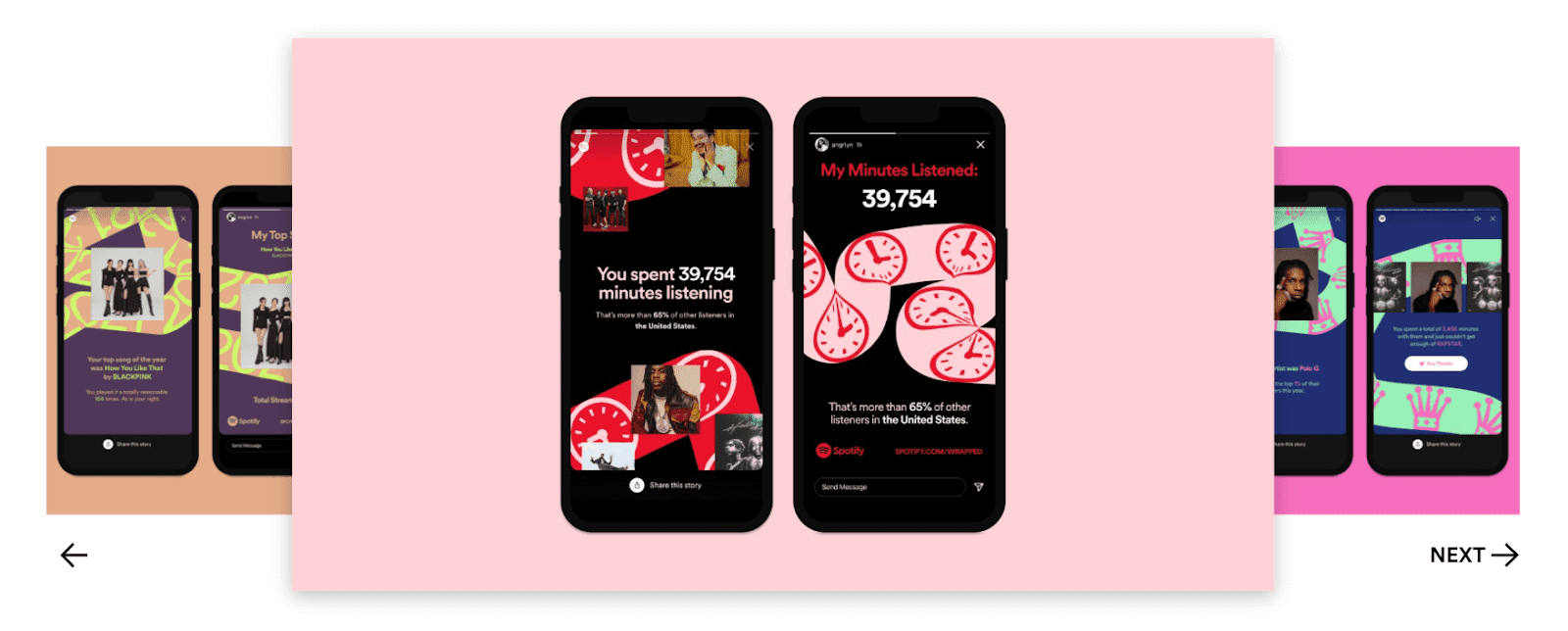 (Source: Spotify)
The app then produces a tailored playlist of the user's most listened-to songs and users have the option to share their compilation on social media. This is a crucial component that has caused the campaign to trend on social media every year since its beginning.
What stands out: Spotify's Wrapped gives users a sense of belonging and community. When users share playlists on social media, they find people with the same music taste as theirs and connect with them.
Tip: Pay attention to what your audience loves and make custom content to make them feel extra special, one in a million.
3. New York Times — Wordle game
Wordle is a popular online game purchased by the New York Times that allows users to guess a five-letter word in six chances. However, this can only be done once a day. As the site keeps track of your winnings, it allows users to share their results on social media. This brings the community of users together to share ideas and compare winning streaks.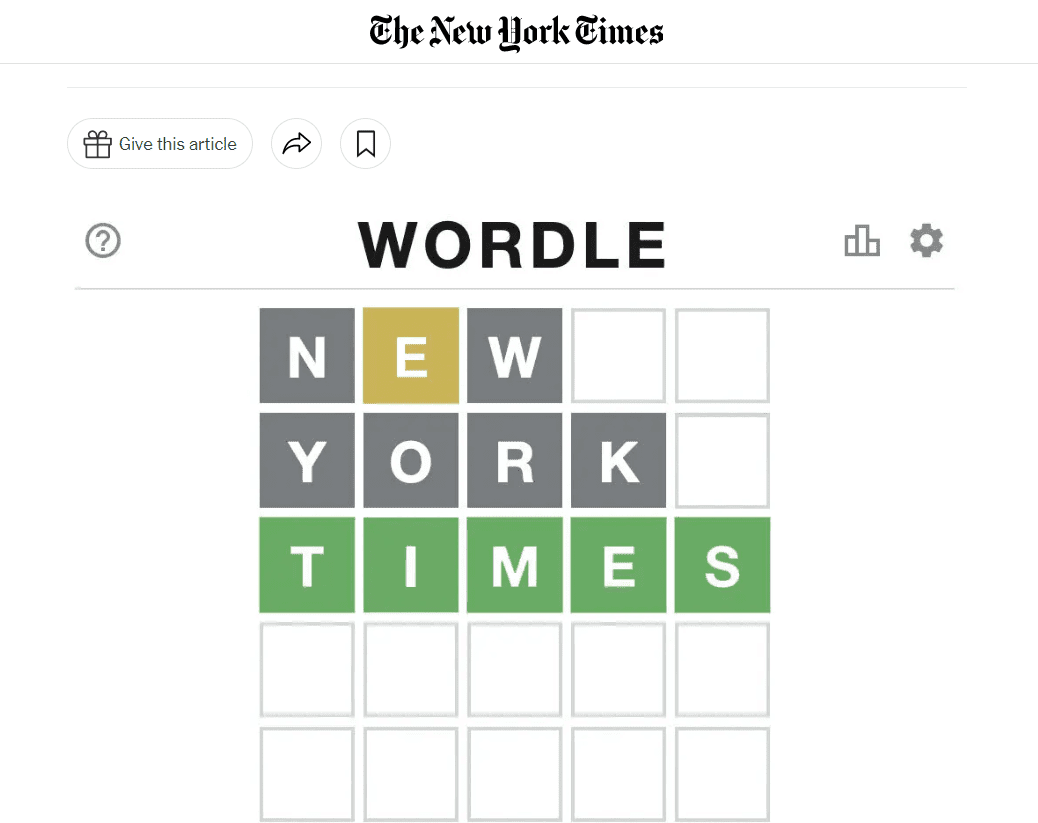 (Source: The New York Times)
It also got more people to sign up and play the game and users grew by the day. Thanks to the game's virality, The New York Times added 387 000 digital-only subscribers in Q1 2022.
What stands out: Wordle is a short game, stealing the attention of users for a short while, which is unlike every other conventional game.
Tip: The more complex the content, the harder it is for a user to navigate it. Creating something simple, easy-to-use, and fun is possible and Wordle shows us just that.
4. Travel Manitoba — Videos
Amazing travel-related videos that speak to both visitors and locals in Manitoba, Canada, may be seen on the Travel Manitoba TikTok channel. Videos depict experiences like dining while the aurora borealis is visible, staying in vintage lodgings, or embarking on a bison expedition.
(Source: Travel Manitoba's TikTok)
More than 330,000 likes and over 39,000 followers have been gathered by candidly sharing these moments.
What stands out: The videos are particularly fascinating because they are short, as against long travel videos that are the order of the day in tourism. The reviews are honest and users can rely on them for the truth.
Tip: There is nothing like being associated with honesty as a brand. Showing content like your users are there with you is another way to get them engaged.
5. Apple — Product launch video
Apple is undoubtedly one of the biggest brands in the world, which explains why people always look forward to the September Apple event where new devices are unveiled. In the campaign for the Series 7 watch, Apple's content marketers show how their watch can save lives in the event of danger.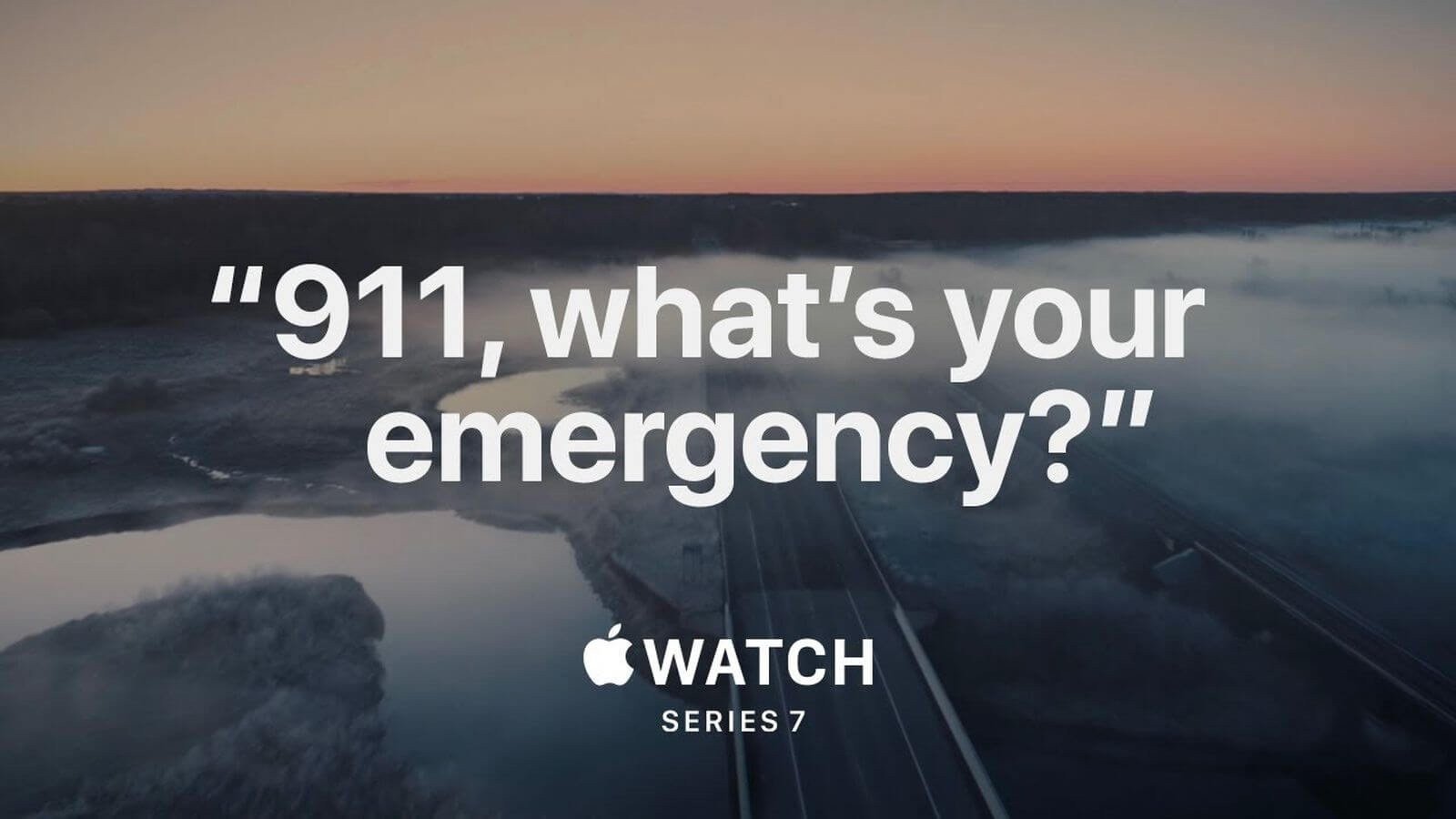 (Source: Mac Rumors)
Apple introduces actual situations of individuals in distress, such as those who are stranded at sea or in a vehicle accident, over the course of a number of movies. They also show how the Apple Watch Series 7 helped folks in need of emergency assistance.
What stands out: People always seek solutions. Apple used this to show a situation, offer a solution, and show how their product can help you in that situation. Customers feel more at peace if they believe a small item can help them when they need it.
Tip: Storytelling is very important in approaching content marketing as a whole. It's also vital to know your customers' pain points to offer them a relevant solution.
6. HubSpot — Academy
HubSpot has marketing on lock and every marketing enthusiast can attest to that. They provide tools that help marketers succeed in their chosen sphere. There are in-depth and informative blog posts, as well as content upgrades such as eBooks for use.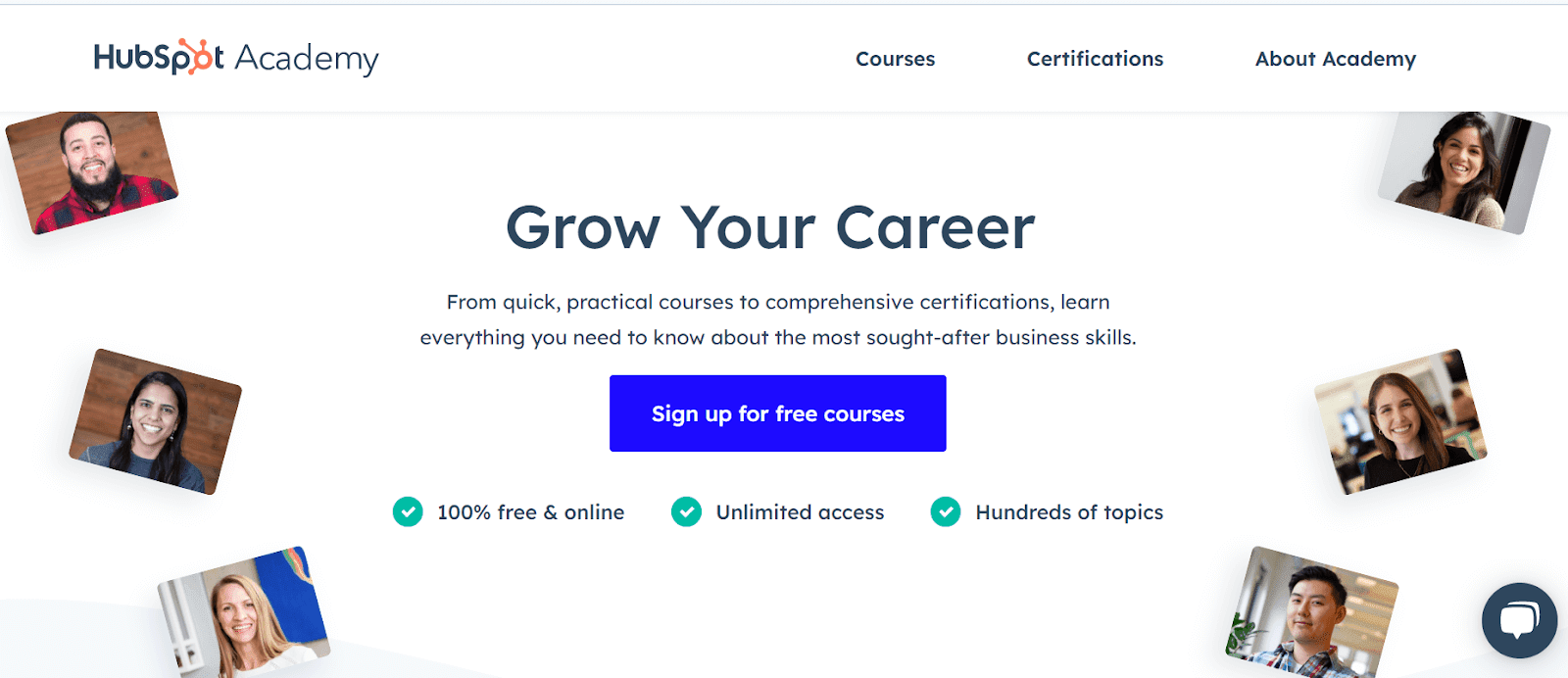 (Source: HubSpot Academy)
In addition to this, they have an Academy which offers online marketing classes for free, and users can even get certified. This is a great example of providing value to receive long-term benefits.
What stands out: HubSpot possesses incredible expertise in the industry, possibly the best out there. They use this to their advantage by providing it to users by breaking chunks of lessons down into understandable bits.
Tip: Leverage what you are good at as a brand and make the most of it.
What do we learn from these brands?
1. Stay authentic
These brands have been able to churn out original content that is true. If your brand is not only known for great products and services, but also for honesty, it will be easier for customers to trust you and what you offer, and identify with your brand. There is nothing like being original and sticking to one's brand story and focusing on producing results around that.
2. Improve the user experience
Many people tend to concentrate on techniques when it comes to branding. However, brands that endure have figured out how to incorporate user experience into their identities. Apple, for example, places so much importance on the unboxing of a new device that customers look forward to their unboxing experience.
At Apple, there is a special place called the Unboxing Room. It is where designers test out different package combinations to get the best emotional response from people when they open their Apple products. Their investment in creating the best unboxing experience for their customers shows in the loyalty of people to their brand.
3. Benefit from visual content
Visual content is not only appealing to the eyes, but it also makes selling easier and faster as customers start differentiating your brand from other companies. All of the brands listed above make use of visual content, that is pictures, infographics, and videos.
4. Use the power of community
Our brand examples have shown us the importance of a community. Building a community of like-minded people is very crucial to a successful content marketing campaign. It is also essential to make your customers feel like the message in the campaign is tailor-made for them.
5. Be creative
As cliche as this may sound, it is also an important content marketing strategy that clearly worked for the brands listed above. With our imagination, there are no limits.
There are several unconventional or never-thought-before campaigns that brands have been able to bring to life, just by employing their creative stint and going for it.
Creativity doesn't always mean complexity. Sometimes, it's just doing things a little bit differently.
6. Use your content to tell stories
Stories have a way of communicating thoughts and arguments much more effectively than dry lists of data. Use a tale to explain your brand to the public if you truly want to do so.
Wrapping up
There is a lot to be learned from these brands. As much as we look at and try to replicate their success, it is also essential to note that there have been several failed attempts by the same brands. You should also learn from their failures, so you do not make the same in your business.
Typically, content marketing is more about strategy than techniques. Whether you want to go for user-generated content marketing, create amazing videos, or design professional emails, user experience and authenticity should be key components of your brand.
Was this article helpful ?
Thanks for your feedback!