12 January
15 Best Ideas for St Valentine's Email Newsletters
Searching for fresh St Valentine's Day newsletter ideas to win new customers? Search no more! See how the world's top brands nail the holiday campaigns.
Get inspired by the ideas listed below and implement them in our holiday email templates in no time.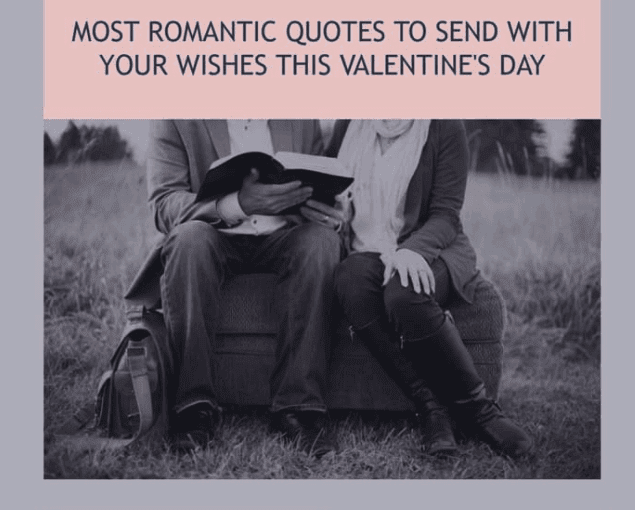 Valentine's Day email marketing ideas
Don't focus on design only. These ideas implemented by famous brands will spice up your St Valentine's email campaigns.
1. Cut prices big
This is what customers expect from us during the holidays.
Value proposition and discounts are the core of any marketing campaign. And St Valentine's one is not an exception. "Wrap" your offer in a way so that it doesn't go unnoticed.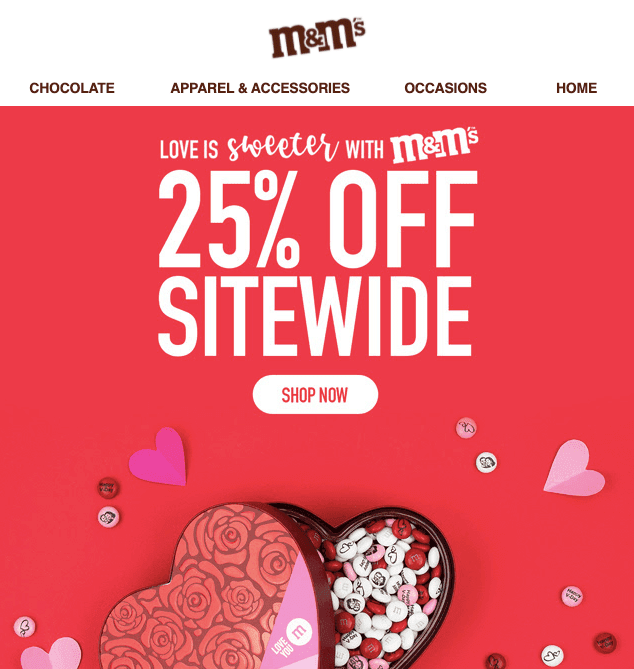 (Source: Email from M&M's)
May your emails be filled with anticipation of the holiday. Spread the love.
2. Exchange your discount for a love story
If you lack customers' comments on your website or if you feel like giving a coupon in exchange for a favor only, here's an idea:
Announce that you will give $10-20-30 back only if people share their love stories on your website. The mandatory condition is sharing a photo of them together. Or you may ask for a love confession, published on your website, with a photo attached, as well.
During this holiday period when love is in the air, we all feel like shouting out about love, our deepest feelings. Thus, subscribers are more likely to come out.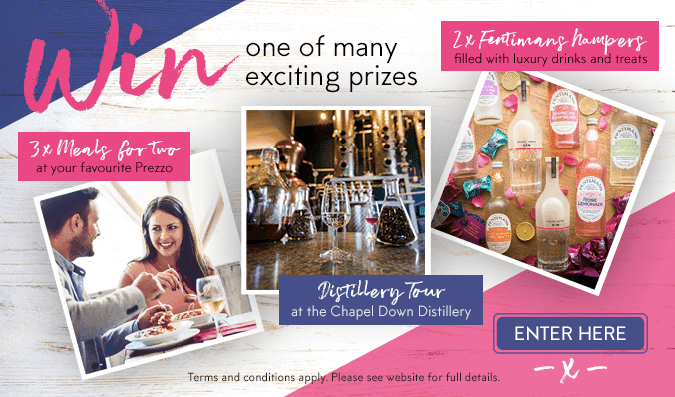 (Source: Email from Prezzo)
Not only will this enliven your newsletters, but also will drive more traffic to your website.
3. Suggest ideas on what to present
You will significantly facilitate people's lives if you suggest a list of gifts to present on this wonderful holiday.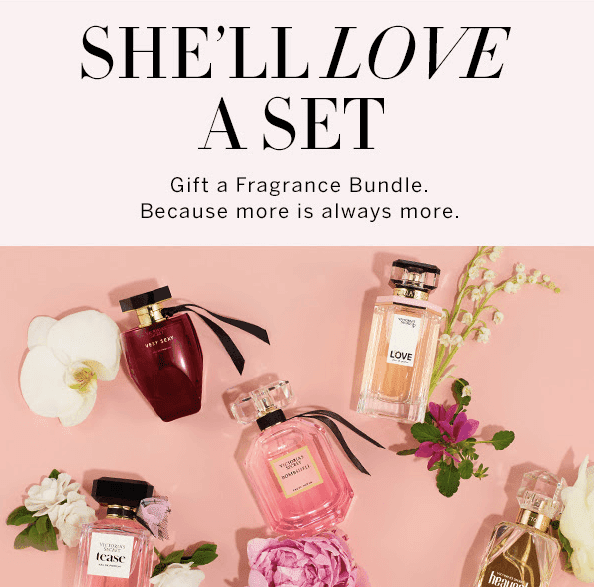 (Source: Email from Victoria's Secret)
Most St Valentine's Day emails are filled with ideas on how to congratulate women. And you, please, oh please, do not forget about men on this day!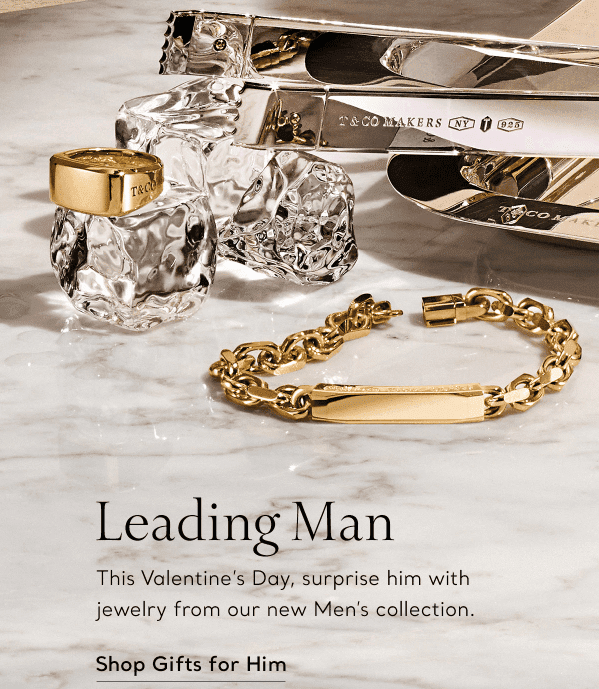 (Source: Email from Tiffany & Co)
Who said we can only congratulate our girlfriends/boyfriends and spouses on this day? We can, as well, buy presents for kids, parents, and even grandparents. Suggest a list of presents for the partners, also share the ideas on what to buy for all the members of our families as we love them all. Besides, this is a great opportunity to engage with a wider audience.
Take a look at this St Valentine's newsletter sample. It's marvelous.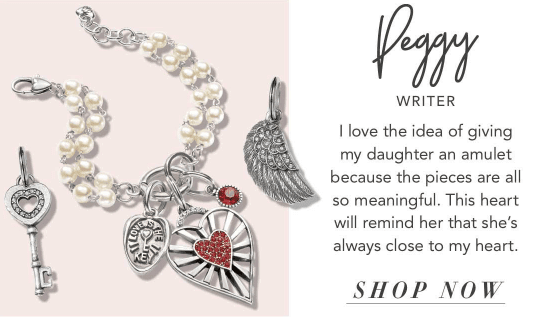 (Source: Email from Brighton)
4. Provide the celebration plan
It will be very thoughtful, caring, and nice of you not only to offer the list of the best presents for this day but also to suggest a plan. Yes! Plan for the whole day.
Share your brave ideas, share some world-famous traditions. Both young and mature couples will appreciate it.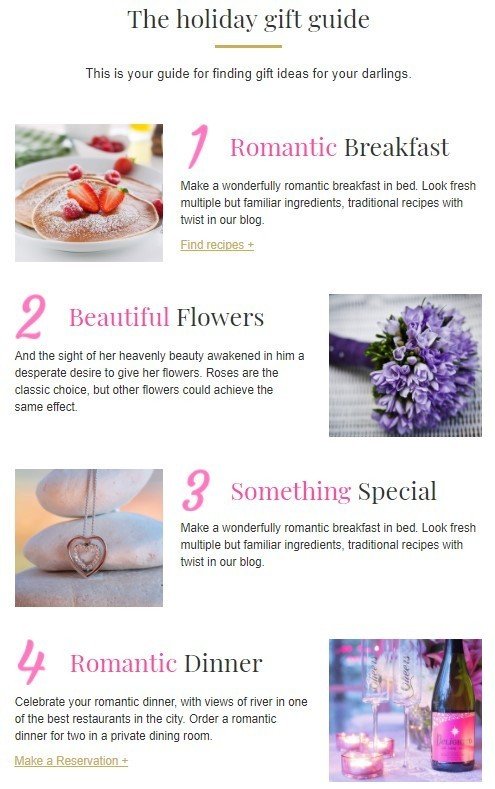 This idea fits the HoReCa industry best.
5. Help those who are late
You've kept on reminding customers that the holiday is around the corner. But your email sent on February 11th will be of great use for those who were pretty unsure about what to buy.
Remind them this is their last chance for on-time delivery.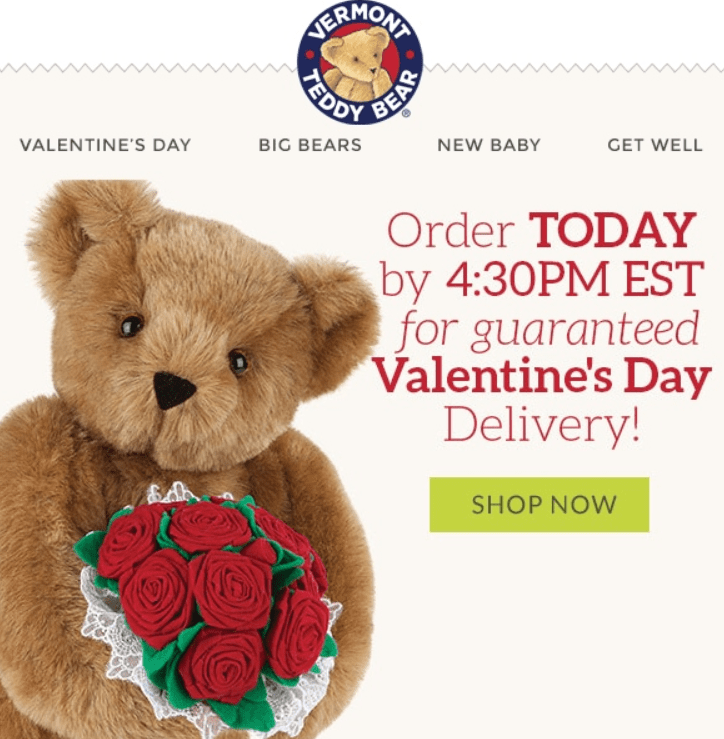 (Source: Email-Competitors)
And certainly, there will be those who'll realize just on St Valentine's day that they were quite busy and forgot to buy presents.
Your St Valentine's email reminders sent in the morning on February 14th will be of great help.
(Source: Email from Victoria's Secret)
6. Help with a proposal
7 million Americans, which equals 2% of the population, according to Statista, made a proposal on this day. I hope, the answer was "Yes". If you run a restaurant or a jewelry shop, notify clients you can help them with the preparations.
If you are a jewelry store, let them know what rings are on-trend this year.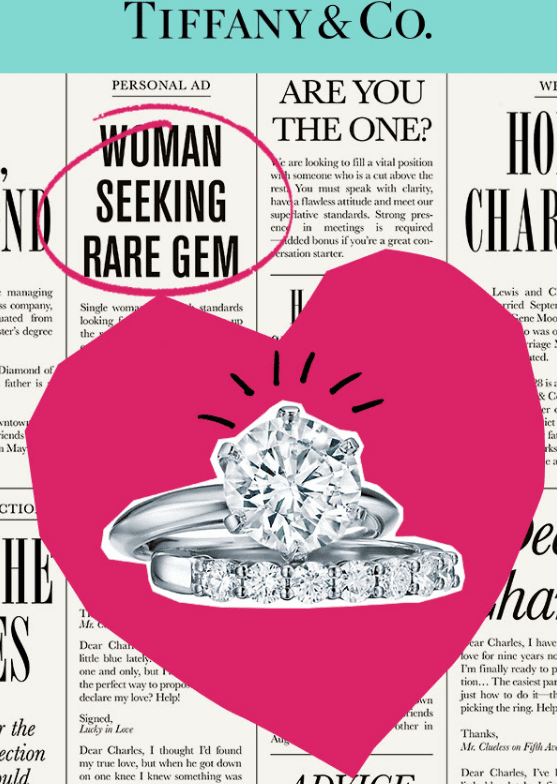 (Source: Email from Tiffany & Co.)
7. Help clients get what they really want
Seriously, how often do we get what we really like as presents? And most importantly, how tired do we get when we're looking for presents for our close ones? I'm not sure about you, but I never know what and where to get for my close people. It drives me nuts. So I would really appreciate a little hint.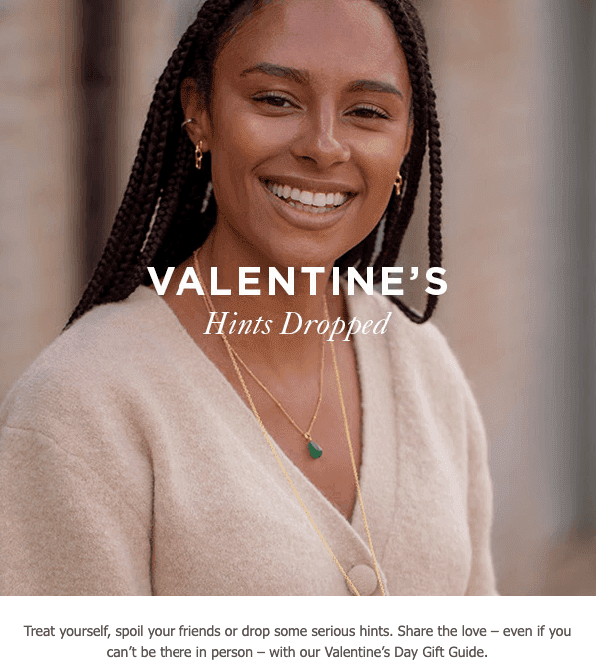 (Source: Email from Monica Vinader)
8. Offer anonymous delivery
That's right. Not everyone is ready to come out on this day. Some prefer to stay secret. Help your customers be a Secret Valentine for their beloved ones.
9. Cheer up single hearts
According to NRF, 48% of Americans did not celebrate Valentine's Day in 2021. So please think about those people who are not going to celebrate it this year. Cheer them up as they might feel lonely on this day. Create a supportive campaign. Be their Valentine.
As we do not know who of our subscribers are single and who have a pair, you can recommend everyone to treat themselves on this holiday. I doubt that anyone will refuse to buy a present for himself/herself and will not use the discount you offer. However, those who are seeing someone would rather use the coupon on a great present for their partner.
Once I received this, "Tired of thinking whether he will love it or not? Celebrating alone this year? If you do not have a beloved one, this is a great chance to congratulate the most important person in your life — yourself. This year for sure you will get exactly what you want".
And even though I was not single back then, I took their advice and purchased a new pair of earrings.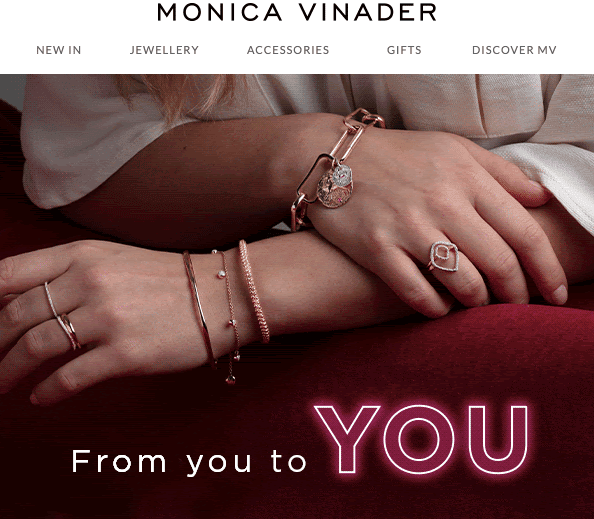 (Source: Email from Monica Vinader)
10. Utilize gamification
Entertain your customers on this day!
Ask them tricky questions about your company. Something like, how many promo emails a month you send or the year your company was established. Or even, "How do you pronounce our brand's name?".
Or let them win a huge discount. It's up to you!
Should B2C companies come to this trick in Valentine's Day emails? I doubt! Generous coupons beautifully wrapped in hearts, gift guides, etc. might be the best decision here.
However, SaaS products and B2B companies would benefit from email gamification. As they do not normally sell products that would be a good fit as a present on this romantic holiday. So, quizzes and contests might be a good way for them to congratulate clients this Valentine's Day.
For the details on how to build a quiz in under an hour, please refer to the blog post given below.
11. Unite caring hearts
St Valentine's Day is a day of love. Love for our close people, family, and the planet.
Let those who care about the planet and all its inhabitants unite to save our home.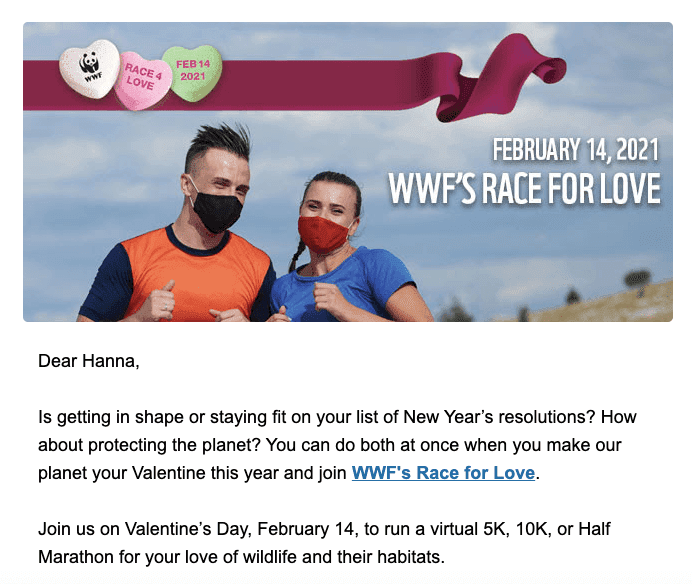 (Source: Email from WWF's Panda Nation)
Yet another good example of how non-Ecommerce companies can congratulate their clients/friends on this holiday.
12. Be a problem solver
Let your users focus on the holidays, on shopping, on romantic speeches, etc. while you cover their back!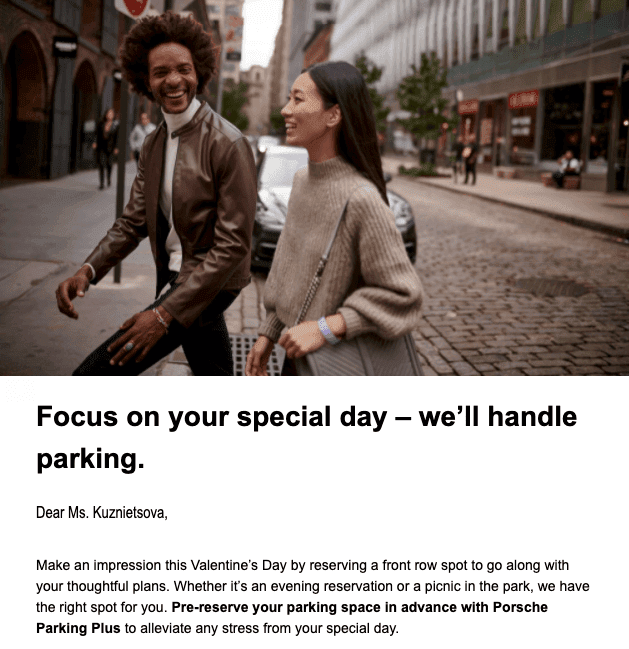 (Source: Email from Porsche)
You're running a hotel or a movie theater? You can also help your clients on this day! Let your guests know they will not have any problem with parking if they reserve a table or buy tickets online.
Or share the most romantic spots to visit on this day. Use your rich imagination, but remember to be useful to your clients.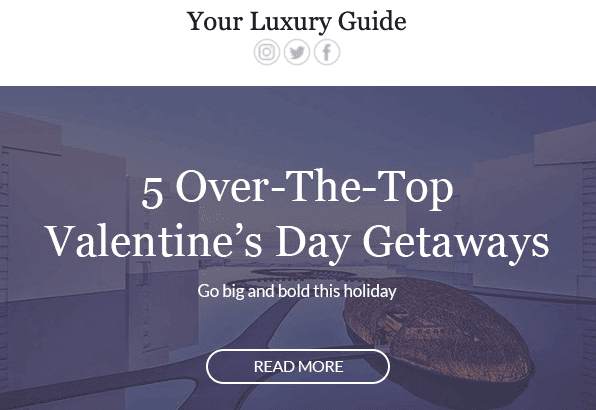 (Source: Email from Forbes Travel Guide)
13. Add videos to emails
Videos in emails would be a good solution for those brands that do not sell apparel, jewelry, for those who do not run a HORECA business.
With video, you can either congratulate your customers on this holiday, or spread some fun, like Heineken did a few years ago, or express your gratitude like charity water.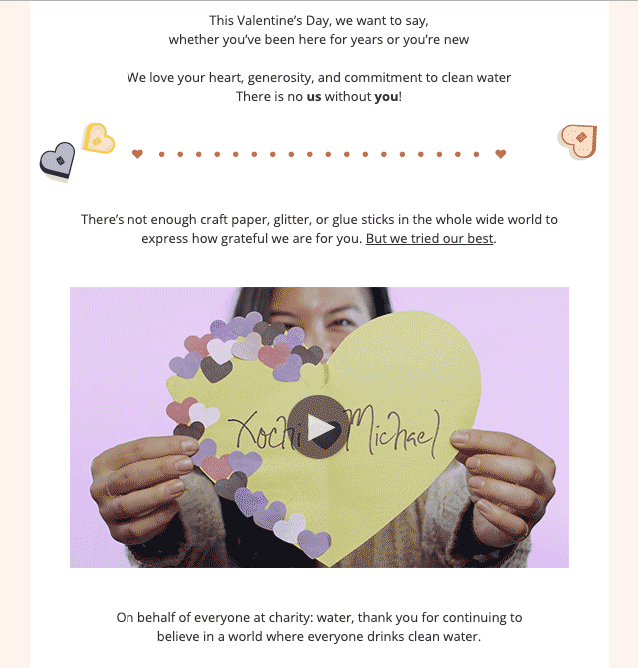 (Source: Email from charity: water)
14. Let your customers know you love them
People hear dozens of "I love you", "I like you" and "I cherish you" from their friends, colleagues, neighbors, and, of course, from their beloved ones on this day. Don't be an exception. Tell the customers how much you like and cherish them.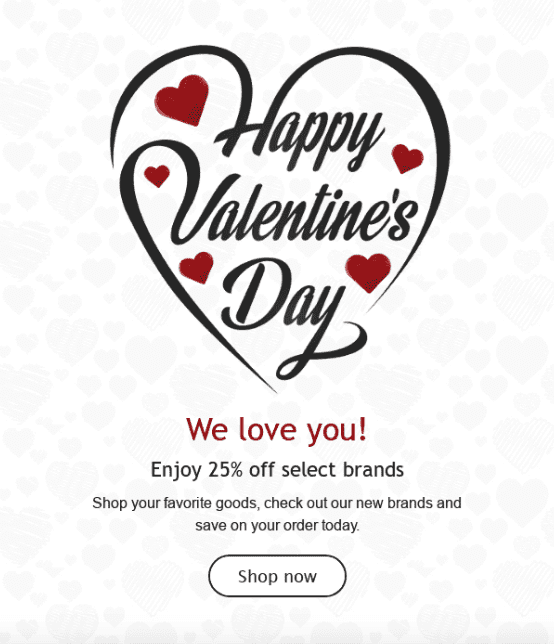 Let people see you value them.
15. Start today
If you are a B2C company that sells special gifts for people in love, you should start your Valentine's Day email campaign way before the holiday. People need time to choose what they want, need time to get presents delivered on time.
St Valentine's Day email subject lines
In every day newsletters, about 25% of recipients make the decision whether to open the message by reading the subject line. While for Valentine's day this number is 30%.
No matter what the goal of your St Valentine's newsletter is, you need to put it straight in the subject line that email is dedicated to St Valentine's Day. Be very specific, yet concise.
Some examples by famous brands:
Tiffany & Co — This Valentine's Day, Reach for the Stars.
Gap — Announcing $20 gifts for your valentine.
Tiffany & Co — Hanna, Discover New Tiffany Designs for Valentine's Day.
Nike — Love is in the air.
Tiffany & Co — Hanna, Order Now! One More Week for Valentine's Day Delivery.
Porsche — Reserve that special spot this Valentine's Day.
Decathlon — Sporty Valentines Gifts ❤️
WWF's Panda Nation — Be nature's Valentine: Join WWF's Race for Love.
Hipmunk — Roses Are Boring, Chocolates Are Too…
LuckyBrand — 50% off > having a Valentine 💘.
Brighton — A Heart for YOU or Your Valentine.
Nike — Late on Love?
Forbes Travel Guide — 5 over-the-top Valentine's Day getaways.
Athleta —Inside: Valentine's Day Shades
Really Good Emails — We wrote a poem for you.
M&M's — My Valentine's gift guide.
Prezzo — Start dropping the hints.
Ferrari — Exclusive: enjoy our special offer and give a watch this Valentine's Day | FREE SHIPPING.
Chubbies — *hint* *hint*.
Herschel — A heartfelt exclusive.
Maybelline New York — Valentine's Makeup Looks You'll ❤️
Brighton — ❤Valentine, It's Not Too Late.
Stripo — Make your St Valentine's Campaign Elegant.
Monica Vindader — Find the perfect gift with our Valentine's gift guide.
M&M's — 50% Off Valentine's Day Gifts.
Tiffany & Co — A Tiffany Gift for Your Valentine.
Valentine's Day email design ideas
The design… Here you may implement brave St Valentine's email design ideas you want or even combine some of them if you like.
1. Decorate emails with hearts
A pink-red heart is the first thing that comes to my mind when I think about St Valentine Day. I know I am not the only one here. By adding hearts to your email newsletters, you will set the Holiday Vibe.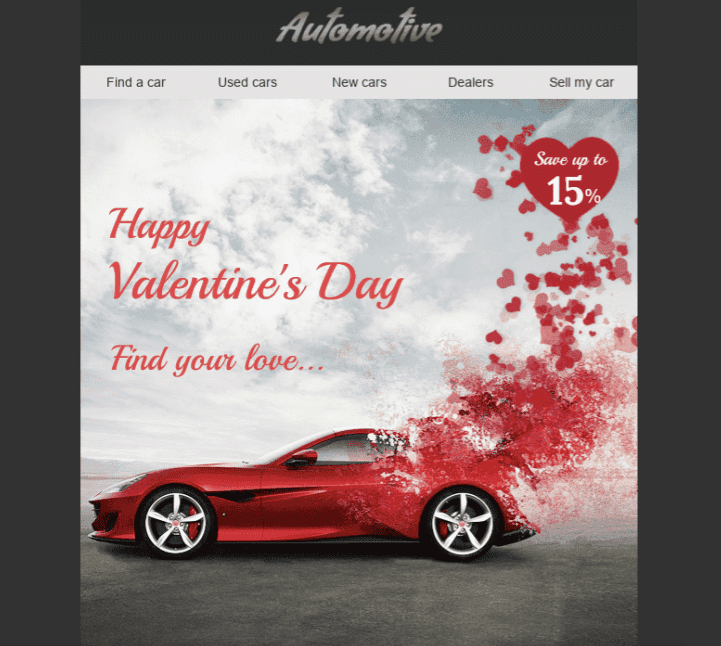 2. Decorate small elements of your holiday emails
If you are not in the mood to create a brand new email newsletter for St Valentine's Day and want to use your regular one, you can decorate small pieces of your emails. Of course, placing hearts in a footer or header will be a nice idea.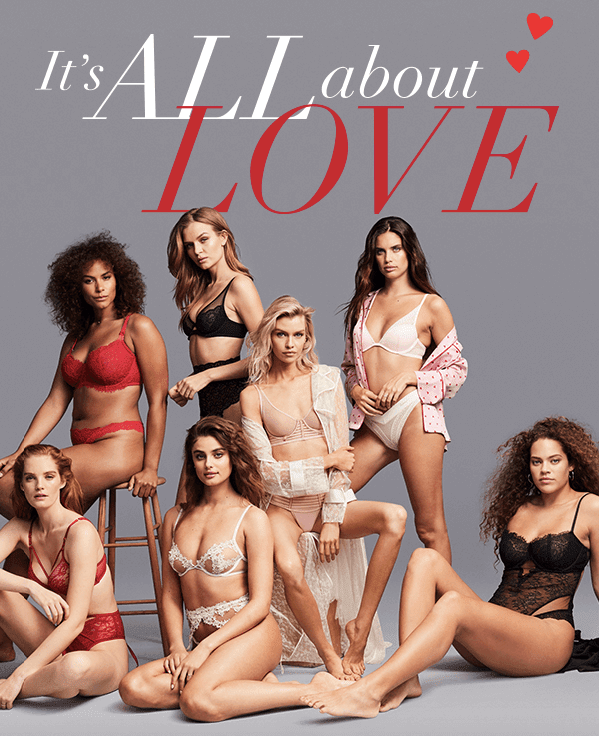 (Source: Email from Victoria's Secret)
But you can also do it the way Victoria's Secret did. Just add small hearts to your banner image.
Important to note:
You can add such small elements to banners with Stripo easily. Just upload these decorative elements as additional images.
3. Be original, or stop using hearts
If you are a little bit tired of the hearts, you could use some other attributes of this romantic holiday.
Be original, add an image of some flowers and balloons.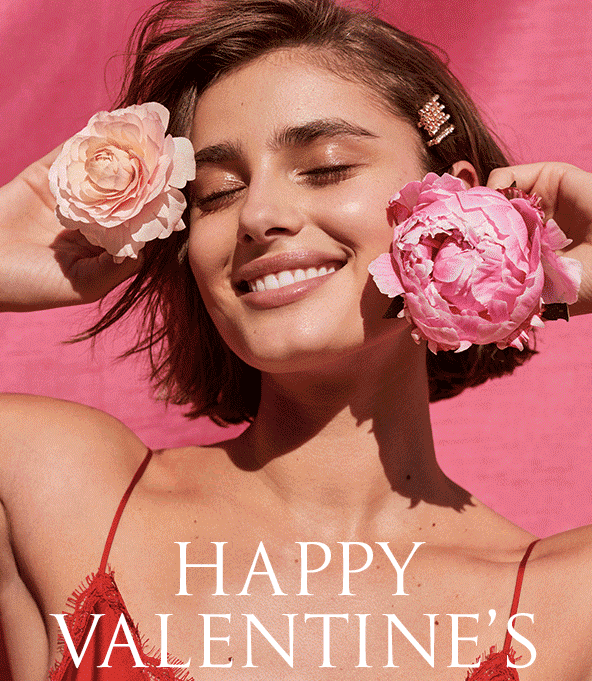 (Source: Email from Victoria's Secret)
Or a glass of wine with 2 (!) glasses.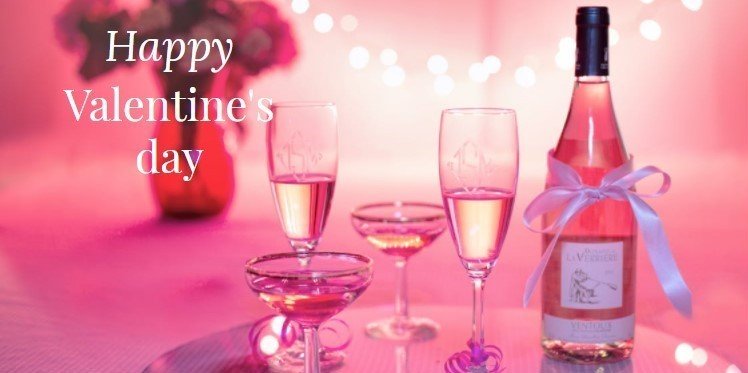 (Source: Stripo template)
You may also just add a photo of a couple in love. Very close to the holiday, but not so evident.
4. Add some fun
When speaking about the best Valentine's Day email ideas, we cannot forget about some fun.
When I received this email, I realized I am not the only one confused and concerned about what to buy for my close people this Valentine's Day. Red is also confused :) Phew...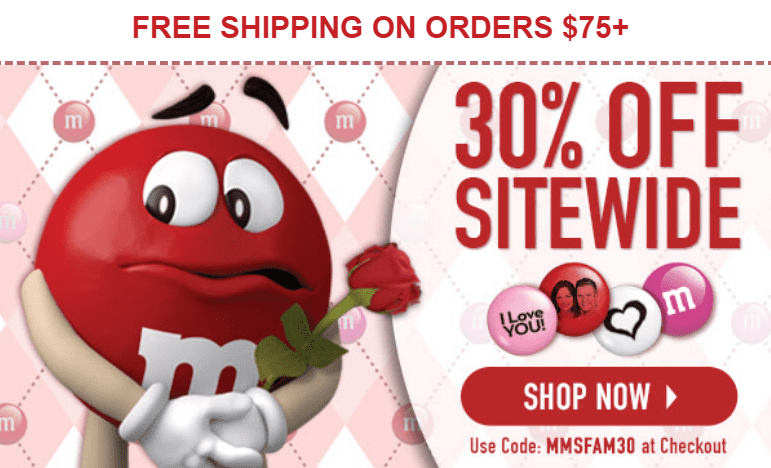 (Source: Email from M&M's)
5. Use decorative fonts
Given that holiday emails require festive design, why not use custom festive fonts in emails?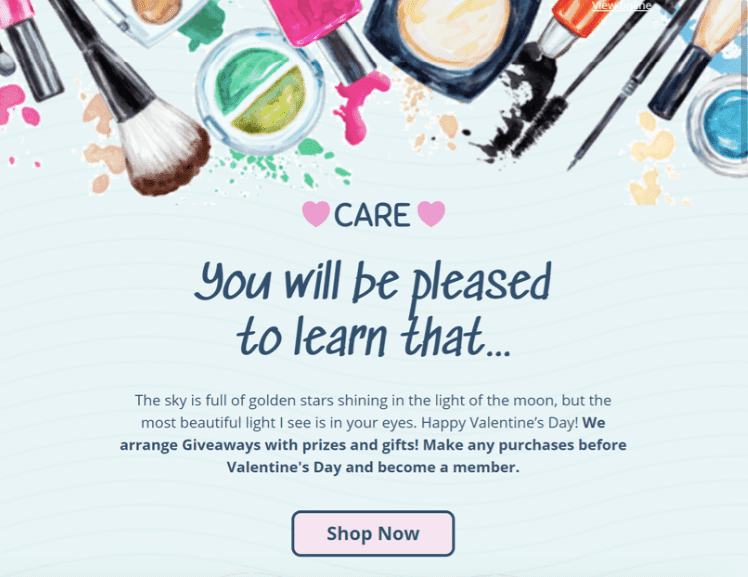 (Source: Stripo template)
Easy to upload them with Stripo.
Final thoughts
This is the most romantic holiday worldwide. So, our St Valentine's Day email marketing requires our close attention.
When should you start sending out your newsletters? A month before the holiday. A week or two before the holiday send out emails for those who are late. On the very holiday, please, send just a wish and tell your customers how much you care for them.
A proper St Valentine's Holiday email campaign should:
meet clients' interests;
be well-designed;
include a concise subject line;
cheer up single hearts;
offer ideas on how to celebrate the holiday;
help men and women pick good gifts;
express your love.
I wish you all the best.
Thank you for reading. Be loved!