27 September 2019
Halloween Email Design & Subject Lines Examples
The "spookiest" and the funniest holiday is coming and our duty is to get ready for it. How can you make your Halloween email successful? There are three ingredients:
performing subject line;
eye-catching design;
value offer.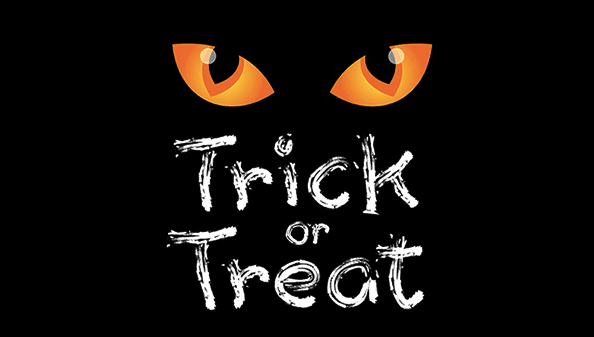 An interesting fact about Halloween — according to the NRF investigations, in 2019 Americans are about to spend $8.8 billion on Halloween.
Halloween email subject lines
Why do we start with the subject line? Because judging by this element, your customers make a decision whether they find the email worth opening or not. As long as the average open rate for retail is 20.81%, this means that 79.19% of emails go trash without being read. One of the reasons why recipients do it is a poor subject line. Let's be honest: normally, Halloween subject lines are too similar and very common: "Trick or Treat", "Bootiful...", "Spooktacular..."
I have investigated 300 hundred of Halloween emails. They were interesting, with amazing banners and design, though their open rate was too low for the uncatchy subject lines.
Feel free to use your rich imagination! Don't be afraid to surprise, sound weird, shocking or unusual to your customers.
Here are some examples to inspire you before you start crafting your Halloween email marketing campaigns:
​​​​​Party time: It's Alive… Let the Spookification begin!
Joan: So Good! It's scary!!
Universal Orlando Resort: Just announced! Things are getting Strange!
Fine Gardening: Halloween is Harrisburg!
LALALAB: Boo to you! 25% off if you weren't scary!
Etsy: You can still be a unicorn!
Mailigen: Hurry up! The bats are taking it away!
AshleyStewart.com: Open If You Dare!
GearBest: MONSTER DEALS ONLY | Prices Shredded just in Time for Halloween!
Very: ? No more bin bag witch ?
Merlin Entertainments: WATCH OUT! , it's behind you…
Hobby Lobby: Get your SCARE on!
World Market: Eeek!
TaiPanTrading: The Witch is IN! Shop Now for Enchanting Halloween Décor!
HOT TOPIC: Don't go out alone!
Spencer's: Living Dead Dolls... Scared Yet?
Spencer's: You've Been Warned!
YOURS: Scream for Halloweeeeen!
Hot Topic: Skellington in your closet —> skeletons in your closet.
Briggs and Riley: A True Horror Story!
Amerimark: Forget monsters... Beware of missing this Halloween Sale!
Peter Alexander: Dress Like a Nightmare, Sleep Like A Dream!
Converse: Mystery Coupon Inside.
Hhgregg: ? Just when you thought it was safe to open your email…
PacSun.com: Put a spell on you ?
These Halloween subject line examples are applicable to all kinds of online stores and the hospitality industry.
Certainly, if you look through your Inbox, and use all your rich imagination — many interesting ideas will come to your mind.
Please remember that you are welcome to add emojis to Halloween email subject lines.
Important to note:
Email subject line should not exceed 26 characters because of mobile users.
If this is not enough for you, please add a preheader text.
And then your customers on their desktop screens will see it like this:
The text after the hyphen is the pre-header that you may set with our editor. Please, refer to this blog post for more information on how to set subject lines and preheaders with Stripo prior to exporting emails to your ESP.
Please remember that you may send mass emails via Gmail for free.
Halloween email design
Now that we've convinced recipients to open our emails, we need to impress them with the visuals as Halloween emails are all about the design. These tips will help you create an effective newsletter.
1. Pay close attention to banners
Banner sets the tone for an entire email. When crafting your Halloween email marketing campaign, start with picking a proper banner image.
May it be scary, funny, amusing, weird. It does not matter. What is really important — is that it really should grab readers' attention and encourage them to scroll your email down.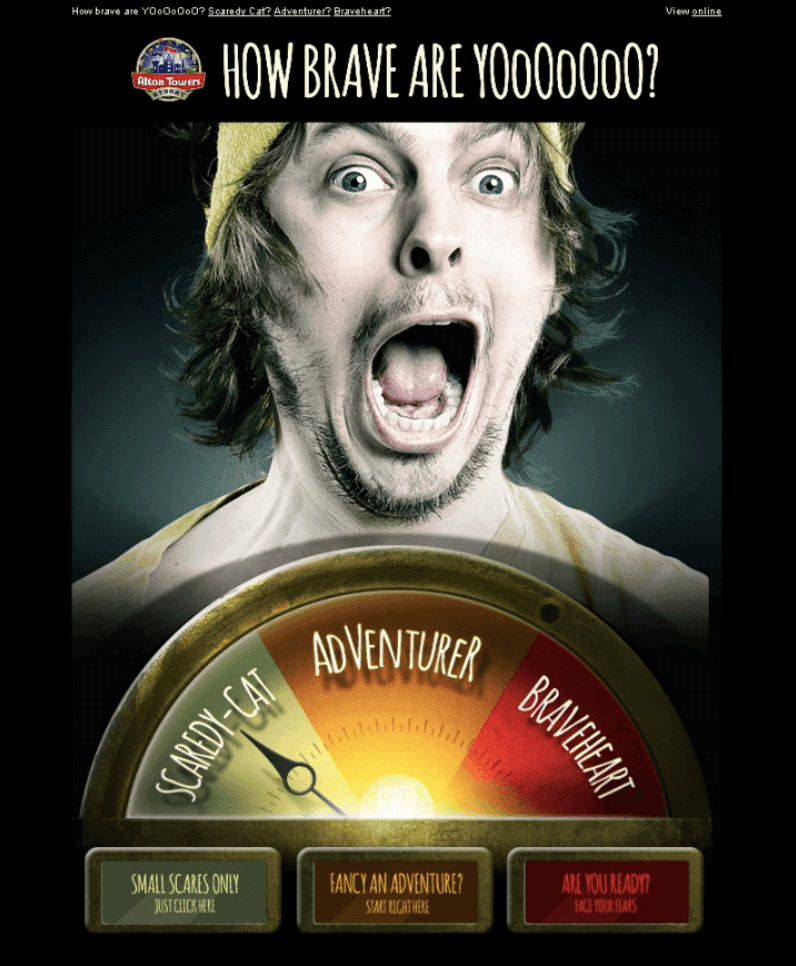 If you add a value offer and a CTA button over this banner image, your banner is likely to get a number of clicks.
For more information on how to make a banner with Stripo, please refer to this blog post.
2. Play with fonts
In the Halloween email template, the copy is not just a compilation of encouraging words. The letters themselves can be an art. Make them thematic: paint in orange color like pumpkins or black like bats, apply gothic fonts to make the letters look scary, and certainly remember to use thematic words.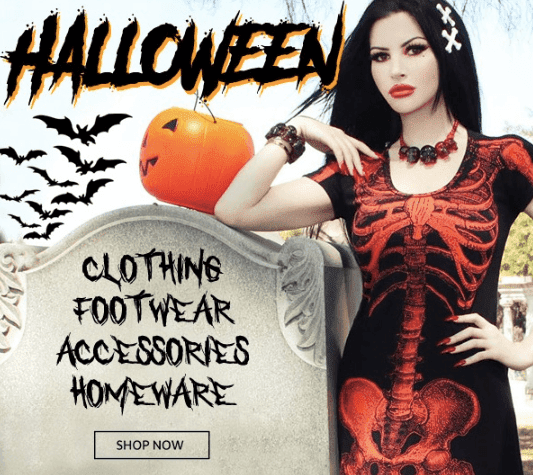 In the previous paragraph, we told you that you can add a copy over banners. Don't worry: you are welcome to use any font you like because when placed over the banner, it is a part of an image and is shown on your customers' screens just the way you wanted. None of the letters will be replaced with a family font nor with the email client default one. Please remember that you can wrap your banner text in any of the 40+ decorative fonts that Stripo offers.
3. Use Halloween-related images across emails
Use images of spiders, pumpkins, skeletons, etc. to make your Halloween email design even more festive.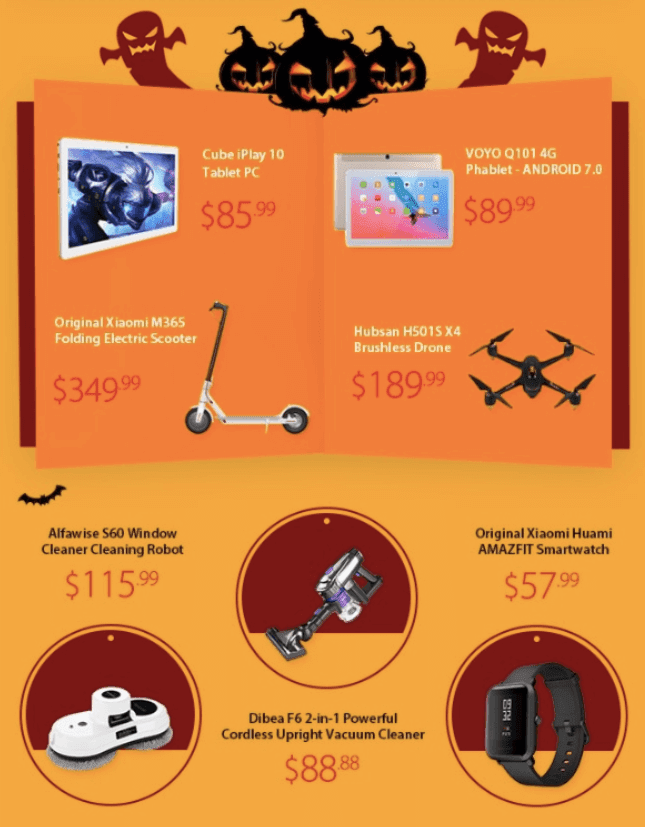 Apply them to numerous product cards, to containers, headers, menus.
4. Decorate your CTA button
No matter how much we love, and how hard we try to entertain our customers, our main goal is to sell our products. This means that you should spice up your Halloween email template with a beautiful call-to-action button.
Certainly, you should empower it with a generous interesting value offer. When it's not generous enough, your button, even if written by the best painter in the world won't make the customers click it.
This button was drawn in a photo editor and then inserted into the template just as an additional image.
Do not use this trick too often, only on special occasions. Remember to stick to the image-to-text ratio.
Note: please, remember to insert proper links and fill out the alt text. In case, an email client does not show the image, your customers will see the alt text. This means the very text has to be concise and descriptive.
5. Spice up email footer
An email footer doesn't always have to be serious, especially when it comes to holidays. This element of the email contains very important information for your recipients, which is why it can be distracting for readers if you change the entire background color for it or apply different fonts.
But you can add one more structure right above the footer stripe, upload a thematic drawing to it. Make sure the background color of a new structure fits the color of the footer.
And like we said in paragraph 3, you can download thematic frames with transparent background — you can insert them into the additional structure.
6. Play with your customers
If you are a Stripo.email user, then you must be familiar with our websafe image rollover effect. For example, your subscribers see images of pumpkins, but once they put a mouse cursor over it, they see product items. How would the customers know they might find something behind the pumpkins? Make the pumpkins "speak".
I dared to hide a "scary" Halloween GIF behind one of the images. Why not? ?
One more way to use the rollover effect is to make a game:
May five out of the six pumpkins say "Boo", for example, when you put a mouse over them, and only one will say "Congrats! "
Rollover effect and other interactive elements in emails are the hot trends for 2019. Entertain your customers with unusual newsletters.
7. Use our Halloween email templates
Stripo has prepared a number of ready-to-use Halloween email templates. They already contain festive banners, decorated containers, and product cards.
You may pick any, customize it down. Apply rollover effect, build or embed AMP elements.
8. Decorate your office
Is it somehow connected with emailing? Yes, directly. First of all, once you set the mood in the office, it will be easier for you to create unique holiday emails. Secondly, your employees will be in the mood also. When sending out an internal email invitation to a party, you may insert photos from the last year's one to remind employees how funny it was. You may even add these photos into promo newsletters if that is suitable and your employees agree.
Value offer
We ain't gonna talk it over here, as you know better which offers and when to send out. Still, please remember that this Holiday, like many others, first of all, means sales.
Final thoughts
In fact, it is easy to craft a powerful Halloween email marketing campaign.
You need to:
write a "shocking" email subject line;
work on Halloween email design;
add elements of games to better interact with customers;
offer a generous value proposition;
preview and test your emails.