08 September 2018
Halloween Email Design & Subject Lines Examples
The "scariest" or the funniest holiday is coming and our duty is to get ready for it. How can you make your Halloween email successful? There are three steps:
performing subject line;
eye-catching design;
value offer.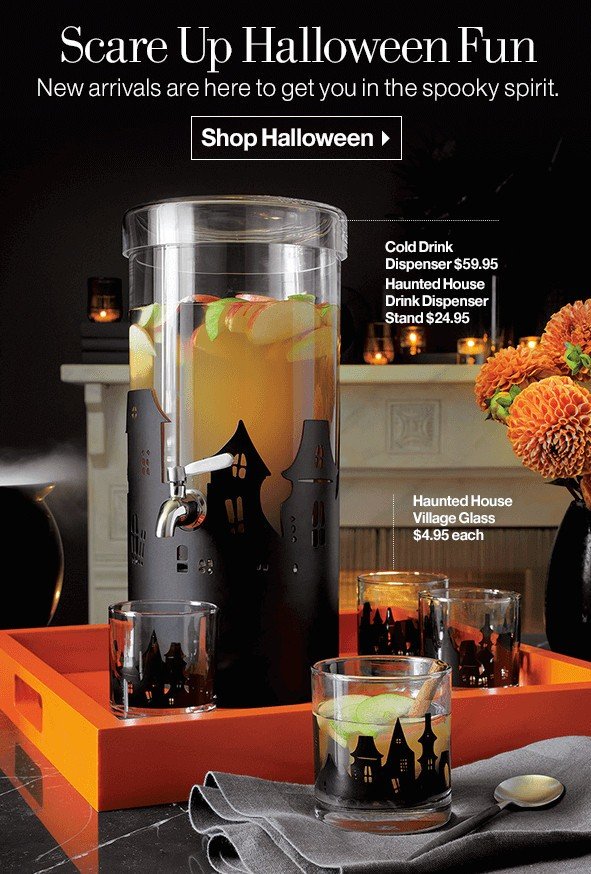 Interesting fact about Halloween — according to the recent Statista investigations, in 2017, Americans spent 9.1 billion of US dollars.
Halloween email subject lines
Why do we start with the subject line? Because judging by this element, your customers make a decision whether they find the email worth opening or not. As long as the average open rate for retail is 20.81%, this means that 79.19% of emails go trash without being read. One of the reasons is a poor subject line. Let's be honest: normally, Halloween subject lines are too alike: "Trick or Treat", some retailers do not bother to work on it.
We have done some investigations regarding Halloween subject lines. Certainly, it should mention that the email newsletter is devoted to the holiday. Secondly, it should notify about the reason why you're reaching out to the customers. Preferably to do it with a sale announcement 🙂
Here are some examples of what you could use for your Halloween mail marketing campaigns:
Halloween Sales;
Beautifully/Wonderfully Wicked;
Wickedly Delicious;
Your Halloween Guide;
Ha-ha-halloween costumes;
Get Your Halloween Treats Before They Vanish;
Scary Things You Would Love to Read Right Away;
Boo-tiful Halloween costumes;
Halloween Is Not About Pumpkins Only.
These Halloween subject line examples are meant for all kinds of online stores and a restaurant industry.
Certainly, if you look through your Inbox, and use all your rich imagination — many cute ideas will come to your mind.
Note: please be advised that the email subject line should not exceed 26 characters because of mobile users.
For more ideas and tips on how to create a performing email subject line please read our blog post.
If this is not enough for you, please add a preheader text.
And then your customers on their desktop screens will see it like this:
(The copy after the hyphen is the pre-header text you may write with our editor).
Do it right in our editor and you will not have to worry about it after exporting your email to the ESP you work with. And remember that you may send mass emails via Gmail for free.
Halloween email design
Now that we made our customers open the emails, we are to impress them with the visuals as Halloween emails are all about the design. These tips will help you create an effective newsletter.
1. Focus on one product
Of course, your online store includes a wide variety of product items, but you may not show them all in one email. You need to focus on one single item and other items are to complement it.
Note: it is vital to send Halloween promo emails weeks or days before the holiday for no one would read it on the very holiday night.
With the help of the banner, this company made a focus on a drink they offer. And at the end of the email, they added recipes of the cocktails you may cook with this drink. It's a brilliant idea.
You can create various banners with our editor, edit them with the filter option and put some copy over it. And your spookily gorgeous banner is completed. For more details on how to make a banner with Stripo, please read this blog post.
2. Play with the fonts
In Halloween email template, the copy is not just a compilation of encouraging words, but the letters themselves can be an art. Make them thematic: paint in orange color like pumpkins or black like bats, apply gothic fonts to make them look scary, and certainly remember to use thematic words.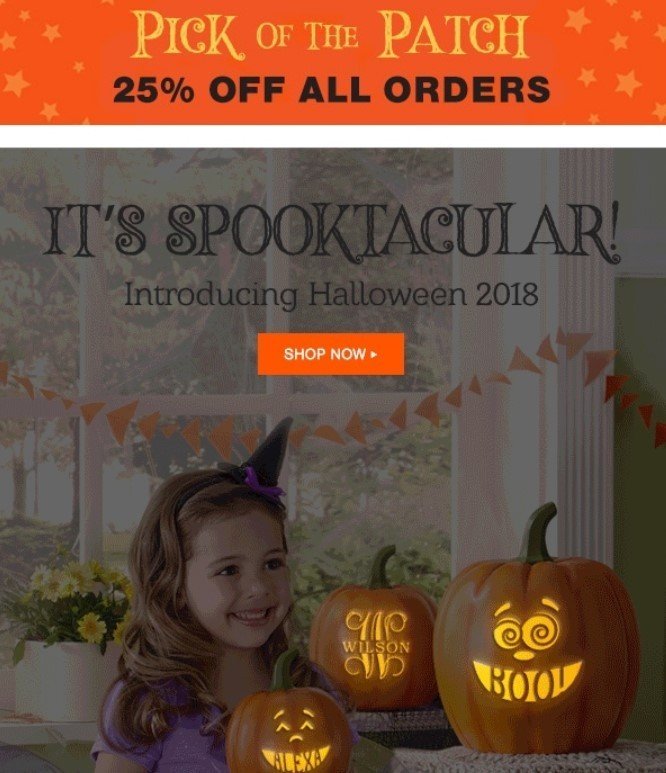 In the previous paragraph, we showed how to add copy over banners. Don't worry: you are welcome to use any font you like because when placed over the banner, it is a part of an image and is shown on your customers' screens just the way you wanted. None of the letters will be replaced with a family font nor with the email client default one.
3. Set additional images
If you want your email to look festive, but you promote regular stuff you might like to apply additional festive images to pictures.
On Pixabay, you may find a whole lot of them and frames to use in emails. Place them over images with the items you introduce, and your email will fit the holiday spirit.
4. Add backgrounds
Use all your rich imagination to decorate the email. For example, decorate your event-triggered emails with festive backgrounds. As for B2B emails, you should not set a spooky or funny background for an entire email, but you may set a themed background image for a container with product items.
If you decide to set a background image for an entire email, not just a single structure, you should remember that some email clients may hide it. To let your email remain colorful, please set a background color as a fallback. In this post, you'll find how to set them for structures and emails.
Note: please be advised that if you make your email as an entire image, there is a chance that email client does not show it. In this case, your customers will see nothing but the alt text.
5. Use thematic spacers
Definitely, when providing some kind of consulting services or sending out cold emails, you are not supposed to put witches or bats all over the Halloween email template, but you may add a few pumpkins in your newsletters to stick to the holiday vibe.
This example shows that even strained and business emails may have holiday design and look classy simultaneously.
6. Decorate the CTA button
No matter how much we love, and how hard we try to entertain our customers, our main goal is to sell our goods. This means that you should spice up your Halloween email template with a boo-tiful call-to-action button.
Certainly, you should empower it with a generous interesting value offer. When it's not generous enough, your button, even if written by the best painter in the world won't make the customers click it.
This button was painted in a photo editor and then inserted into the template just as an image.
Do not use this trick too often, only for special occasions to stick to the image-to-text ratio.
Note: please, don't forget to insert the proper links and fill out the alt text. In case, an email client does not show the image, your customers will see the alt text. This means the very text has to be concise and descriptive.
7. Spice up the footer
An email footer doesn't always have to be serious, especially when it comes to holiday. This element of the email contains very important information for your recipients, which is why it can be distracting if you change the entire background color for it or apply different fonts.
But you can add one more structure right above the footer stripe, upload a thematic drawing to it. Make sure the background color of a new structure fit the color of the footer.
And like we said in paragraph 3, you can download thematic frames with transparent background — you can insert them into the additional structure. Make sure the colors match.
8. Use rollover effect
If you are a Stripo.email user, then you must be familiar with our websafe image rollover effect. For example, your subscribers see images of pumpkins, but once they put a mouse cursor over it, they see product items. How would the customers know they might find something behind the pumpkins? Make them "speak".
I dared to hide a "scary" Halloween GIF behind one of the images. Why not? 🙂
One more way to use the rollover effect is to make a game:
May five out of the six pumpkins say "Boo", for example, when you put a mouse over them, and only one will say "Congrats!"
Rollover effect and other interactive elements in emails are a trend for 2018. Entertain your customer with untypical newsletters.
9. Decorate your office
Is it somehow connected with emailing? Yes, directly. First of all, once you set the mood in the office, it will be easier for you to create unique holiday emails. Secondly, your employees will be in the mood also. When sending out an internal email invitation to a party, you may insert photos from the last year one to remind employees how funny it was. You may even add these photos into promo newsletters if that is suitable and your employees agree.
Value offer
We ain't gonna talk it over here, as you know better which offers and when to send out. Still, please remember that this Holiday, like many others, for dear customers first of all means sales.
I hope that you find these Halloween email examples inspirational. By using our email templates, dedicated to the "funniest and scariest" holidays of all, you will in no time create emails your customers will love.
Or you may find different templates designs, Elementor Marketplace plugins and graphics for any taste on Template Monster. On 29th of October – 1st of November, they offer up to 45% discount on products! No coupon code required.
If you have any questions or comments, please, feel find us on Facebook and Twitter.