Halloween Email Examples & Subject Lines for Your Inspiration
14 September 2022

Table of contents
Halloween subject lines for your emails
Examples of powerful Halloween email campaigns
Wrapping up 
1.
Halloween subject lines for your emails
Halloween email campaigns are waiting for us, friends. As you all remember, we have to get ready for the big holidays in advance.
In this article, you will find lots of Halloween email examples and powerful subject lines to get you inspired.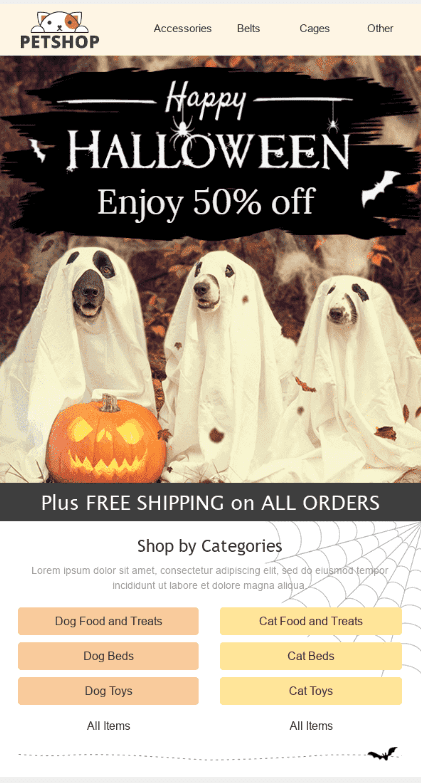 Halloween subject lines for your emails
Why do we start with the Halloween email subject lines? Because in order to surprise our customers with engaging holiday emails, we need to encourage them to open our emails first.
When it comes to Halloween email campaigns, you should forget about clickbait subjects like "Buy or die", "Only Halloween treats inside", "Trick or Treat", and so on, as our inboxes are filled with emails like this.
It's Alive… Let the Spookification begin! — Party time.

Halloween Makeup Tutorials to Help You Boo Yo — Party City.

So Good! It's scary… — Joan.

Once in a Full Moon — Vermont Teddy Bear.

Just announced! Things are getting Strange! — Universal Orlando Resort.

The 32 Scariest Movies to Watch on Netflix Right Now — Esquire.

Don't ghost our Halloween PJs! — GapCash.

It's An UnBOOlievable Halloween Giveaway! — Maybelline New York.

Halloween in Harrisburg! — Fine Gardening.

Boo to you! 25% off if you weren't scared! — LALALAB.

You can still be a unicorn! — Etsy.

Hurry up! The bats are taking it away! — Mailigen.

Open If You Dare! — AshleyStewart.com.

MONSTER DEALS ONLY | Prices Shredded just in Time for Halloween! — GearBest.

Hooked on Halloween — Flying Tiger.

WATCH OUT! It's behind you… — Merlin Entertainments.

Get your SCARE on! — Hobby Lobby.

Eeek! — World Market.

The Witch is IN! Shop Now for Enchanting Halloween Décor! — TaiPanTrading.

Don't go out alone! — HOT TOPIC.

Living Dead Dolls... Scared Yet? — Spencer's.

You've Been Warned! — Spencer's.

Scream for Halloweeeeen! — YOURS.

Skellington in your closet —> skeletons in your closet — Hot Topic.

A True Horror Story! — Briggs and Riley.

Dog Halloween Safety Tips — PupLife Dog Supplies.

Forget monsters... Beware of missing this Halloween Sale! — Amerimark.

Dress Like a Nightmare, Sleep Like A Dream! — Peter Alexander.

Mystery Coupon Inside — Converse.

Just when you thought it was safe to open your email… — Hhgregg.

Put a spell on you? — PacSun.com.

New Halloween Charms — Brighton.

Scary? Haunted? Mysterious? You decide! — Rona.

Scare up a frightfully fun Halloween! — Party City.

Take a peek if you dare — Crate and Barrel.

Don't be a CHICKEN. Go do something on Halloween! — ShopYourWay.

Eye Scream...You Scream... Ice Cream — BustedTees.

Think it's too early for Halloween? We say boo! — Hallmark Cards.

Oh SHEET! It's almost Halloween — Brooklinen.
Now that we know how to write a catchy subject line for Halloween emails, let us proceed to some great email examples.
Examples of powerful Halloween email campaigns
Are you looking for spooky yet beautiful Halloween mail ideas? Take a look at some of them:
Reflect the holiday atmosphere.
Benefit from email gamification.
Use funny Halloween puns.
Treat your subscribers to a holiday sale.
Add spooky GIFs.
Be a problem solver.
Show your products in action.
Come up with exclusive offers for loyal customers.
Below we will share 10 emails that impressed us. We hope you will love them too.
1. Creepy Halloween email by NiftyImages
Every little detail matters when it comes to Halloween email design.

(Source: Email from NiftyImages)
Blood drops, scratches, black color… these elements complement the email design and holiday mood.
2. Halloween email gamification by Stripo
Everyone has their fears and nightmares. Kids, for instance, are afraid of school or the absence of sweets for holidays. While for email marketers, newsletter emails going to SPAM are the biggest fear. And we in our Halloween email campaign let marketers win over spam.
(Source: Email from Stripo)
Well, of course, we built this game just to entertain users because we know that holidays are about Sales and Fun.
3. The "Sweetest" Halloween email by M&M's
Sweets and treats are among the first things that come to our minds when we think about Halloween.
(Source: Email from M&M's)
What we loved about this email is that the company used its Brand Mascot for this Holiday email.
4. Halloween Horror Nights by Universal Orlando Resort
When building the design of your holiday emails, it would be nice to remember that they have to reflect the mood of those holidays.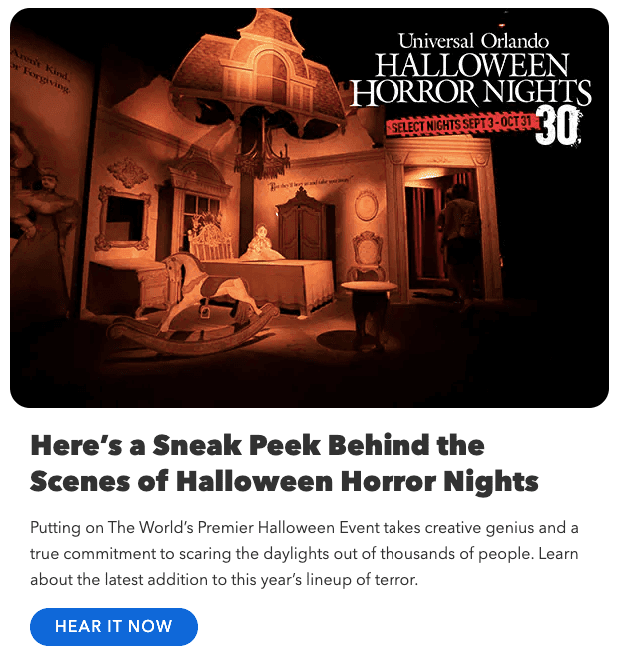 (Source: Email from Universal Orlando Resort)
The image in this email reminds me of Horror Movies, which is nice for spooky Halloween emails.
5. Halloween email gamification
Who said that Halloween emails are only supposed to be scary? They can bring the fun as well! How can you entertain customers on this day?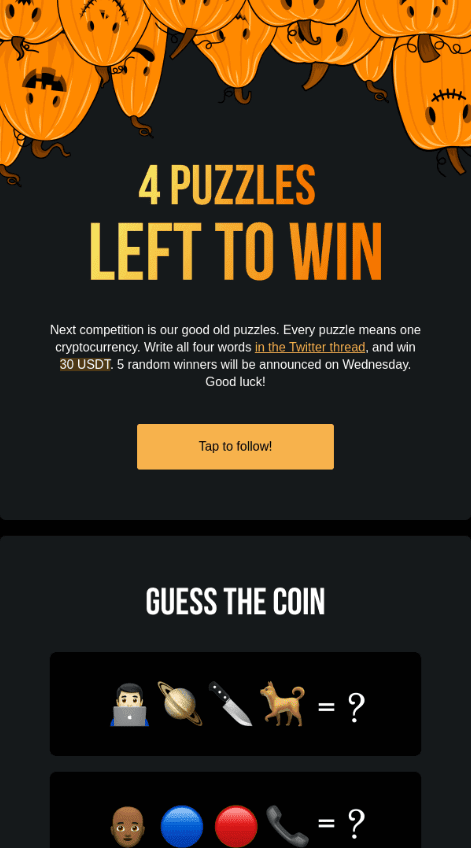 (Source: Really Good Emails)
Gamification is one of the best Halloween newsletter ideas that really work!
6. Holiday sale… by Stripo
This Halloween email template is the definition of the laconic offer. No extra words, no excessive information — just the discount amount.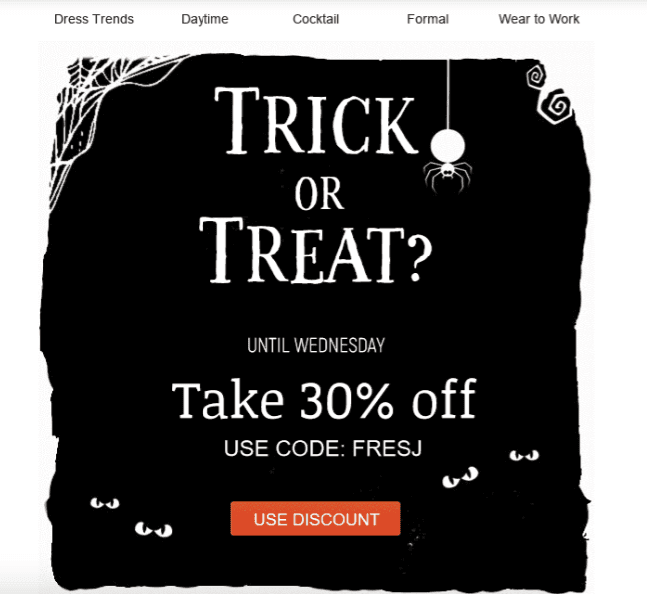 7. Smart use of GIFs in Halloween emails by Universal Orlando Resort
GIFs draw recipients' attention to a certain offer or a certain section of your email.
(Source: Email from Universal Orlando Resort)
Please be advised that you are not supposed to add more than one GIF to your holiday email to avoid seizures among recipients who have photosensitive epilepsy.
8. Brooklinen solves the problems
Remember one of the cardinal rules of email marketing: You do not have to sell products or services, you have to solve your clients' problems and heal their pains. In other words, be a problem solver for your recipients to build long-lasting relationships with them.
At the beginning of the Halloween email, Brooklinen said, "No Costume? No problem". And shared four different costume ideas users can make using just an old bed sheet.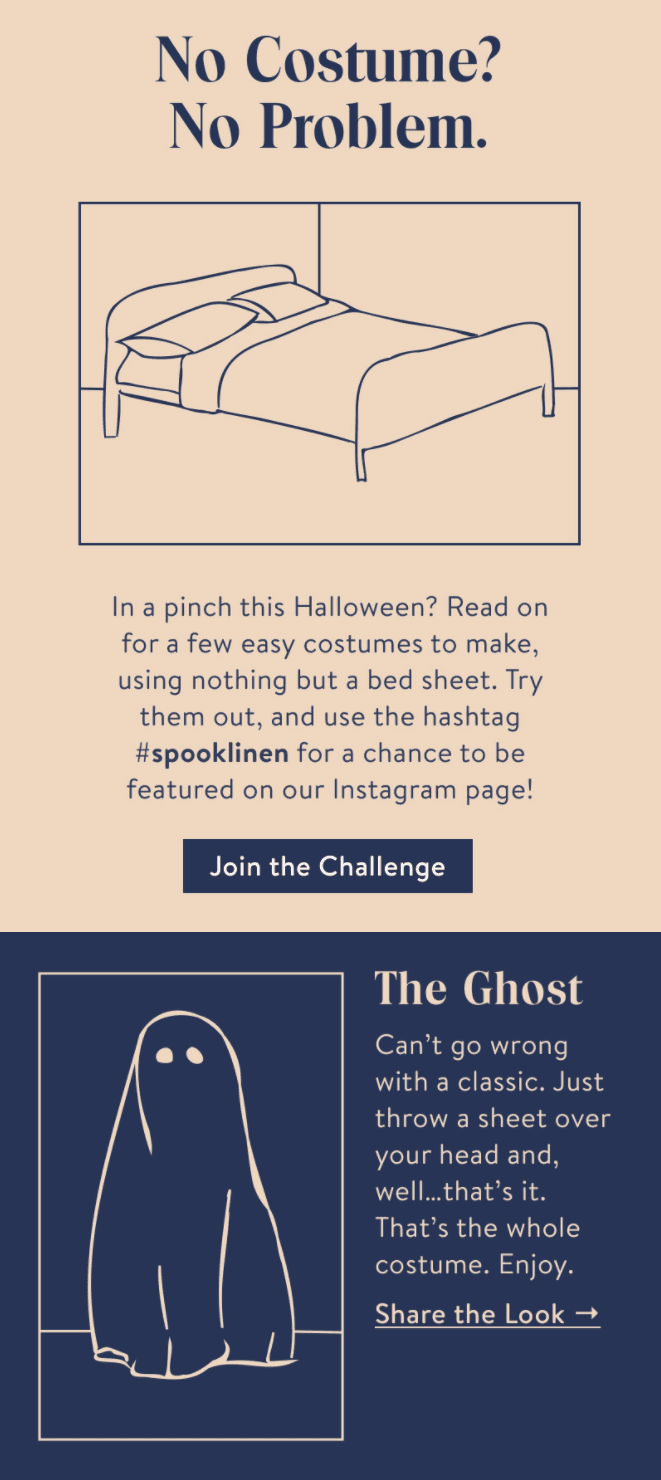 (Source: Email from Brooklinen)
A well-thought-out offer sometimes beats the most colorful design.
9. Product in action by the Homemade
We are not showing this template here just because it is ours. We are doing it because of its design and content.
As we mentioned before, you need to be a problem solver for your clients. And in this email, we suggest that you share some recipes with your subscribers.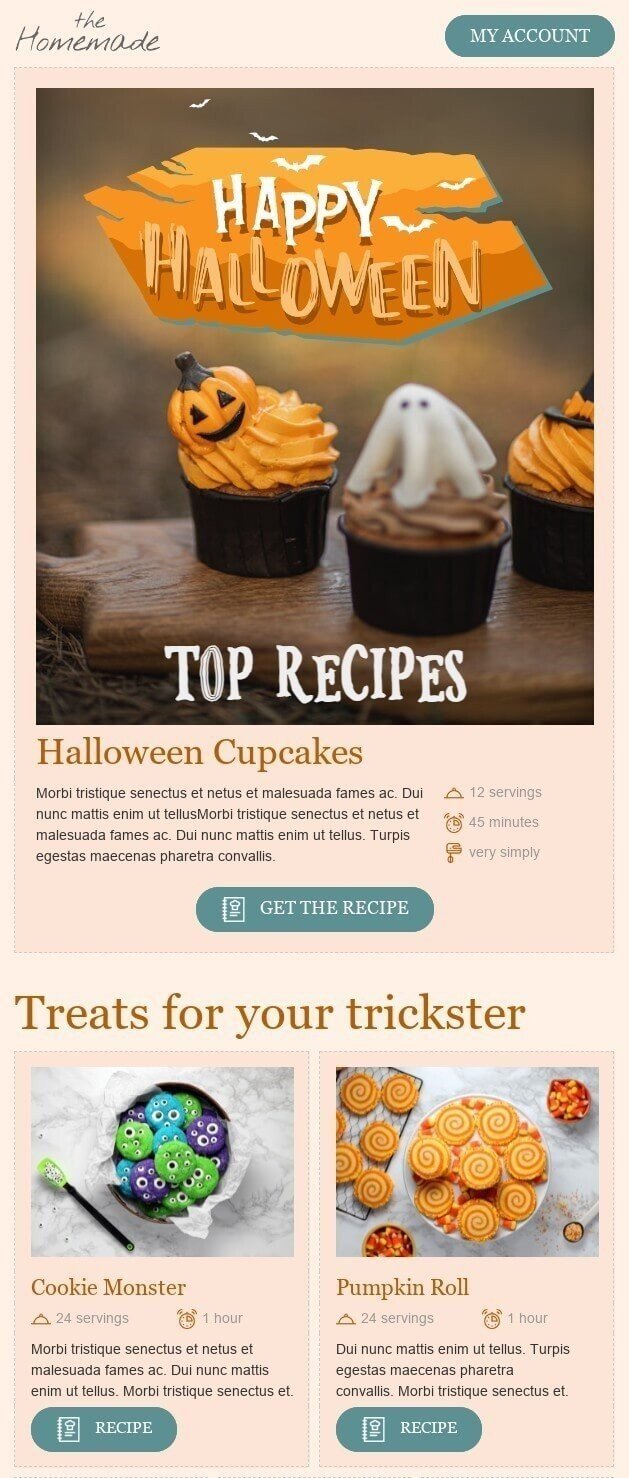 And also we loved its design. Especially the banner of this "scary" Halloween email.
10. Exclusive offers for loyal clients by Victoria's Secret
Don't forget to praise loyal customers for being with you. Offer them a special discount or tell them about a general sale way before you notify other clients.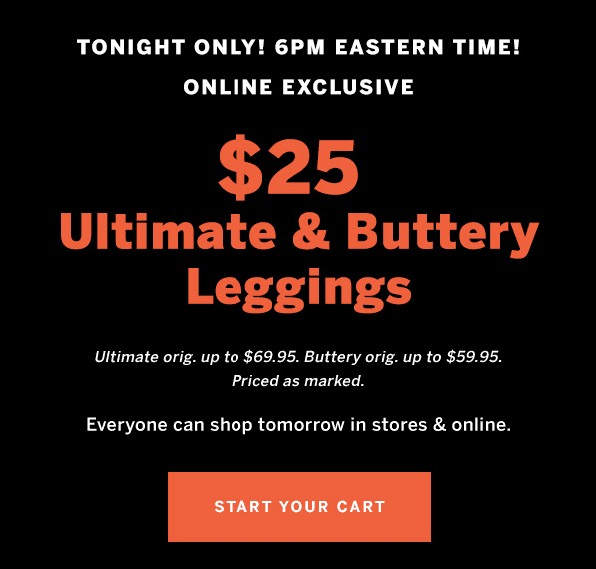 (Source: Email from Victoria's Secret)
Wrapping up
We hope the Halloween email examples shown above will help you make your emails a little more creative and fun.
And do not be afraid to use builders like Stripo to save your time creating spectacular, magnificent, magical, and impressive Halloween emails!
Was this article helpful ?
Thanks for your feedback!