23 October 2020
20 Best Email Newsletter Examples to Inspire You
Wanna try something new in your emails to surprise your recipients? Then you are in the right place.
In this post, we're going to show you the best email newsletter examples (in our opinion) for your inspiration.
1. Brighton
Subject: Jerry Kohl Invites You
Today, when we all miss meeting old friends in parks, cafes, what can be better than meeting old pals online?
For those customers of Brighton — the world-famous jewelry brand — who were used to meet the Brighton team and its loyal customers in offline stores in California, an opportunity to meet all those people online must be a great pleasure.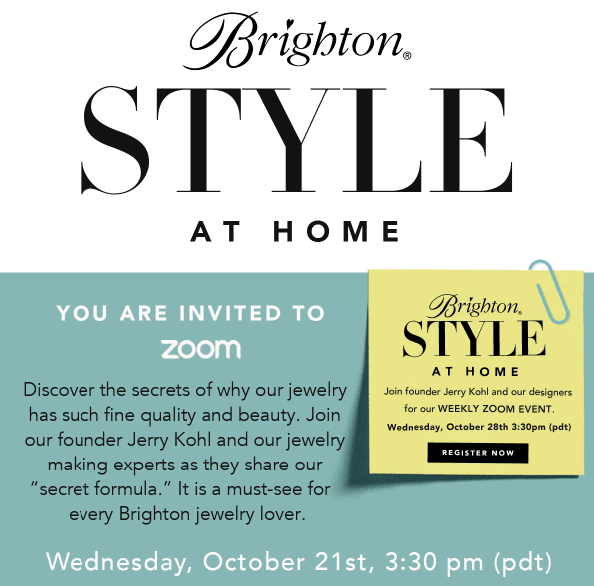 (Source: Email from Brighton)
We put this email on the "greatest email marketing newsletter examples" list as it keeps up with the times and reflects today's reality.
Its unique feature
Keeps up with the times.
2. Ecwid
Subject: Welcome to Ecwid!
"The fewer steps the better," we think when it comes to registering with some websites, when it comes to buying products online, or even leaving feedback.
Just imagine, Ecwid allows its users to complete a registration/confirm email address and see if the registration has been completed/email has been confirmed in one single email.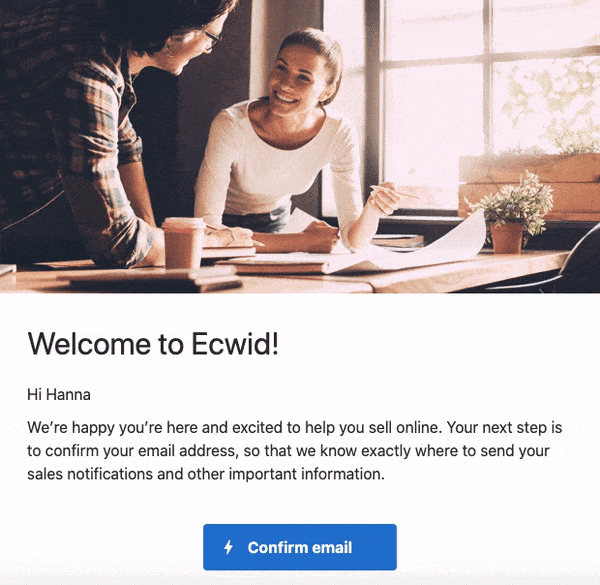 (Source: Email from Ecwid)
No need to wait for a registration confirmation email, no more extra moves — see the result in one email.
This type of confirmation requires using the AMP for Email technology.
Its unique feature
The ability to verify your email address and see that registration has been successfully finished in one single email.
3. Stripo
Subject: What is the danger of triskaidekaphobia?
This email was sent on Friday 13th. It was not scary at all. But it was widely discussed on numerous platforms, which made us happy.
(Source: Email from Stripo)
Its unique feature
I believe this is a good example that your email design does not have to be complicated to look effective.
4. Adidas
Subject line: Don't just talk about saving the oceans. Run For The Oceans
Like Elvis Presley sang "A little less conversation, a little more action please". He was so right. Many people just talk, only a few act.
This email newsletter example stands out and inspires us with the subject line! Everyone who is really concerned with ecology and our future will certainly open this email.
Adidas encourages us to participate in its event, as it is going to donate $1 for each km run to Parley School. This money will be used to "teach youth on the threat of marine plastic pollution"

(Source: Email from Adidas)
Not only is this email a caring gesture of love to Earth, but also part of a perfect product launch campaign. With this email, Adidas once again promoted its new shoe model that was made from upcycled marine plastic waste.
Great news: Adidas promises to use only recycled plastic by 2024.
Its unique feature
Its subject line, and, of course, call to care about ecology.
5. M&M's
Subject: Halloween is Less Than 2 Weeks Away!
Oh wow! Red is the cutest Dracula ever. Pardon, the sweetest! Dracula ever.
(Source: Email from M&M's)
And this was one of the best email newsletters in 2020.
Its unique feature
M&M's proved that you don't need to add spiders, and ghosts in emails for Halloween if you don't like doing it. Dressing up your key personages will do.
6. Stripo
Subject: Create and engage ?: Surprise your subscribers with new AMP technology.
A little fun never hurts! It is actually proscribed to those people who always work much, or even are stressed out. A little fun lets us relax, and catch our breath. Especially, when we do not need to go anywhere and have an opportunity to relax right in emails?
(Source: Email from Stripo)
Its unique feature
It's an easy game. Recipients just need to put pictures in the right orientation. And they can see the result right away.
In the short run, we will show on our blog how to build a similar email in like 1 hour. A little spoiler: This maze was built just with AMP carousel blocks.
7. Tesla
Subject: Get Ready — Livestream Cybertruck Unveil
It's hard to find a person who has not heard about Elon Musk and his great inventions. Which is why the presentation of a new one becomes extremely awaited.
In his public announcements, Elon Musk had never hinted at what his Cybertruck would look like. And in this email, they managed to keep the intrigue.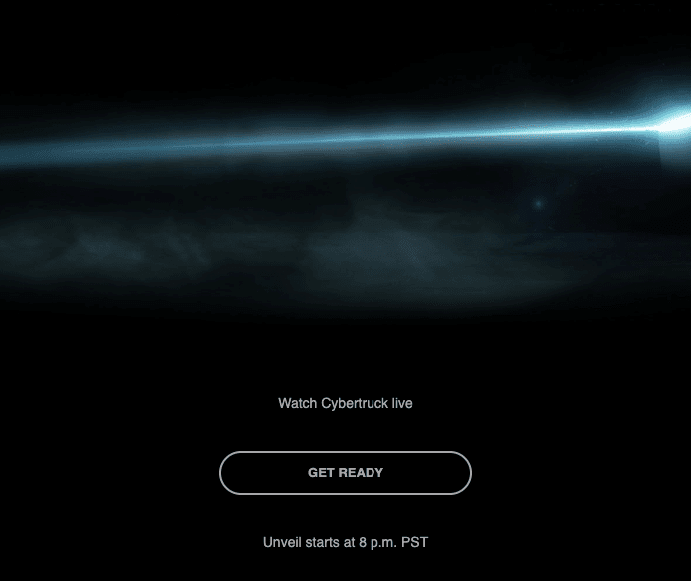 (Source: Email from Tesla)
Its unique feature
Intrigue: There's something mysterious about this design. And no real image of the truck that they are going to present.
8. Tom Raffield
Subject line: Guess where we're going.
In one of our posts, we already described this email as an example of the best newsletters design. Indeed, it is. For at least three reasons:
for its sophisticated design and elegant colors;
for embedded interactive elements;
for new ways of engaging with recipients.
(Source: Really Good Emails)
Not only did they puzzle their subscribers with the question "Guess where we're going", but managed to "hide" the keys to the answer behind the images.
Only in the following email, they revealed their secret.
This is a good email newsletter example that shows that any event can be announced in a non-trivial yet pretty simple way.
Its unique feature
A new way of using interactive emails, and an interesting way to announce events.
Tip: To build an image rollover effect with Stripo, when designing your newsletter email, just toggle the " " button.

The editor will ask you to upload the second image for your rollover. That's it.
9. WB Games
Subject: DC FanDome Days of Deals: Only hours left to save up to 75% off!
This email is a true email design inspiration for 2021.
Its width goes far beyond the traditional 600-640 pixels. The email looks more like a webpage than just an email.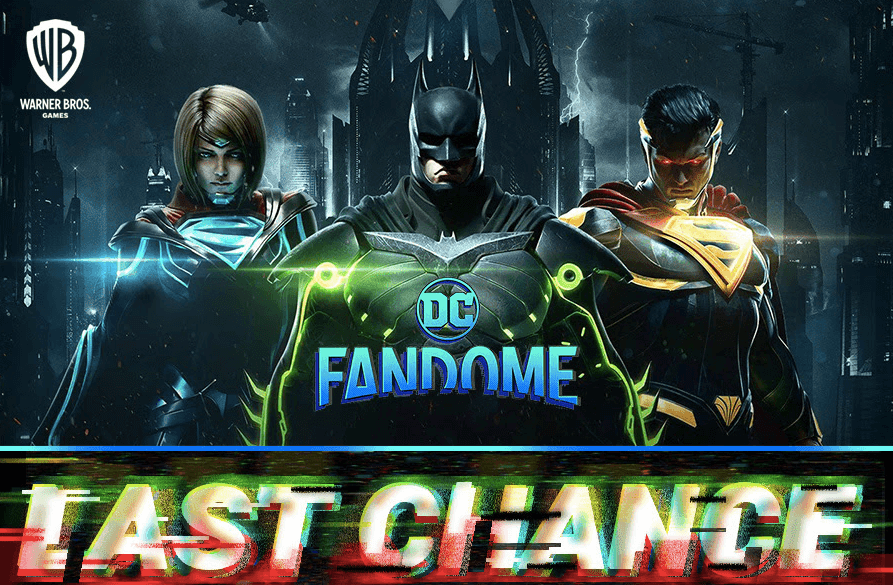 (Source: Email from WB Games. Width 900 pixels))
Its unique feature
The 900 pixels width, and email design that is very close to the website page.
Please remember that you can set custom width with Stripo: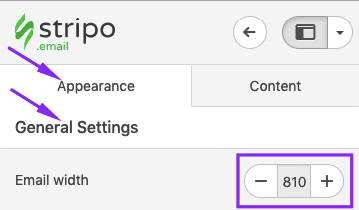 10. Gap
Subject line: $6.99 tees. $9.99 polos. $12.99 shorts.
This one is a true design inspiration.
I literally fell in love with this GIF. It highlights the price of the product category that is displayed on GIF at that moment.
(Source: Email from Gap)
It is a brilliant idea and could be used as a fallback to image AMP-carousel in emails for those recipients whose email clients do not support AMP yet.
Its unique feature
The GIF with prices — the price of a clothes item that is being shown at the moment gets dep blue, while others remain light blue. So you have an idea of what apparel this price refers to.
11. Brighton
Subject line: Handbag Trade-In: It's Time To Give & Get
Every email newsletter made by this company is a masterpiece. Elegant, beautiful, appeal to bright emotions. Yet, this email is an example of social marketing.
Quite important to remind people that it's good to have and good to share. The headline of the email convinced us to share. Besides, Brighton made it clear that customers not only give, but also get some money back.

(Source: Email from Brighton)
The most emotional part of this best email newsletter design is photos of women who would get those used bags — without them, the campaign wouldn't be that successful.
When you see real people, when you get to know them closer, you are more likely to share.
Its unique feature
Photos of real people. Due to the photos of people they are going to help, Brighton appeals to our emotions.
12. World of Tanks
Subject line: Mamma Mia, the New Italian Tanks Are Here
Men know for sure that World of Tanks implements the bravest and the best newsletter design ideas.
If this company talks about Navy, it uses images of sailors, of the seas, etc. They do not use just some thematic separate elements, but stick to the chosen style across all email — from the subject line to buttons.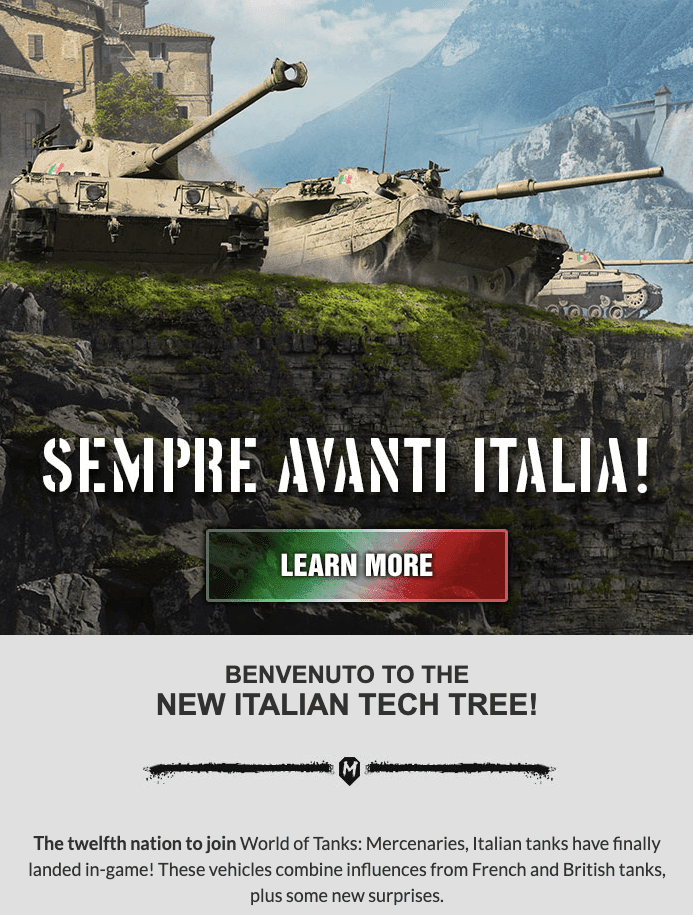 (Source: Email from Wolrd of Tanks)
As a person, involved in email marketing, I pay attention to such details — all emails by the World of Tanks are so consistent.
Its unique feature
A button with the colors of the Italian flag.
Design tip: this is actually a button image. You can upload one as an "additional" image when working on the banner. And then add a hyperlink to an entire banner.
13. Chubbies
Subject line: Don't tell my boss, please.
We all are familiar with Chubbies and their newsletters. Some love them for their style, some find it weird. But once you got to know this brand, it will not leave you indifferent.
Every time, after a new email campaign, most attendees of forums for marketers share and discuss Chubbies newsletter samples.
But this email is just beyond all expectations:

(Source: Email from Chubbies)
This email is so not trivial. Quite the opposite — it's kinda shocking. I kept reading and reading. I was astonished, confused, amused — all these emotions kept alternating. But I could not stop reading as I wanted to find out what was in the end.
I do not expect to see tons of such emails in 2020 or 2021. But definitely would love to read one again?
Its unique feature
Beautiful, funny weirdness. Chubbies are never afraid to try something new, to be weird, and they always know how to have some fun. This makes them special.
14. Banana Republic
Subject line: Why YOU ❤ our Sweater Blazer
Today, most promo emails are dedicated to bunches of products. You see jackets, skirts; or jampers and jeans, etc. all in one place. Unless this is a new anticipated gadget or a car, of course.
No wonder, this newsletter example by Banana Republic was quite surprising. The entire email was dedicated to one Sweater Blazer.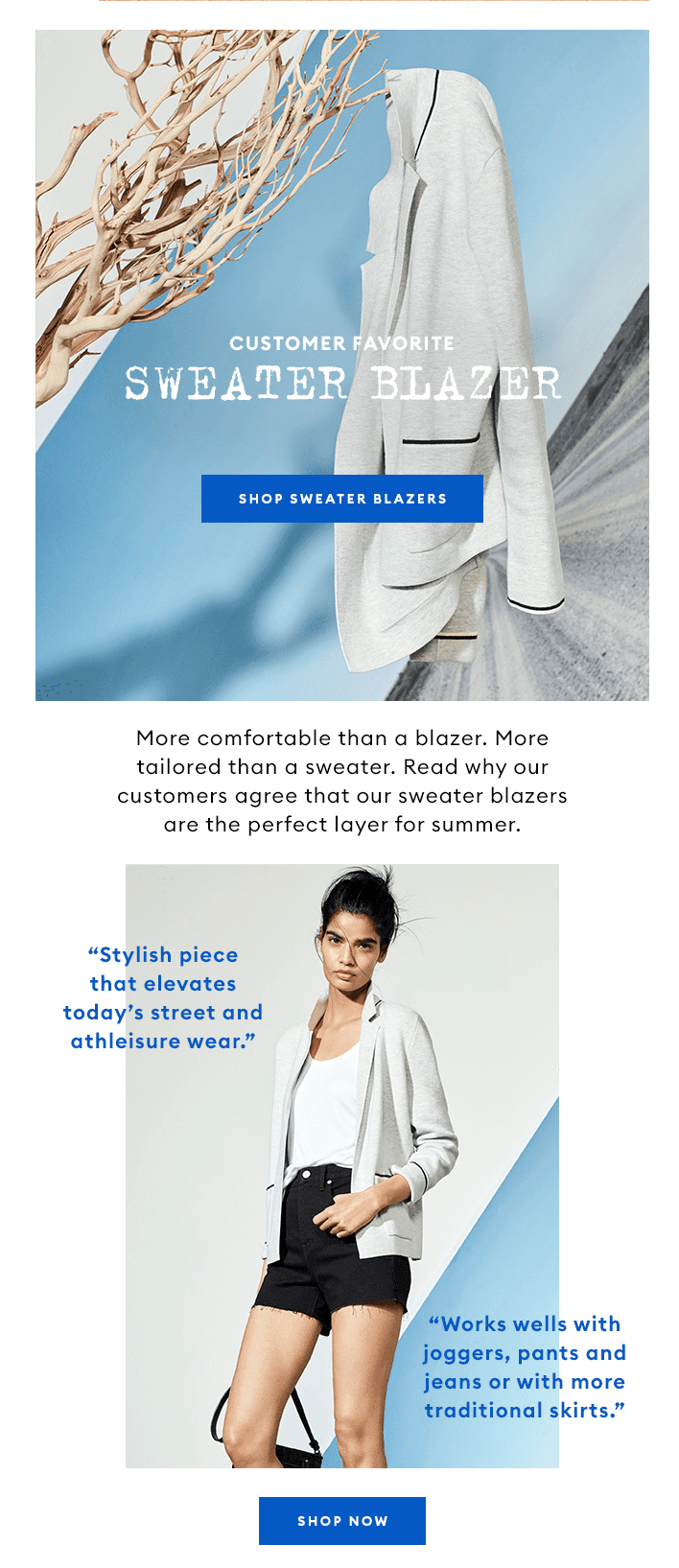 (Source: Email from Banana Republic)
The banner with this blazer hanging on a tree is kinda shocking. My first impression was like: What? A piece of clothing hanging? Who is this meant for?
I scrolled down and saw a woman wearing the featured blazer ))
I understood this blazer was made for women and I got a clue what it looked like :)
Its unique feature
Eye-catchy and intriguing banner.
15. M&M's
Subject line: Did you forget something?
You won't believe it but adults love choco, too. Or is it just me?
Must confess, I was extremely glad when finally got to subscribe to this brand. Every email I receive from them is filled with happiness, joy, and promo of choco. Their emails are a great example of how to combine TV ads, Social media ads, and email marketing. All these channels complement each other.
Yet, I wanted to say a few words about this great abandoned cart email: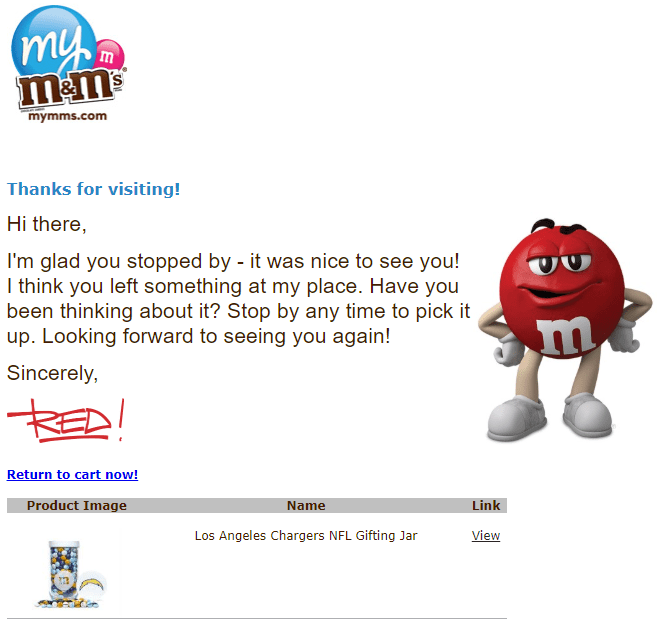 (Source: Email from M&M's)
First of all, they thanked me for visiting. Second of all, the photo of Red made the email less official and less commercial. The text was written in a friendly-like manner. They did not try to convince a recipient to buy. They just inquired if it was me and reminded me that I can stop by at any time that is convenient for me.
And the image of the item I left in the cart goes last. It is small.
I didn't feel like I was forced to do something. I just felt grateful they reminded me about my abandoned cart.
Its unique feature
Kind, warming, design, and the manner they talk to recipients — M&M's do not force to buy.
16. Rozetka
Subject: Last chance to buy it at a lower price.
Yes, mentioning in subject lines how generous our discounts are increases OR. But we also know that imagery in emails increases CTR by 4.5%. Why not add images to subject lines?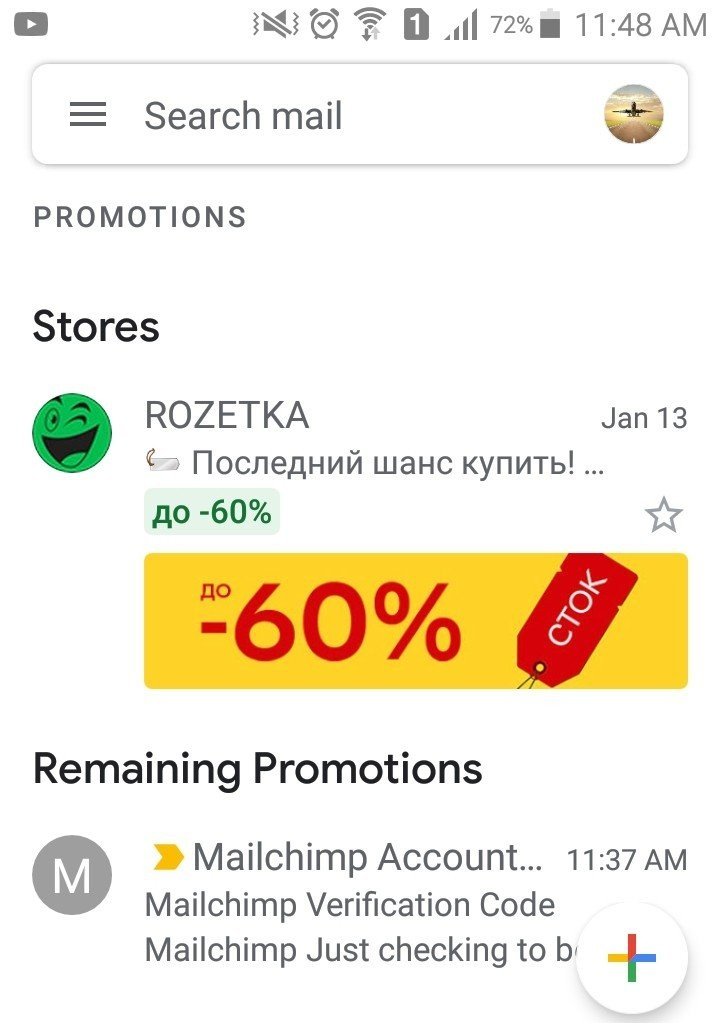 (Source: Email from Rozetka)
Well, this image with the discount has not been added to the subject line, to be honest, but it was put right under the subject line instead of a preheader text. Users see it in their inboxes right in the preview pane, aka email preview area. And, I'm sure, such images do convince a larger amount of users to open the email.
Its unique feature
Rozetka effectively notified users about the amount of the discount before users even opened the email.
This option works in Gmail on mobile devices.
Please watch the short video below to find out how to implement such annotations for your future email campaigns.
17. Monica Vinader
Subject line: Spotted on the Duchess of Cambridge!
You don't need to be a gossip girl to be willing to know what it's all about. Now that Kate Middleton is one of the most popular people when the Times magazine announced her as one of the 100 most influential people in the world and finally when the Duchess of Cambridge is the style icon, who wouldn't like to know what was spotted on her? This is a great email newsletter idea to let everyone know that famous people prefer your brand.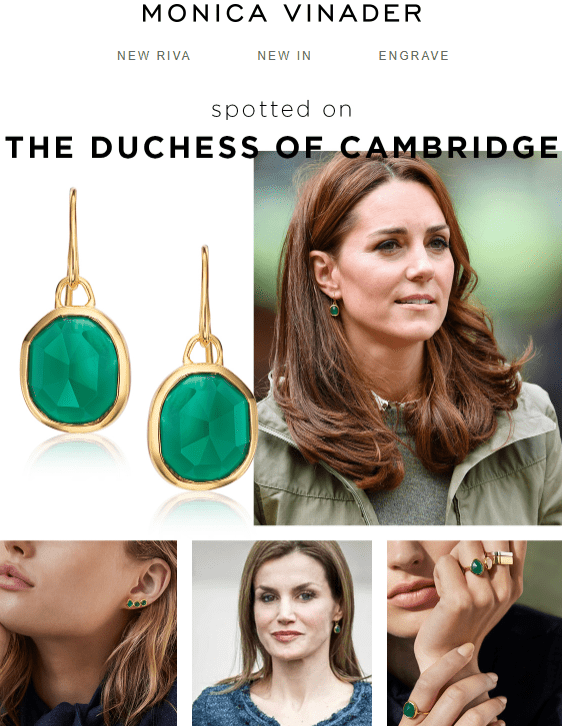 (Source: Email from Monica Vinader)
We need to know what's in trend?
Others would love to possess the same things that the Duchess wears. Either for status or for the love and devotion to the royal family. The reason does not really matter. All that matters is that this is a perfect way to boost sales and to take your brand name to a new level. Photos of famous people make the best email newsletters even better.
Its unique feature
Sharing photos of famous people using or wearing their products.
18. Grammarly
Subject line: Your weekly progress report.
I'm pretty sure you have heard about Grammarly and its brilliant reports.
They are one of the greatest tools to check grammar and spelling. Oh yes, they do that too — not only reports.
But makes their emails so great? Why do we all keep talking about Grammarly?
Because they were the first to implement this kind of hyper-personalization. They gathered users' data like activity, mistakes, missing dots, the number of words that have been checked, and the number of rare words used.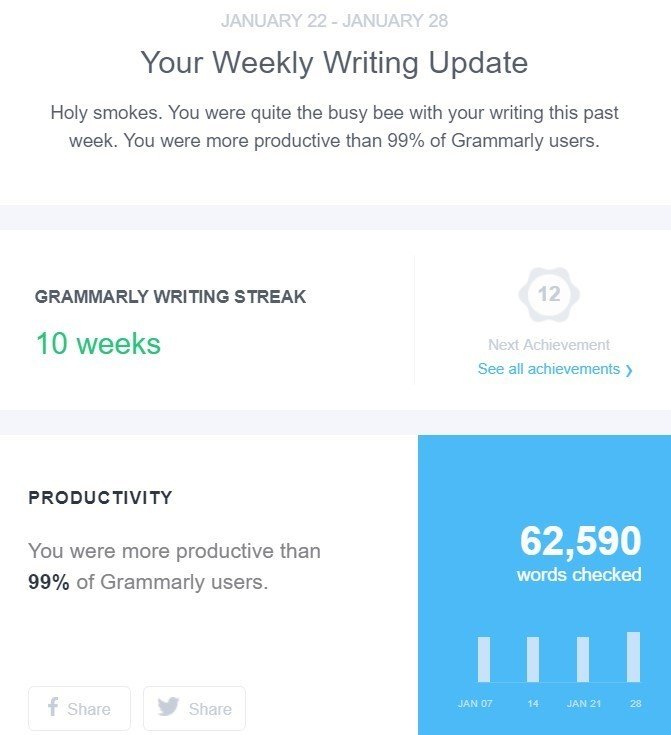 (Source: Email from Grammarly)
For users, it is a great chance to track their activity, progress, they know what particular units in grammar they need to work on. For email marketers, it is a great example of what a hyper-personalization can be; it is also the source for new ideas to implement to better communicate with customers.
Its unique feature
A new level of hyper-personalization. Yet, the virality of this campaign was growing slowly, step by step.
Be prepared — new features added in your newsletters won't boost sales grossly at once.
19. HubSpot
Subject: Craft Killer Marketing Emails with These Tips and Examples.
I love HubSpot for their blog. Always news topics, new investigations. And I used to open their emails with joy. But now that they started using interactive elements in newsletters — I literally anticipate every newsletter.
I know this is a kind of old email. But HubSpot's quizzes are a great example of what gamification in emails can be. And gamification, as we know, is one of the email design trends in 2020 and 2021. It is a great way to engage with recipients.
(Source: Email from HubSpot)
Not only do they send a compilation of recent blog posts, but also interact with us, make our brains work by asking us some questions right in emails.
What they do is a short quiz on a general topic. They provide you with 4 answers. Once you place the cursor of a mouse over an incorrect answer, it gets red. Once you choose the correct answer, it gets green.
What is really important here is once the answer field changes its color, at the bottom of the quiz they specify whether the answer is correct or incorrect. This is a great example of email accessibility, which is a must in 2020 and 2021.
Its unique feature
Engaging and puzzling quizzes, email accessibility.
20. Everlane
Subject line: 10 tips to reduce plastic waste.
I would expect to receive emails of this kind from Green Peace. But Everlane took me by surprise. They are worried about our environment — and they said it in an email newsletter.
Their first email of this sequence stated that "A million plastics bottles are made while you are reading this email".
Sounds pretty scary.

(Source: Email from Everlane)
In their next email, they said they use plastic bottles for producing apparel. Amazing.
And they made a commitment to eliminate plastic from their supply chain by 2021.
Wanna join them? I do…
In this email, they provide us with tips on how to reduce plastic waste. Their final thought: "I'm just one person" — 7 billion people" got me.
Its unique feature
Consistency. It was not a one-time campaign. Everlane now produces coats of plastic bottles.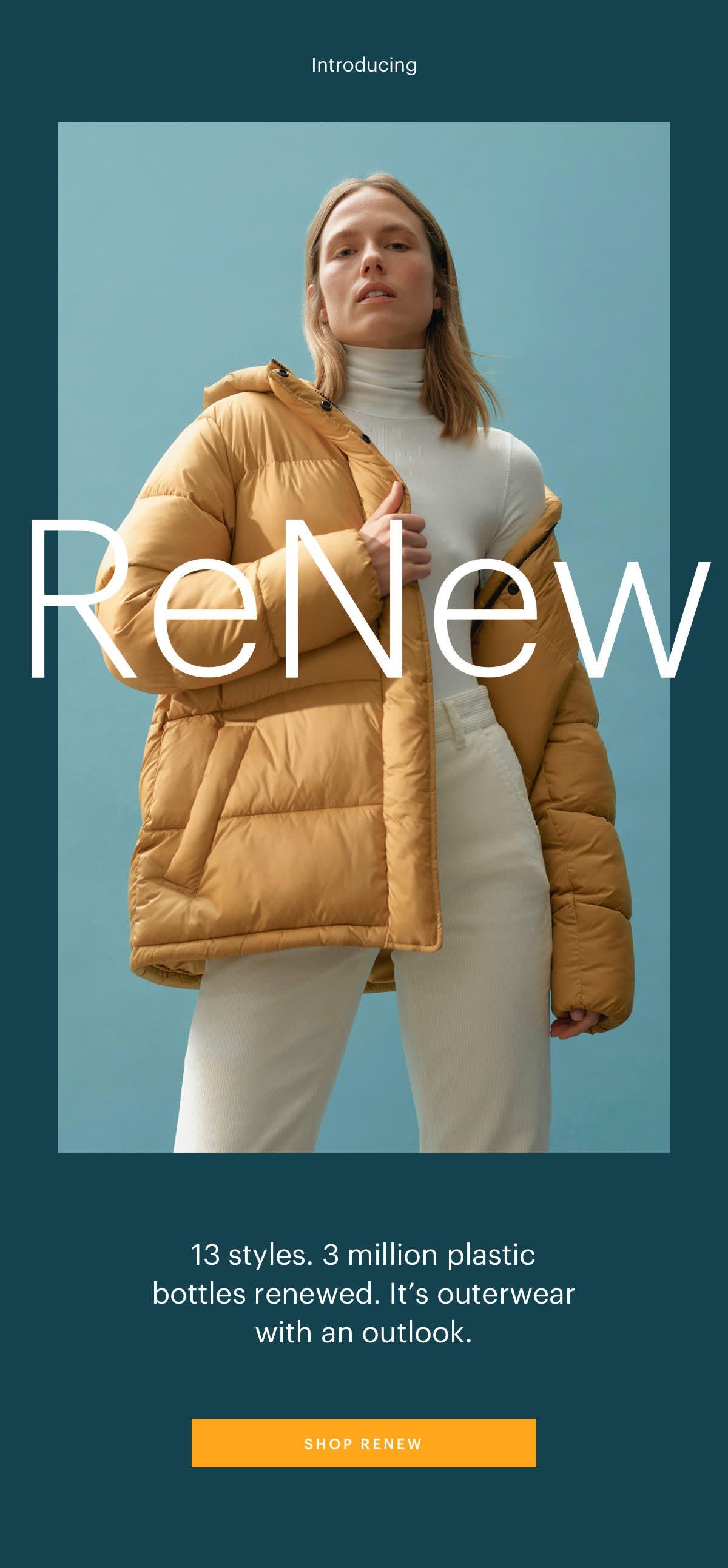 (Source: Email from Everlane)
You can make a single email everyone will love and share. Or you can make an entire campaign people will talk about.
Word of advice
We do hope that all the examples of great newsletters given above inspired you to try something new for your future campaigns.
You can build an email on your own or order one from our professionals.
Final thoughts
Remember to add intriguing subject lines.
The design matters. Make it suit the mood of the entire campaign.
Engage customers with interactive emails. They double the conversion, by the way.
Reach out to all subscribers — make your emails accessible.
Don't be afraid to try something new to make your future emails awaited.
We hope you loved our compilation of the great email newsletter examples that impressed us with their creativity.
May your future campaigns be even more successful!