How much time do you spend designing a single message? If it takes a few hours to generate a suitable header, an explicit email body, a straightforward CTA button, and compelling visuals, we are here to help!
In this piece, you will learn more about modular email architecture.
Modular email architecture: what is it all about?
When applying modular architecture, you can imagine your messages as a set of Lego blocks that you can mix, add, and delete the way you want. A modular email template comprises several pieces responsible for certain design elements (images, videos, social media links, and CTAs). There are also modules like footers, headers, product cards, and banners available.
You can use these editable modules across numerous email marketing campaigns and layer them in different combinations. It's also possible to develop a sequence of modular email templates for various purposes, like newsletters, promotional messages, and transactional emails. Then, all you have to do is just shuffle modules to reach the objectives of your email campaign.
If you want to learn how modules can save time on email production, please watch the video below:
Simplify your modular design process with Stripo
Get started
How you can benefit from modular email architecture
Traditional email templates offer their own advantages, like personalization and enhanced customer satisfaction, but if you are looking for a way to save some time and be more flexible, consider using modular email architectures to empower your marketing strategy.
Let's learn more about the key benefits of modular email architectures that will bring significant improvements to your marketing activities:
1. Brand-consistent email design
Brand consistency is one of the essential email marketing rules to take into account for a successful campaign, as your recipients should notice your messages among hundreds of others in their inboxes and associate your company with the values you have chosen to emphasize.
Prepare a set of brand-consistent modules and equip them with your logo, corporate color scheme, and recognizable fonts. Then, share these templates with email marketers so that your teammates can insert relevant content and send attention-grabbing messages to your subscribers.
Here is an example of how McDonald's maintains brand consistency using multiple modules. You can notice their recognizable logo and remarkable brand colors in no time.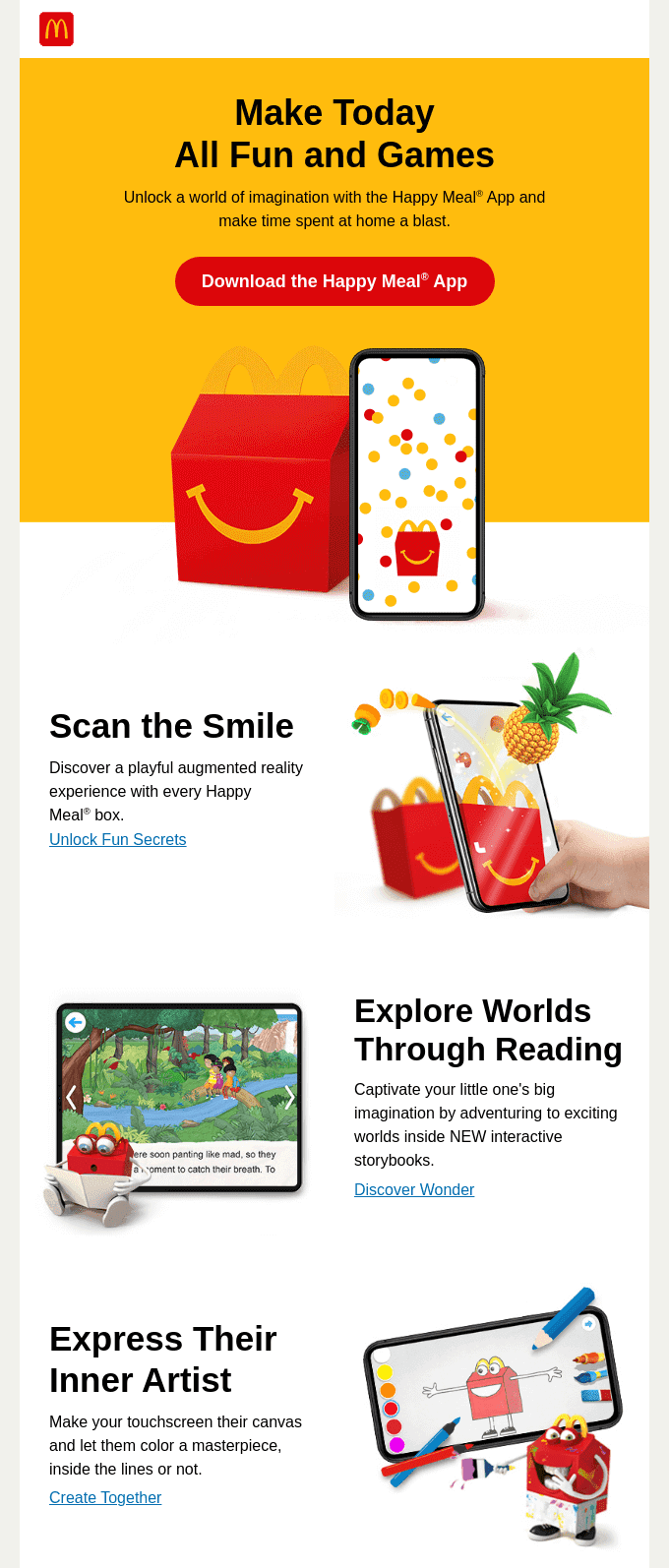 (Source: Really Good Emails)
You can lock in the parameters and drag and drop your saved content modules. Sticking to your brand identity guidelines has never been easier!
2. You speed up email production
Once you assembled a module library with various modules for different objectives, you can incorporate it across several email marketing campaigns without building every message from scratch. You will need much less time to alter the content or rearrange some blocks.
Modular email architectures save you a ton of time and, with practice, you will learn to produce professional and stylish emails within minutes instead of hours!
Modular templates are more manageable to design than traditional email templates. You don't need to create new templates for every email marketing campaign you implement. Instead, you just have to pick one of the saved content modules and alter them the way you like. They are easy to edit on the fly and it's also possible to develop modules for various types of email messages.
These reusable modules will streamline the design process for your teammates and let you set up campaigns faster than ever before. You can even design appealing emails in 1 hour instead of 16!
Here is how Grammarly applied modular design to produce a thank-you email and to present some useful features with images and brief text descriptions: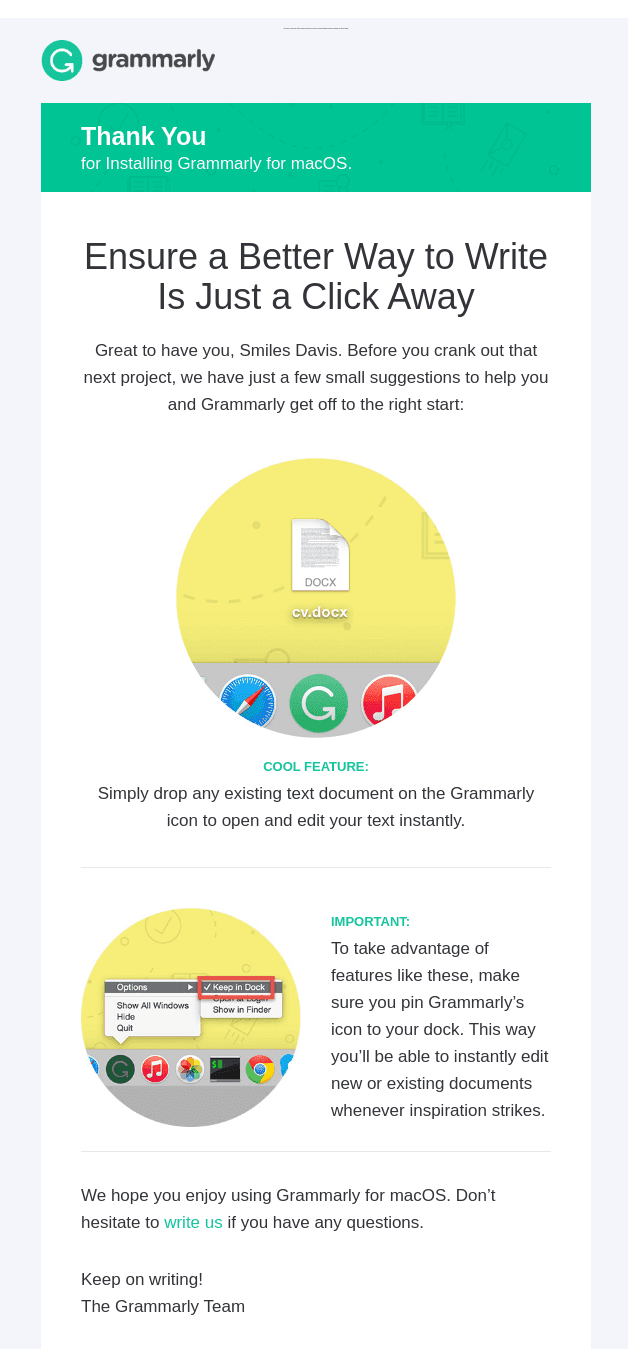 (Source: Really Good Emails)
3. Cost-effective option for numerous email marketing campaigns
Since you can reuse modular email templates whenever you need them, you don't have to purchase lots of traditional templates for every launch. Thus, you can plan your budget more effectively and redirect money to more strategic endeavors.
If cost efficiency is one of the crucial priorities for you and you want to learn how to benefit from modular email design, you can sign up as a beta tester to gain early access to Stripo's new builder. We will focus on the modular system and you will get a chance to make your creative ideas a solid reality.
4. Hassle-free last-moment changes
Tight deadlines and last-moment changes from colleagues are not a problem anymore. Even if there are a lot of suggestions and changes to be made, modular email architectures will enable you to fix everything within minutes without messing up your brand identity.
5. Space for creativity
By applying modular email templates, you can forget about boring layouts that look the same across all campaigns. Such an approach provides the space for creativity and lets your messages stand out in subscribers' clattered inboxes.
You can add or remove modules and combine them with each other to satisfy your needs. From background colors and font styles to CTA buttons and product cards, you can apply all of your creativity to make your emails look appealing and recognizable.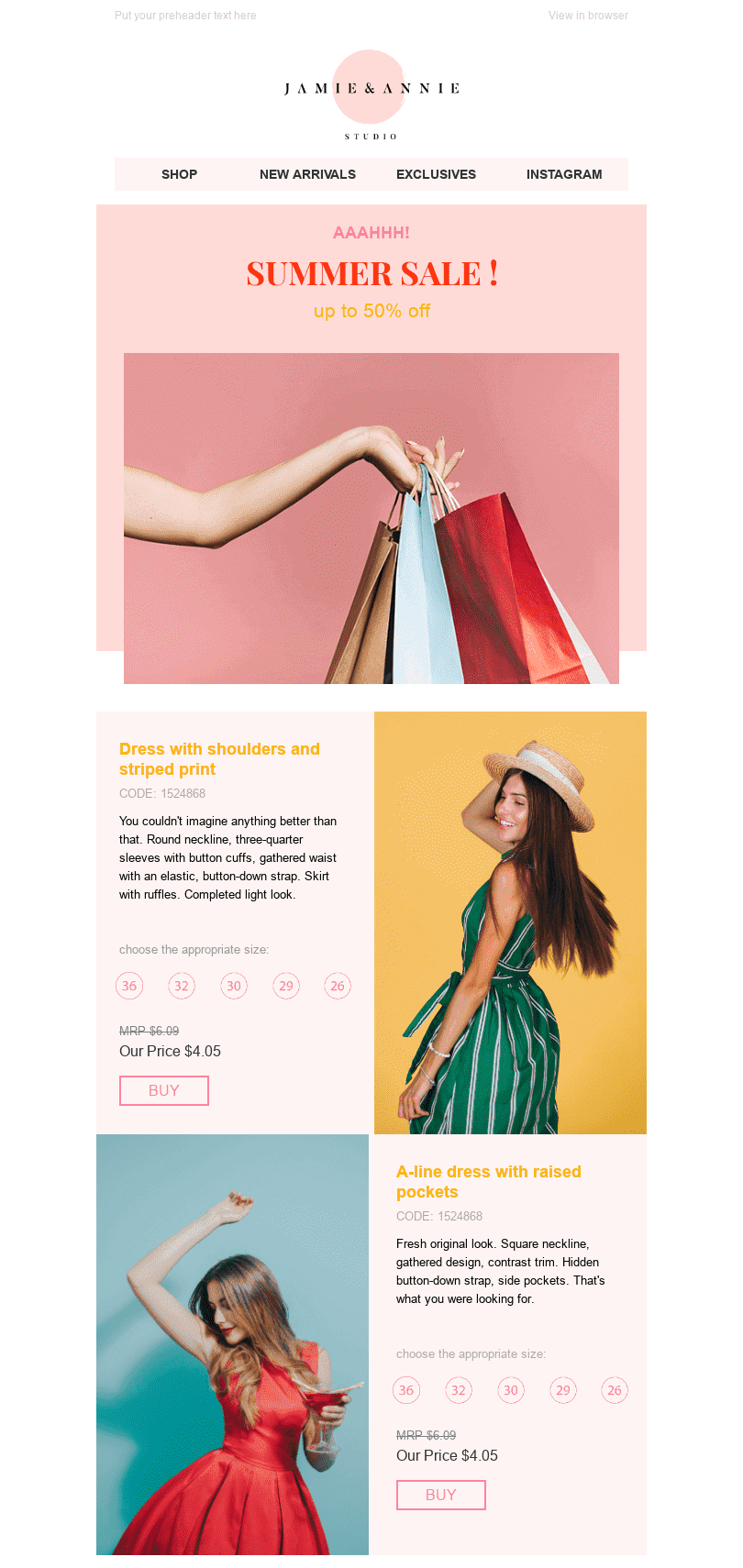 (Source: Stripo Template)
6. No coding skills are needed
Don't worry if you have never written a line of code in your life. With such a convenient email architecture, you just have to set up modules in an editor to start designing your attention-grabbing messages right away.
Even if you want to hire a developer to create a unique design, your specialist will have to do it just once. Then, you can save it to your library and use this custom-made module across your future campaigns.
How does a modular email template actually function?
Modular email architectures can help you remain brand consistent, make the design process easier, and create eye-catching messages much faster than using traditional email templates.
You might want to construct a template with three modular blocks: a video describing your product, a text description, a CTA button, and social media links. Our email design platform will enable you to find suitable pre-built modules and transform them into a responsive template. After that, you can insert your content and export the message to the ESP you prefer.
What's more, you can benefit from two options with Stripo:
1. Custom-made modules
You or your developer can create modules from scratch to meet your campaign's specific needs. Just save these modules to your library and use them as many times as you'd like!
2. Stripo's modules
We offer 500+ modules that you can add to your templates and edit as needed.
All of our templates are divided into a variety of modules. You just have to pick any template, find a module you like, and save it to your personal content library.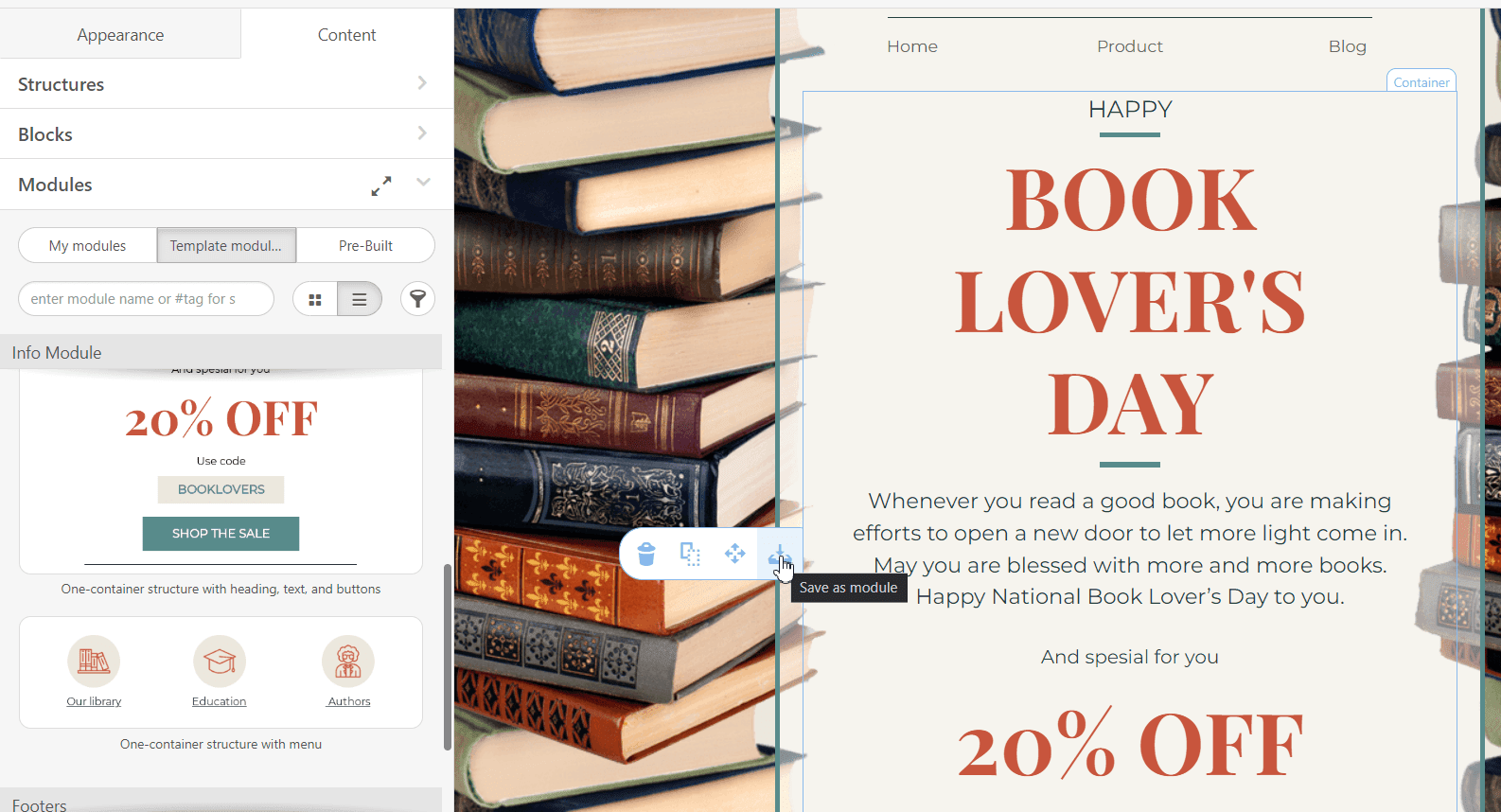 As a result, you won't have to spend hours designing every email from the ground up. Instead, you can use the previously saved content modules and shuffle them however you want.
Here is an email example divided into multiple modules: a header, a body text with a CTA, three blocks with images, and a footer.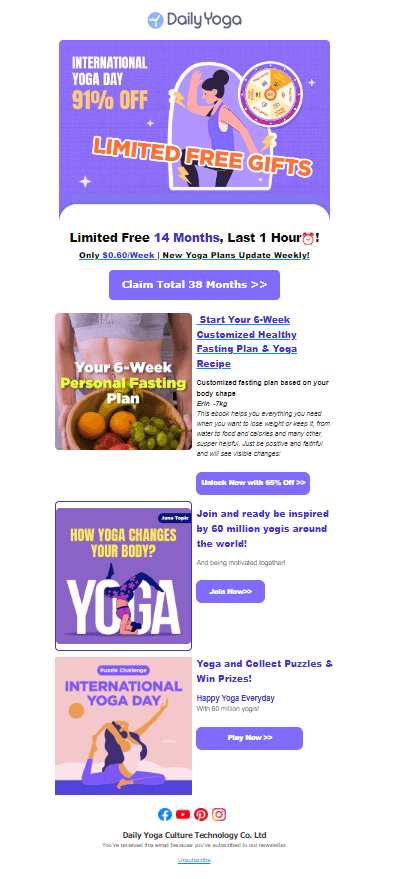 (Source: Email from Daily Yoga)
Wrapping up
Modular email architecture can be a cost-efficient way to save time, remain brand consistent, and streamline the design process. You can also use such templates across numerous email marketing campaigns and put content modules in different combinations.
By following fundamental email marketing rules and using a modular architecture, you will make your marketing campaign a success. With Stripo, you can already benefit from an intuitive modular system to get your messages noticed and read.
Use a responsive modular system to save resources and design appealing emails within minutes
Was this article helpful?
Thanks for your feedback!