04 August 2020
The Most Popular/Useful Blogs on Email Marketing to Follow
While creating our digest for subscribers we understood how hard it might be to find articles with high-quality information. Thus why not combine all our favorite resources in 1 article? Feel free to use our list of email marketing blogs to find the best for yourself.
Criteria for choosing blogs on email marketing
First let's figure out what a good email specialist, or, well, any other specialist who wants to learn more about email marketing, should obtain:
basic marketing knowledge;

understanding of trends and principles of email design, and copywriting;

skills in technical details of the necessary ESP, so that the sender has a good reputation and his or her emails fall only in the inbox, and in no case in spam.
If you quickly look through different blogs, it may seem that each brand essentially describes these points. But how to choose the right blogs? How to define high-quality articles? The main criterion is that they absolutely give you answers to questions. Yes, that's so simple. But not many people follow this principle.
Now, let's move on to top blogs on email marketing and find out which topics each of them deeply explores and what questions they can help you with.
15 best email marketing blogs
Logically, it's quite hard to imagine a list of top blogs on email marketing without our own one. And in case you've never met us before let us introduce ourselves.
We are a drag & drop email template builder that helps clients even with no coding skills to automate email creation. We provide advanced tools for building dynamic amp emails, a personal library of custom modules, an email testing tool, and advanced integration with multiple ESPs.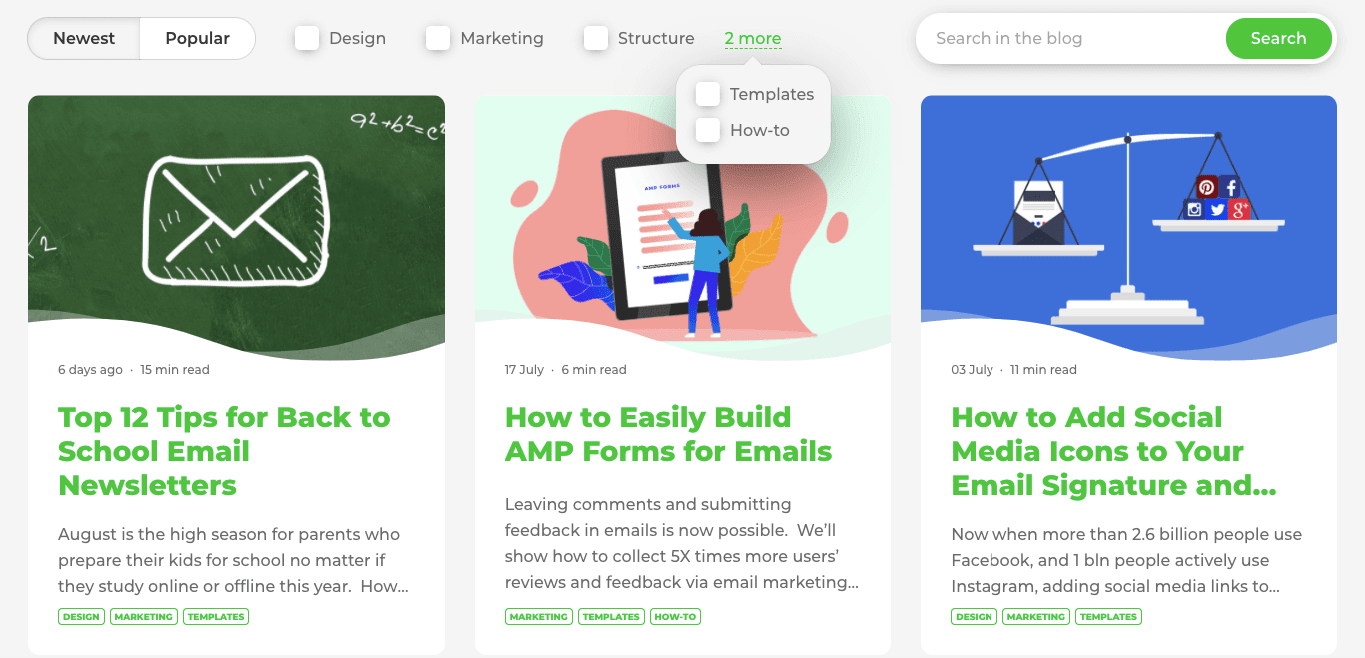 Our blog has posts on:
email design (with free templates in each);
marketing;
email structure;
how-to posts that teach you how to get the most of our email template builder.
You can also search for a necessary topis.
If you don't have a specific question in your mind, just sort posts by newest or popular and discover a world of neat and effective email design.
Omnisend presents itself as a marketing automation solution for those specialists who are way beyond formulaic goals and standard tools. Pretty good, huh? So what about their blog?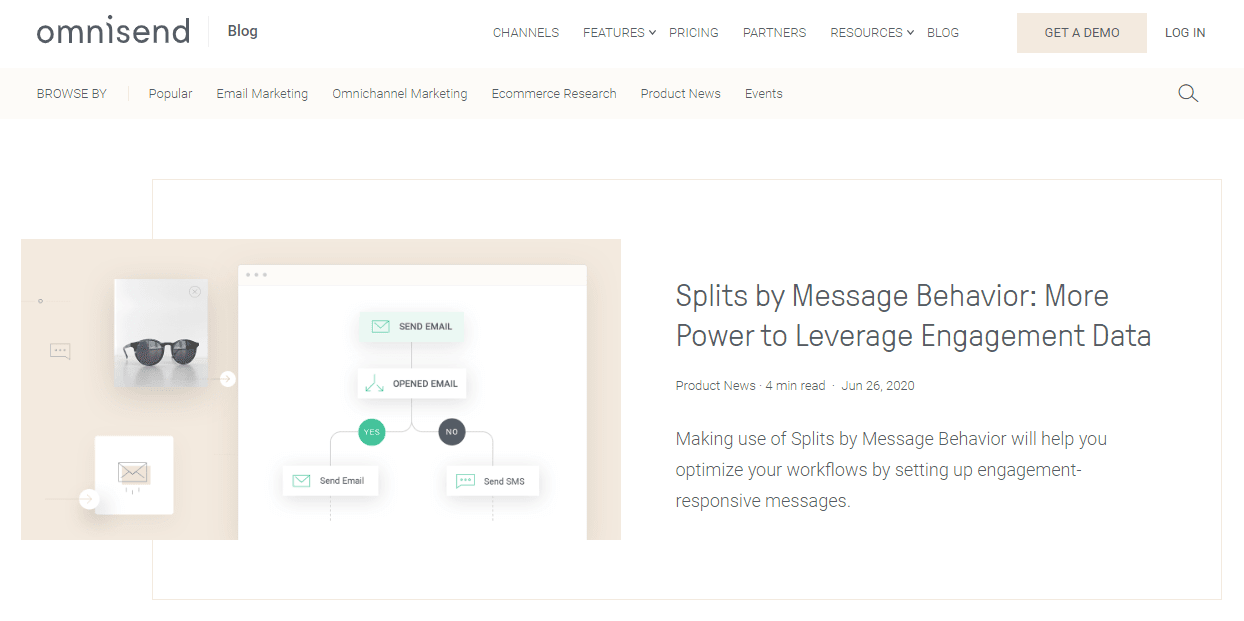 Soft design and accurate posts — what a great combo. But besides it, Omnisend presents an ability to browse those posts by popular, email marketing, omnichannel marketing, eCommerce research, product news, and events. For now, we are mostly interested in the email marketing section.
Currently, there are 12 pages of posts, which means about 900 hours of reading in total as each post needs spending 4-9 minutes on it. Ready to spend some time on this usefulness?
HubSpot is said to be a well-spun platform and beloved by many, just like Beatles at their best times. The company overall gives software for numerous marketing solutions. It also has a vast number of articles, guides, ebooks on marketing, sales, service, and website themes.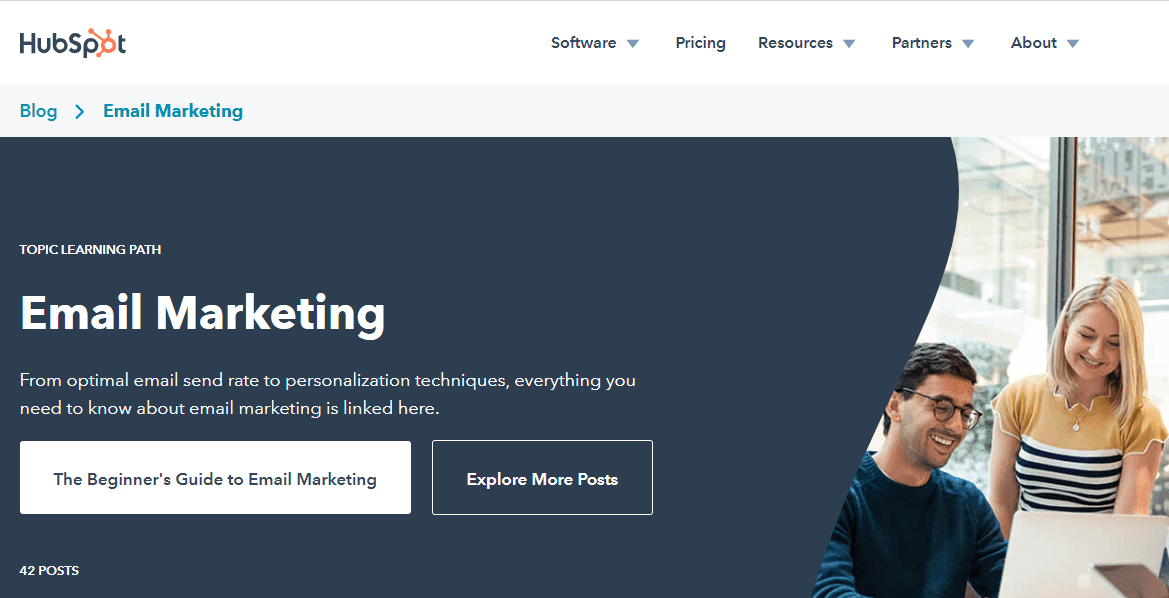 Sections on email marketing blog page are divided by levels:
beginner. Build strong email marketing skills through reading guides and best practices;

intermediate. Get more profoundly into email marketing;

advanced. It's more about strategy, vision, and development.
Also, you can find the Beginner's Guide to Email Marketing on the HubSpot blog.
Uplers is a MarTech solution that offers a wide range of services including design and HTML coding for email marketing.

Uplers blog covers the following themes: customer engagement, responsive emails, coding, delivery, design, inspirations, marketing, and marketing ROI. You'll need to spend 4-7 minutes on each post. So make some tea, or better prepare a teapot, — you have some information to catch up with.
Campaign Monitor lets marketers send pretty and personalized emails.
First, to fully appreciate useful materials that are provided by Campaign Monitor we should go to the website section called "Resources". It has a number of subsections. While some companies choose to combine such subsections under "Blog", Campaign Monitor is more like an anarchist in this matter.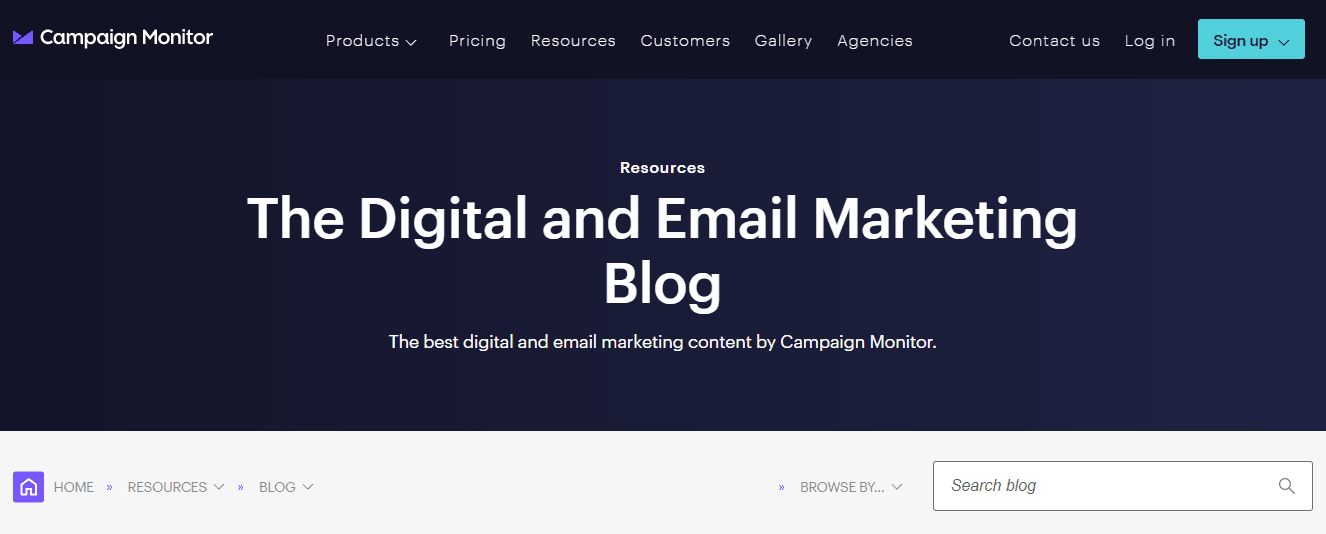 Must confess, I heard about Campaign Monitor when I was searching for a great blog on email marketing. And only then on their site, I found out they are an ESP.
Mailchimp is an ESP for mainly small businesses. Hard to imagine an email specialist who hasn't started his or her career with this tool.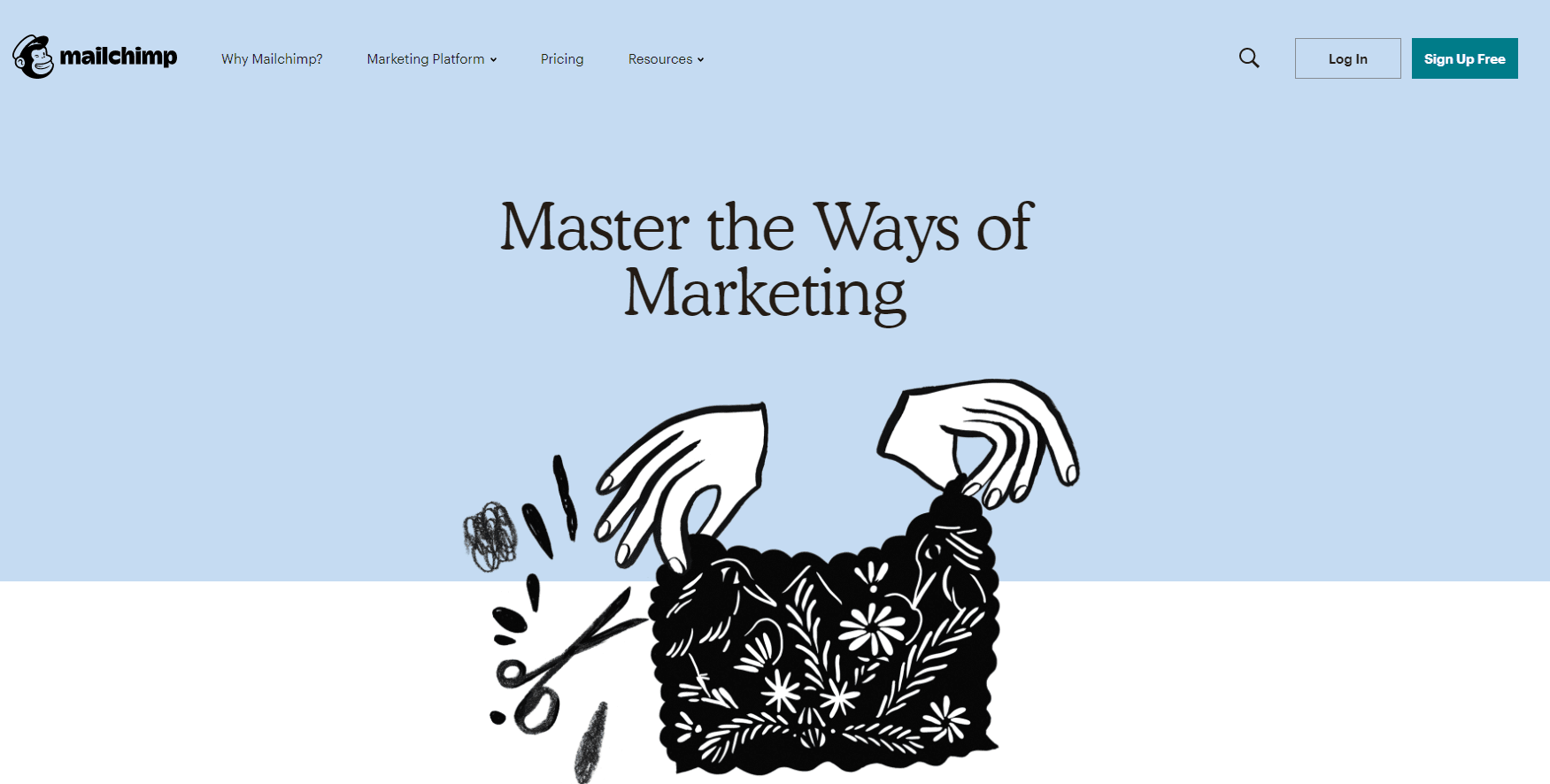 The Mailchimp blog provides marketing tips, guides, and tutorials, etc. to help you get started with email marketing, and their platform itself. Unfortunately, the blog doesn't have a coherent structure so you'll need to search for wanted topics simply by scrolling.
VerticalResponse is an ESP that allows also running online surveys.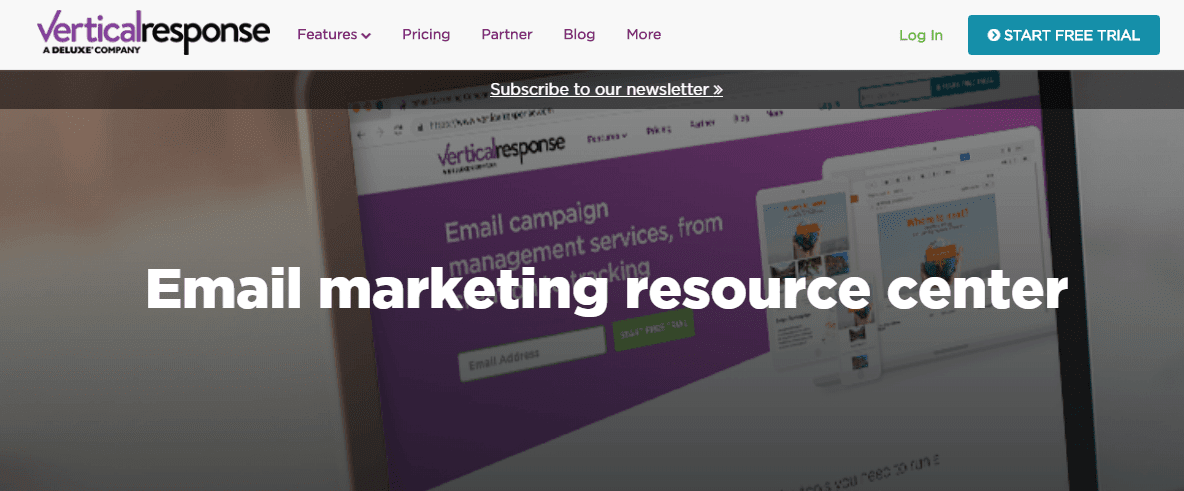 VerticalResponse's blog, a.k.a. "Email marketing resource center", has quite an extensive section division.
Choose the one most suitable for you and enjoy it.
eSputnik is another email marketing platform that helps its clients to build a contact list of stakeholders, plan marketing campaigns, including complex flows, and manage sales, and analyze results and plan new strategies.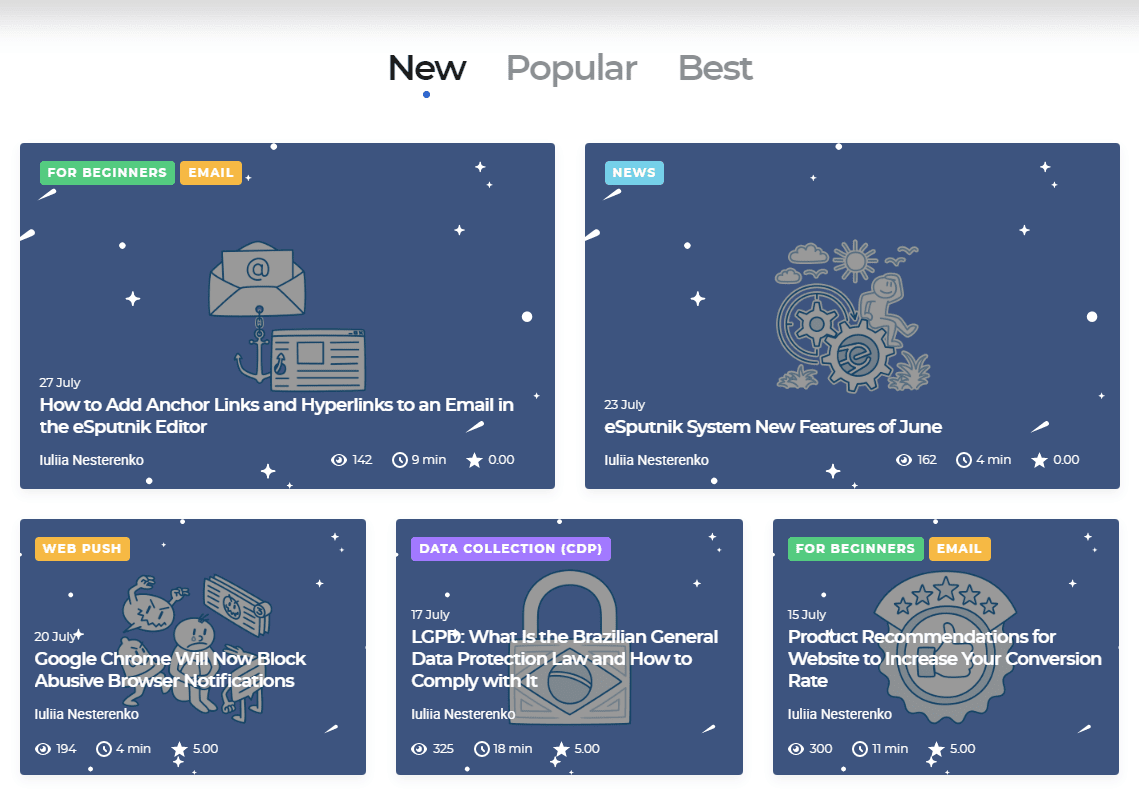 Here you can also find posts on marketing automation, copywriting, segmentation, design, deliverability, and others. It does belong to the best blogs on email marketing.
Next resource that complemented the catalog of email marketing blogs to follow — Mail Bakery, an email template design and coding tool.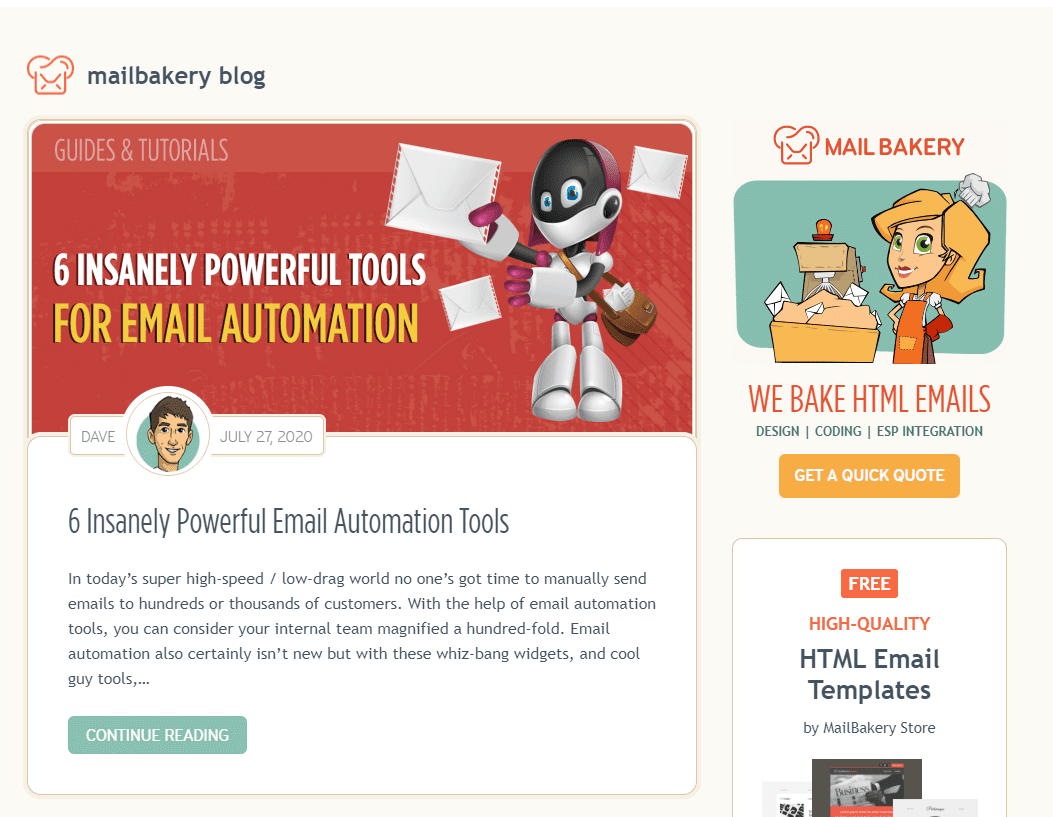 Though its blog has a not so good browsing structure, it still shows interesting and useful posts on improving campaign success, correcting conversion, neat email automation tips, and others. But yes, sections in the blog are not very practical so a little patience and you'll find essential information.
Marketo Engage is a part of Adobe Experience Cloud and markets itself as a solution for lead management.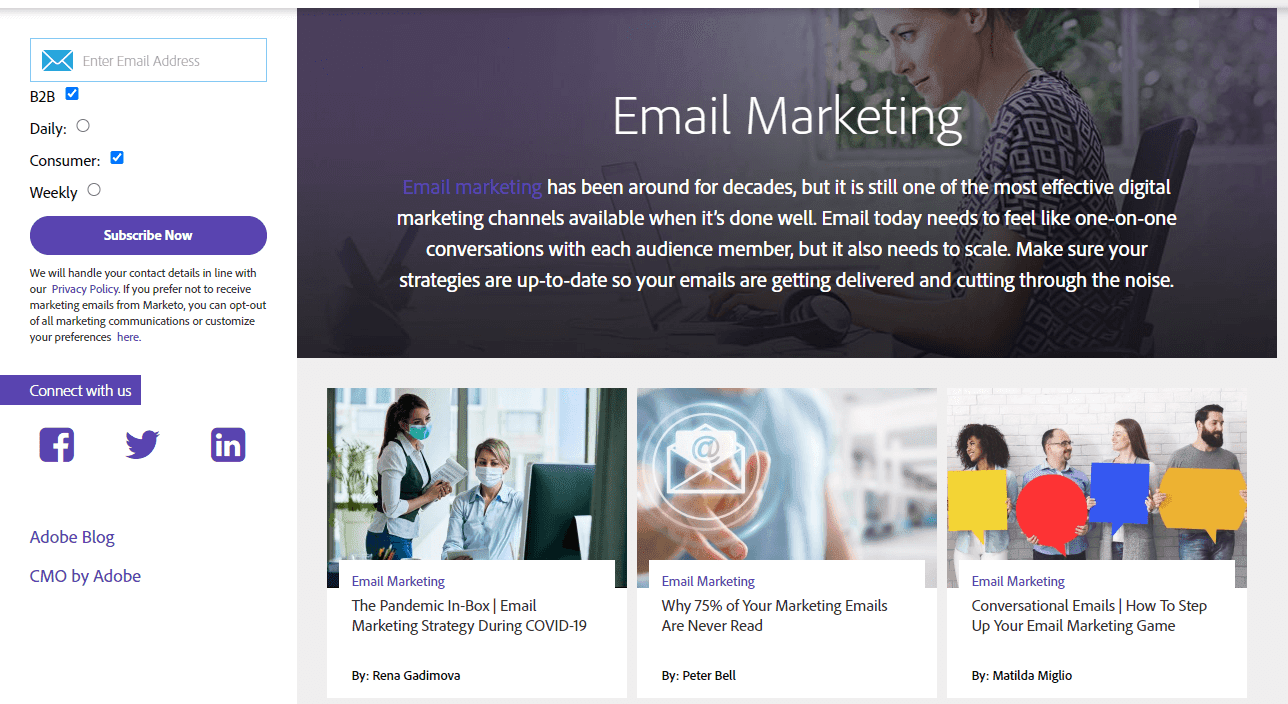 Marketo Engage blog takes a close look at such topics as event marketing, artificial intelligence, marketing automation, customer experience, content marketing, and of course email marketing. You can easily pick the relevant tag and voila! - the posts are well-segmented.
Email on Acid's blog has basically four sections: email development, email marketing, EoA news, and industry news. Apparently they just decided not to complicate the system and honestly, it's also a good decision. You will still easily find high-quality posts on relevant up-to-date topics.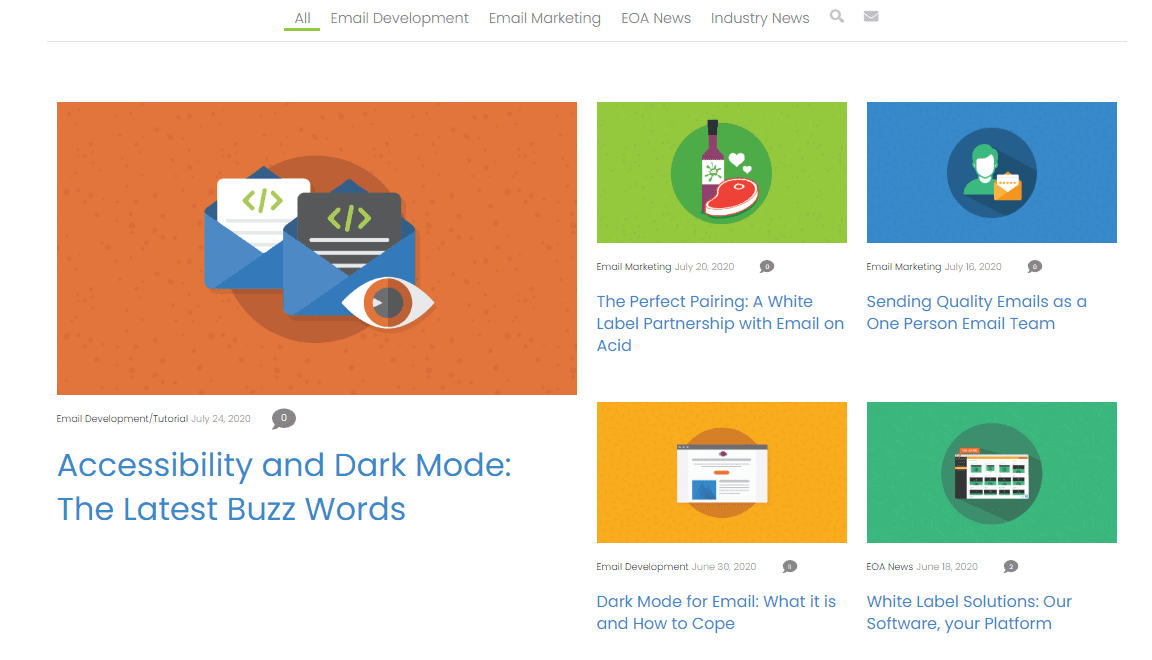 Email on Acid fulfills its job perfectly — streamlining the email testing process so its clients can be sure about the quality and appearance of their emails in users' inboxes.
Stripo is integrated with Email on Acid.
See the emails that you build in Stripo with the eyes of your recipients
MarketingProfs provides learning programs to the marketing teams. No wonder they have immense knowledge-base.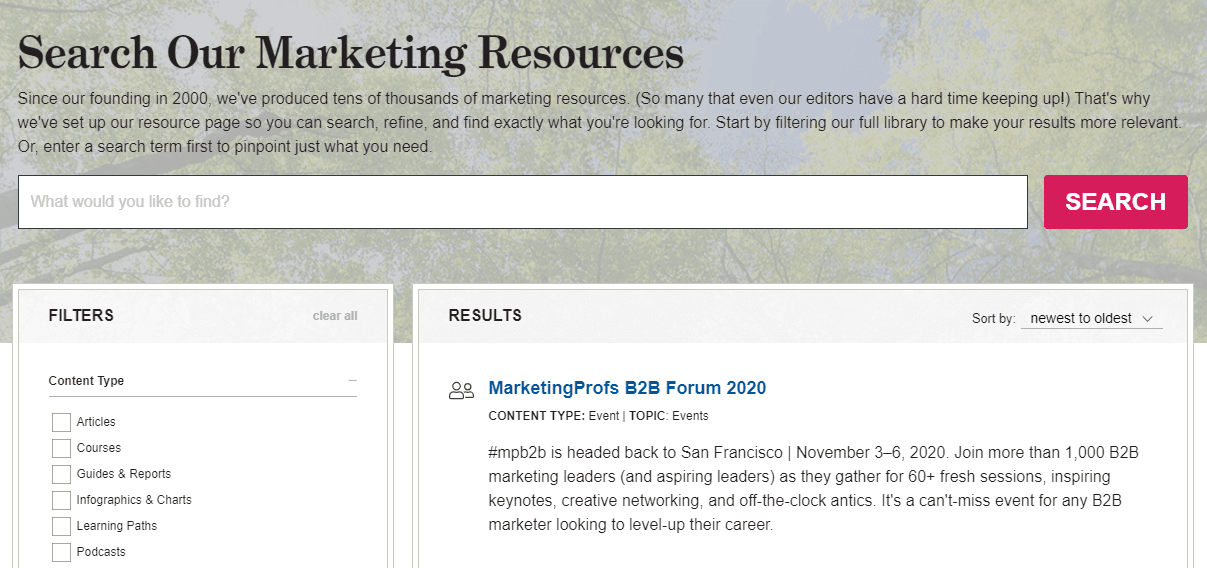 This blog probably is like a king in the kingdom of structure. You can segment posts by content type, events, topics, framework elements, recency, and time to complete the reading. If you feel like reading all posts you can just sort posts by newest to oldest and vice versa.
Next spot on the list of blogs about email marketing belongs to AWeber.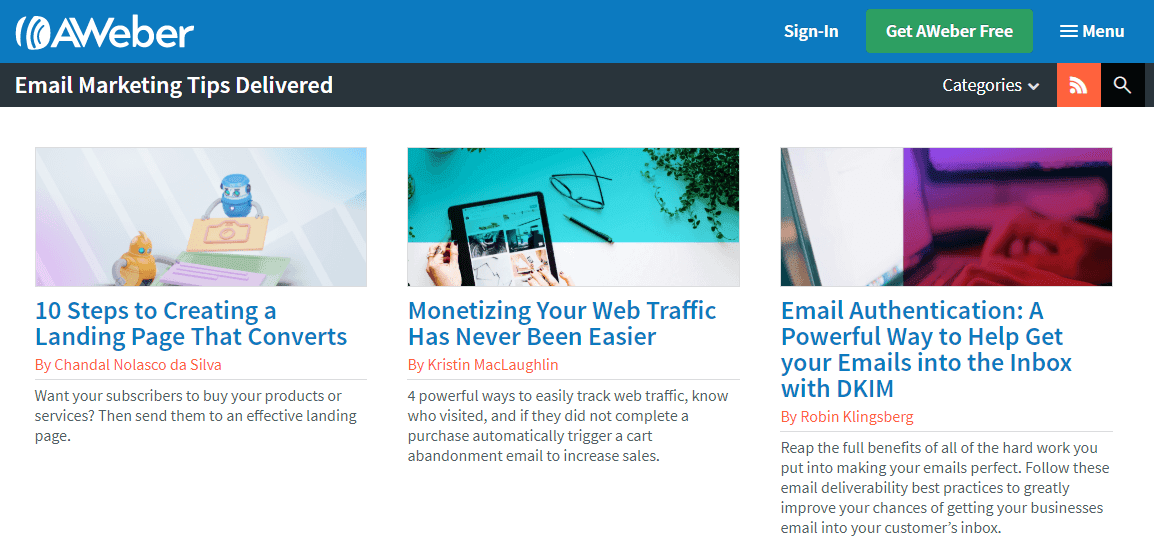 There are guides, articles, tips, live webinars, and case studies on email deliverability, template design, social media. Just click on the Categories tab in the top right corner and start digging into a needed subsection.
Mondays can't show off their world-wide love and admiration. But we sure do admire the emailmonday blog (check the pun out). This website belongs to Jordie van Rijn, an email marketing consultant.
And he actually is passionate about his specialty as he creates qualitative long reads, follows trends, and shares great practical tips.
And last but not least among the best blogs for email marketing in our opinion, — is Mailjet.
Mailjet is an ESP that presents to its clients transactional and marketing email solutions.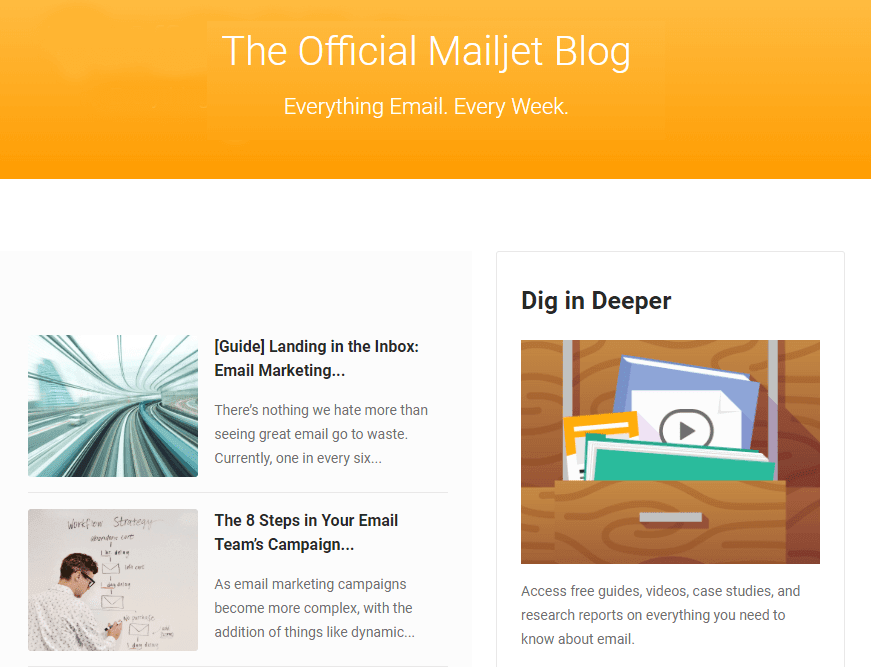 Currently, the blog has 608 posts divided into such sections: news, email marketing, deliverability, design, collaboration, transactional email, automation, API. You also have a chance to get free guides and research reports on everything you need to know about email.
Final thoughts
We hope that from the list above you will create your list of top email marketing blogs to learn a lot about this topic. Live long, study hard and prosper.