01 November 2018
Stripo.email Is Taking WebSummit by Surprise
Stripo is going to WebSummit 2018 in Lisbon.
Are we nervous? Nope! Are we excited? Oh, yeah!! This is the first time we are going to a Conference of this level — "The best technology conference on the planet" as Forbes magazine says.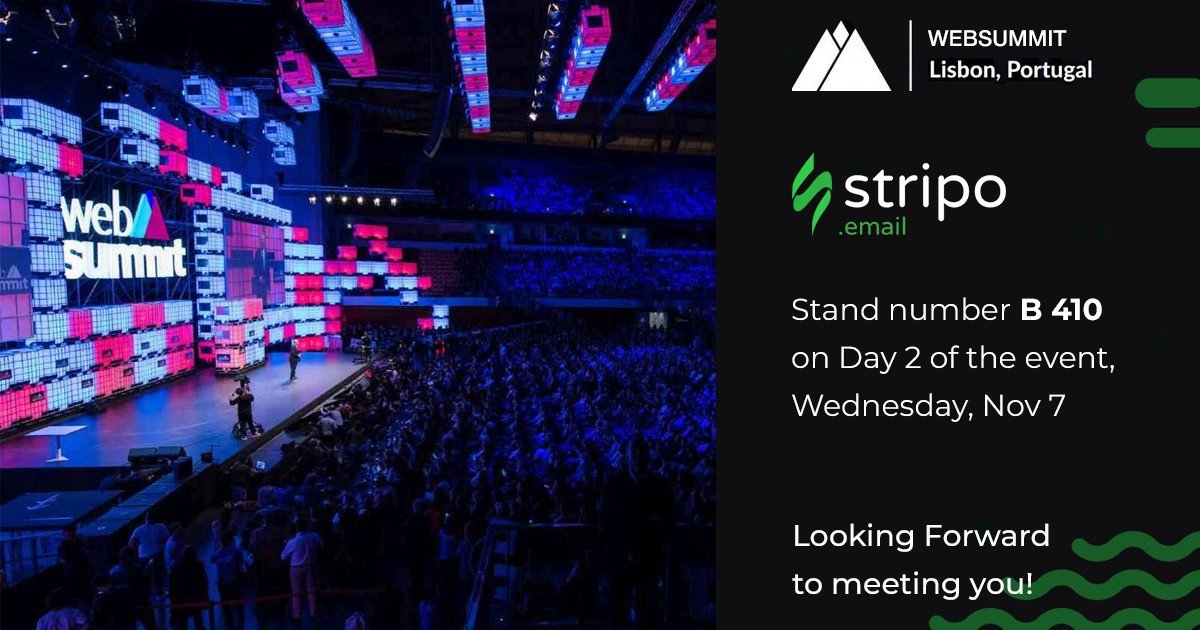 Speakers at WebSummit
In Lisbon, we'll be honored to meet up to 70,000 attendees from like 170 countries. Among the prominent speakers, there'll be António Guterres, Secretary-General of the UN, Lisa Jackson, Apple's Vice President, Young Sohn, Chief Strategy Officer at Samsung, Nadja Swarovski, Toni Blair, Michelle Peluso, CMO at IBM, Adrian Cockcroft, Vice President at Amazon Web Services, and many other respected opinion-leaders in the tech world!
Our representatives at WebSummit

What we are gonna do there
We will present our product:
The product that helps:
Email marketers and designers create sophisticated, responsive, interactive emails in no time for built-in up-to-date micro tools;
Worldly-wise designers create unique emails for the open HTML code;
SaaS products, to which emailing is essential, provide their users with a complex tool to allow building constructive emails for better communication with their customers/clients for our embeddable solution (plugin).
Our motto: make every email beautiful and anticipated.
The problems we solve:
Building emails is an arduous work — on average, the whole email creation process takes a company 25 hours.
Our solution: automation. Thanks to it, email marketers spend 60% less time on the entire email creation process.
Making sophisticated banners requires third-party tools. Not anymore!
Our solution: the basic block "Banner" enables our customers to edit the image, apply color filters to it, and place copy over it — select any custom font to decorate the banner. All custom fonts are considered elements of the image and are correctly displayed in all email clients.
The interactive elements, like image carousel and image rollover, are not web safe — only some email clients show them, others just remove entire blocks.
Our solution: we offer a totally web safe image rollover effect. Due to our unique code, all email clients display the photos just the way you planned it.
Don't see where to insert an active countdown timer? — Because an email editor provides neither with an HTML block nor with open HTML code?
Our solution: we have embedded this option in our builder. Our users add countdown timers to urge their customers, modify them in accordance with their email design, and even choose what customers see when the timer expires — zeros or an image.
Emails look broken on mobile devices — it happens for poor adaptivity.
Our solution: we provide our users with like 300 pre-designed email templates that meet responsive web design standards. Which make them look good both on the desktop and mobile screens.
Creating similar emails is boring — you have to design the same footers, headers all over again and again when starting a new campaign.
Our solution: library of blocks. Save any block, container or even element to your personal library. Just pull them in the template, replace banner and value offer — your newsletter email is done.
Email builder embedded in your ESP is out-of-date, and you are tired of it. After importing your own HTML email to this ESP, the email gets disposal — you cannot edit it.
Our solution: due to advanced synchronization you can export designed email templates to the world's top ESPs and email clients and all emails are editable after being exported.
Your SaaS product provides services where emailing is the core activity, but your tool does not meet modern email builder's requirements.
Our solution: embed the Stripo plugin in your SaaS to provide your users with the comprehensive email template designer. Try out our free version.
So far, over 22,000 users enjoy working with us. Every day we receive positive feedback from our customers: businesses, agencies and SaaS platforms that have embedded our solution in their systems.
Let's make all emails anticipated together!
See you at WebSummit!
If you want to make an appointment with us, friend us on Facebook or join us on Twitter.