06 September 2021
Email Marketing for the Travel and Tourism Industry
The Travel and HORECA industries were influenced by COVID probably the most. We all hope that COVID will be gone soon, people will be able to live a normal life again, and countries will open their borders again soon.

And travel email marketing is a nice way to notify your customers about open borders. Also, today via email, you may let your customers know how they can travel inside your country.
What is the role of email marketing in the Tourism industry?
To provide your clients with the best service at all stages of cooperation. From the subscription form to the thank you email. Communication is the only way to sell such a high-priced product as a vacation package in 2021 and 2022.
In order to see smiles on your client's faces when they are making it near Times Square in NY or Basílica de la Sagrada Família in Barcelona, you have to hold their hands from the first email till the time they make it to the airport and even further.
So, travel email marketing is a must today. And this is what we are going to talk about in this article.
Types of emails a travel industry needs today
1. Subscription from
Of course, this is not an email. But how will people receive promo emails from you if they do not sign up for your newsletter?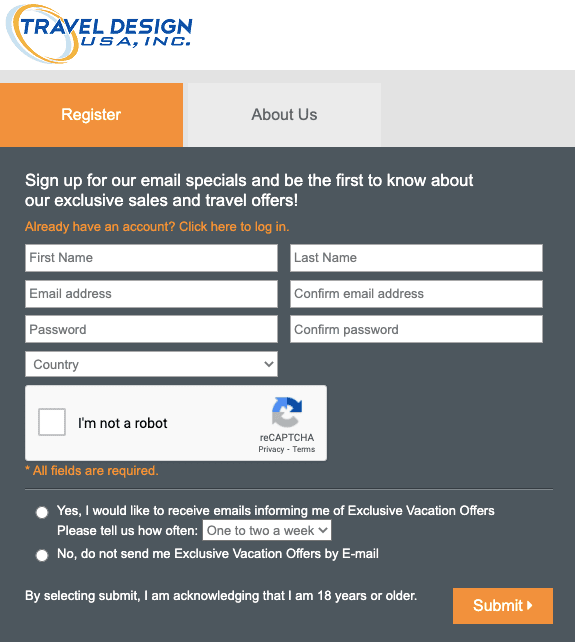 (Source: Travel Design USA, Inc.)
You can also offer bonuses for signing up for your emails. For example, you can offer something like "Fill the forms below and get a short-list of the most available travel directions for now", or "Subscribe and receive a check-list "How to travel 5 countries for $XXX in 5 days".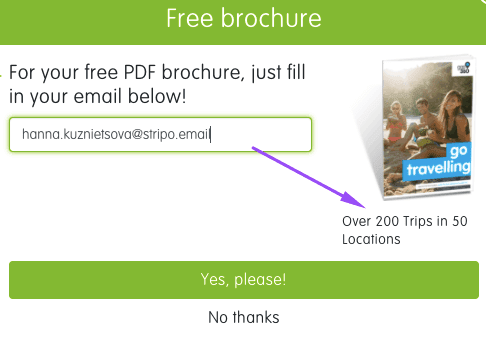 (Source: Email from Gap 360)
I guess you got what I mean. Motivate them with things they need.
2. Welcome email
It's hard to not mention this type of email when it comes to travel email marketing. After greeting and welcoming your subscribers, it is nice to write some certain information about what a person gets from being subscribed to you.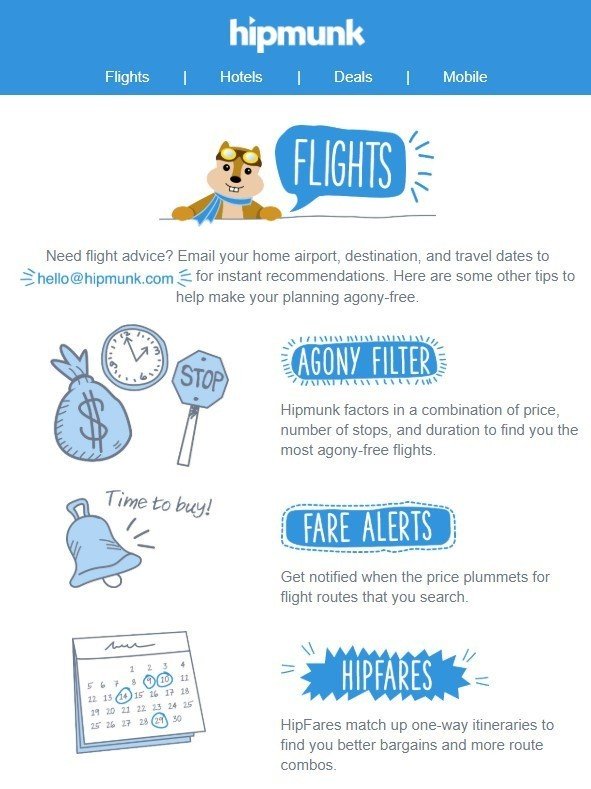 (Source: Email from Hipmunk)
In Travel agency welcome emails, you can ask them about their preferences. Like would they like to travel only by train? What type of rest do they prefer? Or what are their price limits? This information will ease the process of communication and give you possibilities to make travel emails more personalized.
Or you can do it in a promo email.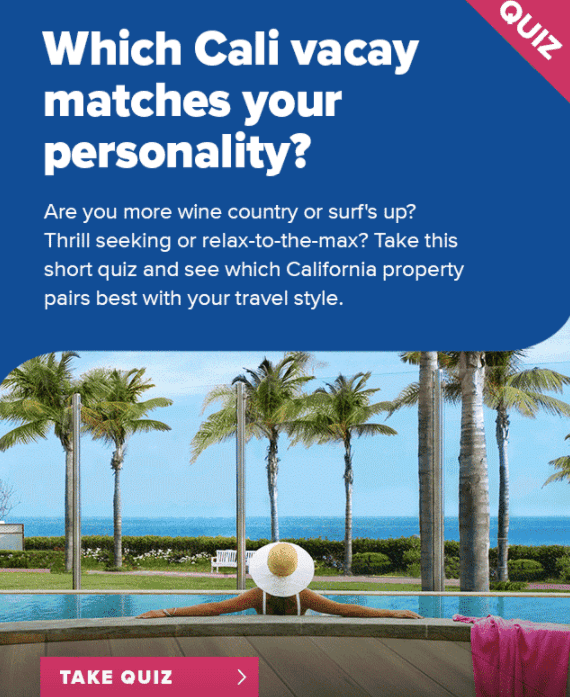 (Source: Hilton Honors)
Important:
After users clicked the "Sign me up for your newsletter" button and shared their email address with you, be sure to ask them to verify their email address and willingness to receive promo emails from you. This is a very important step.
For more information on how to build subscription confirmation emails, please refer to our "Subscription confirmation emails" blog post.
3. Promo emails
Promo emails are the drivers of travel email marketing.
"Make A Customer, Not A Sale", said Katherine Barchetti, retail business specialist. Understanding this quote is the way to get successful sales and increase the LTV (Lifetime Value) of your clients.

Let me show you a few of the best practices that you may use to make your promo emails competitive.
Tip 1. Use a number of photos
You never know what the client needs right at the moment. Even if clients told you about their preferences you have to add a few other offers below the one they prefer. People often change their plans and wishes.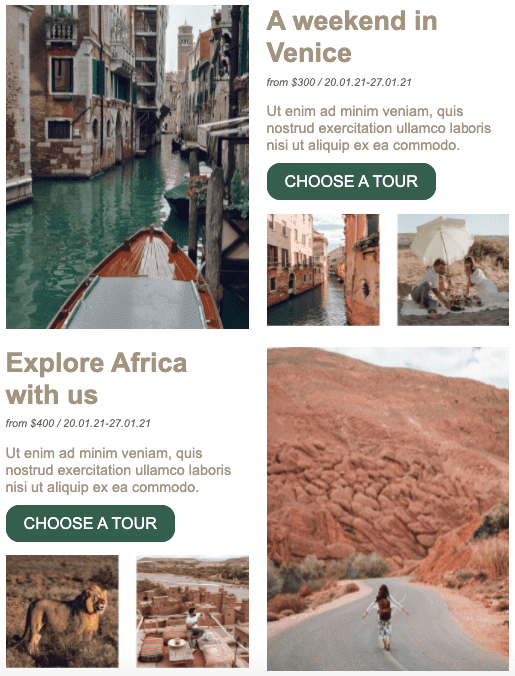 (Source: Email template from Stripo)
If you show one place from one offer use as many pictures as you can. Show the best of this location.
Tip 2. Seasonal email marketing for the tourism industry
Send the emails related to dates, holidays, events, and etc. This tip became a tool in the email marketing travel industry.
It is very good when your offer matches the thoughts or emotions in people's heads.
Valentine's Day, New Year, Christmas, Independence Day (or other important days in other countries) people like to travel even for a few days celebrating something and it is a nice time to use it.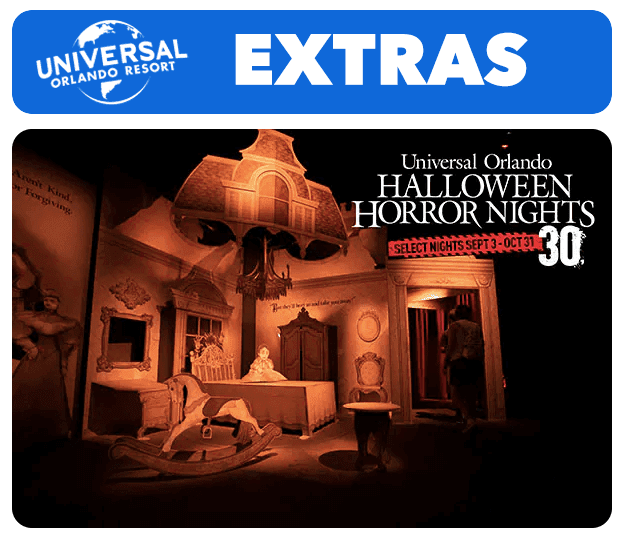 (Source: Email from Universal Orlando Resort)
Tip 3. Use video in travel emails
Videos can be worth a thousand words.
Be sure to actively use them in your travel email marketing.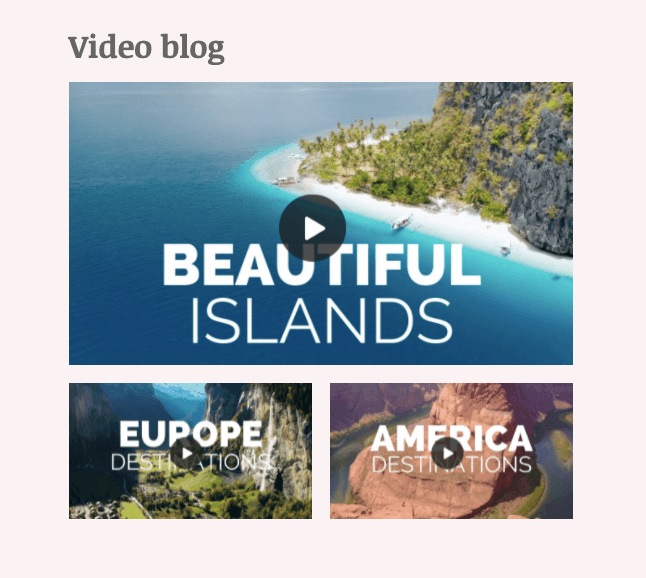 Tip 4. Conciseness
Try to keep it short when it comes to using words.
Picture — Short description — Price. Briefly written information with good font and background + juicy pictures that cause emotions is everything that you need.
(Source: Really Good Emails)
Important:
You can easily build such interactive banners or even AMP image carousels with Stripo.
Tip 5. Offer discounts on birthdays
Be sure to congratulate your customers on their birthdays. Tell them how many places they have visited with your company, how many miles they have passed with you.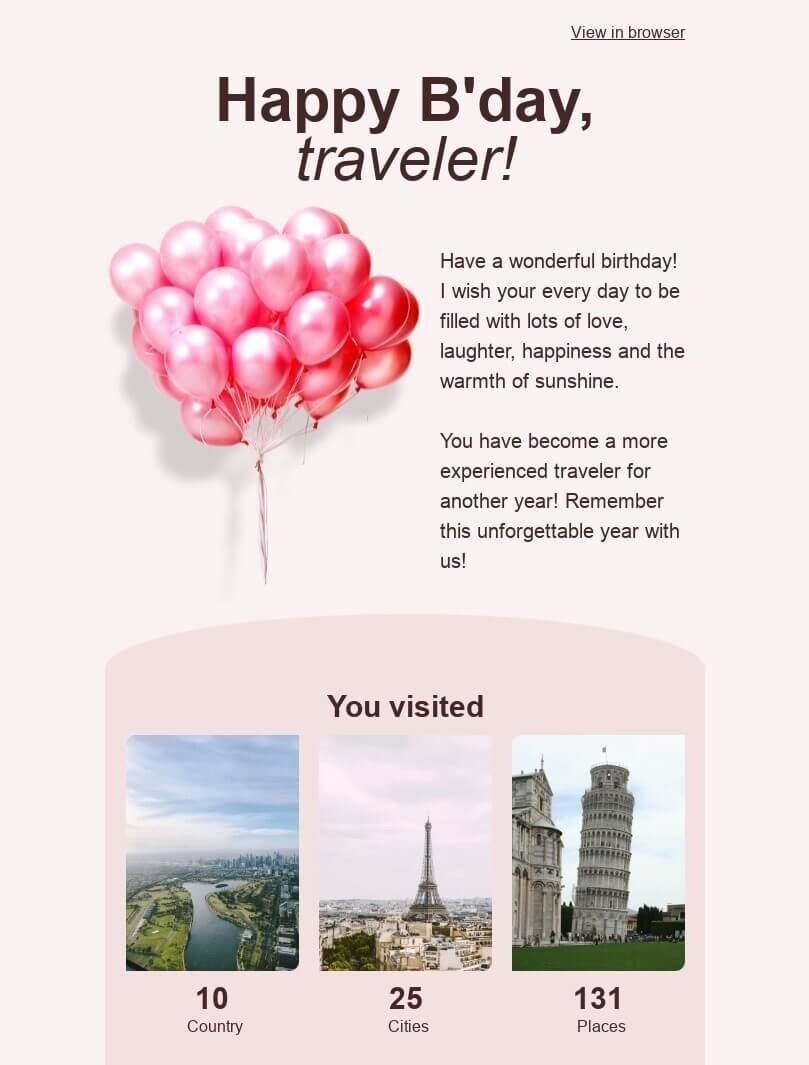 And offer a discount for the next trip.
Tip 6. Start sending your promo campaigns early
Of course, we do remember about Last Minute Deals, but many people like planning vacations in advance. You may help them out.
For example, if you want to sell the trip for May it is better to begin the campaign in Winter when people are thinking about how nice it would be to go somewhere as soon as the warm days come.
At the same time when the hot Summer ends you can start on the Christmas campaigns".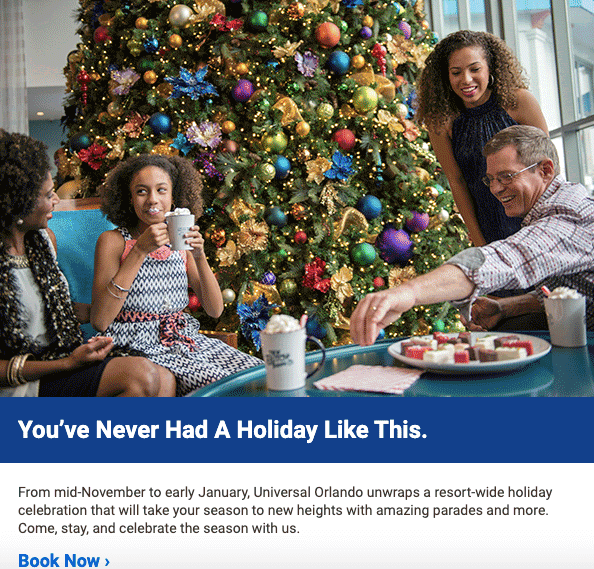 (Source: Email from Universal Orlando Resort, sent on Jun 18)
4. Booking confirmation email
Always notify customers that you have processed their orders and their rooms/tickets/trips are saved for them.
Don't make them nervous — send such emails immediately.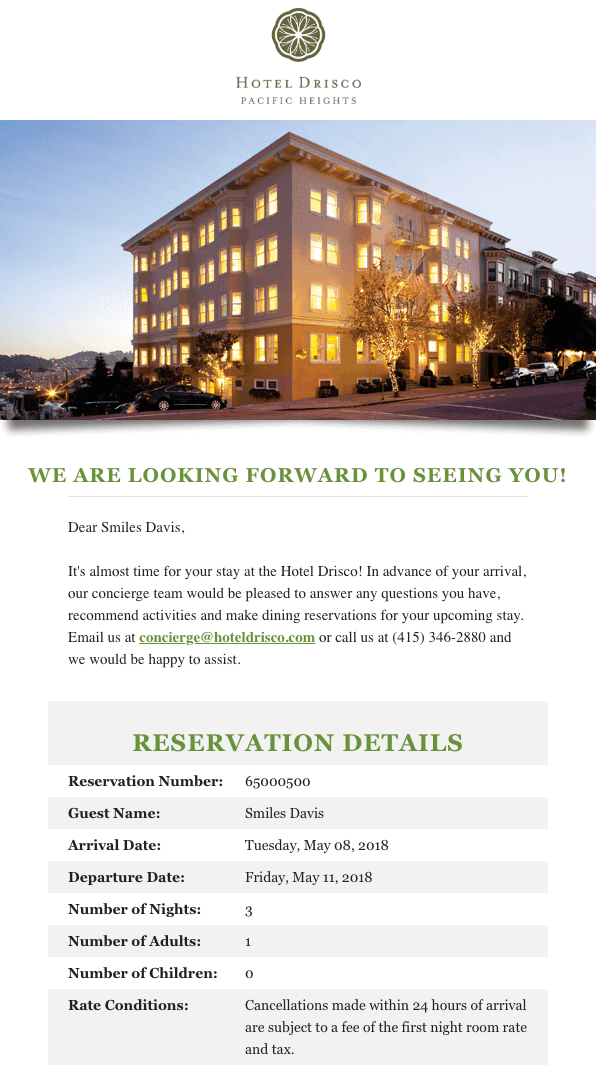 (Source: Really Good Emails)
5. Abandoned cart email
Such emails are highly important for the email marketing travel industry. Remind people about their wishes and choices.
People have different reasons or circumstances. They might have simply forgotten to complete the checkout because of being interrupted and then they lose the link to the booking page.

They also can be caught by the competitors and you have to remind them of the advantages of your offer.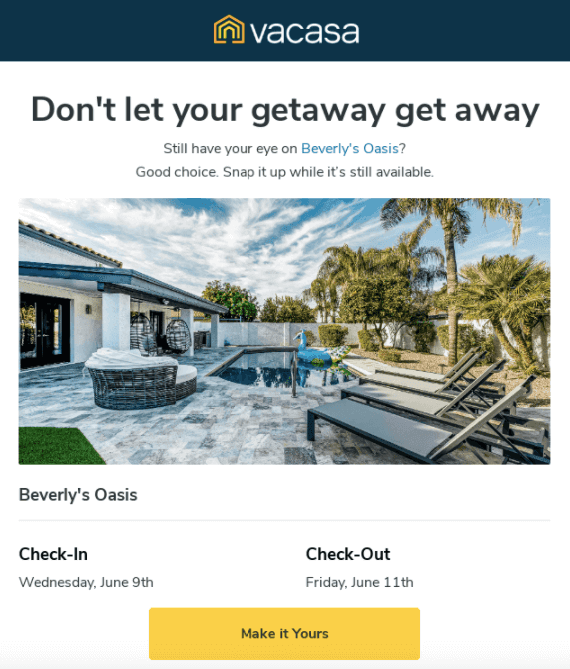 (Source: Really Good Emails)
Clients can doubt. Of course, it happens. In this way, you have to make sure that what you offer is the best choice with the best price and quality.
6. Emails with bonuses for trips, or Membership emails
Everyone likes bonuses, especially significant ones. Here are a few examples of how you can give bonuses and get benefits.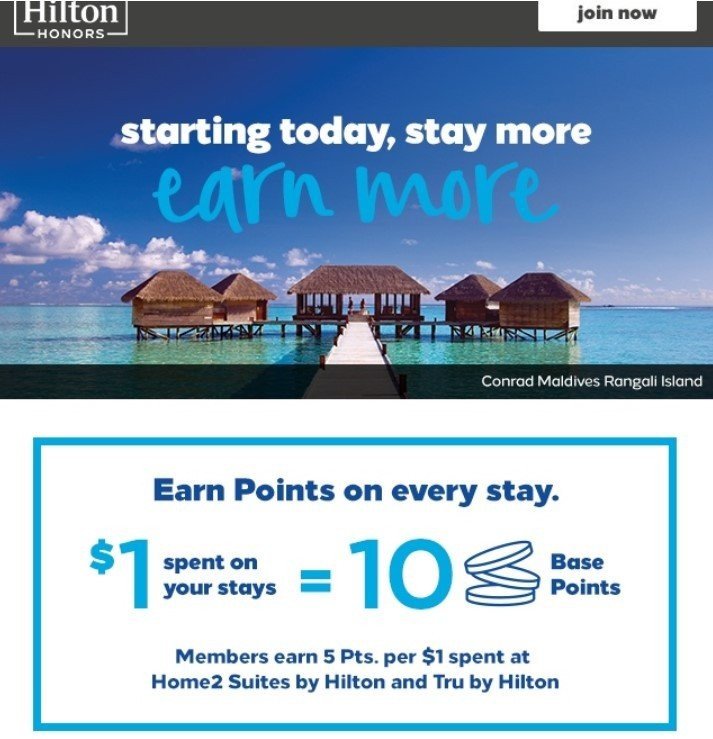 (Source: Hilton Honors)
This is a good way to make it possible for people to get something like a card that collects any vouchers, discounts, bonuses, and so on. Lots of airlines have a bonus system where miles are accumulated that can be used by customers in the future. You can come up with something similar using your imagination!
7. Post-purchase emails
Communication with a client does not end with a purchase. Remember I was writing about the fact that you have to hold your client's hand all the time? Well...

What to include in your post-purchase email for the tourism industry:
weather conditions and weather forecast for the town/country your clients are going to;

local traditions that will help the clients to not get into trouble there;

tell them what clothes will be suitable for that place;

local events;

geolocation of the hotel your clients are staying in so they can easily find it;

sights of the country/city.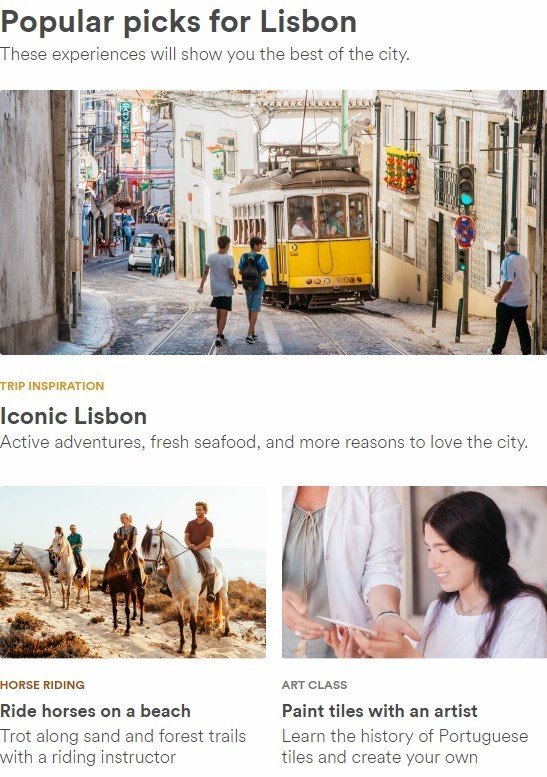 (Source: Really Good Emails)
8. Survey invitation email
Always ask users if they liked traveling with your company, or if they enjoyed their trip, etc.
It is important for you to know if your clients are satisfied with your services. It will also help you pick more suitable tours for them.
Important:
If you allow your clients to leave comments directly in emails without leaving them you will get 520% more reviews. Proven!
Final thoughts
Let's say that email marketing for travel businesses is not something that has many differences from other businesses that use email marketing.

You should remember that your emails have to be directed to the customer who wants to receive the information and needs it right at the moment.

Wish you many sales!