Marketers work really hard, if not to say spend a considerable amount of time, and resources to build an effective email marketing campaign. However, the question is — do these efforts always drive good results?
Unfortunately, the answer is "no". In fact, according to the investigations, conducted by HubSpot, email marketing databases normally decrease by about 22.5% each year. This happens for the following reasons:
subscribers no longer use your products — children might have grown up, they moved to another country, etc.;
the quality of your products have worsened;
some subscribers have gotten lost in the wide variety of companies which offer similar products;
some of your loyal email subscribers have lost interest in your email marketing campaigns — yes, it may also happen.
Can we help it?
Definitely, yes. Re-engage subscribers.
You might think that it is almost impossible to re-engage subscribers. But if you work on the design, and copy to create an effective re-engagement email campaign, you will see all is not lost.
Why can't you simply engage new customers rather than trying to win the lost ones back? — The answer is as simple as that — it is seven times cheaper.
Besides, Visually states that about 24% of disengaged subscribers will read your emails. The rest depends on how interesting your re-engagement email campaign is.
Tips to create effective re-engagement email campaigns
These are the ground rules for all email marketing campaigns, including re-engagement ones:
Here' the list of the best re-engaging email campaigns to inspire you.
1. Re-engagement emails personalization
Add a dash of personal touch in your message — personalize it.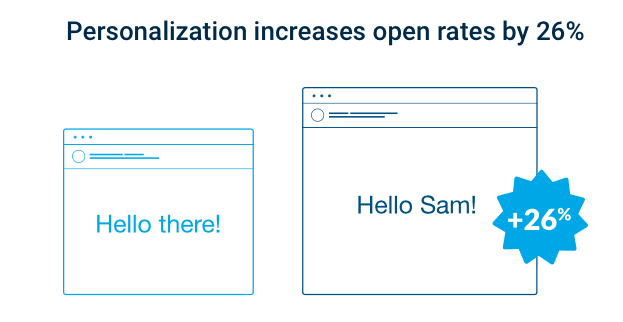 In fact, according to the report provided by Campaign Monitor, emails with personalized subject lines are 26% more likely to be opened.
But personalization is not about adding names only, which is also important, but also about mentioning some facts about this particular customer.
Here's how a great example of a re-engagement email by American Airlines: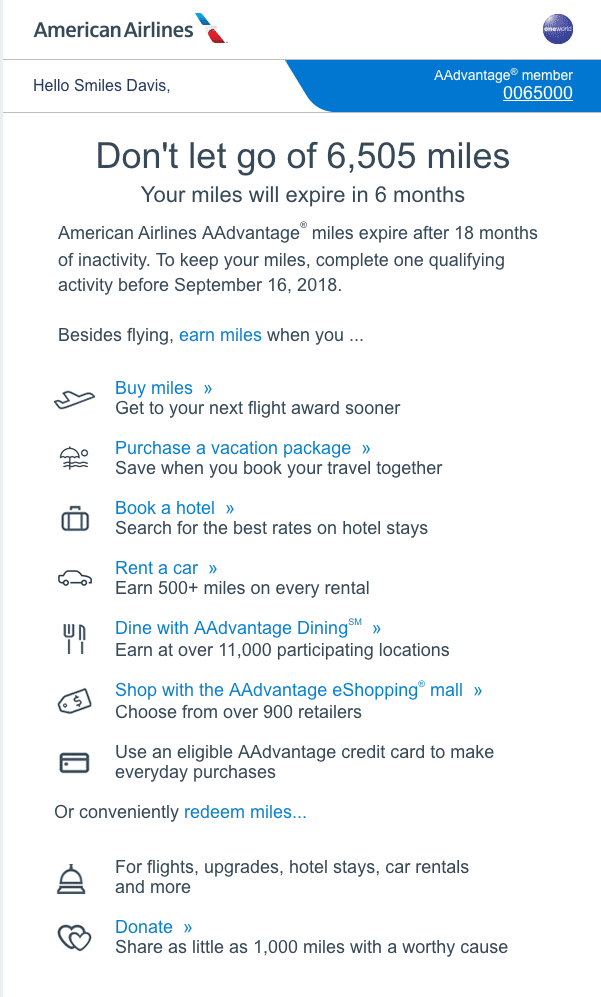 Firstly, the American Airlines let the clients know they still remember them. In some cases, this is enough. Secondly, they enumerated all the benefits the client receives by using these airlines. And thirdly, they urge the customers to fly sooner. Certainly, no one will fly just to use the bonuses the company offers, but if the client needs to take a flight, he or she is much more likely to choose the American Airlines this time.
2. Play the blame game
Has someone ever told you not to blame others?
If yes, then you can ignore this time-honored piece of advice just this once. If you want to get your lost customers back then you can try a bold route.
Confused? Then take a look at this re-engagement email campaign by the fashion brand Kate Spade.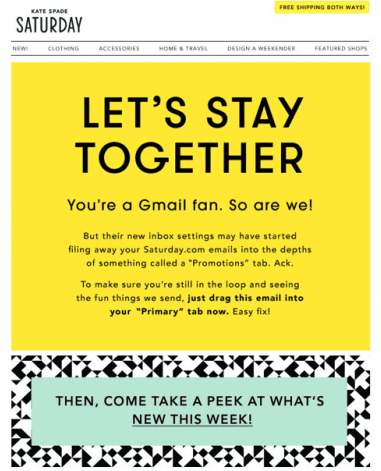 Look at the confident approach taken by Kate Spade — rather than the traditional approach of requesting the answer to what's wrong and promising to improve their services, the Kate Spade brand is taking the easy way out by blaming the mailbox.
By doing this, the brand has compelled its audience to believe the same and gained entry into the Inbox.
3. Show them how you feel
When they say a picture speaks more than a thousand words, seems like it wasn't a lie.
Sounds cliche, I know. However, once you have a look at this re-engagement email campaign, you are likely to think the same.
Not only says this email by Ticketfly how much they miss the customer, or how much they want the audience to come back, but they actually show it very clearly by using this GIF. Throw in an offer or a discount along with the visual content, to enthrall your customer so much that they can't help but come back.
4. Keep things simple
Your re-engagement email doesn't always have to be enthralling or highly creative. This does depend on the kind of business you run.
Take a look at this re-engagement email example.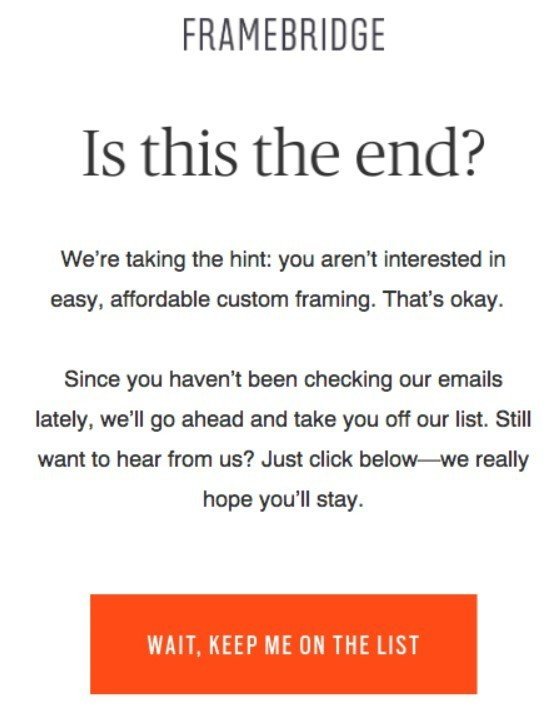 See, how wonderfully the simple and sweet approach looks. However, don't forget to add a CTA to the bottom of your message to make the most of your re-engagement email.
5. Show the subscribers what they are missing
You are persuading your customers to come back by telling them that you have something great to offer. You also tell them how much you've missed them.
If your engagement strategy is appealing to emotions, then add some colors.
Here's a perfect example.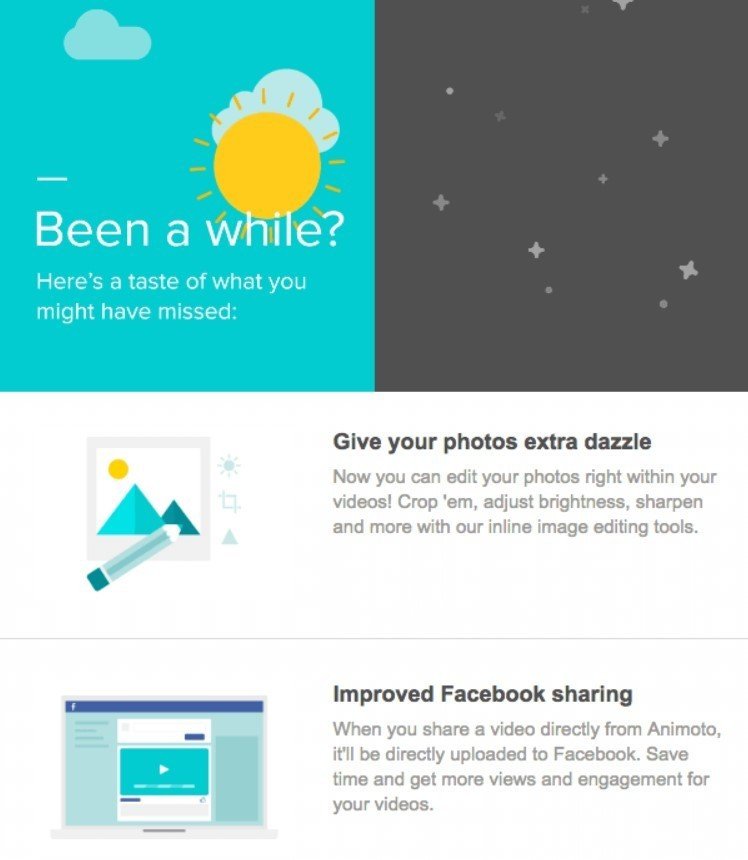 Animoto has increased the strength of the message multifold by coming out with the product they are offering.
6. Show your generosity
Are you doing some charity work?
Humans love to help other people. If nothing else, at least, to feel good about themselves. So, it is highly recommended that you integrate charity work with your re-engagement email.
There's a catch — DO NOT fake it. Ever! Not only will the customer know about the deceit, but it also doesn't bode well for your brand.
Here's a perfect example of a re-engagement email.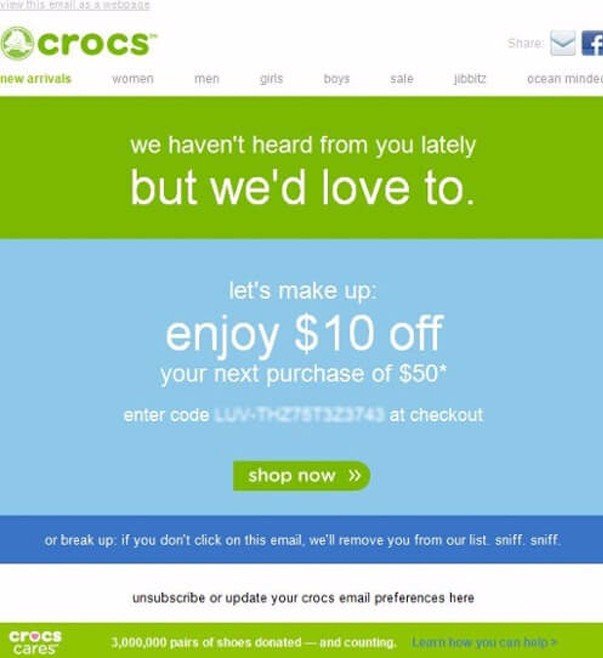 Look at how Crocs has snuck out a message at the bottom of the email showcasing their charity work. Of course, they haven't missed out on the incentivizing part either. But their shoe donation initiative adds one more factor that works in their favor.
7. Give them an alternative
It is possible that your customers are tired of your lackluster approach and are itching for something little extra or you can say something more social… like Facebook or Twitter.
It is as simple as that — if you can't keep their attention for long, you gotta give them another option. Like this example below.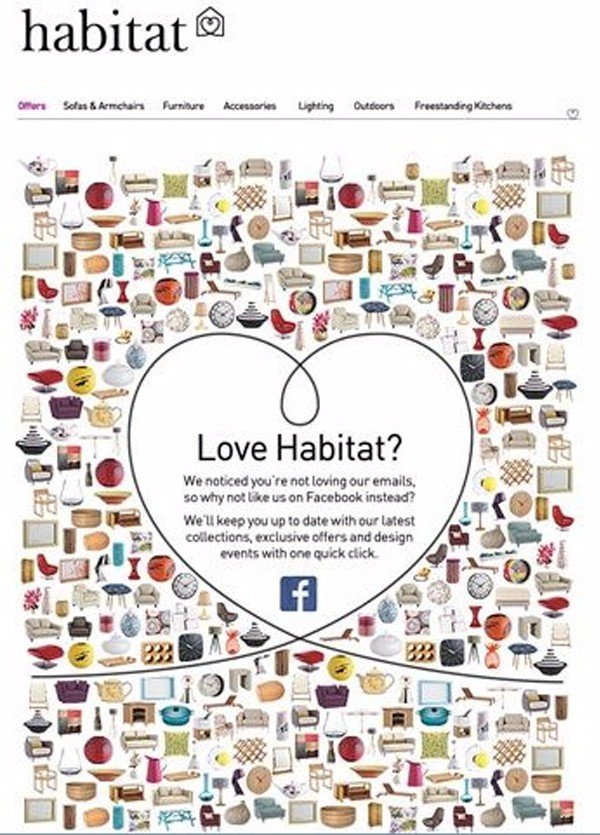 In this re-engagement email, the company knows that they are not able to bind the customers anymore. So they have tried to kill two birds with one stone — they are giving their customers an alternative, meanwhile retaining them as well.
8. Show off your new look
Did you just revamp your website? Boast about it in re-engagement emails by showing it off to your lost or inactive subscribers.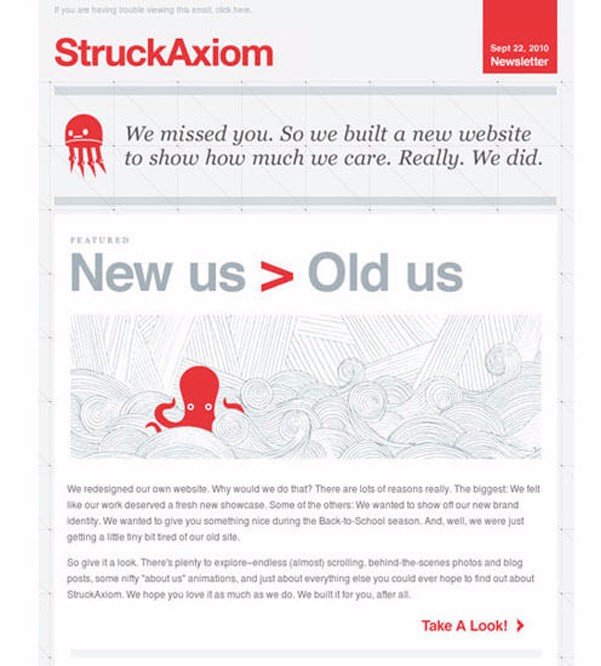 Not only they showed off their new design, but also hinted they did it just for customers.
It will make disengaged subscribers feel special.
9. Extend the trial
Most people like free trials. And what if your free trial gets extended? Sounds good.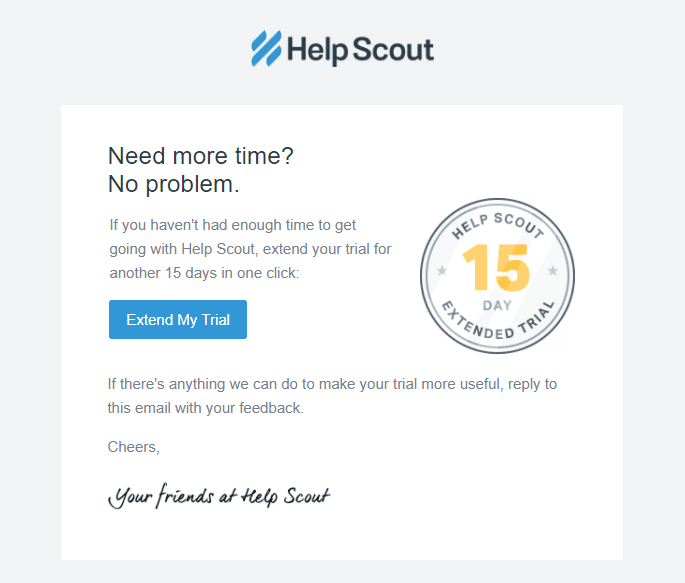 When customers are not sure yet whether your services or products are worth being paid for, let them use it for free to try it out. Besides, there is a chance they have completely forgotten about you. And now with your offer, you remind them of your product, of yourselves.
10. Make it funny
One of the keys to your customers' heart is to impress them with your wit and sense of humor.
Urban Outfitters stack to a perfect re-engagement strategy.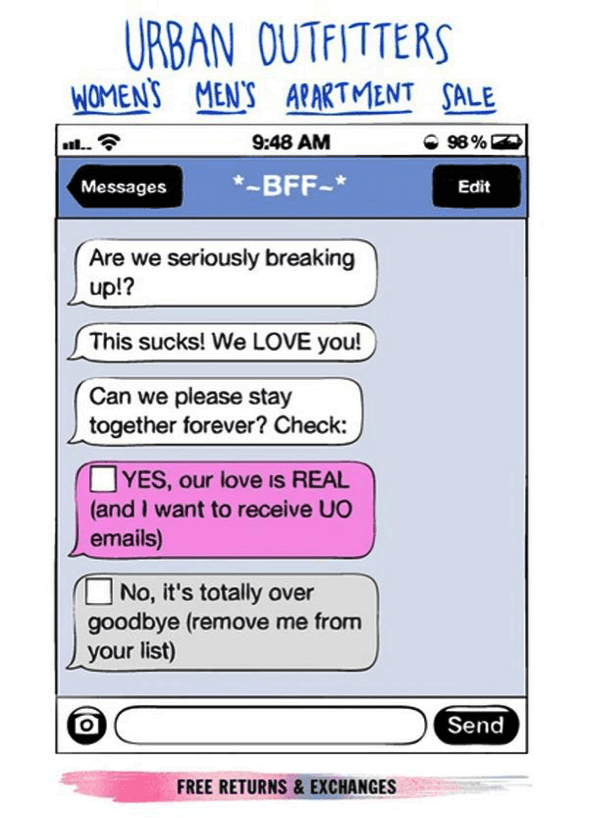 This example is tailor-made to appeal to their hip and urban audience. They clearly know who their audience is and are using wit and funny method to convince customers to come back.
11. Update preferences
Let's imagine your recipients got a baby and they needed diapers. So, they subscriberув to your newsletters six years back. Now their child goes to school and they need rucksacks or a set of pencils, but you still keep sending them emails where you promote new diapers — totally irrelevant information for these people.
Once you let customers update preferences, they might enjoy our future email newsletters.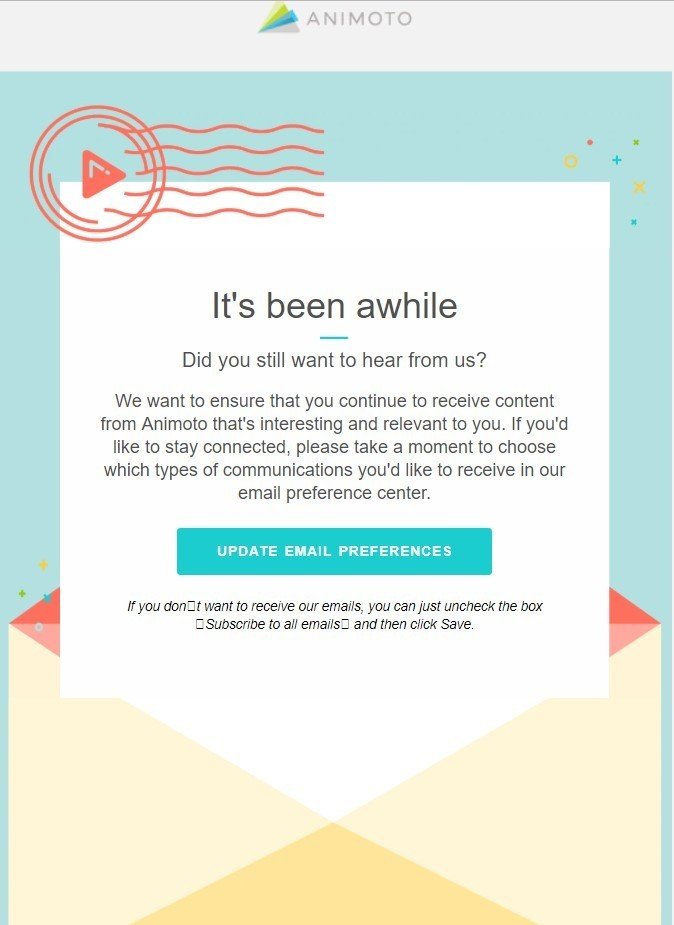 12. Monthly Digest
Subscribers cannot visit your website every day, unless you run Facebook. Thus, they may be bad aware of your updates, and new cool changes.
Let's imagine you developed a perfect tool for music lovers. But the only option your users always wanted you to add was a replay button so that they could listen to the same song for a few times without clicking on anything while enjoying the music in their earphones and working. Your competitors had that button. But the service, in general, is worse than yours. Your users struggled because they had to interrupt to click the "play button" again and again. Finally, they chose to join your competitor's platform.
You now have this button but your users do not know about it. But in fact, they would love to come back to you.
Thus, informing your subscribers about the updates and changes you have recently made is a good way to retain your disengaged subscribers.

This simple trick may even prevent you from sending out re-engagement emails ?
13. Make a sequence of the re-engagement emails
Make two or three emails in the series.
Must confess, I have not seen such examples in my Inbox, nor on the web. But there should be. With the first one, you can simply remind customers about your brand and your new product lines. Ask them to update their preferences. With the second email, you may offer a bonus. With the third one, you may increase it or even offer a lifetime discount.
If that does not work, inform the customer you will remove him from your contact base.
Note: do not send all emails the same day. Let people recollect who you are, then let them take their time to think whether they want to shop from you again.
Stay polite.
Before starting a re-engagement email marketing campaign, make sure that you know your audience well.
Use Stripo reactivation templates to save your time.
Go win your customers back!
If you have any questions or concerns, please, contact us on Facebook or via email.
Was this article helpful?
Thanks for your feedback!