10 July 2020
How To Create an Internal Company Newsletter for Employees
Personal meetings or internal emails — which communication tool to choose?
According to the BBC's recent research, 67% of office employees prefer emails to personal conversations. This proves that internal company newsletters are vital for your business growth.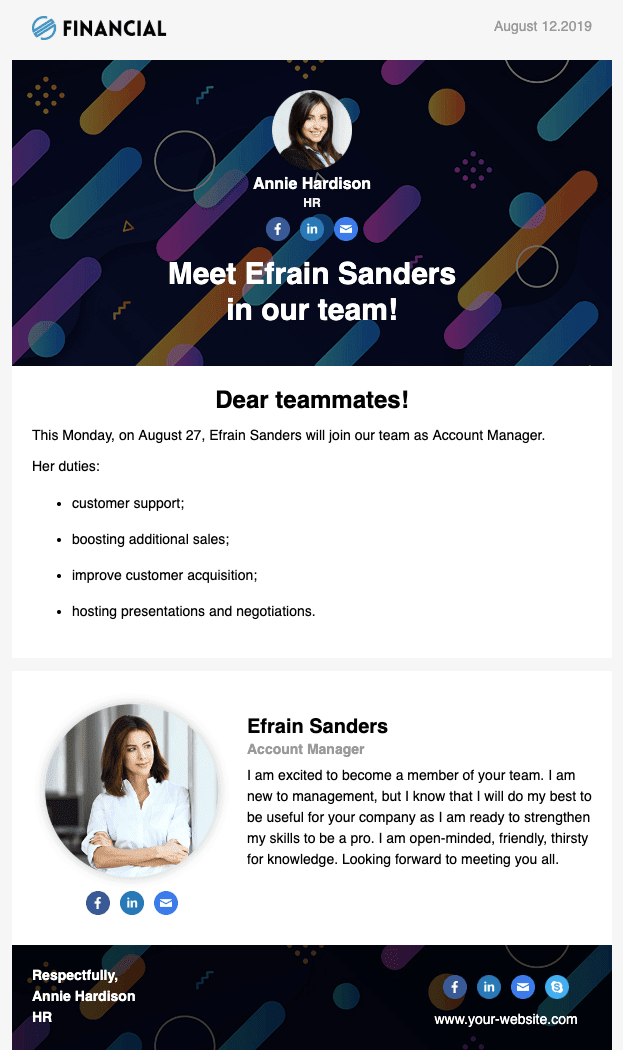 There are many reasons why you should prefer emails over online chats/messengers. Among them are the following ones:
there is a descriptive subject line which shows the importance of the newsletter;
you can track who of the employees opened an email;
personal communication with everyone who answers your email;
your colleagues will have important information saved or even starred in their inboxes. So they can easily find it.
Certainly, you will also use Slack or Skype for less informal conversations or to discuss some insignificant issues with employees.
Tips on how to create internal company newsletters
It goes without saying that the email's structure and design do depend on the idea you deliver to the employees.
Yet, there might be some general recommendations that fit any event and any reason for reaching out.
1. Write descriptive subject lines
Of course, your employees will read your email anyway for two reasons: to stay updated and know all office news, and because they know the sender. But if you want them to open the email ASAP, include the subject line that will let them know what the message is about.

For example, if it says "Meet Dennis", then employees will read this email when they have some time to spare. And if the subject line says, "Reports, Due date…" — most people will take a short break to read it.
Please be advised that you can set subject lines with Stripo.
2. Keep the emails short
There's no need to write long-reads unless you don't want your employees to work. Sounds ridiculous? Well, maybe. But this is true. The essay writer states, the shorter your company newsletter for employees is the more chances they will read it to the end. Some companies even believe that any email that takes more than 2 minutes to read will not be finished. Besides, your employees were engaged with their duties, and now you want them to spend ten minutes on reading some reports?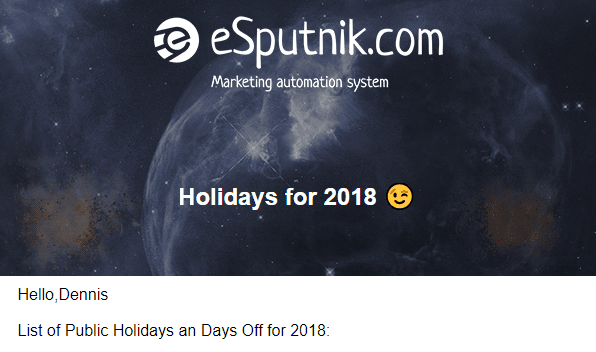 (Source: eSputnik.com)
"Public holidays for 2020" — as simple as that. Now you can just list all the public holidays. With no long intros.
3. Personalize your emails
Of course, we all know how it works — you simply use merge tags when creating employee newsletters, and recipients will see their names when opening them. But this simple trick makes us sound polite.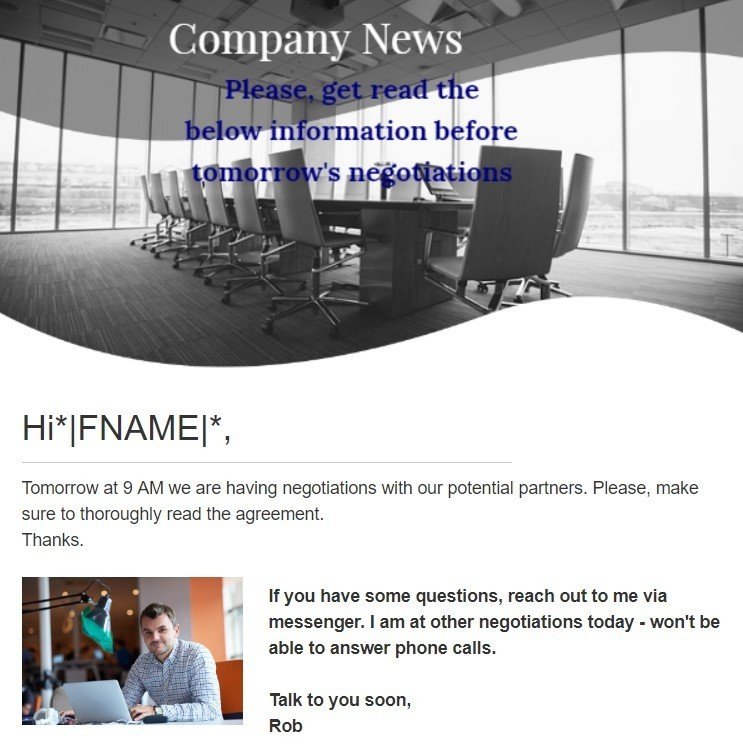 You can apply personalization with Stripo
when editing copy in your email, in the tool panel right above the template, you will see the "Merge tags" button;

select your ESP/CRM;
choose "First name";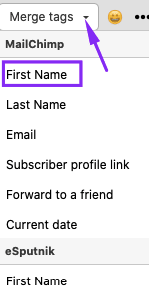 In the editor, you will see "*|FNAME|*". But employees will see their names in emails.
The below company showed a great internal newsletter example of using merge tags in company newsletters: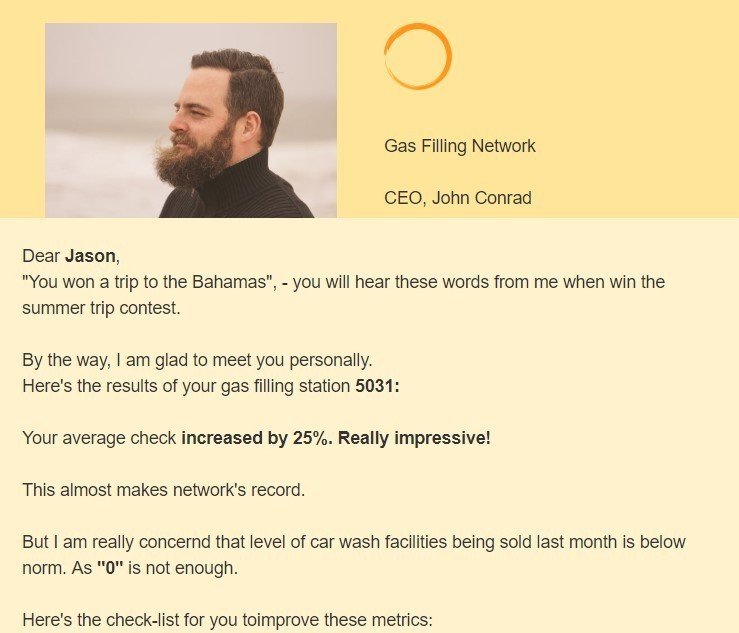 (Phone numbers, numbers and names are made up)
Announcing a contest among the employees, the CEO wanted to show their individual chances to win the trip. And also he mentioned the points to improve.
As long as this Gas Filling company has about 10 000 locations all over the world, no wonder, their CEO could not reach out to every employee in person. He wrote an email, included merge tags for many variables, like name, gas filling station number, results, and the check-list. All the copy written in bold was dynamic, and everyone saw his or her personal results.
4. Use visual elements in internal communication newsletters
You must have noticed that both previous examples contained images. What photos to choose — we'll leave it at your discretion. But they are supposed to be somehow connected with the company you work for. Use photos from the last corporate party, for example. It depends on how serious and how formal the email is.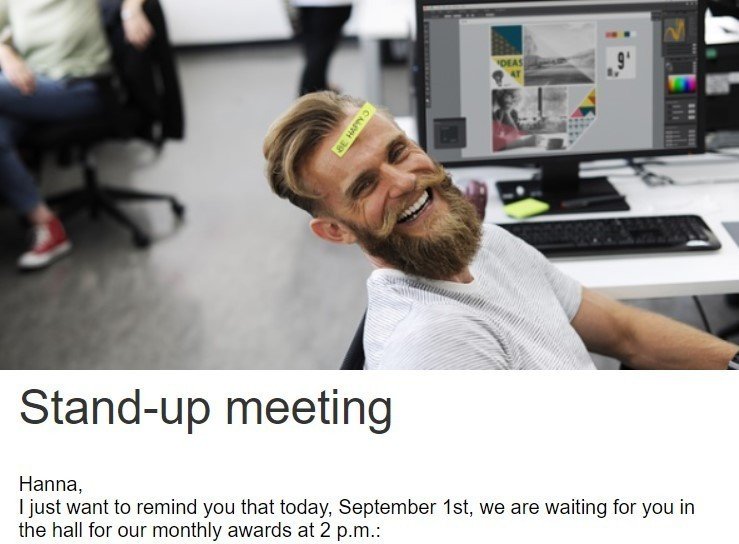 You may certainly use photos of the office if you please.
Yet, it's quite reasonable to add funny photos, like this one, to entertain your employees and put a smile on their face.
5. Embed interactive elements or videos in emails
Maybe here I was supposed to say "stick to trends" as interaction is the number 1 trend for 2020. But interaction is not about image carousels only. Add some games or embed funny videos.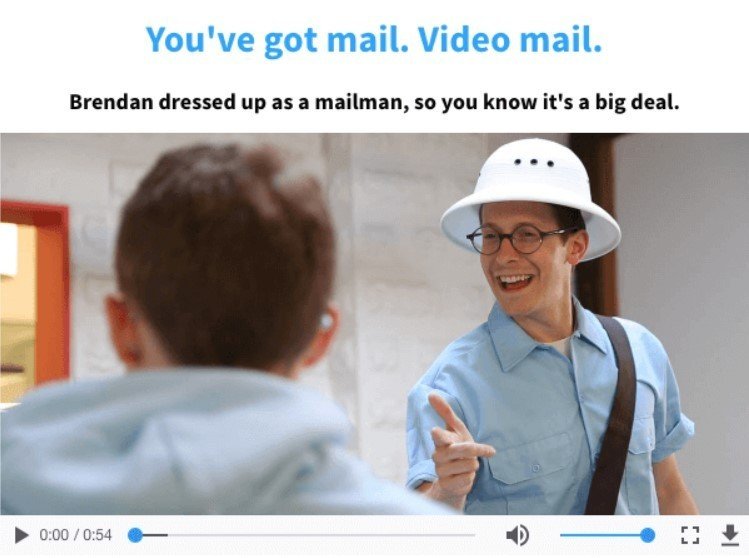 (Source: Really Good Emails)
Certainly, you may say that this is not another email marketing email and that your employees will read your emails anyway. Yet, a minute of relaxing and laughter won't hurt.
Note: this video does not really have to be connected with your company. It may be just fun and remind everyone of a funny event that happened to your colleagues in the past.
At my previous workplace, on Fridays, our CEO used to send an email with a video shot on a previous party night where we all danced. The subject line said, "Thank God, It's Friday. Let's go home, everyone!".
6. Include polls — ask employees for their opinion
Planning a Christmas Party? Or looking for a new office? Don't forget to ask your employees their opinion on that. New office location plays an essential role in employees' lives, especially if you are about to move to another borough/district.
Certainly, the way you are going to celebrate holidays won't affect anyone. But people have their preferences and it would be nice of you to consider them.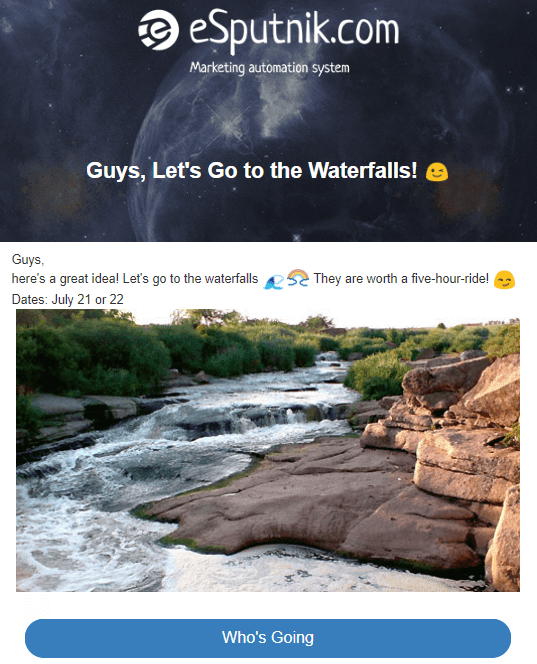 (Source: eSputnik.com)
Including Google Forms into emails is also a good way to better interact with employees:
prior to writing an email, create a Google Form, design it, then wrap the link in a CTA button in the internal communications email. Remember to give access to this doc to all your employees;
create your Google Form, then in the top right corner, click the "send" button, choose "send via email", then fill out your email address, and the most important — tick the "Include form in email" checkbox.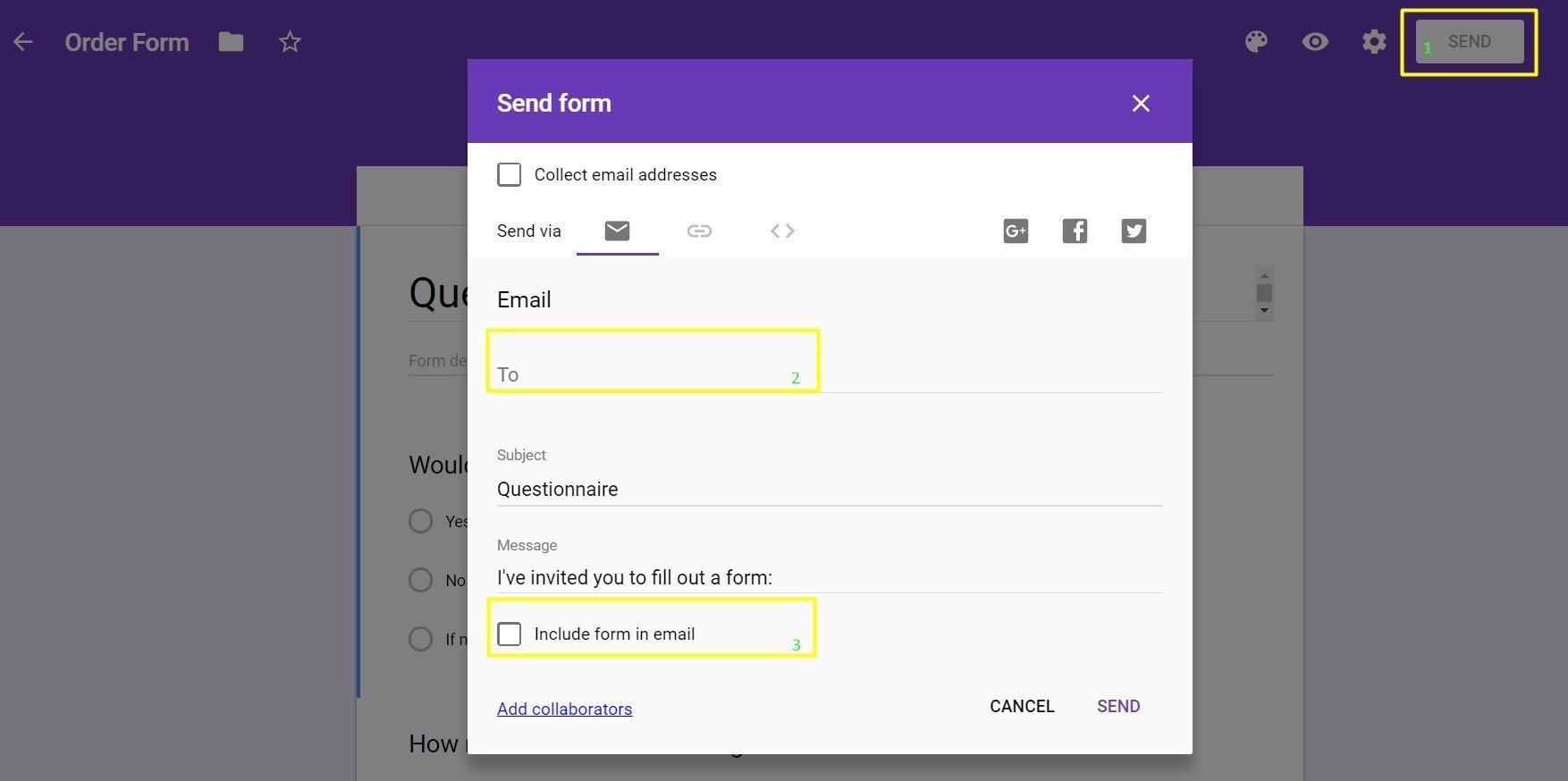 open this email delivered in your inbox, and right-click to "inspect" the page, and find the "table align="center" line. Copy it;
to check whether you have copied the right lines, place a mouse over it — and the questionnaire in the email body will get highlighted.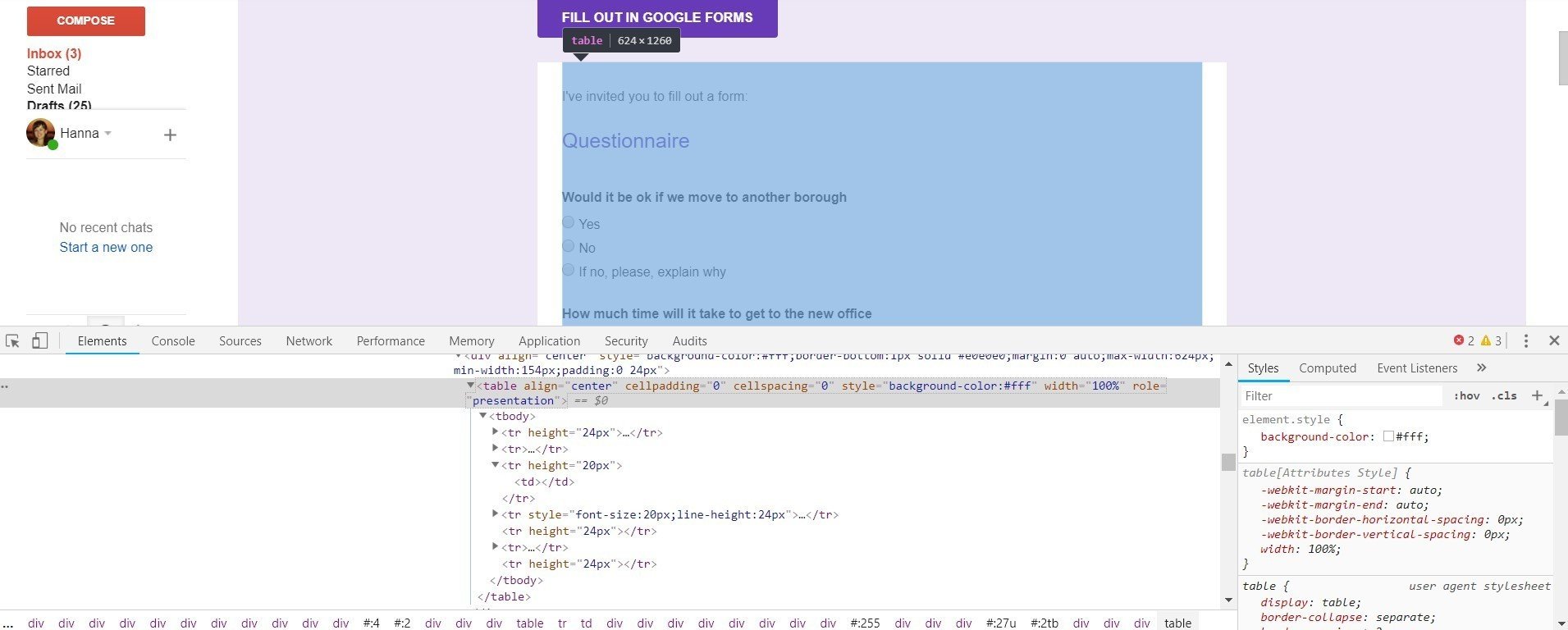 go to Stripo, pull the HTML block in the template. And paste your embed code:
done! Now you do not even have to share your document/Google form with others.
Google provides you with a complex report: it may be individual and summary.
Important:
This survey works well in Gmail, AOL, Yahoo! Mail, and Rambler.ru in Google Chrome, Mozilla Firefox, Safari, Opera. It works on desktops only.
Mobile users and those recipients who prefer other email clients will see the link to the survey. They might also be directed to the Google Form once they fill out the form and click the "Submit" button (in Mail.ru, Apple Mail).
Also, there are alternatives to Google Forms if you are looking for more customizable online forms.
7. Include active forms to get feedback from employees
Wanna know what your employees think of new changes? Wanna know how likely are they to give you a helping hand with a new project that requires them to overtime? Embed active forms in emails.
Employees can rate and submit their feedback directly in emails. Saves times.
These forms work in Gmail (all versions, desktop, and mobile apps) and Mail.ru (also, on all devices). Most companies use Gmail-suite for corporate emails. I.e. this form will work great in your employees' inboxes.
Please see how to build these forms for Gmail and Mail.ru users and set a fallback for those who use any other email client.
8. Add photos of people
If you write an employee newsletter, where you share company news like awards or somebody's promotion, it is pretty reasonable to add a photo of the very event or the person who got promoted. Especially, if the number of office employees exceeds 20 people or there are some guys who work remotely.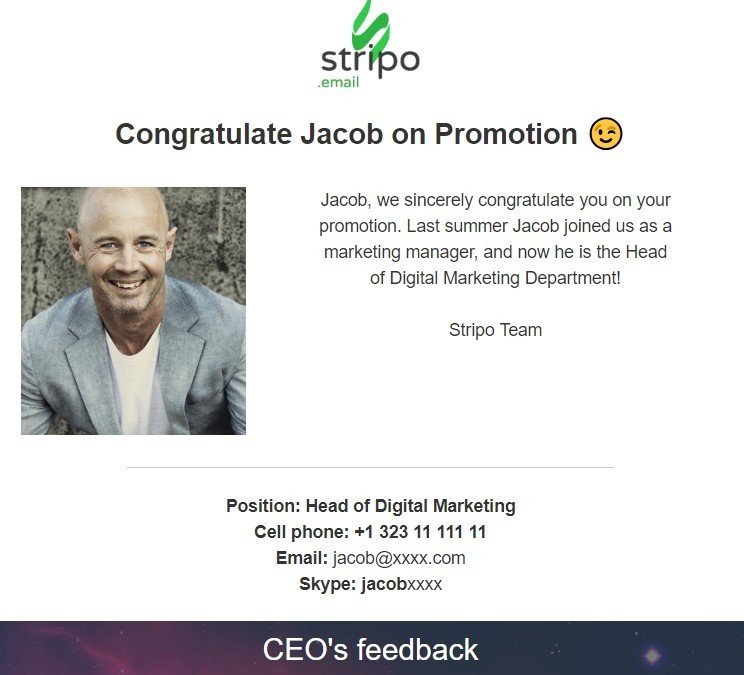 (Phone numbers and names are made up)
Help people meet each other, at least remotely.
At the end of the email, you may even add the CEO's feedback about this decision.
In our company, we insert some unusual photos of the team: the ones where we went rafting, where we played some outdoor games, etc. Such photos are to set the vibe and let everyone realize he or she is a part of the team.
9. Add signature
Whether you are the CEO or HR manager, employees perhaps have your cell phone number. Yet, some new hires might be kinda shy to request this information.

(Phone numbers and names are made up)
Be sure to add social media icons in an email signature. Your employees will not only follow you on LinkedIn and approve your skills, but also they might prefer contacting you via social networks over giving a call.
Did you know that adding social media icons to emails won't take you longer than a minute if you use Stripo?
See how it's done:
You fill out your profile just once, design respective icons just once. When building a new email, you just pull the "Social" block in your template. And Stripo retrieves and fills out all necessary information for you.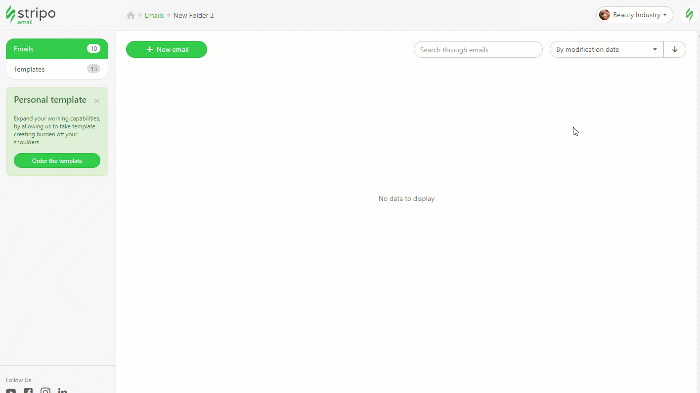 10. Choose the right frequency
Internal company newsletters for employees are not part of email marketing, consequently, there is no need to send them out on a regular basis. Certainly, unless we are speaking about a monthly report email — it should be sent out on the exact same day of a month.
In other cases, you are to send company newsletters only when you have news to share.

Final thoughts
There are numerous internal company newsletter ideas, and you should only those that fit your company. Stick to the tips named above, and certainly remember to stay on-brand.
Create just one or two emails using Stripo email templates, and save them to the library of blocks. Every time when you have to write an employee newsletter, you go to your personal content library, choose the template that fits the event best, and modify just the body of it, as header and footer normally remain the same.
Export these emails to Gmail or Outlook email clients. And surprise your employees with unusual and memorable company newsletters.