09 June
HR Email Templates: How to Create Beautiful Emails
You're an HR manager looking for HR email templates to save your time? Find them here along with powerful tips on HR email design, and content…
No matter what you are doing: welcoming a new hire, or reaching out to employees for sharing some news, you spend a whole lot of time on building emails if building them from scratch.
Stripo offers a number of ready-to-use HR email templates that help you spend half as much time as you used to.
Communicate with employees easily and much faster. Edit email content and send it over to new candidates right away.
Human resources email templates
As we said above, Stripo offers some HR templates.
So, let's have a closer look at them, shall we?
1. Welcoming a new hire on their first working day
As an HR manager, you sure want all members of your team to feel comfortable.
This welcome email sent a few days before the first working day or on the very day will help a new hire get acquainted with the key employees of your company or with the employees this person will communicate with quite often.
It will be really helpful if you share their contact information, too.
Remember to include photos of these people.
New hires will really appreciate it as this will help them avoid awkward situations when they mistakenly talk to the wrong people :)

This template already contains all necessary blocks. You'll just have to slightly customize it
I remember the day when I just joined my current team and received a similar human resource email, I found it really helpful to read the "corporate wiki" with key information on the company, like key events, key goals, and statistics, who are the biggest partners and biggest competitors of our team.
Send this information over to new hires with your "Welcome to our team" email.
You may also want to add some information on the courses they will take once they pass the probation period.
2. Announcing a new hire
No matter how big your office is — inform everyone that a new hire will join your team and let them know when it's gonna happen.
Be sure to add a photo of this person.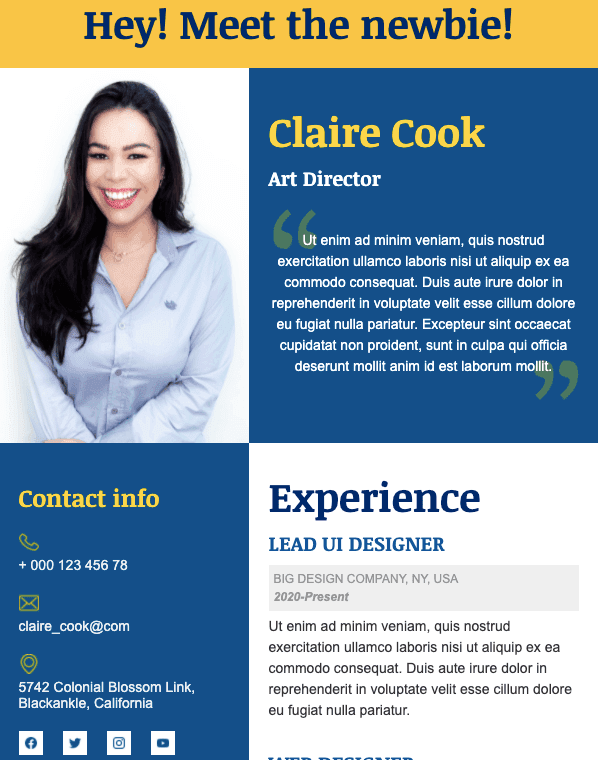 Announce new hires in a new way
Please, list his or her main duties and include contact information so that all employees know what questions they will need to discuss with the new person.
In our "Announce a new hire" email template for HR managers, we also added a section where the new hire introduced herself and greeted the team. This person may be too shy or too busy to say "hi" to each and every employee. Let him/her do it via email :)
3. Inviting employees to attend an event/party
If "I was out of the office when you announced the date and time of the party" sounds pretty familiar, then is probably the right time to start sending invitations to employees.
Invite your team to events via email
What I love about this template, is that employees can confirm their participation in the party directly in emails.
In this simple way, you make sure all employees are aware of the date, of the agenda of your event.
4. Kindly reminding employees of important dates
Employees might be well aware of important company events. But they might get too busy to keep them all in mind.
You will do them a favor by reminding them of important dates.
In our company, our HR managers remind us of other team members' birthdays, of weekly and monthly meetings, of holidays, etc. We never forget to call our colleagues on their bdays. It sure does affect the atmosphere in our team.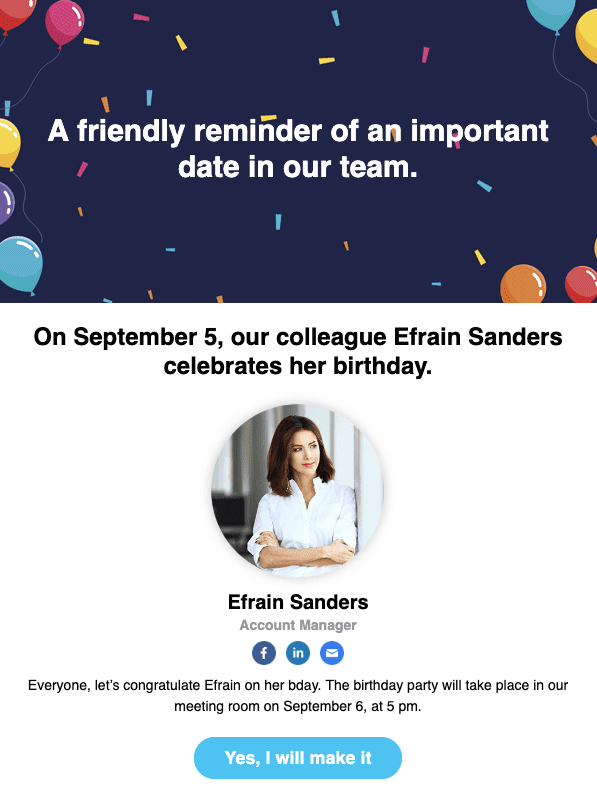 Reminding your team of important dates has never been easier
No matter what kind of event this is — a birthday party where you all meet to say some nice words to birthday people, or a meeting with clients — be sure to add the "Add to calendar button". You can call it whatever you want. Our "Yes, I will make it" button, which we used in this HR email template to employees, fitted our current situation best.
Make sure to connect this button with the Google calendar or iCalendar if you want all employees to show up ;)
5. Keeping employees updated
All your team is doing its best to bring in some success for your company. So, it is vital for them to know they are doing the right thing, that you all are moving in the right direction. And it would be nice of you to inform them about the achievements of all departments, not just the ones they all are working for.
If you send out a Co-Founder/Investor update, you can just remove some very private information and just forward it to your employees.

Update investors, co-founders, and employees on your company achievements in a more elegant way
For most people, it is crucial to know they are useful for the project they are working for. Help your employees feel needed.
You might also want to create an HR email from scratch on your own. If this is your case — please consider the information given below.
Save time on crafting HR email templates with Stripo
Those who prefer building emails on their own can also save time on crafting emails. How?
Because Stripo, whose main priority is to help marketers build emails faster, offers:
Modules storage
Save the most commonly used modules of your email templates for HR email templates to your personal content library — Modules.
When working on your new campaign, you just pull a necessary module in your template.
Not only does Stripo allow you to store the most frequently used modules, but to update them all at once.
Save time on crafting HR emails
Synchronized modules
If you ever need to update your contact info or anything else in these Content Modules, you may change just one of them and other modules will inherit these changes.
Ability to copy and reuse templates
When reaching out to new candidates or sending over a new monthly update to current employees, you will only need to make slight changes to this email template without the necessity to work on email structure, on a header, footer, contact information, etc.
AMP forms
Wanna run a short poll among your users to know their emotional condition? Especially vital during the COVID lockdown.
Embed AMP Forms in your staff email template to be well aware of how your colleagues feel.
Be in the know about what your employees want
5 HR email examples
Basically, all emails that HR managers send could be divided into two categories:
Internal emails — the ones they send over to employees.

External emails — the ones they send over to candidates.
However, both internal and external emails should contain the same elements. We'll share some examples below.
Example 1. Corporate header — eSputnik
It goes without saying that all corporate emails for internal or external use should always contain a company logo.
Your header can be somewhat bigger than just the logo if you like. For instance, our friends at eSputnik place their logo over an image. And duplicate the email subject on it, right below the logo.
When reaching out to candidates, please always use the same logo. But when you are sending internal emails to your employees, you can diversify your headers if you like.
Example 2. Photos of people you are talking about — Stripo
Be it a new hire, or the person who just got promoted, be sure to add a photo of this person.
Example 3. Email signature — Stripo template
Why would you add a signature to such emails when all recipients are well aware of whom they are talking to?
Firstly, this is a polite gesture and requirement to all business emails which your HR email is.
Secondly, email signature makes it easy for a candidate or your teammates to contact you whenever they need to.

What makes a good email signature for HR emails:
Your name
Be sure to include your name. Candidates and new hires will need to know how to call you when you have a face-to-face conversation.
Though, as for internal emails to current employees, including your name in such emails is rather a decision to be polite.
Contact information
People might need to contact you in a way that is convenient for them to discuss some questions. Please, provide them with this opportunity. It becomes even more vital when you have switched to a new page on LinkedIn or when you start using a new social media channel more often than the previous one.
Please be advised that you can add contact information/social media icons to your emails with Stripo literally within seconds:
If you have a corporate phone which employees can use to access you, be sure to add it to your HR email signature.
Photo
This is an optional element. But it is always nice to "see" the person you are talking to.
Example 4. Interview confirmation email — Stripo
The candidate accepted your invitation and even successfully passed the test?
You called this person to talk over the interview date. Now you need to send him/her an interview confirmation email.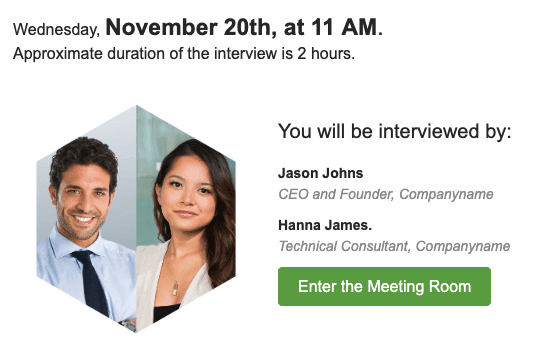 Here, just like in all appointment confirmation emails, you need to highlight the date and time, duration, place.
If this is an online meeting, then mention that you will provide the candidate with the link to the meeting an hour before the meeting itself. If you use the same link for all the meetings, then you might want to provide it in your interview confirmation email right away.
If you are now hiring, you might find the Guide to recruiting effectively useful.
Example 5. Collecting employees feedback — Ardas
You wanna know how your staff feels working from home? Do they feel they are as productive as they were in the office?
Ask them about it.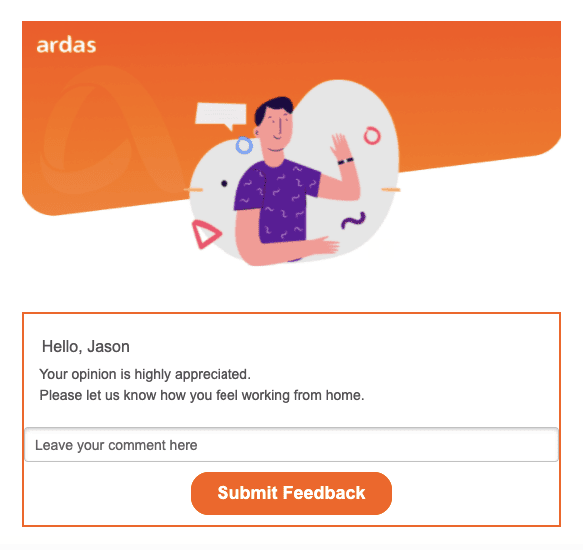 Add AMP forms in your employee email templates.
Please refer to our AMP Form blog post for the manual.
If you know how to make them feel better and more confident at these times, be sure to share this info with those who need it via email.
Subject lines of HR emails to employees
All subject lines should be clear. Just by looking at it, recipients need to get a clue what the email will be about.
Examples of good subject lines:
Meet Andrea!

Reminder about Juliet's birthday.

Jason is leaving our team. Hurry to finish your common tasks.

Moving to a new office.

Vote on the date for the Office Holiday party.

Office Christmas Party will be held on DATE…

Monthly reports_MONTH.

The weekly meeting starts in 20 minutes.
Final words
No matter if you choose our ready-to-use HR email templates to employees or decide to build your ones from scratch, stick to the recommendations given below:
specify sender name;
stick to corporate style. Not only when it comes to design, but it also concerns the way of communication;
send internal emails on a regular basis;
write a clear subject line;
include your signature and contact information.
Reach out to your team via email — the communication channel that is preferred by 67% of employees