Table of contents
How brands benefit from gamification
Main goals and examples of email gamification
Lessons from bad experiences and must-have recommendations before using email gamification
Wrapping up
1.
How brands benefit from gamification
We all loved (and some of us still love) to play various games. This is not only a way to have fun but also to use any content interactively. At the moment, 81% of marketers agree that interactive content grabs attention more effectively than static content.
How brands benefit from gamification
Gamification is a great way to not only diversify the content of your emails but also boost the performance of your emails. After all, with gamification, you can:
increase the average ROI to 700-1100%;

increase CTOR up to 26%;

skyrocket customer acquisition up to 700%.
All this makes gamification a handy tool for marketers. Today we will discuss it in more detail and look at the example of the Yespo company and insights from our special guest Natalia Ustimenko.
Main goals and examples of email gamification
Before discussing specific successful cases of gamification, it is worth understanding when it is most appropriate to use gamification elements in emails. Natalia singled out three main goals when it is worth gamifying emails.
Goal 1. Sell through the game
Natalia Ustimenko

We have rather complicated services, and we already know from practice that the game will help us not only tell more about the functionality but also increase the number of applications for connecting our services. Here are a few of the mechanics we used.
Black Friday
Natalia Ustimenko

With the help of AMP, we created a game where you must have time to click on moving shopaholics without packages before the game loop ends.
(Source: Yespo)
For the collected number of shopaholics, we issued promotional codes for advanced functionality:

up to 5 caught — "Newbie Marketer" received a -25% discount;

up to 11 caught — "Strong professional" received -30%;

from 12 caught — "God Level Marketer" received - 50%.

Results:

we were able to engage 46% of email recipients in the game;

16% of those who opened the email clicked the "Sign up for a demo" button;

conducted 10 demos for unique clients and received many requests for demos from current clients.
Goal 2. Increase audience engagement
Natalia Ustimenko

People get tired of pushy sales and bland, repetitive emails. Therefore, gamification allows you to keep subscribers in good shape and look into emails even out of simple curiosity.

Gamification  allows you to achieve real goals through the game. Any boring action with the game becomes interesting.

Also, the catch is that users who have completed the game are more likely to make a purchase, as they have already made their way to the discount and now do not want to miss it.
The Easter email "Finding Bunnies"
Natalia Ustimenko

In this example, the preparation was even easier. The user needs to click on all items with eggs and find a discount. The only unique technology in the email is the rollover effect, which gives a small hint when hovering over it.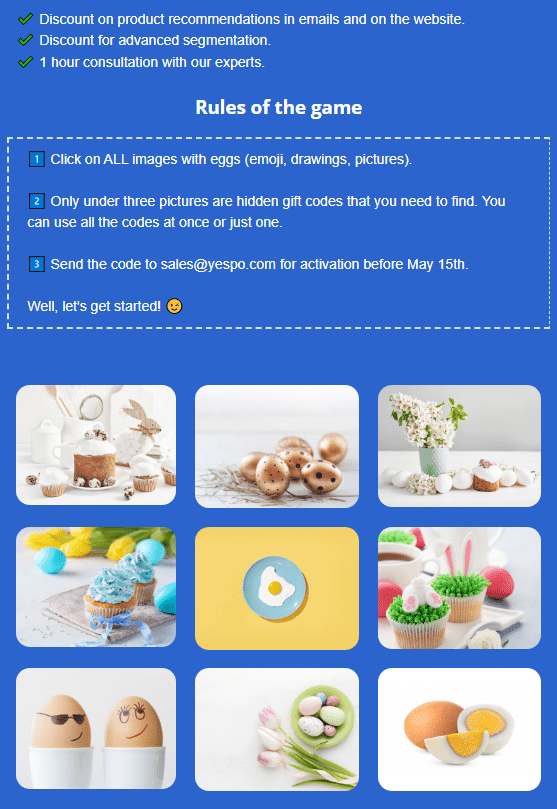 (Source: Yespo)
The main goal of such games is not to sell immediately, but to encourage signing up for a demo, where we will talk in more detail about the features of the product you are interested in and focus on the opportunities for a particular type of business.

The mechanics of this game was that the user needs to look out for all the pictures with eggs and click on them in search of promotional codes. In the collage block, there was a small hint from the pictures where we used the rollover effect (the hint appeared when you hovered over the image).

We got the following results:

2 subscriptions within the first hour;

4 demo requests from customers who have not previously used the advanced functionality of our platform;

cutting email production time by at least 2 times.

You can find detailed results and a description of all the mechanics in a special blog post with an analysis of all cases.
Welcome emails
Probably, for each of the clients, there are metrics for evaluating performance. For example, welcome emails are often intended not have high expectations and are seen only as constant reminders of the promotional code after registration. But as practice shows, welcome emails can also engage.

For example, after confirming a contact from a DOI email in one of the companies, the contact is added to the "Welcome in progress" group, and the first email with gamification is sent to motivate customers to purchase.
(Source: Yespo)
After that, we waited a week and sent the second email - informational. With it, we checked how the audience reacted to such engaging content.

A week later, a third email is sent with a different game. After completing the game, users see a promo code.
Goal of the email
The purpose of such emails is to engage in the game so that the subscriber grows into a client.
The game's mechanics
In the email, you need to guess where the book is hidden. Thanks to the rollover effect, when you hover over the card, a hint appears, and you can understand which image has the correct answer.

By clicking on the correct card, the subscriber goes to a landing page with a selection of books and congratulations with a notification that a promotional code will be sent in the next email.

An event is assigned to the card with the correct answer, triggered when clicking on the link from the email, and starts the script by sending the promo code to Yespo.

Such emails provide CTOR 60%, which is higher than promotional newsletters.

An excellent example of a game implemented on the site, but the promotion was held only for email subscribers.

Mechanics: the client received a series of 3 emails notifying about the start of the promotion, and those who had not bought yet received reminders of the last day of the promotion. This email campaign was sent to the "Reactivation" segment only . The duration was five training days.

Results:

they stood out with non-standard mechanics for September 1 among the usual "time to school" messages;

customers stayed longer on the site and searched for products;

the sales are the same as from a regular promo, but at the same time, each email from the series was sold.
Goal 3. Show your customers and subscribers that you can do it too
Natalia Ustimenko

After sending emails with games, our agency see great interest towards such emails from users. The main reasons for this are as follows:

customers themselves participate in the game and can see how it works;

cases that describe the mechanics and results appear on our blog. Thus, it attracts new clients and users;

customers see different mechanics and ways of preparing games and understand that it is not as difficult as it seems at first glance. For example, for surveys and carousels, clients set up perfectly themselves and come to us only for verification.

The first two goals of our clients are the same — to sell and surprise. But the third one is slightly different — recognition and PR in the marketing community.
Lessons from bad experiences and must-have recommendations before using email gamification
Email gamification is an excellent tool for improving metrics, and we hope you can't wait to try this approach in your email campaigns. However, do not forget that bad email campaigns can happen, and you need to learn from them valuable experience that will improve your strategies.
Natalia Ustimenko

Lessons from experience

Among the "flaws" or poorly thought-out strategies, the following can be distinguished:

the company ordered a themed email with AMP gamification but has not submitted an application for white-listing yet. It seems to be nothing to worry about, and you can adapt the game to another informational occasion, but the time has already been spent and the budget too;

too difficult a game. In the first stages, we got a game that was not quite with obvious rules, and users had to clarify in a personal message how to get the maximum discount.

Now we try to avoid such situations. We tested each of our mechanics on colleagues and wrote out the difficulties that they had during the game. To do this, we put several days into the work so that there is time to fix everything before the main mailing.
As you can see, gamification requires a serious approach, and therefore our expert has put together a few recommendations that will help you adopt email gamification with ease.
Natalia Ustimenko

Must-have advice

Get started right now. No need to put off the right decisions for tomorrow. There are already a lot of described mechanics, tips, and even books with step-by-step game development for any type of business on the network. Study, get inspired, and refine the ideas found - starting is much easier than it seems.

Make a specific plan. Define your goals and think why do you need gamification. Think about your clients and how they may react to a game in your email. Besides that, you should also think about game mechanics to make it both interesting and not very complicated. And the last but not least, select the right audience to which the message will be sent.

Test and test again. Even the best idea is doomed to failure if your reader does not understand what to do with it or the email is not displayed as you intended.
Other than that, it may seem that creating gamification emails is quite a costly process, and you will want to save some money in some aspects of their production. However, Natalia has her own opinion on this matter.
Natalia Ustimenko

Simple mechanics without AMP and interactivity do not require much time and additional investment. But if you set out to make a large-scale game, do you need to consider saving? It is probably better to assess the forces and the budget on the shore and then start from this analysis.
Wrapping up
Email gamification is an essential approach if you want to increase the interactivity of your email campaign and the engagement of your audience along with it. The possibilities of gamification open up a huge creative space for marketers who can come up with many interactive ways to engage recipients in your marketing ideas. Only if there was another handy tool that allows you to make such emails...
Stripo is such a tool. Create your emails with our intuitive Drag-n-Drop editor and gamify them using the built-in code editor and the power of the AMP technology we support.
Was this article helpful ?
Thanks for your feedback!