Table of contents
Why collect customer data?
What data on customers to collect?
Ways to collect data on customers 
How to use the collected data for your email marketing?
Final Thoughts
1.
Why collect customer data?
Personalized offers in emails have already replaced generic promo emails. Probably, because they increase conversion by 10-14%. Or because we all treat our subscribers with respect and want to provide them with only relevant content.
To build one, you need to know users' preferences, interests, and lots of other useful information about them.
In this article, we will tell you how to collect data for using in email marketing, and how to use it for building newsletters that your consumers find relevant.
Why collect customer data?
Let's take a look at the main reasons why collecting email subscribers' data is crucial here.
Reason 1 — to make your emails more personal
To make the connection with the client stronger, it is important to create a sense of personal communication through email. Simply addressing by name in subject lines makes your clients feel appreciated and increases OR by 26%.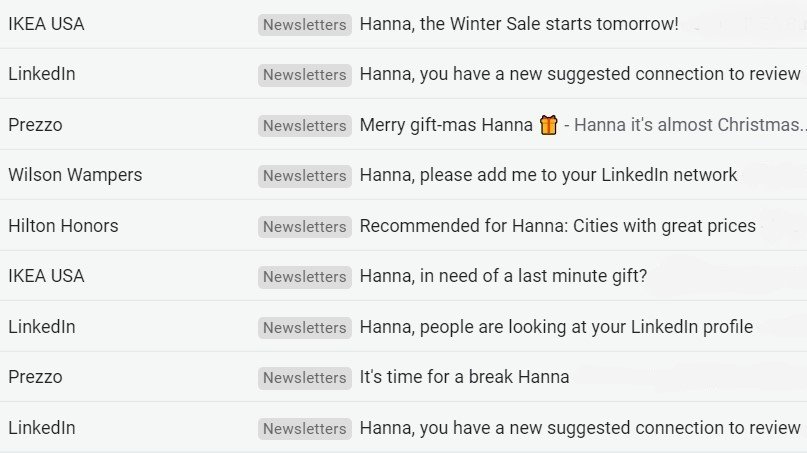 You can also address by name in the email body.
To do so, you just need to add merge tags in emails.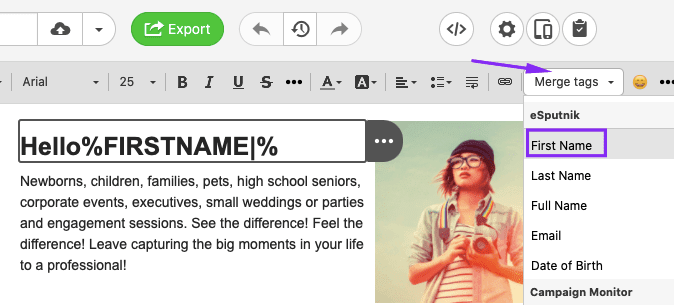 Reason 2 — to make the email more relevant
Just addressing by names alone in the email body won't help. Make sure your content is relevant.
For example, knowing the gender and location of your subscribers will be of substantial use, as well as knowing the product items your customers have already bought from you.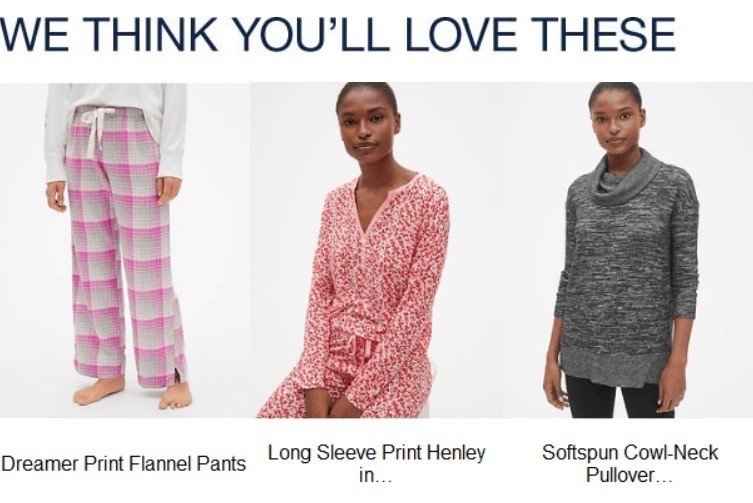 (Source: Email from Gap)
Reason 3 — to celebrate clients' birthday and milestones
Congratulate the clients on their birthdays with a holiday email, offer a discount or a gift — to do so you need more data about the clients.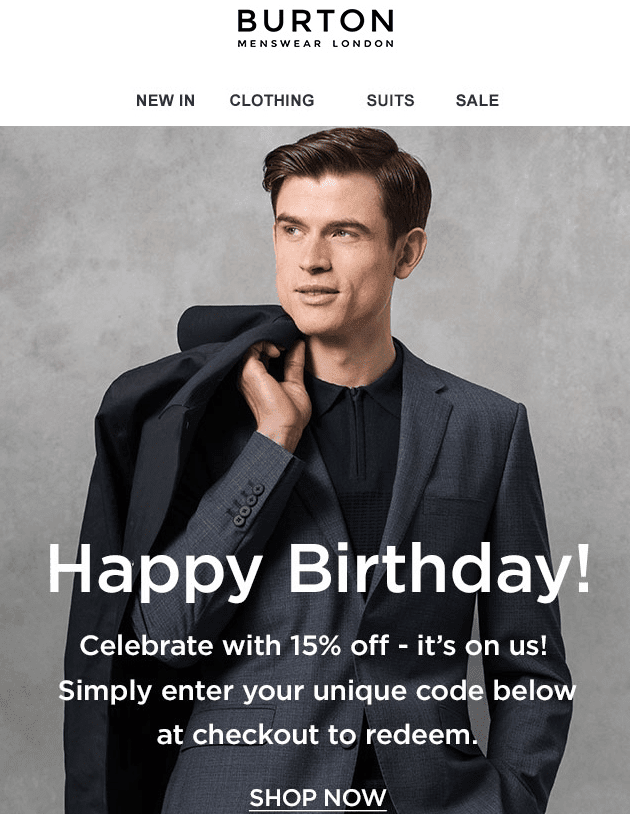 (Source: Email-competitors)
Reason 4 — to increase customer engagement and conversion
You can create an email that will be interesting to customers and will encourage them to take action: Go to the website, make a purchase, or at least open and read the email to the end.
What data on customers to collect?
For building relevant offers, you need to know customers' preferences and interests. For example, if a company sells pet supplies, information about what pet your clients own will be very useful. And if you happen to know what your client's pet eats and what accessories it prefers, communication becomes much more pleasant and useful.
1. Customers' personal information
name, phone number, email;

demographic data — gender, age, date of birth;

geographic location;

information about the job —position, possibly the name of the company;

profiles on social networks.
2. Psychological portrait of the client
This sub-clause includes the marital status of the subscriber, the presence of children. Also, it will not be excessive to find out about their ages.
If one of your clients is fond of dancing but has no craving for drawing, it is unlikely that he or she will benefit from the message about a fresh supply of paints and canvas in your store. Find out what hobbies your clients have, and, relying on this information, start new email dialogues with them.
Find out how subscribers spend leisure time, what products they prefer more and why.
Satisfy the desires of your clients. It's a simple formula. Therefore, you need to know what the clients want, maybe what kind of improvements you should add to your product. So, you'll get additional information, you'll prosper and the number of positive reviews also will grow.
We need this information to solve some kind of consumers' problems. We have the right to recommend our clients our math courses as an ideal choice for their kids, if they, as parents, worry about kids' academic performance in this area.
The more information we know about the client, the better. This makes it easier to offer what the subscriber needs and talk about additional services.
3. The client's attitude to the brand
For quality communication with clients, we need to know what they think about the company. This includes the way they describe it:
opinion about the service, the value of the company, and about the product itself;

measurement of the NPS index ー an indicator of the attitude of the audience to the product.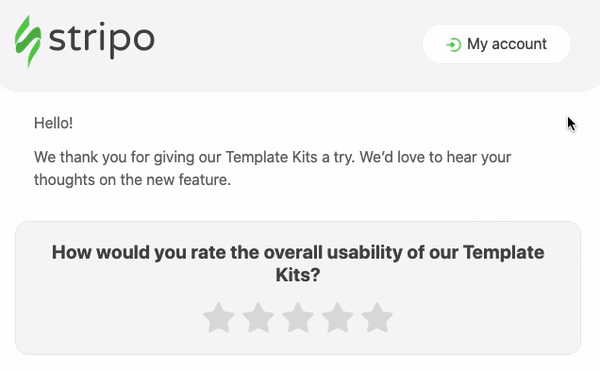 To know how to build one with Stripo, please refer to this blog post of ours.
4. The way customers interact with the brand
Collect segmentation data for your emails:
information about transactions (track the number of purchases, amount, date of order, etc. Perhaps the client made a return of a certain product, which you should also be notified of);

activity (with what frequency and at what time a person usually visits the site, what products are most often viewed, etc.);

the quality of communication with the company (at what time and how often the client contacts us, communication channels, statistics of clicks and responses);

information about support requests, complaints.
Ways to collect data on customers
Now that you know what customer data you need to collect to improve your email marketing, we need to find out how you do that. You don't ask all those questions at once, as you may scare them out.
Therefore, let's understand the ways of collecting data that won't harm your relationship.
1. Regular registration form
This form invites customers to share contact information about themselves: first and last names, phone numbers, and email addresses. This form is clear, simple, and does not make potential clients suspicious — a great starting point for collecting email subscriber data: You get an email address to send the emails the client needs, and their names to start with addressing by names.
Important! According to the GDPR, CCPA, and just moral standards, we must ask users consent to send emails/notifications and use the received information. The users must tick the "I want to receive emails" checkbox. Only then we are allowed to send emails to them and start collecting data on customers for email marketing.
Even if the data is needed for the good of customers, for example, to send a selection of cosmetics suitable for the age specified in the form.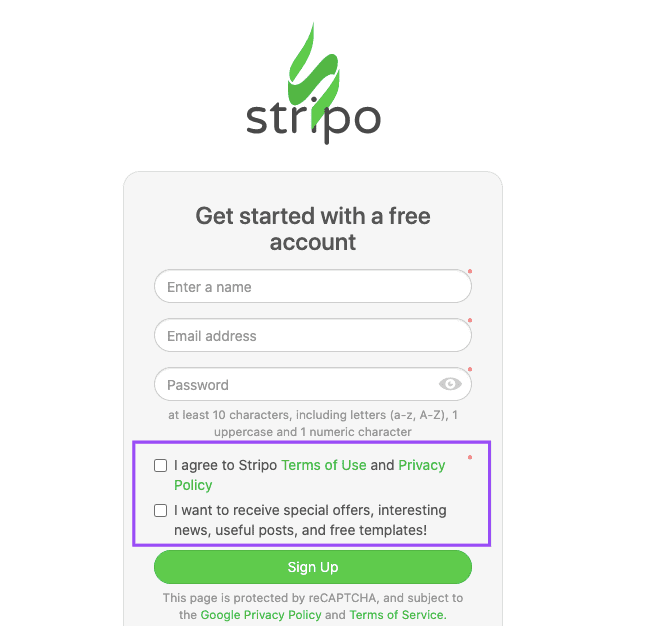 2. Free offer
Everyone loves free workshops, courses, or checklists. Offer the client to enroll in such a course and get the information you need. Yes, the clients again fill in the fields of the registration form, but now you know exactly what interests them.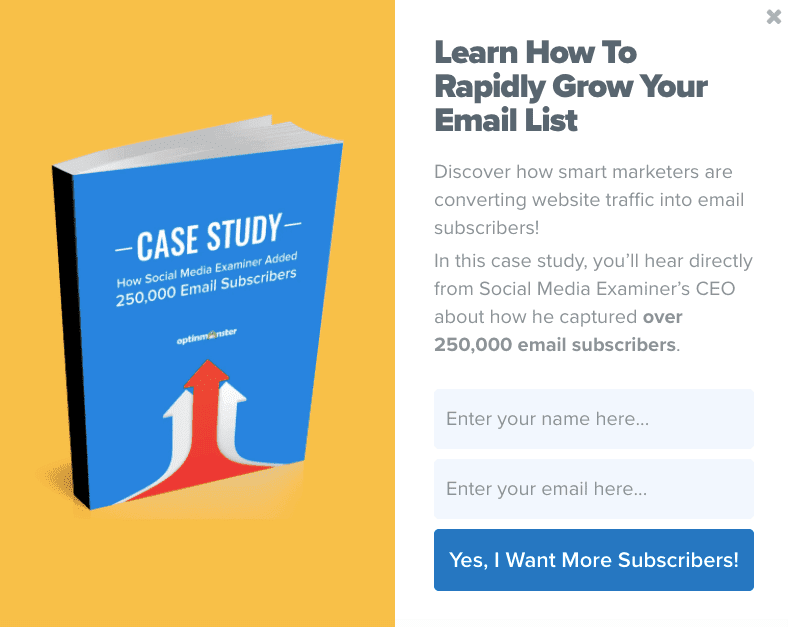 (Source: Optinmonster)
Offer an alternative to registration — login through social networks. Many ESPs provide some information about clients' preferences on the condition that you provide their social media addresses.
3. On-site surveys
In this way, not only can you find out data on customers but also learn what they think about your company. Add questions so that it doesn't look like an interrogation. Gently ask about their age, marital status, interests, whether they like your emails, and how many emails per week they are willing to receive.
Some brands like Ikea ask these questions in the registration form. People share this information because they trust the company.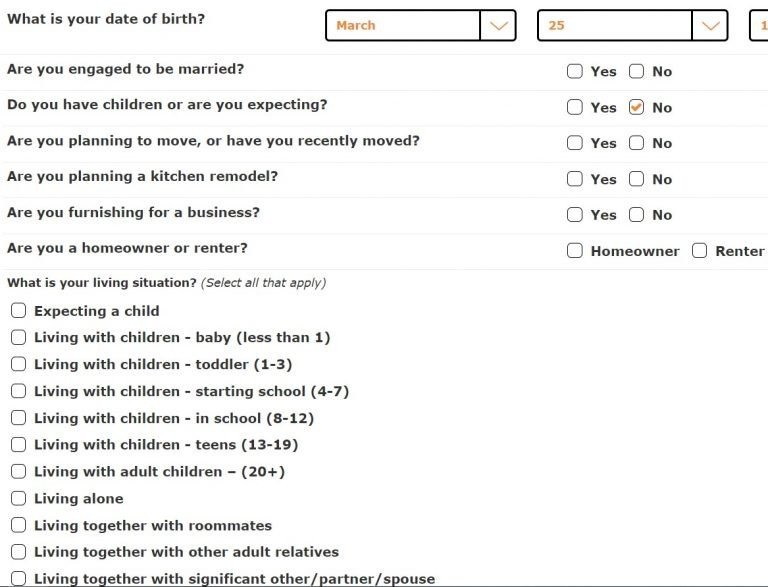 (Source: Ikea, registration form)
If your company is not that famous yet, try asking those questions in emails.
4. Survey emails
Right, we can use email marketing to collect customer data.
It is important to understand that a survey email where you want to find out clients' age, height, gender, and preferences should be sent no more than 1-2 times a year. And as a rule, it should be done in a separate email, where you briefly explain to customers what this data is for. The same concerns emails where you want to find out users' interests in life.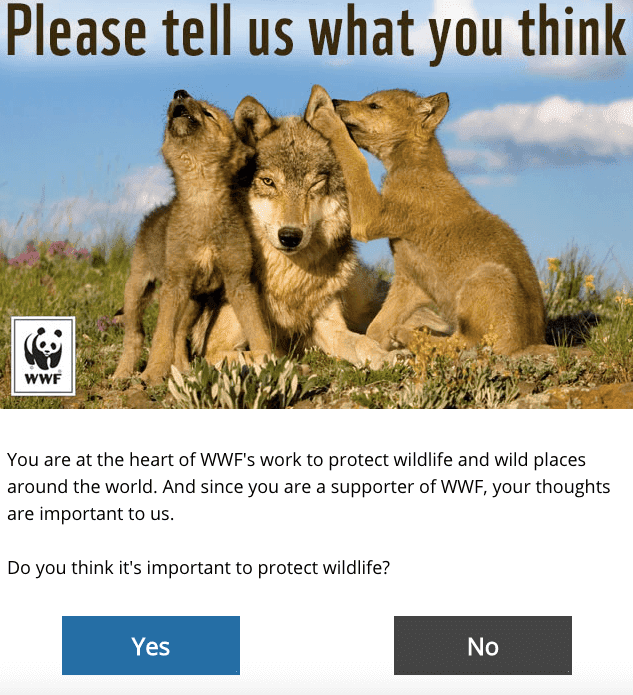 (Source: Email from WWF Wildlife)
If you need to find out the opinion of the client about you, then the most traditional way, perhaps, will be just a trigger email after a purchase, a visit, contacting support, and so on. Such an email is sent immediately after the client's request / after receiving the ordered goods. It should contain just a few questions.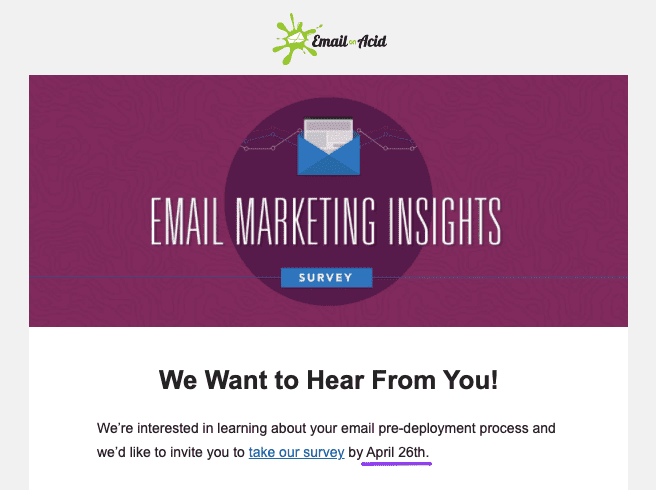 (Source: Email from Email on Acid)
For more information about surveys in emails, see our "Survey email invitation" blog post.
5. Welcome emails
It might happen that for the first promotional email you need to collect a lot of data about the clients, but you decided not to scare them with questions in the form. So do it through welcome emails. To build trust and get to know your potential customers better, don't use the "Hi, thanks for subscribing. Goodbye". Here you will neither tie up communication nor remain in their memory.
Consider a series of 2-3 emails, where you will ask a couple of clarifying questions to create a portrait of new subscribers.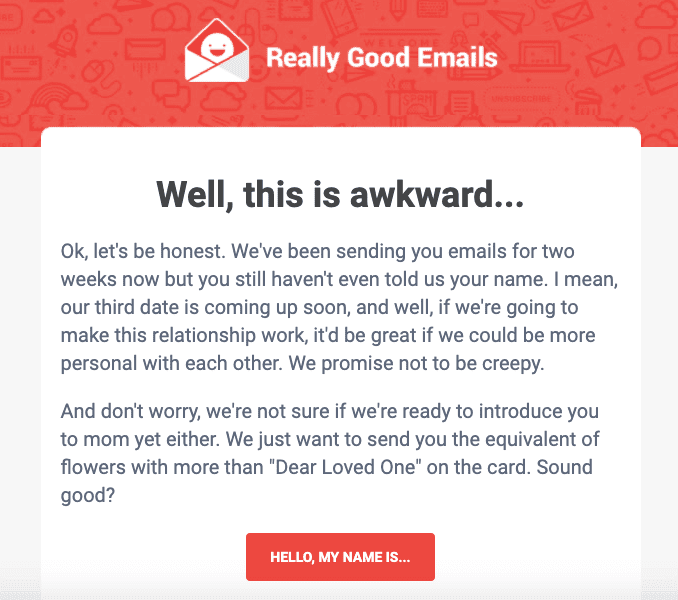 (Source: Email from Really Good Emails)
6. Asking users to share their dates of birth with you
You may ask for info like this just by sending an email. No need to wait for any particular reason or any special event. Just send out a short email where you ask users to tell you when you can congratulate them on their birthday.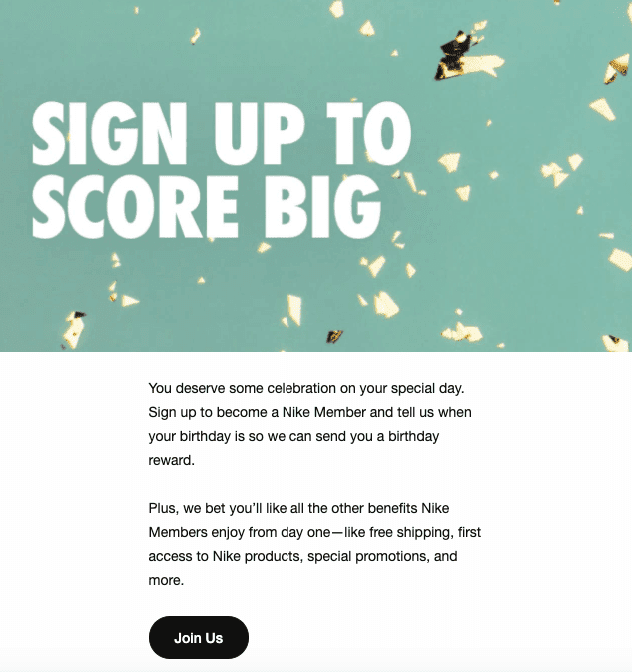 (Source: Email from Nike)
7. Your ESP
Your ESP stores users' personal data like age and preferences. Also, it stores data on user behavior like purchase history, etc.
Having all that information, you can build various segments.
If you are now thinking about switching to a new ESP, we've reviewed the world's TOP ESPs for your convenience. Check them out.
8. Google Analytics
Google analytics in addition to your ESP also stores data on users' purchases and their interactions with your brand.
It is reasonable to use both tools for collecting data for your email marketing.
9. AB testing
In our Email A/B Testing blog post, we covered the benefits of these tests and ways to run them.
For sure, they are crucial for your email marketing especially when you want to find our user's preferences.
The results of such tests help you provide those email content, design, and value offers that are very likely to interest your customers.
10. Interview
Meeting customers online face to face is probably one of the best ways to find out what exactly they think about your tool, what they like, and what they are missing. And, of course, what they are looking for in our products/services/tool. Such interviews help you improve your products.
Send interview invitation emails to your customers and schedule 30-minutes calls with them. Don't make those interviews long.
We hosted a few interviews with those clients who have been with us for over a year. During the call, clients would share what they like and dislike about Stripo. Their answers encouraged us to develop a few new options that would make our tool even more convenient for our clients.
We have published users' interviews and success stories on our website. Please, find them here.
How to use the collected data for your email marketing?
Now that you already possess the necessary information on your clients, you have the opportunity to personalize and group this information to make your newsletters truly effective.
Way 1. Email segmentation
First, let's understand the meaning of this term.
Segmentation is the division of the audience into groups. We perform this process based on the user data. Their genders, lifestyles, interests, location, etc. affect which segment every person will be in and what messages they will see.
Email meant for women: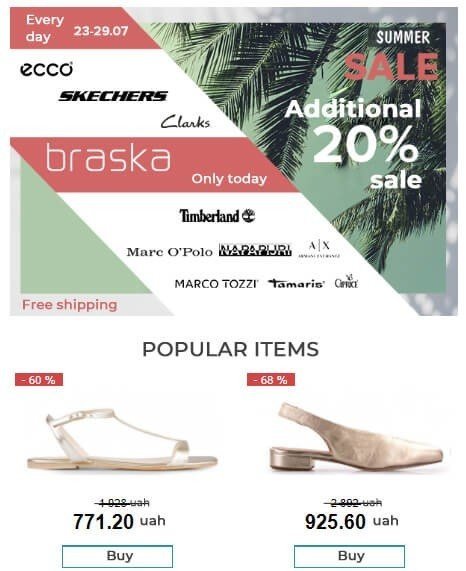 (Source: Email from Ecco)
Email meant for men: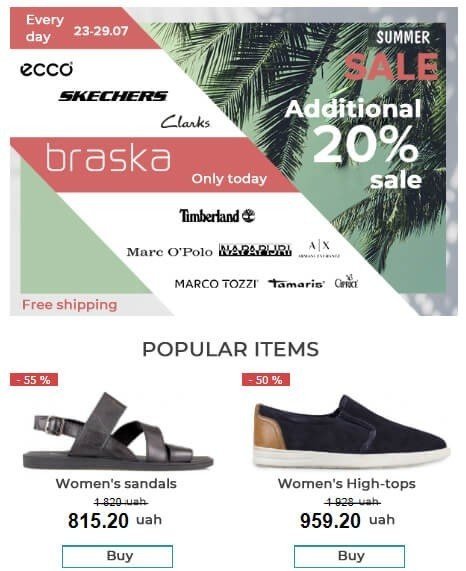 (Source: Email from Ecco)
We cheer for saving time. We, at Stripo, have released the "Display Conditions'' option so that you do not have to create a lot of emails for all segments for one email campaign. How does it work? You create just one single email, add elements to it that will be displayed only to recipients of certain segments.
For more information on how to enable Display Conditions with Stripo, please refer to the "Things You Didn't Know That Stripo Actually Can" blog post, the "Display conditions" section.
Way 2. Personalized offers
You do know what your customers are interested in? Or your customers asked you when some products will be back in store?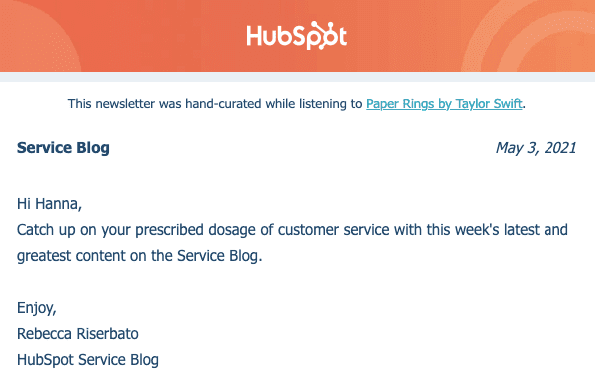 (Source: Email from HubSpot)
Way 3. Congratulations on the holidays
Do you know your client's dates of birth? Great! Congratulate them on their very special day. By the way, Birthday is not the only reason for such an email campaign.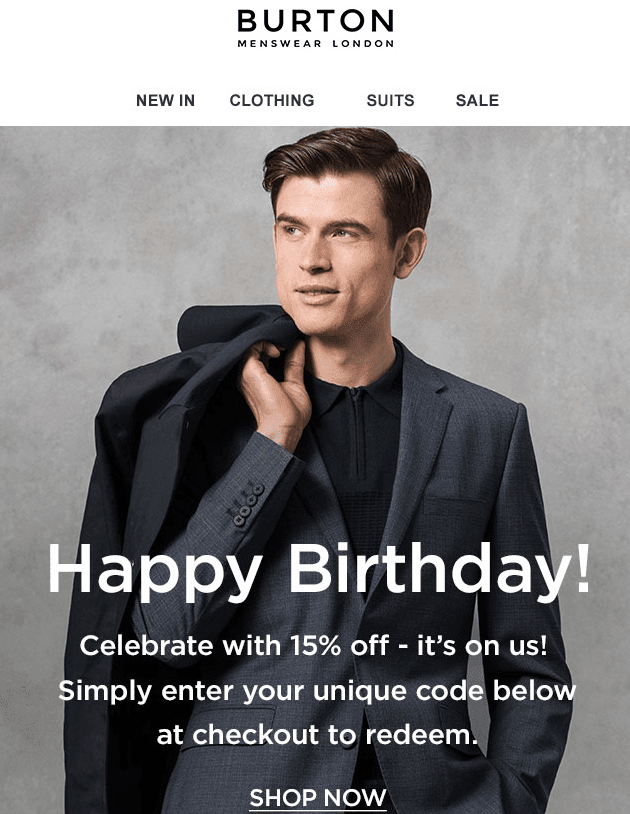 (Source: Email-competitors)
Milestones are also a good reason to reach out to customers and show your appreciation to them.
Final Thoughts
To successfully develop your promo email campaigns, you need to learn how to collect and skillfully use customer data. Each of the points in this article is based on the use of data collection for email marketers.
Stripo's mission is to simplify your workflow. Using our service, you can create unique emails based on our templates in a matter of minutes. We hope our article was useful to you and now you know how to make your newsletters even better.
Was this article helpful ?
Thanks for your feedback!