Summer season provides many reasons for email marketers to contact subscribers, make exciting offers, and wish them happy holidays. Let's look at our summer inbox to see what original ideas brands have brought us.
Emails mentioning holidays and events
The main holiday occasions of the summer that brand marketers use in their mailings are Father's Day, Independence Day, Juneteenth (June 19th), Women's Equality Day, and Cat Day. We have selected a few successful holiday examples for inspiration.
Juneteenth (June 19th)
This day is also known as Freedom Day and commemorates the emancipation of enslaved African-Аmericans. 47 US states recognize Juneteenth as a festive occasion, although it's only a federal holiday in Texas, where it's also known as Emancipation Day.
Subject line: Honoring Juneteenth 2023
Sender: NYX Professional Makeup

(Source: Email from NYX Professional Makeup)
In this email, NYX reminds subscribers how important this holiday is for everyone and offers a selection of its products. A black background is symbolically chosen for the layout, and GIF animation draws attention to the message.
Independence Day
Subject line: Celebrate Independence Day With Big Savings
Sender: Decathlon America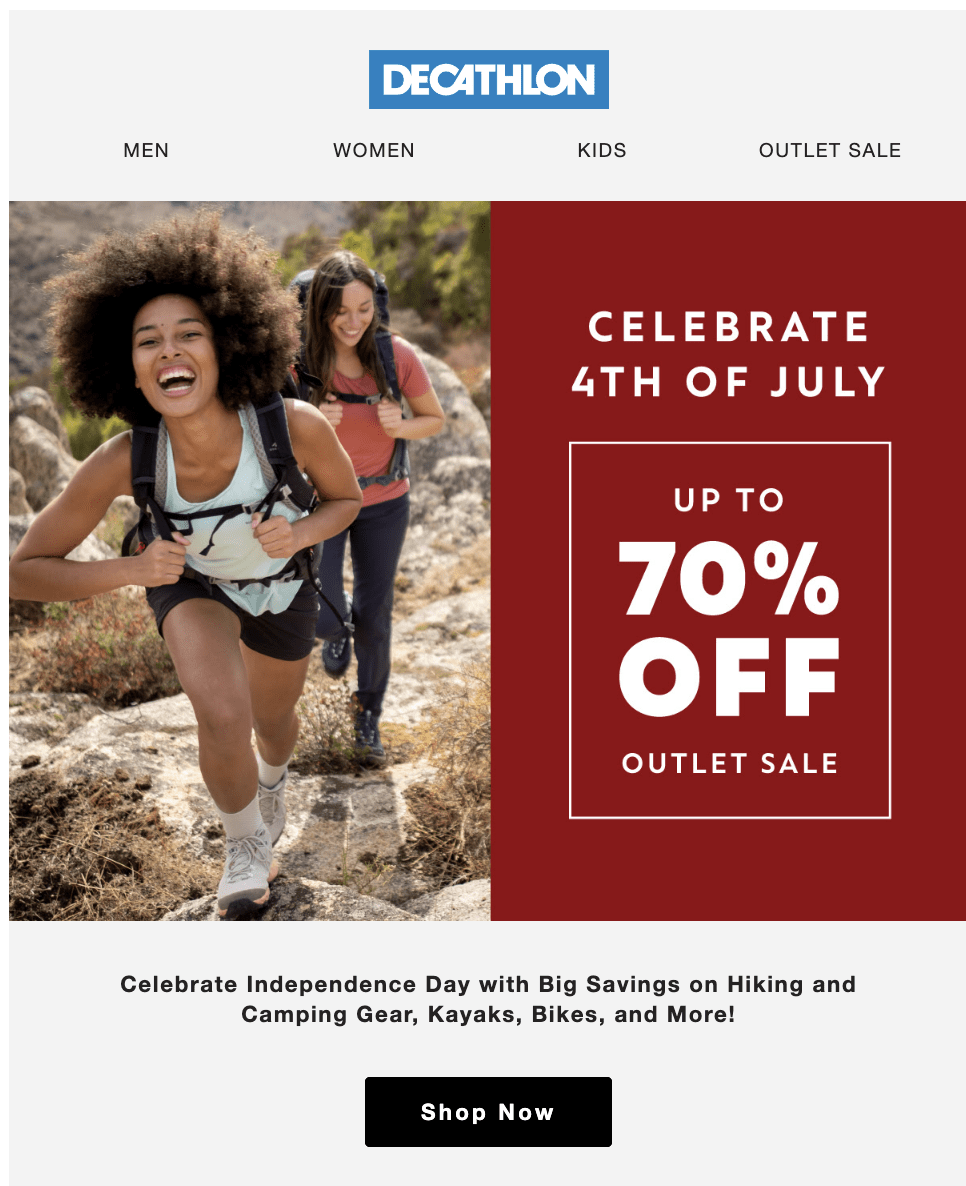 (Source: Email from Decathlon America)
Decathlon remains committed to celebrating Independence Day with significant savings on camping and camping gear, kayaks, bikes, and more. The brand is making an excellent promotional offer to interest outdoor enthusiasts in summer.
How brands played with trends – Barbie marketing
This July, the sensational premiere of the film Barbie took place. For marketers, it became noticeable because many global brands decided to play this game and offer customers something from the world of Barbie — pink, bright, and light.
All the summer email marketing campaigns related to this trend pleased us with the original design. Email subject lines were a particular pleasure during this period. Look at the examples below.
Subject line: I'm a Pandora girl, in a Pandora World
Sender: Pandora

(Source: Email from Pandora)
Pandora loves to delight its subscribers with exciting charms and other jewelry selections. And, of course, in the Barbie selection, they included their own pink ones. They decorated it all with a soft pink template design, attracting the subject line's attention — and the trending email campaign is ready to win hearts.
Subject line: VANS X BARBIE IS HERE
Sender: Vans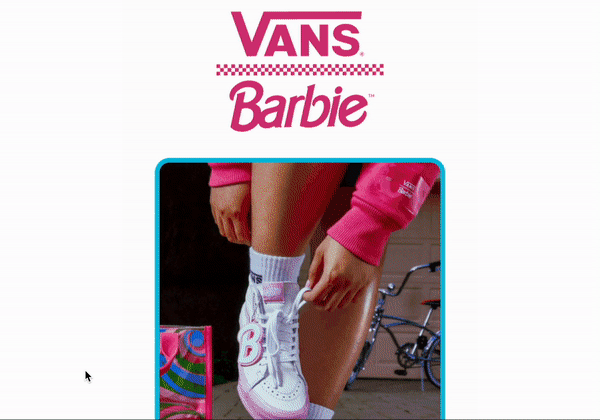 (Source: Email from Vans)
But this was really unexpected — a whole collection from Vans in Barbie style. The email design perfectly conveys the mood that Barbie-style purchases create. Notice the bright colors and eye-catching GIF animation that showcases trending Vans models and invites you to visit the website.
Subject line: It's always a BARBIE PARTY! Dream artistry inspired by Barbie Land
Sender: NYX Professional Makeup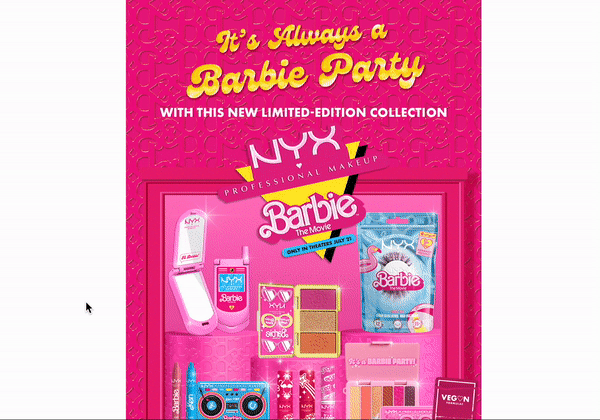 (Source: Email from NYX Professional Makeup)
This email became the door to my childhood. You open it and understand — these are the treasures that every girl dreams of. In their email design, NYX subtly combined the past and present of the Barbie world and did not forget to present their shop-limited edition collection of products.
Special summer collections and summer sales
Clothing, shoe, and jewelry brands and resellers create and offer special summer collections and hold sales. Here are examples of a creative approach to such email campaigns.
Subject line: YES! CYBER SUMMER HAS ARRIVED E-V-E-R-Y-T-H-I-N-G is 50% off
Sender: Old Navy

(Source: Email from Old Navy)
Old Navy is assembling a selection of summer clothes and offering a stunning 50% discount. Summer season is still ahead, so such offers are valuable for subscribers. The bright visualization, which presents many different products and colors, attracts people to the website since, even on the main banner, the subscriber sees a stunning selection.
Subject line: HOT PEARL SUMMER
Sender: BaubleBar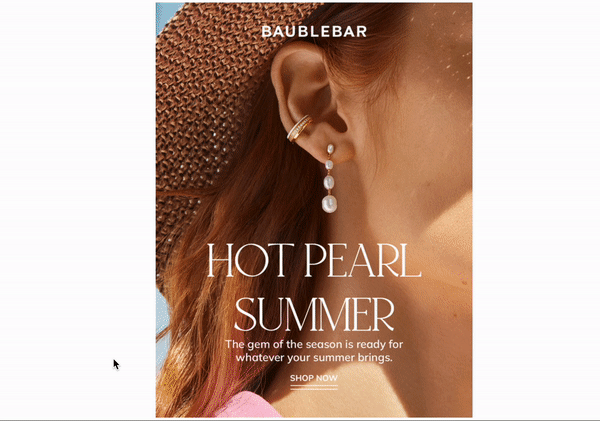 (Source: Email from BaubleBar)
A good idea for jewelry brands is to collect items with the same stones or designs and accompany them with summer holiday-themed images. On the one hand, we see the products; on the other, we feel the pleasant sea breeze and enjoy summer colors. It is an excellent hit to the heart of the client.
Subject line: The Season of Raffia
Sender: Gucci

(Source: Email from Gucci)
Gucci offers a summer collection of shoes and bags made of raffia and does this in an email campaign created in the brand's luxurious style. Look at the email design — there is absolutely no doubt that this collection will add chic to your wardrobe.
Summer newsletter themes and images
One of the great things about summer is the summer fun, playfulness, and pool parties. That's why our last two examples in the top summer email marketing campaigns are precisely like this.
Subject line: Here comes the sun
Sender: AppSumo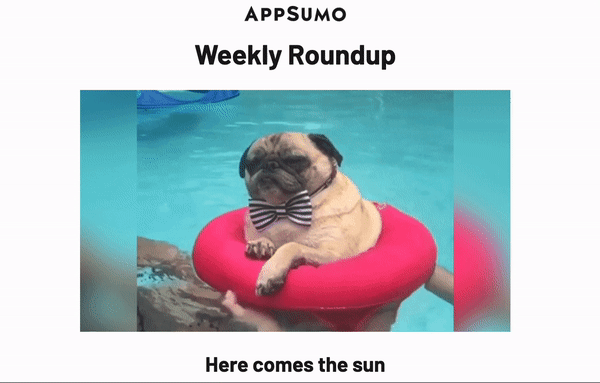 (Source: Email from AppSumo)
AppSumo chose a GIF of a cute pug enjoying a swim in the pool for the banner of one of its email newsletters in June. It's charming and puts you in a pleasant mood.
Subject line: The last day of our summer sale
Sender: MacPaw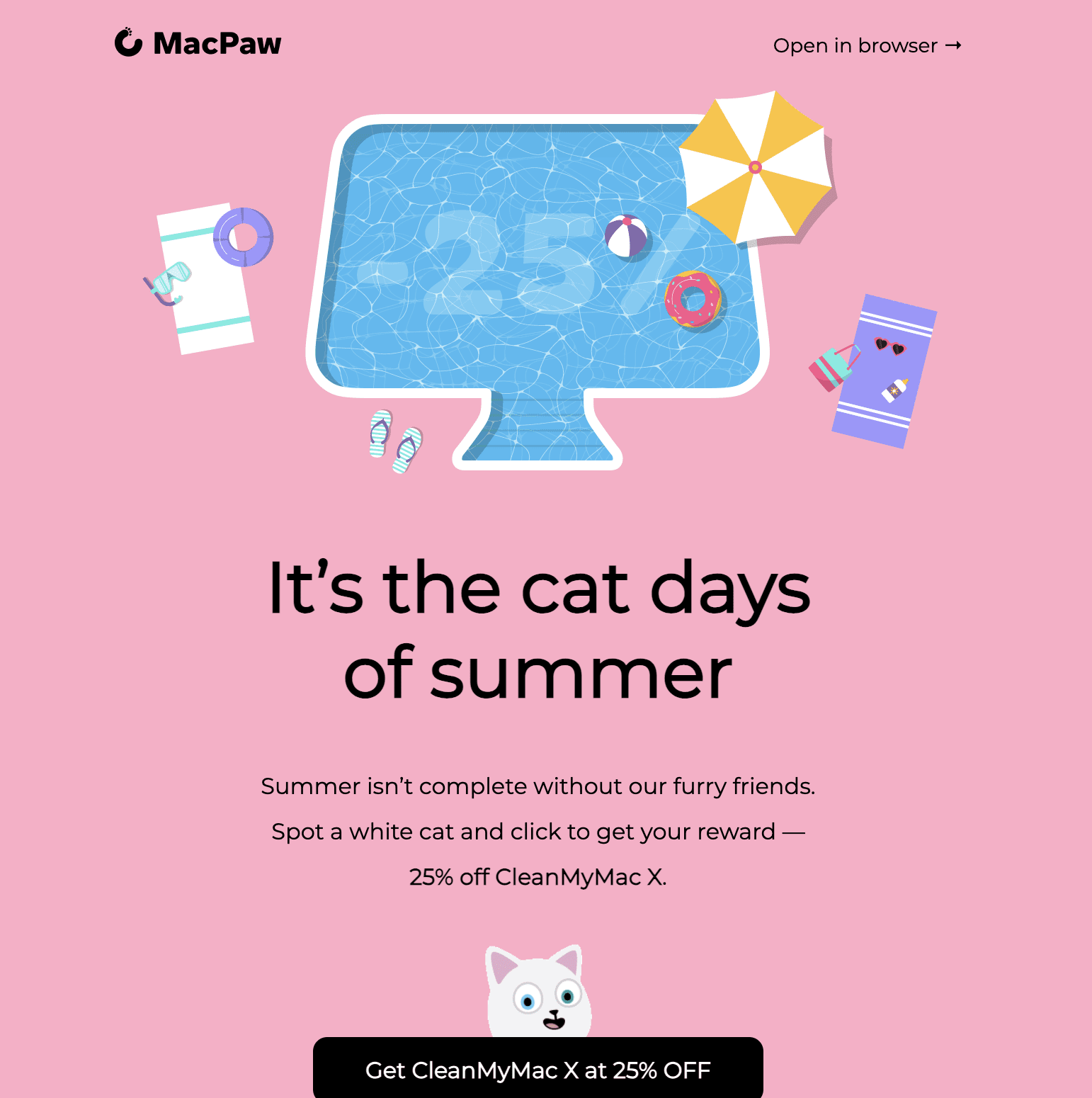 (Source: Email from MacPaw)
MacPaw made their promotional email campaign truly irresistible by inviting subscribers to the pleasant coolness of a summer pool and inviting them to play with their symbol — a cat. Who would refuse the game and a nice summer discount?
Bonus: The 10 best summer email subject lines
Summer email subject lines are a special treat for the eyes because brands showed imagination and tried to mention everything in words and emojis that are connected with summer and will help stand out in the mailbox. There were especially many such subject lines in June — they reminded us that summer had already arrived.
Here are 10 examples of great Summer email subject lines for your inspiration:
Splash Into Summer — Vans.
Catch This Wave of 20% Off Before It's Gone! — Placeit.
New Summer Arrivals — Free People.
Discover something new this summer — Decathlon America.
Summer Style 101: Meet Your New Favorite Looks — VS PINK Semi-Annual Sale.
We've got the hook-ups for your hottest summer — NYX.
INSIDE: Summer's Hottest Trend — Victoria's Secret.
Upgrade Your Summer Look with our Surprise Sale! — Thomas Earnshaw.
Your summer reading list is here — McKinsey Readers & Leaders.
Get Ready for Some Summer Marketing Fun and a Special Gift Inside! — Seran | Spring Three.
Wrapping up
Summer will definitely come again. Collect ideas to be fully prepared for new summer marketing campaigns and more engaging emails. Use our email marketing calendar to avoid missing a good reason to write to your clients and follow the trends. And we are ready to welcome autumn.
Was this article helpful?
Thanks for your feedback!