Digital agency workflow: How email marketing teams work to achieve their goals
21 March
Table of contents
What is the digital agency workflow?
Who is on the email marketing team?
How does the process of agency work with a client begin?
How the email marketing team works on each email campaign
Top tools for email marketing workflow management
Wrapping up
1.
What is the digital agency workflow?
How can a digital or email marketing agency build all work processes so the team achieves its goals without losing a creative approach to solving client marketing problems?
In this article, we tell you about the key features of the work of an email marketing team: how the process of working on email newsletters goes and what tools help to be effective.
Preparing this article, Stripo was assisted by Svitlana Fursa, head of the Retention marketing department of the performance marketing agency Promodo. She shared with us the workflow of their team. Now the team manages about 40 current email marketing clients. Since 2017, they have had more than 250 clients. Most of the clients are Ukrainian, but there are also foreign ones.
What is the digital agency workflow?
To create the ideal workflow for your agency, you need to break down all the processes in the teams' work into understandable steps and realize how work is done and what results are achieved.
Such a consistent plan of tasks and interactions of individual team members that occur in solving them from the very beginning until the desired result is achieved helps the marketing team achieve goals better and faster — it unites the entire team around a simple model that can be used again and again.
Who is on the email marketing team?
A digital agency can have one or some email marketing teams working on different client projects.
For example, Promodo has the following structure of teams that take part in the development and implementation of email marketing strategies for clients:
two units of email marketers who come up with a strategy, analyze what works for clients and how it works, offer new solutions, and implement them on a turnkey basis;

a separate content team — designers and copywriters who help to prepare content.
How does the process of agency work with a client begin?
How does work with a client go step by step after he contacts the agency for an email marketing service? The situations in which an agency starts working with a client's email marketing can be different. There are two main types of customer interaction.
Type 1. The agency starts from scratch
If a company starts email marketing from scratch, you must start from the beginning. Then the main steps will be:
Type 2: Agency takes existing email marketing under its wing
If the client has already been working on email marketing, the agency, for the first time, conducts all processes in parallel:
analyzes what is now and what points of email marketing can be strengthened;

maintains the operation of the existing channel;

simultaneously tweaks what can be done better.
The agency does not pressure clients to choose an ESP or an automation system, offering them complete freedom of choice. However, more than the functionality of the ESP editor that the client works with is needed to create bright emails with modern marketing features, or working in the editor with a team is inconvenient. In such cases, the agency can use Stripo.
Key benefits of using Stripo for email marketing teams:
advanced editor functionality, with a large number of ready-made modules;

synchronized modules, when you can quickly make changes to one block that is already used in any number of emails;

easy and convenient export to more than 75 ESPs, no further setup required or you can download your email as HTML file;

collaboration tools for teamwork — several people can work on each project.
"When synchronized modules first appeared in Stripo and Yespo, we had been working with several large eCommerce projects, and for each of them a lot of emails needed to be updated. The most difficult thing was to remake all the existing emails using synchronized modules. But then, when we changed the entire trigger emails that already existed by that time, it became easier and faster to work with newsletters."

Svitlana Fursa, head of the Promodo Retention marketing department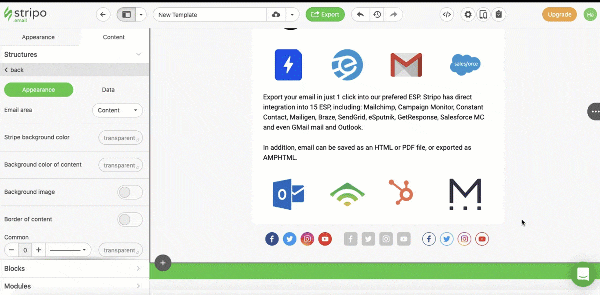 Make changes quickly with synchronized modules
Type 3. Template development
Another model of the behavior of digital agency clients, which is not common but still happens, is the preparation of email templates, which the client later uses on their own.
"We had a case with a Georgian company that uses the Omnisend platform for emailing. We designed and assembled email templates for them in Stripo and exported them to Omnisend. In this case, the agency's task was to prepare a template for the client, then they create an email campaign on their own using ready-made templates."

Svitlana Fursa, head of the Promodo Retention marketing department
Here is a Promodo example of such a template::
(Source: Email template made by Promodo team)
How the email marketing team works on each email campaign
When all the fundamental work points are agreed upon, cooperation moves to regular preparation and email sending. At this stage, a well-thought-out workflow becomes even more critical, as it helps the team to do everything on time and complete all tasks. And the team lead can distribute the workload evenly.
"We work in task management software. Email marketers leave a detailed technical task there for the copywriter and the designer. For example, there will be a content email with four blocks for different categories, and we need texts for a banner and a button."

Svitlana Fursa, head of the Promodo Retention marketing department
Stages of work on each email:
Approving an idea or event with a client. There are clients with whom it is possible to agree on a content plan for a month, but more often, each email is agreed upon closer to the date of sending — for example, it can be a content newsletter or an existing promotion on the site.

The email marketer selects references — how they see this email and sets the task first to the copywriter, then to the designer.

The designer prepares the email template right away in Stripo or in Figma (by the way, Stripo is currently preparing the integration of the editor with Figma, after which you can export an email design from Figma to the editor in one click). Sometimes emails are assembled by email marketers using basic blocks or a ready-made template in Stripo and change the texts there and put the necessary links.

The email marketer finalizes the email in the ESP editor or the Stripo editor — checks all links, adds the necessary blocks from the saved ones, matches the appearance on mobile devices, checks deliverability, and much more.

Approving the email newsletter by the client can occur at the stage of the finished prototype in Figma or the Stripo editor.

Exporting an email to ESP using and checking in the service how it is displayed and how all links and buttons work.
"We reduce the time it takes to prepare each client newsletter using personal and synchronized modules in Stripo. First, the designer prepares all the blocks under the brand's guidelines, and then the email marketers work with the ready-made blocks in Stripo.

We prepare an email guideline for the client, where we draw all the necessary blocks — product cards, blocks with promotional positions, with recommendations. So the email marketer collects the entire or part of the email without involving a designer and asks them only for the main banner or custom header."

Svitlana Fursa, head of the Promodo Retention marketing department
Top tools for email marketing workflow management
Now that you've seen how many stages of development and approvals one email goes through before it reaches the subscriber's inbox and how different these processes can be with other clients, let's talk about workflow management tools that help organize them all.
Svitlana from Promodo told us about the best workflow tools to help you simplify your creative processes. We suggest you try them for your team.
1. Task management software to manage your team
A vital step in managing teams is implementing task management software to plan and understand the team's workload not by feeling but in reality.
For example, Promodo uses Teamwork, which helps:
enter estimates for tasks — averaged and individual for projects;

plan for each month a benchmark for the volume of tasks for each project and fill it all into the task system;

set tasks and control them for all employees;

use a glider that shows the workload of each in hours; you can also see the details of the tasks;

prioritize tasks, realistically assess how much is needed for this task, and fix and calculate.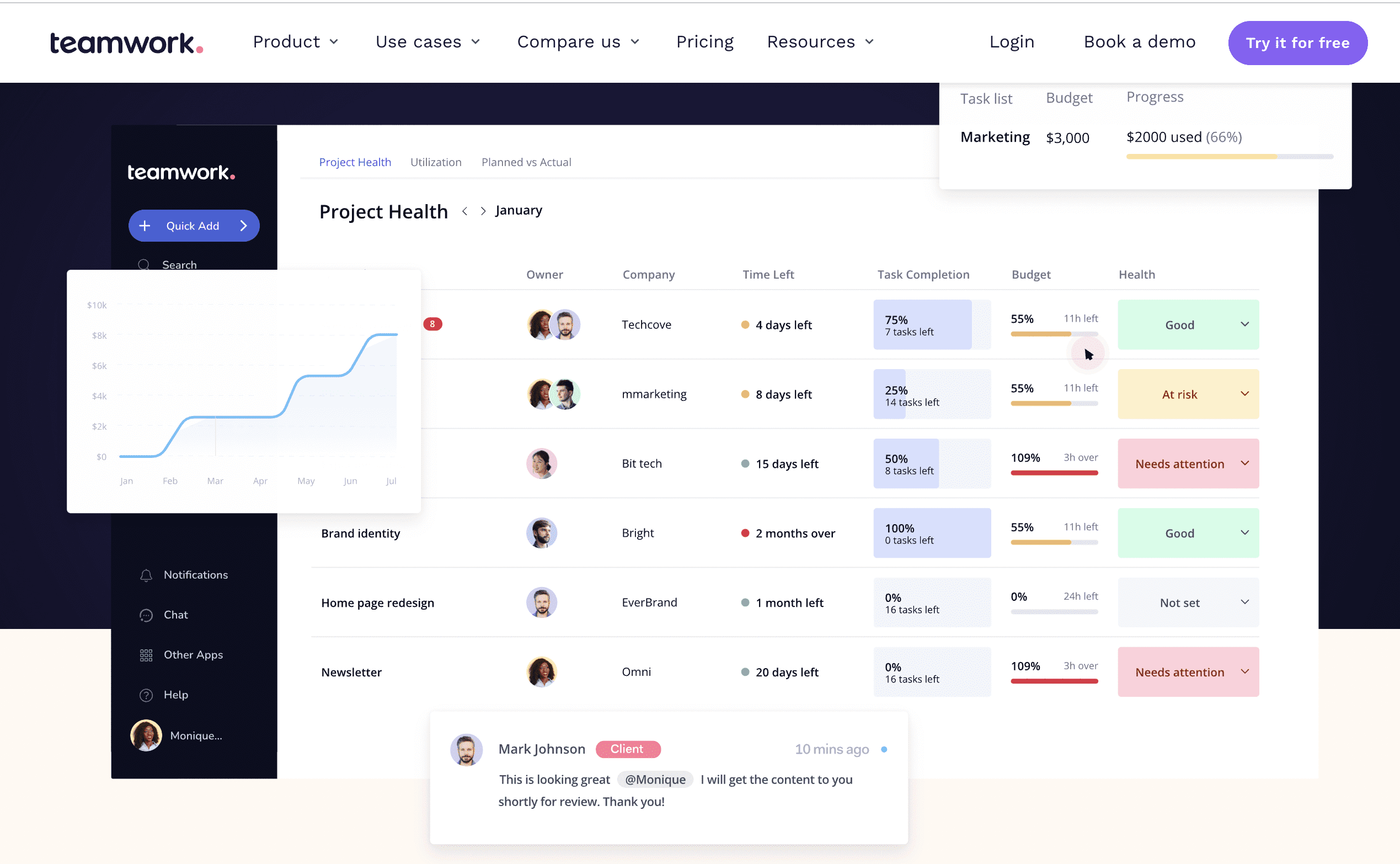 (Source: Teamwork)
"The guys look at their planners, and if they see that more than 6 hours a day are already busy, they understand that perhaps some task needs to be rearranged, as unscheduled tasks may still appear. Planning includes not only projects but also the tasks of the company - meetings, phone calls, and more. Switching to the task system was not quick, but it was worth it."

Svitlana Fursa, head of the Promodo Retention marketing department
2. CDP and marketing automation systems
CDP and marketing automation systems are critical tools in the work of digital agencies, as they allow you to collect data for both their sales and clients.
For example, Promodo uses CDP Yespo, an omnichannel customer data platform for high and medium eCommerce.
Yespo helps agencies:
collect and aggregate data from the website, mobile phone, offline, and direct channels;

make segmentation and personalization of communications;

collect mailing lists and implement an email marketing strategy;

analyze results of promo campaigns.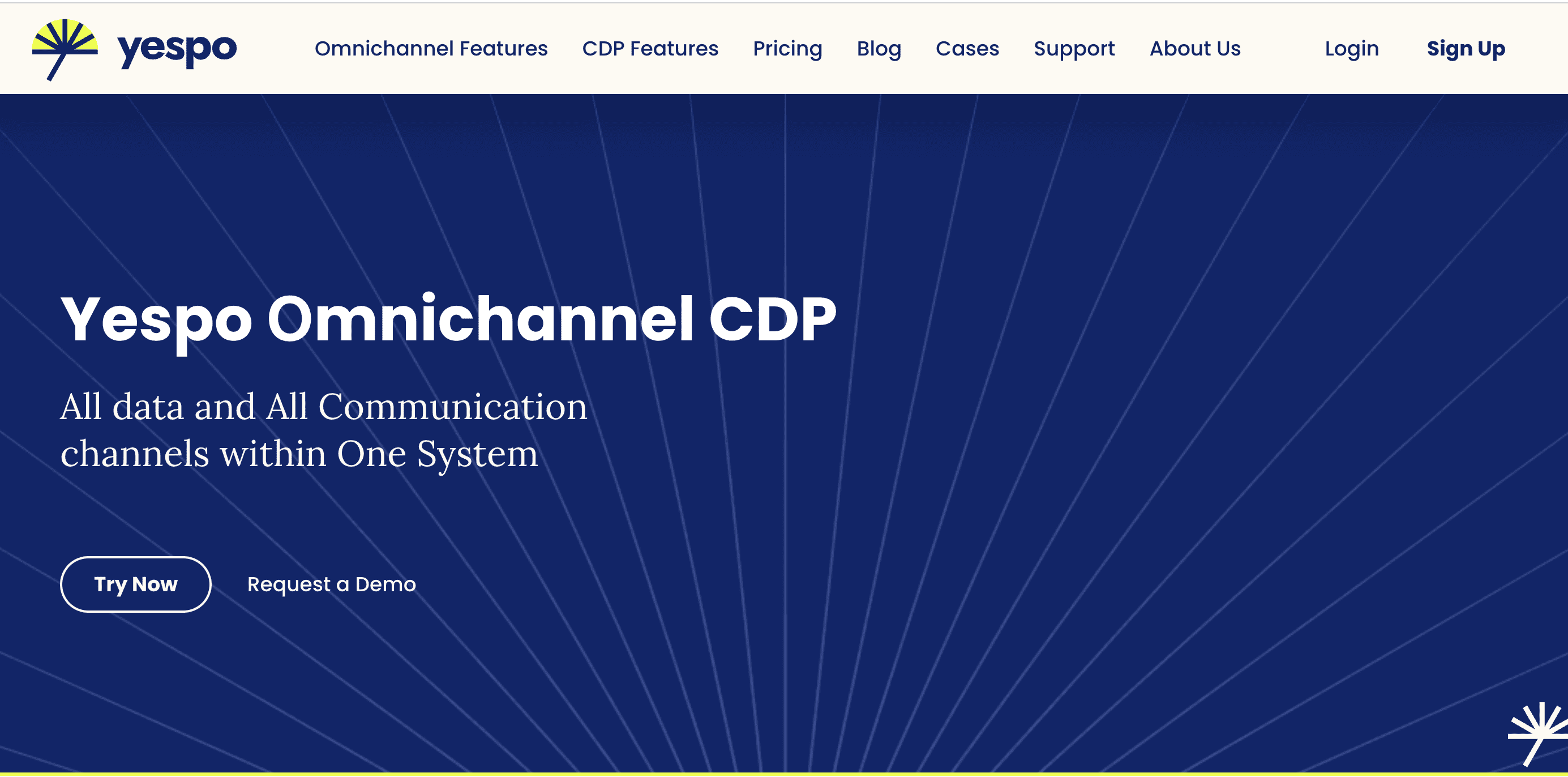 (Source: Yespo)
"As an agency, we use Yespo for sending email newsletters and analyzing campaign results. We offer it to clients who come to us from scratch without their service and databases. The most popular ESPs with which clients come to us (they already have a database built there, and some work has been done) are Mailchimp, Klaviyo, Omnisend, Selligent, and Bloomreach."

Svitlana Fursa, head of the Promodo Retention marketing department
3. Services for the design and creation of various elements
This group includes a whole set of tools used by the email marketing and content teams:
Stripo — for email template design,

Claspo — for creating pop-ups and other forms of lead collection,

Figma — for creating email design elements.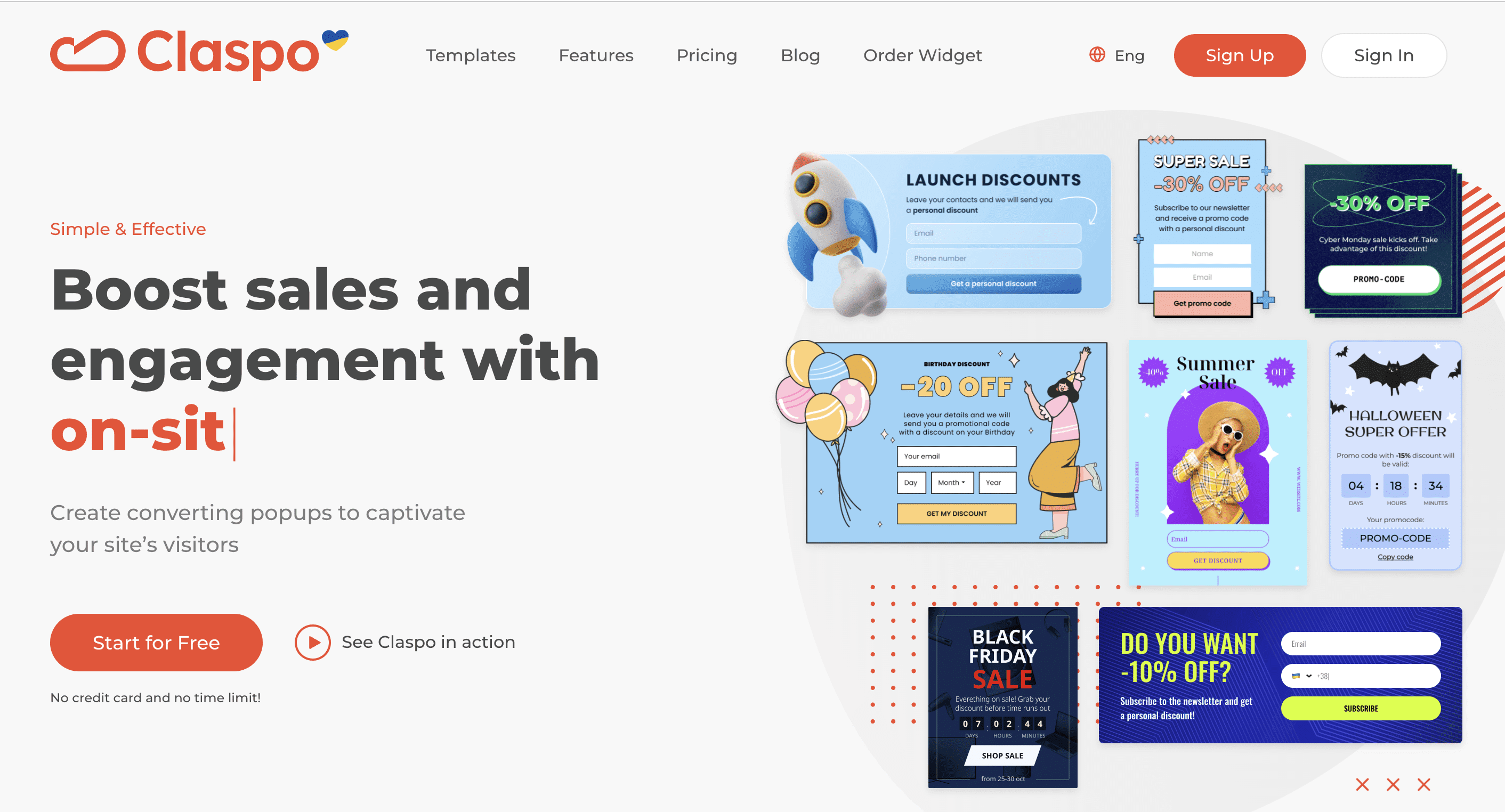 (Source: Claspo)
"We have been using Stripo for many years. At first, we started using it for creating AMP emails since Yespo did not have such functionality. After all Stripo plugin features were adopted to Yespo, we did it right there. For clients with other ESPs, email marketers provide a link to the web version of the email on Stripo because it has more functionality and is easier to set up."

Svitlana Fursa, head of the Promodo Retention marketing department
How to get a shareable link to the web version to spread among colleagues and clients for approval read here.
4. Dedicated development tools
For some special projects (roulettes, flyers, widgets), landing pages involving developers who use their specific tools were always necessary. Now more and more gamification opportunities are available in Stripo and Yespo so games can be made right there.
5. Analytical tools
Analysis of the results of email campaigns is one of the important components in the agency's work. To get and work with data, you can use several approaches:
collect data in the ESP or CDP, for example, Promodo uses Yespo for this;

use additional digital marketing data collection and analysis services, such as Owox;

use data from Google Analytics.
Wrapping up
Built-in workflows help each team member evaluate their role in the project and work towards a common goal. At the same time, each step of interaction with the client becomes effective and takes less time and effort.
Was this article helpful ?
Thanks for your feedback!