30+ Best Email Marketing Tools for Small Businesses
05 July 2022

Table of contents
Task management software
Image editing tools
Tools for working with texts, including spell checkers
Color picker tools
Tools to reduce image file size
Best email marketing solutions to spice up your newsletters
Tools to convert videos to GIFs and vice versa
Video creation tools
Services for making instructions
Email testing tools
Email verification tools
ESPs — Email Service Providers, aka Email Marketing Platforms
Tools for building AMP emails
Final thoughts
1.
Task management software
Email marketing is an effective channel. It helps you build and maintain communication with customers.
Below, I will examine the best email marketing tools that are gonna boost your productivity and the effectiveness of your email campaigns.
Task management software
These are the services that help your company build systemic interaction within the team, and simplify task scheduling and work organization processes, including email newsletters.
The app is available on smartphones and PC. With it, you can easily organize your time and manage projects in teams.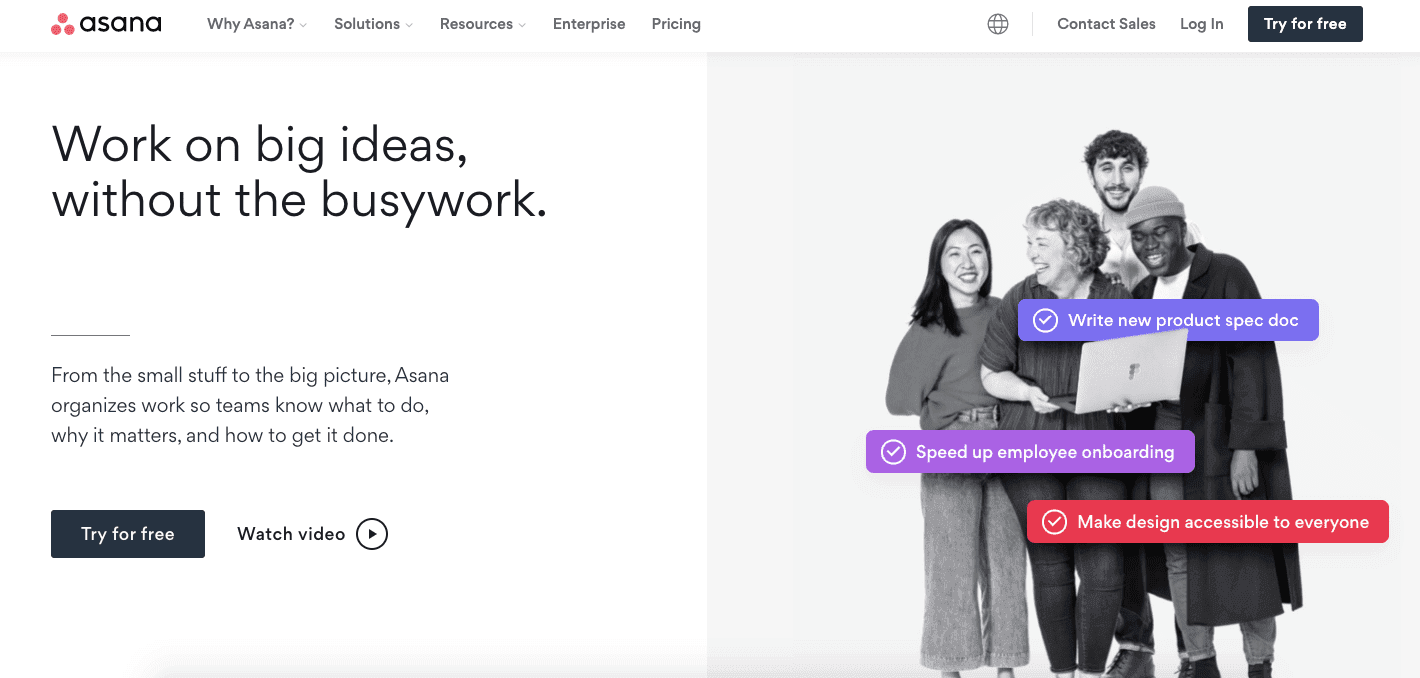 Key features:
prioritizing tasks for each team member;

the ability to manage overlapping and dependent tasks;

convenient boards showing the progress of a specific task.
A cloud service that allows you to easily manage your workflow. When you open the application, you see a page similar to the one from a real notebook. The application can be useful for those who work individually and on a team.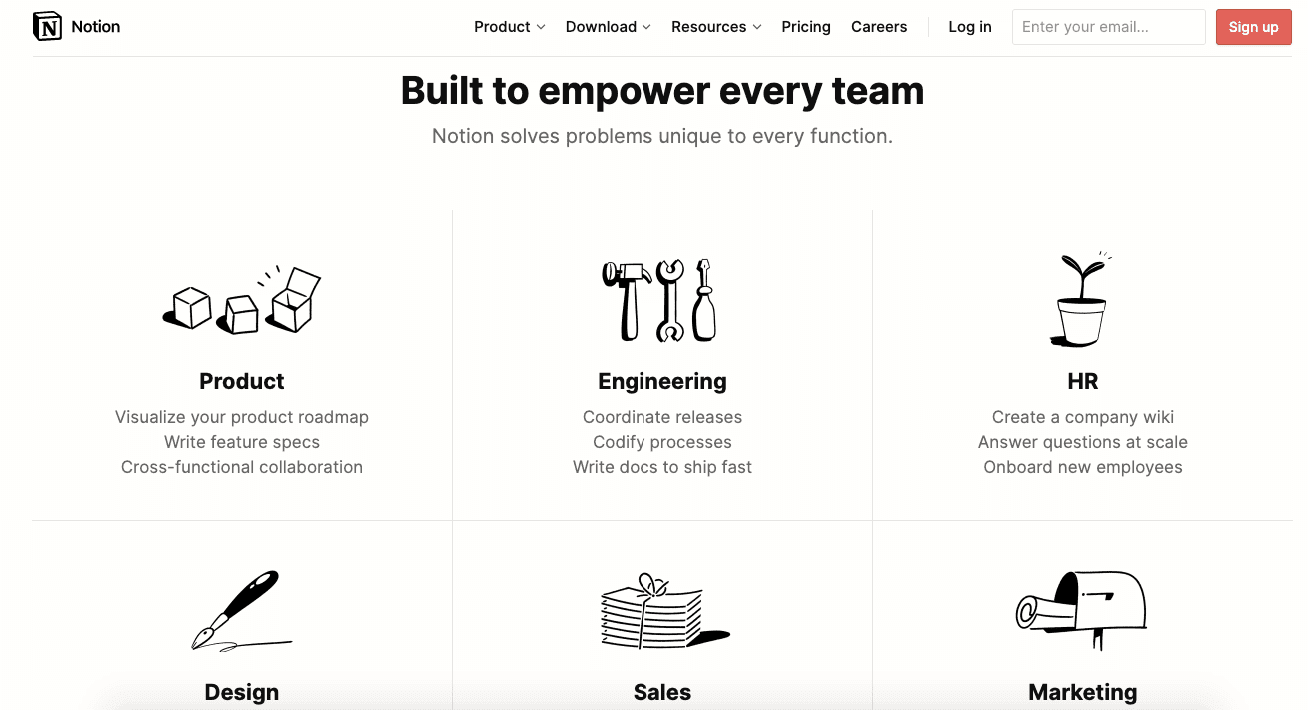 Key features:
adding to the document almost anything: Video, audio, tables, codes, and many more;

collecting in one place all information related to the task;

storage of databases and tables.
With this tool, you will be able to log the hours you spend working on tasks and projects, track your productivity, and keep a good work-life balance.

Key features:
tracking time with the timer or adding it manually;
easy options for managing projects and tasks;
billing and invoicing based on tracked time and expenses;
detailed and clear reporting for any time range.
A team collaboration tool that integrates with the following third-party apps: Trello, Asana, Zapier, Google Drive, Dropbox, Onedrive, Github, Gitlab, Bitbucket, Mailchimp, Giphy, and other apps.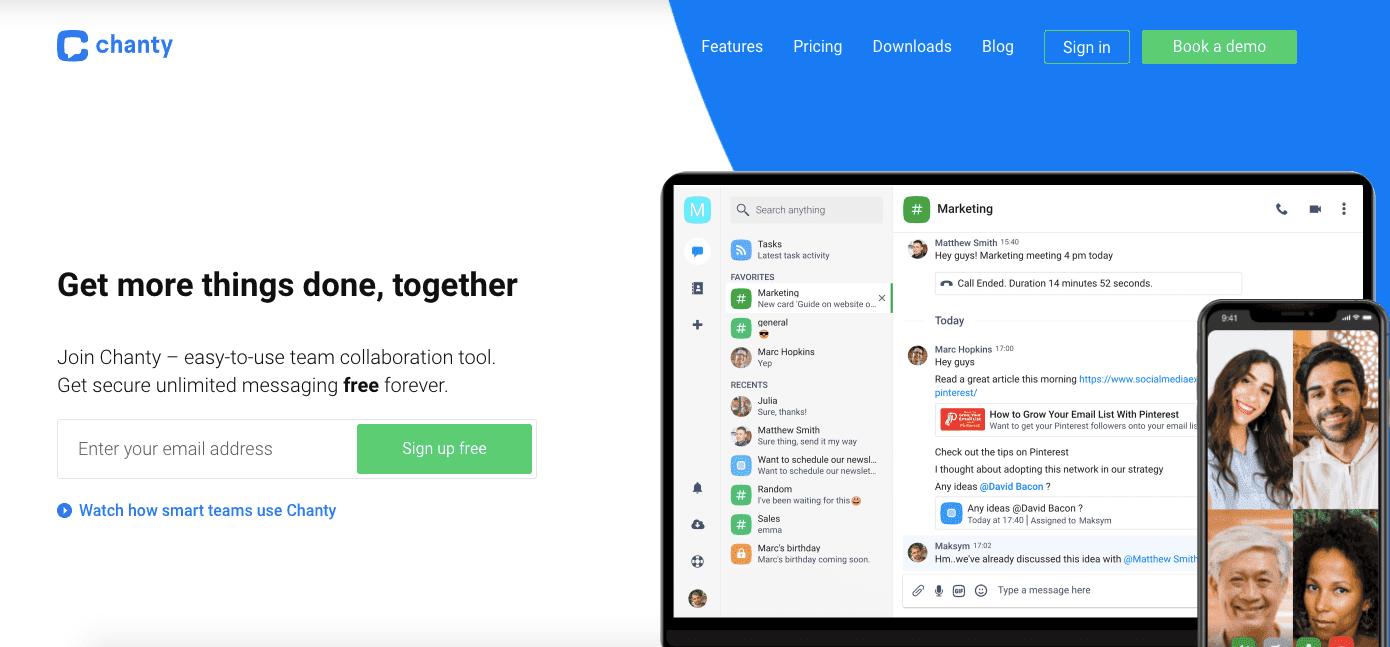 Key features:
unlimited message history;

audio and video calls;

task management with a Kanban board.
Image editing tools
Ugh, those moments when you find/create a nice photo that just doesn't fit right because of its size, shape, or whatever else. In this case, you need a photo editor.
We are not going to talk about such "celebrities" as Adobe Photoshop or Paint, which you undoubtedly know about.
So let's talk about free email marketing tools.
Stripo has a built-in photo editor — Pixie. Find all the necessary functions: image orientation, image cropping, resizing, applying filters and colors, as well as dozens of various stickers, etc.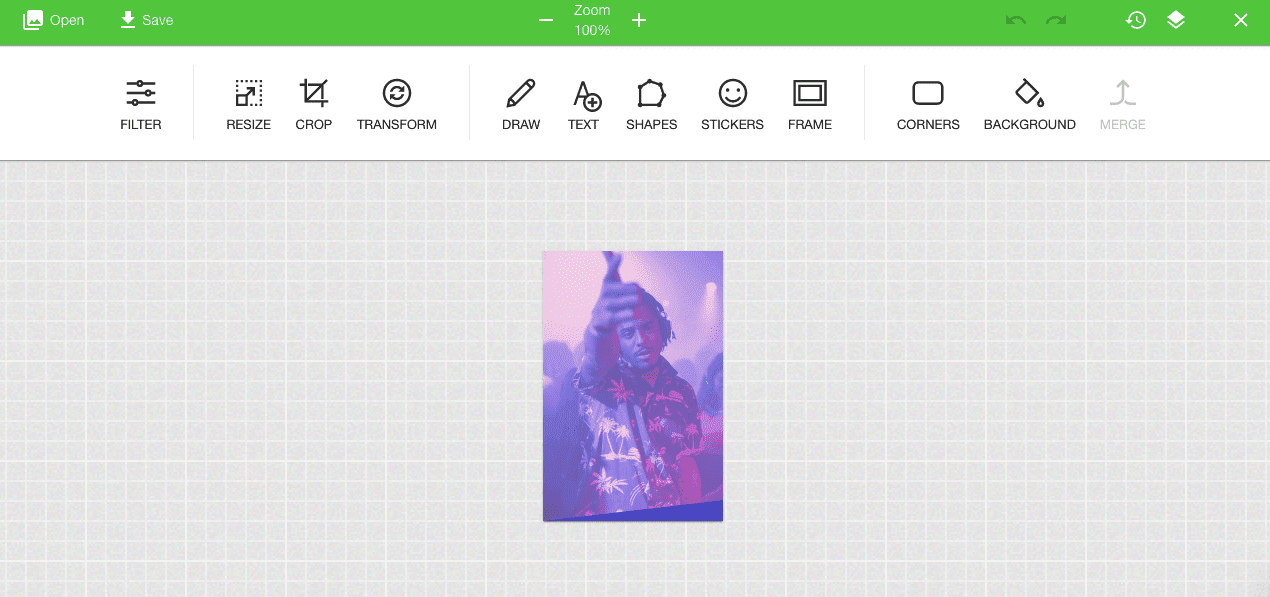 Key features:
you don't need to leave Stripo to edit your image;

color palettes;

you can zoom in when working with small elements of the image.
Canva is one of the most popular graphic editors. It will be useful both for email marketers that are new to the design work and for those who are already experienced in it.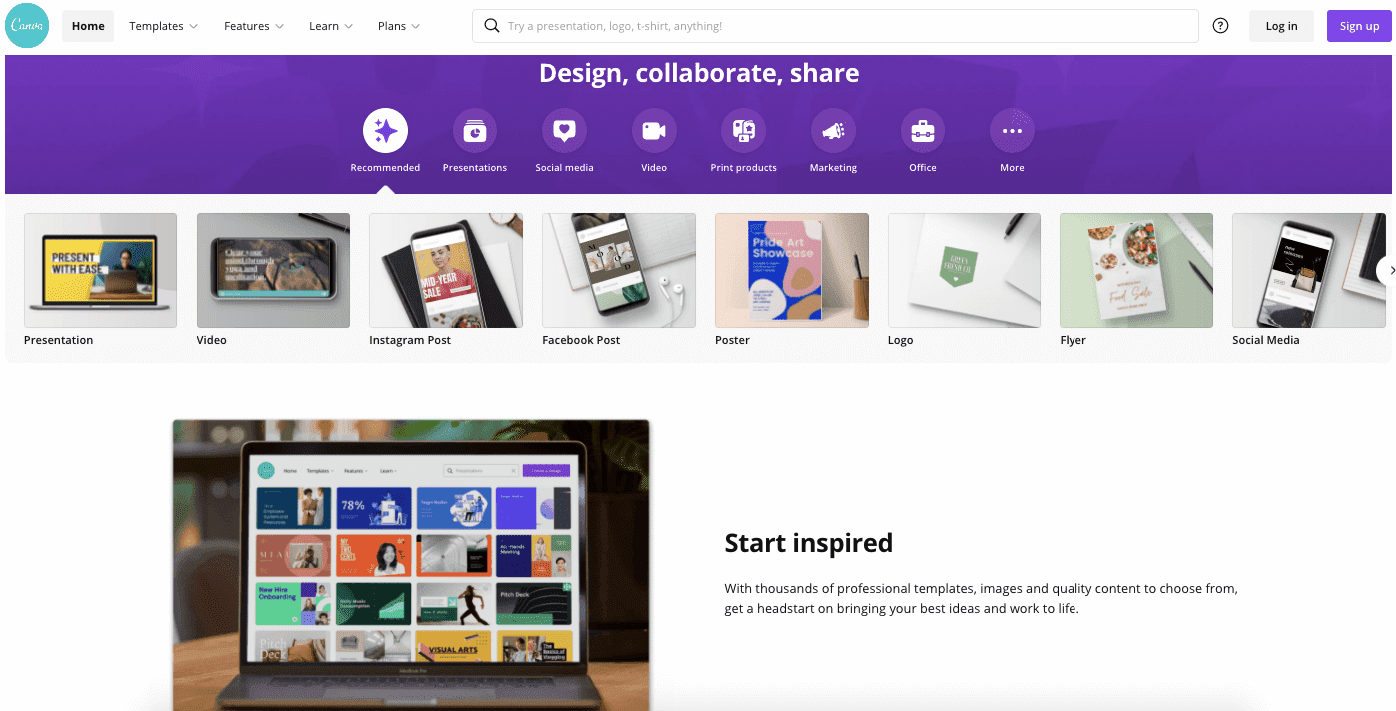 Key features:
a large number of templates for diverse banner formats;

the ability to edit, add various elements to prebuilt templates;

templates are grouped by topics, like architecture, advertising, finances, and many others.
Important to note:
Right now, Stripo and Canva are working on the integration together. This means that soon you will be able to export banners from Canva directly to your Stripo account.
In the meantime, you can create chic, multi-layered banners by using our Banner block.
Create a banner for promotional emails in no time
Get started
This app allows you to create really cool banners, and it only takes a few minutes to figure it out. In addition, this service, like the previous one, provides free access to its gallery of templates, fonts, animations, and stock photos.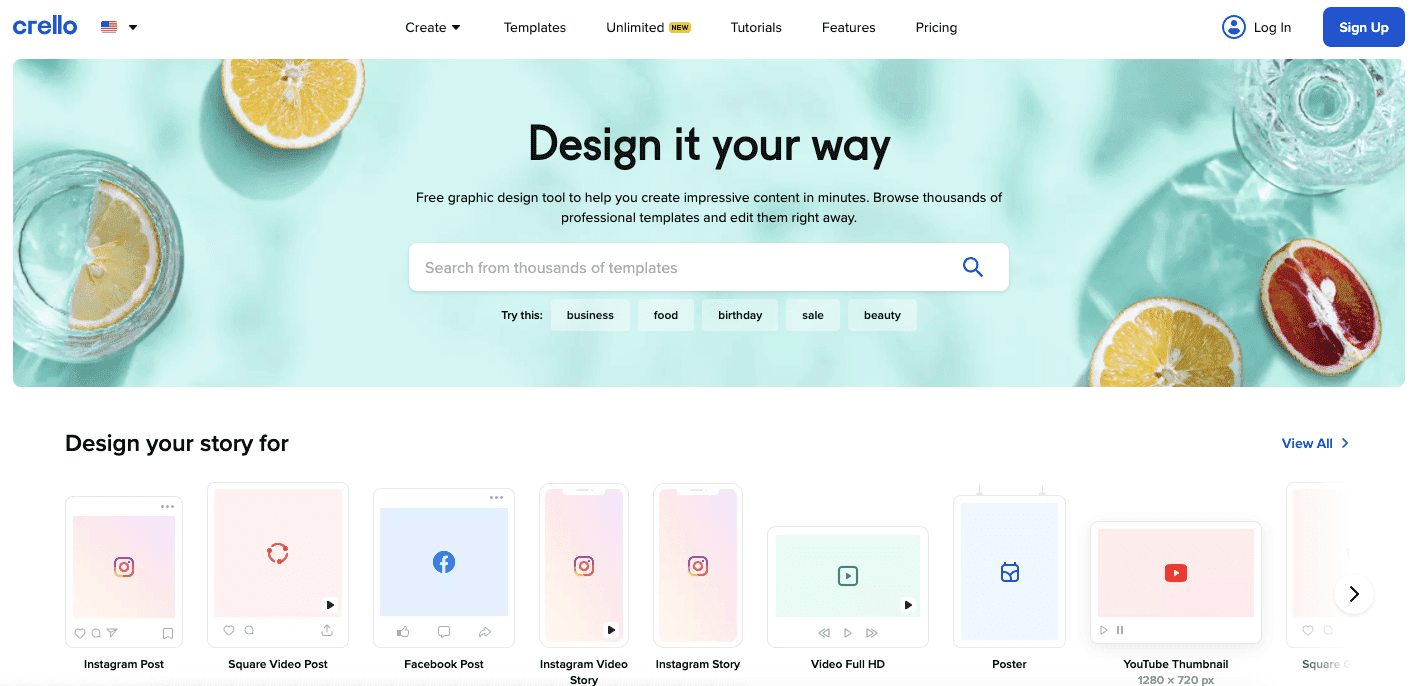 Key features:
access to over 150 million images, videos, and other files thanks to the integration with Depositphotos;

convenient tools for introducing edits and changing ready-made layouts.
Important to note:
Crello and Canva are two very similar services, both in interface and in features.
But here are 2 main differences:
Canva offers more interactive elements such as buttons, charts, and rare designs from the Getty library;

a Crello Pro subscription will cost you $9.99 / mo, while a month in Canva Pro will cost you $12.99.
An effective assistant to develop your own unique banner. The full functionality of the application is available in the browser, but on smartphones — only a simplified version.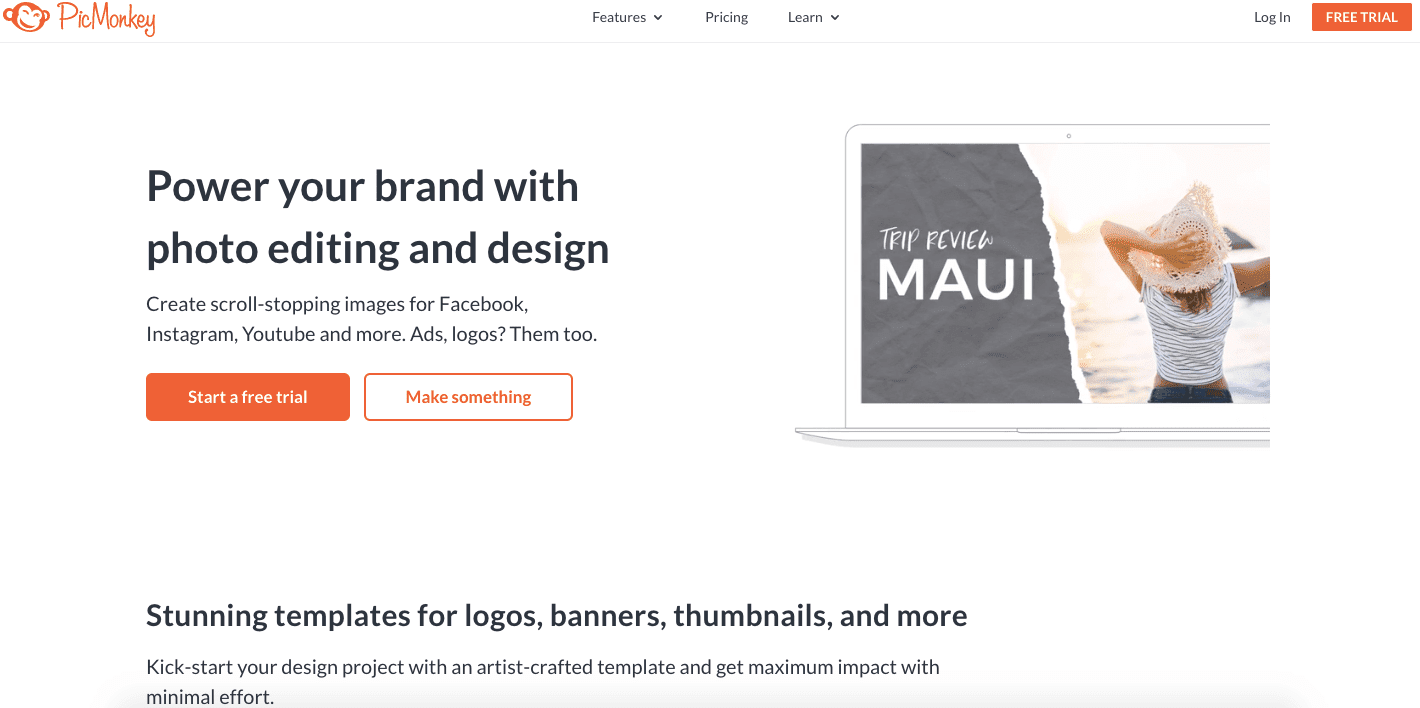 Key features:
a sufficient number of fonts, templates, and photo frames;

ready-made layouts for any social media;

integration with OneDrive and Dropbox.
This is, kind of, a universal tool. By using it, you build banners, design social media icons, edit photos, etc.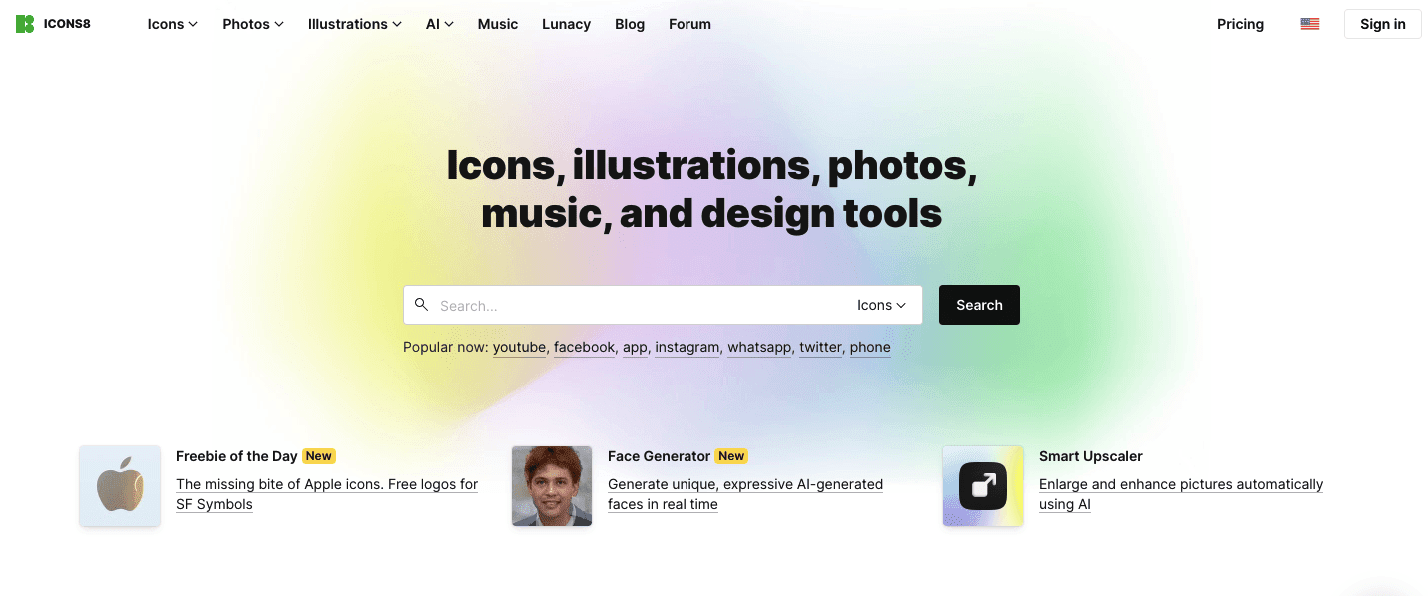 Key features:
over 180K icons in 35+ styles;
Lunacy, a next-gen graphic editor for professional design;
free background remover;
Smart Upscaler for image enhancement;
royalty-free music.
Tools for working with texts, including spell checkers
Spelling errors can ruin even the nicest design. So don't hesitate to use these email campaign tools to double-check all those tricky words.
Keep in mind the app is also available as an extension for various browsers — Safari, Firefox, and Chrome — that simplifies the copywriter's life, at least in my case.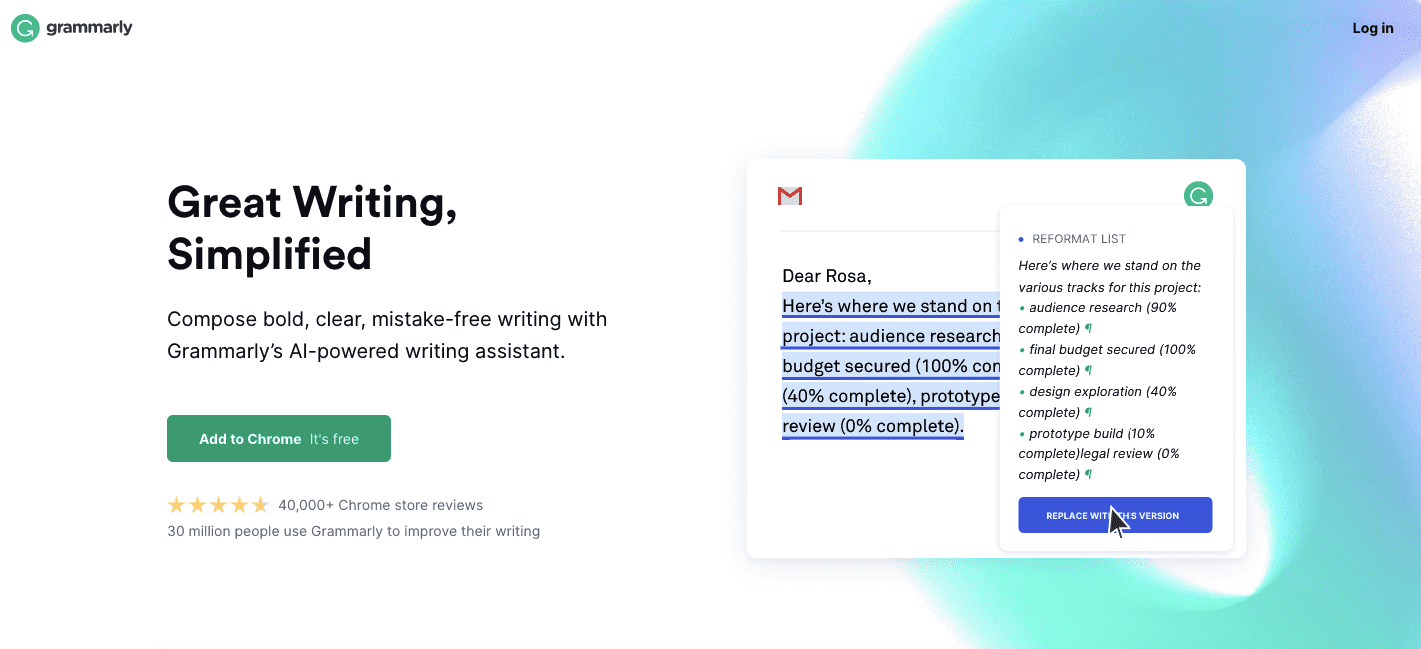 Key features:
checks everything you write in your browser, social media posts, product reviews, articles, etc.;

a convenient pop-up window when the service notices an error in your text;

offers a number of error correction options;

identifies the tone of your message.
The standard functions of the service include help with choosing a subject line for an email and recommendations for improving it.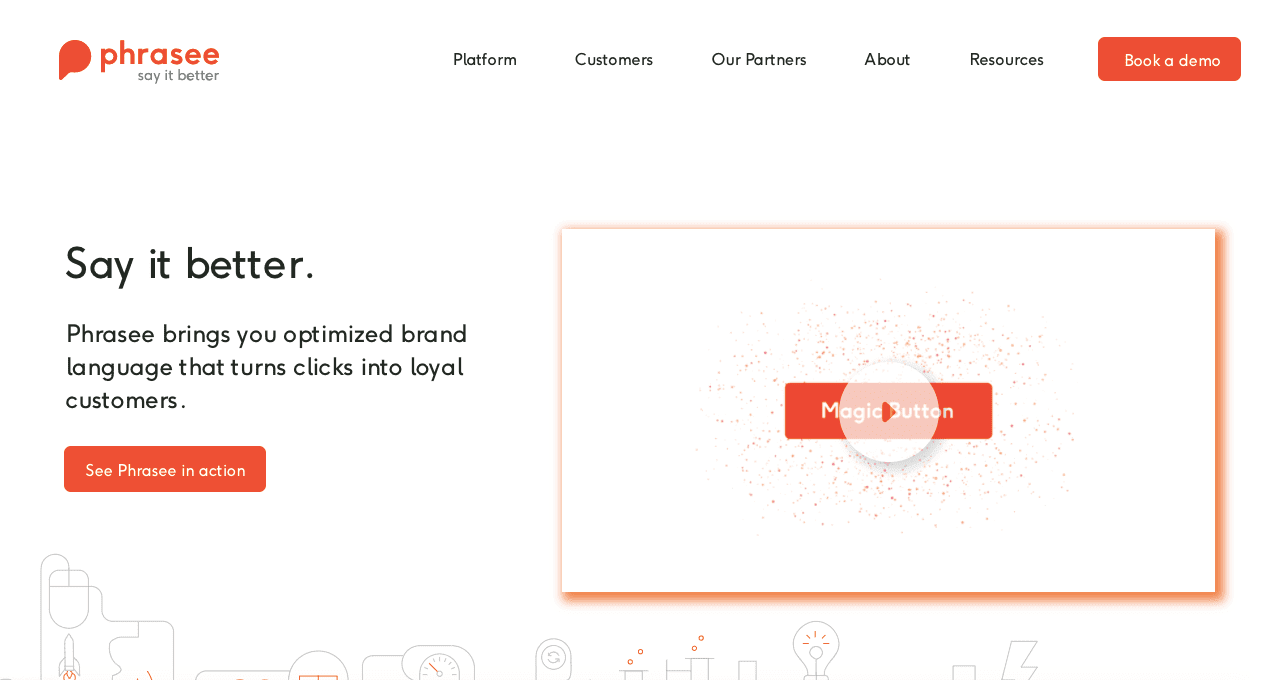 Key features:
simplifies the marketer's workflow;

helps with building a strategy for sending PUSH notifications;

builds a style of communication with customers by optimizing the brand language.
Color picker tools
ColorAdobe can help you find the perfect color scheme for your company's email marketing campaigns. Choose how many colors you would like to combine, set the desired number of desired colors — and the service will select a combination of shades. If you want your newsletter to look impressive, you will need this email campaign tool.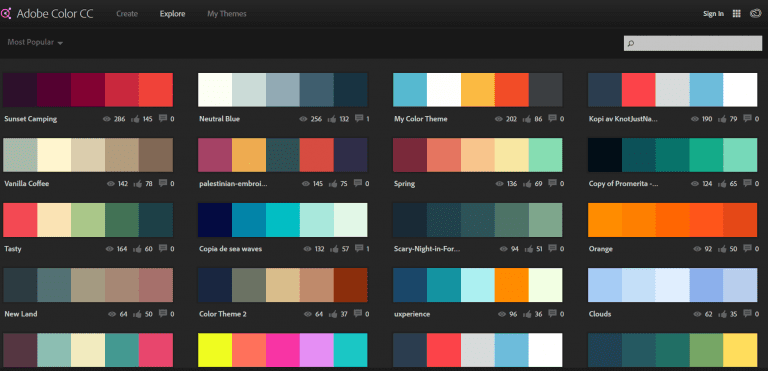 Key features:
the service matches the colors perfectly;

there are many ready-made color schemes;

identifies the colors in your images;

shows exactly where in the picture they are used;

you can save these colors for future posts.
Paletton has the same purpose. But it works differently. You cannot upload your own photos; therefore, there is no way to identify the colors of the images you have. But the distinctive feature is that the editor selects different shades of the same color.
Ideal for those who prefer minimalism in their email messages.
Key features:
ability to export your palette to social networks or to an email address;

list of colors;

display of selected color schemes in ready-made messages.
I decided to try green: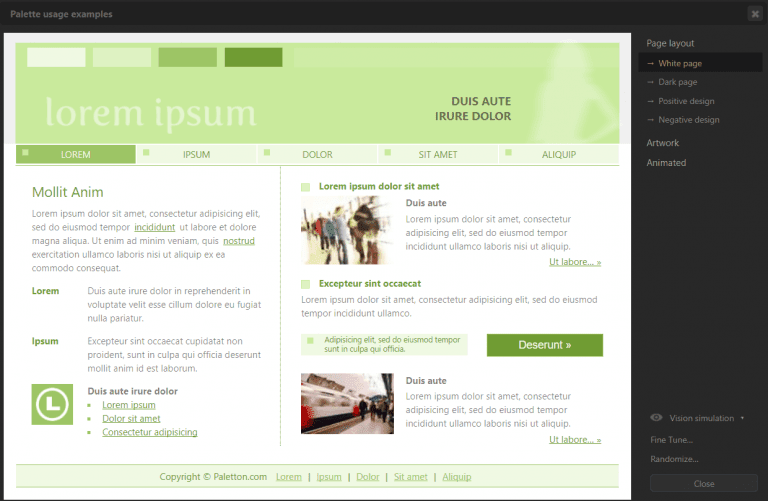 Here's an example of the perfect combination of gray and blue with black text, picked with this tool.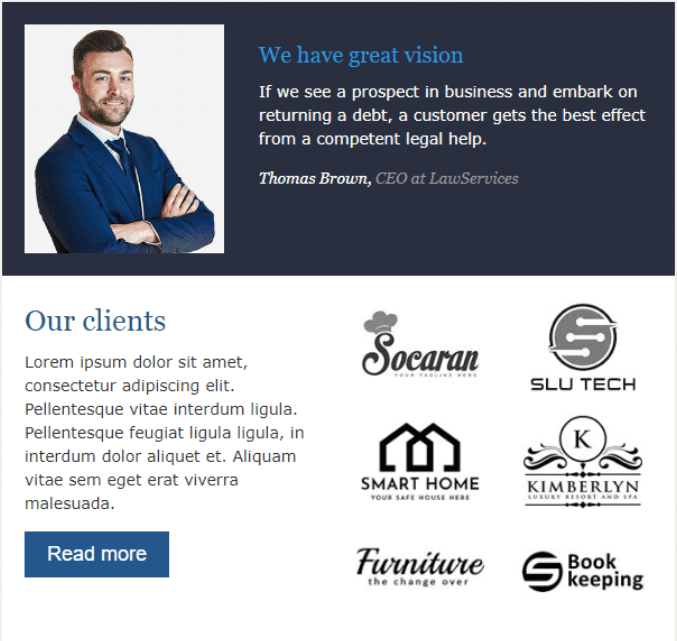 It is important! Avoid using a full range of colors in your emails. 2-3 primary colors are right than enough.
This functionality helps you create emails in the corporate style, adhering to your color palette and fonts, regardless of who builds emails for you.
You can choose any email/ template you like.
Key features:
Within a minute, based on a template/email message of your choice, we create a file with:
all your brand identity, including logo and favicon;

email design styles, i.e. colors, font size and type, buttons, headings, and more.
Create a Brand Guidelines file for your brand
Create
Tools to reduce image file size
More and more people are reading emails on smartphones. You need to make your images as light as possible without sacrificing quality so the download speed will be high. That's why we can't leave you without the following email marketing tools for small businesses.
TinyPNG is a standalone image compression tool. Suitable for designers and developers.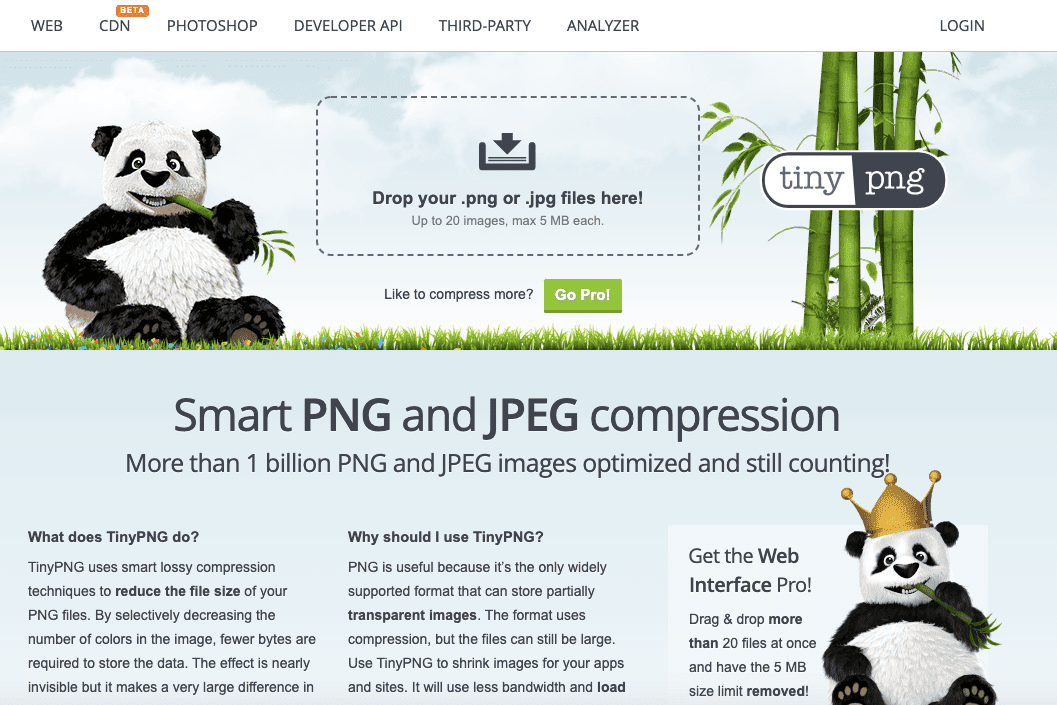 Key features:
used in work with images up to 5 MB each;

you can upload up to 20 pictures at a time;

reduces the size of JPG, GIF, and PNG files.
A smart image hosting platform that processes and optimizes images with lightning speed. Compress and crop imagery.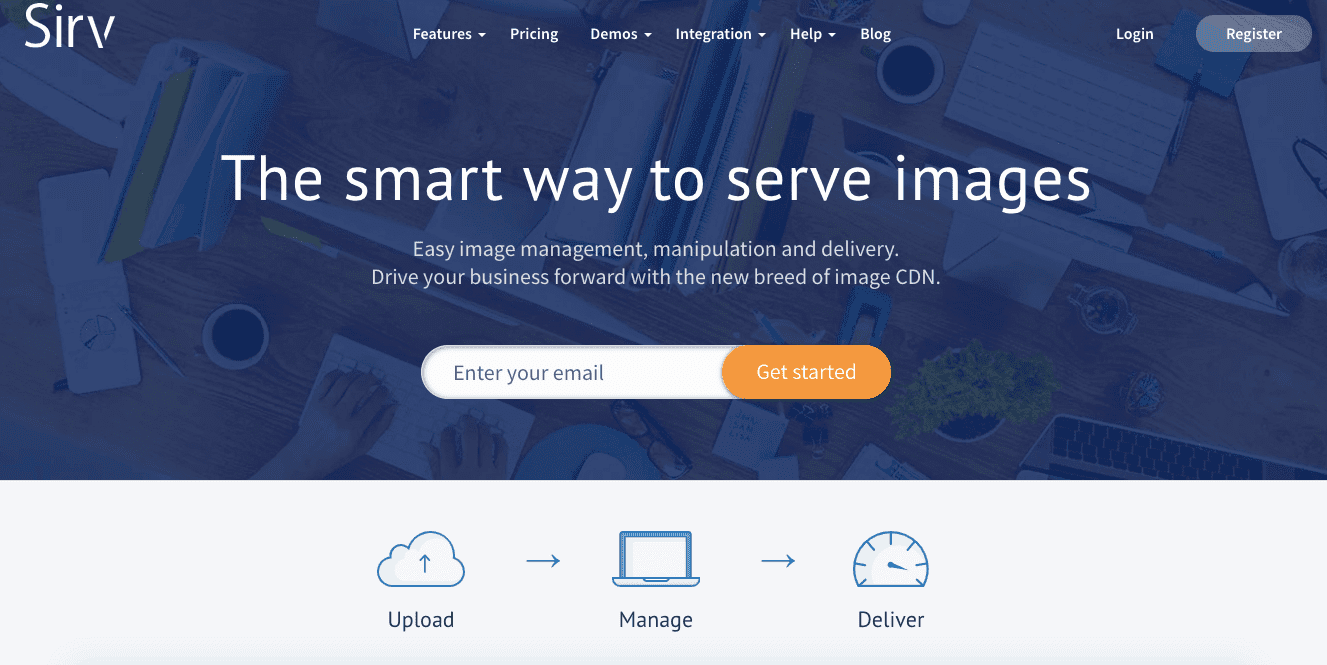 Key features:
AI-powered image optimization with optimal format conversion;
resize images by simply adjusting the URL of the image;
personalize images with text, watermarks, and composite images.
Optimus. A handy plugin for websites written in WordPress. The tool will help speed up your website performance and email loading speed by compressing images.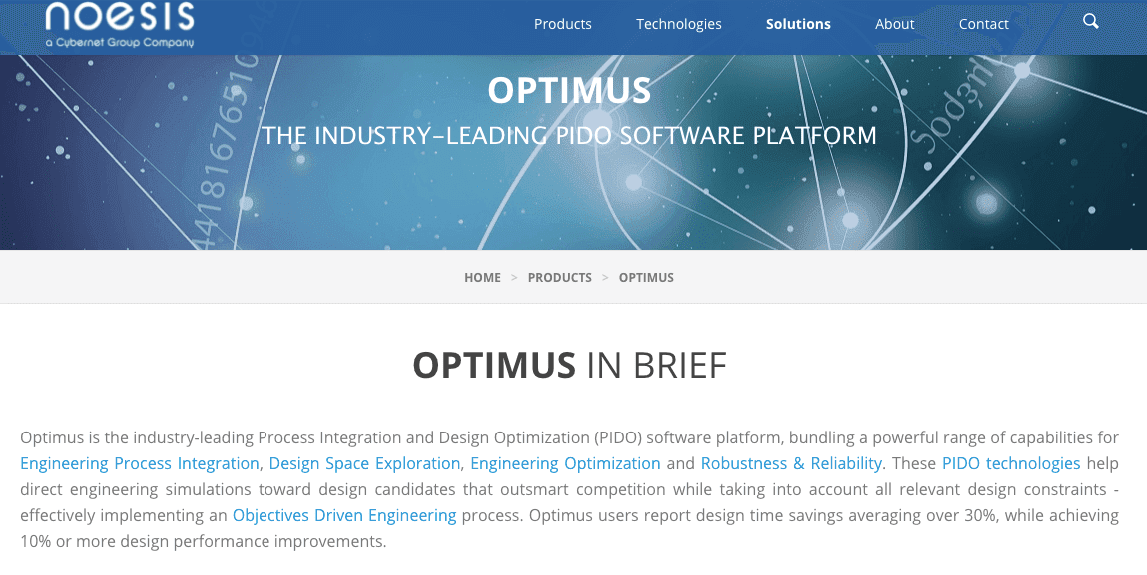 Key features:
reduces the size of visual elements by up to 70%;

optimizes both the original images and those that are just loaded on the page.
It is important to note that Optimus is limited to 100 kB.
You can learn how to work in the Stripo editor, including working on images, in our article "Stripo: A to Z manual".
Best email marketing solutions to spice up your newsletters
Here's a list of the online email marketing tools we use.
Tools to convert videos to GIFs and vice versa
Sometimes we need to convert GIFs to images or videos.
Ezgif allows you to convert animations to videos. And vice versa. Yes, it's really simple: All you have to do is upload the file.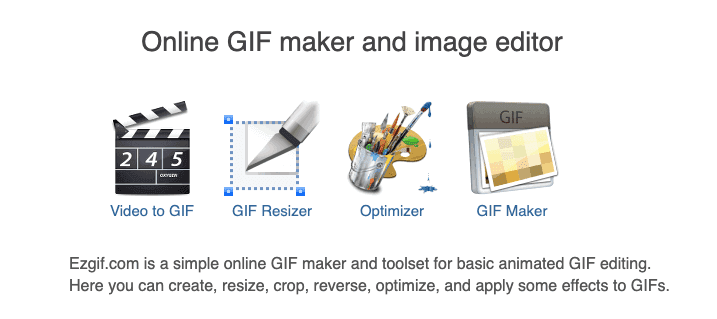 Key features:
video cropping;

file converting;

changing colors and frames;

if necessary — compression of video and animations;

you can add text to the video.
A popular service to create animations. Also, you will find a huge number of ready-made GIF images that you can use in your activities or just get inspired when creating your own GIF.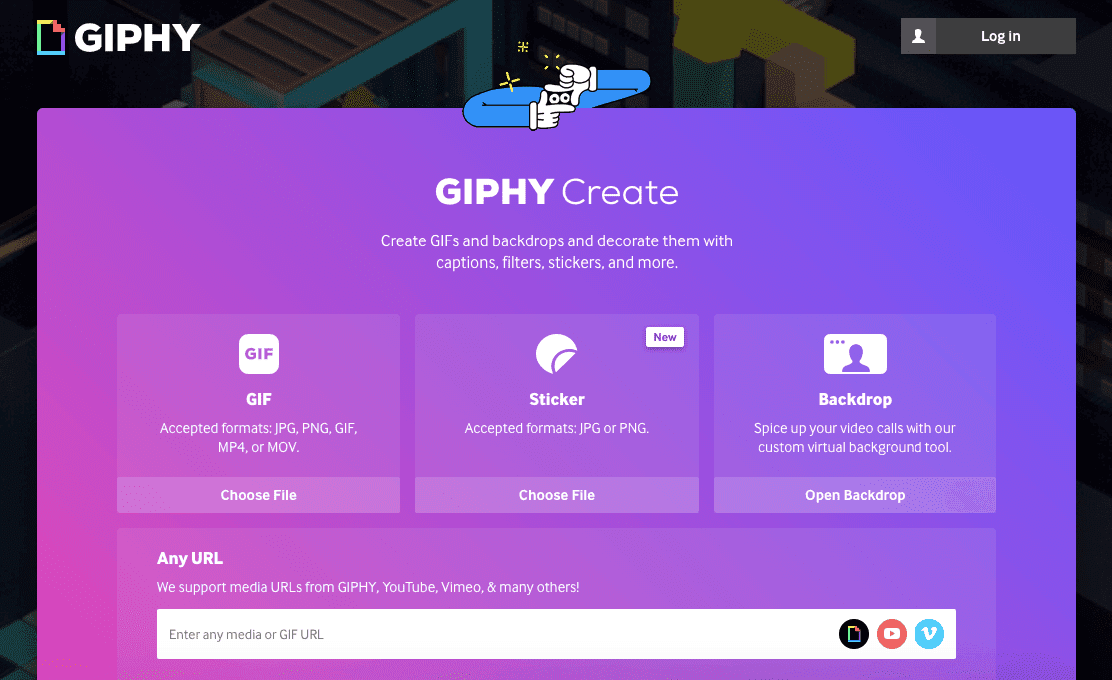 Key features:
quickly and conveniently convert your pictures to GIF format;

a panel where you can apply various inscriptions, stickers, filters, and more;

converting video files by uploading them in MP4 / MOV formats or by pasting a video link from the network (for example, from Youtube).
Makeagif allows you to convert any video to GIF. Download videos from YouTube, Facebook or just paste links. If you need an animation of under 10 seconds, you can use the service for free.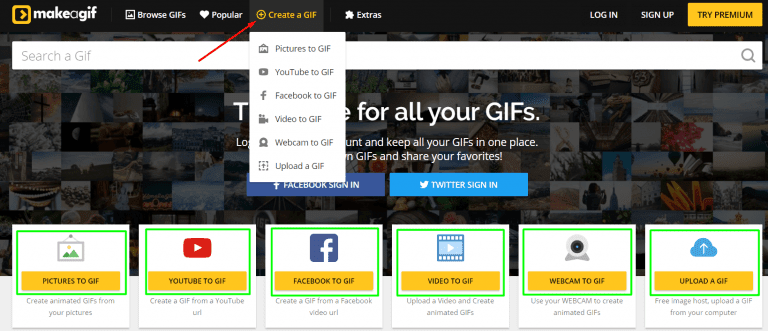 Key features:
no need to download videos, just paste the link;

you choose which part of the video to convert;

converting to HD format (for premium accounts).
Video creation tools
Sometimes there is a designer on the staff who helps you draw pictures and a videographer who creates the necessary videos for your newsletters.
And sometimes you have to do it by yourself. And then again, our list of tools for email marketing comes in handy.
Veed.io helps you both create videos from scratch and edit existing ones.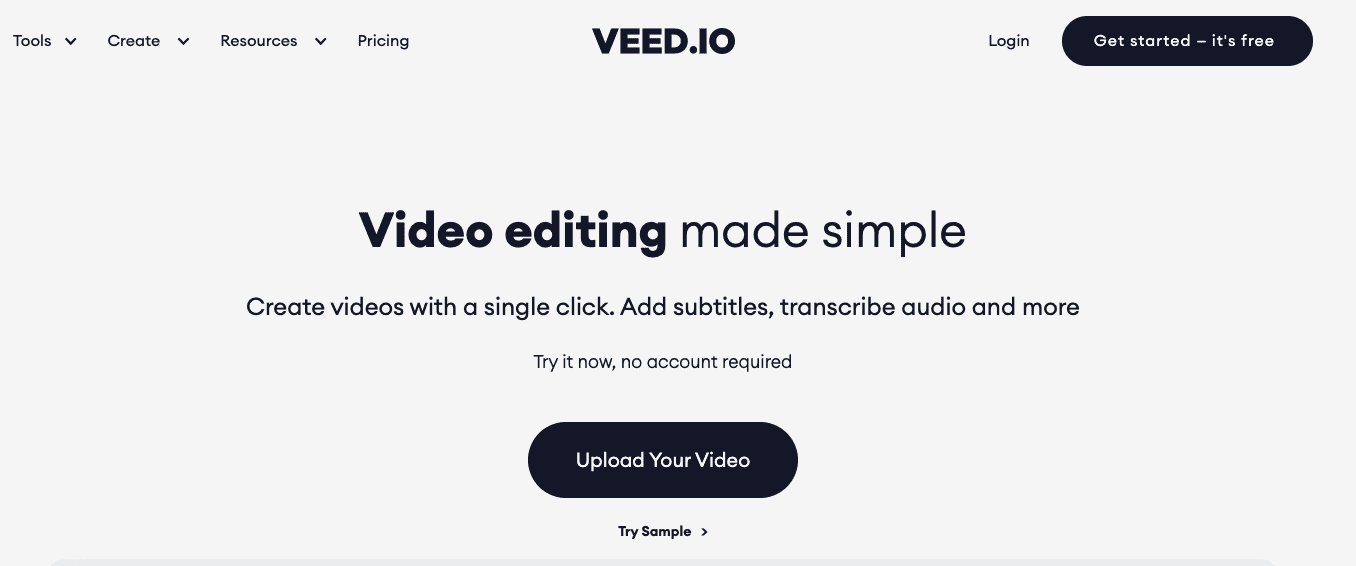 Key features:
you can add images to existing videos;

you can add subtitles;

or you can apply various effects to videos.
This tool is renowned for allowing you to create personalized videos. And this, according to Vidyard, increases conversion by 5 times.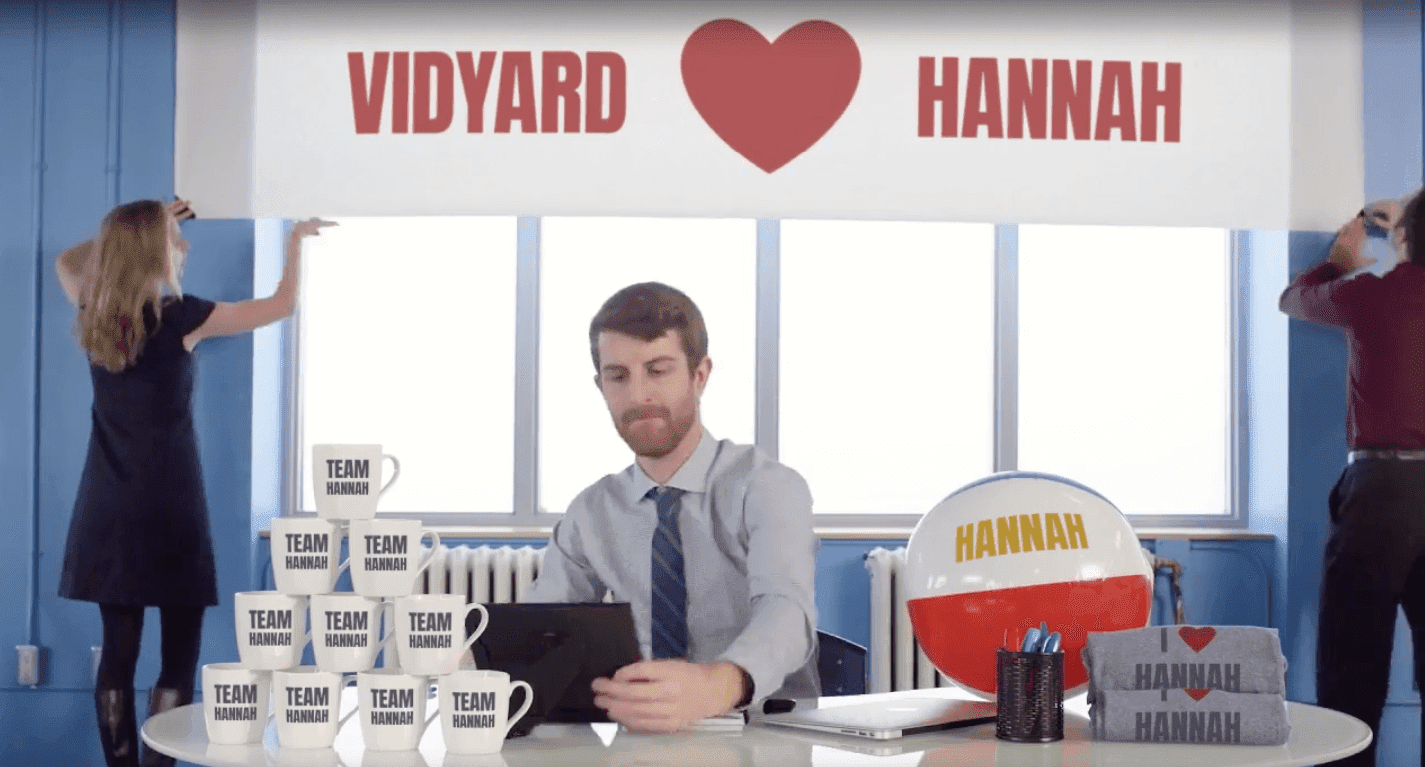 Key features:
analytics of your videos;

video hosting;

video personalization.
Services for making instructions
This is a two-in-one tool, as it let you take screenshots and record your screen.
Taking screenshots
You highlight a necessary page area (or the entire page), then draw or write notes on it before saving. You can even "blur" a certain area of the screenshot.
That is, you don't need any additional applications or tools to work with screenshots. Add text or numbers to the resulting images if necessary.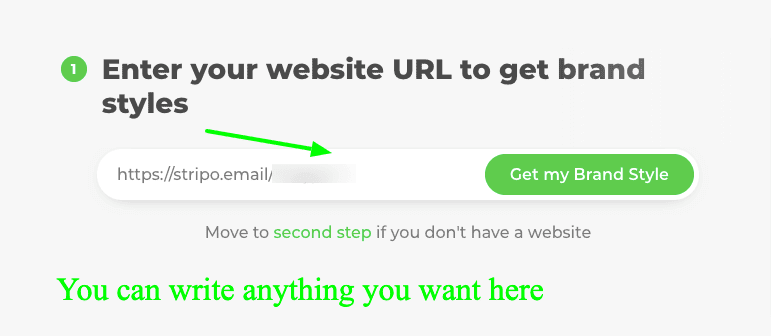 Key features:
allows taking screenshots after delay;
allows taking screenshots of entire pages;
helps with building instructions;
you can upload your own images to "annotate" them.
Taking videos
This email marketing tool allows you to record your screen while you're working to explain anything clearly, and you can add your voice and record your camera, even with a free account. This is just perfect for instructions.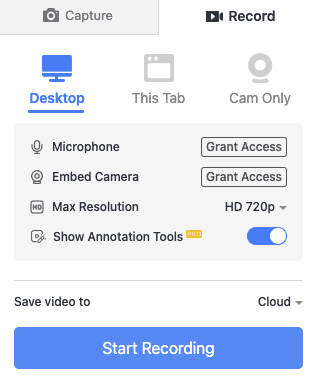 Key features:
ability to record both camera and screen;
instant sharing;
storage of your items.
Email testing tools
We strongly recommend that you preview email marketing campaigns before sending them. Check the correct display for all possible devices and email clients so that your email marketing efforts won't go down the drain.
Email on Acid shows screenshots of emails on more than 90 devices and email clients. This gives you the opportunity to look at emails through the eyes of a client.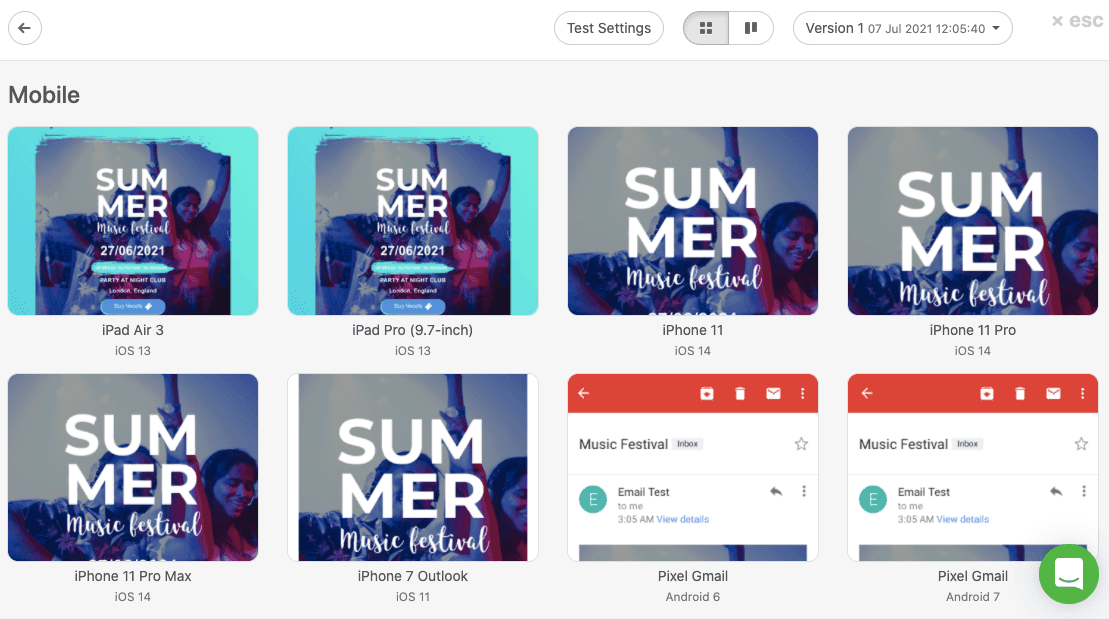 Key features:
they check your email on 1 600 machines (impressive!);

you will see screenshots of the email on about 70 different devices and email clients.
The check is carried out for desktop and mobile devices, as well as web applications.
These services only check HTML emails, their static version. Interactive, AMP, and dynamic content cannot be tested with them.
Important to note:
Email on Acid is integrated with Stripo.
Now you can check your emails right in Stripo without leaving the editor.
Look at newsletters through the eyes of your subscribers
Test emails
A simple service for checking your message for getting into the "Spam" folder. Send your email to the address indicated on the main page of the site, and within a few seconds, you will receive detailed information about errors.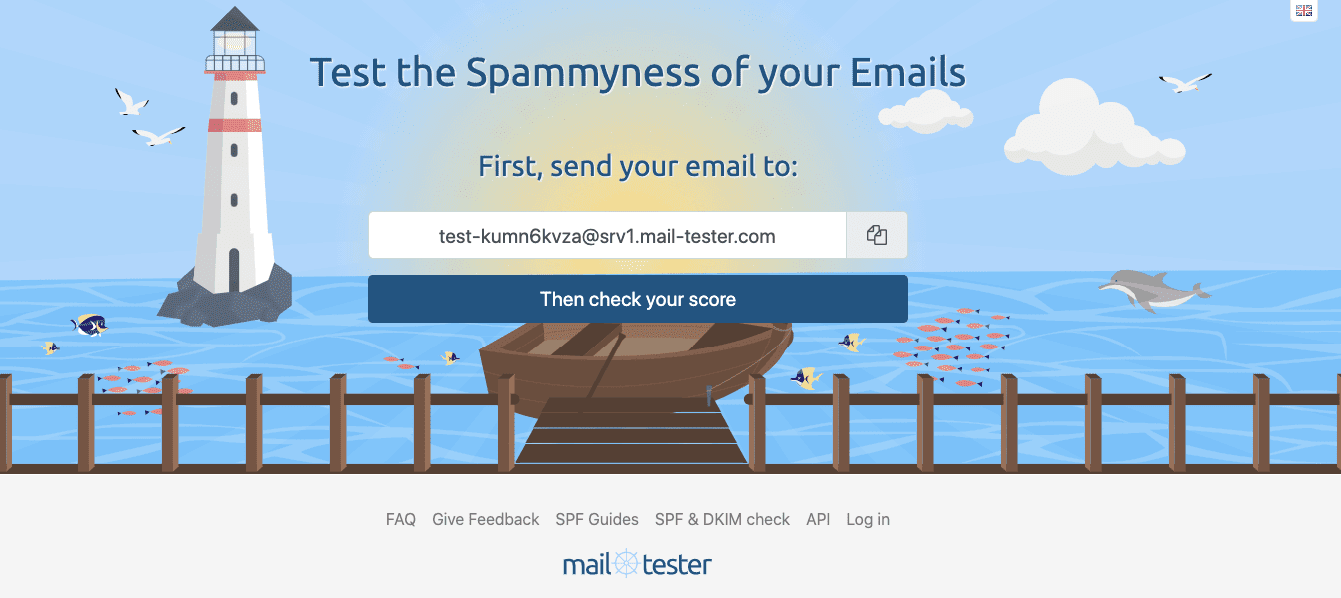 Key features:
by registering, you can check up to 20 emails per day;

the service checks the six points of email production — from evaluating the text, image, and HTML layout to the presence of broken links and server authentication;

stores a history of previous tests of your emails.
The service checks your DNS and your entire domain for errors and performs a complete analysis.

Key features:
15 different sets that check DNS settings with their configuration;

provides a prompt response to web server problems, checking and searching for errors occurs every 5 minutes;

displays warnings regarding your domain by checking over 100 blacklists.
Email verification tools
Of course, now that we use Double Opt-In, i.e. you send the user an email with a request to confirm the subscription/registration, the likelihood that an incorrect email address will be found in your contact database is significantly reduced. However, if the database is collected manually offline, errors are still inevitable.
And precisely in order not to send emails to non-existent email addresses, it is necessary to check/clean the contact base.
It is one of the most popular platforms. It was originally created as an internal instrument.
Key features:
possibility of a single address check, instead of not an entire pool of addresses;

verification of addresses in real-time. That is, checking the address at the time of registration on the site;

integration with sites through applications.
ESPs — Email Service Providers, aka Email Marketing Platforms
Research and comparison of the listed email marketing service providers show that they have a lot in common. They all automate your email marketing, analyze CTRs and CTORs, track all possible metrics and provide reports — they provide a high-quality service. But they also have differences.
Omnisend is a powerful email and SMS marketing platform that caters specifically to eCommerce businesses.
With Omnisend, small businesses and entrepreneurs can leverage their free plan, which accommodates up to 250 contacts and includes access to all the features. If you're sending to more customers, you can upgrade to their paid plans that start at $16/month.
Key features:
Omnisend has a large library of templates for newsletters and popups, helping stores easily create, customize, and launch email campaigns and popups within minutes;
Omnisend offers a user-friendly interface that allows beginners to easily navigate and understand their email marketing reports, providing valuable insights into campaign performance;
create captivating landing pages to complement your email marketing campaigns using Omnisend's built-in landing page builder;
enhance your email marketing campaigns by seamlessly integrating Omnisend with over 100 popular eCommerce apps.
Important to note:
Stripo is integrated with Omnisend's eCommerce email and SMS marketing platform. All the templates and emails you create in Stripo can easily be exported to Omnisend in no time to continue your email campaigns.
Mailchimp is one of the world-famous email marketing platforms.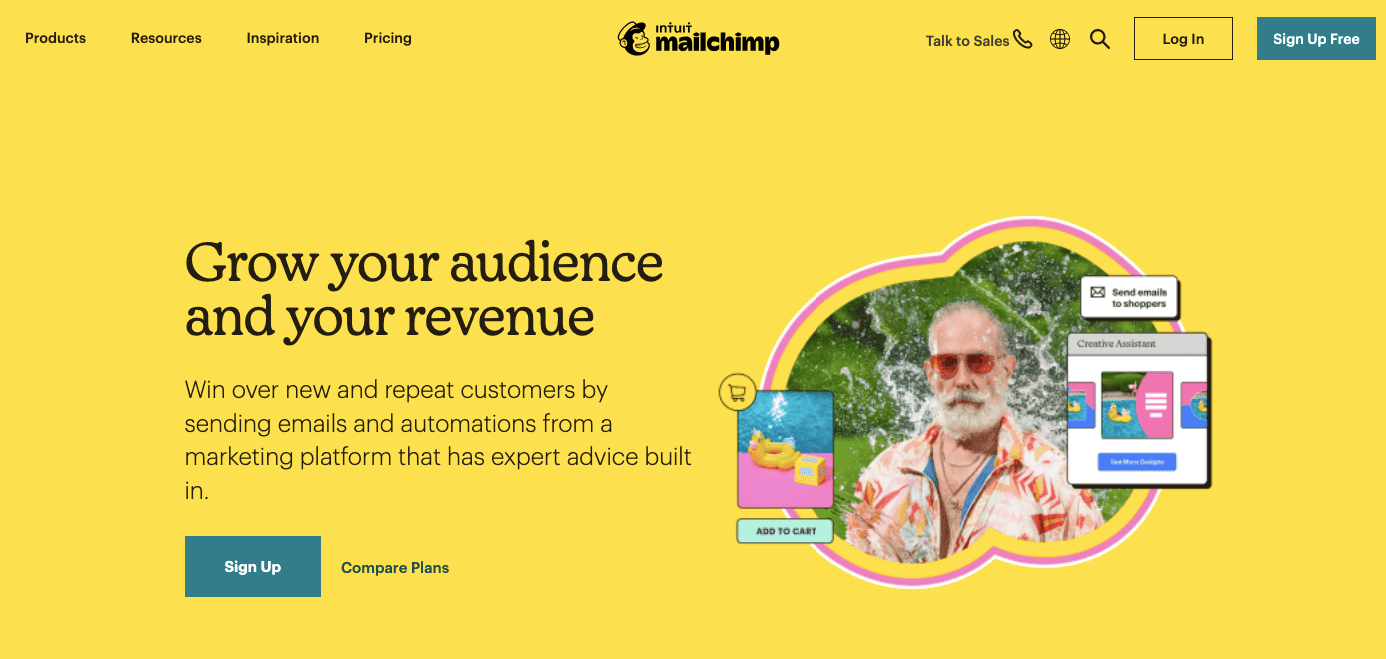 They provide free services for small businesses and entrepreneurs if you have less than 2 000 subscribers in your contact base or send less than 12 000 email messages monthly.
But at the same time, there are no such useful options as delivery by time zones, customer segmentation by interests, and trigger emails. To get them, you need to upgrade to the paid Pro-Marketer package, while some other services include these features in the free plans.
Key features:
setting the way of viewing reports. Very handy for beginners;

landing page builder;

the ability to launch email campaigns from mobile devices;

integration with 300+ apps for more targeted email campaigns.
Important to note:
Stripo is integrated with the Mailchimp marketing platform. This means that all templates and emails created by you in Stripo can be exported to Mailchimp in just 1 click for further sending.
For more information on how to do this, read our article How to Create a Custom Email Template for Mailchimp with Stripo.
If Mailchimp does not meet your business needs, please consider Mailchimp alternatives.
eSputnik is one of the best email marketing platforms for eCommerce. Most of its clients are large online stores. This provider offers a wide range of out-of-the-box workflows that you can combine and analyze to increase conversion rates and grow your business.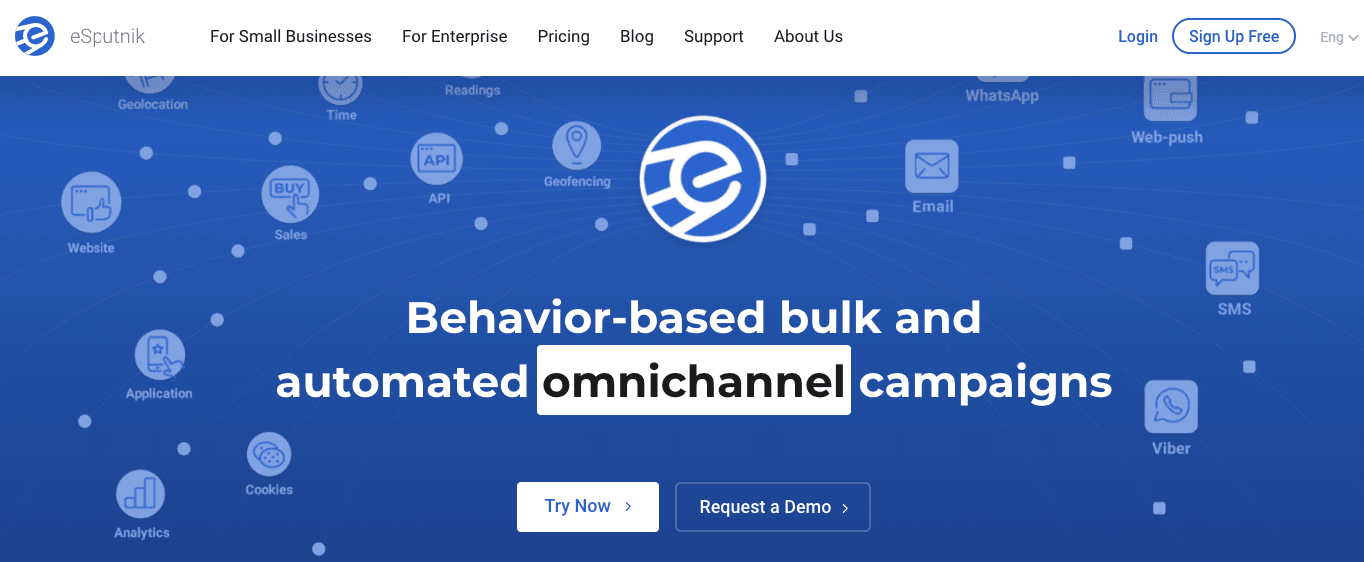 Even the offline history of your subscribers is tracked, for example, visits to a restaurant. This gives you complete information about your client's preferences. However, this option is available for advanced client-side integration.
Upon registration, you are given 2 500 free email messages. Not much, but quite enough to try out all the functionality available for the test suite.
What I like about eSputnik is that from the very first day after registration, the support service will definitely help you with the settings.
Key features:
specialization in eCommerce;

support of dynamic and AMP content;

detailed cohort and predictive analysis, as well as RFM analysis;

multichannel system: emails, SMS, notifications through Facebook Messenger and Viber, web- and mobile push notifications.
Important to note:
Stripo allows you to export emails directly to eSputnik. After the export, emails are fully editable through the Drag-n-Drop email editor and the code editor.
In the article Review of Top 10 Email Services Providers, we look closely at the features of the best marketing automation services.
Tools for building AMP emails
AMP content, which is also known as dynamic, increases the conversion of email marketing campaigns. We have already covered the stats of AMP emails on our blog.
But only a few companies are ready to start working with AMP emails, as this usually requires deep technical skills. That's why we at Stripo are aimed to provide a useful, handy email marketing service for building AMP emails.
The Stripo email design platform provides 3 AMP blocks: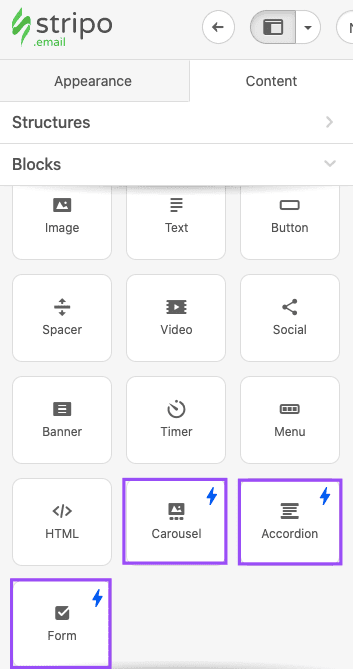 Key features:
does not require any coding skills;

significantly saves time and money spent on AMP email production.
To build emails with real-time and dynamic content or an ability to collect feedback from users directly in the email you need to connect the latter either with the data storage or with the data source. Sometimes with both.
Stripo provides:
Data Source — content is pulled directly into emails without your direct participation. Used for real-time content in emails.

Data Service — users' responses from your forms are stored in it.
Key features:
you don't need to create sources and storage manually. Also, no help from your developers is required. This saves money and time;

we automatically create the Cors Headers required for emails with dynamic content for you;

only you have access to the data.
Final thoughts
In this post, we've provided a quick overview of the most used and, in our opinion, top email marketing tools for small businesses. We hope that using them will help you improve your future marketing campaigns and save you time.
I sincerely wish you good luck!
Was this article helpful ?
Thanks for your feedback!