International Women's Day is an excellent opportunity to talk about the achievements of women in various areas of life and show customers that one of your company's fundamental values is caring for women's equal rights.
You can choose different strategies for the March 8 holiday emails: give discounts and bonuses, make a charity event, or write a heartfelt congratulation.
Are you planning upcoming campaigns and promotions? We collect some tips for International Women's Day email marketing strategy, subject line, and design ideas. In this post, you'll find International Women's Day email inspiration to help you create the right message and compelling design for your campaign.
Content ideas for International Women's Day emails
Understanding what to write about in festive newsletters and what strategies will help build proper communication is essential. Get inspired by these email examples and prepare something for your business.
Wish your customers a happy International Women's Day
A simple yet effective strategy is to congratulate your subscribers and clients on International Women's Day. Write a sincere wish and show that you care about women.
Your congratulations can support and inspire every woman and remind her how strong and unique she is.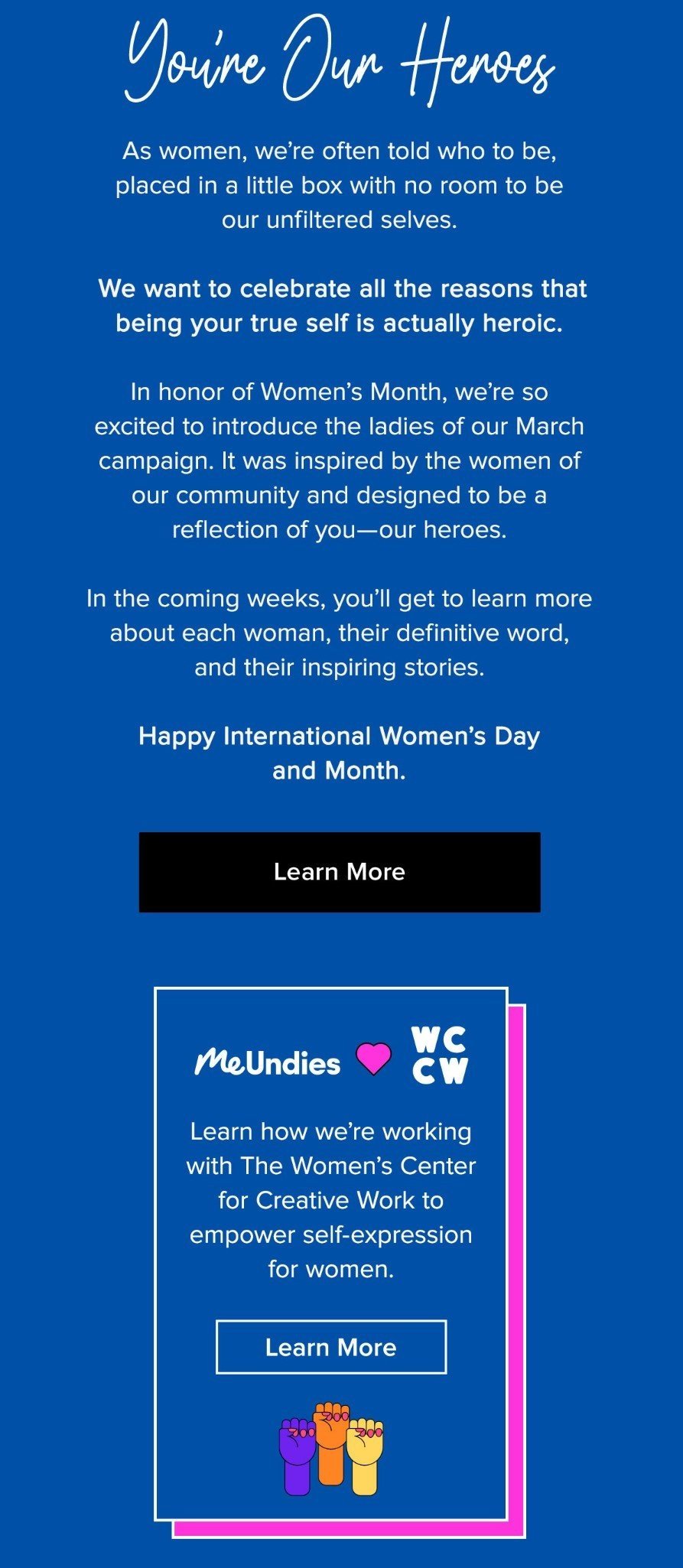 (Source: MailCharts)
Celebrate strong women
As you design your email, think about how you can celebrate women's achievements in it and figure out how to display it. You can find successful women who have reached heights in your industry and inform your clients about this in honor of the holiday.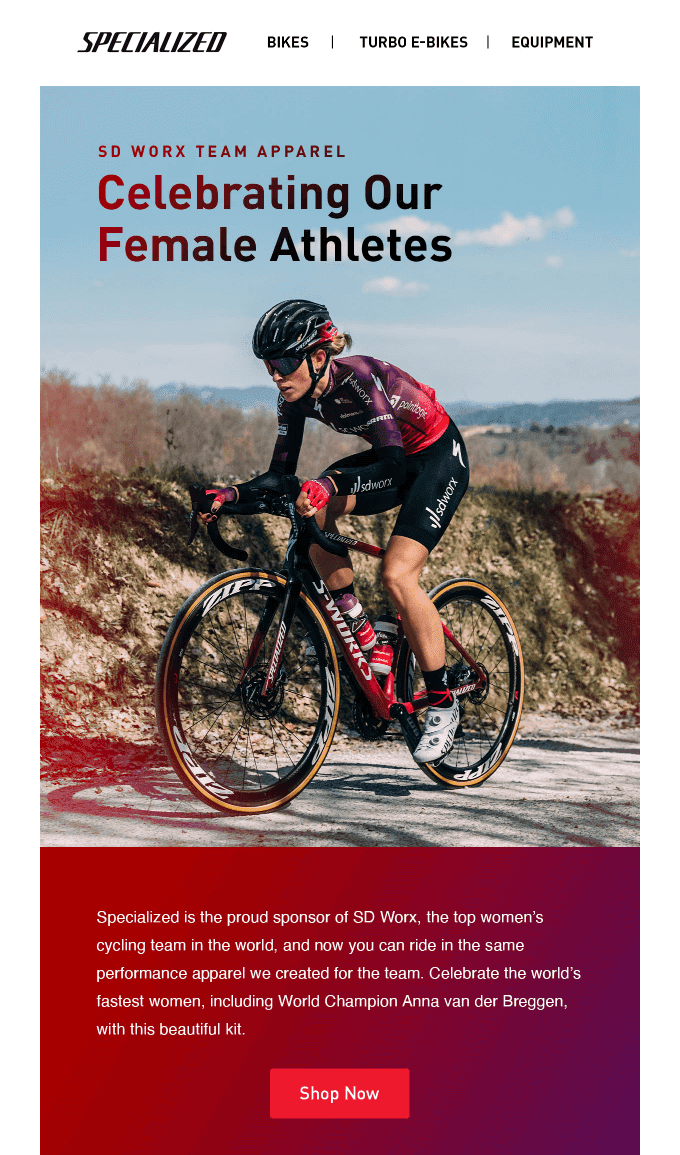 (Source: Really Good Emails)
The cycling parts and clothing store named Specialized exemplifies this advice, as it celebrates the success of the women's cycling team it sponsors. A great detail that you can take advantage of is the addition of a quote. Specialized decided to include a quote from their chief designer about their goal in uniform design for each rider.
Celebrate your female employees
Another elegant way to celebrate is to tag the women associated with your company, such as founders and employees, in your email.
You can tell some inspiring stories about female colleagues or share their successes. And remember to write how proud you are of them and appreciate the contribution of each to the common cause. This way, you will create a more personal image for your brand, and customers will be more pleasant to communicate with and buy from you.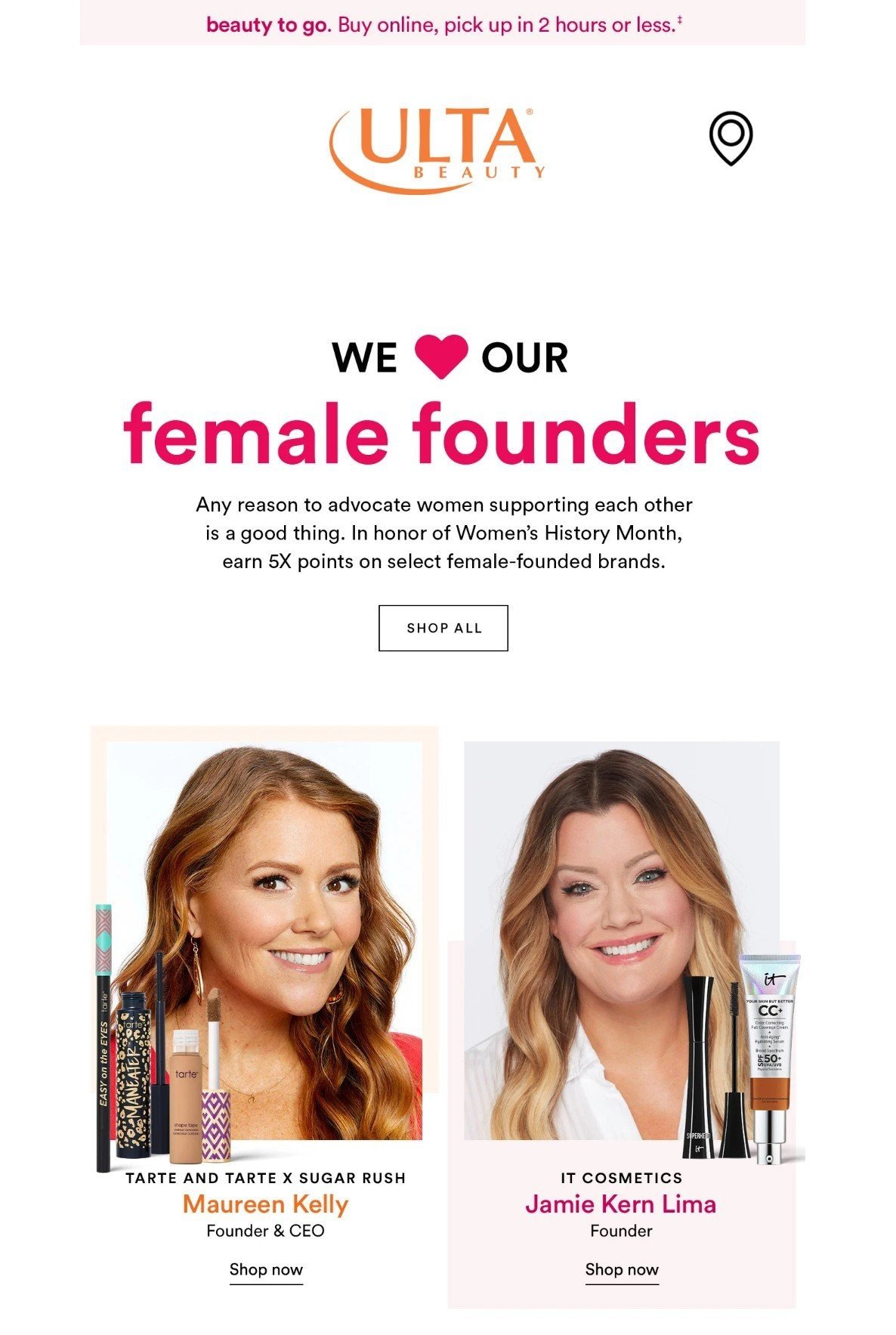 (Source: Milled)
Promote related products and give a special offer
If not on Women's Day, when else to pamper your clients with promotions and special offers? Offer good discounts and add something out of the ordinary related to the holiday: a special promo code, a gift coupon, or something else.
You can choose a group of products or arrange a sale for the entire range.
See how Avon announced a Women's Day sale while making the ladies feel special.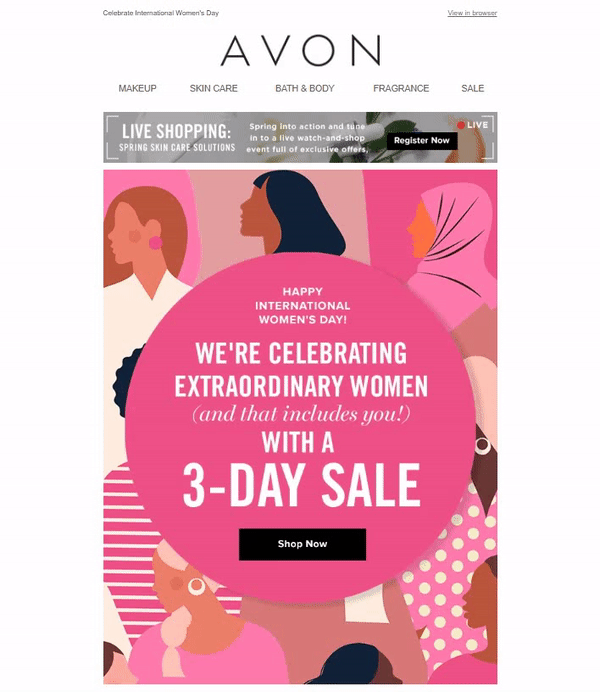 (Source: Milled)
For example, you can notify the female audience about sales of products for their pets by designing your email with this template from Stripo.
(Source: Stripo template)
Donate to a women's non-profit
Everyone loves discounts, and this is the first thing that comes to mind for many companies, but think about some original ideas. You can donate some of the sale proceeds to charity.
On International Women's Day, you can simultaneously increase sales and participate in a social project related to helping women worldwide. Invite your customers to make purchases, some of which will be donated. This way, they will help to positively impact society and find out that your company is involved in such projects.

(Source: Milled)
In this email newsletter, the company offered customers a holiday discount and a donation to a women's rights charity. Great idea.
Share an inspiring story
A story is a great way to communicate ideas and values to each other and your readers. This works for both personal emails and brands. You can use storytelling as your customer's stories about using the product or growing up with your company. Or it could be a success story of female founders.
In the example below, the brand's founder tells the story of her grandmother, showing how she inspired her to further accomplishments.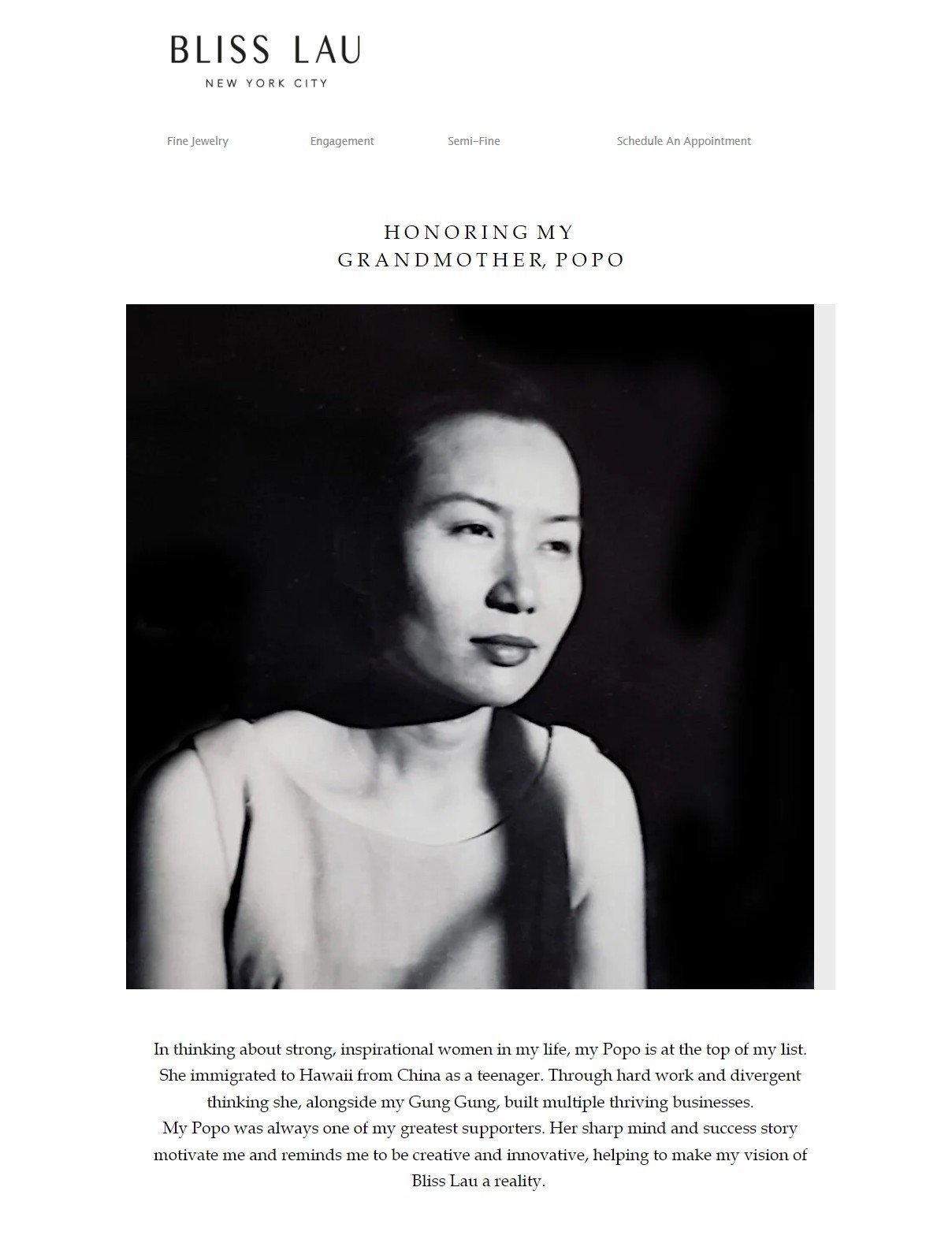 (Source: Milled)
Another story is in the format of an inspiring interview with the creator of the beauty brand.

(Source: MailCharts)
Don't be too serious
This is a holiday, and it is often customary to have fun on holidays. If you are up for that, don't be shy and demonstrate how fun you can be. This is also where it is good to use originality and imagination. It can be a bright email color palette, a custom font, or fun images or captions. Make your email festive and wow recipients.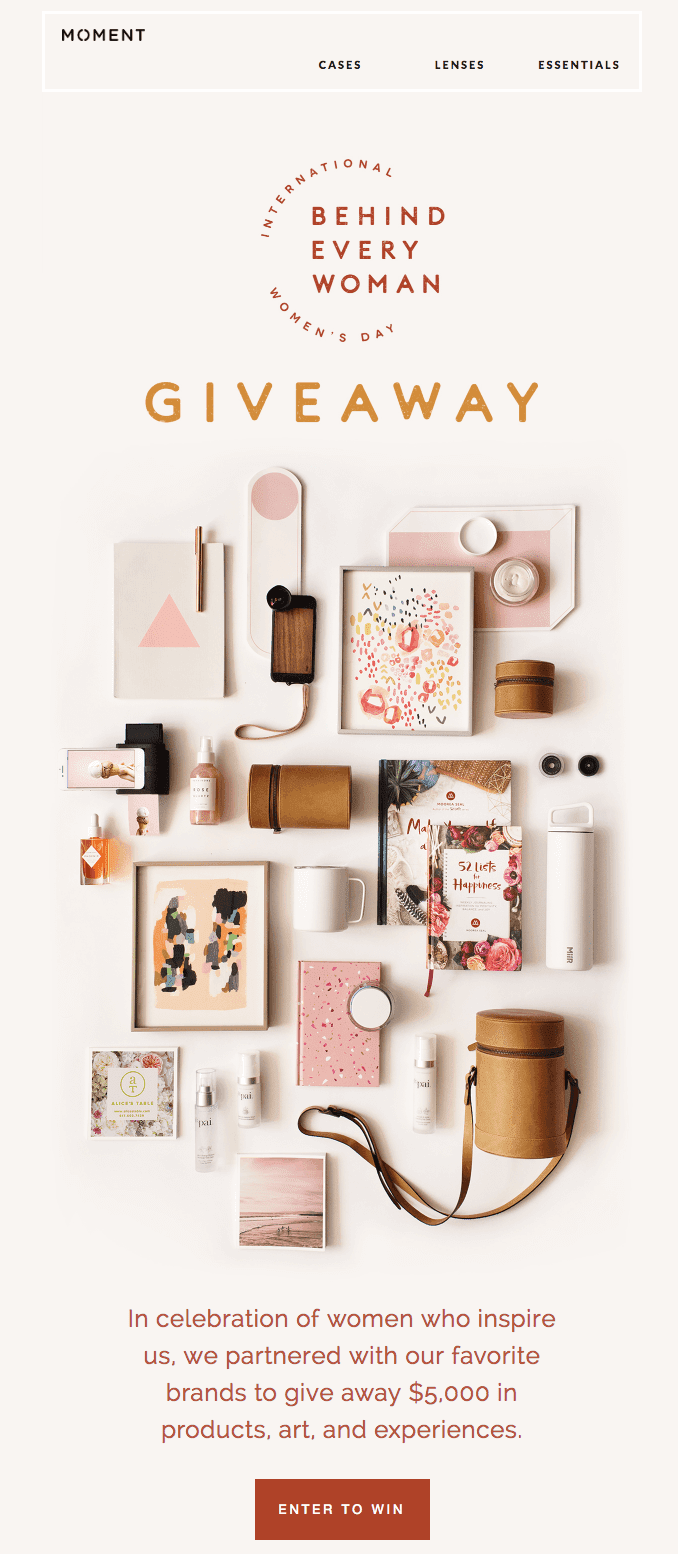 (Source: Really Good Emails)
A well-known brand for photographers, Moment just demonstrates its celebration of World Women's Day. The design of the email is bright and immediately attracts attention and also demonstrates what products are going to be distributed to customers in honor of this holiday. Informative and fun.
International Women's Day email design tips
Vibrant visual images and pictures are much more eloquent than words, so feel free to use them. An image relevant to the holiday can inform about the event dedicated to March 8, congratulate with warm words, or cheer up. Use your imagination to create a unique email design that will make you stand out from the competition and get your message across to your email subscribers.
Use bold imagery
Bright images will help you maintain the overall festive message of the email. Choose a colorful illustration or photo, complement it with motivational text, and place it in a way that will grab readers' attention — at the very beginning or in the center of the email.
Looking at the examples above, you will see such a vivid picture. Here is another one — the brand has collected photos of girls with different looks and moods so that the reader recognizes herself or her friend in one of them.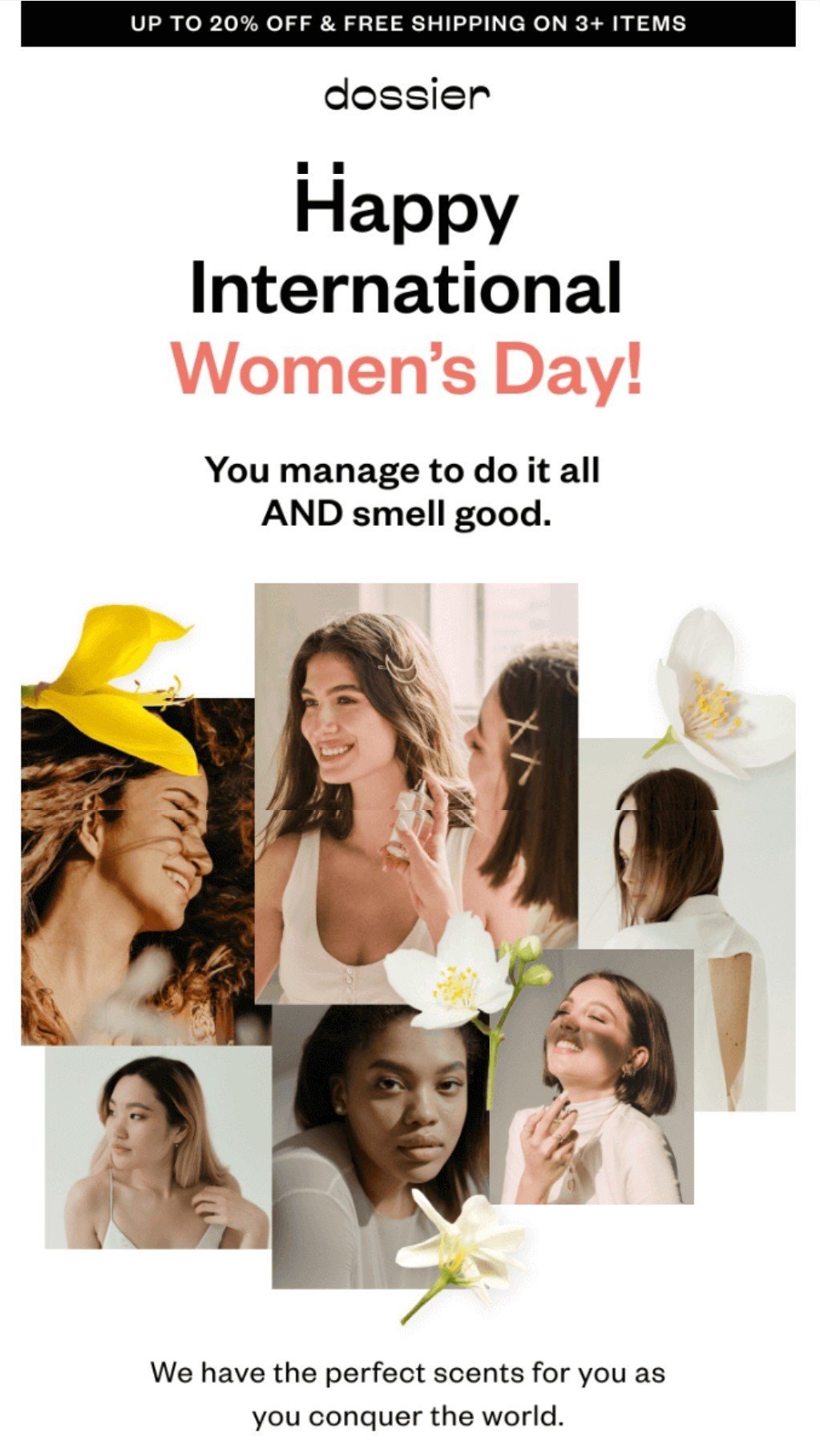 (Source: Really Good Emails)
This free Stripo template has a light design with eye-catching images. It was created especially for business owners in the food industry who want to please their female audience with delicious treats on International Women's Day.

(Source: Stripo template)
Add movement
In addition to simple images, an especially festive mood in emails helps to create multimedia elements such as GIF animation.
The example below shows you the great idea of celebrating International Women's Day email and the incredible realization with GIF animation.
(Source: Milled)
Interactive design elements
Use a non-standard approach in the newsletter's design for Women's Day. It will help you stand out from your competitors. Gamification is one such approach that will engage your readers and increase conversions.
See how Strawberrynet CJ uses gamification in their Women's Day email. They invite subscribers to spin the wheel and find out which discount they will get from several options. And the brand will get more clicks to the site and sales. Who among us would refuse to try our luck?
(Source: Milled)
You can try even more games and engagement with AMP emails created with the Stripo editor.
The best 25 email subject lines for International Women's Day
Use the subject line to make it clear to readers from the very beginning that this email is unusual but festive:
write "International Women's Day" in the subject line;
tie the subject line to the focus you've chosen for this women's mailing list;
add emoticons to the subject line to make your email stand out in your subscribers' inboxes.
Here are interesting subject line examples for inspiration:
International Women's Day ✊ — MeUndies.
Celebrate Women's History Month with 5X points — Ulta Beauty.
Don't Miss This 3-Day Sale! — Avon.
LAST HOURS: 20% off all woman-founded brands — cupcakes and cashmere.
Happy International Women's Day! — Chili Sleep.
Happy International Women's Day! ♀ — Dossier.
#FemaleFounded: MARA Beauty — Verishop.
Do You Know An Inspirational Woman? — Bliss Lau.
$5k in Prizes to Celebrate International Women's Day — Moment.
International Women's Day and Monday Musings — Myrah Penaloza.
Women's Day, Every day! — Realisation Par.
Happy International Women's Day to you, beautiful Girl — Adelyn Rae.
Celebrate with the Wheel of Mystery🎁 — Strawberrynet CJ.
Be Bold For Change — Carbon 38.
Be inspired by these amazing women — Coast.
Who runs the world? Girls who code — Bonobos.
More women are investing in crypto — Bitcoin IRA.
Celebrate Women — #buywomenowned! — WineSociety.
UP 40% OFF + FREE WOMENS DAY GIFTS — UniWigs.
WOMEN FOR WOMEN 20% OFF FLASH SALE — Ranch Road Boots.
Join Us in Celebrating International Women's Day! — Loft.
Celebrating women today and everyday — OUAI.
Eight tough women and one Tough Mother — Columbia Sportswear.
Here's to women 🏆 — FabFitFun.
💪 It's International Women's Day — Zenni Optical.
Make your email festive by starting with the subject line.
Women's Day newsletter templates
The holiday is just around the corner, and you may need to get some inspiration to design great emails. We have collected some different and, at the same time, free email templates for Women's day 2023 that will help you gather your thoughts and see which design solutions will work great for the audience. More templates you can find here.
Template for the Beauty & Personal Care industry
We have created a special template for Women's Day for beauty stores. We decided to use a black-and-white palette and a checkerboard image order for the hot offer section to make it easier to find the desired care products. We have also placed a conversion button to direct your customers to the site to select a gift for this holiday.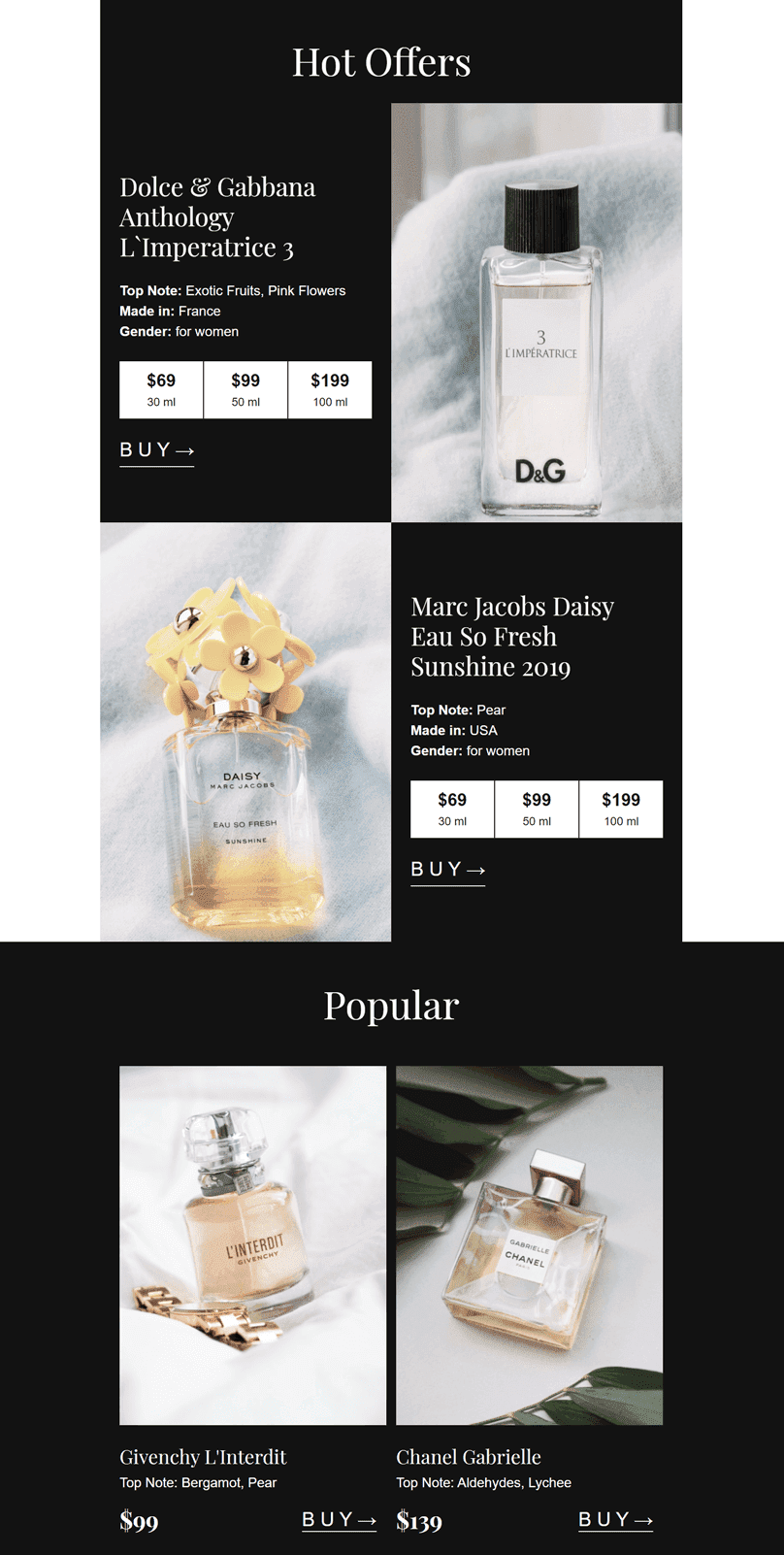 Template for the Travel industry
If your business is in the travel industry, you will need inspiration for your email design. We have created an email template for Women's Day to help you showcase the most romantic and exotic places in the world where your clients can travel with their significant other on this holiday.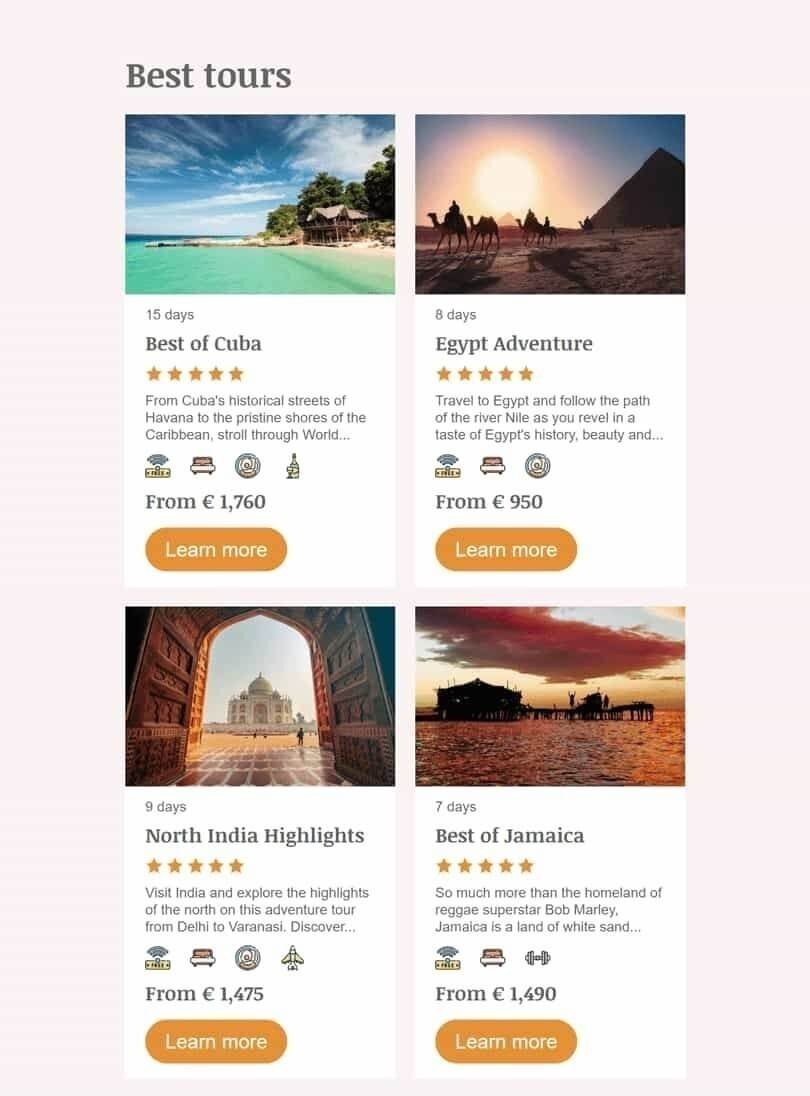 The travel industry requires a unique approach to designing emails. So we've prepared a guide to help you make your travel newsletter look gorgeous and drive sales.
Template for the Jewelry industry
Bijouterie and jewelry are common gifts, and stores are bustling when making emails for this holiday. We created one of our templates for Women's Day newsletters using a delicate color palette, handwritten-like fonts, and close-up photos of jewelry so that everyone who opens your email can see it in great detail.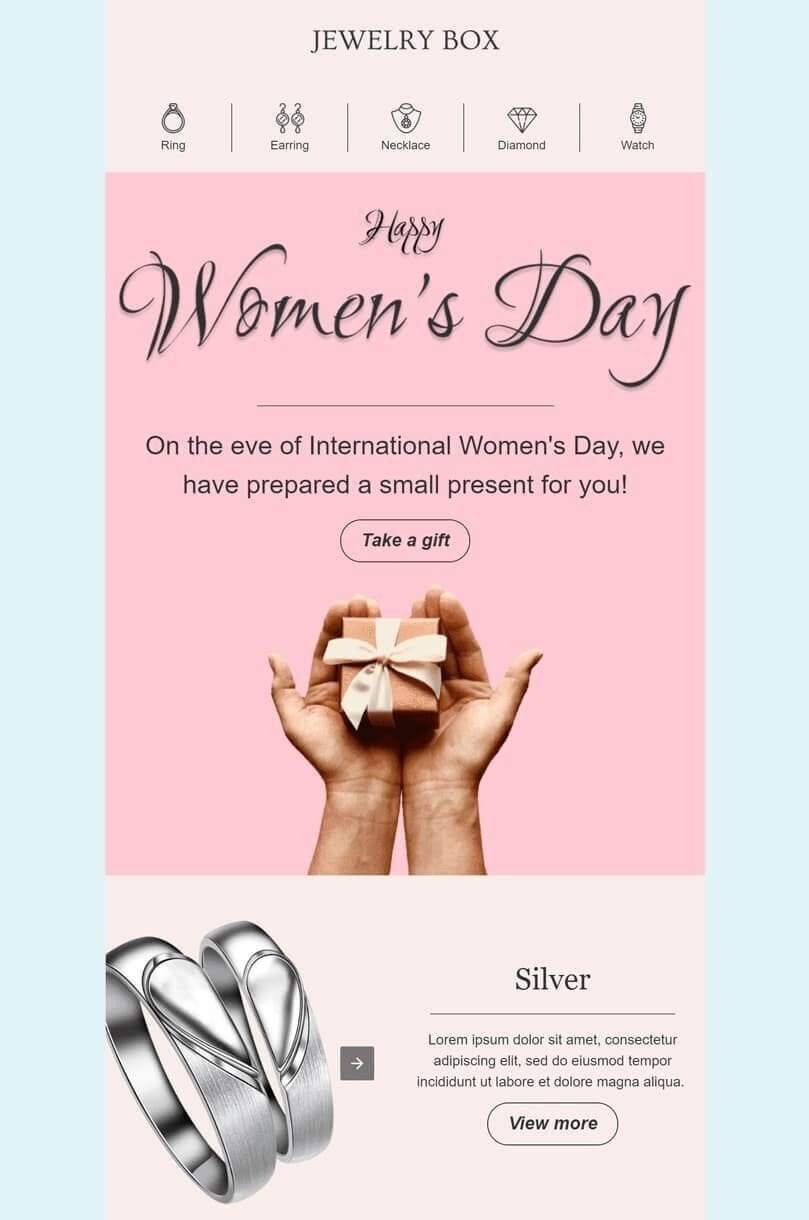 Wrapping up
Preparing your emails for Women's Day is a tricky task that requires effort. But if you follow these simple rules, you'll succeed in no time:
use your imagination;
demonstrate celebration;
have fun;
always remember the reason for the celebration;
use templates to save your precious time.
Was this article helpful?
Thanks for your feedback!