10 February
10 Women's Day Newsletter Templates to Use This Year
The cold winter is gradually fading away, and a warm spring is waiting for us. Short days get longer, the weather stops acting up and in March we celebrate International Women's Day. It's officially celebrated on March 8th, and you don't have much time left to prepare your newsletter and email design. Here at Stripo, we've prepared 10 amazing Women's Day Newsletter templates to make your design process a lot easier.
Women's day email design tips
Templates are a good thing when you have a rough idea of future design. However, before we show you the templates, we want to give you some tips to help you make your emails look flawless.
Be creative
Vibrant visual images and pictures are much more eloquent than words, so feel free to use them. An image relevant to the holiday can inform about the event dedicated to March 8, congratulate with warm words, or cheer up. Use your imagination to come up with a unique design solution that will make you stand out from the competition and get your message across to your email recipients.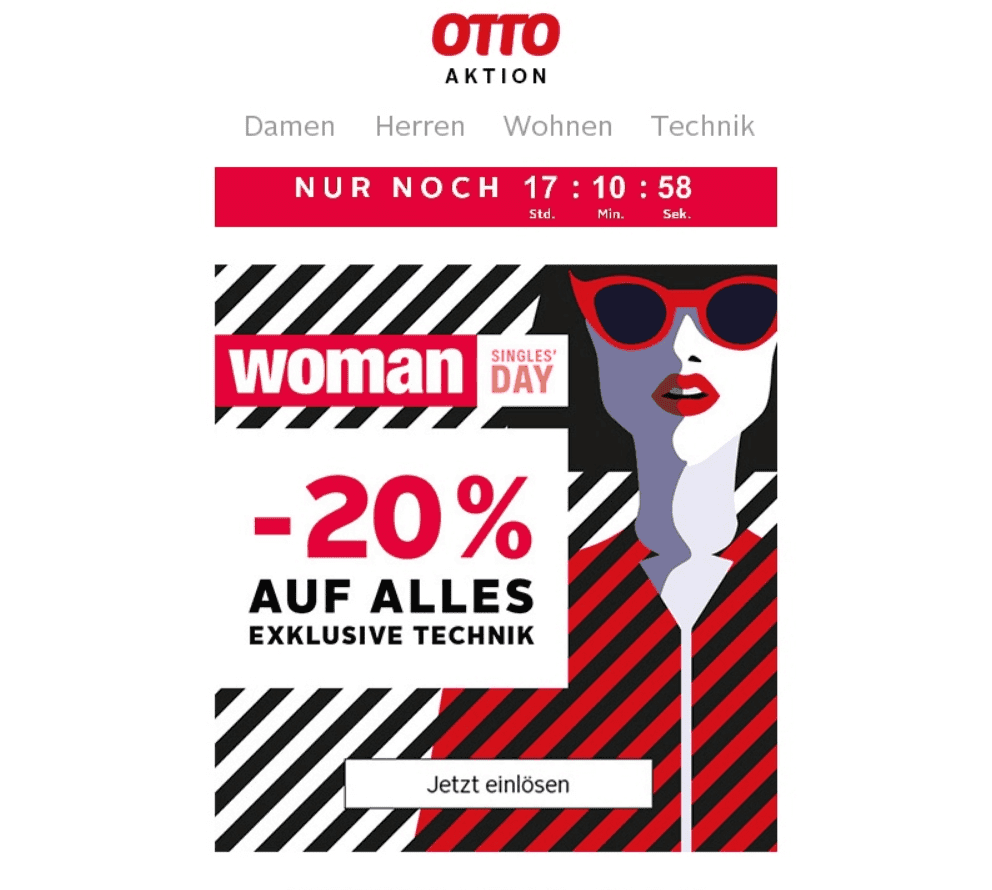 (Source: Email-Competitors)
Otto Versand used bright imagery and colors to make sure that recipients immediately saw the most delicious discount promotion on International Women's Day.
Show your celebration
Email is not only a way to notify about promotions or holiday discounts, but also an opportunity to demonstrate that the brand is not without a festive spirit and also celebrates it together with customers. Everyone loves discounts, and this is the first thing that comes to mind for many companies, but do not forget about original ideas. You can showcase a new themed product line or donate some of the sale proceeds to charity. It's up to you how to celebrate this day.
(Source: Email-Competitors)
World-famous women's clothing brand Esprit used eye-catching colors and photos. The reason for that was to notify customers that 100% of the proceeds from the sale of exclusive scarves will go to support UN Women projects.
Don't be too serious
This is a holiday, and on holidays it is often customary to have fun. If you are up for that, don't be shy and demonstrate how fun you can be. This is also where it is good to use originality and imagination. It can be either a bright email color palette, or a custom font, or fun images or captions. Make your email festive and wow recipients.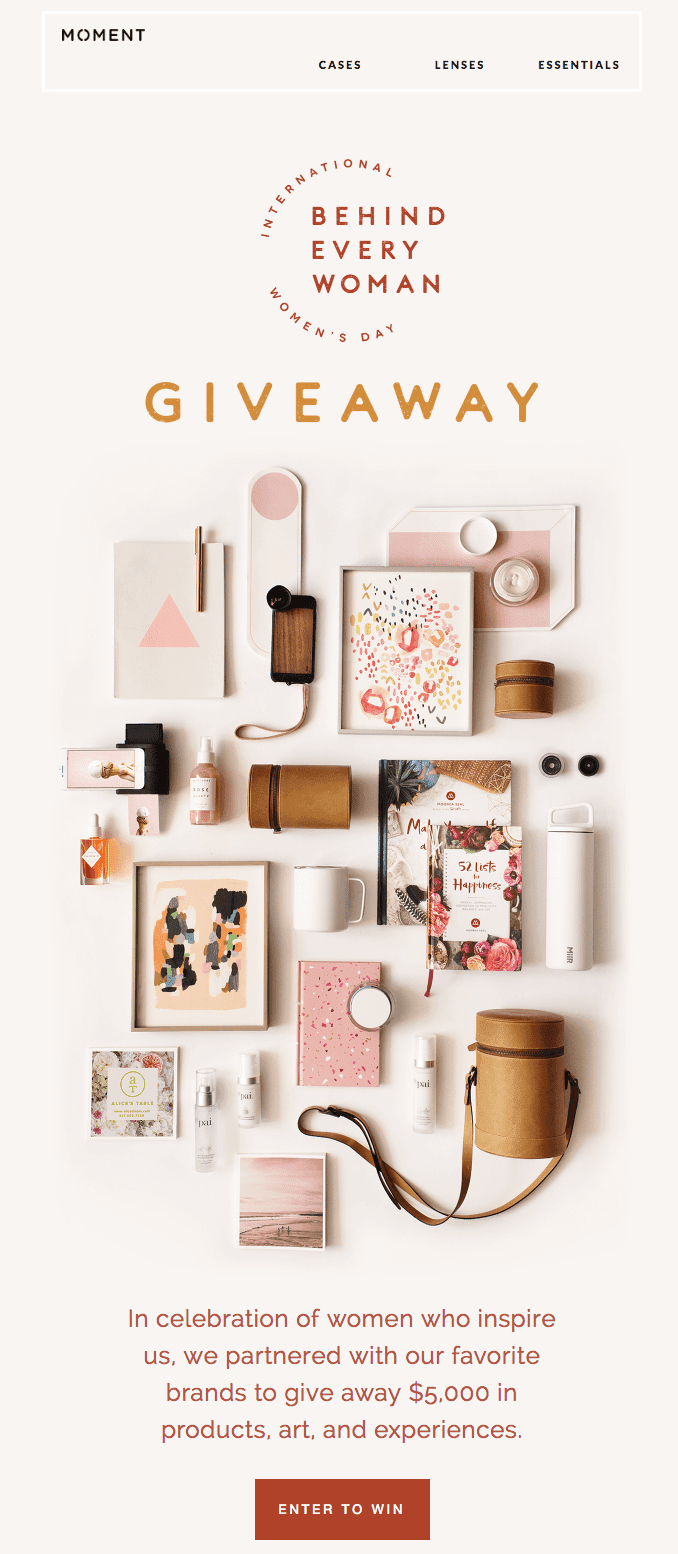 (Source: Email-Competitors)
A well-known brand for photographers, Moment just demonstrates its celebration of World Women's Day. The design of the email is bright and immediately attracts attention and also demonstrates what products are going to be distributed to customers in honor of this holiday. Informative and fun.
Don't forget why you're celebrating
Despite the opportunity to provide customers with themed products and generous discounts, you should not forget why you are doing all of this. Your email should not only inform about promotions but also show that your brand respects equal rights. World Women's Day is also meant to celebrate women's achievements and success in various fields. As you design your email, think about how you can celebrate women's achievements in it and figure out how to display it. You can find successful women who have reached heights in your industry and inform your clients about this in honor of the holiday.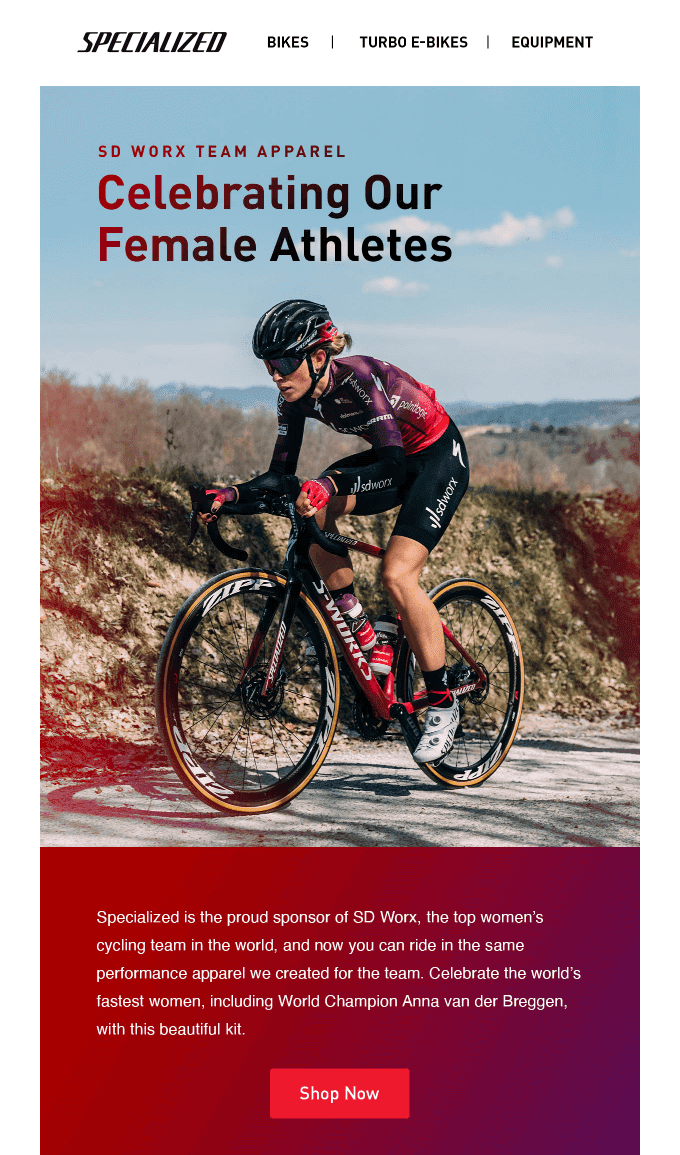 (Source: Email-Competitors)
The cycling parts and clothing store named Specialized exemplifies this advice, as it celebrates the success of the women's cycling team it sponsors. A great detail that you can take advantage of is the addition of a quote. Specialized decided to include a quote from their chief designer about their goal in uniform design for each rider.
Women's day newsletter templates 2022
So, the holiday is just around the corner, and many need to get some inspiration to design great emails. We have specially collected 10 different and, at the same time, free email templates for Women's day 2022 that will help you gather your thoughts and see which design solutions will work great for the audience.
1. Template for the Movie industry
This free template for various cinemas has a nice-looking design with some romantic touches in it. Use this email template to invite couples in love to celebrate this holiday in your cinema with a movie and fragrant popcorn.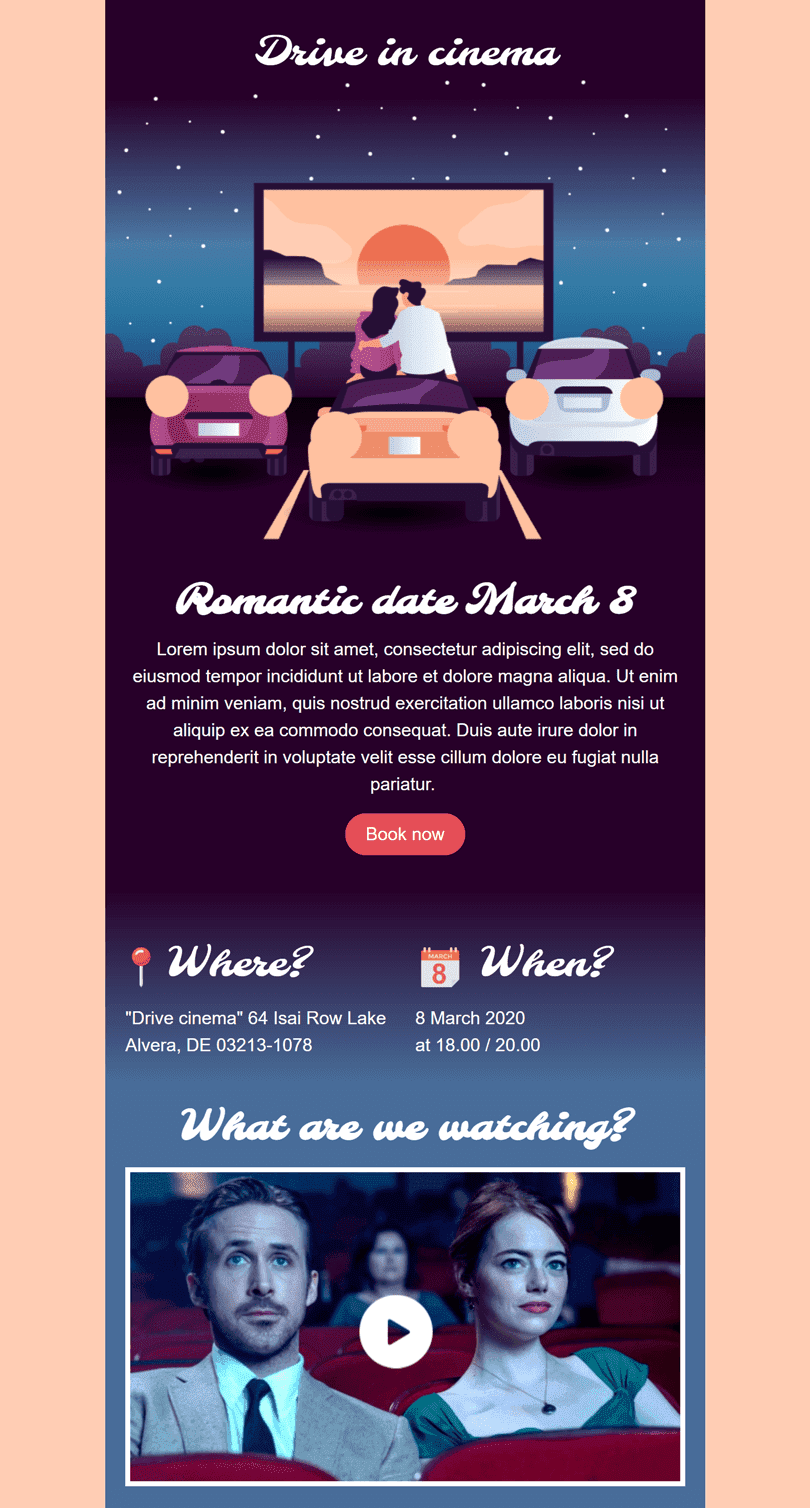 2. Template for the Food industry
If your email design lacks bright colors, paint them with donut icing. This free template has a light design with eye-catching images and was created especially for business owners in the food industry who want to please their female audience with delicious treats on World Women's Day.

3. Template for the Flower industry
It's hard to imagine this holiday without a bouquet of beautiful flowers, right? We at Stripo thought the same way and created a free email design template that is perfect for various flower and gift shops to design a holiday email and warmly congratulate women on their holiday.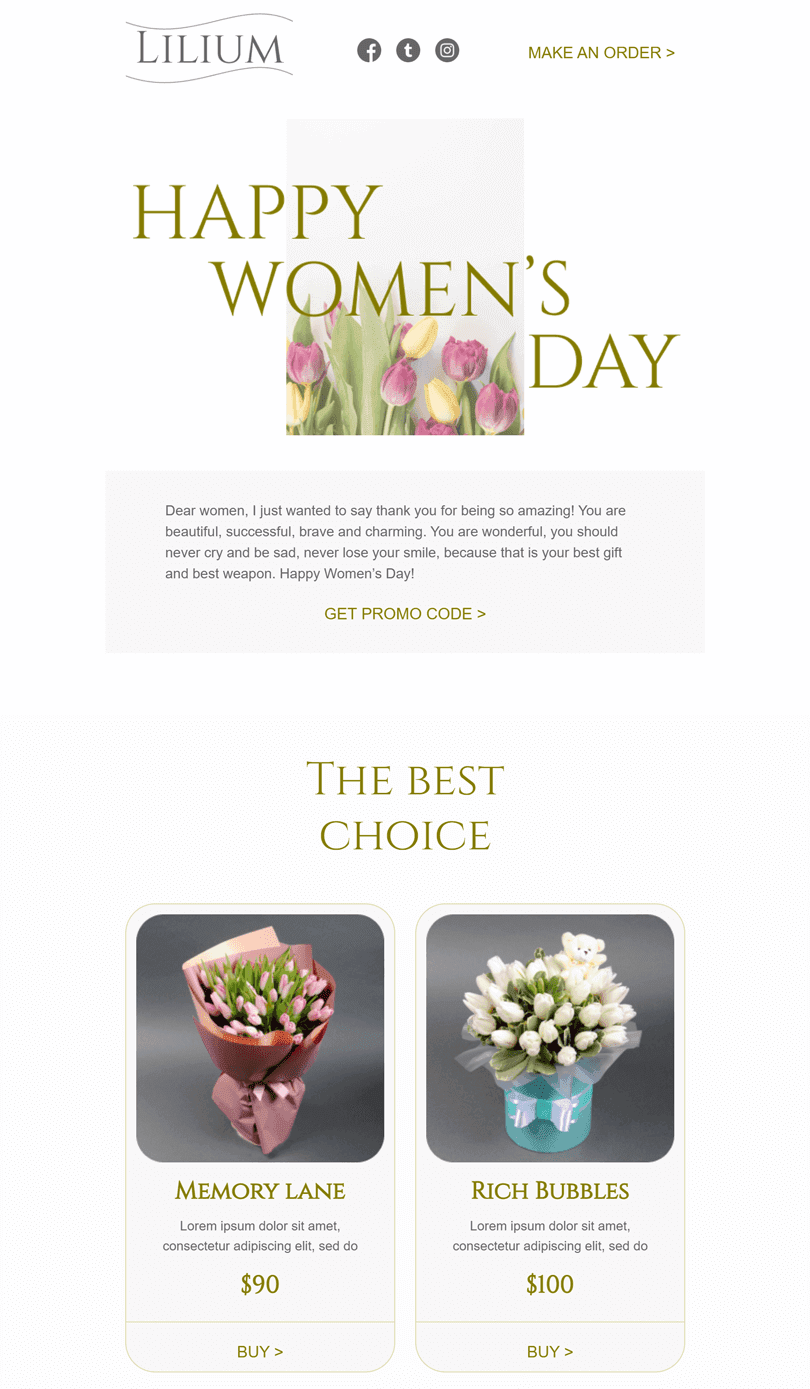 4. Template for the Gadgets industry
Gifts are also an integral part of this holiday, and in today's world, gadgets are often a way to please women on their day. We created this free template specifically for gadget and electronics stores to design a holiday newsletter with discounts and promotions so that everyone can choose a gift for this holiday.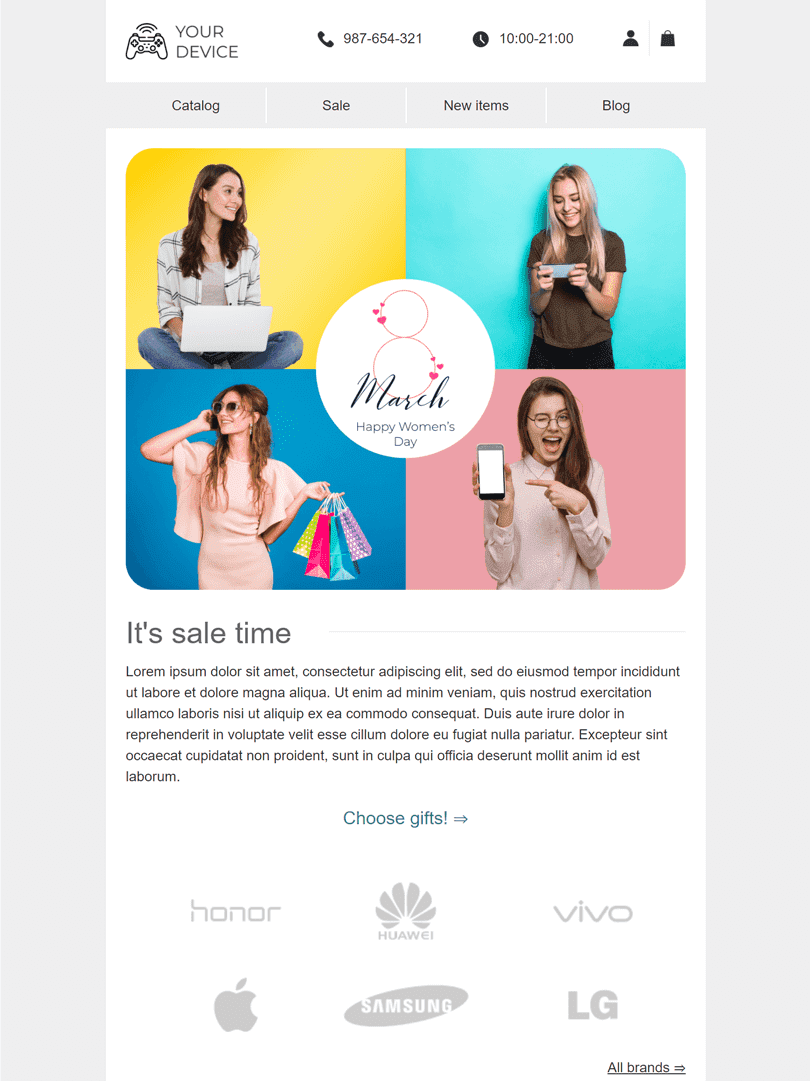 5. Template for the Photographer industry
A photoshoot is a great gift idea for this holiday. One of our free newsletter templates for Women Day will help you design a promotional email with themed photoshoots for this holiday, and light colors and large pictures will help your clients choose a photoshoot to their liking.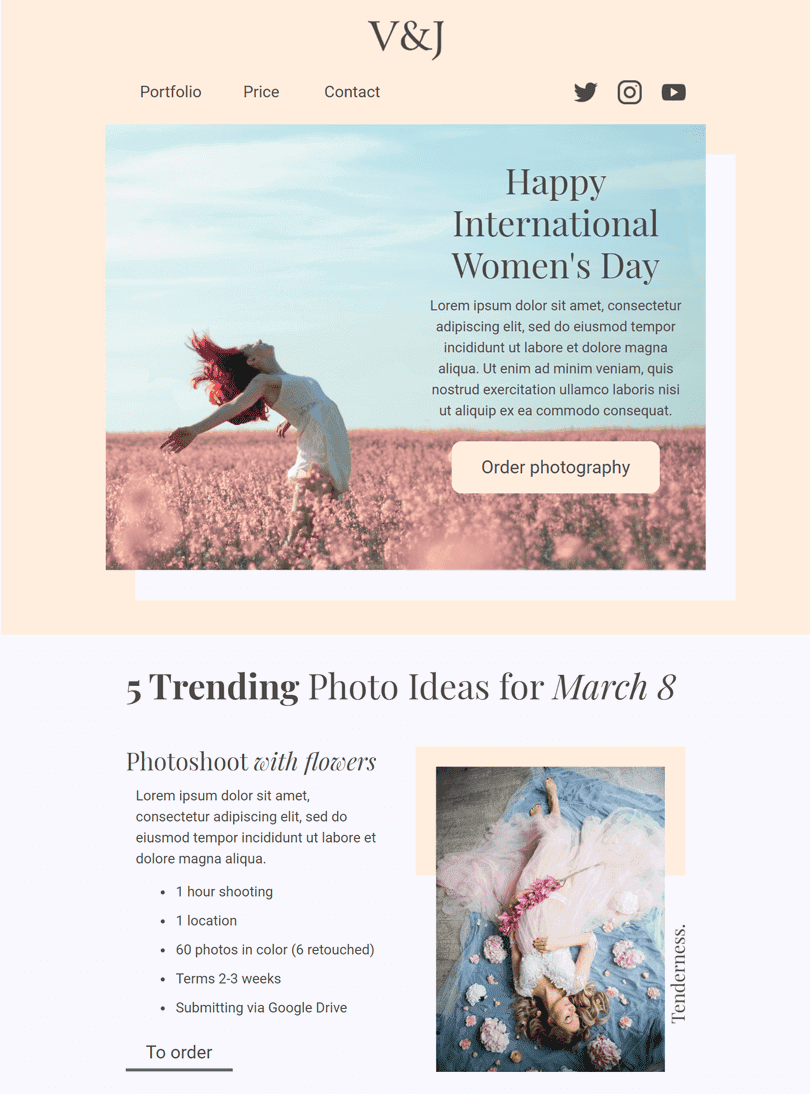 6. Template for the Beauty & Personal Care industry
We do not forget about cosmetics stores this holiday and have created a special template for Women's Day. We decided to use a black and white palette and a checkerboard image order for the hot offer section to make it easier to find the desired care products. We have also placed a conversion button that will direct your customers to the site to select a gift for this holiday.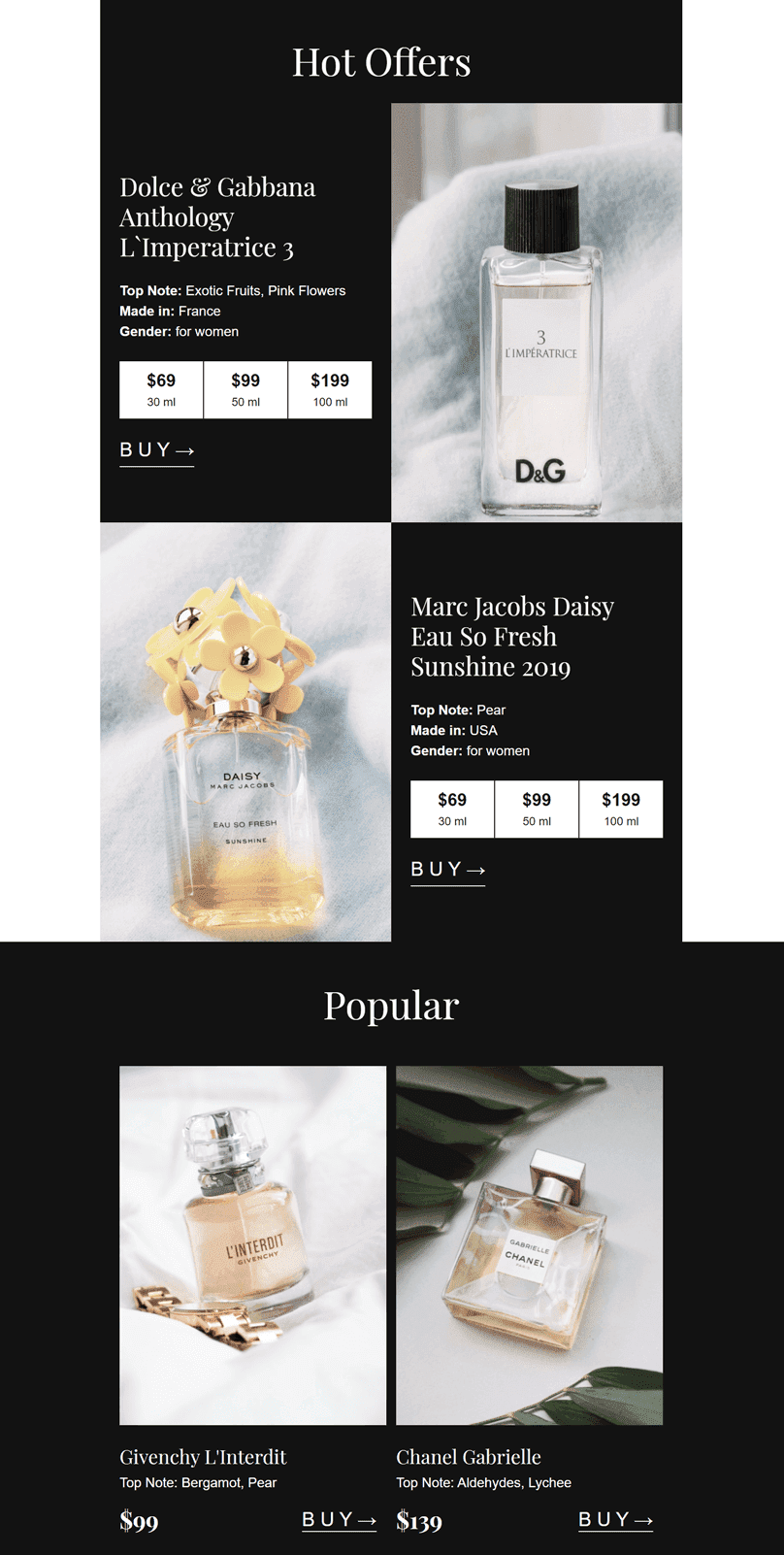 7. Template for the eCommerce industry
The eCommerce industry is also in need of a unique email newsletter design for this holiday and we have created a unique template just for them. We decided to combine greetings with a selection of promotional items to use in the newsletter.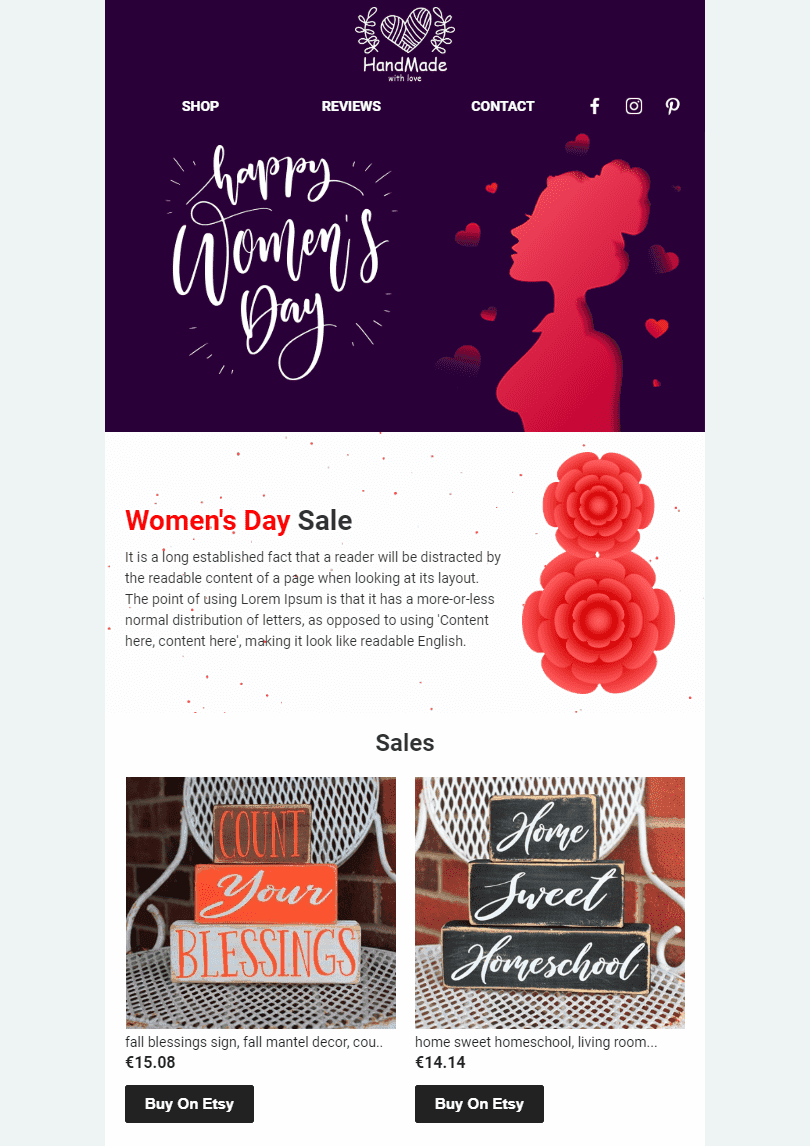 8. Template for the Pet industry
We should not forget about pet owners on this holiday. This is one of our Women day email templates that we've created for various pet supply stores so they can make use of them for this occasion. Notify your female audience about sales on products for their pets by designing your email with this template.
9. Template for the Travel industry
If your business is in the travel industry then you will also need inspiration for your email design. We have created an email template for Women's Day that will help you showcase the most romantic and exotic places in the world where your clients can travel with their significant other on this holiday.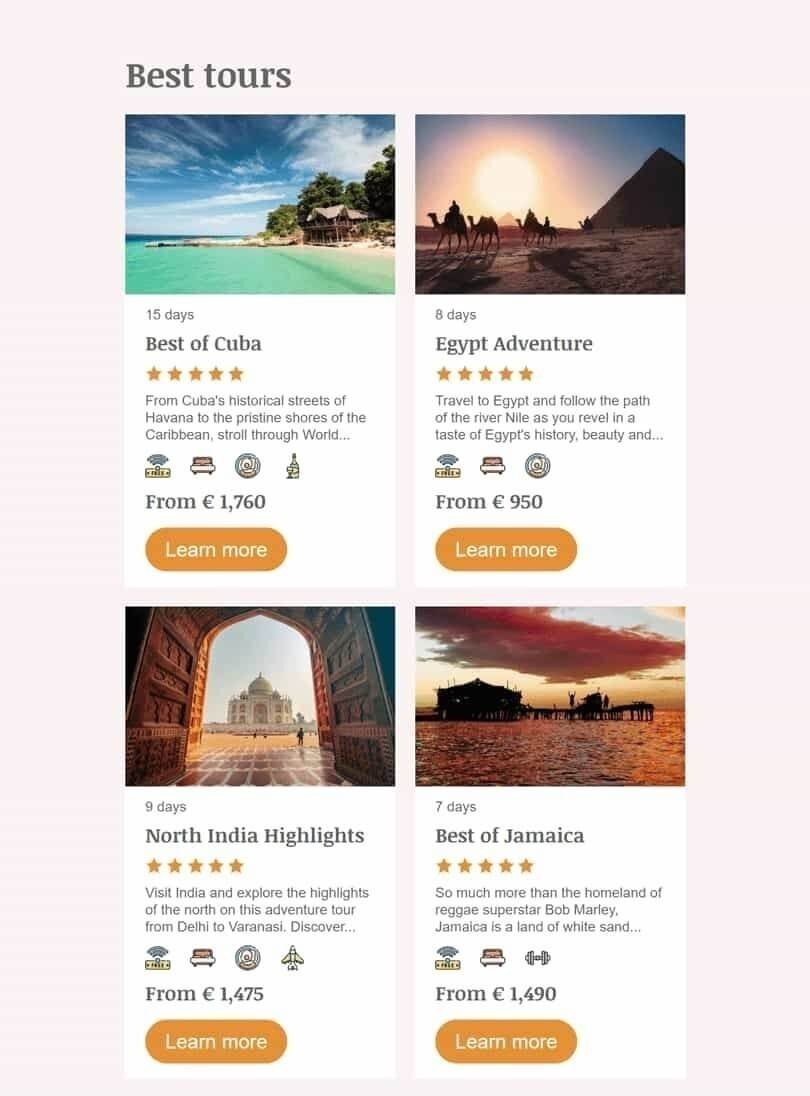 The travel industry requires a unique approach to designing emails. So we've prepared a guide to help you make your travel newsletter look gorgeous and drive sales.
10. Template for the Jewelry industry
Bijouterie and jewelry are common gifts and stores are especially busy when making emails for this holiday. We created one of our templates for Women's Day newsletters using a delicate color palette, handwritten-like fonts, close-up photos of jewelry so that everyone who opens your email can see it in great detail.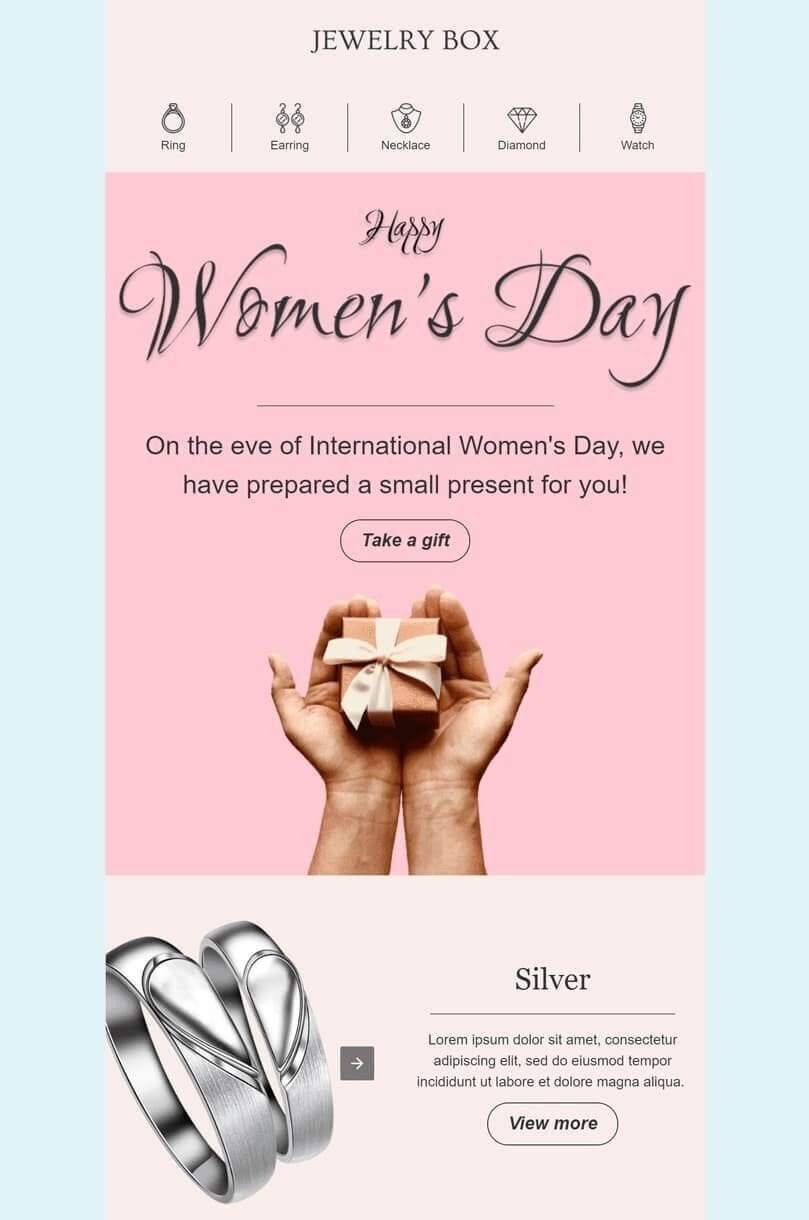 Final thoughts
Preparing your emails for Women's Day is a tricky task that requires some effort from you. But if you follow these simple rules, you'll succeed in no time:
use your imagination;

demonstrate celebration;

have fun;

always remember the reason for celebration;

use templates to save your precious time.