26 May 2019
Birthday Email: How to Make Clients Happy
Birthday emails generate 342% higher revenue than promo ones.
Why would you neglect this great opportunity to improve your rates?
Moreover, a birthday email is a good way to remind customers of yourself once again, to show them you care. And next time, when considering a few brands of a kind, they are more likely to shop with you.
In this post, we'll cover email content, effective subject lines, birthday email design best practices and will find the best send time.
But what if you do not when your subscriber's bday is?
Ways to find out your subscribers' dates of birth
Let us, in a nutshell, remind you of how you can get to know these dates:
1. Registration form
First of all, you can ask about it in a registration form, like Ikea does. If you prefer this way, you will have to explain to registrants why you need this info and who is going to have access to it;

2. Survey email
If you dare not request such information in a registration form, do it in a "survey" email, like Maybelline does. Survey invitation normally goes with the third or fourth email, when subscribers get used to your brand and feel like they can trust you;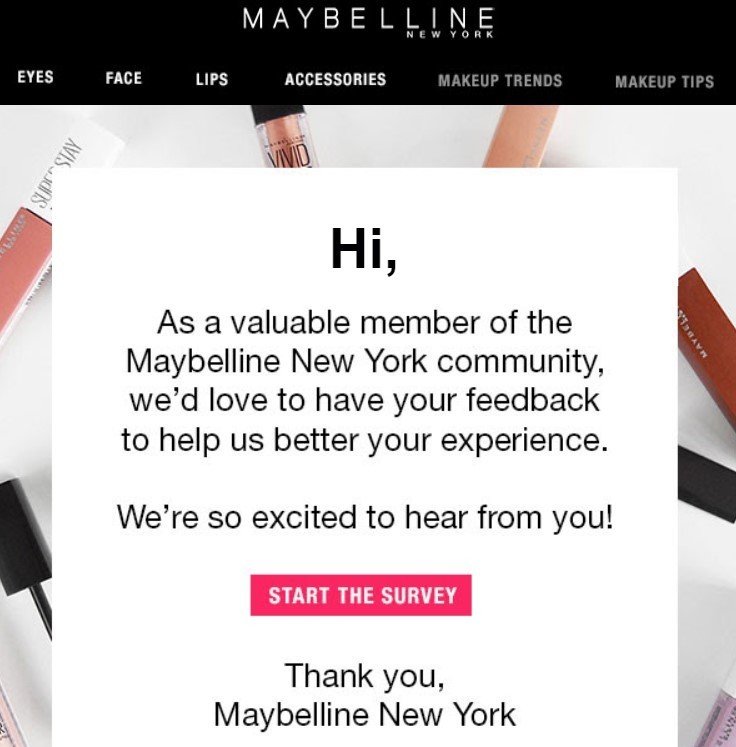 3. Be creative
Although the first two ways are effective enough, some may find them way too trivial.
Here's what you can do if this be the case:
Send a "Happy Birthday Email" over to your recipients, where you mention that you'd like to reach out to them on their special day, but you do not know when exactly it is, which is why you decided to do it now. Offer them a discount.
Be sure to add the "Confirm your actual birthday" link. This link should take subscribers to a Google form or a form on your website.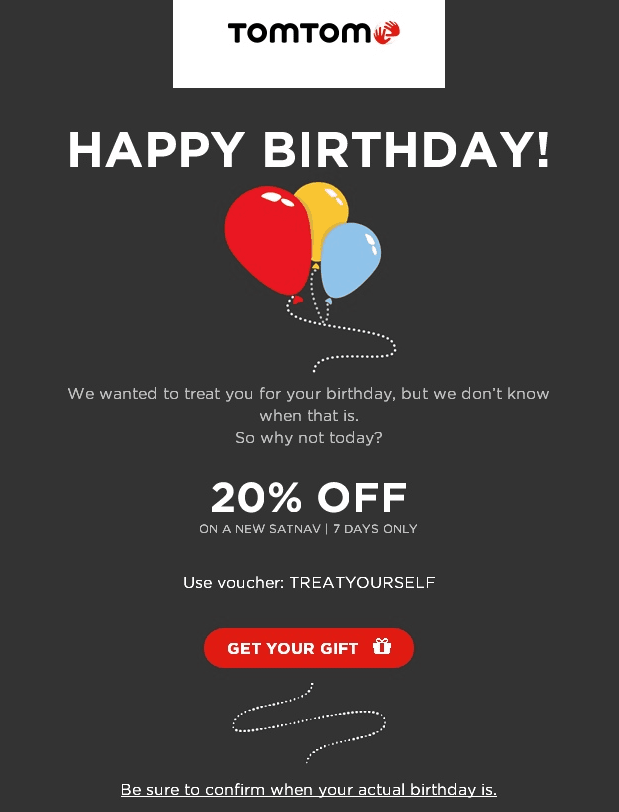 TomTom implemented this brilliant idea to find out necessary information about its audience.
Now that you know the exact dates of birth of each and every subscribers, we can proceed to birthday email content.
What to send in birthday emails
Just a birthday email per se is never enough to impress subscribers.
1. Send a wish
Just 4 dry words "Happy Birthday to You" will not do. Make sure to add a heart-warming poem, or a sweet wish.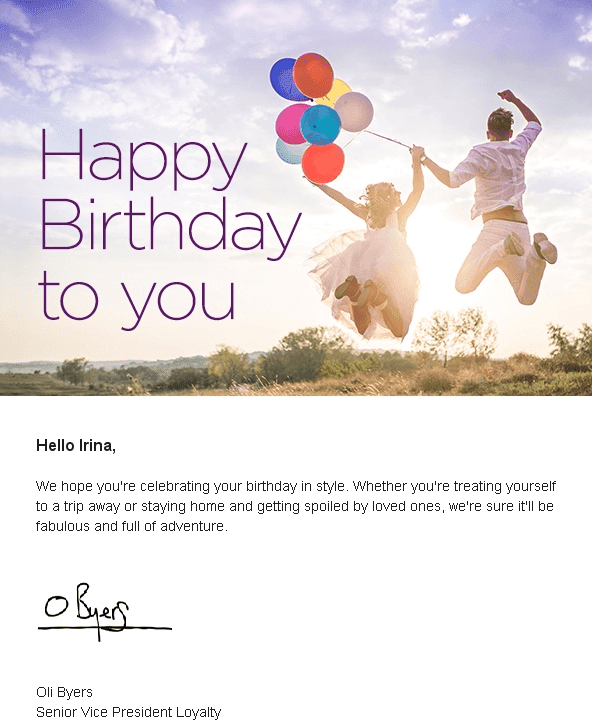 Must confess, this is my favorite type of happy birthday emails. Just a warm wish, no CTA buttons. I feel like they really care about me, but not about their sales. Though, most people feel quite the opposite way...
2. Offer a discount
… They love special offers and special sales. The chances that your sale will be welcome get higher when it's available to one recipient only.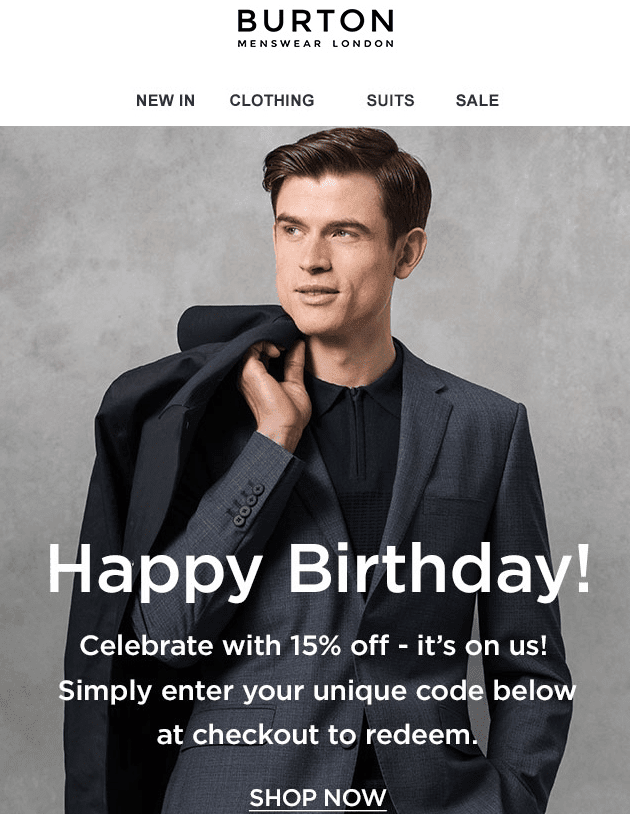 Important to note:
When you give such generous offers to your subscribers, it's reasonable to mention how soon the offer expires. Or you may add a countdown timer. Such offers should go in sequence emails.
3. Give a present
Why not? We all like receiving presents.
Here, it's also important to specify how long it will be available and what the conditions to get it are.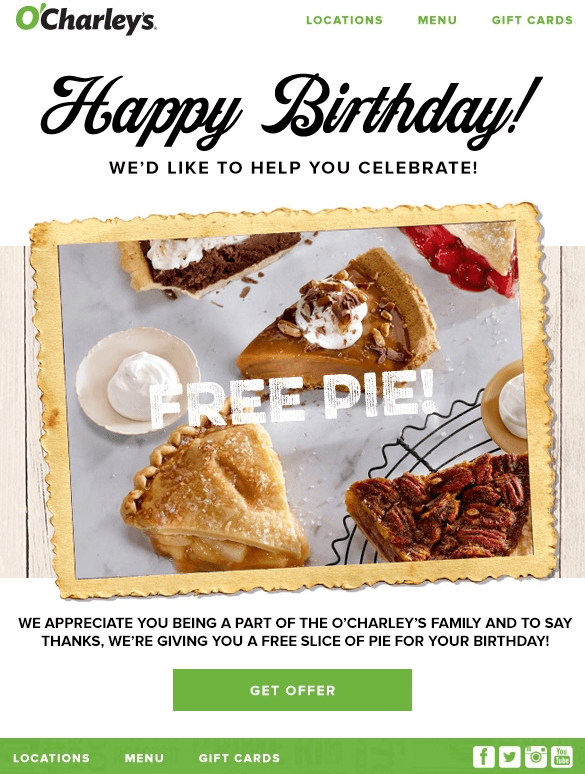 4. Give a coupon and a present
You'd say it's too much? Maybe, but I was pleased to find out that Ikea gave me a coupon and a present in my birthday email.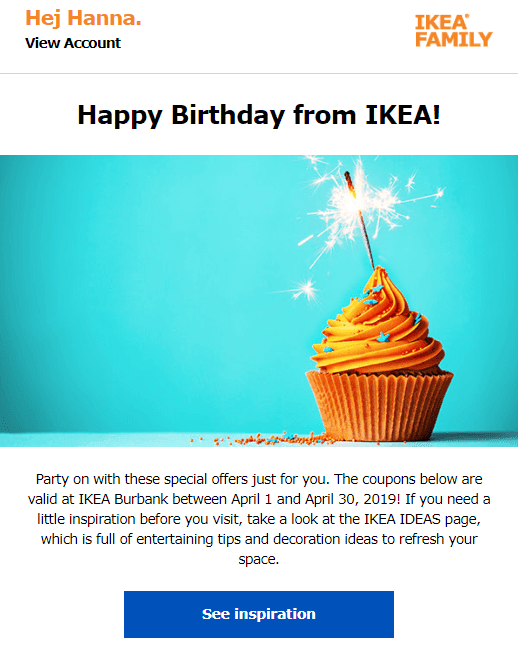 Must confess, I did not use the coupon and did not attend the Ikea restaurant, but it's just because I do not need any furniture now. Though, next time when I'm going to buy anything that can be acquired in Ikea, I will definitely buy it there — just for treating me this way.
5. Add some elements of games
Adding elements of games in birthday email marketing campaign is always a winning strategy.
We all love playing games, we all some mysteries, we all love good surprises.
Interact or play with your subscribers on their birthday.
Offer them to "scratch" banners or other images to get their coupons. Offer them to answer a short quiz to get the discount or to find their present in a happy birthday email.
When to send birthday emails
When should you send your happy birthday email messages? This does depend on the type of email you are about to send.
An email with just greetings
If you are going just to greet subscribers on this day and a single email will do — send it on the exact birthdate.
An email with an offer
If you decide to offer a discount to your customers, then you'd better send a sequence of emails:
the first one should go 3 weeks prior to the exact birthdate to let recipients think over your value offer and maybe compare it to other offers (make sure your offer is compatible enough). This is optional for online stores, but this is mandatory for cafes, restaurants as people tend to plan and book tables beforehand;

the second one should go on the exact birthdate. In this email, you'd better once again say, "Happy Birthday" and show your gratitude;

the third email should be sent a week after birthday in case recipient has not used the coupon yet.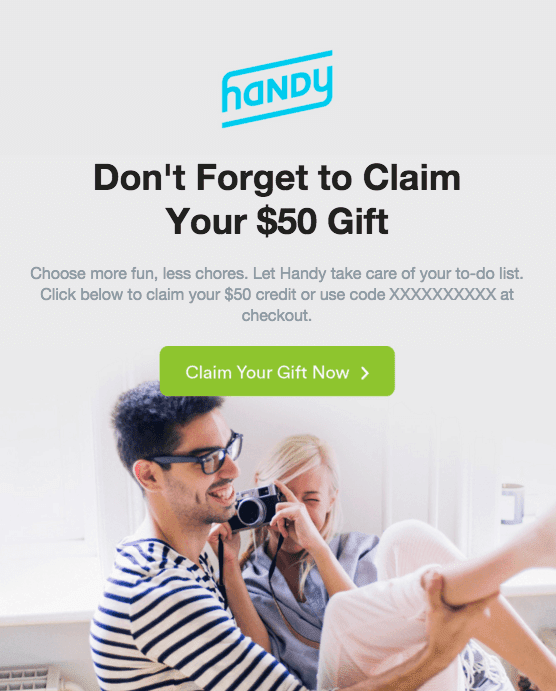 Happy birthday email best practices
Among numerous practices, we want to highlight just the most essential ones:
Personalize offers
If you know what products a particular customer loves, offer a discount on them.
Of course, we all would like to receive any present from our brand, but if this is what we love, we will highly appreciate it and tell our friends about it, which has a positive impact on virality.
I buy my perfumes only here and prefer only two different aromas. And Yves Rocher knows it. Which is why they offered me to choose one that better suits my mood now.
Even if you are a gas filling station, you still may know the types of fuel a particular client likes.
Add a countdown timer to happy birthday emails
If your offer is valid through a short period of time, you might want to add a countdown timer in your emails to let customers know how soon you offer expires.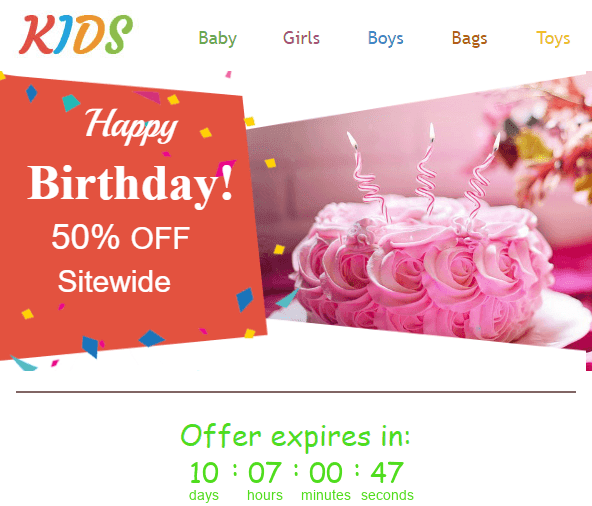 Not only is this a gesture of care about your birthday subscribers, but also a good trick, as countdown timers increase CTR by 9%.
Birthday email design
Birthday email design is worth talking about. Of course, you need to make it festive. But you know what? 70% of emails that I received on my bday, like all birthday emails you can find on the web, were about cakes — this is kind of predictable and sort of boring.
Get creative!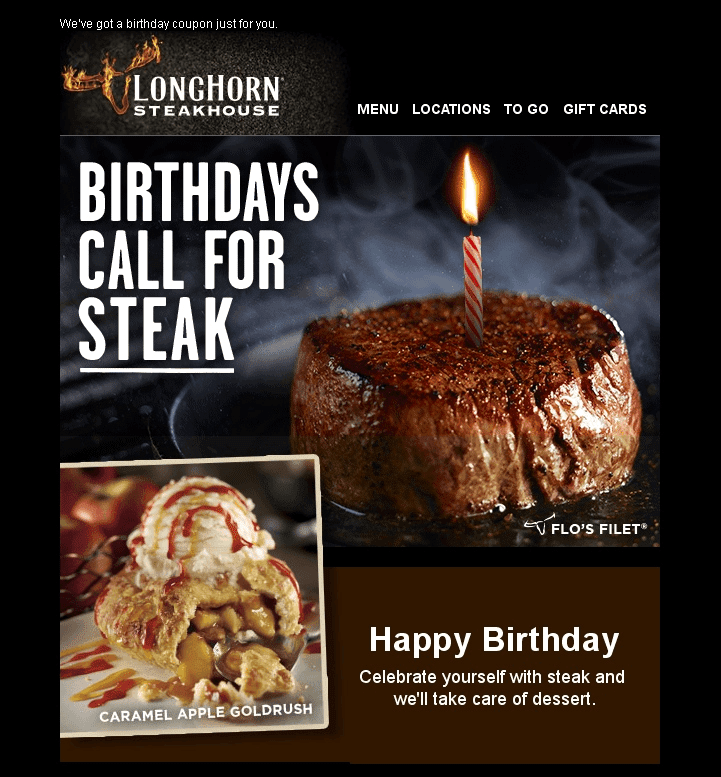 Steak with a candle in it — looks nice.
Instead of a birthday image, you are free to add fun GIF-animations or even videos.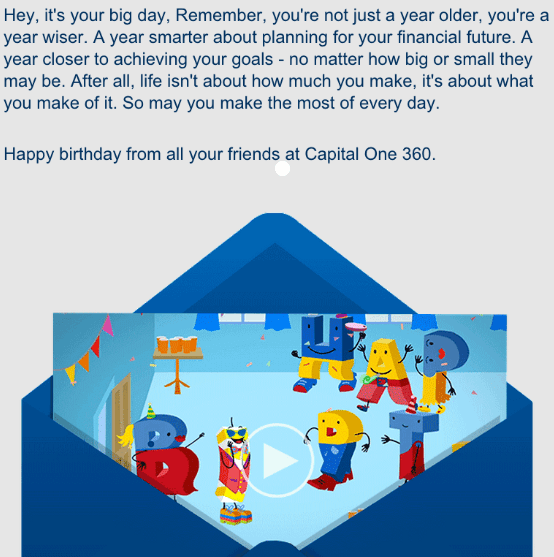 Add coupons to families
Jewelry and flowers — are normally something we receive from those who are close to us, and almost never we buy them ourselves. Hence, it's pretty reasonable (and eventually can be quite profitable) to offer discounts to relatives of our subscribers.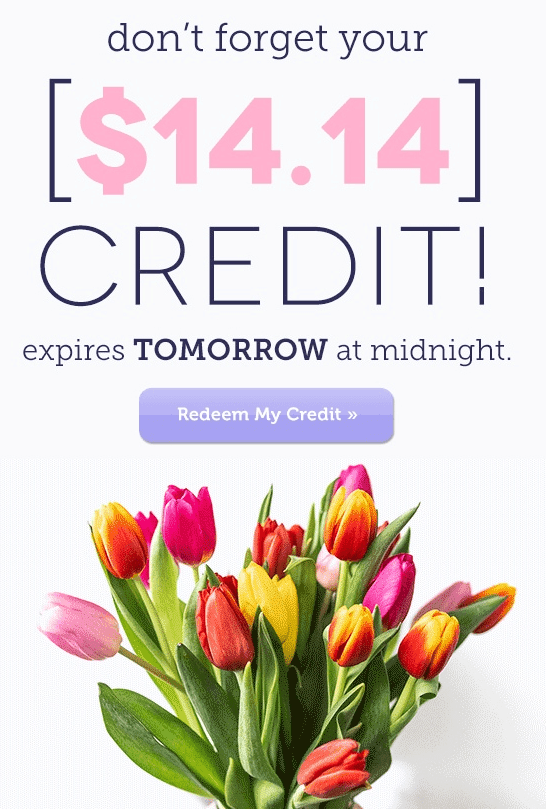 Tiffany&Co asks the marital status of a new registrant, and if he or she is married, the jewelry brand requests birthday date :)
Celebrate your company's birthday
If, for some reason, you do not feel like reaching out to subscribers on their birthdays, you can do that on your company's birthday. Invite everyone to celebrate with you!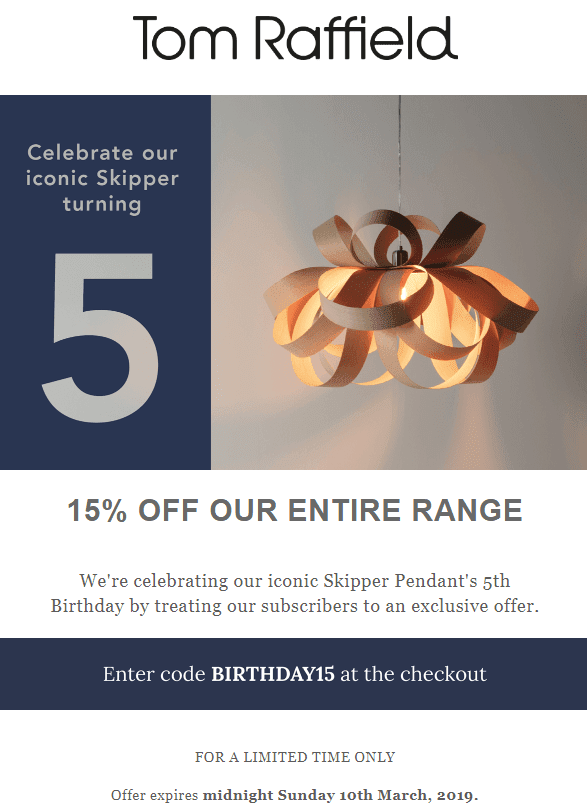 Happy birthday email subject lines
According to the statistics, provided by eSputnik, those subject lines which mention the amount of the sale show higher open rate. Addressing by names, will also improve your OR by a few percents here, too.
Below you'll find examples of effective subject lines:
O'Charlies: "Happy birthday, Olga. Join us for a free slice of pie";

Burton: "Happy birthday to you! Celebrate with 15% OFF";

Pepsi: "Happy birthday you!" — yes, world-famous brands can afford such a simple subject ? ;

Forever21: "Birthday sale ending";

Ikea: "We heard it's someone's birthday";

Prezzo: "Happy birthday, Hanna";

Chubbies: "It's not your birthday" — I opened this email just to check whose bday it was ?
Final thoughts
Birthday emails are trigger emails. All trigger emails are built once and used for quite long. Think them carefully through — the strategy, the subject line, the design.
Build your automated birthday email with Stripo and export to your ESP.
When any of your subscribers celebrates his or her birthday, your ESP will insert proper data to personalize this email subject line and will send this email over to a birthday person on the day X.
For your convenience, we've prepared a bunch of birthday email templates — pick the one you like best. All you'll have to do is just customize some details of it in accordance with your brand book. And your email is ready to rock!
Try Stripo out for free now!