21 October 2018
11 Ecommerce Newsletter Examples
How many times have you thought about the ways to build a selling newsletter template for email? How to be creative yet stay loyal to your brand?
Today, we are going to survey the best ecommerce newsletter examples sent by world famous brands, will do our best to understand what makes them successful, will figure out our own unique features and will learn to design a newsletter with Stripo builder.
The only thing we are willing to discuss prior to diving into the world of the best ecommerce newsletters is how often we should send out emails. This is very individual and depends on the type of message.
Promotional emails are supposed to be sent weekly. According to CampaignMonitor, 60% of the respondents think they would tolerate this frequency. Please, be advised, the more emails you send, the higher the unsubscription and spam report rates are. Generally, promotional events are to be sent in evenings, as people come home, relax, watch the TV, read your emails and surf your website for the upcoming sales.
All event-triggered emails, according to eSputnik, the ESP we use, should be sent right away after the moment the event happened, be it a purchase or registration. But event-triggered emails, aka transactional ones, are to be sent immediately, with no delay, whether it is a late night or even 3 am.
Best examples of email newsletters for ecommerce
At first, we wanted to show just one single best example. Imagine, there is none yet. Which is why we had to segmentize them by the elements and display the best one in each category.
Let's start our Email-Oscar Awards!
Example 1. The most informative welcome email award
Welcome emails, also known as onboarding, are the triggered ones. They are sent out upon customer's registration. This is a great opportunity for your company to better introduce itself. As we already mentioned in one of the previous articles, Tiffany's&Co shares the company's history, other companies offer a discount and let us set our preferences for the following newsletters. Reasonable to mention here how many times a week or a month subscribers are going to receive the newsletters.
Most of the welcome emails are informative and beautiful. But I have chosen the best one to my mind.
And the winner is… Hubspot.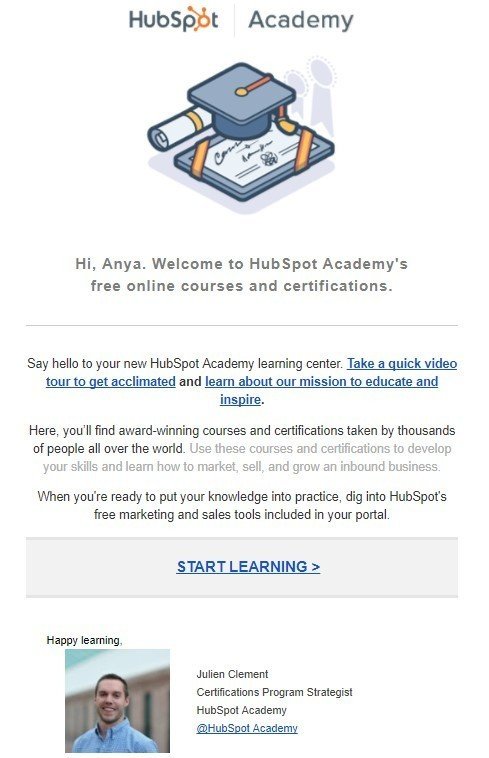 What is so special about them: they reminded me once again what I am into now. I can watch the introductory videos about the company and the courses. And what I loved most is the link to the manager's Twitter account. This ecommerce email design is simple, but the text itself made a great impression on me.
The first thought customers have when looking at this message: I will learn something new and there is someone who sincerely cares about my success.
Example 2. The most cheerful promotional email award
Once we've finally got to know each other, online stores start sending promotional emails. No wonder, as we've given them no chance to send triggered emails yet. Ecommerce newsletters of this kind are supposed to evoke desire and willingness to shop with them.
There are many ways to do it. Some companies display snippets of the products, others offer a detailed description and customers' testimonials. Do you think it is impossible to win new customers without displaying all your possible items and saying how good you are? It is.
Who wins the most cheerful promotional email award?
The Oscar goes to… the Brighton company.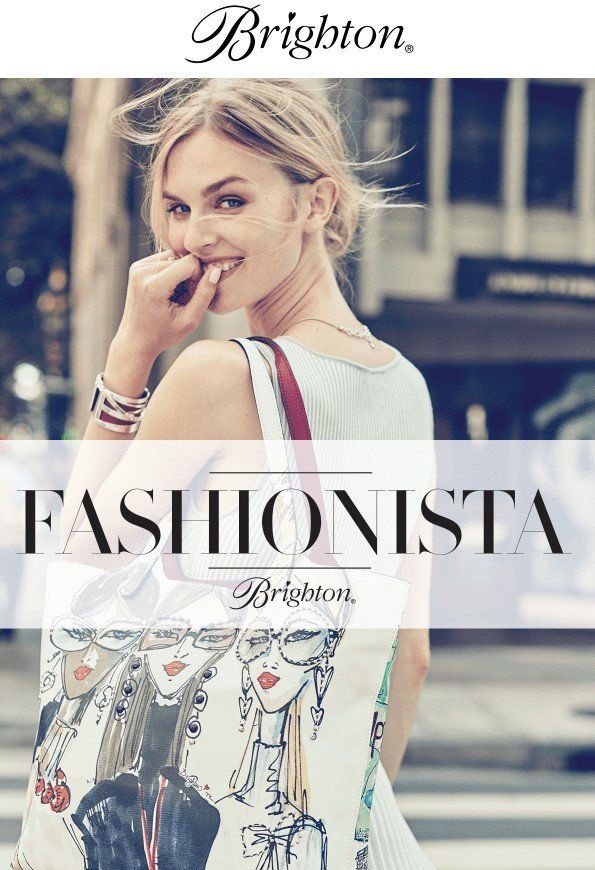 What is so special about them: a cheerful and not overwhelmed banner. The trick is that a happy smiling fashion girl, beautifully dressed, carrying a nice handbag, promotes all these items. This simple feature increases trust and desire to shop with the Brighton. I find it one of the best ecommerce email examples.
The first thought customers have when looking at this message: if I buy this dress and the handbag, will it make me cheerful, too?
Example 3. The most soothing image in email award
Like many people, I love reading. I have my favorite books, authors, and favorite bloggers. As soon as I receive an email or a notification from them, I open it with anticipation. But unfortunately, due to being busy, I usually need to postpone reading, which disappoints me. What should a perfect digest email include:
the name of the articles with short descriptions;
their authors;
preview image;
links to the source (CTA buttons).
But among many respective nominees, here the winner is… the Apple News Spotlight.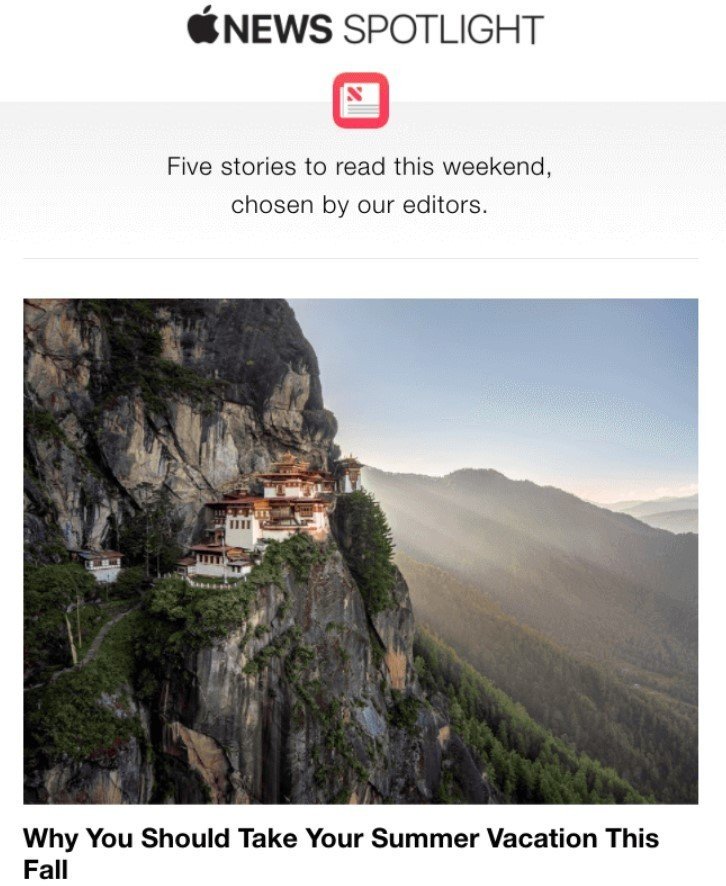 What is so special about them: plain text that informs the company is offering 5 stories to read? No. It is all about a perfect combination of simple text and a soothing photo. The photo recalls for tranquility and silence. Seems like this lonely house is a perfect place to stay alone and read during the weekend.
The first thought customers have when looking at this message: oh my, I need silence and an hour to spend alone. And these guys offer me that. I am so grateful!
Example 4. The fanciest header award
A header is the most powerful part of any email. Traditionally, it remains the same, unchangeable for all email marketing campaigns. Yet some companies build 2-3 headers for special occasions.
It's been said and shown that a perfect header comprises the name and logo of the company and serves as an introduction. You may also include the company's slogan if you wish. Why do we include all this info? Because it reminds the recipients who we are.
But the winner of this award is… Nike.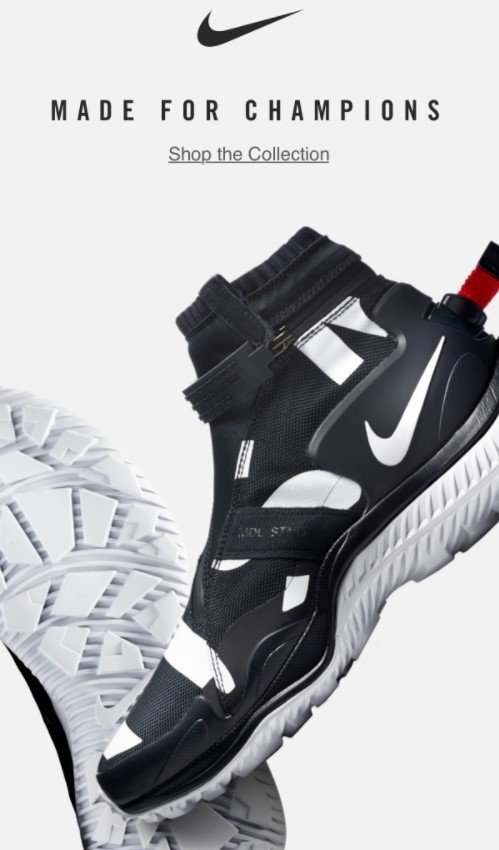 What is so special about them: I also wonder what makes them special. I can't really say they have a header, as well as no company's name written in it. They always place their logo over the banner. And choose the contrast color for it. Simple as it is. But looks awesome!
Note: only famous companies can let themselves do it. I sincerely wish you all to become the world-famous companies who never follow the rules, but the ones who set them!
The first thought customers have when looking at this message: I finally found the perfect shoes to start running in mornings. How did they do it? The focus of the image is on the shoes. No superfluous, distracting elements.
And the brilliant slogan says "Made for champions" convinced me in my decision.
Example 5. The best male banner award
Banner is meant to reflect and bring up to our customers the main idea of the newsletter. An image or a photo and a text are the two main components of any banner. Some banners even include the CTA button. Seems like everything is more than simple and easy here. But our task is to apply an attractive photo and to find engaging words.
The best banner award goes to the Shinola Co.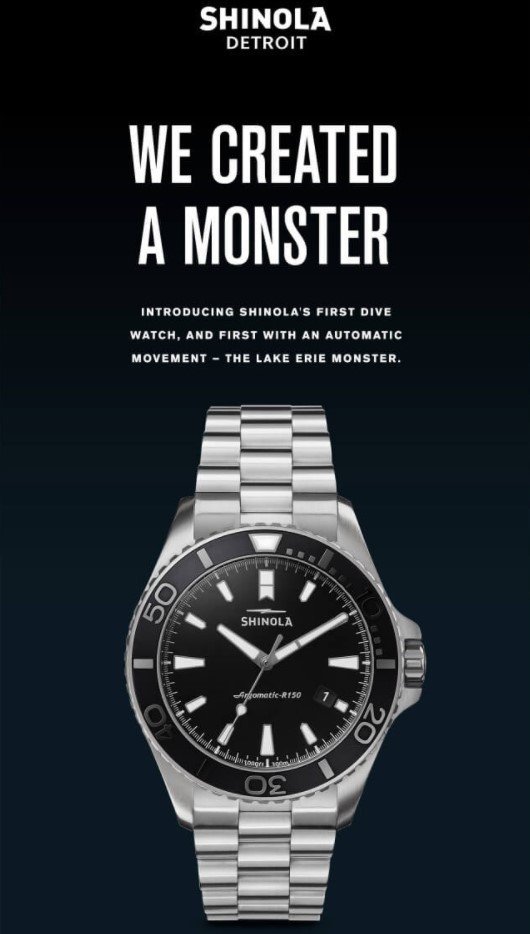 What is so special about them: there is only one single focus in the banner, in the entire message, as well. What about the text? The slogan here is simple, short, yet very concise.
The first thought customers have when looking at this message: "a monster"? Is this watch water-resistant or have they invented perpetuum mobile?
In fact, with these words, they just grabbed my attention, and I kept reading. You can choose any of the Stripo ecommerce newsletter templates as a base for your future email marketing campaigns.
Example 6. The funniest footer award
Footer normally contains contact information and reminds of the reason why we reached out to our clients. Most companies send the same typical, forgive my honesty, boring footers. And the vast majority of the customers just skip it.
You can enliven the footer by adding images, CEO's photo, a map of how to find your offline store.
But there are the companies that make us read every single letter in their emails.
For the funniest footer, the award goes to the ReallyGoodEmails.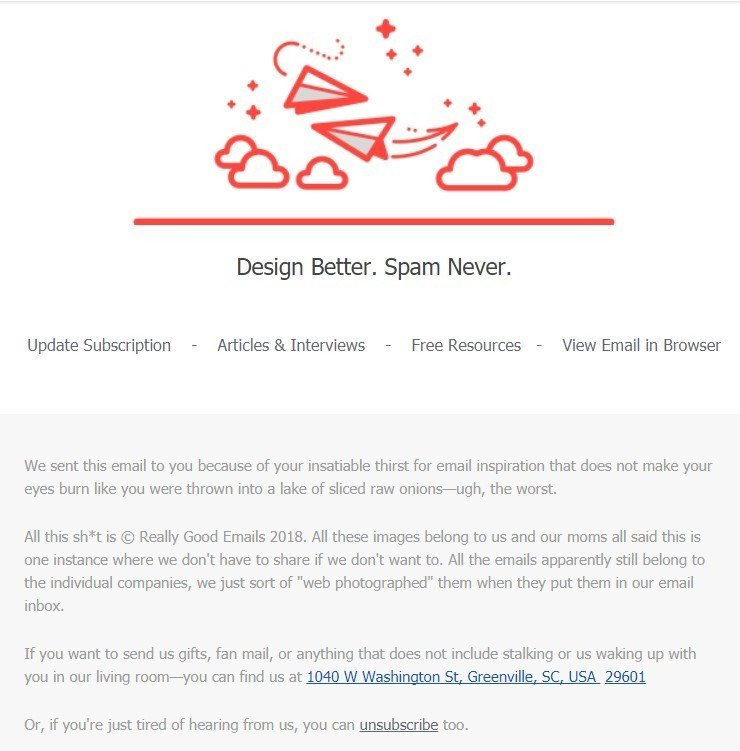 What is so special about them: everything they do, they do with love for their subscribers, with a passion for their work and with a unique sense of humor.
In fact, all their emails are written that way. This makes them stand out among competitors.
Note: they place the logo in the pre-footer.
The first thought customers have when looking at this message: thank you for making my day.
Example 7. The best seasonal email newsletter award
Most people, except those who live in California and Florida, are impatiently waiting for the spring and the summer to come to take off their huge, heavy winter coats. And we, as marketers, can speed this moment up. Let's bring your customers a little piece of spring at the end of February.
And in April, we may remind the readers the summer is coming and this is the right time to plan the trips.
Each company does this in its own unique way. But even here we managed to pick the winner.
The VRBO company wins this award.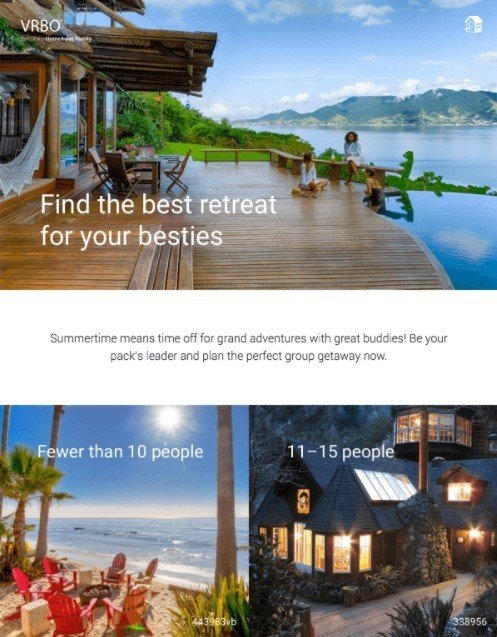 What is so special about them: they do not display prices, they do not say a word about these houses' location. No long description. They let us admire the images. A perfect sample of the best email ecommerce newsletter examples.
The first thought customers have when looking at this message: I want to get there. Need to call friends to get a company and click the images to check the prices.
Example 8. The best apology email award
As normal human beings, we all commit mistakes. And also, our servers may go down. In this case, as polite people who want to save good trustworthy relations with our customers, are obligated to send them an apology email. Unfortunately, only a few companies do it. While most think that it is ok just to place an announcement on their website. Care about your customers. They don't have time to go to your website to check if everything is ok. Notify them.
Dorothy Perkins is the winner here.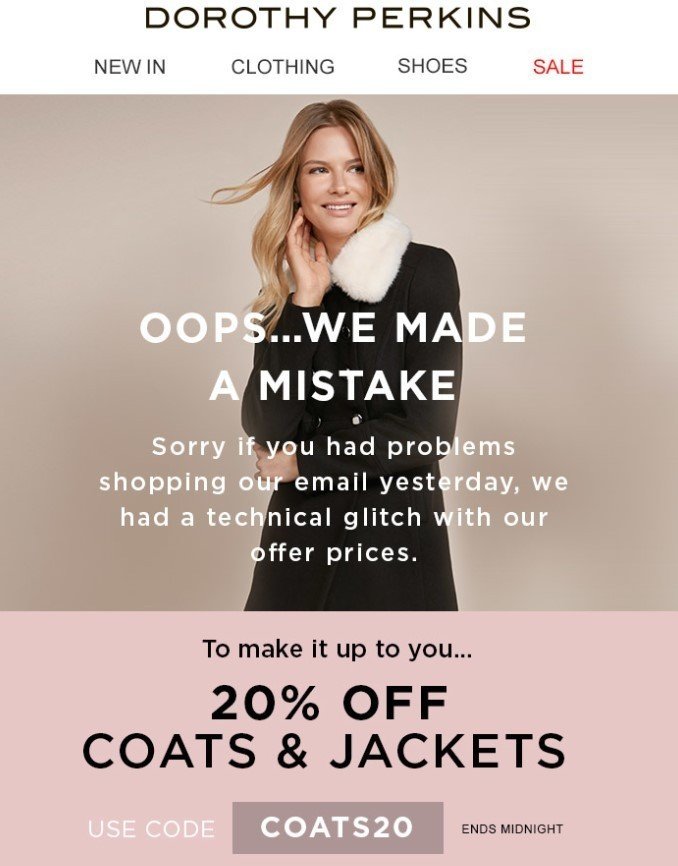 What is so special about them: they proved they really care about the customers and found time and courage to apologize.
The first thought customers have when looking at this message: how sweet. I'd better get back to their site and continue shopping now when everything is fixed.
Note: Of course, this is an event-triggered email which should be sent only to those who visited your website and faced the problem the other day.
Example 9. The most concise subject line award
You have finally made it to design an ecommerce newsletter which seems perfect to you. Congratulations! Now your arduous work has just begun as you need to write an enticing subject line.
As we all remember, smartphones display only 26 characters in our readers' inbox preview. And Gmail shows the maximum possible number of characters: 70 on the desktop devices. Which is why we need to be very concise.
All the emails from this list were opened and read: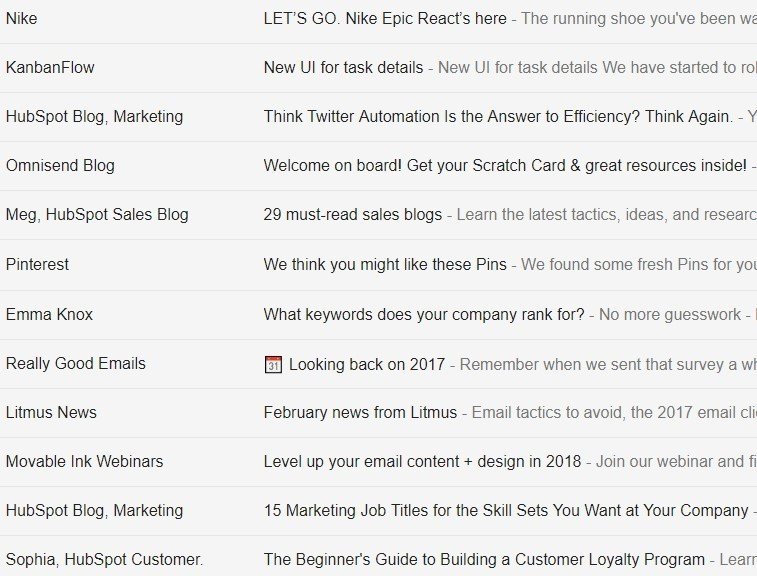 But here we also have the winner. The award goes to the iTunes.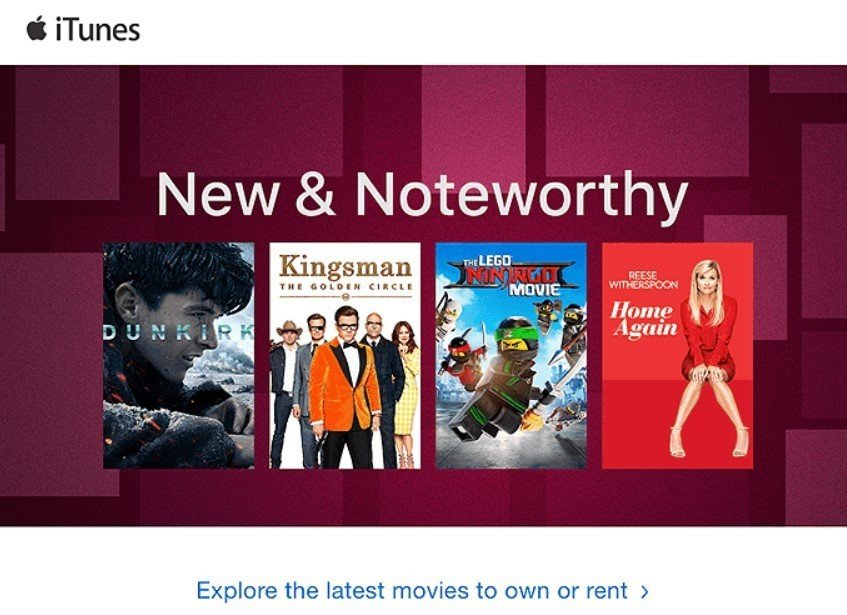 What is so special about them: these 16 characters hit the strike. Even if you are a young company, there is no need to make long subject lines in order to cover everything you are offering in the newsletter.
The first thought customers have when looking at this message: "noteworthy" is a meaningful word. Of course, I bought some of the movies. Now, these guys need to justify my trust in their taste.
Example 10. The best holiday email for ladies award
We all celebrate holidays. And we love the time before the holidays, probably even more than the holidays themselves. In anticipation, we think about how happy our close people will be when they open our presents, we go shopping, spend evenings and weekends in tireless efforts when preparing for the events. But who convinces us to do it? Yes, ecommerce newsletters we receive a week or even a month before. Clever marketers set the holiday vibe long prior to the day X.
Many of the holiday emails are good-looking. But since the Spring is coming, and some countries in Eastern Europe celebrate all Women's Day, it was not difficult to choose the winner.
The Electro's company.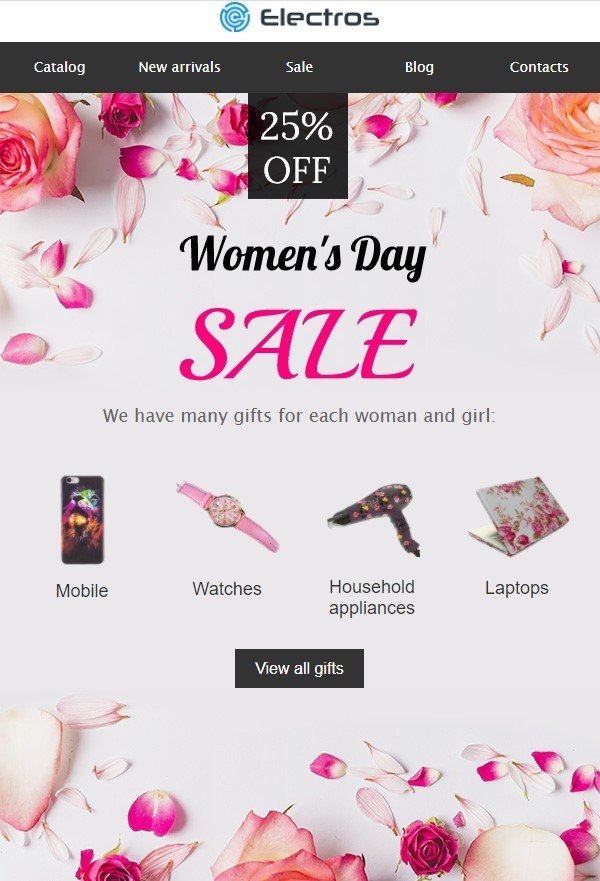 What is so special about them: an electrical devices' store cannot use a bunch of flowers or a plush teddy as the banner image. They displayed a few items which are useful for any woman in our everyday life and buying them you will never lose. But at the same time, decorated with the email with rose petals, reminds us the email campaign is dedicated to our dear women.
The first thought customers have when looking at this message: thanks for reminding. Mom, granny, friends might like these devices.
If you want to congratulate your beloved women with the upcoming holidays use our fully responsive, thematic holiday ecommerce newsletters.
Example 11. The best email ever award
Does it exist as tastes differ? Yes, it does. Create emails with love, with relevant for your customers content. Try your hardest and recipients will appreciate your efforts.
The best email ever award goes to… you. The prize — your customers' love. This is all we are working for.
But let us give you some recommendations on ecommerce email design
The 2018 year's trend is to use more real photos, less drawn images;
Photos in your emails should be appealing;
Concise texts to be used in emails;
Look at all these emails shown above. What unites them? They all spread emotions;
Emotions move our lives!
Find your own unique features you will stick to. A small detail which goes from one email to another.
I hope that these ecommerce newsletter design examples will inspire you to create something unique, something inherent in your emails only as your customers love you for being yourself.
If you please, get registered for free to try out the Stripo e-commerce email templates predesigned for your convenience and in order to save your time.
If you have any questions, please email us at contact@stripo.email or join us on Facebook.
I sincerely wish you all the best!