25 November 2018
Apology Emails: Best Practices and Examples
On average, customers' satisfaction with eCommerce makes 82% (Statista's data). It does seem like a good result, but, in fact, it means that 18 out of 100 customers are displeased with your service. And in most cases, a simple yet sincere Apology Email is capable of changing the situation for better.
Tips on how to write an apology letter to customers
Certainly, each situation requires deep consideration and consequently is supposed to have its unique standards, yet apology emails are to be divided into two major groups:
Emails when you respond saying you're sorry;
Apology emails initiated by you.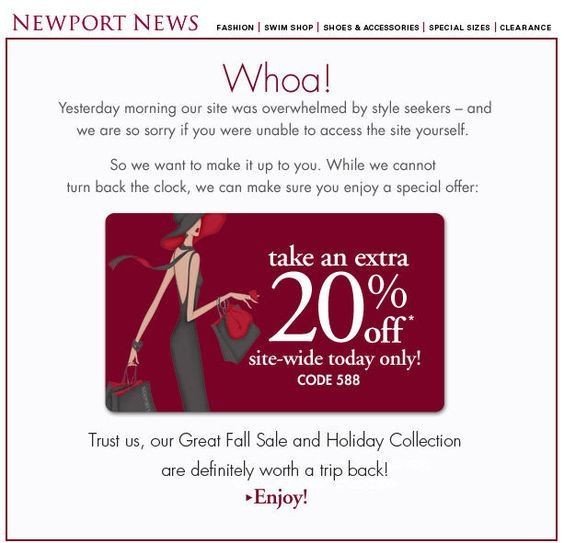 1. Emails, when you respond saying you're sorry
respond as soon as possible
Your customer is already unsatisfied with the issue occurred, don't make him or her wait. Besides, by providing a prompt response, you may help the customer solve the problem right on time;
always notify the customer/client you have received the email
If you cannot solve the issue right away, then notify you have received the email and that their question is held in consideration by those who are in charge. Once the email is forwarded to another department, hurry to inform customers about that, too;
explain the root of the problem
Always explain the reason that caused this issue as clients have rights to know. But stay polite — don't blame it all on one person or another company. First of all, customers are not interested in it. They would love to know you are aware of the problem, and that you are working on it. Second of all, this is very immature and can ruin your reputation in the eyes of the clients;
No matter whose fault it is — servers went down not on your side, or it might have been caused by a natural disaster, or an intern wasn't helpful enough over the phone — in the apology email to client, you still should say you're sorry for the inconveniences the issue have caused, for the late delivery or for the bad service your company has provided;
make the subject line clear
In the subject line, you are to specify why you are reaching out to the client. As long as this is a response, mention this.
Either "We're still working on the issue", or "Response to your request", or
even "Re: Late delivery of order NUMBER" will do;
Apology email where you're not the initiator can be actually called an apology letter to a customer as it normally goes as a plain text one.
A well-designed HTML email response may be considered as a waste of time. Especially, if the issue is the case of emergency and requires an immediate reply.
Note: the situation with the apologize emails you initiated is quite the opposite — a beautiful design here will be considered as care and respect.
2. Apology emails initiated by you
Prior to running your apology email campaign, you should consider how much this issue influenced the customers/clients and how many of them may have experienced this issue, and what is important — how you are going to work things out.
In my opinion, we should always beg our users' pardon once the system outage or technical issues have occurred no matter how hard it may have influenced everyone as people trusted in us, and we were not able to provide proper service.
a) think about the time when to send apology email newsletters out
Here, everything depends on the reason why you are reaching out to your subscribers:
Website outage — the problem notification
It's better to send out the emails right away. Website users need to know the problem is not on their end. Would be great if you could provide them with the information regarding when the site works again. And promise to inform the users once the problem is solved;
The website outage — notification everything works ok
When the issue is fixed, you should hurry to inform the users about it. But take your time to work on the design. And here, you should once again say that you're sorry and offer some discount to users as a "thank you" for being loyal and patient;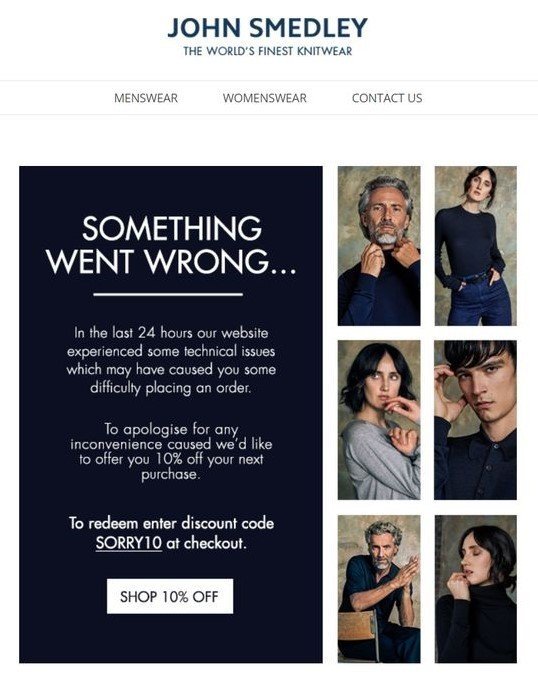 The website maintenance — information on the dates and the exact time
When you are going to perform maintenance, your site may be shut down. Certainly, it's preferable to do it at night, when the vast majority of your customers are sleeping, but you still should warn them. Send these emails a few days prior to the Day X, and place a proper copy on your website;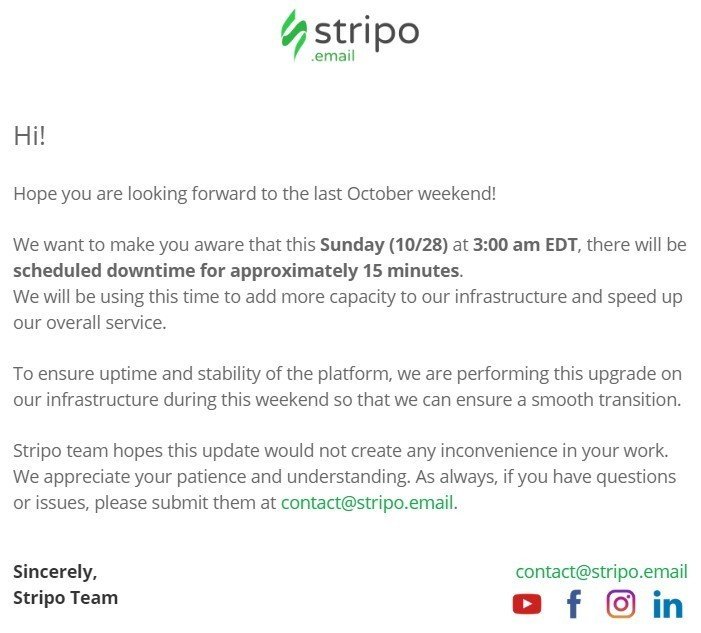 An event-triggered email sent many times — an apology
There's no strict recommendation regarding the time here. But it would be better if you wait for some time, like an hour or two to let users catch their breath. When being irritated by the numerous emails within a short time, they may move this business apology letter for a mistake to trash without reading it.
Another important thing here is to stop the scenario, fix the issue and only then turn it on again.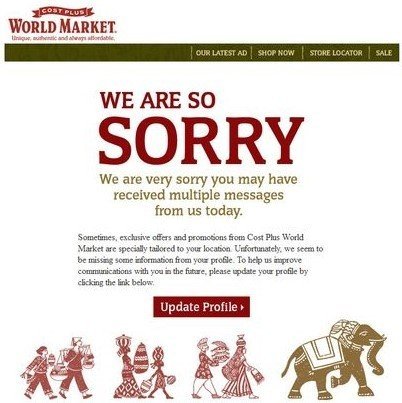 b) offer a discount
Here you should think of how to fix the situation and how to beg customers' pardon:
An issue with the discount
We create promo email campaigns to endear customers to our brand and to convince them buying from us. But sometimes it happens that the discount system does not work and customers have to pay a full price. Pretty awkward.
Here you should take your time to create a beautiful, professional apology email that convinces customers to stay loyal with your brand and not to unsubscribe from your newsletters. In these emails, let prospects know you are well aware of the issue, that you are extremely sorry (and you should be) and that you want to make things better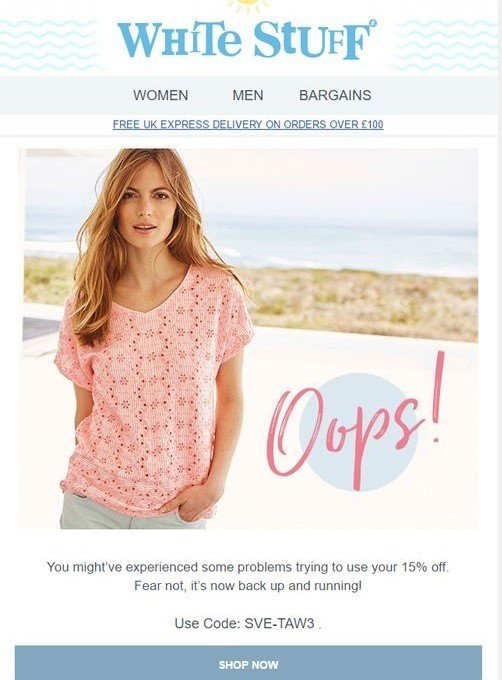 Subscribers did not receive event-triggered emails
It really upsets a lot when you get registered with a website, and wait for a subscription confirmation to start using the tool/shop right away. But you get nothing.
In such situations, when it's about an online store, sometimes I just go to another site. But when this is a tool and I need it now, it really upsets that I can't use it and does not make a good first impression about this site.
Beg customers' pardon by offering them some discounts or free shipping.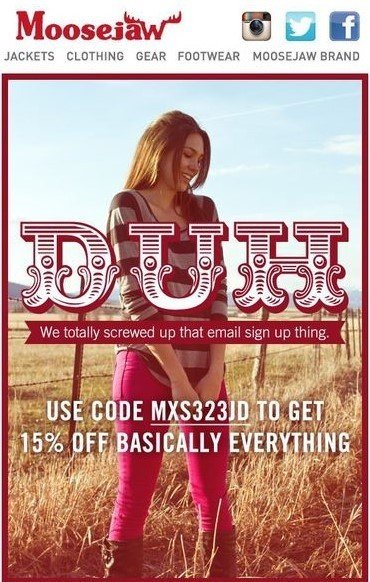 This is a perfect example of an apology email example — the girl looks like she's shy, the design is simple, and the copy is clear!
c) say you're sorry
No matter how generous the discount is, users would love to hear your apology.
It can be anything: from "Oops, our bad" to "Please, accept our sincere apologies"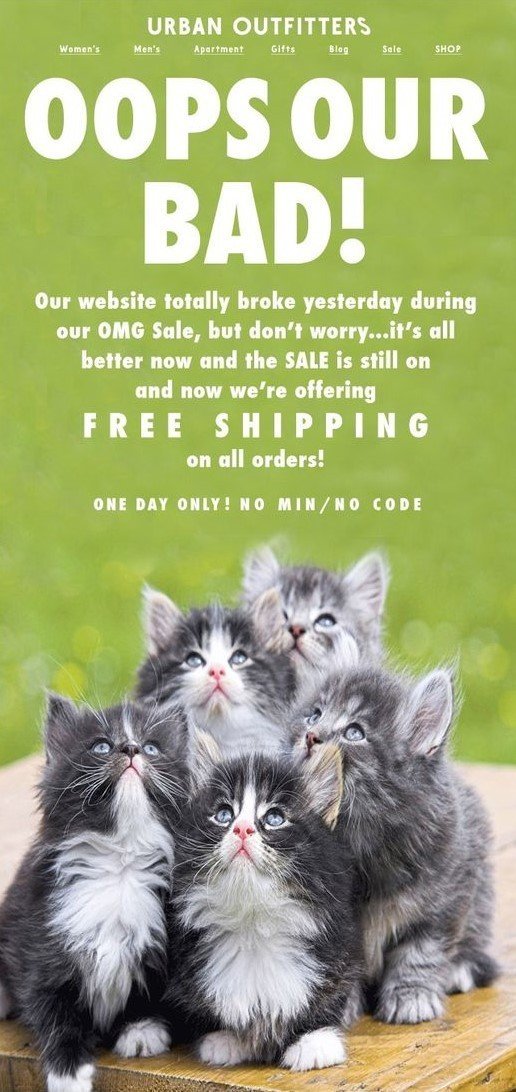 d) subject line — it should mirror the email content
This is the last but not the least of the apology email best practices.
It definitely should be clear, but nobody's asking you to be very serious and straight in this question. Use your imagination and stick to your brand style.
"We're sorry" — by Boots;
"We're sorry_Topshop has been misbehaving and we want to apologize" — by Topshop;
"Whoops, we hit the wrong button" — by Pet Supplies Plus;
"Meow. Our goof is your gain. Additional 10% off today only" — by Fab;
"Sorry, we've slipped up" — by MyOffers.co.uk;
"When things go wrong — sorry!" — by Forever21.
e) signature
Emails, initiated by your company, should be sent on behalf of the person who made a mistake or on behalf of a CEO.
Don't hesitate to add the CEO's photo in email signature and specify a position of a person who is in charge for this particular campaign.
Apology email examples
Here, we're going just to show a few examples of apology letters and HTML emails that were initiated by brands. These emails took us by surprise.
Example 1. Dorothy Perkins — Offer that is no longer valid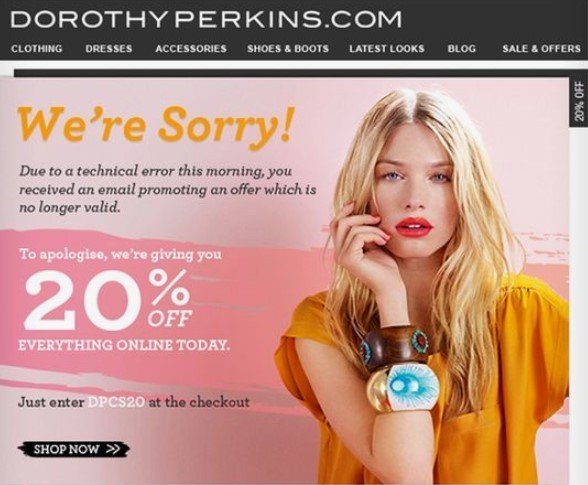 Email marketers of the Dorothy Perkins just got straight to business — there's no superfluous information in it.
That's a perfect way to notify subscribers about the mistake.
Example 2. Forever21 — Website low speed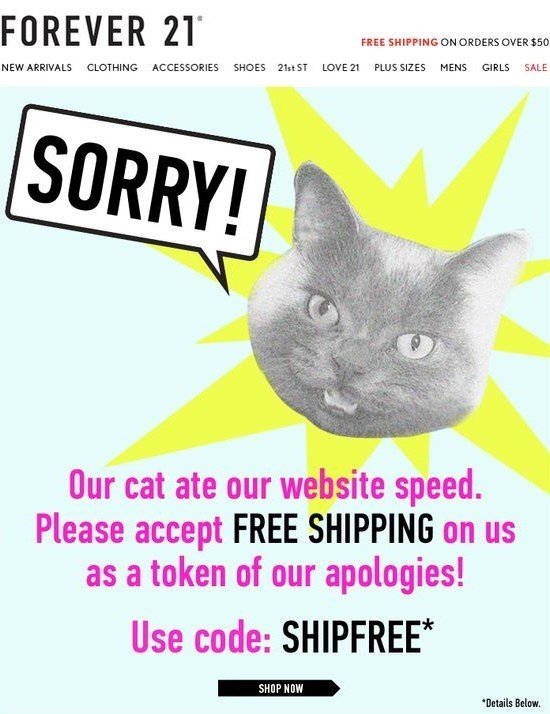 This is a good example of apology email. Not only this brand asked customers' pardon, but managed to stick to the company's style and design.
Example 3. Graham and Green — a technical glitch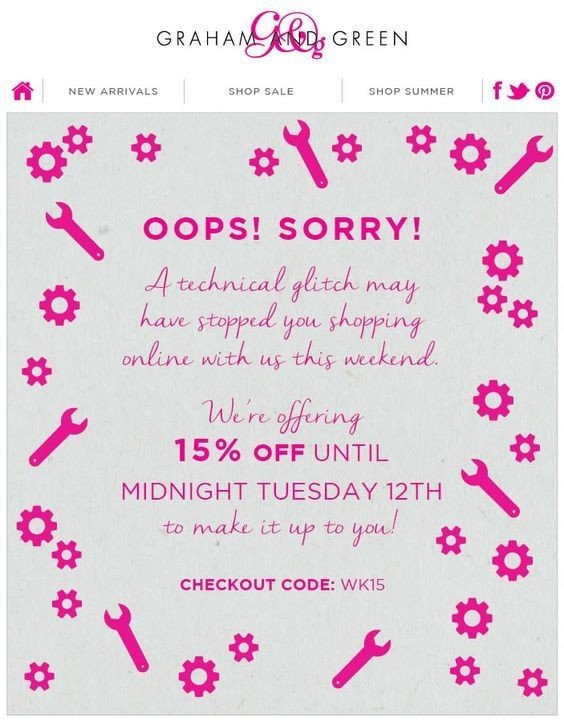 This brand made a very thematical design that totally fitted the situation — images of tools made us understand there was a technical issue. But these "tools" inherited pink after the company logo main color.
Just a brilliant sample of an apology email.
Example 4. Boden — inappropriate print
In fact, this was an April Fool's email, but sometimes brands have to withdraw their products. And this email can serve as a good example.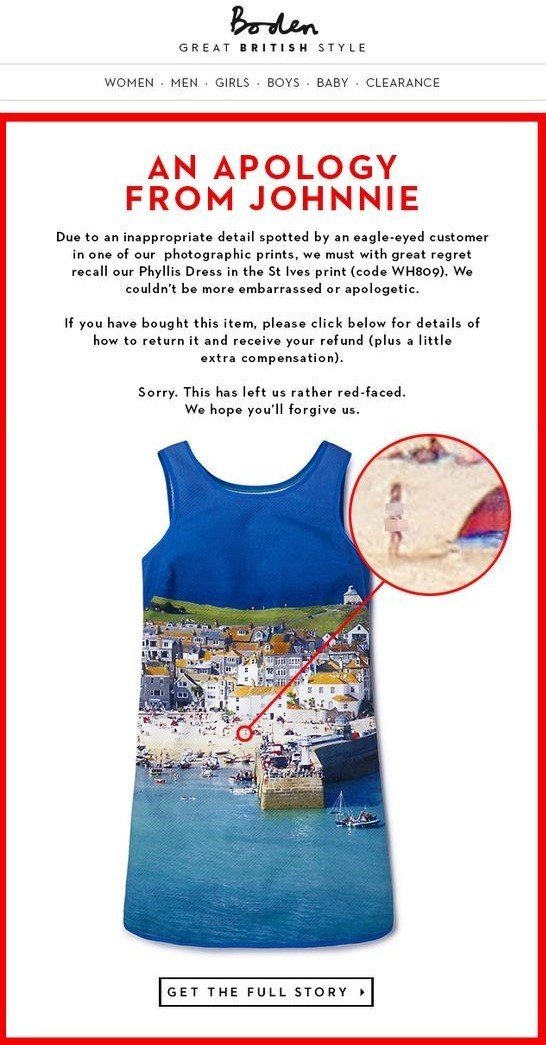 In such emails, you are to explain the reason for what happened, then provide customers with details on how they can give your products back to you and get their money back.
Example 5. Not on the high street — no messages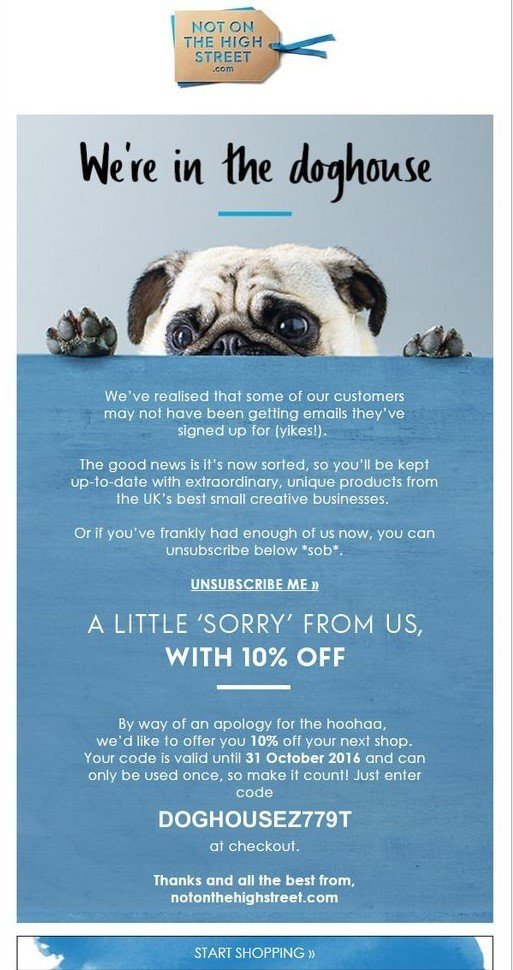 What makes this email great? First of all, it's the design. And second of all, it's clear yet cute copy.
Example 6. Pet supply — incorrect information
It happens quite often when email marketers provide subscribers with incorrect information.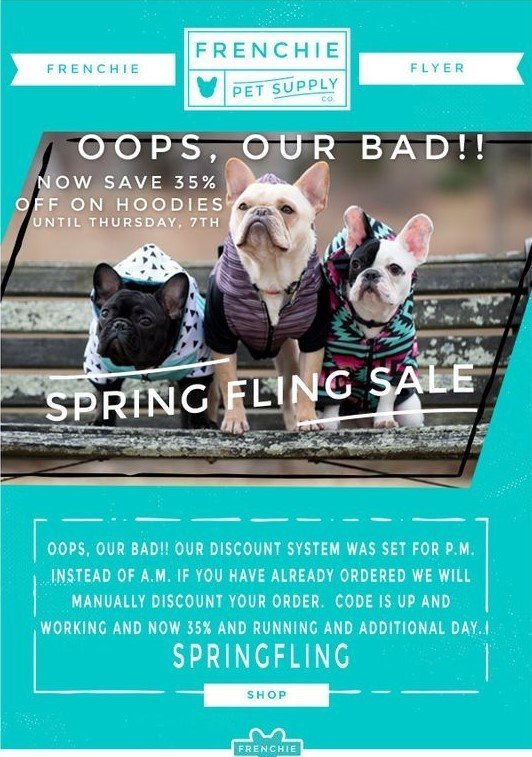 It normally happens for one reason — email marketers have to work on 3 emails at once, consequently, they do not have time to proofread the emails several times.
The email simplicity is its strong feature. "Oops, our bad" seems quite informal yet polite.
Summary
When done properly, apology emails can turn into an effective promo campaign and bring you even more profit as this is a good way to remind about yourselves again (works only with the emails you initiated). But only when it happens quite seldom!!
To accomplish this mission, when creating an apology email, make sure to:
Respond on time;
Make the design sweet and not too festive;
Stick to your brand's style and design;
Make a proper announcement on your website.
You are welcome to use our free HTML email templates. Save the footers and headers to your personal content library. And when there's a need to create an apology email fast, you will only have to make a fitting banner, pull the footer and header in your template — and the email is ready to go!
If you have any questions or concerns, let us know via Facebook or email.