15 February 2018
How to Create a Custom Template for GetResponse
GetResponse is a world-famous ESP. It provides a great service of automation, email marketing, CRM, landing pages, and webinars. Webinars are their strongest point.
But as long as we are a template builder, I was interested to survey their embedded editor. Thus, I searched the web and found out that the vast majority of users find the GetResponse Template builder their Achilles' heel.
So how can you create professional newsletter templates for emails and send them via your fav ESP?
The solution is to create a template with Stripo and export it to GetResponse.
Watch our short video on how to export your Template from Stripo to GetResponse and how to edit it, if needed, in the ESP:
Brief review of GetResponse Template Builder
Our way of life requires high speed, fast updates and, of course, freedom of choice. But you cannot find all these features at GetResponse.
Its editor's biggest advantage is Inbox Preview, which shows the way your email will be displayed on various desktop, and mobile devices and in some email clients.
Difficulties we face when working with the GetResponse editor:
It takes some time to save the changes you make even in the drag-and-drop editor, and it takes minutes when working with the HTML code.
HTML editor and drag-and-drop editor are two different things;
You cannot use them both simultaneously, like HTML coding for small elements. Very inconvenient. You create a template with drag-and-drop tool, save it and then re-open in HTML editor to insert countdown timers, etc. and then you cannot get back to the drag-and-drop version to keep working with the template.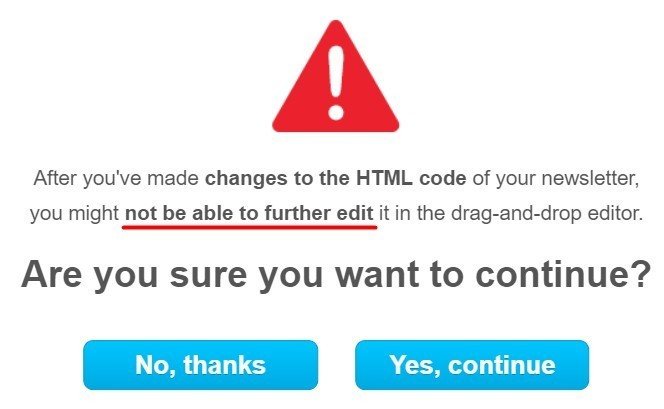 The Undo option hardly works;
It starts working only with the 11th step. Doesn't work for deleted images and blocks. You will have to upload them back, if you need to.
Use of Photo Editor to add text over banner;
Placing text over an image is possible only with the help of Photo Editor. Besides, they offer only 9 fonts and you cannot select font size.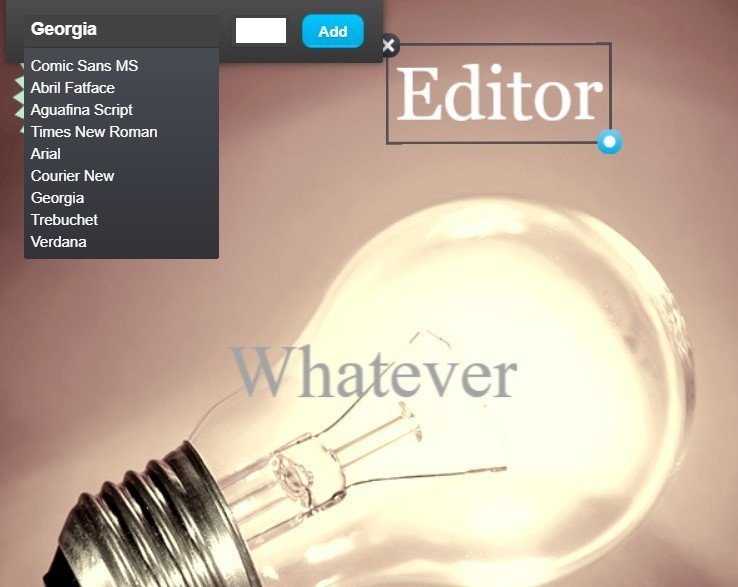 You are not able to set more than 2 elements in the line/block. Only text and image. Or just a single button.
Impossible to apply additional images and frames;
These elements are utterly important to decorate and emphasize some parts of your emails.
No paddings and alignments to adjust here;
Impossible to erase this spacing between the two blocks.
Limited rights and access;
To change button names and add links to them, you need to integrate your account with either PayPal or Facebook, etc. Even using a trial version.
Takes a long time and much efforts to display products cards;
In order to display all your products with description, prices, proper links to the website and all buttons, you will need to fill in all this information for each item individually. It is ok when you intend to promote only a few items. But when it is about 20 or more?
No video link can be inserted;
A video is an essential tool, with the help of which you can promote your products, greet your customers or invite them to specific events, explaining why it is worth visiting. But with the GetResponse editor, you are not able to insert video links with the preview snippet and play button.
Impossible to save blocks.
Some editors enable you to save the frequently used elements/blocks to your account, like header, footer, slogan and use them in every template eventually.
All the things mentioned above prevent you from building a modern, comprehensive, professional custom template.
This great ESP, unfortunately, doesn't provide us with all the necessary options and instruments a modern template builder should offer..
Advantages of using Stripo builder
The Stripo email builder justifies your trust and helps build up-to-date, comprehensive and professional looking emails, as it enables you to:
By means of the high-speed interface, all your changes are done immediately, with no delay. Besides, everything you do in the editor is automatically saved every 2 seconds. You will not lose your updates.
Make changes to the HTML code for separate blocks;
With Stripo, drag-and-drop editor and HTML code editor are a single tool. You decide which one to use and when to make changes to the code. HTML, CSS, and intuitive drag-and-drop editor — use them all at a time.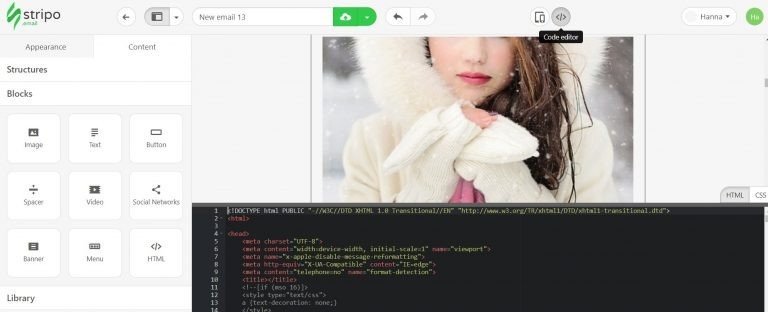 The undo option works for every step you make within the editor;
You can "undo" erasing, inserting, editing, etc.
Place texts over banners;
Place your text over the banner, applying any of the 50+ decorative fonts.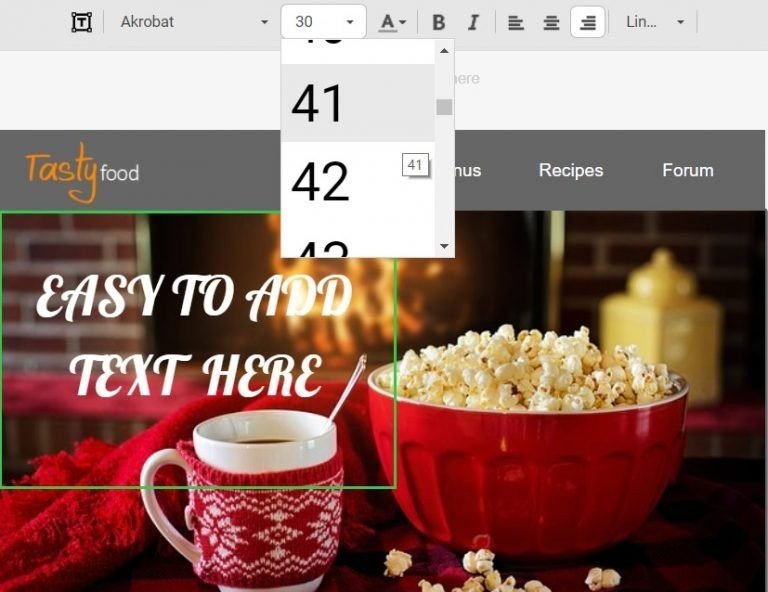 Stripo.email builder enables you to save favorite and frequently used blocks to your library and use them whenever you need.
Within the stripes, you decide how many images and buttons you need — 1 or even 4.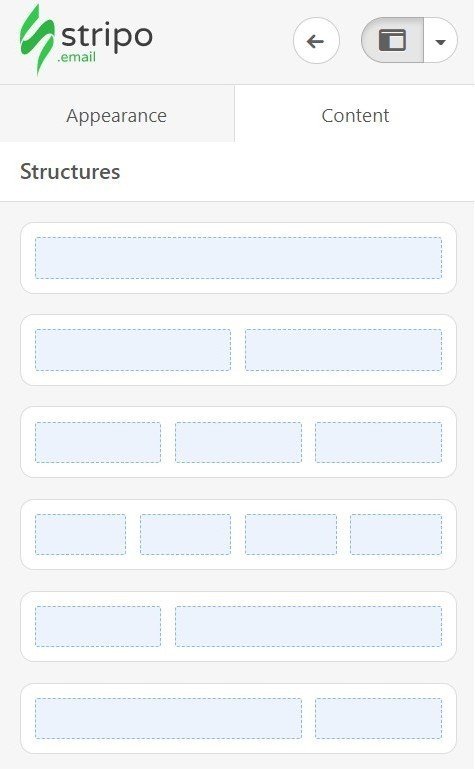 Pick the content block for any stripe;
You choose what content block to add to any stripe, be it video preview, images or anything else.
Frames and additional images can be set. Due to the "sticky notes", you may set them proportionally.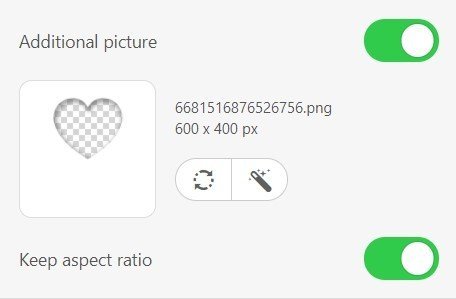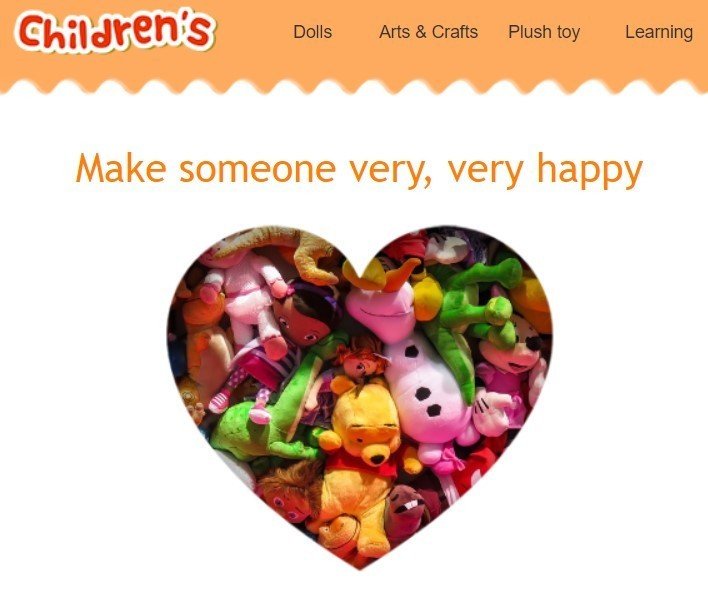 You insert a video link, and the system will display the preview snippet, add alt text and the play button.
Display products cards easily.
Thanks to the option "Smart Elements', you essentially save your time. You need to structurize your container: add description field, price and button fields. Insert the link — and the system will do everything for you.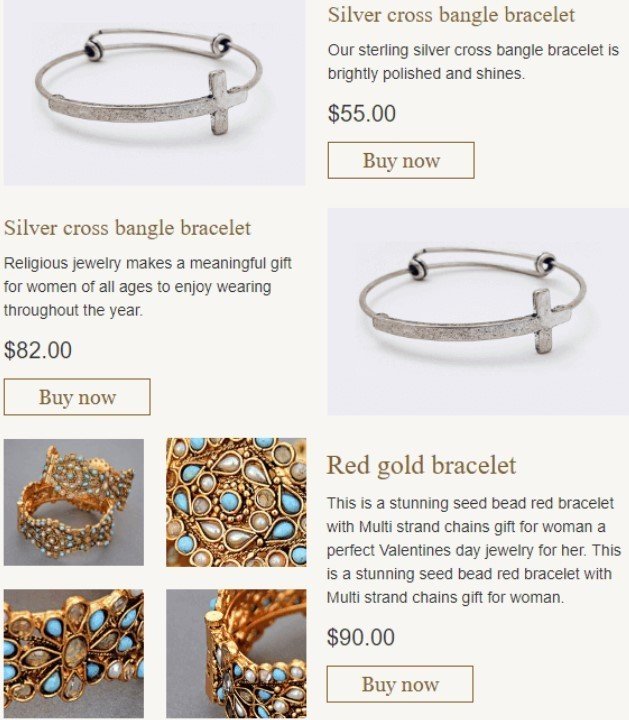 How to export a template from Stripo to GetResponse
After you have created the template, you can export it with just 2 clicks:
Choose the ESP you use — GetResponse;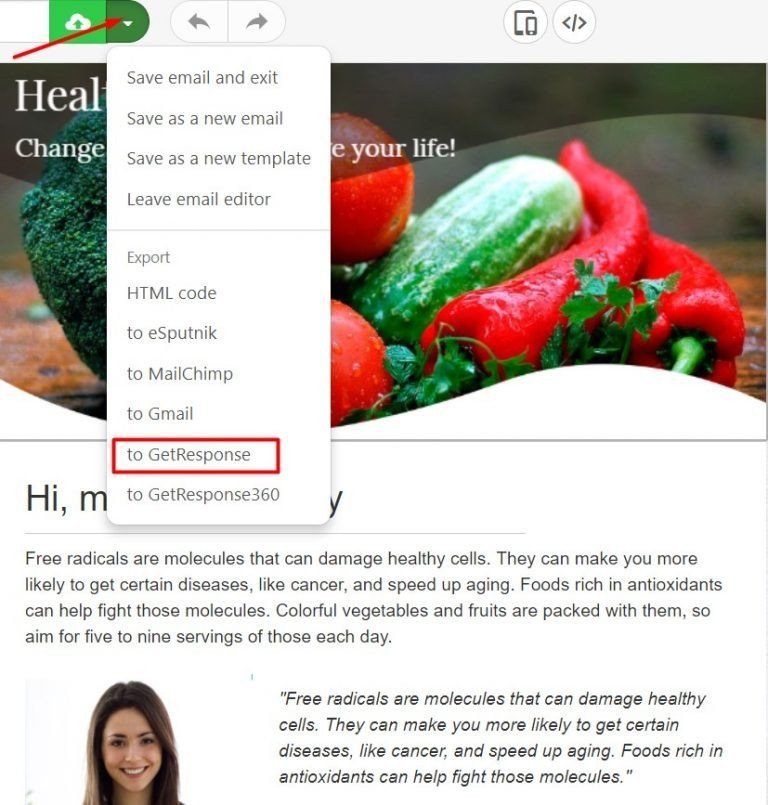 Then you will need to insert your credentials with the ESP.
Stripo template builder cannot see and store them.
Good news: After exporting the built message to your GetResponse account, you can edit it if some more changes needed.
May your newsletters be effective.
All Stripo templates can be easily customized and sent to any ESP you like.
I wish you all the best!