28 March 2019
How to Write an Effective Investor Monthly Update
Monthly update email can help in building stronger relationships with existing investors. While its absence or a poor structure can make them lose interest in further collaboration with you. See what makes an effective investor monthly update and how to create one in no time?
How often should startups update their investors
83% of investors say they really appreciate monthly updates as the latter deliver fresh information without any gaps. Yet, only 18% of startups do send updates that often. Consequently, if you do, investors, advisors and other partners will be more likely to help you over other brands.
Make sure to send investor update emails every month on the same day. For instance, if the first email was sent on the 1st of April, the second one should go on the 1st of May.
Content for investor update emails
Keep copy and visuals to a minimum because investors love short summaries.
So, what information makes an effective investor update email?
1. Summary in numbers
Numbers speak better than long sentences.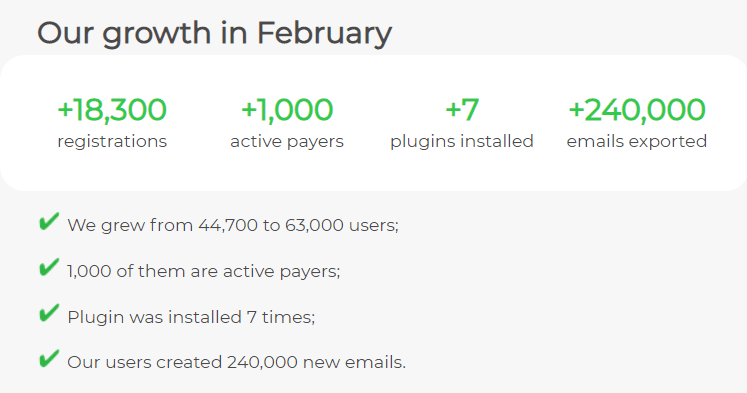 (all numbers are made up)
As long as from email to email, you report the same categories, you can save this content module to your personal library, give it a name. Next time, when building a new investor update email template, just pull this module into it.
The only thing you'll have to do is updating numbers. This feature significantly reduces email production time.
Important: custom styles applied to some elements in the saved modules can be replaced by the default ones in case these styles were applied to particular modules, but not entire email template.
2. Results achieved
This block is dedicated to your company's KPIs. Specify which points of your monthly plan have been successfully fulfilled, and which have been postponed/canceled. If any has been canceled, explain the reason why.
Get straight to the point.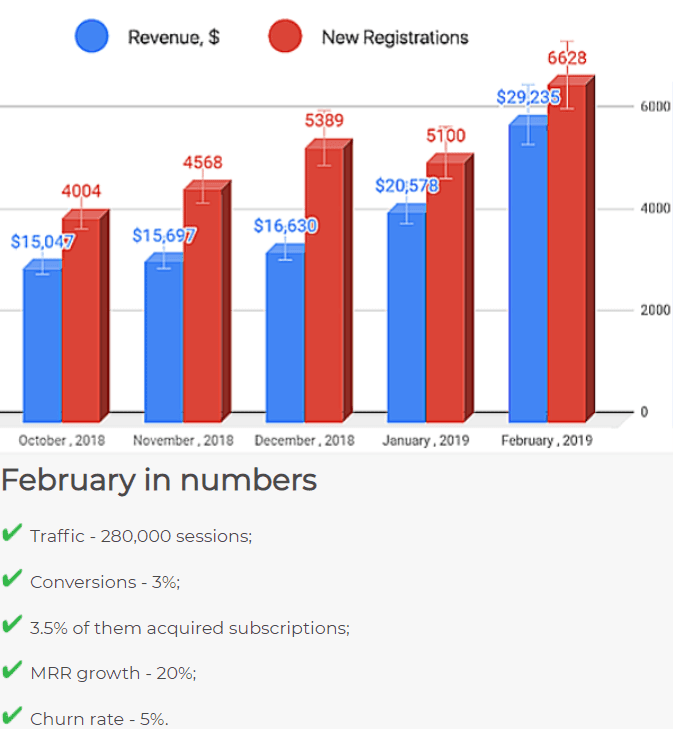 (all numbers are made up)
If you've been featured in reviews by famous bloggers, magazines, etc., or have won an award — feel free to share this information. If you like, you can even embed the video, where you receive the award, into your investor update email template.
3. Products launched
Now that you've shared the dry numbers in your investor update email, dive into the details.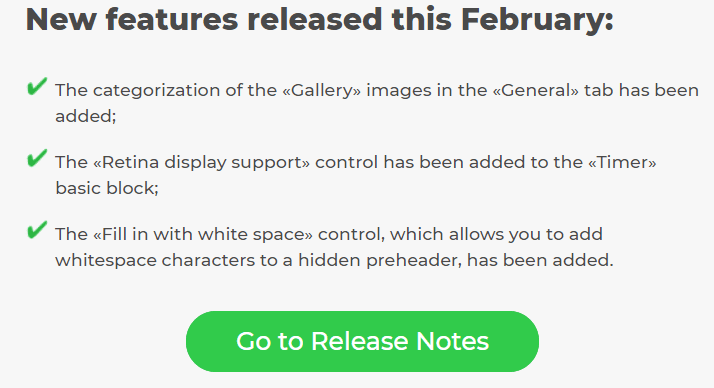 Highlight any product, service, or tool that has been launched since your recent update. In a nutshell, explain what mission it performs, how long its development has taken you, how much money it costs. It will be reasonable to attach users' positive feedback on new features if there is any.
4. Plans for the next period
Most startups regularly hold planning meetings to set plans for the next week/month/year. Then why not inform investors what you and your entire company are going to do throughout the next reporting period?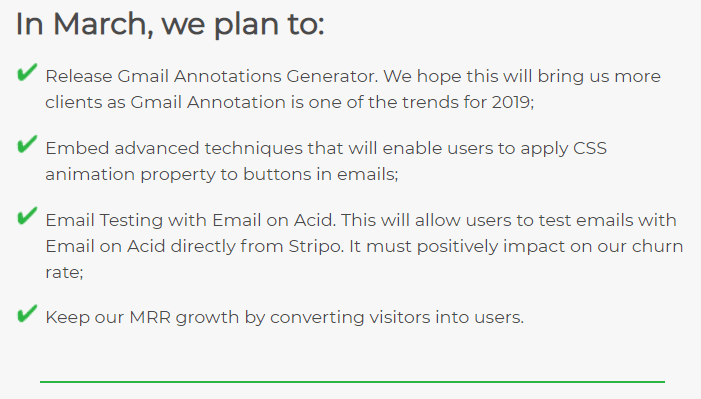 5. Your requests
When it comes to requests, there are two things to be taken into consideration:
its location in email and its length.
Location:
Startuppers tend to put their requests at the end of emails. However, investors are quite busy and do not always have time to read our update emails to the end.
As per the comment, posted by an investor on Medium, all "asks should be put above the fold".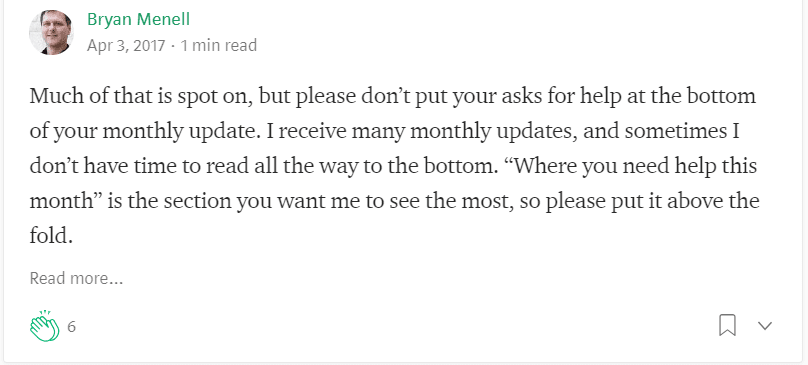 Length:
Many people feel somewhat awkward when asking for help. Due to this reason, they add long explanations of why they need help. Don't make investors read your long stories — get straight to the point.
6. Praise the best employees
Investors and advisors may also be interested in knowing which employee is the biggest contributor to the company growth.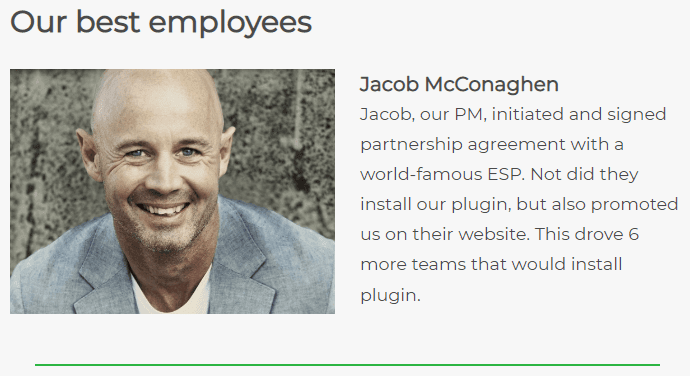 (all names are made up)
There can be several contributors you want to promote or praise.
Would be great if you added a photo of this person/these people. And below the photo, describe his or her personal achievements.
7. Key hires
Found a PM or a graphic designer you'd been looking for in 4 months? Describe the hire's skills, expertise, work background, and your expectations.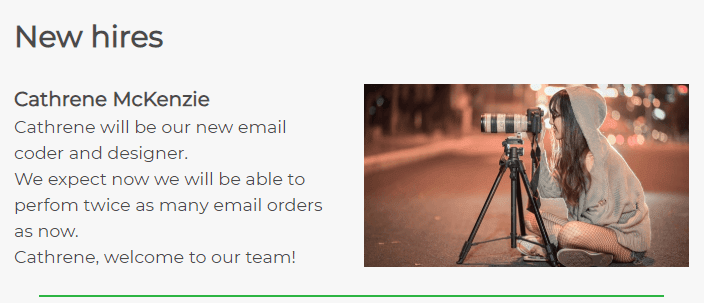 (all names are made up)
Add this person's photo and contacts to your investor monthly update email.
To make it elegant, hide the links to this person's social media accounts behind the matching icons.
8. Events you plan to attend and participate in the short run
Here, you may want to explain:
what particular events and when you are going to attend;

what profit you expect it to bring in;

what kind of preparation you need;

what stage of preparation you are currently at.
You may want to demonstrate a sample of your speech. Rather than including it in the investor update email, attach a link to this document/video. With Stripo, you can do it in no time.
9. Signature
No matter how close you've become with investors, always add email signature to monthly updates. Firstly, to stay polite. Secondly, to once again remind investors who you are and share your contact info.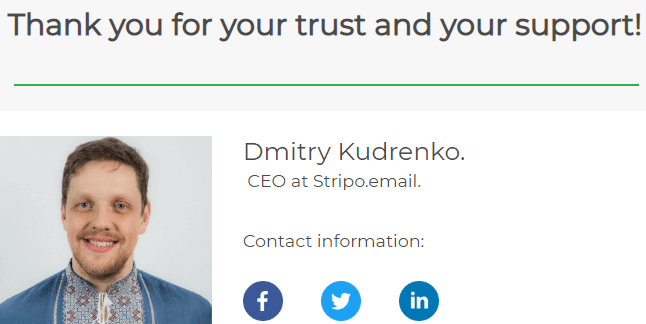 Note: to build your next investor update email in no time, just pull the stored modules into a new template, edit some data where necessary. And your email is ready to go!
Finally, here is the status update email example we just built together:

For your convenience, we prepared this template that can serve as the basis for your investor update email.
This interactive template with accordion bullets, when opened on mobile devices, will enable investors to read only the points they are interested in, without a necessity to scroll long-reads.
Tips for the investor update email design
Investor monthly update is a business email. Make its design appropriate:
Stay on-brand
May your emails of this kind be brand consistent. Use the same logo, apply the same fonts, the same colors for buttons, etc.
Let your email design remain unchanged
From campaign to campaign, your emails should look similar. The same structure, the same content order. Data is the only thing to be edited.
Stripo saves you time:
If you believe that building emails by dragging existing modules is time-consuming, edit some data in your previous investor update template and your email is ready to go! This helps you to reduce email production time by 60%.
Important: if you prefer using a copy of the email from your previous campaign, rest assured that all your custom styles will be applied automatically.
Use formal language
Keep the email updates formal. No inappropriate content. Don't let investors question your professionalism. Say "No" to jargon, unless it is professional.
Accessibility
By sticking to the email accessibility guidelines, you show your care about recipients. Who knows, maybe one of the investors has visual impairments, or is too busy to read your emails and uses screen readers instead?
All the email templates, provided by Stripo, are created as per accessibility best practices, and read properly by screen readers.
Subject lines
Subject lines for update emails need to be clear and reflect the email content, the reporting period and your brand name.
"Stripo_Monthly Report_February";
"Stripo_Monthly Report_March", etc.
Such similar subject lines will make it easier for investors to find and recognize your emails in the Inbox when necessary.
Final thoughts
A powerful investor email update is:
sent monthly;

personalized — it goes without saying you should address by names in updates of this kind;

short and straight to the point;

relevant;

brand-consistent — as it builds brand awareness;

formal;

highlights your achievements for the reporting period — this is the reason why you are reaching out to investors.
Note: an investor monthly update email should be sent to employees to keep them informed about company news and plans. When your team members know what is happening at your company, where you're heading to, they get more motivated to contribute to the company's success. It will be reasonable to eliminate the module with the amounts of investments and revenue.
Ways to send investor monthly update email
export created emails directly to your ESP with 1 click;
In case you find investor update emails too confidential to share via ESP, you may export them directly to Outlook with one click and send out to all investors, advisors and even employees.
May this guide help you build stronger relations with investors and drive more investments to your startup!