In the Spring, 2018, only some email marketers could escape the global panic for the GDPR coming into effect. Many brands were afraid this set of regulations would kill their contact base and in the end, they did lose the essential part of their mailing lists. According to the Litmus's poll:
24% of the brands lost more than a quarter (25%) of their subscribers;
16% of the brands lost 10-25%;
only 19% of the brands claim that the GDPR did not have any effect on their contact base.
How did some brands make it to save their subscribers? — Because they started their campaigns a few months prior to the Day X and sent out sequences of the GDPR emails.
Why would you care about GDPR now?
First of all, because we are to stick to these regulations in all emails and ask for consent every time when newcomers subscribe to our newsletters. And second of all, the California Consumer Privacy Act that is to regulate the collection and use of personal data in the US, comes into effect on July 1, 2020.
In order to save your contact base, to inform existing customers and subscribers about the new rules enuring soon and to stay law abiding brand, we need to get prepared for the CCPA!
By doing this now, you will not have to bang your head against the walls to figure out how to stand out in subscribers' Inboxes among hundreds of the CCPA emails in Spring 2020 — here's a screenshot of my Inbox in May 2018:

No diversity in the subject lines. Easy to get lost or miss one or two of the emails.
In fact, CCPA is quite similar to GDPR, with only one main distinguishing feature: GDPR collects consent prior to registration, while CCPA enables existing customers to control their data, to allow or protect it from being sold and shared with the third parties. Californian lawyers presume people tick all checkboxes when getting registered without paying attention to what is written there.
Which is why we compiled the best GDPR email examples to inspire you to create outstanding and effective privacy policy emails including, maybe, CCPA compliance emails.
The 10 great examples of GDPR emails
Most GDPR emails are alike — they inform subscribers they will no longer receive emails unless they click the magic "Update my preferences" or "Yes, opt me in" button.
But our compilation is formed of those GDPR emails that have an edge over competitors for unique elements.
1. What Counts
This email is personalized. To my mind, it's very important to apply this option in informational emails. It does not include any promo as some companies did. Please, do not combine informational messages with the promo. In this case, there is the risk that subscribers will be distracted by the promo and will forget to give you their consent to receive future promo campaigns. Or they may happen to click the "show now" button and never get back to the "I give you my consent" one.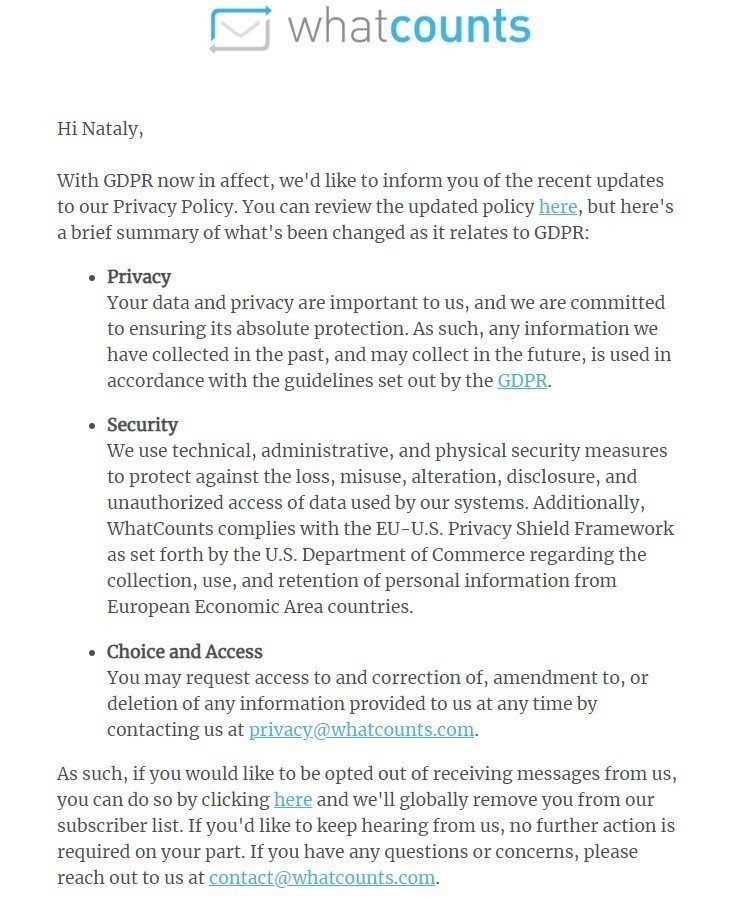 What makes this GDPR email great: most of all, this email impressed me by the thesis it has. Some brands just insert the links to the GDPR website. But our subscribers do not have to go anywhere to read long stories. They will appreciate it if you just provide them with brief information on what they are supposed to give you their consent.
Note: personalize your emails with Stripo. Put a mouse cursor over text in your email; in the top right corner, click the Merge Tags button; in the drop-down menu select your ESP; then choose what exactly you want to personalize: first name, last name, current date, etc.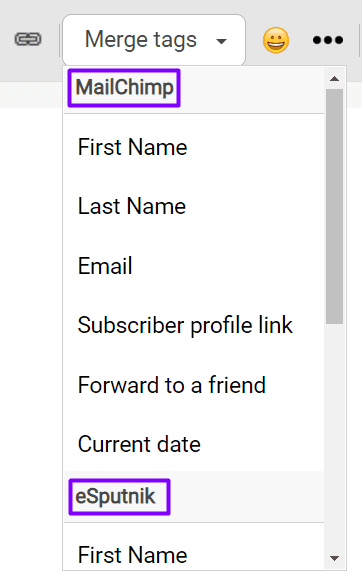 2. Smart Home
Smart Home decided to stick to its regular design — not only added they the company logo, but also added a banner. The brands' names you see on the banner reminds the subscribers that Smart Home is a popular retailer.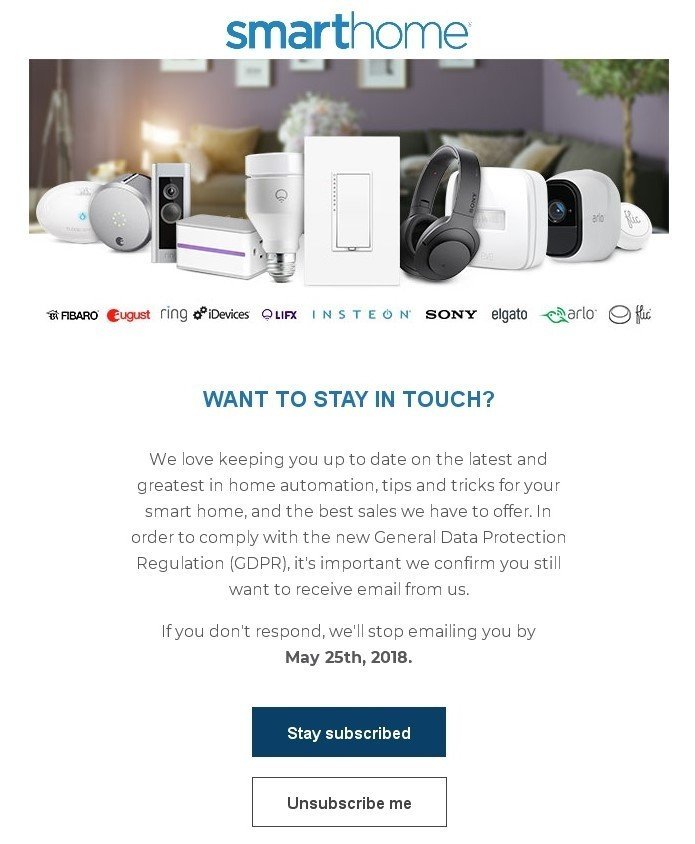 What makes this GDPR email great: the two buttons with pretty clear text that suggest that subscribers make a choice.
One more thing that gives this email a credit is that for the informative yet pretty brief copy the email does not look boring.
3. Type
First of all, I loved the subject of the email "Still your Type?" That's amazing because it has a double meaning: it reflects the name of the brand, and also they ask subscribers if those latter are still interested in receiving emails from this brand.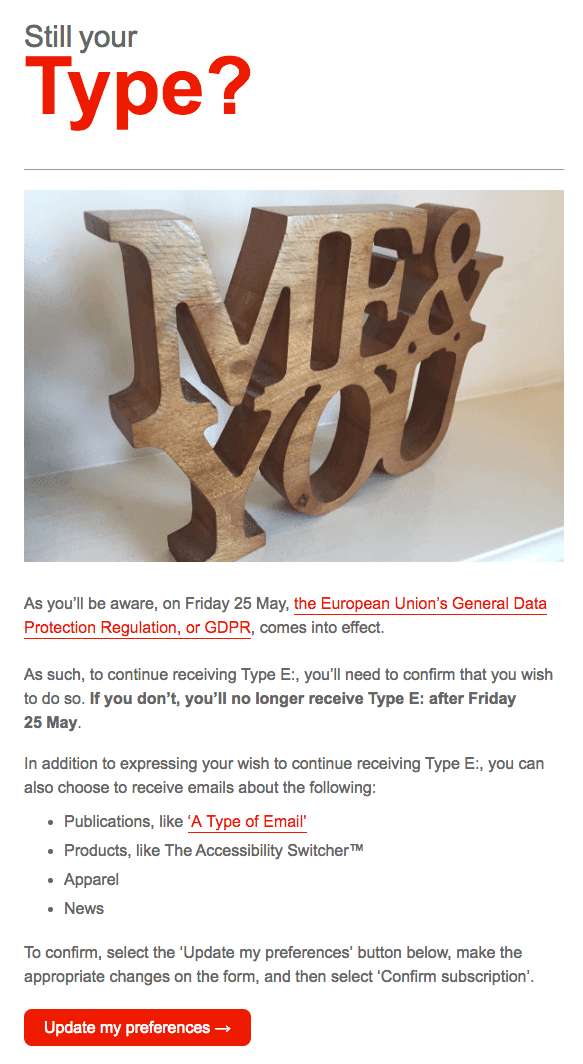 What makes this GDPR email great: the image. It mirrors the goal of the entire email.
Apart from that, the Type E brand once again reminded the reason why they reached out to the recipients, they added detailed instructions on how to get to the mailing list again.
4. Penguin
The Penguin team notified the readers about the changes that had been done to the data privacy policy and about the exact date when those changes were supposed to come into effect. They specified what particular points had been altered and suggested that recipients would love to read the details.
The quote that grabs the reader's attention is also worth being mentioned. Besides, this quote fits the subject of the email.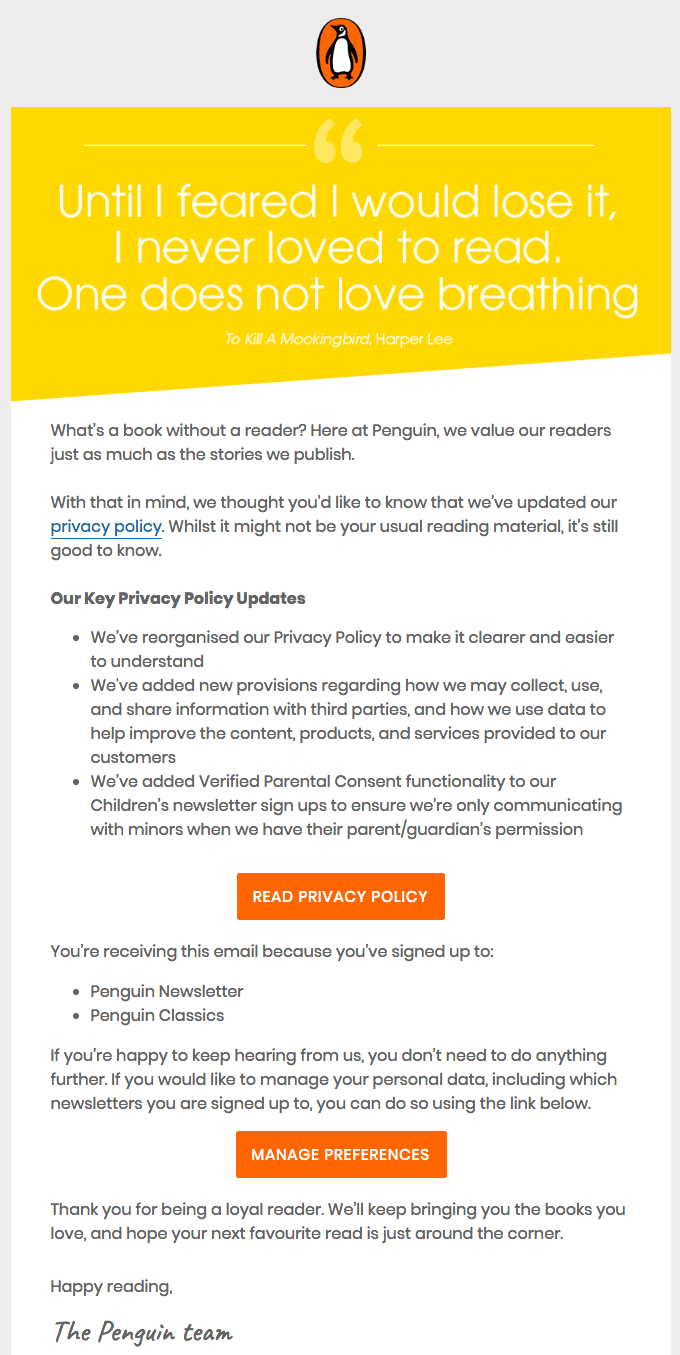 What makes this GDPR email great: the copy is very structured, despite being quite long. Even when seeing it briefly, you are still able to get the basic theses.
5. McDonald's
I fell in love with this design. As we know, the blue color evokes tranquility and trust. The text is very simple, it just tells the subscribers they need to opt-in again to keep receiving emails from Mc Donald's. And the button with arrows pointing at it shows recipients where to click stay in touch with this brand.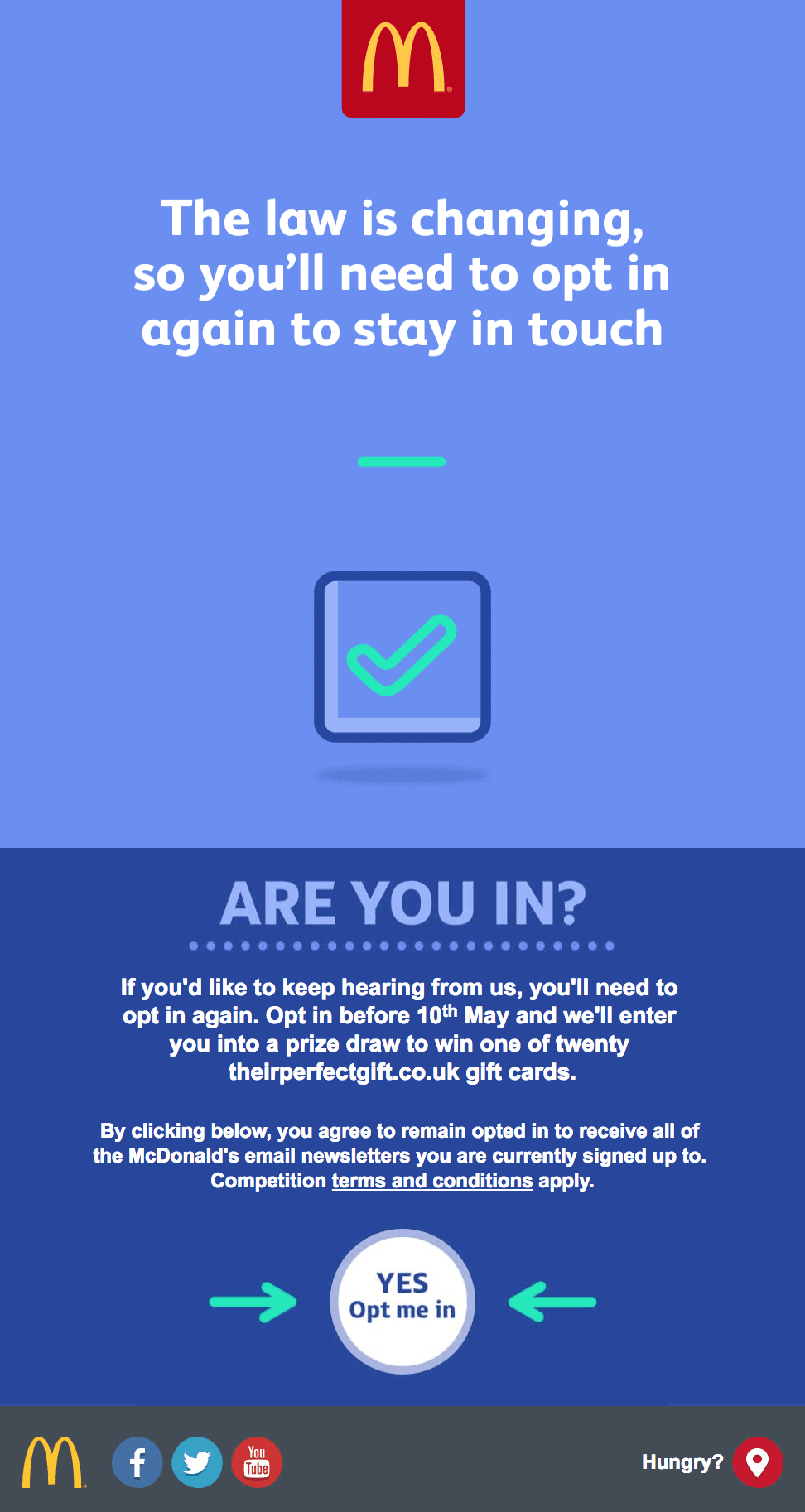 What makes this GDPR email great: the tick mark. Its green color gives recipients the feeling they already want to re-opt-in to these newsletters again.
As long as receiving customer's consent according to the GDPR email requirements was the main duty, McDonald's email design was a perfect tool for it.
6. Hover
Not only mentioned Hover that the new privacy law was coming into effect, but also declared its attitude to it. Unlike many brands, they said they totally approved of the new law as customers' data privacy was their priority number 1. And their motto "We all deserve the same privacy protections" proves it.

What makes this GDPR email great: the banner image and its copy. Certainly, if some subscribers are tired of reading your emails, the puppy won't stop them, but if they like receiving your newsletters, they will definitely like the like the puppy cute and touching.
Hover did a great job to save its loyal customers and abide by the general data protection regulation.
7. BeLight
I loved the clear title "GDPR Compliance" as this is the only purpose of the entire email. And if a recipient is interested to know what it's all about, then he or she will just delete this email.
BeLight also asked its subscribers to take a minute to review the email.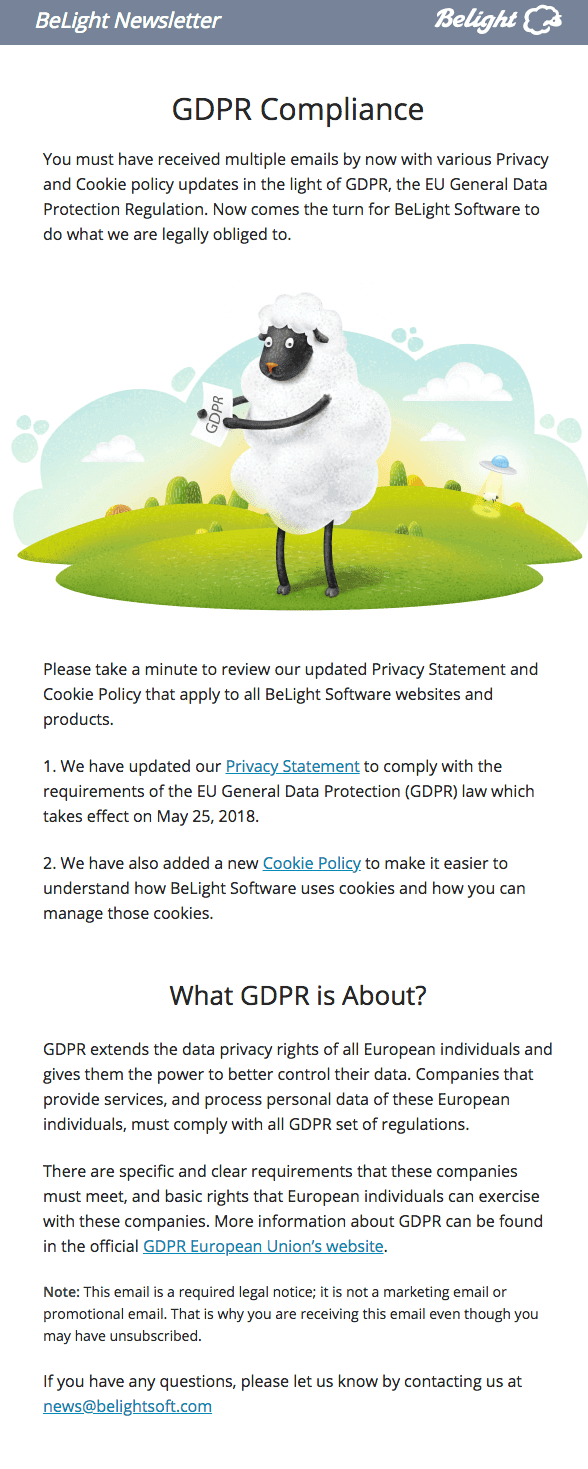 What makes this GDPR email great: the banner, again ? The sheep, which is the symbol of the brand, carries a GDPR notice in its hands.
8. Scosche
This email by Scosche looks vivid for the eye-catchy banner. But I also loved the unsubscribe button which is as big as the opt-in one. And with the copy that precedes the CTA, Scosche lets the customers know it will be ok if they decide to opt-out. We all love to have a choice.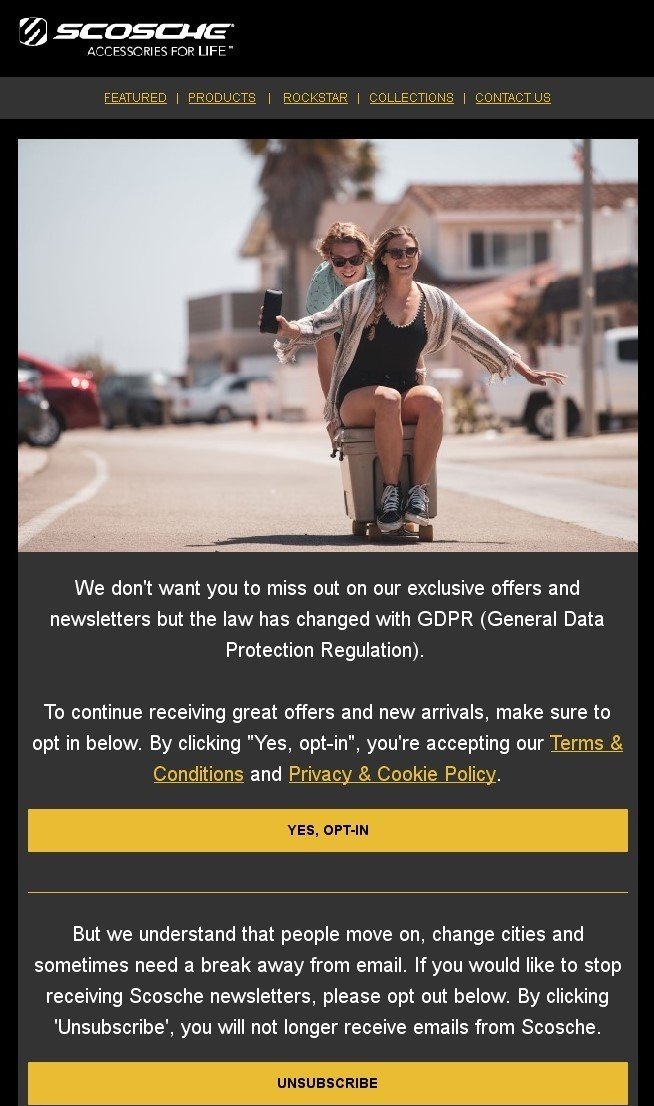 What makes this GDPR email great: the opt-in button. Specifically, the color and the "yes".
9. Nokia Health (now Withings)
Most of the GDPR examples given above contain bright images to spice up privacy update newsletters. But Nokia decided to keep it serious and formal.
Nice trick to stand out.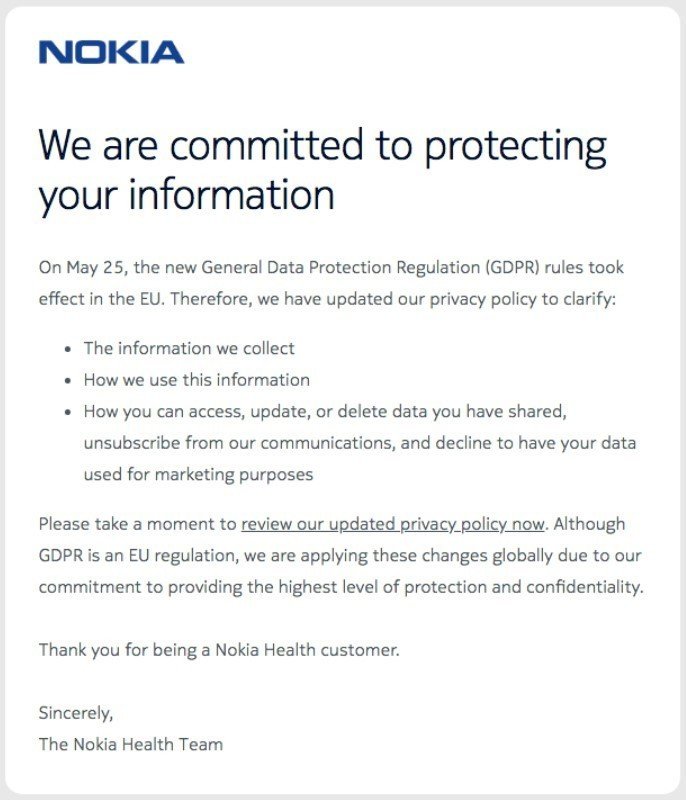 What makes this GDPR email great: it is a plain-text email that stands out among competitors.
10. Coast and Country Cottages
I loved this email for its classy design and pastel colors. But I dare to guess that most users loved it for the opportunity to REopt in for 5% off.
Hardly anyone of those who don't like your service will resubscribe even for 20%, but loyal customers might enjoy and eventually use the bonus?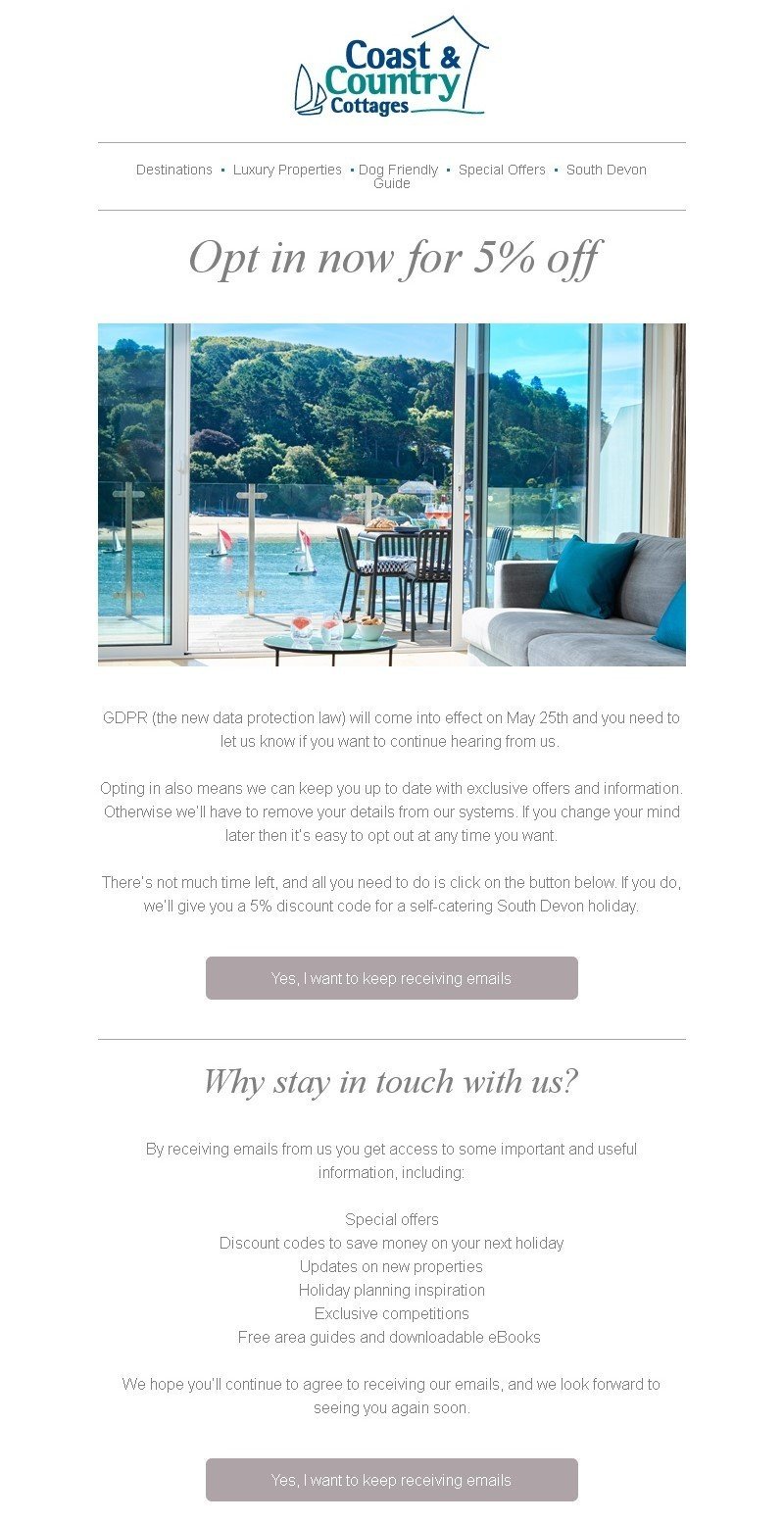 What makes this GDPR email great: the reminder of why customers could be interested in receiving emails from this brand "Why stay in touch with us?".
How to get our GDPR emails opened
It is totally at your discretion which way to choose to get subscribers' consent to save your mailing list — make it a plain text email, or add emotions with cute banners, but prior to finally receive the consent, we are to convince recipients to open the emails. There are two major ways to achieve this: proper subject lines and sequences of emails.
Subject lines
In most cases, it is your brand name and a subject line that determine whether recipients open the email or not. Let it reflect the reason why customers have received this email.

Remember to specify the preheader text.
For example, Grammarly used it to thank its customers.

You can set the subject line and the preheader text with Stripo.
Just click the settings button, insert proper text. Done!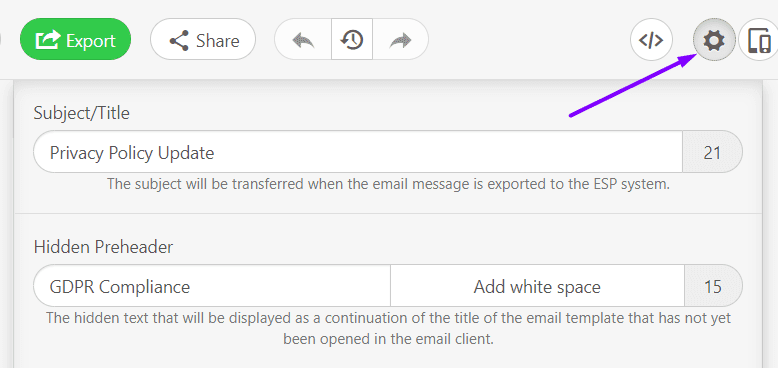 Sequence of emails
Please, do not start reaching out to your customers a few days prior to the date when the CCPA regulations come into effect. Start it a few weeks or even months before. Then you will have a chance to get your emails opened.
Create a sequence that contains three to five emails to make sure that at least one of them will be noticed by the recipients.

"Action Required_Important Update on How We Contact You" is the perfect example of a clear subject line.
GDPR compliance for email marketing
Save the consent given by all email subscribers;
Use only double opt-in for newcomers;
Note: a ticked checkbox is not allowed.
Here's an example of a perfect subscription to newsletters by the Nifty Images:

Always include an unsubscribe link in the emails (by doing this, you will abide by the GDPR and the Can-Spam Law).
Summary
We've provided you with a step-by-step guide on GDPR compliance for email marketing. Hopefully, being inspired by these examples you will prepare excellent CCPA email newsletters to inform all the US subscribers that the Privacy Policy is going to be updated soon.
But please be acknowledged that you will need a piece of legal advice to make proper changes to the Privacy Policy.
All the Stripo email templates already contain the unsubscribe CTA buttons — you will only have to insert your links.
If you have any questions or concerns, please email us at contact@stripo.email or join us on Facebook.
Was this article helpful?
Thanks for your feedback!