13 February 2019
How to Add an Animated GIF in Outlook
You wanted to send GIFs in Outlook? Well, MS Outlook announced that this February it starts to support animated GIFs in emails.
It is great news as 9% of people worldwide use Outlook app, according to Litmus.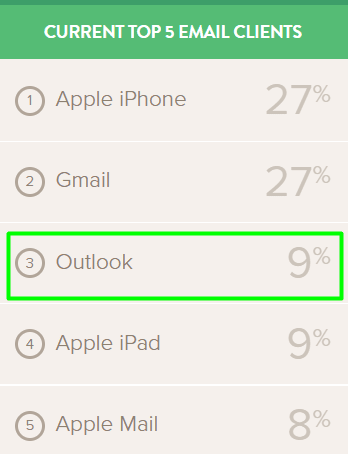 Does it concern all users of this email client? No!
So, who can now see animated GIFs in emails:
Outlook for Office 365, desktop — new;

MS Outlook for mobile devices as app;

Outlook 2003 as app;

Outlook for Mac as app;

Outlook web version both mobile and desktop devices.
GIFs are inserted the same way as you insert images into email templates:
pull the "Image" basic block (module) into the template;

upload a GIF;

or paste an appropriate link;
Restrictions for GIFs in Outlook desktop app:
In the desktop app, Outlook animated GIFs are only played three times automatically. When the recipient opens email for the fourth time, he or she will need to click the "play" button.
Note: in the Outlook web version and in Outlook mobile app, GIFs are played automatically as many times as the email gets opened.

If you add 4 or more GIFs to email, none will be played automatically. Readers will see the "play" button over all of them. This is great. A few GIFs played at once can cause epileptic attacks. This way, Outlook cares about our recipients.
Note: in the web version, there will be no "play" buttons. GIFs will load and "work" automatically.
Fallback for those recipients who use old versions of MS Outlook
Recipients who use Outlook 2007, Outlook 2010, Outlook 2013, Outlook 2016 and even Outlook 2019 will still see static images — the first frame of the animated GIFs.
Certainly, if your GIF delivers some important information or fulfills any other mission, you'd like all your customers to see it.
So, here's how to email a GIF in Outlook to recipients who use an older version of this email clients:
always! add a link to email web version (some call it "view online);

also, you can add a note "view as GIF on the web".
GIFs in emails: best practices and examples
Important: Unfortunately, with the growing popularity of GIFs, videos and video games, the world has faced a new form of epilepsy — photosensitive epilepsy. 3% of our population now suffer from it. Which is why apart from making GIFs appropriate and useful, we need to make them safe.
Recommendations to follow in order not to harm recipients:
The first cardinal rule is to make sure you place just one GIF on a screen. Some brands do 2-4 of them. But in fact, this can cause dizziness in recipients;

Keep your GIFs within 2 flashes per second, otherwise, it can cause photosensitive epilepsy (PSE) seizures in people. Solution is — let images in GIFs slowly interchange each other. Besides, it's not necessarily to animate entire banners — you can animate just small elements.
Best examples of accessible GIFs in emails
In this block, we compiled 5 best examples of the GIFs that meet the requirements for preventing photosensitive epilepsy seizures.
1. Adidas
Mission the GIF fulfills: demonstrates the product's unique features.
In order to showcase exceptional features of your new products, or in order to show subscribers how to start using your tools, you need to provide them with a manual or add a long description. But as for the first option, you may not be sure that all recipients will click the "magic" button. And as for the second, you honestly doubt users will really read it. Which is why Outlook animated GIF is a great solution.
Adidas really did its best. This GIF has average speed, it doesn't hurt looking at it. Yet, they demonstrated how their sneakers look at night.
What makes this GIF so soft? — When creating one, Adidas applied "transition" effect.
2. Banana Republic
Mission the GIF fulfills: lets recipients knows which categories the discount applies to.
Of course, Banana Republic could have made 2 banners, or divide the existing one in two. But in the first case, the email would have become much longer; while in the second option, with a "sale notification" over the images, it would have looked overloaded.
In this simple way, Banana Republic notified its prospects and existing customers that the discount applies to 2 categories: men and women.
What makes this GIF so soft? — Similar position of the people in the images.
3. Monica Vinader
Mission the GIF fulfills: provides recipients with a closeup.
Quite often, we need to provide readers with a closeup of the product item we are currently promoting. Image rollover effect and Outlook animated GIFs are the best solution out here.
What makes this GIF so soft? — A large number of images where each of them contains a snippet of the item which is a little bit closer than the previous one and then vice versa — each image contains a snippet of the item which is located a little bit farther. These images interchange slowly due to transition.
4. Victoria's Secret
Mission the GIF fulfills: demonstrates your rich assortment in a nutshell.
When you need to showcase all assortment, or when you need to explain what items the set consists of, you'd better use an animated GIF.
In this case, you do not have to animate entire banner — just a little element of it.
What makes this GIF soft? — Location, width and length of the panties remain unchanged.
Note: in this simple way, you can also demonstrate all the colors of new apparel, that are available.
5. Athleta
Mission the GIF fulfills: demonstrates the ways to combinate items of your apparel.
This GIF consists of 5 photos. Adding each of them separately to our email, would make it long and less dynamic, I dare to say "boring". While this GIF does quite the opposite — it enlivens Athleta's newsletter. Besides, this GIF complements the goal of this campaign — "demonstrating the commute benefits".
What makes this GIF so soft? — When creating one, Athleta applied "transition" effect.
The news about GIF support in Outlook is a great one for everyone, not only for the companies who use this email client as a corporate one. Now, email marketers do not have to worry that some subscribers (like every tenth one) will not see the GIFs with instructions, descriptions in it. Now our GIFs and emails keep their beauty and usefulness regardless of an email client.
I just want to remind you that Stripo allows you easily creating HTML emails for Outlook, then exporting them to this email client in 2 simple steps. Send these elegant emails out to your colleagues and friends to please them.