The development of technology does not stop for a minute. Today, on every corner, you hear about AI. How it learned to generate excellent texts, images and can support more or less meaningful dialogues with us. It seems that everything is subject to him. That is why we decided to remind you how it helps email marketing.
Therefore, we have made a short and comprehensive overview of AI in email marketing and everything it can do within the industry. In this article, you will learn how AI in email marketing works and what value it represents for modern business. We will also tell you how to implement it in the company's activities. And without special knowledge.
What is artificial intelligence?
The easiest way to understand what it is to start with a general term. Artificial intelligence is a collection of different but related technologies that simulate and mimic human abilities.
Its principle of operation is based on the collection, processing, storage, and analysis of large amounts of data. Combined with high-speed processes, as well as intelligent algorithms, this provides technology training. The program finds patterns and signs in the data. Based on these, it develops solutions that are most likely to lead to the achievement of a specific goal.
Artificial intelligence is not a panacea. While technologies in this category are capable of simulating some human abilities, it is not a universal solution. Artificial intelligence is a set of tools. It is important to combine them correctly. This is what opens up amazing AI-powered email marketing opportunities for companies.
In this context, the following technologies are most often used:
Machine learning. It is a self-learning technology. This is done through data analysis, search for useful information and patterns. In this case, the actions are not directly programmed. Instead of following clear instructions, algorithms use statistics, neural networks, and operations research techniques. Thus, there is a gradual improvement in the results of performing a specific task. In marketing, the two most commonly used functions of technology are classification and regression. The first involves identifying the characteristics of an object and assigning it to a certain class. For example, the division of clients into men and women. This, in particular, allows you to define the audience. Regression involves analyzing data to further determine the value of a certain parameter. This is how the forecasting of price changes or the dynamics of demand for a product is carried out.
Computer vision. This technology involves deep learning for video and image recognition. Allows you to identify faces and detect objects. The result is an interpretation of the environment and visual listening on social networks.
Natural language processing. The technology allows artificial intelligence to analyze, understand, and generate human speech. Moreover, both written and oral. Examples of using natural language processing for a user are voice control and assistants (Google assistants, Siri). Companies use NLP to create chatbots, conduct semantic analysis, and directly create content.
6 ways AI can improve email marketing
Looking to optimize working hours, increase conversions, and improve customer service? Then read the article to the end.
Tasks like these are just a small part of how artificial intelligence can improve email marketing. And we'll show you how to implement it in your business. Also, with the help of AI, you can significantly save on the services of a professional.
However, technology offers a host of business opportunities. The variety of capabilities and functions of artificial intelligence allows you to use it to perform various tasks. The use of technology leads to better email campaign results. For clarity, we will describe the most significant benefits of using AI in email marketing.
Way 1. Automation
One of the most significant opportunities. Automation ensures that emails are sent on time without the need for your personal presence. This saves working time. Accordingly, the company can focus its efforts on higher-priority tasks.
Using AI for email marketing, you can schedule mailings for a specific time, with a certain frequency, or sending in response to a trigger. For example, an abandoned cart email. This ensures the best timing for interaction with users.
In addition, AI is actively used in customer journey optimization. With AI, you can pinpoint and prioritize based on real data, not guesswork. Features like unsubscribe tracking, for example, turn losing users into valuable insights that can help you solve not only customer retention problems but also develop effective strategies to win them back.
Way 2. Optimal send time
Above, we mentioned timing. The program sends emails exactly when the user needs them. However, this is not all. Among other things, it is important that emails come to users when appropriate. If your company operates in many countries, then it is forced to take into account time zones. Most likely, they differ among different customer groups.
Normally, the company would have to determine the best time to send emails on its own. But we remember that today we can improve email campaigns with AI. The technology is able to determine the optimal time, taking countries and territories into account. Getting the right message at the right time increases the likelihood of customer acquisition.
Way 3. Catchy email subject lines
The subject line of an email is one of the factors of its opening. It influences user decision making. 47% of subscribers will open an email if they are interested in the subject. Artificial intelligence can help with this.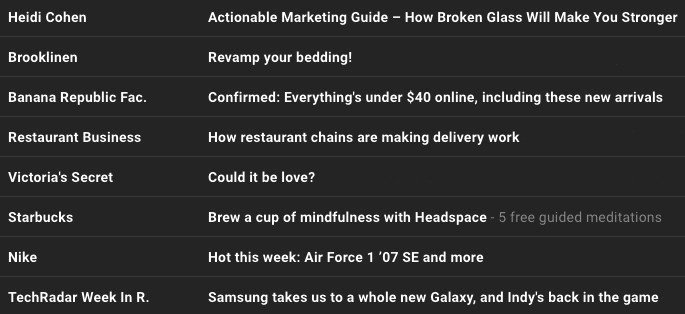 Through the use of deep learning, technology is able to create, test, and improve email subject lines. In this case, the goal is to acquire more users. Technology learns to get the job done most efficiently. Therefore, it analyzes email marketing strategies, identifying and notifying about the factors that affect the target audience of the company.
Stripo can help you create subject lines using the power of artificial intelligence. To use this feature you need:
Go to the Projects setting and enable the "Improve Subject Lines and Hidden Preheader using AI" control and briefly describe your business' specialization by writing short keywords separated with commas. This will help AI better understand your domain and provide you with more specialized subject lines;


Open your email template and switch to the "Settings" menu;


Write an example of your subject line so that the AI can generate other options based on the keywords;
Click the "Improve with AI" button;
Choose the most suitable option from the suggested generated list or click on the "Suggest more" button to see the new generated options.


Way 4. Personalization
Today, personalization is vital for communication with users. In the absence of personalized content, the response rate drops by 83%. But its use increases the effectiveness of the campaign. Personalized calls to action lead to a 202% increase in conversions.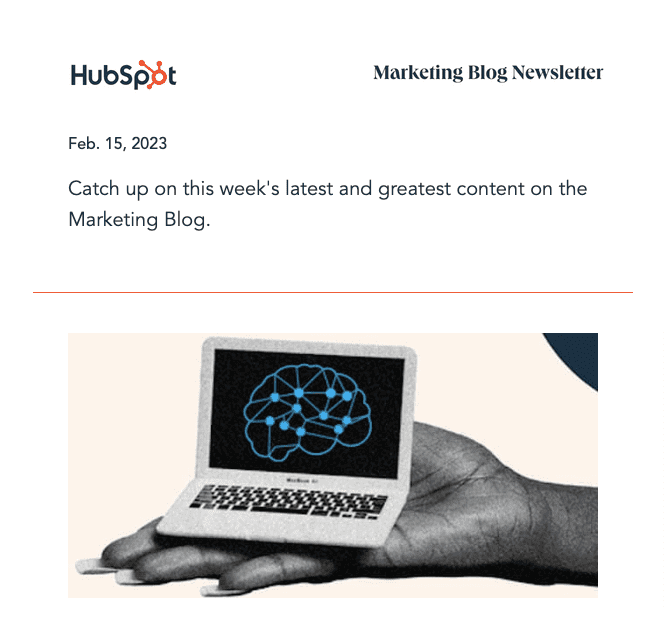 (Source: Email from HubSpot)
Today's consumers are picky about brands. They want their interests to be taken care of. Therefore, they are looking for companies that make personalized offers. And this is the aspect in which you can fundamentally optimize email campaigns with AI. Best of all, optimization reduces user acquisition costs by 50%.
How does artificial intelligence do this? It studies users by dividing them into distinct segments according to their preferences and interests. Further, each group of customers is sent the most relevant proposals based on their interests and priorities. So the simple use of AI allows you to increase conversions.
For more ways how to personalize emails, please refer to our blog post given below.
Way 5. Retargeting
It is an effective tool for re-engaging users. If a person has shown interest in your product, then the company can already offer him something of value. Sometimes it is enough just to remind. Well-tuned and executed retargeting results in increased ROI.
Artificial Intelligence offers many tools to help you understand customer behavior. You can analyze how users act while viewing ads, searching for a product of interest, and purchase history. This information will allow you to generate more relevant offers. As a result, it will facilitate the task of increasing conversion.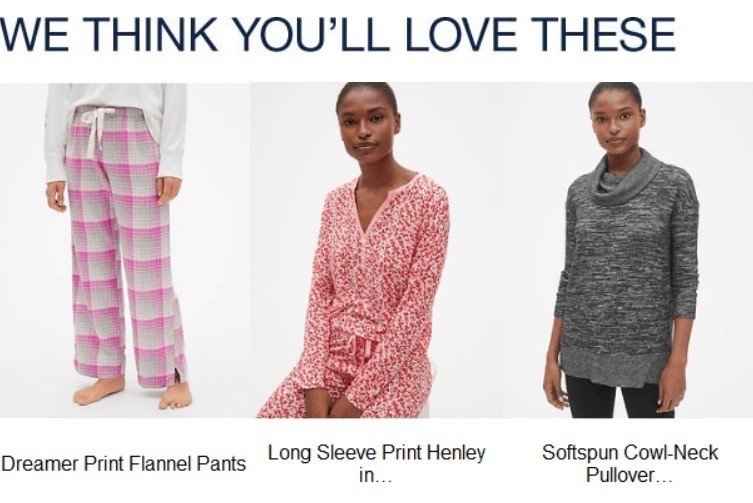 (Source: Email from Gap)
In addition, tool integration is possible. For example, email marketing and CRM. In this case, knowledge about the purchasing habits of a particular user can be transformed into relevant content.
Way 6. Forecasts and analytics
Predictive analytics is one of the hot trends. By understanding how the user will behave, email marketers can develop a communication strategy to turn the lead into a loyal customer. Email marketing campaigns are becoming results-driven.
Artificial intelligence is able to independently find, analyze, and sort historical data. This is how it learns your users. These can be company clients, website visitors, social media followers, or all combined. As a result, designing effective personalized emails becomes easier. After all, you are not just advertising something. You make proposals that are interesting and relevant to the needs of the target audience.
AI tools to improve email marketing
1. AI logo maker
This free AI logo maker can help you create stunning designs in seconds.
The service is a free online editor. Offers over 1 000 templates that you can customize and modify at your own discretion. The difference between the service and its analogs is the use of artificial intelligence.
Features available:
algorithms automatically reshape, combine, and modify the design elements of the templates to match your brand identity.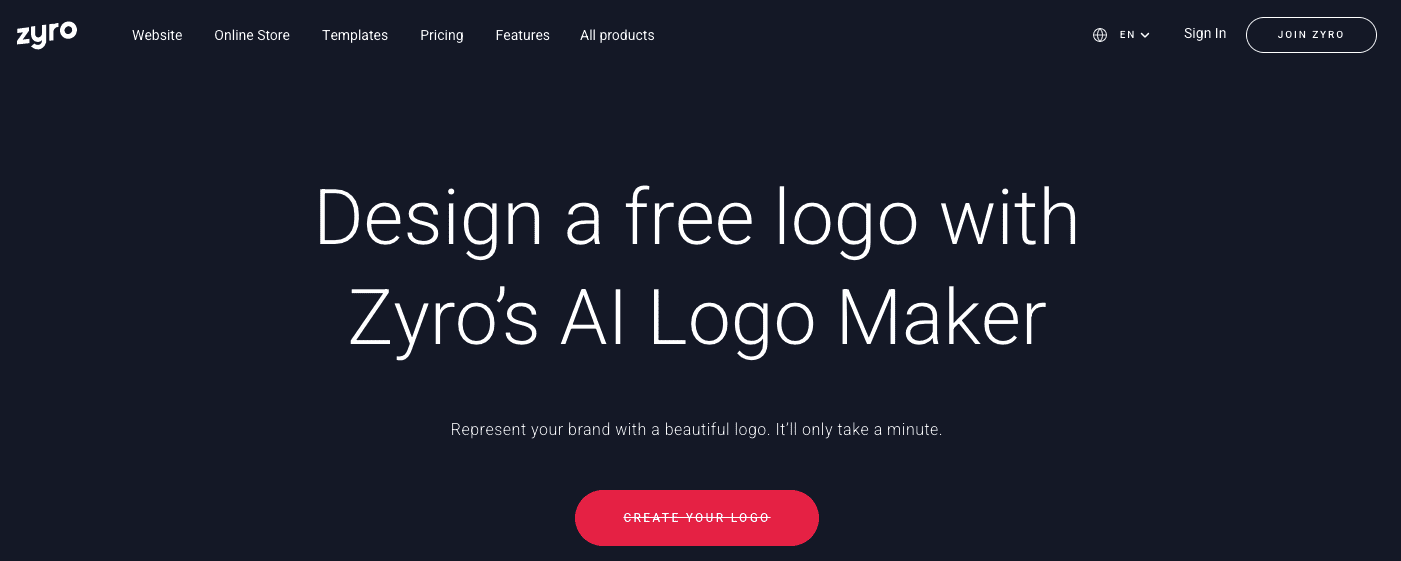 2. Phrasee
This tool allows you to generate effective and convincing short texts that match your brand's voice. Powered by artificial intelligence. More precisely, deep learning and natural language generation.
This combination of technologies allows the tool to create texts that are most likely to suit the audience of a specific site. At the same time, the content is readable and convincing. Phrasee is an AI tool that allows you to increase the number of openings, rates of clicks, and conversions, as well as the company's profit.
Features available:
Phrasee Email: Generates subject lines, pre-headers, and effective calls to action.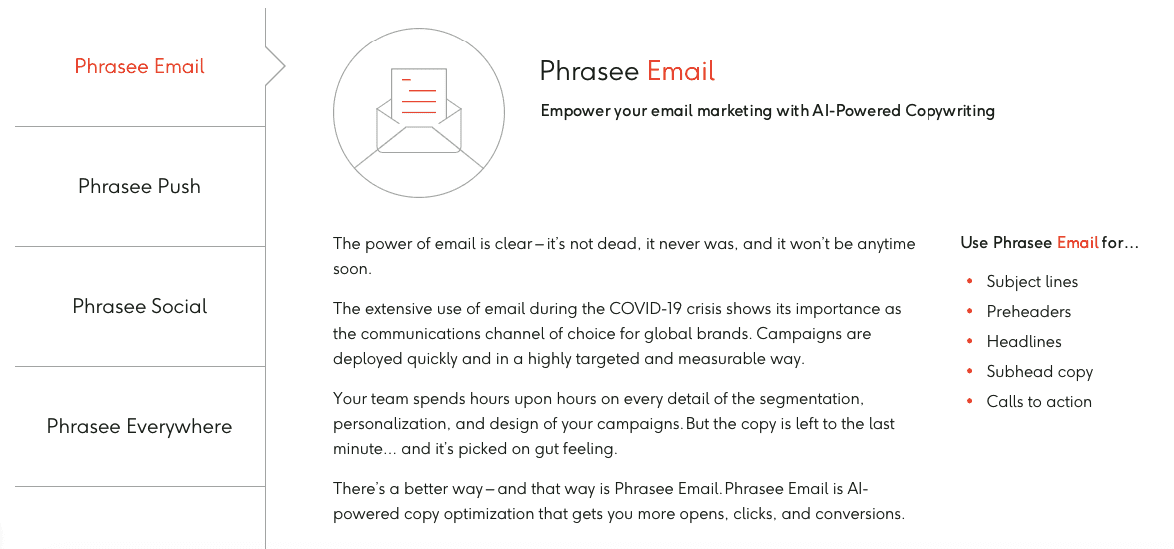 3. Grammarly
Grammarly detects the tone of your copy.
This allows you to set the tone for your emails that you really like, from cheerful to formal. And thus, all your emails can be stuck to one single tone to make your emails consistent.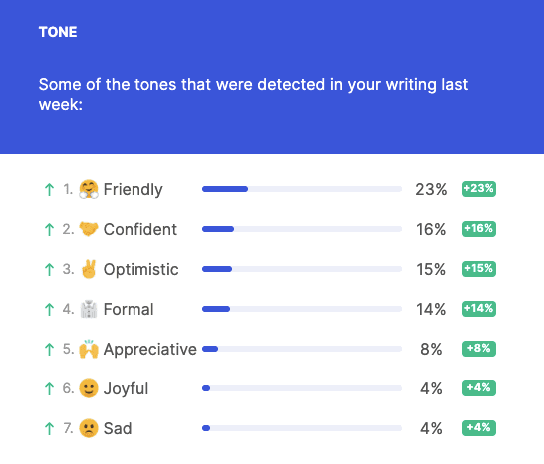 (Source: Email from Grammarly)
If you set this extension to your browser, it will detect the tone of your emails in real-time right.
4. Stripo
Service for creating high-quality email templates, including ones with interactive, real-time, and AMP content. No programming knowledge required. At the same time, the created emails are responsive and correctly displayed on devices of any type.
Currently, Stripo Stripo can optimize subject lines with AI, but we are on the cusp of big changes. Very soon we will add the ability to generate texts using the power of artificial intelligence. Stay tuned to be the first who will know about the release of this feature and will be able to test it in your emails. Besides that, soon there will be AI templates in Stripo that you can use. But shh, we didn't tell you anything.
Leave a comment below or email us your feedback.
5. Yespo
Yespo is a marketing tool for creating bulk automated emails based on user behavior data. Provides omnichannel. Already, mailings are available via email, SMS, and Viber, as well as web push and mobile notifications.
The service offers a large list of email marketing tools to help build a loyal audience and increase shopping frequency and average check.
Features:
automated recommendations to users based on previously viewed products;
personalized content recommendations;
automated smart segmentation of users;
optimization of the frequency and time of sending messages.
6. Mailchimp
It is a universal email marketing platform offering solutions for various tasks. Tools for optimization, automation, and creation are available here. Integration with the site is provided.
Mailchimp makes heavy use of artificial intelligence and data science. Algorithms collect information about user behavior and use it to solve email marketing problems. For example, developing a customer journey.
Mailchimp has its own proprietary analytics engine. Powered by artificial intelligence. Collects and analyzes customer data to provide guidance on email audiences, email content, and targeted actions.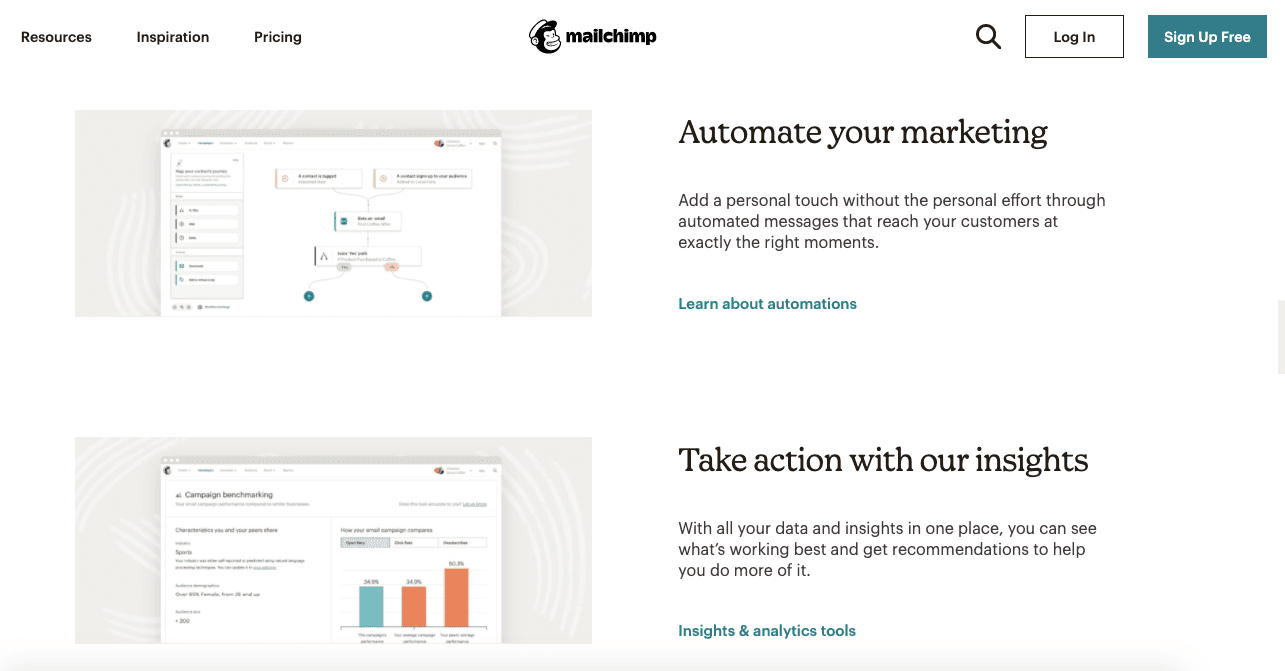 Features available:
split and multivariate testing;
analytics tools;
automation of email marketing;
segmentation tools.
7. ChatGPT
ChatGPT, a new chatbot from OpenAI, was the first multitasking AI available to any user. Researchers believe that ChatGPT will seriously change many areas of our lives. At its core, this is a chatbot that can conduct a dialogue, look for errors in the code, compose poetry, write scripts, and even argue with a person on various topics, proving their point of view.
Features available:
writing code. The chatbot suggests how to perform an operation or process and also looks for bugs or translates code from one programming language to another;
answering difficult questions. At the same time, according to the observations of users, the quality of answers is higher than that of Google search;
writing scripts. With ChatGPT, you can generate new episodes of old TV series or set specific tasks for the heroes of the MCU;
writing lyrics and sheet music;
writing various essays. A neural network can write long essays on complex topics in just a few seconds;
creating queries for other neural networks. ChatGPT can generate accurate hints for Midjourney and other neural networks that generate pictures.
The list is quite large and users around the world are waiting for a breakthrough from this neural network. Stripo is also keeping up with the progress, and we are already testing ChatGPT when creating subject lines, CTAs, text for website pages and cold emails. We'll share our overall experience on using ChatGPT in March.
Final thoughts
AI for email marketing is a powerful analytics, automation, and sales tool. It knows everything about your clients. But the best thing is the results of the analysis of the colossal amount of data-driven insights available to your company.
This means you can personalize your email marketing strategy as much as possible to maximize inbox delivery. AI solutions will show which product, to whom, and how to offer it. This is a qualitatively new stage in the company's development. And you can utilize it today.
Was this article helpful?
Thanks for your feedback!