16 August 2018
Top 12 Tips for Back to School Email Newsletters
Fall is more than just a time for new beginnings, but is also a good opportunity to remind about the brand, to come out with new sale launches and new items. I guess you agree that every day it's getting more difficult to surprise subscribers with email newsletters, and especially make something interesting and non-typical. You can change it in a back to school email campaign announcing seasonal sales.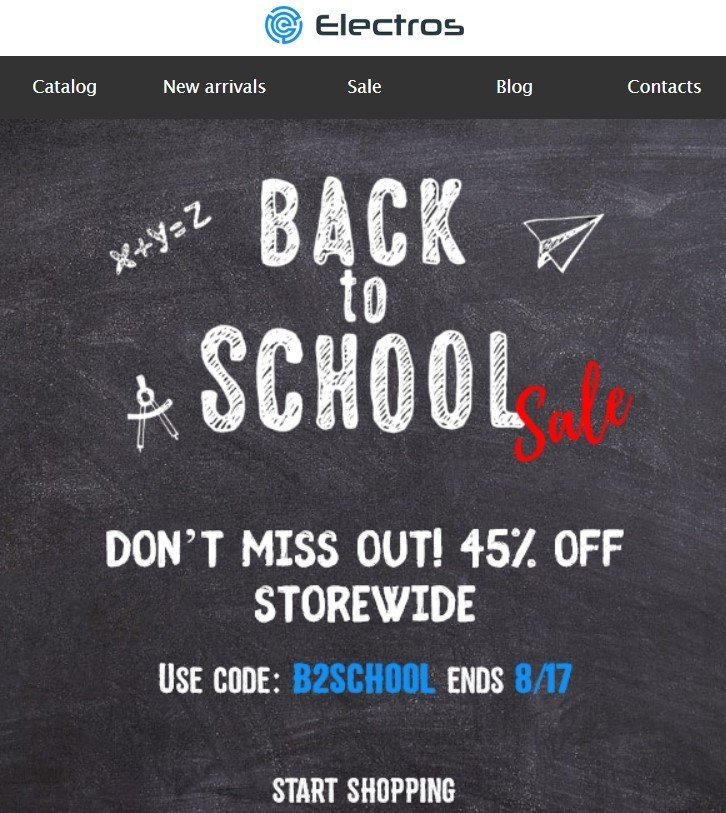 Top 12 Tips for Back to School Email Newsletters
As high achievers, we are about to let you copy the 12 principal tips for running Fall 2018 school newsletters from us. By using them, you will run an effective email marketing campaign your subscribers will certainly love and will draw their attention to your promo and sales. After the theoretical part, we will survey some successful back to school email examples provided by the companies who managed to strike a balance between the school theme in emails and personal brand style.
1. Mention the school theme in a subject line
It's commonly known that first impression matters. Thus, you should pay close attention to the subject lines, because in most cases those latter determine whether a recipient is going to open the email or not. You may even reveal the sale's conditions in the subject line to get the customers interested. Try to use a fun school headline/preheader copy where you mention the sale:
InchOfCold: We cannot count — 2+2=5
eBags: Pack Your Bags 💼
Use your imagination, but try to keep it within 24-50 characters as long as long subject lines are cut by email clients and users may not see it full. That's why you should better use short subject lines and add some preheader to it.
2. Let the stereotypes work for you
A vast majority of people associate school with lessons, a desk, a blackboard with copies written all over it with some chalk. Why not make it the main ingredient of the entire back to school email like the TOMS did? They used the fonts with the effect of copy on the blackboard.
As we can see, the marketers worked pretty hard on the Fall sales for a wide variety of prospects. The edge of the email was the company prepared a good value proposition not only for "schoolchildren" but for almost all members of the family. It goes without saying that at any age we love bragging about our new clothes.
The TOMS designers drew our attention to the email design — there is no info regarding prices or sale duration. The intrigue is kept, and there is a wish to go to the website to find out the details sooner. And the preheader's copy "Free shipping" is also noticeable as written in a different color.
Get inspired by this example, then try not to describe the sale's details but to play with recipients curiosity. This is to make customers not to stay long in an email but to go to the website to make the final decision sooner.
3. Email design first
Your back to school email newsletter effectiveness does depend on the email design. Try not to overload your emails with a high number of colors, structures, and animations. Accentuate really essential things. Investigate and analyze which items are really popular now and put them in the first screen of an email.
This year TOPSHOP pleased all fashion-people who want to look great. The chosen palette of two colors is mixed with the info on product items and perfectly fits the email general style. The zest of the email was the banner and game of words, which complemented the school theme.
There are many various methods to spice up the newsletters with thematic elements. Try to use something similar in your emails:
use a school bus as a fast delivery;
offer a discount or a promo code as a formula on the blackboard.
Also, when designing an email be sure to pay attention to the technical features — make sure email elements used in emails are legible and responsive. According to Rubicon Project investigations, 60% of parents plan to do school shopping online. This means images are not supposed to exceed normal weight. Pity if your customers close the email before the image is downloaded.
4. Stick to the trends
Always remember whom the email promotions are oriented towards. Among the rising generation, stationery, gadgets for school, smartphones and new clothes for the Fall-Winter season are of great need. Consider interests of the rising generation, analyze the latest trends, events and "hype" themes, which can bring customers' delight. When producing a new series of stationery, thoroughly research on the internet who is cooler — Marvel or DC 🙂
Yes, you can say that kids will not read the emails — and that is so true. But who told you that parents do not follow trends for their children?
The Raising Little Superheroes playing on the love to trends prepared entire manual. Its motto was: "We've got everything you need for the beginning of a school year: from bags to pencils for little Jedis".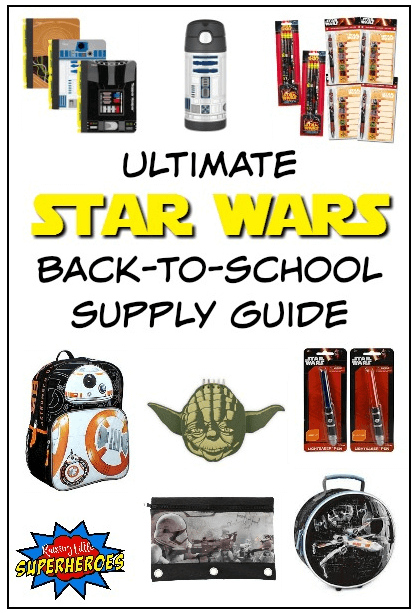 5. Add more engagement elements
We have already said that information should not only be relevant, but beautifully wrapped. The main mission visual elements perform is grabbing the attention, while the engagement ones are there to keep it for a while. They include GIFs and interactive elements like buttons which change their colors when placing the mouse over them, drop-down menu, image carousels, maps, and others.
Marketers state that interactive elements increase email effectiveness due to customers engagement. Consequently, sp do CTR and sales revenue.
Just look how carefully Ban.do reminds parents: "Are you ready for an academic year? Have you forgotten to buy something? If yes, then welcome to our store!"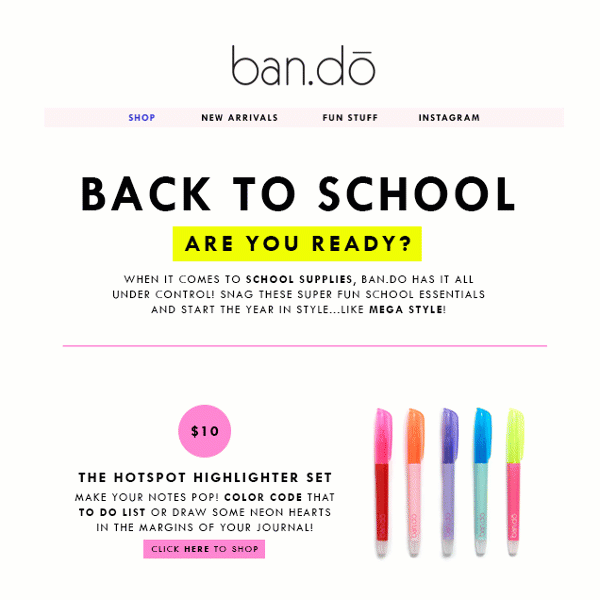 Entire email was painted in black and white, but you can notice some bright elements that grab our attention. Also, they enlivened a banner with GIF-animation. Looks pretty interesting!
Make your emails attractive and vivid by using bright colors, animations, and interactive elements. It will evoke interest in your customers and will help you stand out among competitors.
6. Add a CTA button
Always add a concise CTA to the beginning of email or its subject line. These simple assignments will help your subscribers take the right path and lead them to a logical ending. Use simple copy to get the subscriber to leave a feedback or subscribe to your Instagram page. We know that the best way to get what you want is just to ask for it.
Grammarly offers its subscribers to save 55% on the Premium subscription plan which is about to be used for the purpose of education.
Simple illustration and the short concise copy make this email simple and clear. Whilst the red button attracts subscribers and evoke a desire to click on it, indeed.
7. Give some tips
Here's one more successful back to school newsletter idea — include some tips and interesting recommendations in emails. By doing this, you show your expertise in a given theme and increase customers' loyalty. Remember to focus on the usefulness of the information you share, but not on your profit.
Krrb made a great email digest example, where compiled many educational articles on the back to school theme.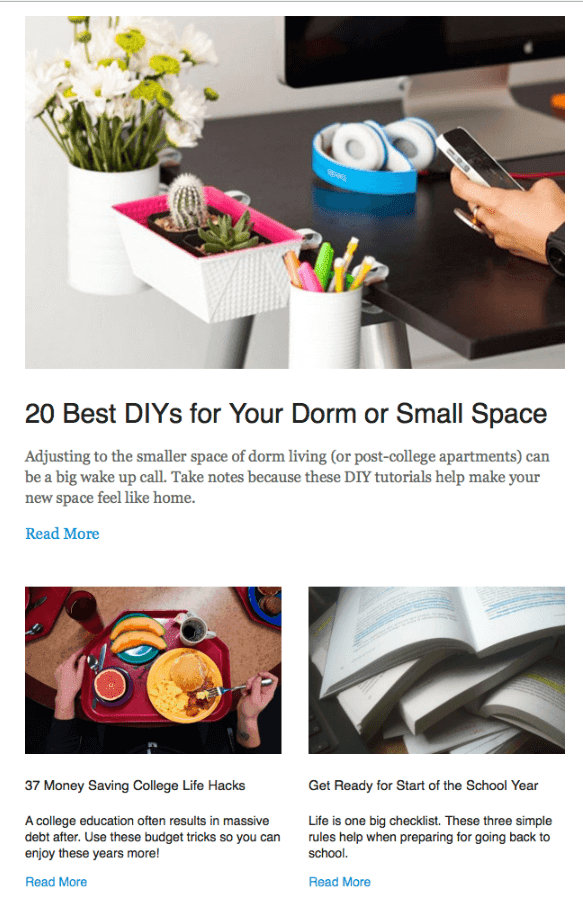 You can think of many similar ideas for educational digests. This means that there are many more reasons for Fall newsletters. E.g.:
how to improve your productivity in class;
5 gift ideas for dear teachers;
ideas on how to help your child make friends in a new school.
8. Promote via social networks
Email marketing campaigns are great. Yet we do need to remember to use that combined with other tools, email newsletters will work even better. In case subscribers like your pages on social networks and know what words "hype" and "vlog" mean, then you should collaborate with bloggers, who are famous among children and adults.
The B+C Shop company always remembers to remind its subscribers in emails "We have profiles on Facebook, Twitter, and other social networks. Let's make friends!"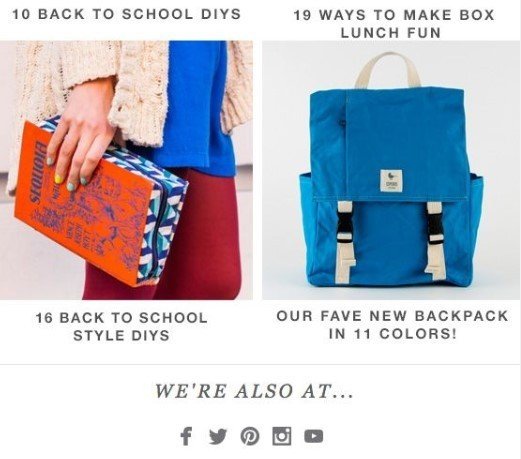 Imagine, there are parents who buy kids stuff only after bloggers' feedbacks. Please be advised that if you want this method to be effective, you need to make posts about current sales on a regular basis. Add links to all active social networks' profiles you have to let the prospects choose the preferable ones.
9. Create the sense of urgency in back to school email marketing campaigns
By creating the sense of urgency, you make the items you are promoting be desired. Show the prospects the time is running, and the sale duration period will end soon, just like summer break.
There are three common ways to do it: by means of copy, proper images and by adding a countdown timer in your emails. These methods show great results by convincing recipients make their decisions sooner.
With this example, ARTEZA shows that you are welcome to use even GIFs which say "Blowout Sale — Hurry Up!".
Urgent emails work better during a pre-holiday period. The less time to the holiday left, the more active your users get.
10. NOT only schoolchildren
Use all available information, segmentize your contact base and be sure to deliver email newsletters to the target audience. Certainly, if you do want to avoid epic fails like sending "kids clothes" to those to whom this info will be irrelevant.
The Rue La La brand sticks to the rule "less copy — more images". This successful method looks bright and colorful, it catches your eyes. At the same time, a wide variety of images does not look like "that's too much". Please be advised that you should still stick to the image-to-text ratio in order to pass spam filters.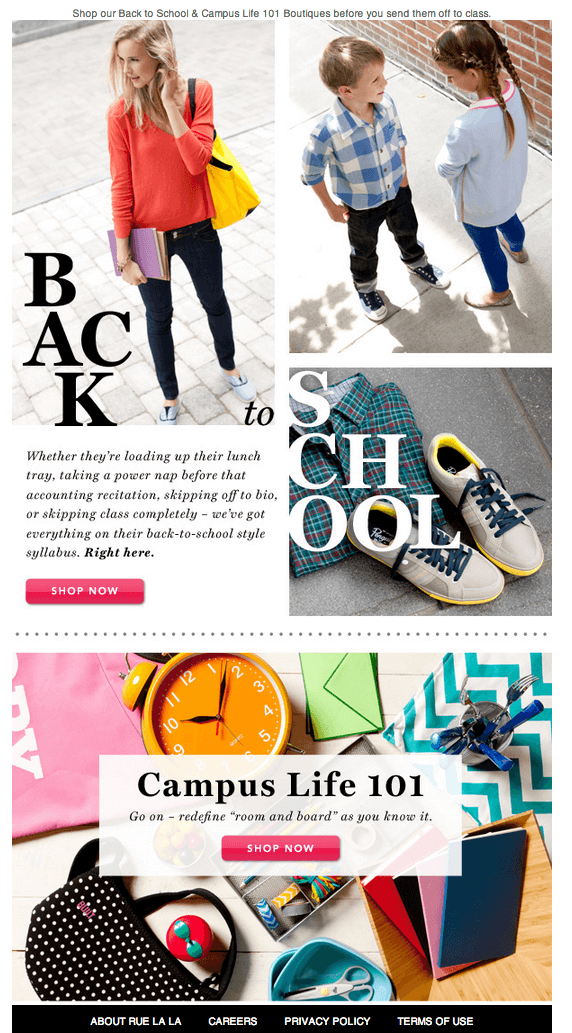 It happens that irrelevant emails, which accidentally got into Inbox irritate recipients. Because for many people, the beginning of a school year is just another working day.
Still, you don't have to lose your chances. Make this theme relevant for everyone. It may sound like this: "It's never too late to learn something new. Choose a new hobby according to your taste: take Salsa or Tango classes. Do it today to get 20% off for the first class!"
11. Do it… Now!
It's the right time to start back to school marketing campaign, as there is not much time left before the beginning of a new academic year.
For example, the J.CREW company makes its emails simple yet classy. No excessive elements — just a banner with high-quality photos and sale description, that lasts only in offline shops and ends in a few days!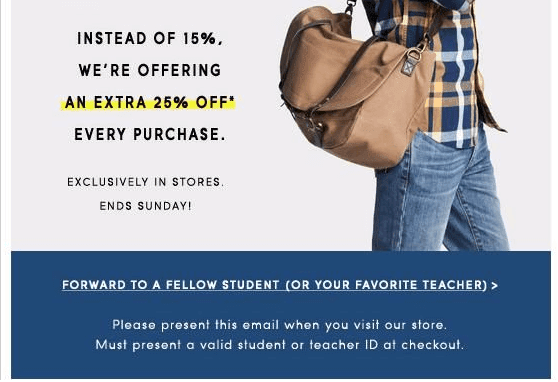 Create a sequence of promo emails to send prior to the holiday.
On the day when a school year starts, send a simple email with a checklist to let customers check whether they've got everything they need.
12. Get inspired by the best examples
There are many sources to overcome a lack of ideas.
First of all, you may go to Pinterest — it has hundreds of email design solutions for each category by famous brands like Apple, Nike, Gap, and others.
Here's a list of other useful sources:
a) email-competitors
Email-competitors is a paid tool, which contains thousands of email newsletter examples, including email promotions, on various themes.
b) eSputnik
eSputnik shares more than 2,500 inspiring examples with detailed descriptions and explanations by experienced marketers.
c) ReallyGoodEmails
ReallyGoodEmails, one more great user-friendly website, shows desktop and mobile versions of emails simultaneously.
d) Stripo templates
In case you need ready-to-use solution with responsive web design — look further no more but us. On Stripo templates page, select the one according to your needs and tastes, and certainly according to the type of email marketing campaign.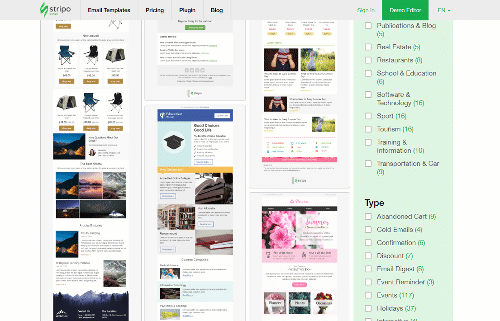 Summary
Remember to praise your customers with bonuses and prove that getting back to school will bring only good emotions and impressions. Promote not only sales, but emotions your prospects are about to get. Take our advice and be a good achiever among competitors.
If you have other ideas or experience to share with us, please reach us out at Facebook and contact@stripo.email.
Bonus
As a nice bonus, we shot a video lesson where we show how to create a fancy back to school banner based on our templates just in a few minutes!