Christmas is the best time of the year. People are full of expectations and hopes for miracles and happiness to come and stay. And marketers are full of hopes to boost sales and increase revenue ;).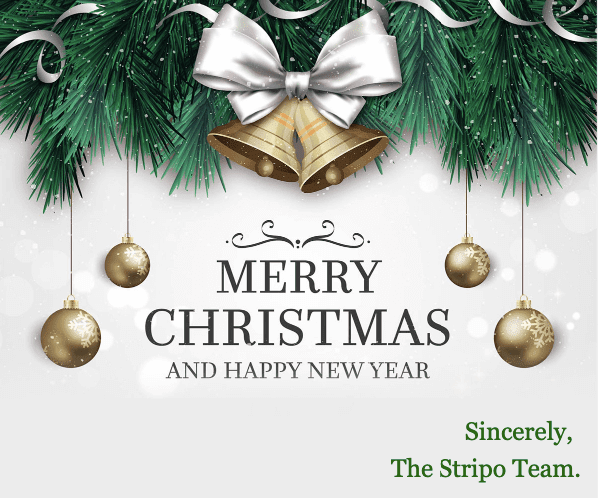 (Source: Stripo template)
How can you make your Christmas emails stand out among thousands of offers provided by other brands?
It's not that difficult. The key to success in Christmas email marketing is simple — do not sell your products, put a smile on your customers' faces instead, and spread the Christmas mood! Be sincere when sharing your emotions and when greeting your contacts on this day. This makes your digital newsletters effective as recipients are more likely to buy from those who spread the holiday cheer.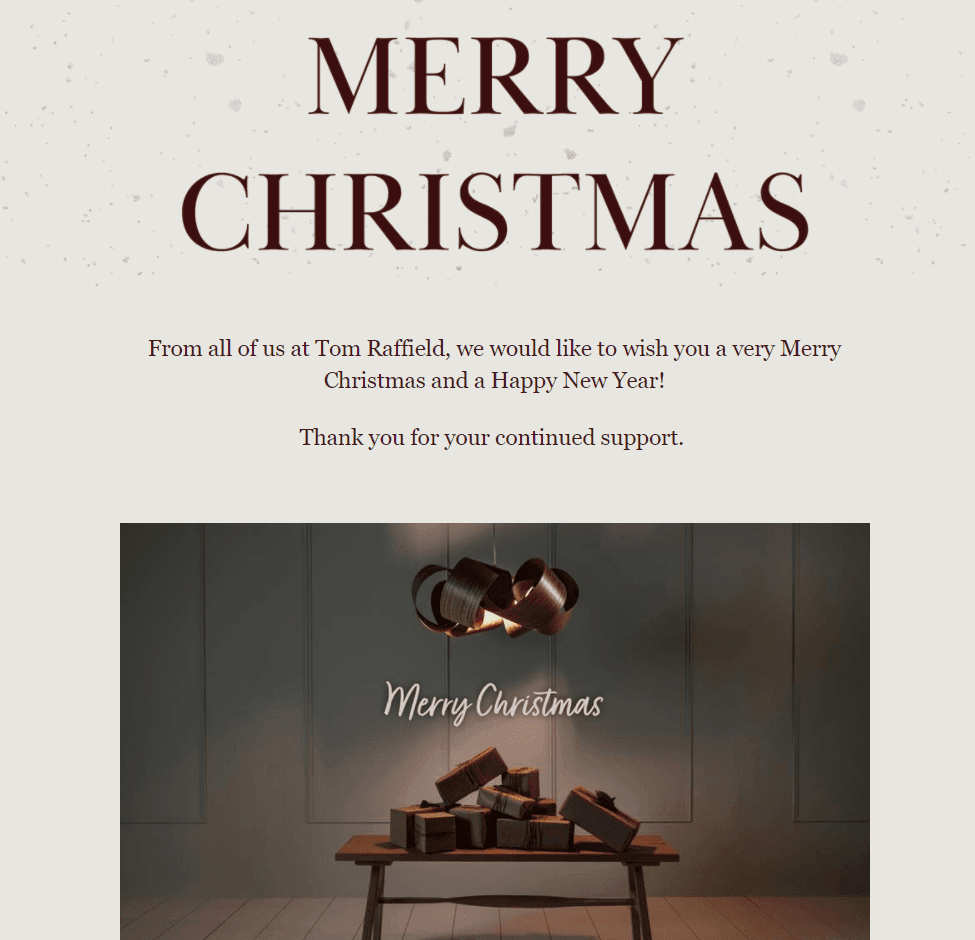 (Source: Email from Tom Raffield)
In this post, we will cover:
Christmas email marketing ideas;

Christmas email examples;

Christmas email subject lines;

the best time to send your Christmas emails.
Christmas email marketing ideas
In this section, we will share tips on how to make your emails powerful and ideas of what your customers really want to see when they open your happy holiday newsletter.
1. Provide free shipping
Did you know that 91% of customers are only going to shop with brands that provide free shipping? 91%! You see, it matters!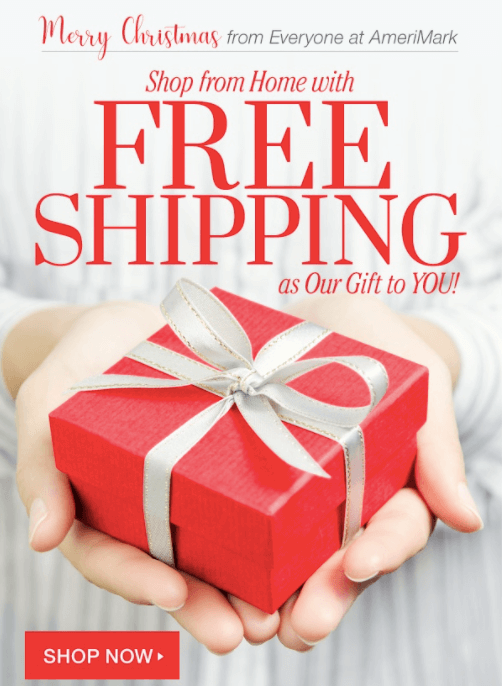 (Source: Email from Ameri Mark)
According to NRF, customers are ready to spend an impressive $998.00 on Christmas this year, $648.00 of that amount is meant for gifts. This is huge. So, offering free shipping is like giving customers a little reward for being so kind and generous to their friends.
2. Cut prices
There's nothing new in this piece of advice, but it's still worth mentioning: we need to cut prices big on Christmas as customers expect us to do it.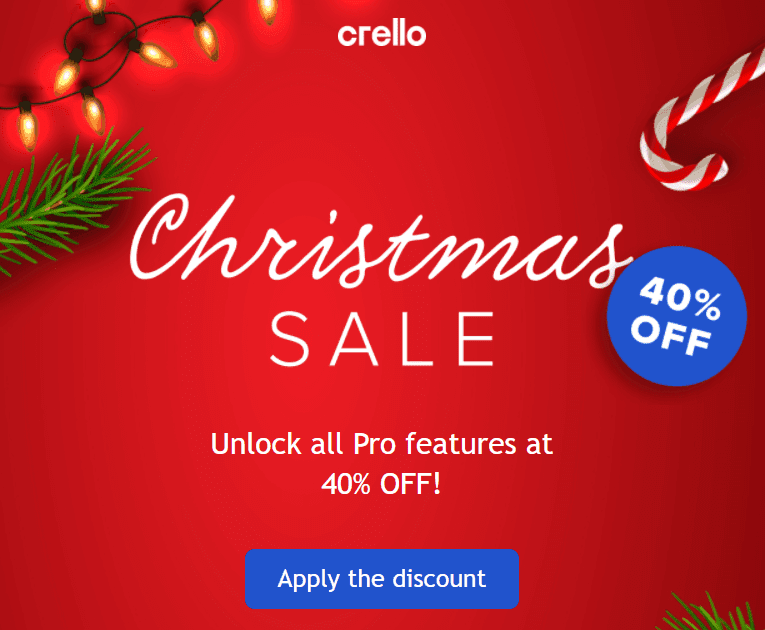 (Source: Email from Crell)
According to NRF, 64% of consumers are only going to buy from a company if the latter offers huge discounts.
3. Entertain customers with interactivity and gamification
During the holiday season, we tend to relax, have some fun, and be entertained.
This is when email gamification helps. For instance, you may just let your customers have some fun or ask them to "win" their prize or discount, that depends on your business.
In our post "Mazes and Puzzles for Emails", we show how to build a similar puzzle in under 30 minutes.
4. Specify the delivery dates
People buy presents for a special day. Hence, it is crucial to have those orders delivered by this certain date.
However, we all know that post offices and delivery services are quite busy during the holiday season. And delivering orders can take longer than it usually does. You don't want to disappoint your customers during this magic season by being late with delivery.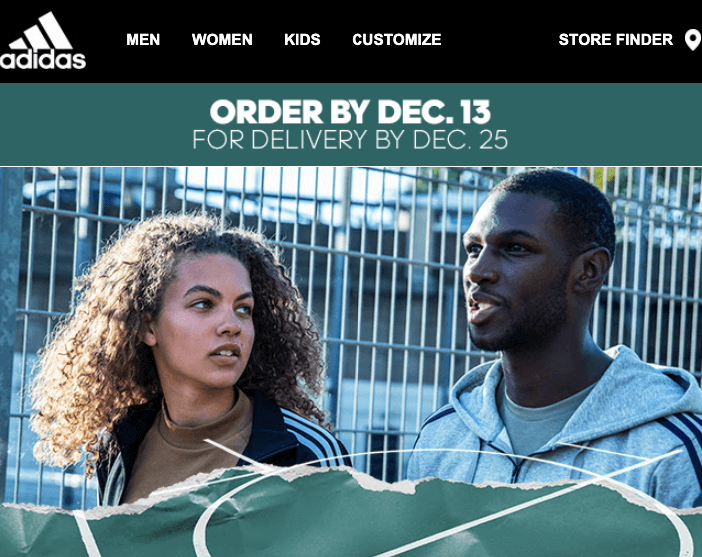 (Source: Email from Adidas)
It should be on brands and marketers to let people know how soon their orders can arrive.
Timers could be of great use here. With their help, you can let customers know how many days they have to order items that would arrive in time for Christmas.
Add timers to your emails for customers' convenience
5. Help customers get what they really want
You wanted a fishing spinner, but your friends got you a pair of socks? You wanted a pair of jeans, but your family got you another pair of socks? This happens quite often. I don't mind socks. But they are definitely not a fishing spinner.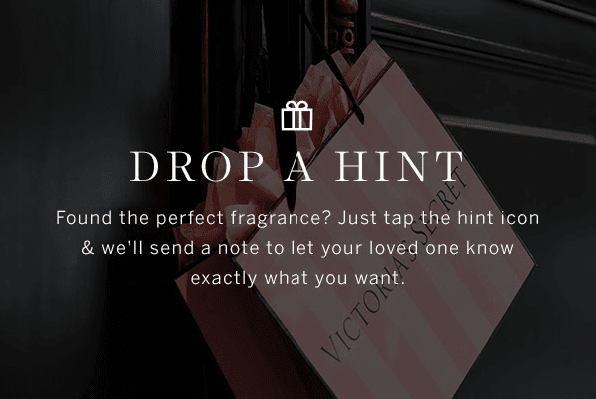 (Source: Email from Victoria's Secret)
Why not help your subscribers get what they really want?
Here's what Victoria's Secret did last year: they let customers add their favorite items to carts. And then they gave "hints" to friends and relatives of their subscribers in accordance with the items a particular user added to their cart.
6. Give presents/personal discounts to your valued customers
You can give presents to your subscribers to thank them for being with you. There are two ways to give presents away: giving small presents to everyone or giving impressive presents to the lucky ones. Monica Vinader chose the second option last year.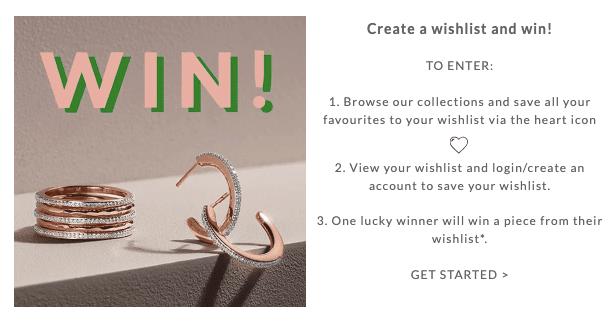 (Source: Email from Monica Vinader)
This simple "trick" will:
drive traffic to your website;

make subscribers strive for your products — some will buy those items if they don't win;

make at least one person — the winner — happy. Isn't it great?
7. Use real-time content to provide customers with actual numbers
Promoting a limited edition? What should you do to prevent users from getting disappointed with you when you run out of a product that you have already promoted in your Christmas email and they are willing to buy?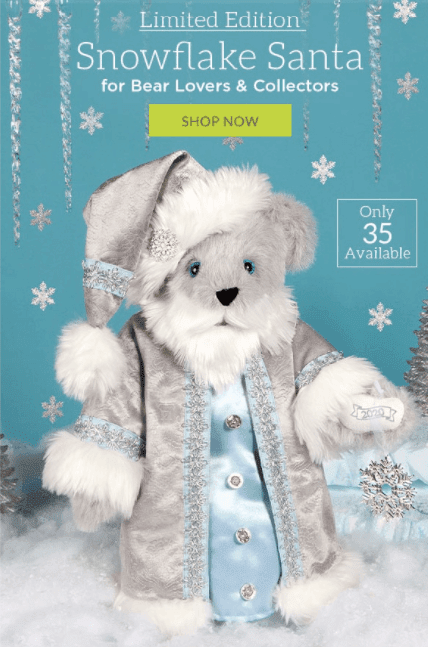 (Source: Email from Vermont Teddy Bear)
There's a way out: use real-time content in emails. How? Connect your emails to Google Spreadsheets. And once you run out of a certain item, you will be able to notify users about it in the same email by simply making changes in Google Sheets.
New users who just open this email, will see updated info: something like "SOLD OUT."
Use real-time data in emails to keep users updated
8. Promote gift cards
Why? To make 56% of Americans happy.
Did you know that 56% of all respondents whom NRF managed to survey this year said they would love to get a gift card for Christmas?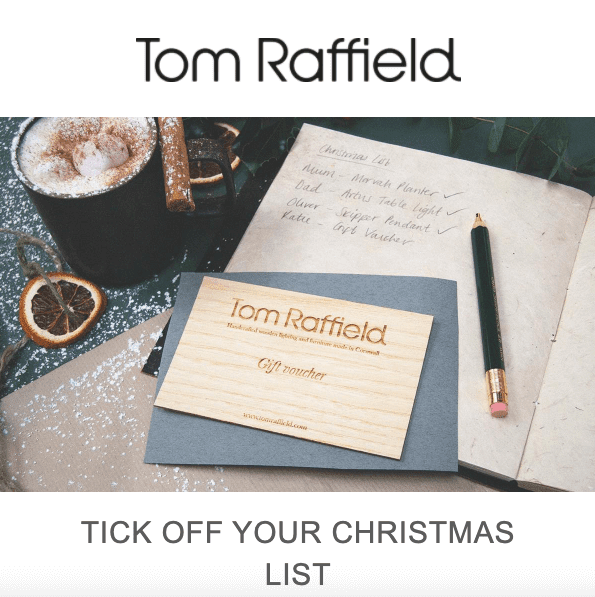 (Source: Email from Tom Raffield)
Selling gift cards is a pretty old Christmas email marketing strategy. And it is still quite popular.
9. Run contests
Running a competition could be a good Christmas email marketing idea. First, competitions always win our interest. Second, winning a competition will make someone happy. And making people happy, especially during the holiday season, is something we all strive for.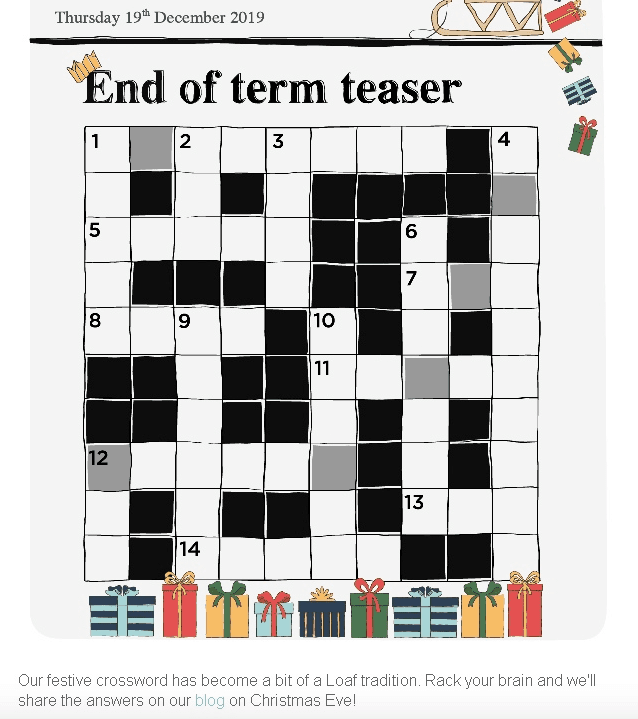 (Source: Email-Competitors)
Be sure to announce a winner before Christmas ;).
10. Make a review of the year/Share your plans for the next year
Remind your clients what you've been through together. First of all, they will know you track their success, second of all, you might remind them how helpful and supportive you've been all year.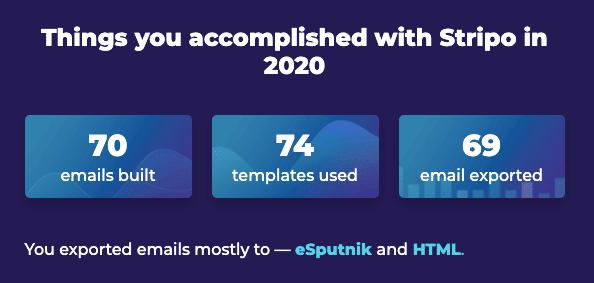 (Source: Email from Stripo)
This is one of the best business Christmas newsletter ideas for consulting and legal services, and for SaaS products.
Important to note:
Your users might want to share this info with their friends. Be sure to add the "Share" button to your Christmas newsletters.
You may also brag about your brand's achievements so that customers know they deal with an ambitious company.
As for sharing your plans for the next year, it is reasonable to do it if your plans are huge. People will love to know what you are up to and what to expect from you next year.
Of course, in this case, you will need to implement them ;).
11. Spread the Christmas cheer
There are plenty of ways to do it: from paying close attention to Christmas email design to telling heartwarming stories or sharing your holiday playlists.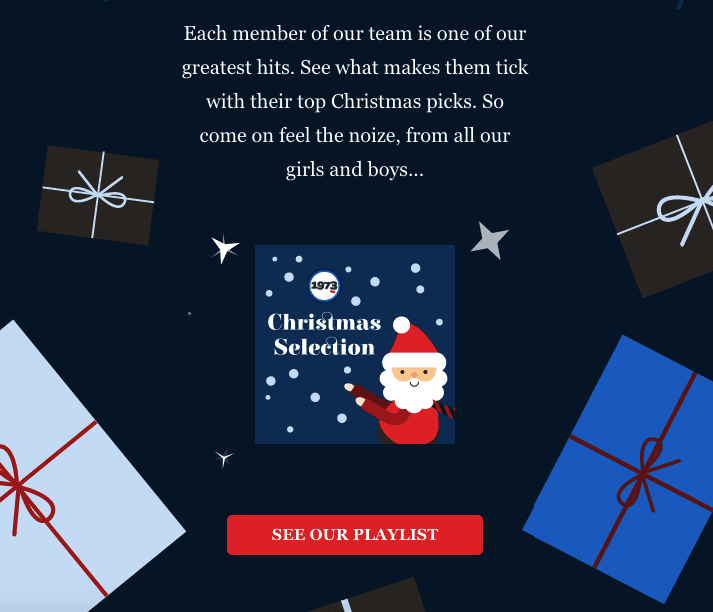 (Source: Really Good Emails)
Madonna said, "Music makes the people come together"... Psychologists believe she is right.
Share the Christmas music you listen to with your colleagues and customers and see what happens.
12. Make Christmas shopping easier
We're always in a hurry. So, searching for Christmas presents on your website or in your emails can take a while.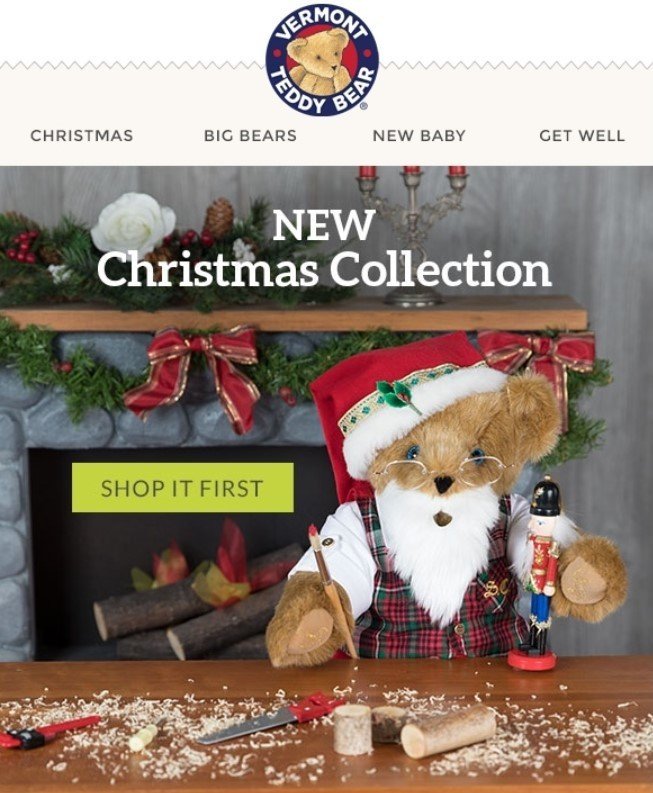 (Source: Email-Competitors)
Using additional menu tabs can significantly help your customers save time as such tabs take users directly where they need.
13. Set your working hours
No matter if you run an online or an offline business, users need to know when they can catch you.

(Source: Email from Kittery Trading Post)
This is not optional, this is a must-do. Especially, if you are not going to work through the holidays.
14. Remind customers New Year is coming
It will be nice to remind customers that New Year is close if you work in the HoReCa industry. Being emotional about Christmas, people may totally forget about this holiday.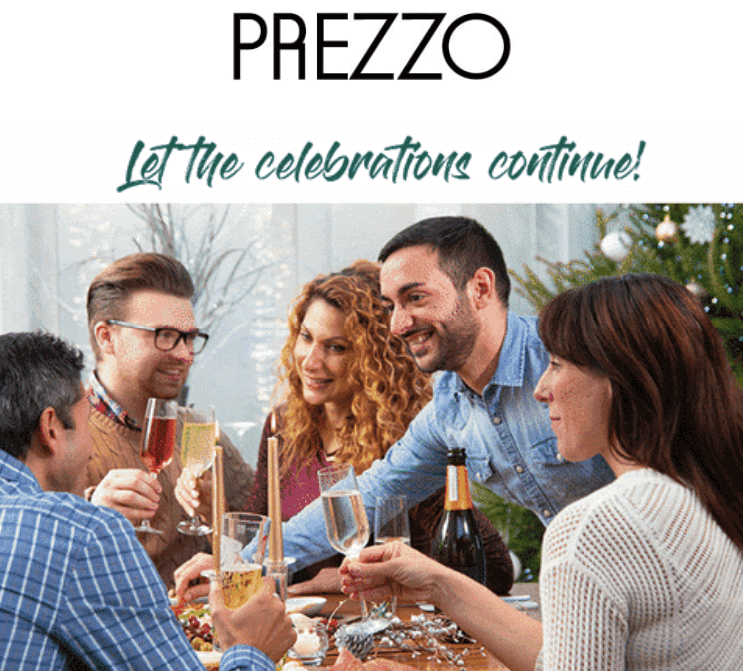 (Source: Email from Prezzo)
It would be reasonable to send this email on December 26. Schedule this campaign if you do not plan on coming to the office during the Christmas holidays :).
15. Show your gratitude/Congratulate customers on Christmas
Would your business exist without them? Right, it wouldn't. That is why the upcoming holidays are a good reason to thank people and mention that you care.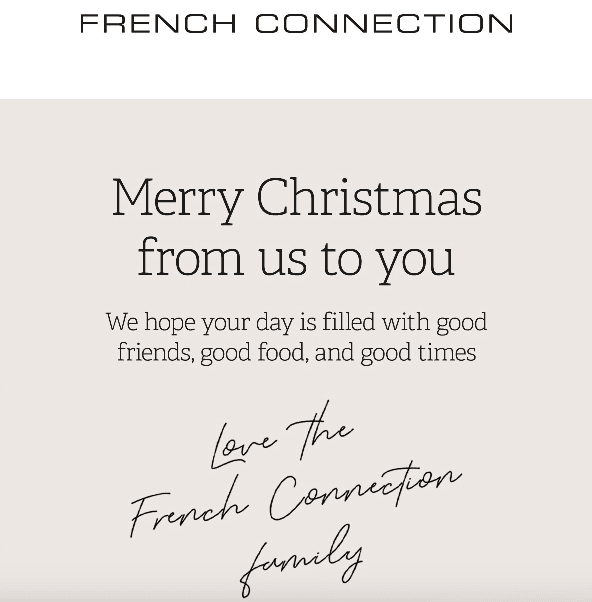 (Source: Email from French Connection)
Emphasize that they are not only your customers but also friends and maybe even a big family of yours.
There's a brilliant idea to make this email even more emotional and sincere: add a photo/video of your entire team or your CEO saying, "Merry Christmas."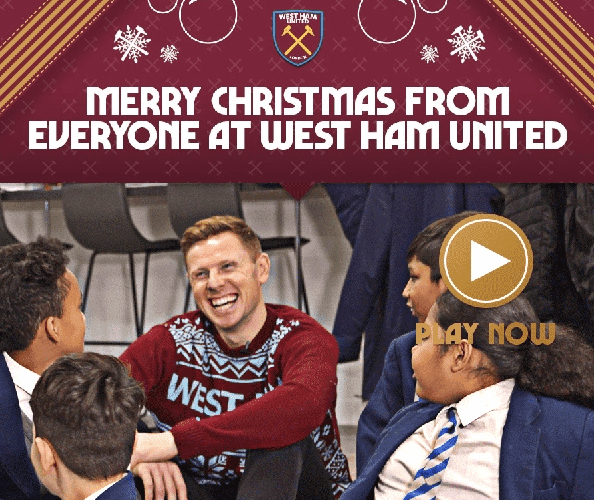 (Source: Email-Competitors)
Send this email before Christmas Eve, say early morning on December 24th, as people are not likely to read your emails on Christmas Eve and Christmas Day — this is family time.
Christmas email marketing examples
In this section, we want to share the greatest examples that will inspire you to build touching holiday emails.
Example 1. Cheerful Christmas email from Stripo
Subject: Christmas Presents.
It's hard to find a person who wouldn't smile when they see Santa Clause dancing with his deer.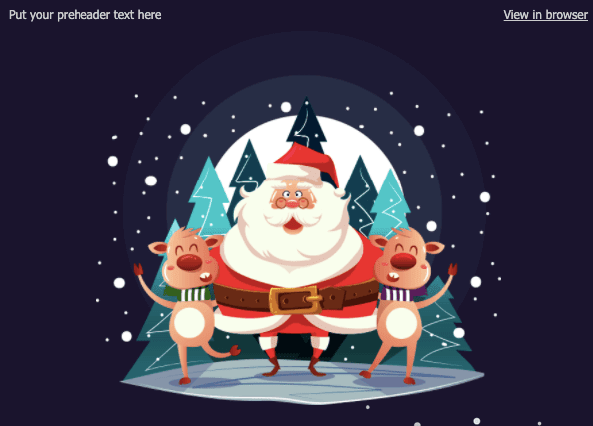 Build fun Christmas newsletters faster with our Holiday email templates
This banner could be a great addition to any Christmas email. And once you add it, your email won't require any other festive email design elements.
Example 2. Sophisticated Christmas email from Ross-Simons
Subject: Get it by Christmas: Order by 2 pm ET today.
First, this sample looks classy, I'd even say, "Luxurious" as it has nothing superfluous in it. Second, this email is a great example of how to combine colors. The company managed to stick to Christmas traditional colors, but at the same time, they avoided using green and red in one email as that is too trivial. Not to mention green and red do not go well together according to email accessibility best practices.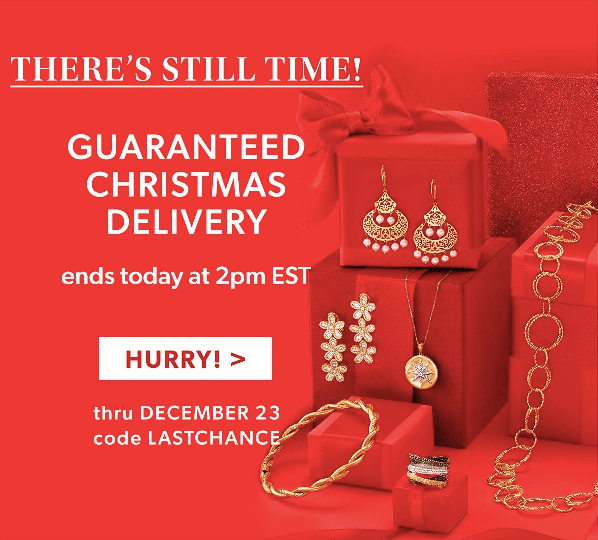 (Source: Email-Competitors)
Example 3. Emotional Christmas email from Sun & Ski Sports
Subject: Merry Christmas from Sun & Ski Sports.
A Harvard Business School Professor states that 95% of all purchases are done emotionally.
Thus, we need to appeal to consumers' emotions to convince them to buy from us or just to help them feel the holiday spirit.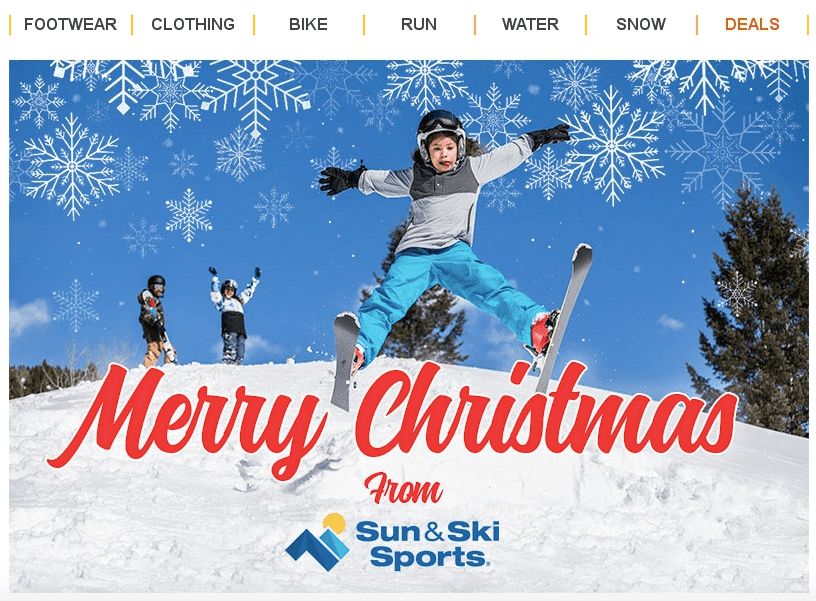 (Source: Email-competitors)
And Sun and Ski Sports succeeded in it. Every time I look at this picture, I long for snow, I wanna go skiing.
Choose bright, colorful, and cheerful photos for your newsletters that present your product best. Or be sure to optimize them with an image manipulation service.
Example 4. Cozy Christmas email from Barnham Broom
Subject: A Cosy Christmas.
For those who don't feel like skiing, but would rather have a cup of hot chocolate with marshmallows instead, you may add photos of happy people at home/resorts to make them feel cozy.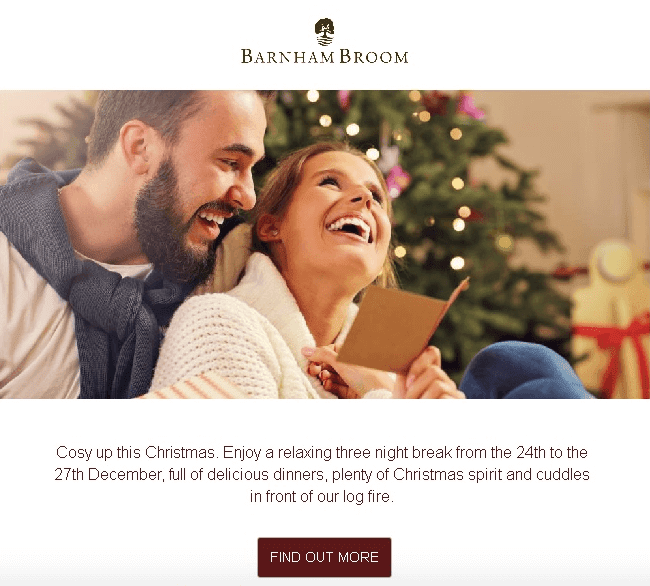 (Source: Email from Barnham Broom)
Pastel colors would go best for such emails.
Example 5. Gamified Christmas email from Stripo
Subject: Draw your Christmas card right in the email.
We all love to have a little fun despite our age, even during a hard working day just to relax a little.
Last December, we congratulated our users on Christmas and enabled them to draw in the email. We also mentioned that if they wanted to congratulate us back, they could send a card they just drew. We received thousands of them. Thank you all who did that. We loved all those cards. And we love you.
If you are still hesitating about whether to use gamification in your Christmas emails, we will only say that the CTR of this campaign was high.
With our Ultimate Guide to Email Gamification, building a gamified email will not take you long.
Example 6. Touching Christmas email from Cabela's Inc.
Subject: Hope and faith: A story of Christmas joy.
They say you should never boast about the good deeds you do. But if this encourages others to do the same, then you are, probably, obligated to tell the world about those good deeds.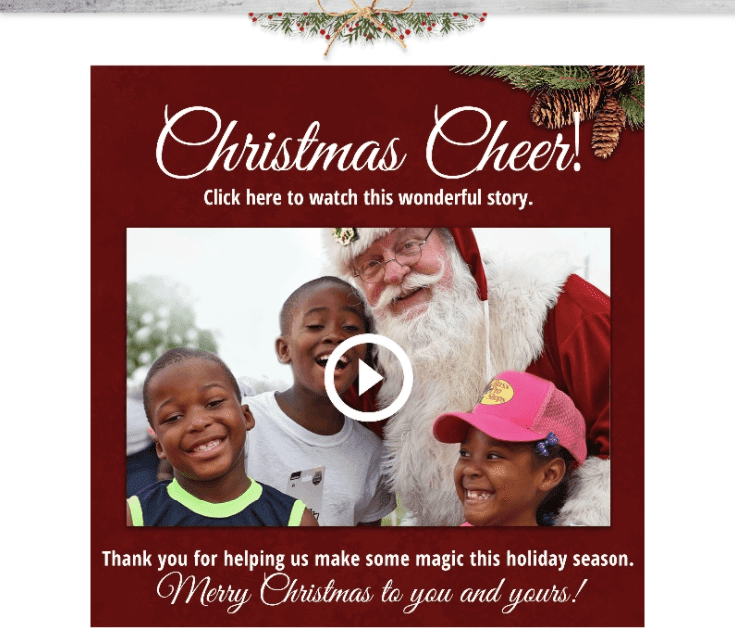 (Source: Email-Competitors)
Please be advised that currently there are two ways to add videos to emails with Stripo: adding links to videos in emails and embedding videos.
You might also like
How to Add Video in Email with Stripo

Example 7. "Personal" Christmas email from Beau Ties
Subject: Merry Christmas.
Previously we said that it would be just great if a team or a CEO on behalf of the entire company greeted your customers. But sharing a team photo will be also lovely and will have the same effect — users will feel a little bit closer to you.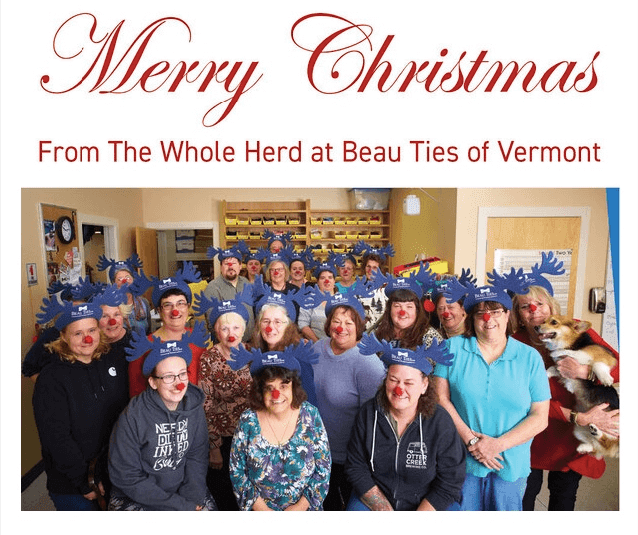 (Source: Email-Competitors)
But taking photos requires much less effort than taking a video.
Example 8. Interactive Christmas email from 1973
Subject: Here's a gift just for you…
Christmas is the time when we can finally relax and have some fun. Your contacts do hope to relax too — give them this opportunity.
(Source: Really Good Emails)
If you use games like this one, they work best in greeting emails. But you may also use games for "Giving out" coupons and discounts, like the image carousel that we provided in the "Entertain customers with interactivity and gamification" section. In this case, you should add them to promo emails.
Example 9. Gift cards from Brighton
Subject: Want Your Gifts by 12/24?
While some companies leave just a small spot for gift cards in their emails, which makes it hard to notice them, Brighton dedicated an entire section to their cards. In fact, the Gift card section was even placed on the first screen as a banner.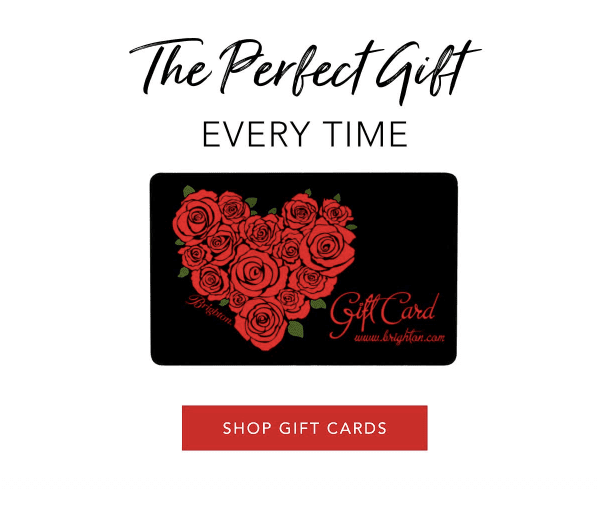 (Source: Email from Brighton)
The brilliant design solution, especially for last-minute promos.
Example 10. CSS-Animated email from Stripo
Subject: Snowflakes.
CSS animation is one of the hottest trends in email marketing. It's not heavy and renders across major email clients, yet it entertains customers.
Spice up your Christmas email to clients with CSS animation
When using this Christmas wishes email, you can replace our text with yours, work on the button's design, and change the background color.
Christmas email subject lines
Every day your subscribers receive tons of emails, especially during the holiday season. This is why you should "fight" for clients' attention and do your best to get emails opened.
This is why we're going to show the most interesting and distinctive holiday greetings email subject lines, in our opinion.
🎄 We wish you a Merry Christmas and a Happy New Year! 🎅 — Stripo.

Do not open until 25th December… — KE Adventure.

Merry Everything and Thank You — Marketing Profs.

Merry Shopping With 50% Off your purchase — Banana Republic.

Merry Christmas! From our family to yours — Gap.

🎄MERRY EVERYTHING!🎁 — VS PINK.

YAAAASSSS! You've been gifted 25% OFF your purchase (Merry Christmas) — Old Navy.

A Christmas Miracle — Nice Laundry Underwear.

Still shopping? We can email you a gift experience voucher. — Whittlebury Hall.

Last-minute gifts + special holiday shipping — Guitar Center.

All I Want for Christmas is Growth — GrowthHackers.

'tis the season to be marvelous and mischievous — THE BRITISH LIBRARY.

Need it by Christmas? 50% OFF 2-day shipping — Cosentino Winery Napa Valley.

Christmas... Better Together — Prezzo.

Need a last-minute Christmas present? — Historic Sussex Hotels.

Hope and faith: A story of Christmas joy. — Cabela's Inc.

24% Off | Spread A Little Christmas Magic — Buyagift.co.uk.

Thanksgiving & Christmas are coming up fast! Save 35% Off Spode Woodland 50 to 75% on Spode Christmas Tree + Free Gifts with purchase +Free Shipping — Char Crews.

Thinkin' About Christmas Gifts? — JD.

Order in time for pre-Christmas delivery — Tom Raffield.

10 breathtaking hotel Christmas trees — Forbes Travel Guide.

Can I start my Christmas tree now? — RONA.

Last-minute gifts to save Christmas — WIRED Gadget Lab.

Sporty Christmas Gifting Ideas — Decathlon.

Can You Guess What These Christmas Carol Words Mean? — Dictionary.com.

Give the Gift of Sport this Christmas — Decathlon.

A Cosy Christmas — Barnham Broom.

Get set for the festive season (2020 moves fast) — The Plum Guide.

16 Cozy One-Pot Recipes Just Like Grandma Used to Make — EatingWell.

The quiz that reveals your partner's perfect gift — Beaverbrooks the Jewellers.

MERRY EVERYTHING! — VS PINK.

Continue the Christmas spirit — Esprit Family Ski.

Happy Christmas Eve! Open for a present — Yours Clothing.

Christmas Calendar - Today's daily prize! — Triumph Online Shop.

Christmas may be over, but now it's time to get a gift for yourself!! Our Holiday Sale ends on New Year's! — SonicElectronix.

Wishing you Merry Christmas and Happy Holidays! — ShopHQ.

Shop Early for Christmas 🎄🎅 — M&M's.

Whatever your Christmas looks like... — Boden.

There is still time for Christmas gifts — Monica Vinader.

Ho-ho-ho 🎅 Christmas SALE has started! — Crello.
Use all your rich imagination when working on Christmas subject lines — no limits here, just express your feelings, preferably in a funny or heartwarming way.
Consider using emojis as they make your emails more festive and are capable of increasing OR by up to 3.29%.
Please remember that you can set your catchy Christmas titles and preheaders/preview texts in Stripo.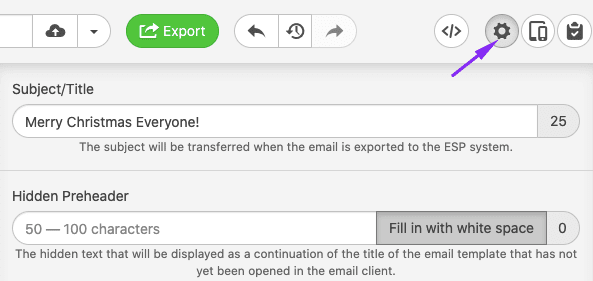 Set your subject lines prior to pushing emails to ESP
The best time to send your Christmas emails
Today is the right time to start preparations for the holiday season and reach out to our clients with Merry Christmas emails.
Why now exactly? — Because, per research conducted by Statista, 45% of gifts for this magic holiday are bought in November — 23% before Thanksgiving and 22% on Thanksgiving weekend. And only 15% will be bought in December.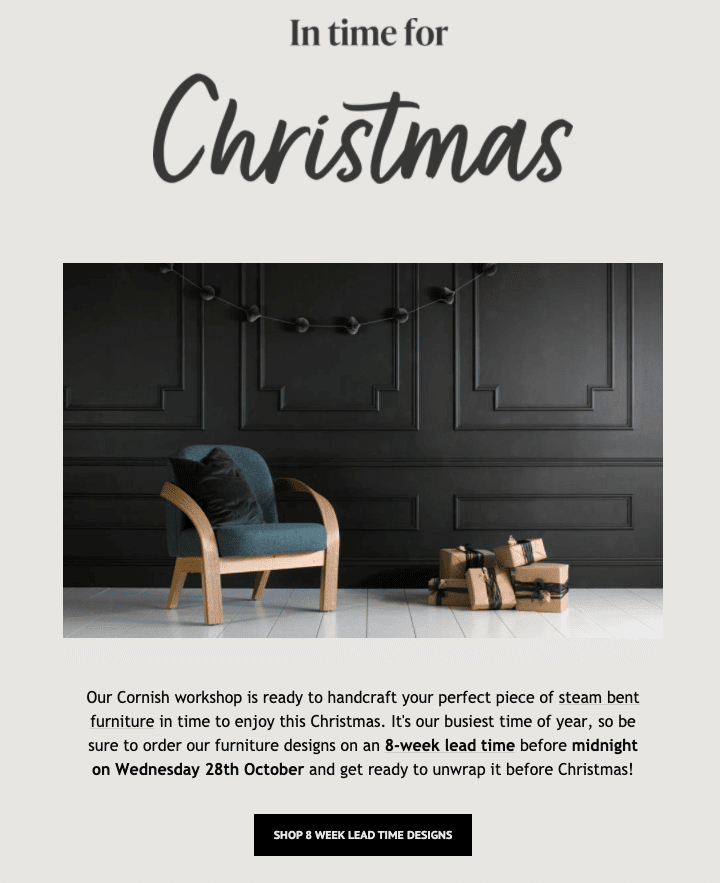 (Source: Email from Tom Raffield)
Wrapping up
You have done enough this year. Christmas is the family holiday when you can rest and enjoy some time off!
Stripo has prepared a wide variety of Merry Christmas email templates for you. Choose the one that you like best, and customize it in accordance with your brand book. And your email is ready to go.
Was this article helpful?
Thanks for your feedback!