29 June 2020
10 Tips for Effective Email Unsubscribe Pages
While many companies are afraid to let customers leave, successful brands insert the unsubscribe links to every email they send. Young companies think that letting people unsubscribe is like losing them. Take a look at it from another angle — in fact, you just clean your base of contacts and send newsletter emails only to those who are interested in them. This is a good way to protect your brand emails from being reported as spam.
Our tips will help you build the best unsubscribe pages. Prior to diving into those steps, we need to find out why customers would want to leave us and why we need to add those scary unsubscribe links to our emails.
Common reasons why people unsubscribe from us:
high frequency;
irrelevant information;
customers' preferences have changed.
The killer reasons to start adding the "unsubscribe" links to your emails:
it is required by the GDPR rules, the CanSPAM act, and the Australian spam laws. The fines range from $16 000 per address to €20 million;
the fewer indifferent or annoyed by your emails people receive your newsletters, the less you get reported as spam;
you will not waste your money on sending emails to those who are no longer interested in your company;
you give customers the freedom of choice.
Ok, now that we are well aware of the necessity of adding the unsubscribe links to our emails, we need to find out where exactly to add them.
Traditionally, they are located in email footer.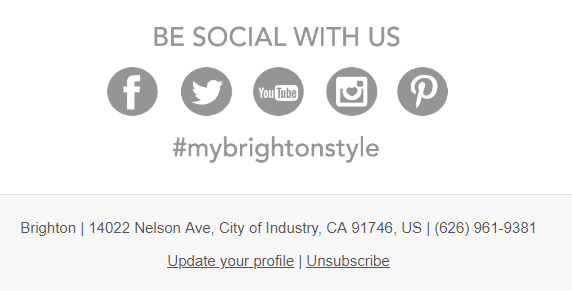 (email from Brighton)
All unsubscribe email examples are pretty alike.
The unsubscribe link best practices
It should be noticeable — you need to be sure that recipients will not miss it.
Only single opt-out allowed in the EU— provide customers with the ability to unsubscribe from your promo emails with just one click — act with the GDPR rules compliance. Double opt-out is allowed across the US, Canada, Eastern Europe, and Asia.
The unsubscribe link should lead recipients directly to the unsubscribe confirmation page, where you kindly

inform

that one has been successfully removed from your contact base.
Remember to clean your contact base prior to sending out a new promo campaign.
Always add the "update preferences" link to the footer of emails. Recipients who were previously interested in your brand and now have an ability to set their new interests at any time, are more likely to do so rather than unsubscribe from you.
If you accidentally did not add the "unsubscribe link/button" to your promotional newsletters, Gmail will do it for you. Your displeased recipients will still have an opportunity to stop receiving your emails. Google did it to help its users to get rid of annoying numerous promotions. How does it work? Gmail automatically adds the "unsubscribe" request to all emails. Once an annoyed by your emails person does not find the very link, he or she is very likely to use the link offered by Gmail.

(the unsubscribe link added by Gmail. Though Litmus, of course, also adds its own ones to email footer)
Besides, ESPs that care about their reputation, are likely to ban or at least pause your newsletters until you add the unsubscribe link as it's important and mandatory in many countries.
How to add the unsubscribe link to your emails with Stripo
There is no such thing as an "unsubscribe email template" as your ALL emails should contain the unsubscribe link.
pull a new structure in your email template;
click the "text" option;

enter the text. It can be either "unsubscribe", or "unsubscribe here", or "stop receiving emails", etc.;
double click it;
in the "text editor panel", hit the "link" button;

Important to note:
This link is generated by your ESP/CRM. So, you can add this link after pushing your email template from Stripo to your sender.
Please be advised that you can save this element to your Modules. And when designing a new campaign, you will just have to pull this sample from the Modules tab in your email.
Save content elements to Modules for further use
As we've already mentioned, the link should take recipients directly to the unsubscribe confirmation page — no unsubscribe confirmation emails allowed here.
Below, we want to show you some great unsubscribe page examples along with the tips.
10 tips for effective email unsubscribe pages
To gather beautiful examples for the article, I had to unsubscribe from all the newsletters I kept receiving. Must confess that I was too sorry to do that. Once I received the desired unsubscribe page examples, I hurried to subscribe back.
Important to note:
Double opt-out is allowed across the US, Canada, Eastern Europe, and Asia. While in the EU only a single opt-out is allowed.
The latter means that customers unsubscribe with just one click. The double opt-out requires more actions from your customers, which can really irritate them.
We're sharing only those unsubscribe page examples that follow the single opt-out as it is preferred by most customers. This method is adopted by most companies worldwide.
Tip 1. Confirm unsubscription
First of all, you need to inform recipients you've heard them and have unsubscribed from your contact list. To avoid some misunderstanding, you may remind your company in case the button was clicked by mistake.
(unsubscribe confirmation page by Forbes)
This is a simple unsubscribe page, with no extra elements in its design. However, it's quite informative and successfully fulfills its mission.f
Tip 2. Add the resubscribe button
I felt extremely sad when unsubscribed from the Tiffany&Co's news. Gosh… But they immediately offered me to "resubscribe". Thank you, guys! This is a very good idea to let your customers resubscribe. Especially if they clicked the "unsubscribe" link accidentally.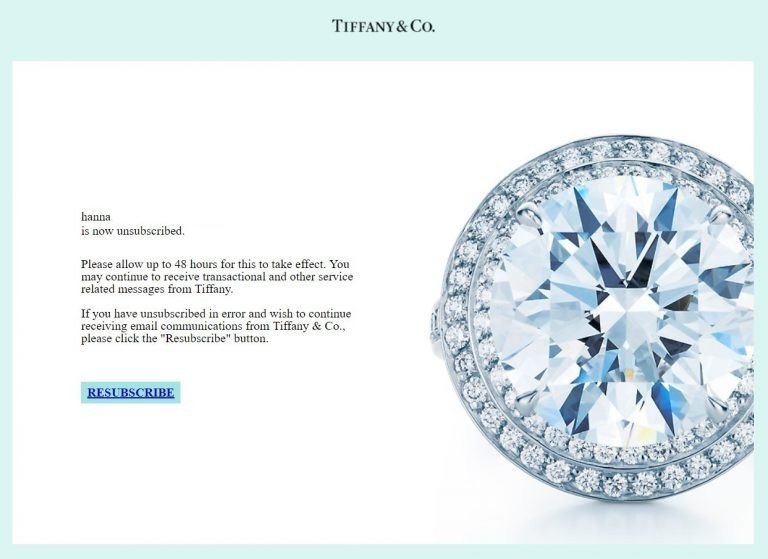 (unsubscribe confirmation page by Tiffany&Co.)
Tiffany&Co. notifies the clients it will take up to 48 hours for updates.
Tip 3. Let subscribers fix their "mistakes"
This email unsubscribe page is pretty much like the previous one. Designmodo added the "mistake" button at the bottom of the email.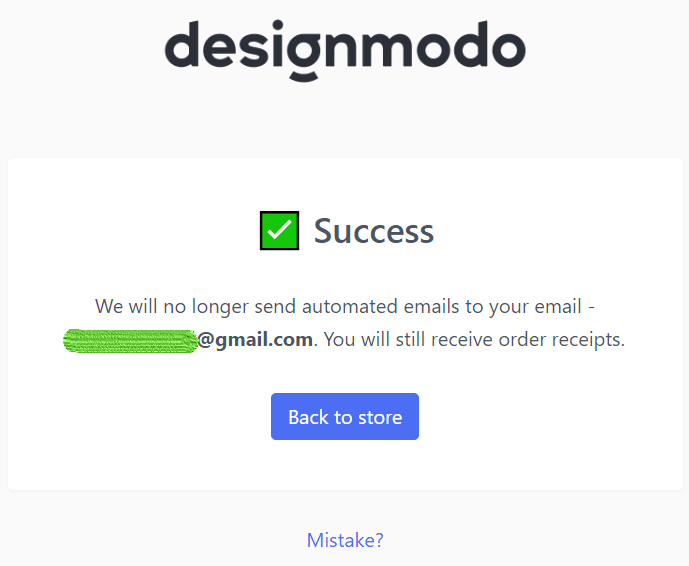 (unsubscribe confirmation page by Designmodo)
To my big surprise, when I clicked this button, I was told that I would be subscribed back. This made me smile :)
What is also good about this email? They notified me I would still receive some kinds of transactional emails that require some actions from my side.

Tip 4. Ask users to take a very short survey
Once a person's just unsubscribed from you, ask him or her to take a short survey. It will be critical to know what makes people leave. Of course, if you are going to change the situation for the better.

Ask just 3-4 questions or even use google form where the customer chooses just one right answer: "too often", "not interested", "high prices" or "poor choice of products", etc.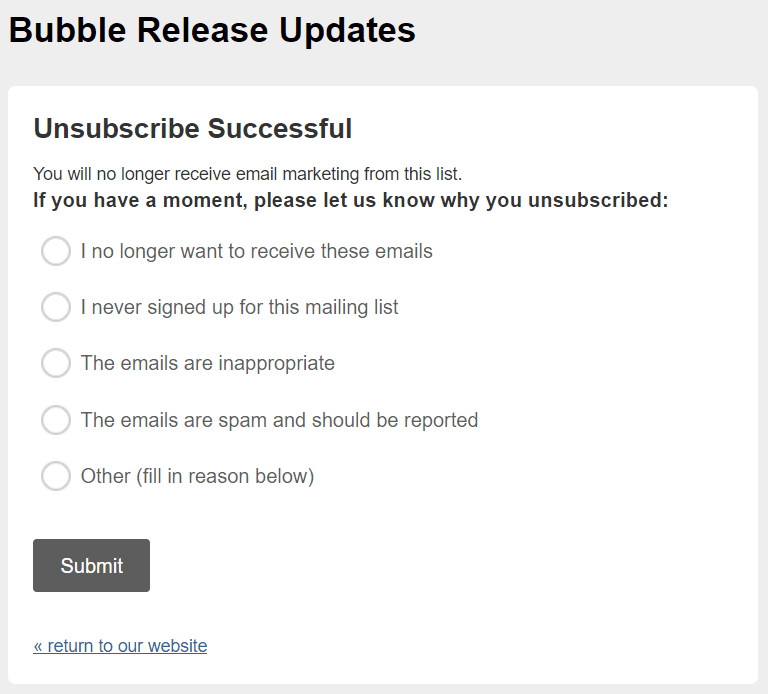 (unsubscribe confirmation page by Bubble)
Please, remember to thank respondents for their time.
Of course, you should translate this unsubscribe page template with the survey into all the languages you run your email campaigns into.
Tip 5. Say you're sorry
Let your recipients know you're gonna miss them.

(unsubscribe confirmation page by CNN)
As you can see, the unsubscribe page design is always pretty simple. No distracting elements.
Tip 6. Provide alternative
Always, always provide an alternative. If a daily newsletter is more than enough, the biweekly newsletter is probably exactly what they want. Give people a choice. Especially, if they would really love to read your emails on weekends. This is the perfect unsubscribe text message example.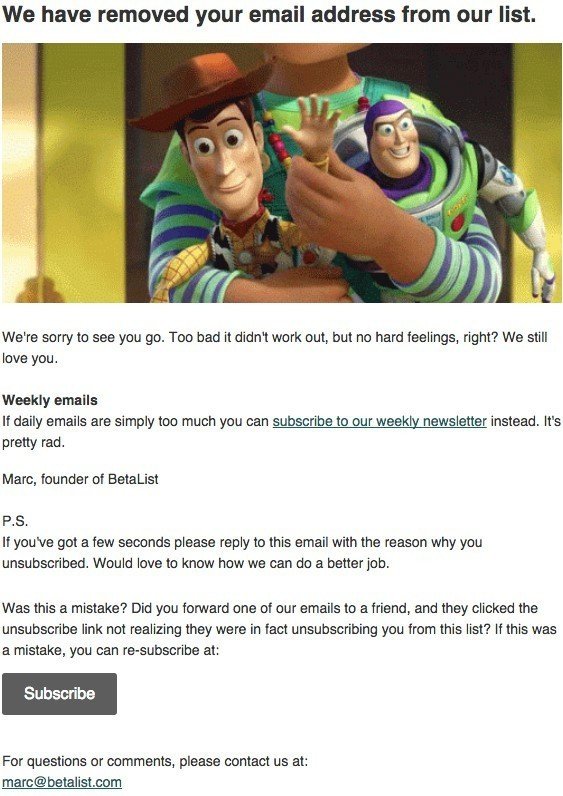 (unsubscribe confirmation page by Betalist)
Tip 7. Share a funny image or video
If you are not spreading the news, why not make a funny unsubscribe confirmation page to entertain subscribers for the last time? Funny or cute. But please do not do it as Groupon did. It was very funny back then. But now each and every entertainment organization does it. Boring… Create something new.
Tip 8. Ask users to fill out the form
In tip 4, we suggested that you ask users to take a short survey and choose the reason why they unsubscribe. But some users would leave a comment to tell you why they "go" if their answer is not on the list.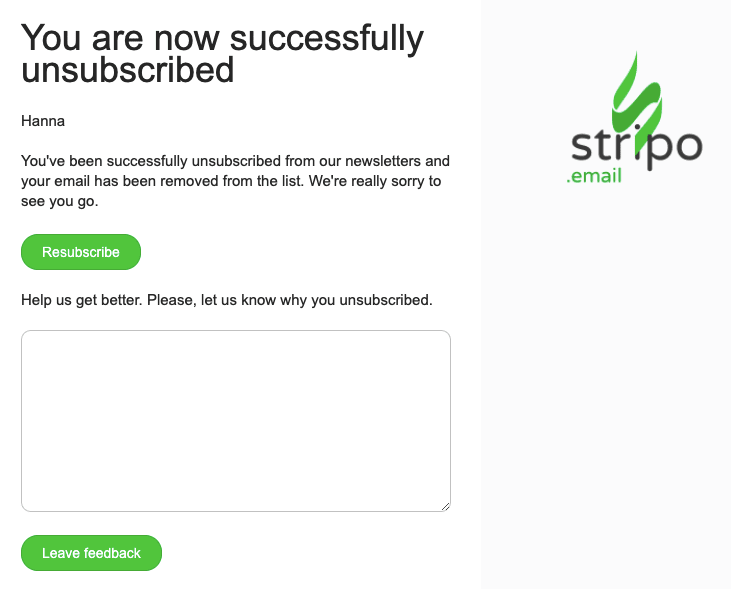 (unsubscribe confirmation page by Stripo)
Important:
In order to be always aware of what your customers think about you, you can include such forms in your emails both trigger and promotional ones.
In our "Data Service" blog post, we show how to easily embed similar forms in your emails.
Tip 9. Never allow pop-up notifications on your unsubscribe pages
Yes, exactly. A pop-up notification with ads appeared on the unsubscribe page of one of the world's famous brands. It was pretty annoying, given that the notification was pretty big in size, and the brand does not provide the single opt-out. So I had to close this pop-up to enter my email address and confirm unsubscription.
Tip 10. Allow users to unsubscribe from your all newsletters
Today, many companies run a few campaigns per week. With one email, they share brand's news, whilst with the second email, they share their recent blog posts. Or just run different campaigns for different blog sections. For instance, HubSpot let you choose news on what topics you want to receive: marketing, or sales. Of course, you can choose both. CNN runs different campaigns on over 10 topics.
So, when a user unsubscribed from one topic, he or she might also want to unsubscribe from other topics that he or she previously picked.
Hence, it is pretty reasonable and very kind of you to let users unsubscribe from all newsletters at once.

(unsubscribe confirmation page by Sleeknote)
Recommendations to decrease the unsubscribe rate
According to the KnowledgeBase statistics, 2% of unsubscribers per newsletters are within marketing norms.
However, there's something you should do to decrease this number, or at least to keep it within norms.
Ask recipients if they like your emails

(email footer sample by Litmus)
How to build a similar footer for your emails:
drag a two-column structure in your email footer;
pull in the "Image" blocks;
upload your images;
paste respective URLs.
Your ESP will provide you with statistics on each campaign.
Insert a similar module into your emails to ask users for their opinion about your newsletters
When you receive feedback, respond! If you got "5 stars", thank the recipient for it. If the email got "2 stars", send out a short survey where you ask just a few questions. This will help you improve all future campaigns.
Final thoughts
Here, we surveyed the unsubscribe page best practices. In order to keep customers, you should:
Never stop your customers if they want to go. Instead, offer them a choice — add the "unsubscribe button" to all emails you send out.
Use any of the aforementioned best practices.
Provide them with only relevant newsletters.
Use single opt-out unsubscription for the EU to comply with the GDPR rules and in the US in order not to annoy subscribers and to let them leave with no extra moves.
According to the KnowledgeBase statistics, 2% of unsubscribers per newsletters are within marketing norms. If you go beyond this number, then you should reconsider your email marketing strategy. We suggest that you start with A/B testing or send survey invitation emails.
Add the "like" and "dislike" buttons at the end of emails to know what recipients really think about your emails.
Cherish and celebrate your customers and they will not even think of leaving you.
May your customers never unsubscribe from your newsletters.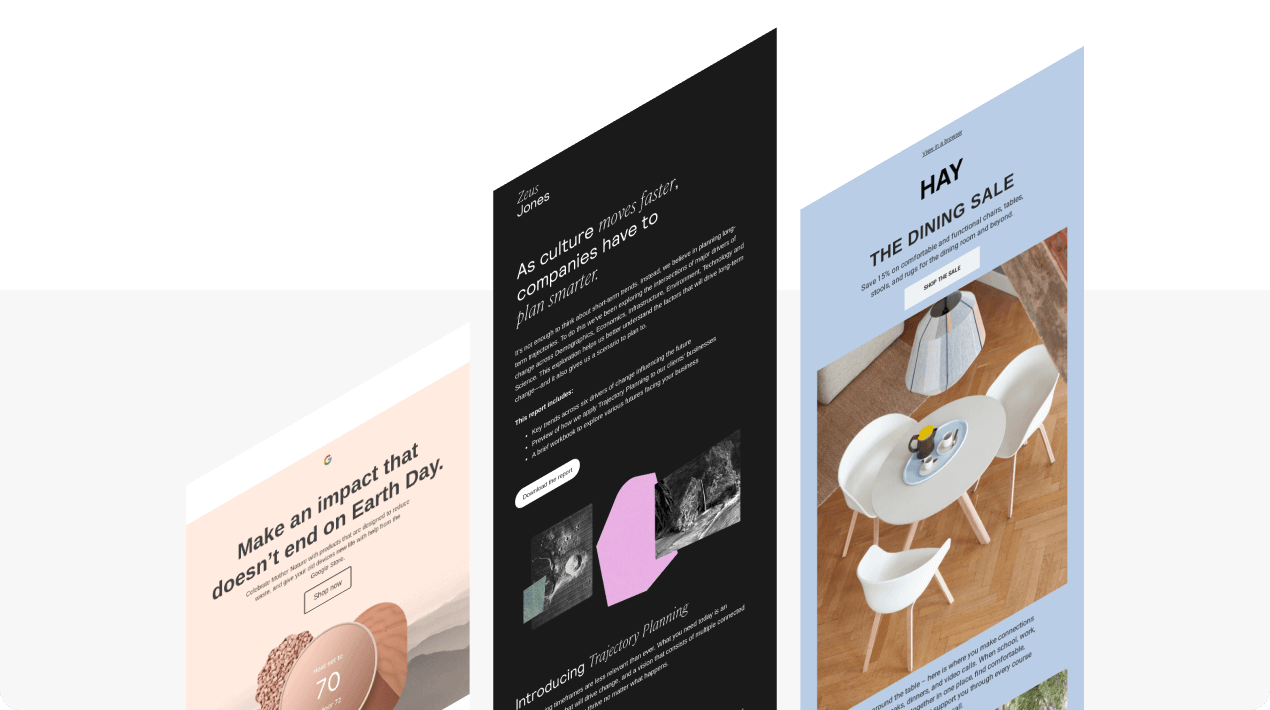 Create beautiful, endearing emails with Stripo to satisfy your customers with orderly shaped newsletters
Browse templates