01 March 2021
Notification Emails Examples and Best Practices
Email notifications are the best and the easiest way to inform subscribers about the changes that have happened or are just about to happen soon.
These emails show the highest open rate. But even here we need to stick to certain best practices when designing emails to not lose subscribers' trust.

We've pulled together the best email notification examples and best practices.
But before we dive into examples and tips, let's define email notification email.
What is email notification?
Notification email is an email you send out to notify subscribers about changes and updates to your product, service, like new features/options, new apps, scheduled maintenance, etc. Simply put, these emails help you keep your customers/clients updated.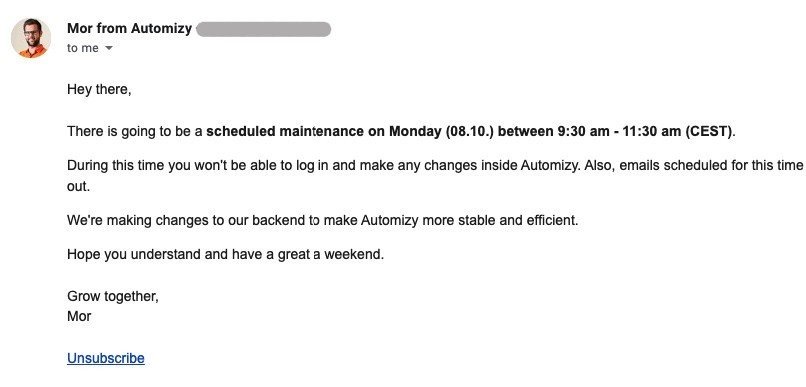 (Source: Email from Automizy)
Why send email notifications?
These emails work better than just announcements on your website and better than web push notifications:
high open rate;
help you keep subscribers updated;
improve custom retention;
help with promoting new features/options/products.
Of course, for better results, you may try and combine web push notifications and email notifications.
Notification email examples
1. Newoldstamp
Subject line: Privacy Policy and Terms of Use updates.
You've changed the Privacy Policy, or have decided to change the prices for your services? — Hurry to notify users about it.
No matter what has been altered — find a way to inform clients about it.
(Source: Email from Newoldstamp)
What is so special about this email notification example: brief information on the changes that I can read right in the email. Yet, Newoldstamp provided its users with a link to get more details.
Tip: to make notification emails informative, always, in a nutshell, explain what happened.
2. Google Docs
Subject line: Name of the document - Invitation to edit.
Every day we create, share, and approve dozens of documents. Once a document is shared with you, Google sends a notification right away.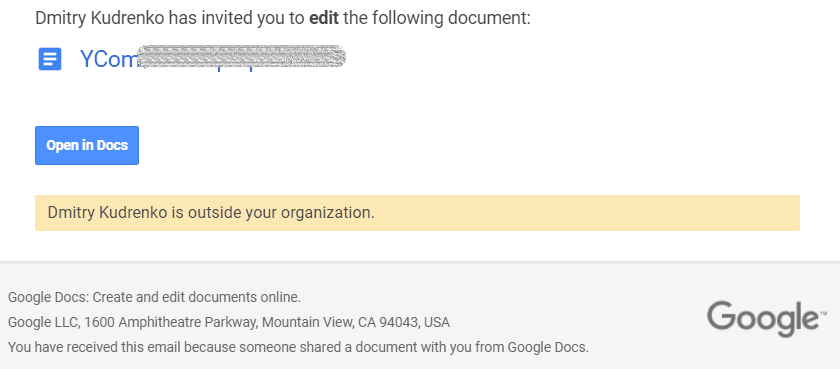 (Source: Email from Google Docs)
Due to such emails from Google, you'll never get lost in documents and links. You can always look it up in your Inbox.
What is so special about this email notification example: first of all, the sender name. This notification email is sent on behalf of the person who shared the doc and "via Google Docs" goes in brackets after. Second of all, the subject line delivers the name of the document and your role in it. We will get a similar result if, instead of a Google Docs document, we share presentations via Google Slides.
The length of the email — can it be even shorter and more useful at the same time?
Tip: make your subject lines highly informative.
How can you check this? If the recipients get all information just by looking at the subject line without even opening it, then you succeeded.
Once you've shared a document and someone's commented on it, Google sends out a notification email to inform you.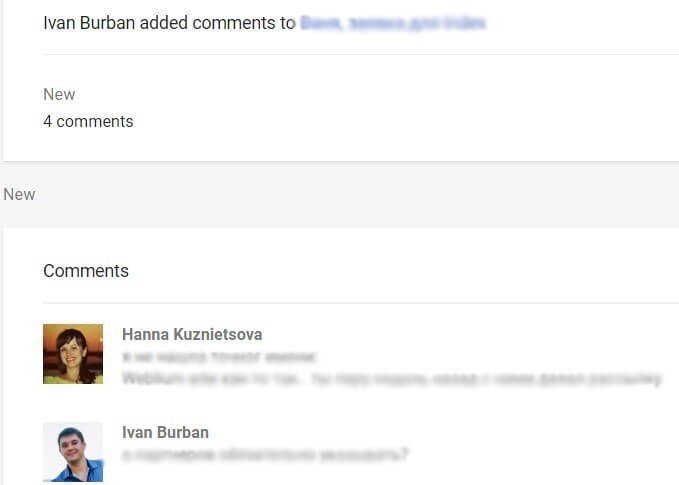 (Source: Email from Google Docs)
What I love about these emails most of all is that they contain info on the sender, info on how many comments have been left, the preview of these comments, and the link to this document. Especially useful if the doc was created long ago or you run a few projects at a time.
3. Slack
Subject line: Your email address has been changed.
Users change their email addresses or passwords? You have to confirm this process has been finished and now users log in with a new email.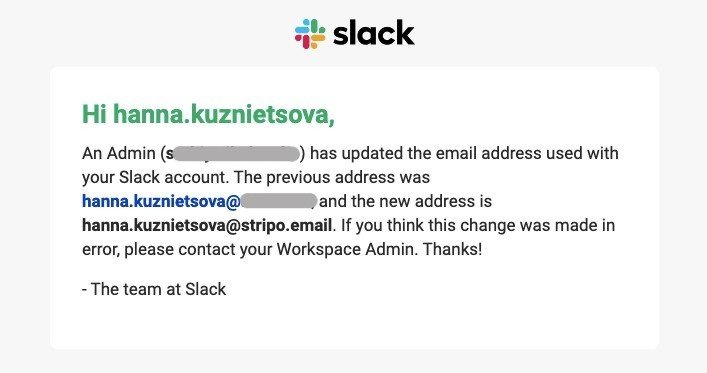 (Source: Email from Slack)
What is so special about this email notification example: the sender notified about what my previous login email was and what it will be as of this moment.
Tip: unlike cases when you notify users about unforeseen situations, you work on the notification email design of this kind just once. Like in all trigger emails, the design remains the same. It is user data that gets changed in every email.
4. Kittery Trading Post
Subject line: Merry Christmas.
Wanna inform users on how long you're going to be out during the Holiday season? Some brands send out individual dedicated OOO (out of office) notification emails, while others just combine promo and notifications in one email.

(Source: Email from Kittery Trading Post)
What is so special about this email notification example: the design of this notification email sample. They managed to let customers know their working hours, yet the design of this email section was pretty festive.
Tip: now, if you decide to combine two news in one email, be sure to make notification eye-catching.
5. Litmus
Subject line: New ticket has been created for your account.
Normally, clients reach out to us for one reason — they have faced an issue. This is why it would be nice of us, to say the least, to notify them we've received their emails and are now processing them. It is especially important to send such emails when your customer support is not available 24/7.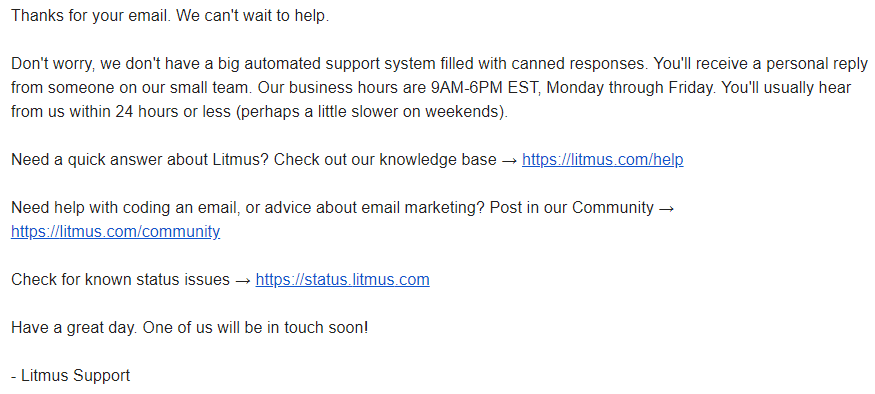 (Source: Email from Litmus Support)
What is so special about this email notification example: not only did Litmus let me know they'd received my request, but also specified its work hours. And they also said how long it could take them to respond.
Tip: Litmus plain text emails stand out in Inbox. Yet, if you wanna build them as regular HTML emails, you are welcome to. You can even wrap the links in buttons. Speaking of which...
6. LinkedIn
Subject line: Mr. Who mentioned you in the post.
Call-to-action in emails should be clear and one at a time. Do not confuse recipients with extra information — get straight to the point. And remember to wrap those CTAs in beautiful buttons.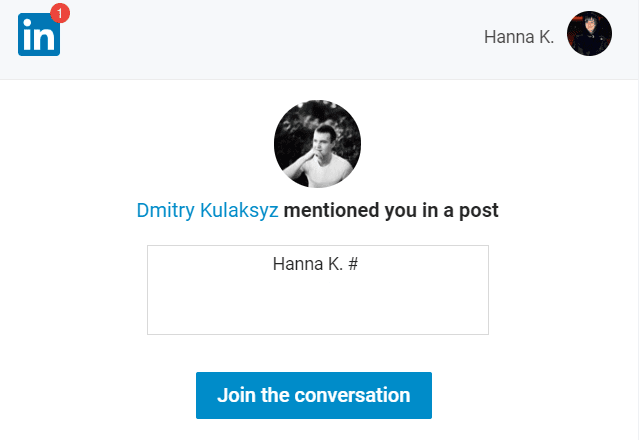 (Source: Email from LinkedIn)
Make sure to provide him or her with the proper link — no extra buttons, please.
What is so special about this email notification example: LinkedIn specified who and where mentioned my name. Also, they showed a little piece of the comment.
Tip: the more information on the subject you can provide, the better. For instance, if you want to notify loyal customers that their fav shoes are back in stock, specify what colors and sizes are available. Also, remember to insert the image of these shoes to remind recipients what it's all about.
7. Email on Acid
Subject line: Your free trial is ending soon.
Today, we all rely on computers and reminder emails. Who'd even think to count days till the end of the trial?
This simple email notification will prevent your users from disappointment and will win new customers.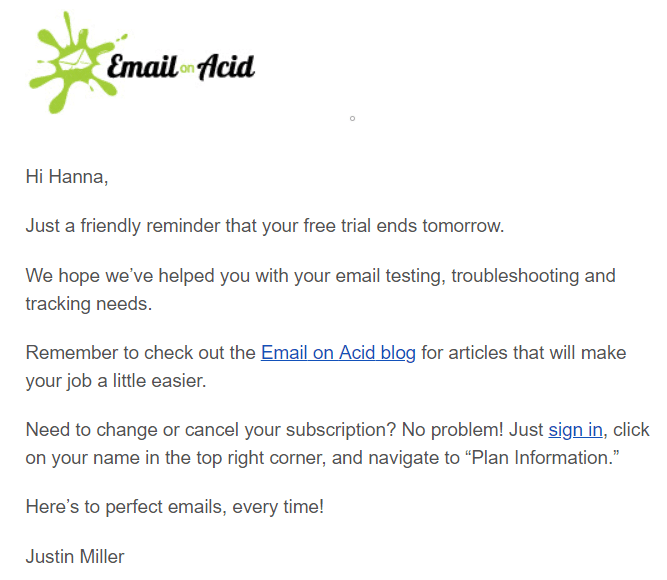 (Source: Email from Email on Acid)
What is so special about this email notification example: addressing by name assures me that the email is meant to me and was not sent by mistake. Personally, I like it that they do not intend to make customers stay — the latter are free to go. Payment is optional. Yet, if I want to prolong my subscription, I know where to go and what to do due to the short manual provided in this email notification.
Tip: if such emails are written in a friendly manner, they are better perceived when sent on behalf of a person, not the entire team.
8. PrivatBank
Subject line: Mandatory payment.
When the monthly payment is mandatory, we should remind our clients they need to pay. Especially, when the amount is not fixed.
(Source: Email from Privatbank)
What is so special about this email notification example: first of all, the borrower is notified what the mandatory amount is; second of all, personal manager's contacts to reach out to if any question arises.
Tip: as long as this notification is sent on a regular basis, pay close attention to its design.
9. Payoneer
Subject line: Your application to Payoneer has been approved
When the registration process does not take many steps and does not require approval, you send a confirmation email right away. But when you run a financial organization, you need to verify all the data that potential client has shared with you.
Once the account is approved, notify the person about it.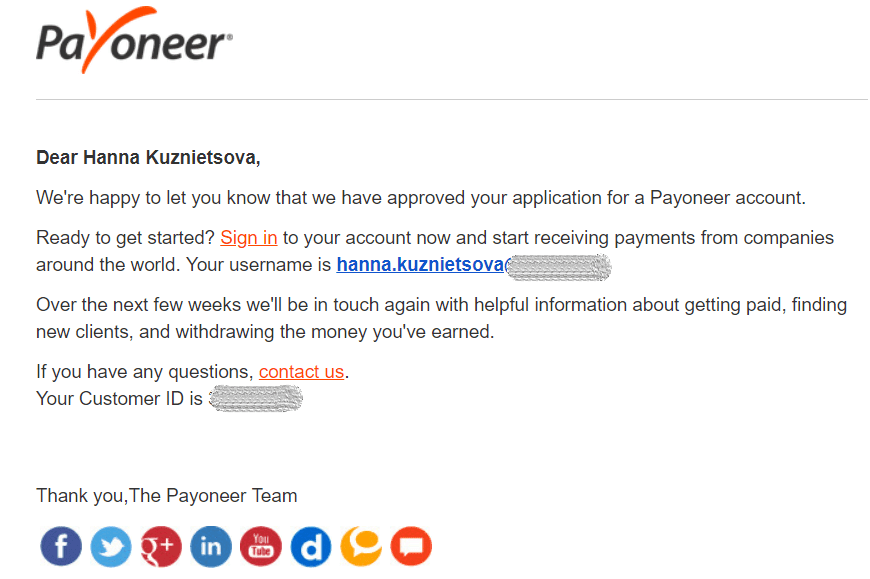 (Source: Email from Payoneer)
What is so special about this email notification example: as long as this email is not urgent, though sent upon account approval, it is reasonable to add social media icons.
Tip: this is a transactional message you send every day. Build one notification email template for many purposes — just replace the copy of the email.
10. Netflix
Subject line: New sign-in to your account.
With the following emails, service providers notify us that we've signed in from a new browser, from a new IP address, or from a new device. Some would say this is a meaningless email, yet it prevents thieves from using our personal accounts.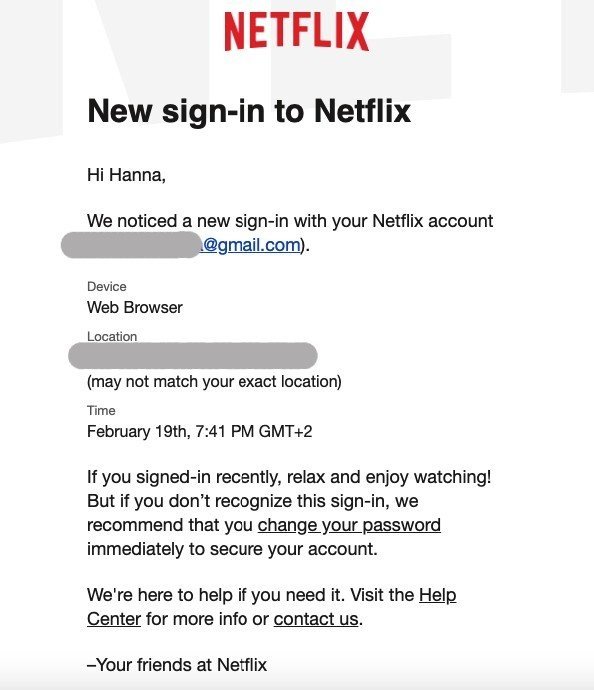 (Source: Email from Netflix)
What is so special about this email notification example: Netflix specified the exact time of the sign-in and my current location.
Tip: do your best to be helpful and supportive to your clients — provide them with a piece of useful info whenever it is appropriate and can really help the situation.
Email notification best practices
1. Subject lines
When it comes to notification emails, the subject line is not a flight of your imagination and not a way to make recipients open emails — its main goal is not to improve our OR. Notification email subject line is already the very notification.
While the email body should contain the details only.
"New login from Slack in Chrome on Windows" — Slack.
"Notifications from the *** workplace" for February 5th, 2021 at 8:02 AM" — Slack.
"Google Workspace Updates: 3 new posts" — Google Workspace Updates.
"Your Tuesday update" — Asana.
"Stripo: # people signed up yesterday, including people from..." — Intercom.
"Hanna, you have a new suggested connection to review" — LinkedIn.
"Here's your copy of Litmus' Live Optimization Notebook: Welcome & Onboarding Emails" — Litmus.
"Email on Acid has your back" — Email on Acid.
"Updates to our Privacy Notice" — Porsche.
"We've canceled your subscription" — Email on Acid.
"Feature update! Custom object upgrades" — The Ontraport Team.
"Your free trial is ending soon" — Email on Acid.
"Assigned to You: Task..." — Asana.
"Mr. Who completed the task" — Asana.
"Your plan has been upgraded" — Stripo.
"Your subscription is confirmed" — Really Good Emails.
"You appeared in 9 searches this week" — LinkedIn.
"We have received your Account Recovery Request for ***" — Microsoft Account.
"Ticket has been created for your account" — MailGun.
"Stripo.email pitch 2021.02 - Invitation to edit" — Google Docs.
By looking at these examples, you know what the messages were about, what happened and when. You'd only need to open emails to get the details.
2. Deliver one single idea at a time
Deliver just one clear idea. Do not confuse recipients by promoting your products in such emails.
Just get straight to business.
3. Be specific
Planning maintenance? Or going to take a vacation for a week? — Specify the reason and the dates in your emails. Recipients do not have to inquire how long you're going to be out or how long your system is going to be down.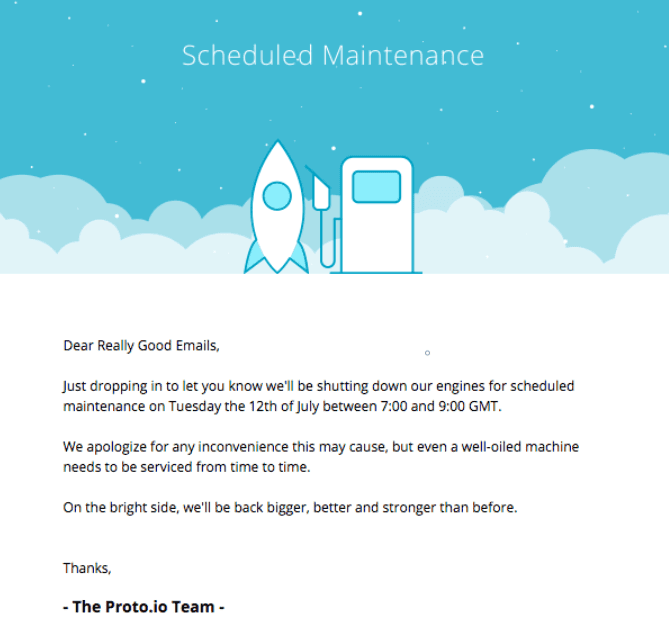 (Source: Really Good Emails)
4. One clear CTA
The CTA should be pretty clear. In notifications from social networks, the CTA has to lead recipients to even more details. If you are announcing some changes that will happen to your website — offer recipients to read the full information on your landing page.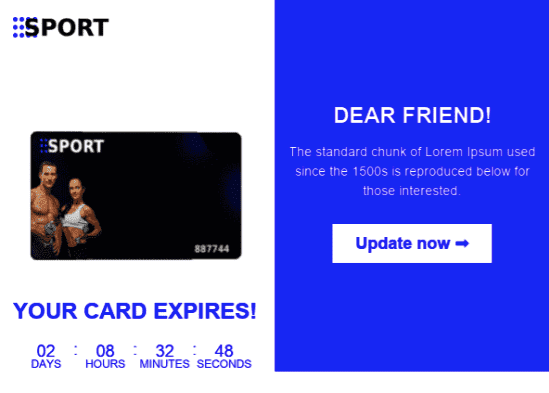 5. Personalize
Addressing by name is one of the first email notification ideas that come to our minds. Use email personalization where possible and when appropriate. Certainly, if you notify about upcoming maintenance, common "Hello there" will do. But if you are going to inform that trial is expiring, addressing by name will be quite pertinent.
Easy to set merge tags when designing your notification email with Stripo.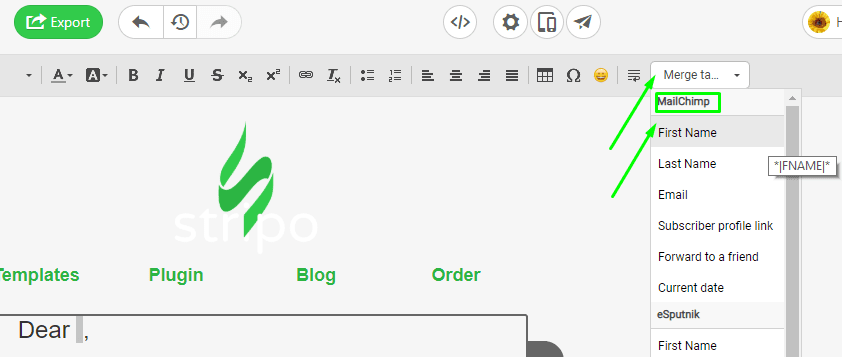 6. Stay on-brand
Notification email design should be no different than other emails design — it has to comply with your brand style.
In other words, the same header, same footer, same fonts, etc.
To save time on email production, store the aforementioned email elements in the Modules library. Just pull them in your template when building a new notification email, add the notification itself, and your email is ready to go.
7. Remember to add an unsubscribe button
Recipients are supposed to have an opportunity to unsubscribe from all kinds of newsletters according to the GDPR regulations and CAN-SPAM rules. This mostly concerns promo emails. But you still should be careful with service emails, like informing about the system outage or that a subscription plan is coming to its end.

(Source: Email from LinkedIn)
8. Use all possible channels
Even though email marketing shows the highest conversion, still it's better to reach out to clients via various channels when this is the case of emergency.
Final thoughts
We recommend that you stick to all the email notification tips listed here to make your notification email effective, and informative.
I really hope that you found our guide really helpful.