05 October 2018
Email Etiquette: The Dos and Don'ts of Emails
Do you also receive hundreds of emails per day, but open just a few? Must confess, I went through my inbox prior to writing this article — most of the messages are created according to all the email marketing rules, but look dull, emotionless, improper, and do not evoke a desire to read them to the end, while some are even irritating.
Politeness and etiquette in emails are the bulletproof way to prospects' hearts and to turning them into loyal customers.
What is an email etiquette — it is the set of rules for email marketing. There are the dos and don'ts to consider when creating an email in it. What are they? Let's see.
The Dos
1. Do segment your contact base
Who said that women like reading about female apparel and perfumes only, while men like reading about muscle cars? You do need to segment your contacts according to their preferences. How can you detect them? By asking direct questions.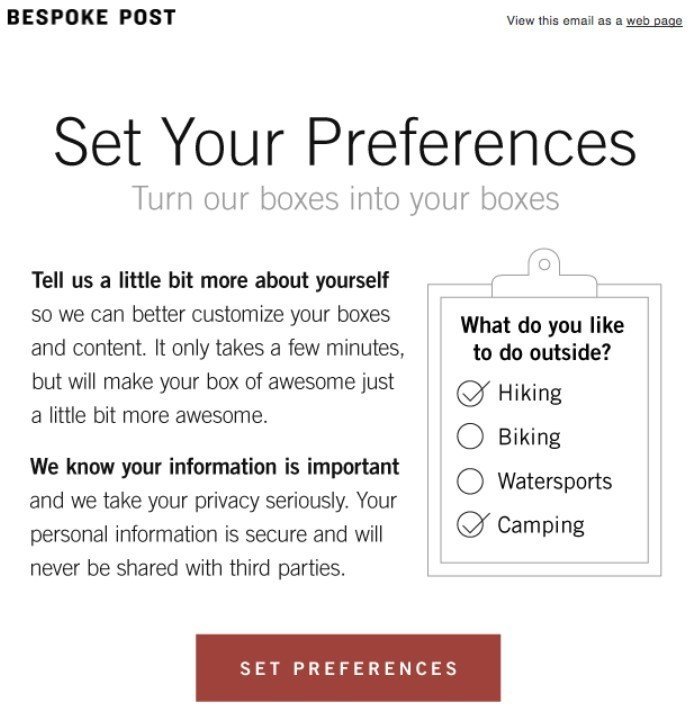 This will help you deliver only relevant emails.
Normally, email marketers also divide their contacts into groups according to their age, and country. And this is great if their brands sell unisexual goods. For example, you decide to run a back-to-school campaign or to congratulate your customers on the President's Day. In both cases, you should know where the person lives, as Europeans do not celebrate the President's Day, and their kids go to school on the first of September.
2. Do personalize emails
There are currently only two types of personalization in emails:
A) Basic personalization
According to the good email etiquette norms, all emails should have the addressee indicated. You can apply this option either to the subject lines or to the email body or to the value offer itself. This will make your emails personal.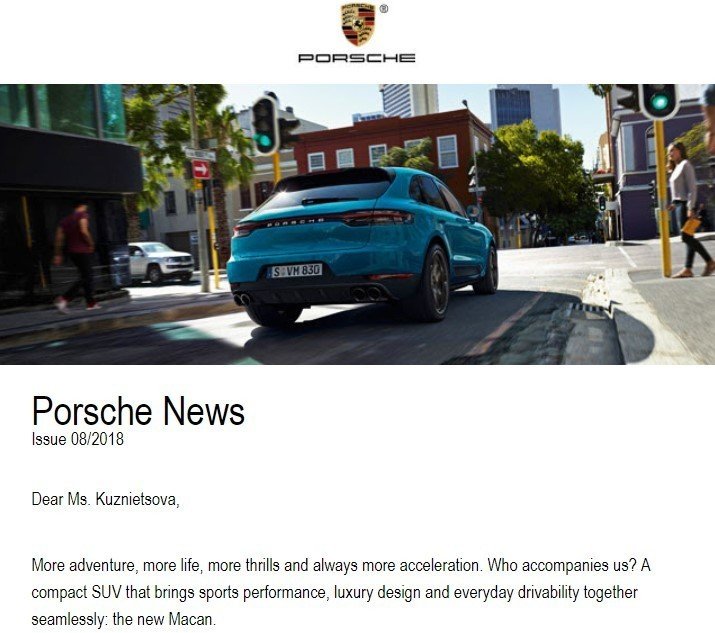 Note: don't overuse it. Some time back in a promo email, I saw my name six times. That was too much for me and the email did not look sincere.
Now, it is easy to implement personalization with Stripo. Click on the text in the email body and at the top right corner, you will see the "merge tags" tab. Click it, and choose your ESP to set the merge tags.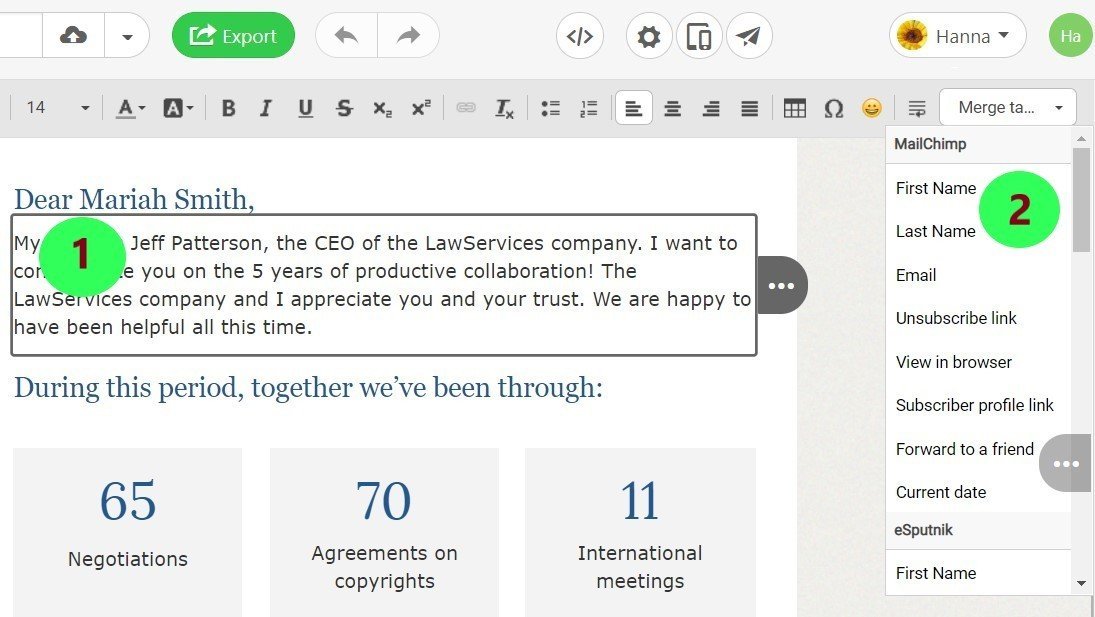 Note: Stripo offers a set of the standard merge tags, like first name, last name, date of birth, email address, etc. for promo emails. Other merge tags like order number, delivery date, and others that are meant for event-triggered emails should be applied right in the ESP you use.
B) Hyperpersonalization
Hyperpersonalization, also known as advanced personalization, is based on a customer's data. It includes dates of birth, preferences, geographical locations, previous purchases, the welcome back emails, etc.
Seems like it's pretty obvious, and at email marketing summits people talk a lot about it. But the other day, I received an email with the subject line that says that I was taking too many photos. In the email, they suggested that I buy 2 GB of storage for a low price.

I don't really remember why I got registered there, besides I normally do not take photos and hardly ever upload them to social networks accounts. Clearly, this email was not about me. And I found it really irritating.
Personalization is not only about calling email customers by names. It is a more complicated process.
Please, take a look at this email etiquette example by Grammarly. They know who their client is and track his or her results.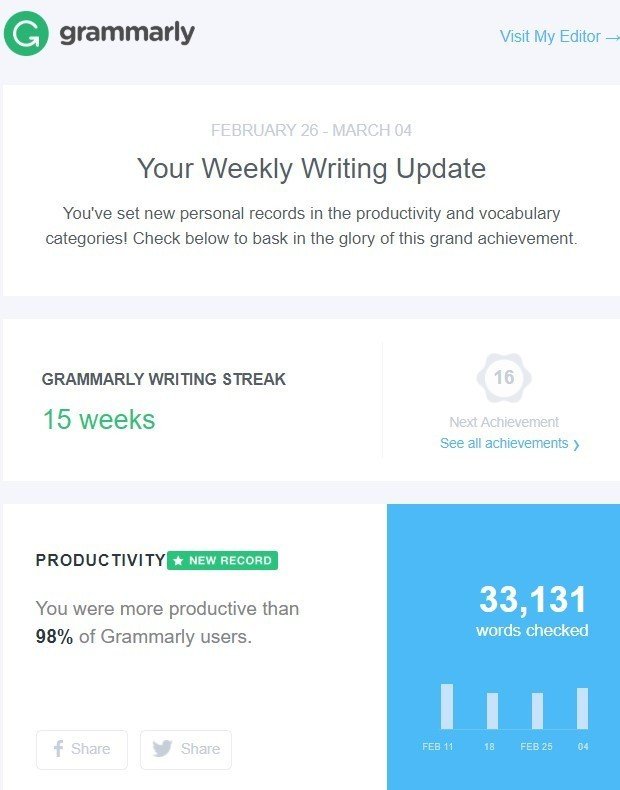 3. Do specify sender name
It is critical to let customers and clients know whom the email is from. One of the reasons is to make sure the email will be opened, as normally we do delete emails we receive from unknown senders. And the second reason is to stay polite and to keep to email etiquette norms.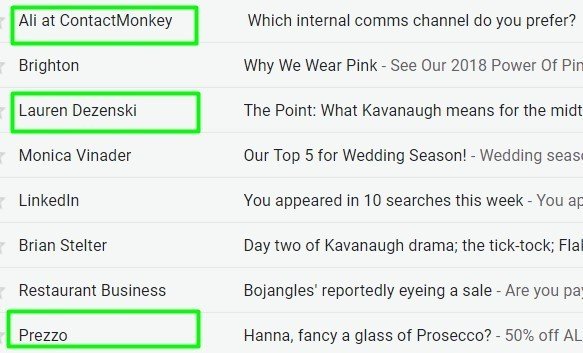 4. Do write a clear subject line
As long as we are speaking about the email etiquette, we will not emphasize that the subject line is the key factor to convince prospects to open your emails. But also it notifies people what the email will be about. Thus, recipients decide whether to open the email right now or do it later (certainly, if they are interested in reading them at all).
One more thing is worth mentioning — email content has to match the subject line no matter how clear it is. If subscribers see any discrepancy between the content and the subject line, they are likely to move your message to the "spam" folder.
Don't hesitate to use emojis in the subject lines, if you feel like doing it. Certainly, when it is appropriate.

Yes, there is always a chance that recipients will unsubscribe, but if the subject line is poor, and does not reflect the email content, the changes significantly grow.
5. Do write a pre-header text
All email clients have its limits on how many characters to show in an email subject line. For example, Gmail shows up to 70 characters on the desktop and about 30 on mobile devices against Yahoo Mail that shows only 46 characters on the desktop devices. Thus, we need to provide our prospects and clients with a preheader text. A preheader text goes after the subject line and is separated by a dash.

A preheader, in fact, is a continuation of the subject line.
6. Do stick to the brand design, and to your unique style
A) Brand consistency makes companies recognizable among recipients.
Easy to implement it in emails — just open your brand book and stick to its directions. In case, you do not have one, just try to make a copy of your website in emails. Make sure your logo is located in the exact same place across all email campaigns. Then, the colors you used on the website should be applied to the email newsletter design.
The situation with fonts differs as it can happen that the custom fonts you used on your website won't be replaced with the web safe ones. In this case, your email may lose its beauty. To avoid this, set only web safe fonts to the text in your emails. And apply custom ones (used on your site) to copy written over banner as this kind of text is considered as an image element by email clients and remains unchanged.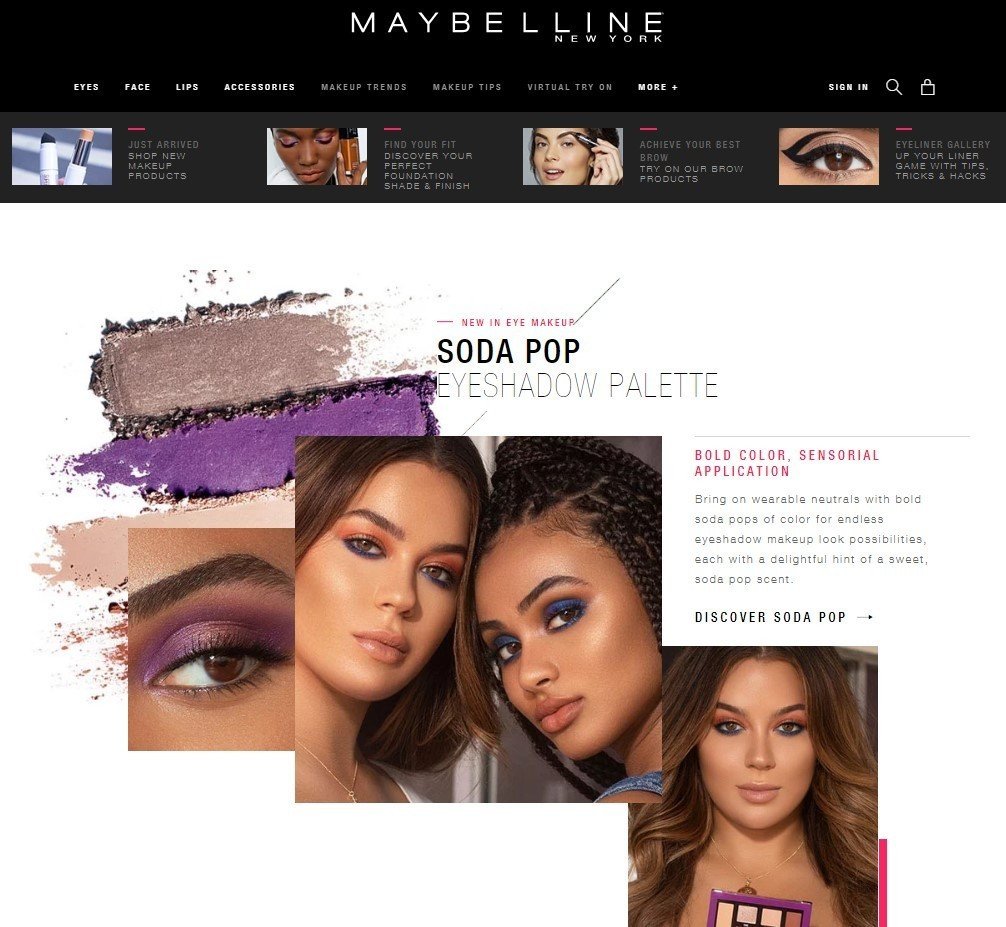 (Maybelline website)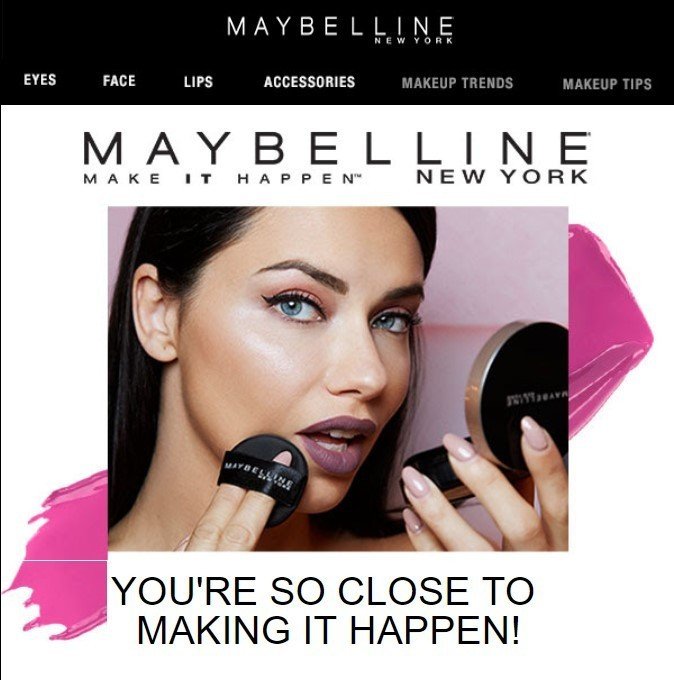 (Email by Maybelline)
B) Style consistency shows you stay loyal to your principles, and what is really important, it shows that you are reliable!
For example, all your emails are restrained and include no jokes. By means of newsletters, you share the latest news on financial issues with recipients. And all of a sudden they see inappropriate words like "Dude" or "What the heck", or even you add some indecent jokes and GIFs. To say the least, your readers will be astonished and disappointed.
Business email etiquette won't tolerate this.
But if your emails have been filled up with of jokes, the copies have been written in a colloquial friendly manner, and now you send out a stern email with philosophical discussions, your readers might think its not your email.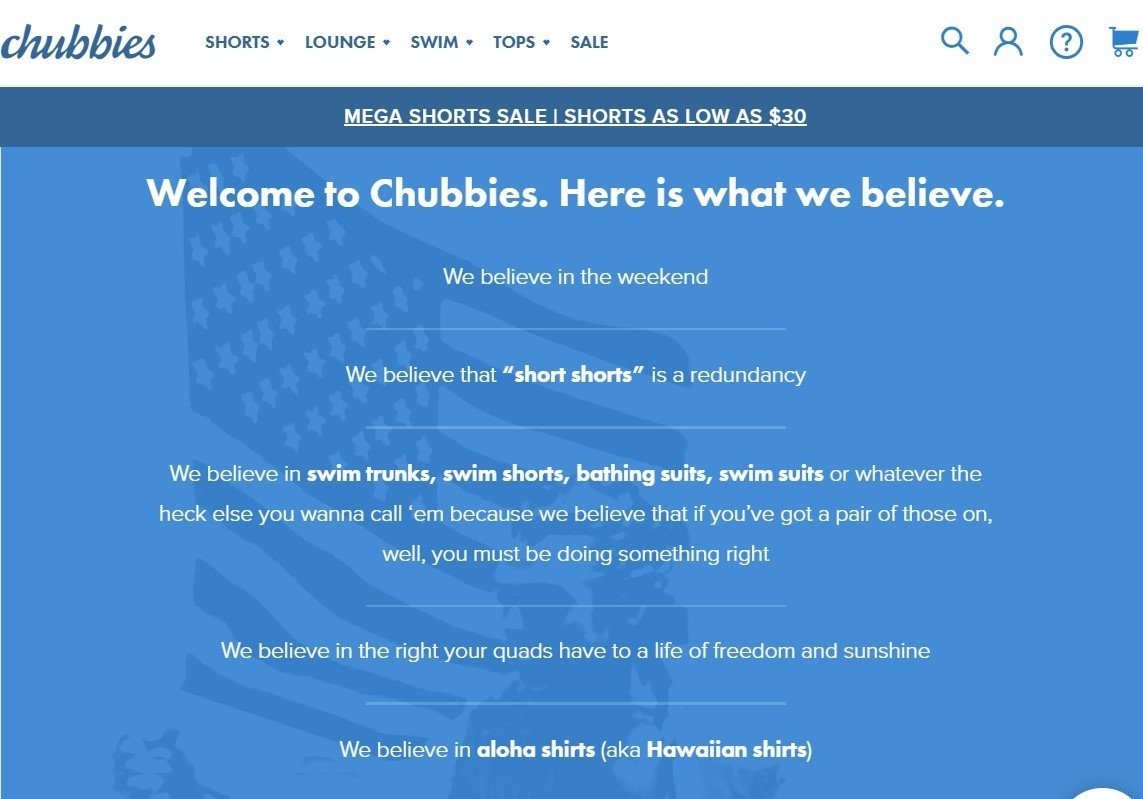 (Chubbies website)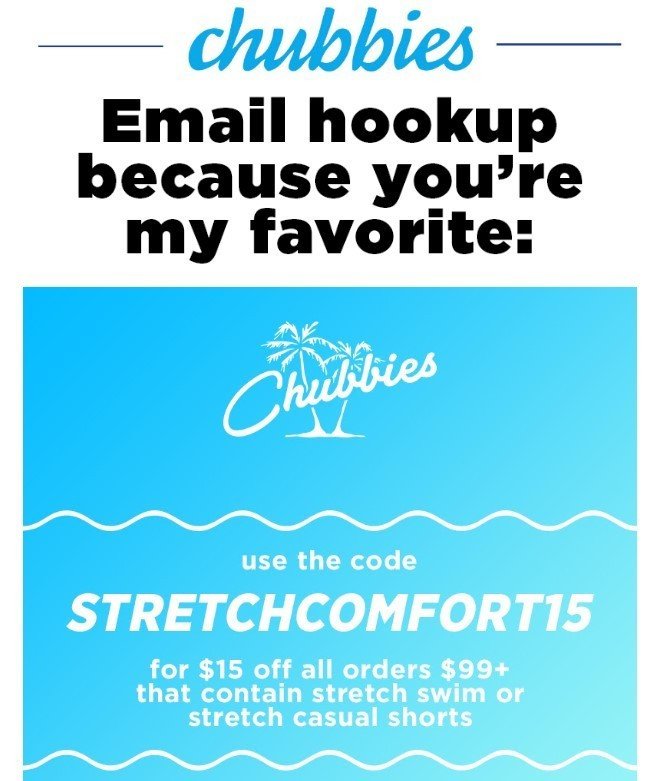 (Email by Chubbies)
"Email hookup" — Chubbies always uses informal speech in its emails.
Note: recipients love you for your style, your individuality, and your manners!
7. Do focus on the benefits your prospects may receive
The first rule of a successful campaign is to show the profit your customers are about to gain once they decide to buy the magic tool/item/shoes from you. Consequently, for consulting services industry, and for SaaS products, it is reasonable not to show how good your tool is, but to explain what problems it solves.
Luckily, by following this particular rule that endears customers and increases sell, you also stick to one of the basic email etiquette tips.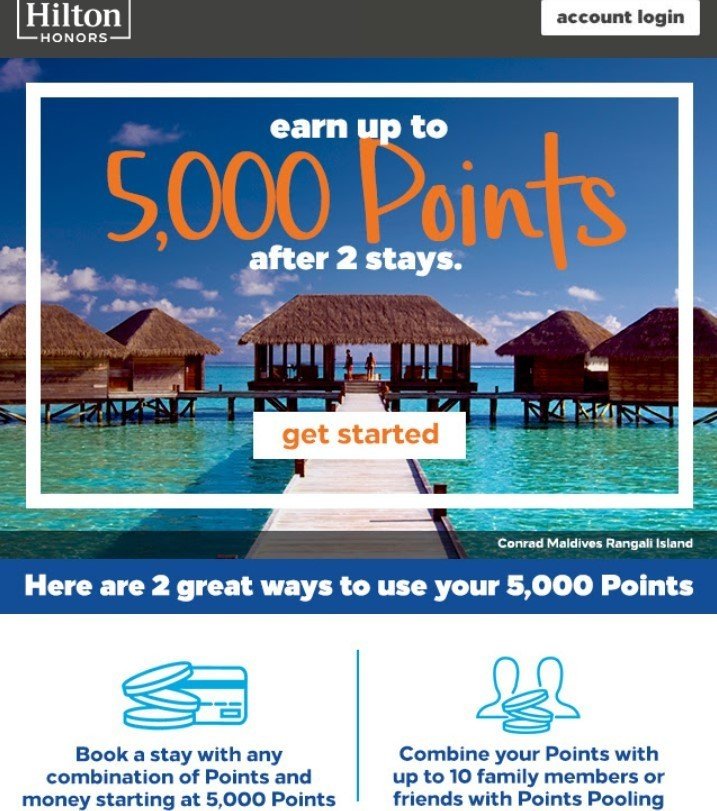 Not only showed Hilton what benefits I get, but also explained how I can use them.
8. Do add visual elements in emails
What do we normally mean when saying "visual elements"? — We mean photos, videos, GIFs. They all are appropriate both for B2C and B2B emails. The difference is in what is shown on the images, and what the videos teach their viewers.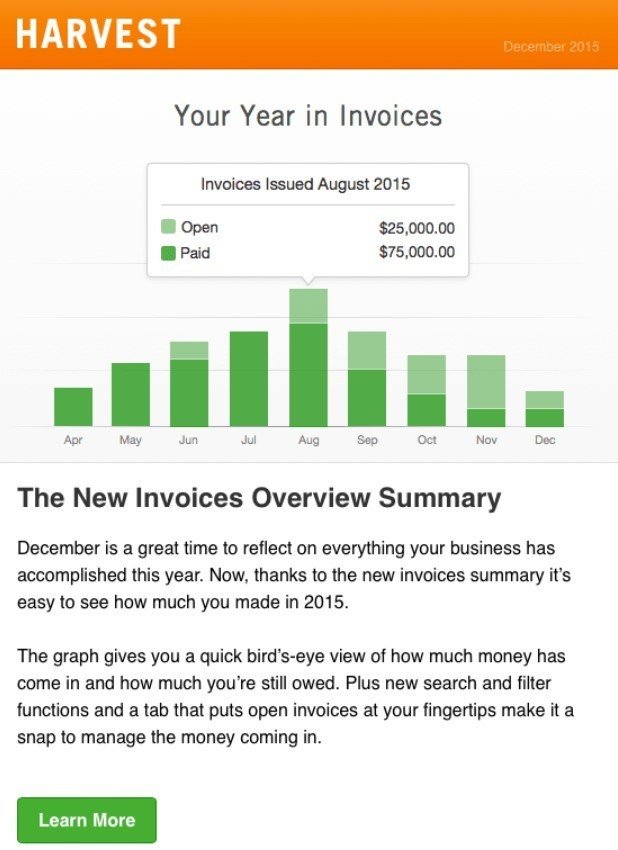 Even lawyers, businessmen, and politicians will love some kinds of these elements in emails.
In B2C emails, you are welcome to use image rollovers to show off a bigger number of products' items, countdown timers to spice up sale newsletters, and other kinds of interactive elements.
Insert timers and implement rollover effects with Stripo within minutes. Our interactive elements are totally websafe.
9. Do appeal to emotions
The best and the easiest way to turn recipients into customers is by showing the profit the customers may receive (paragraph 7) and by appealing to their emotions.
Use photos of prominent people. For example, celebrities wearing your products. Most women would love to have that, too.
Tell your customers they may be the first to purchase a luxurious car or a watch to impress colleagues and friends. You may also promise that he's gonna be the coolest guy on the block.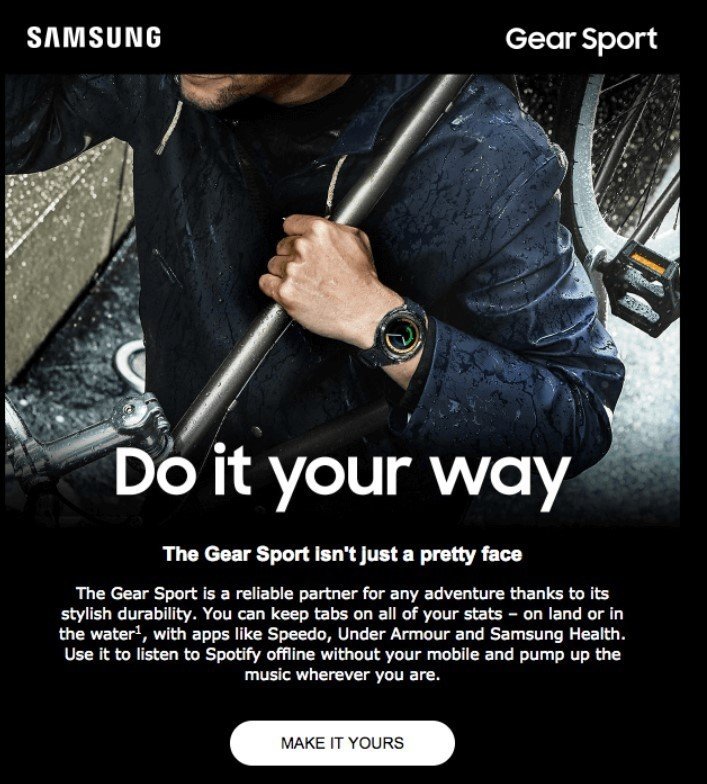 "Do it your way" — I can hardly think of anything more appealing.
Also, do not hesitate to come to cause-marketing. Do it for the two reasons: 1) help those who are in need; 2) help your customers feel themselves heroes.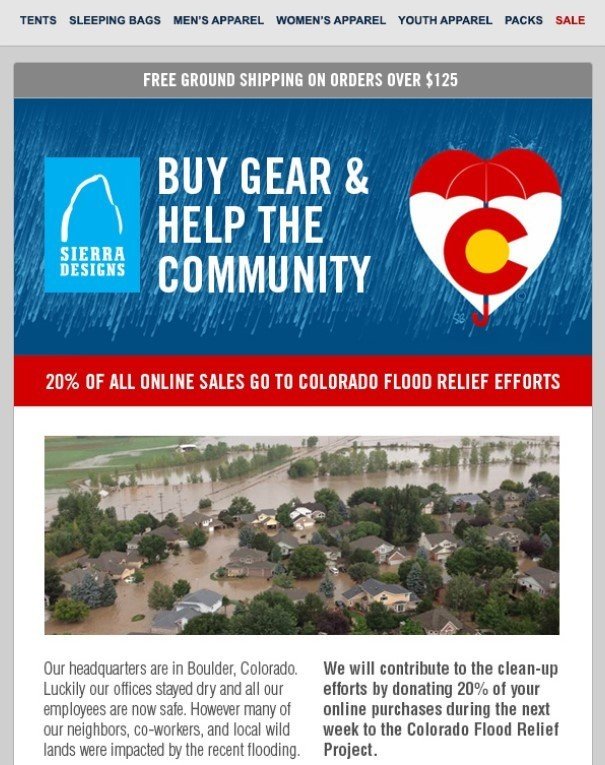 Make sure to really send the money you've raised during this charity those whom you initially intended to.
10. Do add a signature
Long back at school, we were taught that all letters must start with a greeting and end with a signature, "Sincerely, Hanna". This concerns e-letters, aka emails, also. No matter what kind of an email this is: an HTML email or a plain-text one; it can be a promo or a transactional one. Always add a signature to stay polite.
Signature in HTML emails, aka footer, normally contains social networks links wrapped in social media icons, detailed contact information, and postal address, the name of the company and the reason why you have reached out to the recipients. It may also contain the name of the person who is responsible for the email newsletters in the company; it can be an entire team. If there is only one person who runs e-marketing campaigns, it will be reasonable to add a photo.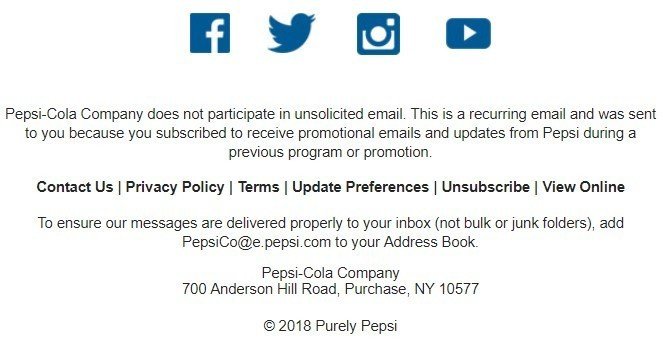 For e-signature in emails, the list of the mandatory elements differs a little.
Professional email etiquette requires a photo, your name, and position, social media icons. Work hours, postal address, and a map are a must when you have an offline office or an offline store.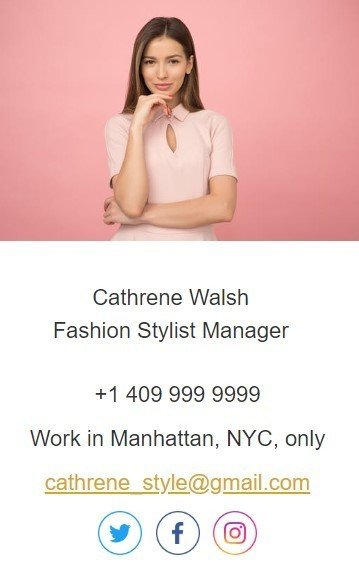 Please, do not think that all these dos are mandatory for ecommerce emails only. Corporate email etiquette also requires segmentation (developers do not want to know about an upcoming marketing summit), subject line (employees need to know what they are going to read about — this will help them manage their time), and signature of the person who sent the email even if the sender name already mentions it.
11. Do send only solicited emails
It goes without saying that you are to ask for permission to send emails to a particular person prior to including him or her in your email newsletter list.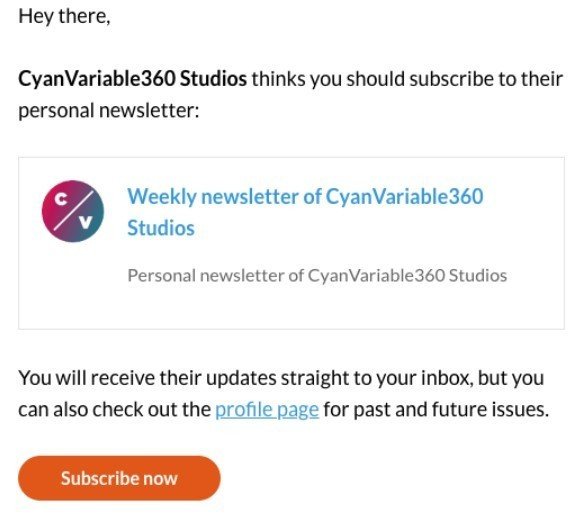 The Don'ts
1. Don't use too many CTAs
Nobody's gonna argue that the main goal of all ecommerce emails is to sell or set the deals. But quite often your customers may get distracted with numerous CTA buttons. They should be noticeable, contain a clear copy, repeat themselves. If you, for example, promote hot tours to Miami, then it would be reasonable to place a button at the top of your email — probably, over a banner (to see how to do it with Stripo, read this post, paragraph 4), — and at the bottom of your email. This way the chances the customers will notice the button are higher.
2. Don't add too many GIFs
The number of images used in emails totally depends on you, certainly, you still should stick to the 20/80-ratio to prevent being reported as spam. The situation with GIFs is totally different, as two or more moving visual elements in one screen can cause epilepsy. One GIF at a time!
3. Don't be self-centered
Listening to those who constantly speak about themselves can be kinda boring. Either stick to the rule described in paragraph 5 or talk about your competitors, like Really Good Emails do.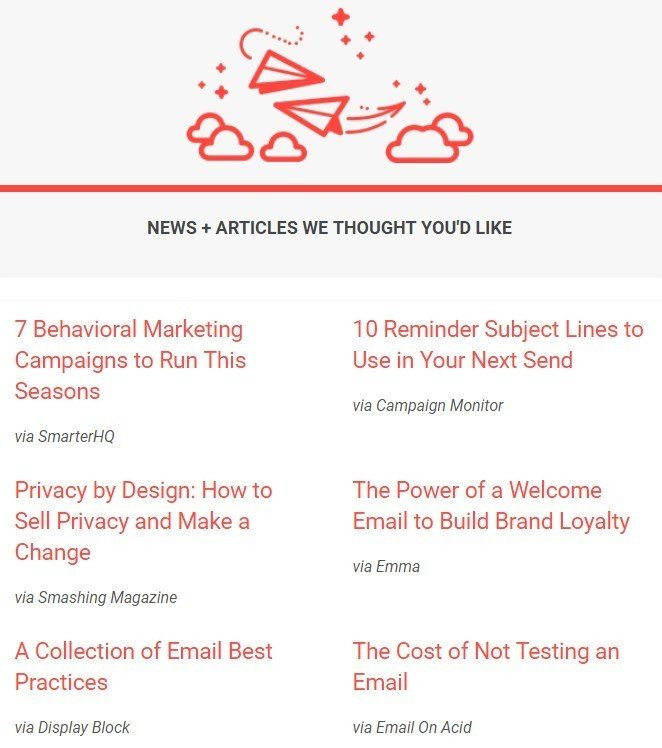 (good example)
Summary
Apart from all these email etiquette dos and don'ts, you should also consider the following:
send out only solicited emails — act according to the GDPR rules;
for ecommerce newsletters, use only responsive email templates to make your email design look good on mobile devices.
If all these tips are too much for you and you find it difficult to implement them, then order an email template designed by our professionals. All you'll need to do after is just insert proper copy. That's all.
If you have any questions or concerns, please email us at contact@stripo.email or join us on Facebook.