An email blast is a type of email marketing campaign in which a brand sends a promotional email to a specific audience. The goal of sending out email blasts is to advertise products, services, or events.
But for your email blasts to deliver the desired outcomes, you need to do them right. So here is the list of what to do and what to avoid when it comes to email blasts.
The do's of email blasts
Here are the nine things to remember and apply when you create, send, and manage email blasts to meet your business goals, whether it's increasing open and click-through rates or raising brand awareness.
Define your goals
Setting specific objectives for your email marketing is essential for getting the intended outcomes. Clear goals help you stay focused on your desired result, take measures in the right direction and assess success by comparing the actual campaign performance to the target one.
So first things first — define what you expect to get from your email blasts. There are different things you can aim for:
sales growth;

increasing website traffic;

raising brand awareness;

increasing audience;

boosting engagement.
Whatever your goal for the upcoming campaign is, make sure you have a clear understanding of it before you send an email blast.
Segment your email list
Usually, any email marketing tool provides a powerful feature called email list segmentation, allowing you to personalize your messages to particular subscriber groups.
Your contact list can be categorized using demographics, behavior, interests, and other factors. So you get contact groups with similar purchasing histories, common interests they indicated in surveys or sign-up forms, and the same kinds of interactions with previous emails.
In fact, HubSpot named subscriber segmentation the most effective email marketing strategy.
Because you can send out more personalized messages by segmenting your lists, you can benefit from increased open rates, improved engagement, and higher conversion rates.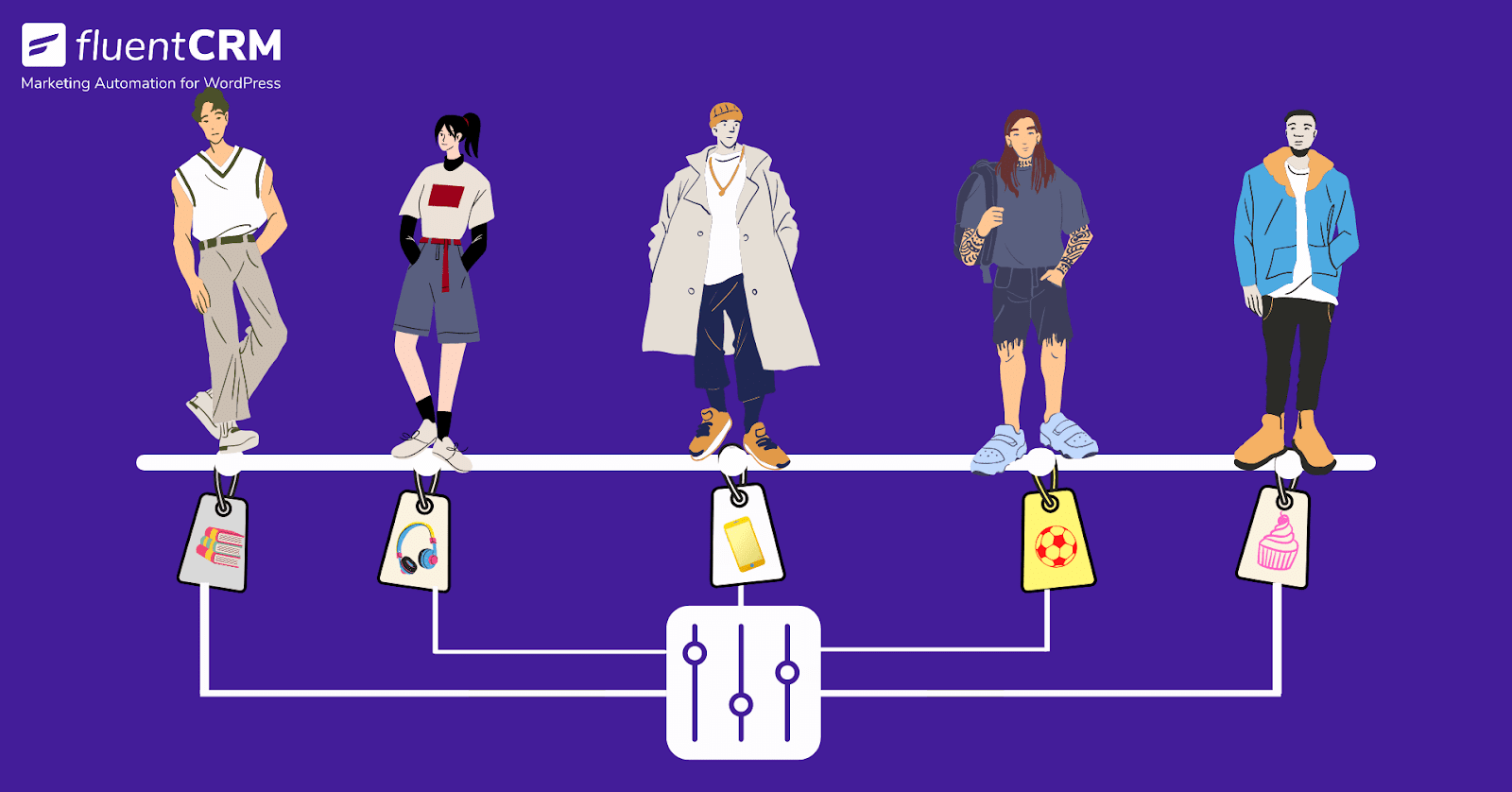 (Source: Fluent CRM)
Keep your contact base clean
The success of your email blasts depends on how well-maintained your email blast service contact database is. That's why you need regular email list cleaning, which means you remove inactive, invalid, and duplicate addresses from your recipient list.
In particular, clean contact lists help:
avoid spam filters

ESPs use to stop unsolicited messages from getting to consumers' inboxes so that your emails don't end up in a spam folder;

keep your sender's reputation high

and avoid a low deliverability rate;

improve engagement

since you'll be sending email blasts to recipients interested in your emails.
With this in mind, to maintain your contact base clean, regularly remove incorrect or inactive email addresses and divide your list by level of participation.
Regular schedule
Your email blast campaigns will be more successful if you send them at the time and frequency your audience prefers. And there can be different right times for different recipients.
Here are some tips on how to find the perfect sending time and mail frequency for your audience.
1. Let subscribers choose
Of course, it would be easiest for you if your audience told you when it's the best time for them to receive your emails. So let your subscribers choose message frequency and sending time so that they can personalize their experience.
2. Consider who your audience is
If you offer a time tracking tool for freelancers, you're less limited in sending times because they may be online at any time of the day and week.
But if you run an online clothing store, send out promotions when people are most often on their phones, i.e., on the commute or lunch break. Also, evenings and nighttime are the most popular times for shopping among users in most countries, so keep that in mind when setting up your campaigns.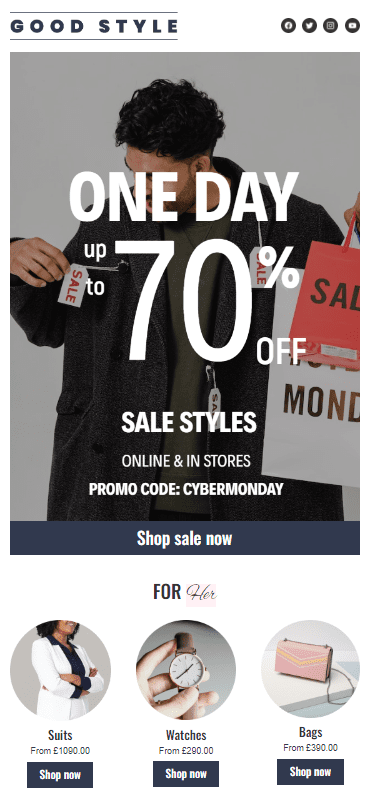 (Source: Stripo template)
With this being said, consider factors like their time zone, work schedule, and potential lifestyle.
3. Test and evaluate
Gather analytics on your blasts' performance to determine which strategy produces the best outcomes.
For example, Omnisend found that their audience shows the highest open rate (28%) and click-through rate (7%) when they receive the newsletter once a month.
However, the highest number of orders (12.17 on average) came when the company sent 10-19 emails monthly, despite the low open and click-through rates.
You have to try different things and find out what fits your audience best. Then, tweak your future email marketing campaign based on your findings.
Besides setting up a suitable sending schedule that your recipients like, ensure you stay consistent with your schedule.
Craft compelling subject lines
Without a catchy subject line, the recipient most likely won't open your email. In fact, personalized subject lines increase the open rate by 50%. And high open rate can result in more engagement and conversions.
Your email's subject line should appeal to the reader both by the message (clear yet intriguing) and form (concise and scannable).
Here are some tips on how to create a compelling subject line:
include the recipient's name or other personal details to make the message feel more relevant;

keep it short so that the subject is easy to scan;

use language that encourages action, like "Don't miss out" or "Limited time offer" for encouragement;

avoid using elements triggering spam filters, like excessive punctuation or all caps.
And, of course, make sure that the subject line reflects the message of the email contents itself.
Create engaging content
To keep your subscribers interested and eventually increase conversions, the content you email them has to be captivating. You can achieve that by using visuals, telling a story, personalizing your emails, and offering value.
For example, you can illustrate a welcome email with a pleasant image to add a warm feel to it. Or, you can apply storytelling in an email featuring a case study or customer success story to raise brand awareness and strengthen your relationship with the audience.
Personalized email blast examples, in turn, include promotional emails or product recommendations based on previous purchases.
Or, you can deliver value to your audience via educational content like how-to guides, which also helps position your brand as a reliable knowledge source in the industry.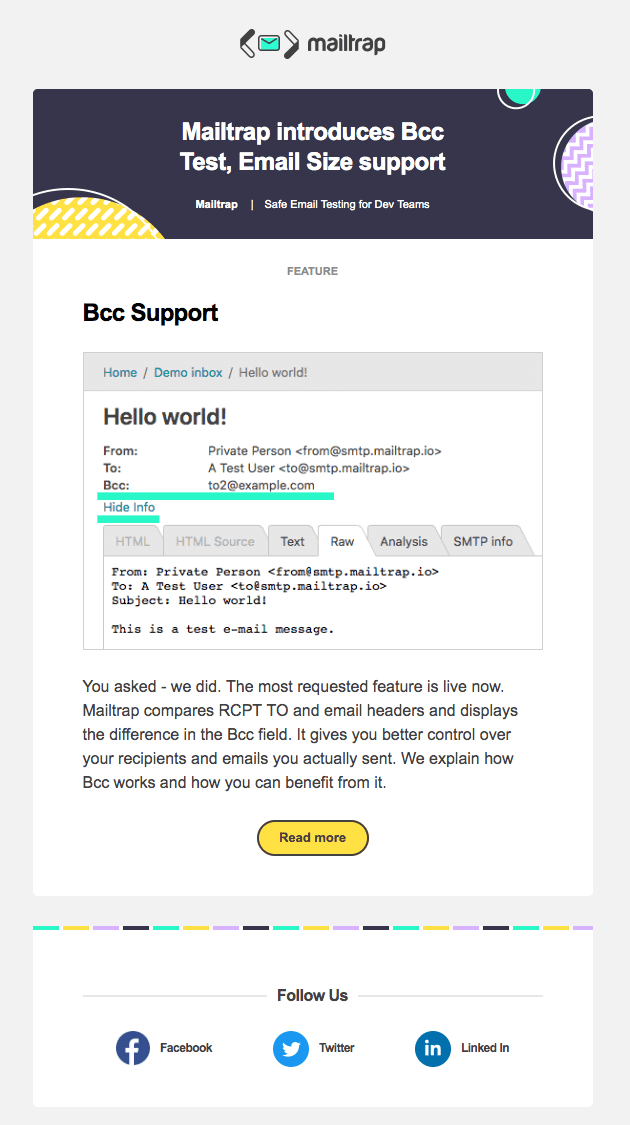 (Source: Mailtrap)
Personalize mass emails
We've already talked about personalizing your email blasts via segmenting, but you can go further. Personalizing bulk emails entails adjusting the email's content to each recipient's unique interests and habits.
Here's what you can do to personalize your mass email campaign:
use personalization tokens

to add a recipient's name or other details to the email body automatically, giving it a more tailored and relevant feel;

refer to behavioral data

from purchases, browsing history, and email engagement to focus on promoting a particular category of products;

provide options for customization

,

like what kinds of information they prefer.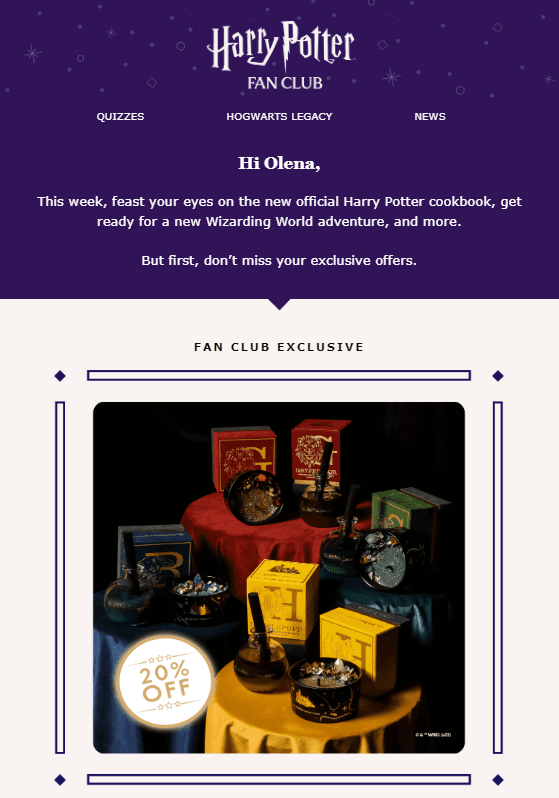 (Source: Email from Harry Potter Fan Club)
Then, any standard email blast service allows for tracking how readers respond to your emails. Use this feature to shape your campaigns based on their actions (or lack thereof).
Stay consistent content- and design-wise
When it comes to developing a successful email marketing strategy, consistency is vital. Of course, sticking to a schedule for email sending contributes to consistency, but there's much more than that. So how do you maintain brand consistency in both your content and design?
1. Use email templates
Email templates make it simpler to produce and deliver emails fast and effectively while maintaining consistency in style and layout. Choose a template that complements your brand's identity and add your messaging and graphics.
2. Include branding elements
Consistent design is crucial for developing a strong brand identity and making your email blasts instantly familiar to subscribers. So use branding elements like colors, fonts, and icons. This promotes a unified appearance that strengthens your brand messaging and fosters subscriber trust.
3. Add value to the content
Pay attention to what your receivers might get from the email rather than solely focusing on your goals for this email blast. This means offering your subscribers valuable content that can help meet their needs, like in-depth articles or special deals.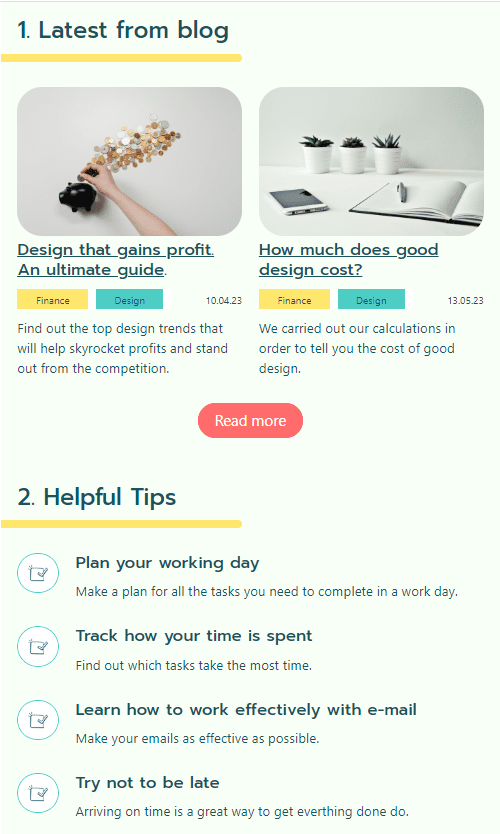 (Source: Stripo template)
Make your emails mobile-friendly
Because nearly half of the receivers prefer to access their emails on mobile devices, mobile optimization is essential in email marketing.
The key to making your emails mobile-friendly is using a responsive email layout that adapts your email's layout to the size of the screen used to see it. This guarantees the correct content display and easy navigation on any reader's device.
Besides, mobile-friendly emails with an undemanding design adjust to various devices better. So use an easy-to-read font, a straightforward structure, and a clear subject line. Consider using a single-column layout since it's simpler to read on smaller screens like a smartphone.
Also, besides adjusting the overall display and design, optimize the media you include in the message. Make visuals responsive, lower their size, and add alt text in case they don't load properly.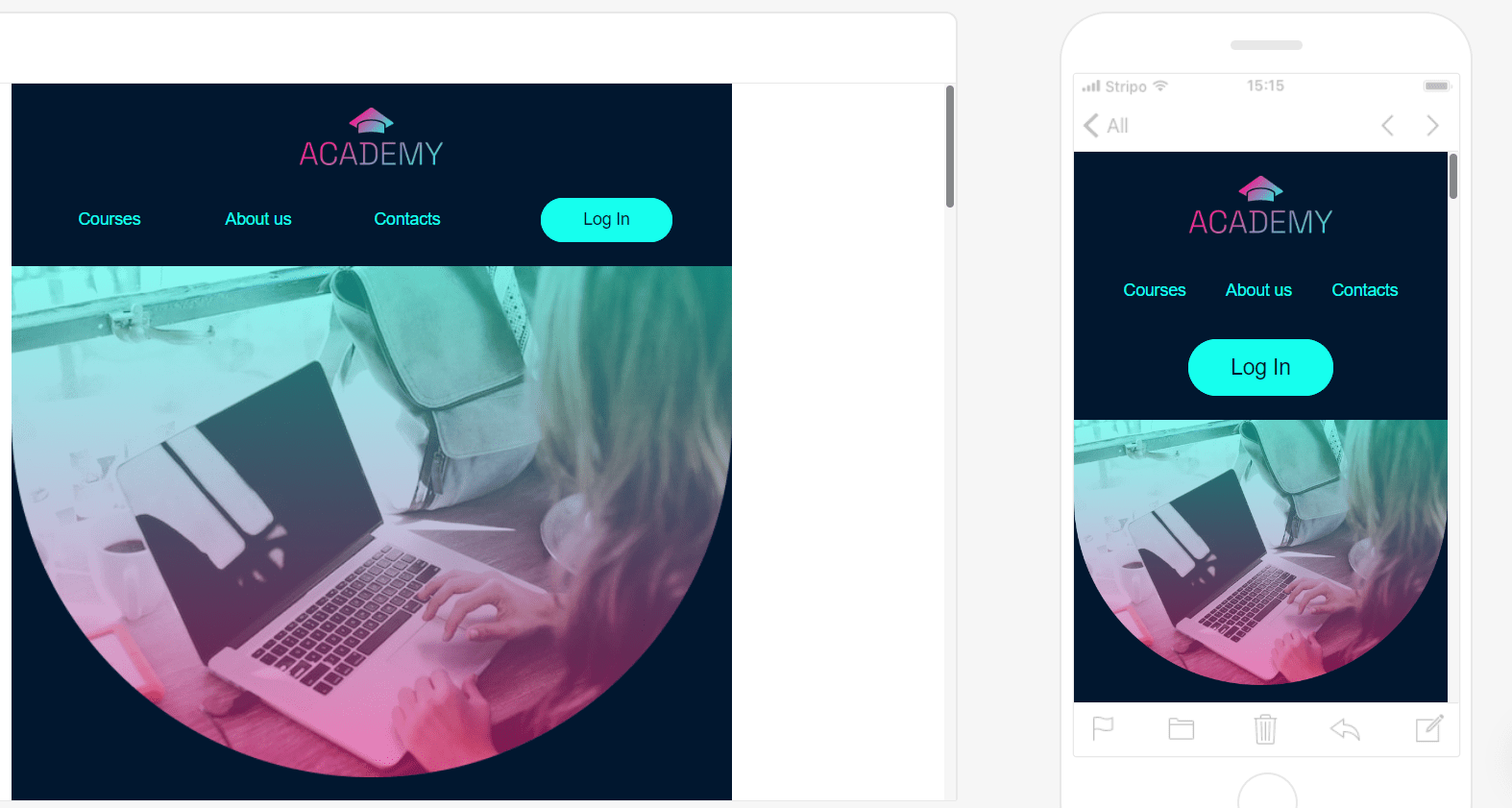 The don'ts of email blasts
Now that you know how to run email blast campaigns, let's discuss what mistakes you should avoid.
Don't buy email lists
Purchasing email lists may seem tempting, but it's not a good idea for a business in the long run. You risk getting low-quality leads who didn't consent to receive your emails, hence low engagement, the threat of spam complaints, and a potential lawsuit. More problems than benefits, huh?
Instead, focus on organic list creation using opt-in techniques like website signups, lead magnets, and other offers. Here are some safe alternatives to purchasing email lists:
website opt-in forms: encourage website visitors to join your email list by using opt-in forms, use an obvious call-to-action, and provide an incentive, like a free eBook or discount code;

social media

: share links to your opt-in form with social media users that may find it interesting and run ads to reach new potential subscribers;
networking: if you visit industry-related events and conferences, promote your subscription to other visitors.
Don't spam your recipients
Spam implies emails you send recipients who haven't consented to receive it.
Spamming is detrimental since it can hurt your sender's reputation, potentially get blacklisted, get high unsubscribe rates, and have low engagement rates. So it's crucial for a business' marketing success not to spam its recipients.
Here are some ways to prevent sending out emails that can be labeled as spam:
send an email blast only to those who have specifically requested to receive it;

provide an unsubscribe link in each email to allow recipients to remove themselves from your mailing list easily;

clean your email lists regularly;

personalize your email blasts to make them interesting and relevant to the reader.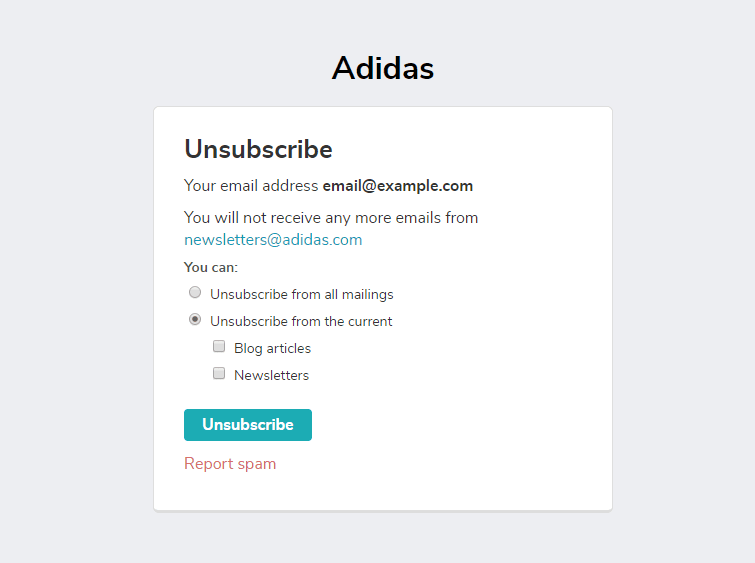 (Source: SendPulse)
Don't send too many emails
Sending your readers too many emails might lead to different things, none of which is positive really.
Receiving too many emails may be annoying or overwhelming for your subscribers, and they may delete your emails unopened if you over-target them. Or, you recipients may unsubscribe or even mark the messages as spam, which is also detrimental long-term.
Overemailing can also look pushy and make an impression that your main goal is to sell rather than deliver value, which can scare your audience off and decrease trust in your brand.
So make sure you experiment with email frequency to find a balance between keeping your constant appearance in your audience's inbox and not sending too many emails.
Don't forget to test and optimize
Testing and optimizing your email blast campaign helps ensure you give your readers content they enjoy. In particular, this can provide the following benefits:
higher engagement rates

because you learn what resonates with your subscribers and raise engagement rates by testing different aspects of your emails like subject lines, CTAs, and the content itself;

more conversions

since you find and increase the impact of your most effective email marketing tactics;

increased ROI

because you send what your users like and engage with.
So what are the best steps to test your email campaign for optimization? Here's what you can start with.
Step 1. Set goals
Before starting any testing, establish clear objectives for what you want to accomplish with this campaign. This way, you'll focus your efforts on achieving the right metrics.
Step 2. Use email testing tools
Companies like Stripo, Mailtrap, or Litmus have email testing tools that can help you preview your emails before they reach actual recipients. So with email marketing software, you get to see your emails from the end user's POV and fix anything last-minute without losing campaign performance.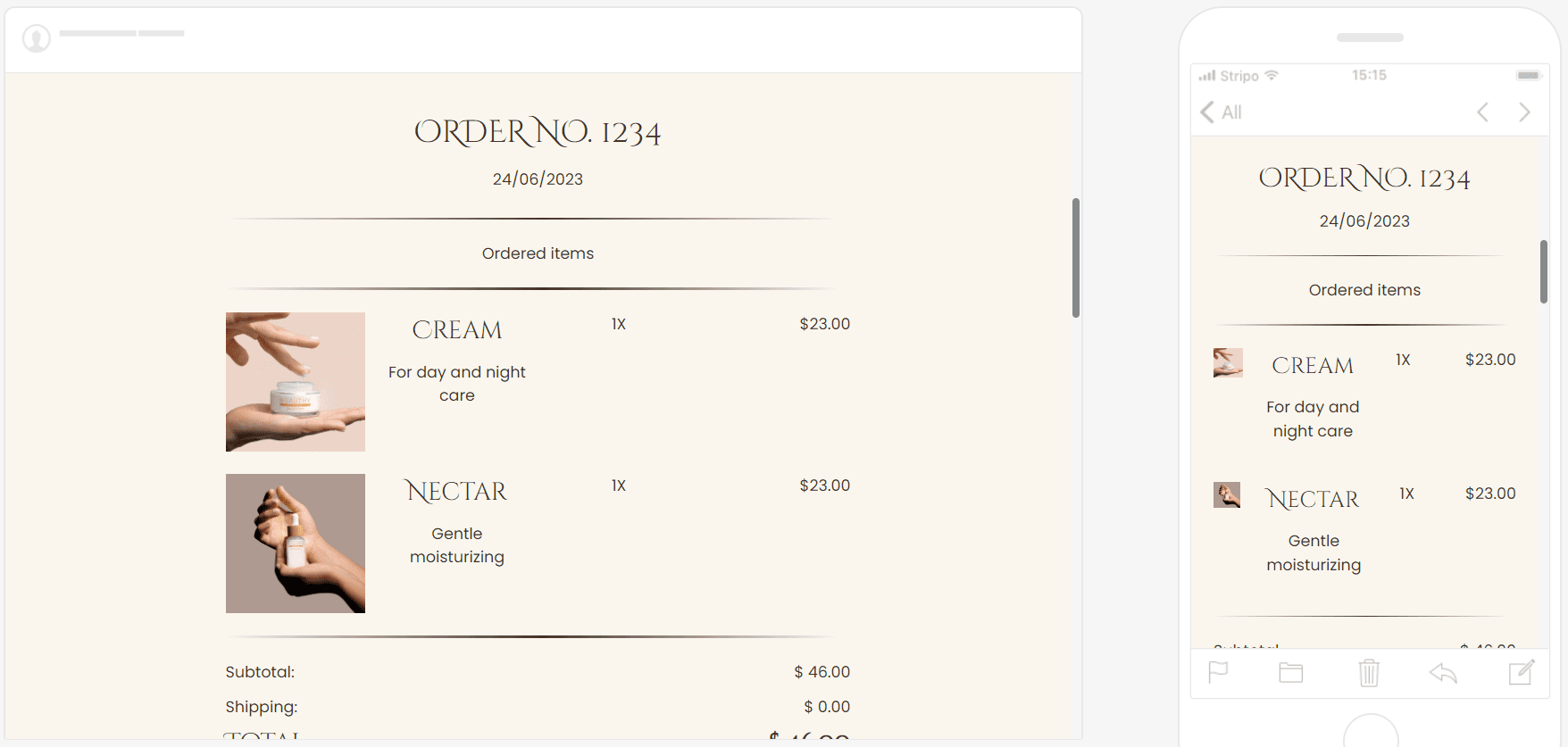 Step 3. Run A/B testing
A/B testing compares the performance of two different versions of the same campaign. Change parts of the email, like the subject line, text, graphics, and CTAs, to see which performs best.
Step 4. Analyze metrics
To determine what is and isn't working, use analytics like open rates, click-through rates, and conversion rates. This will help you find the gaps so that you can focus on fixing them to achieve your email marketing goal.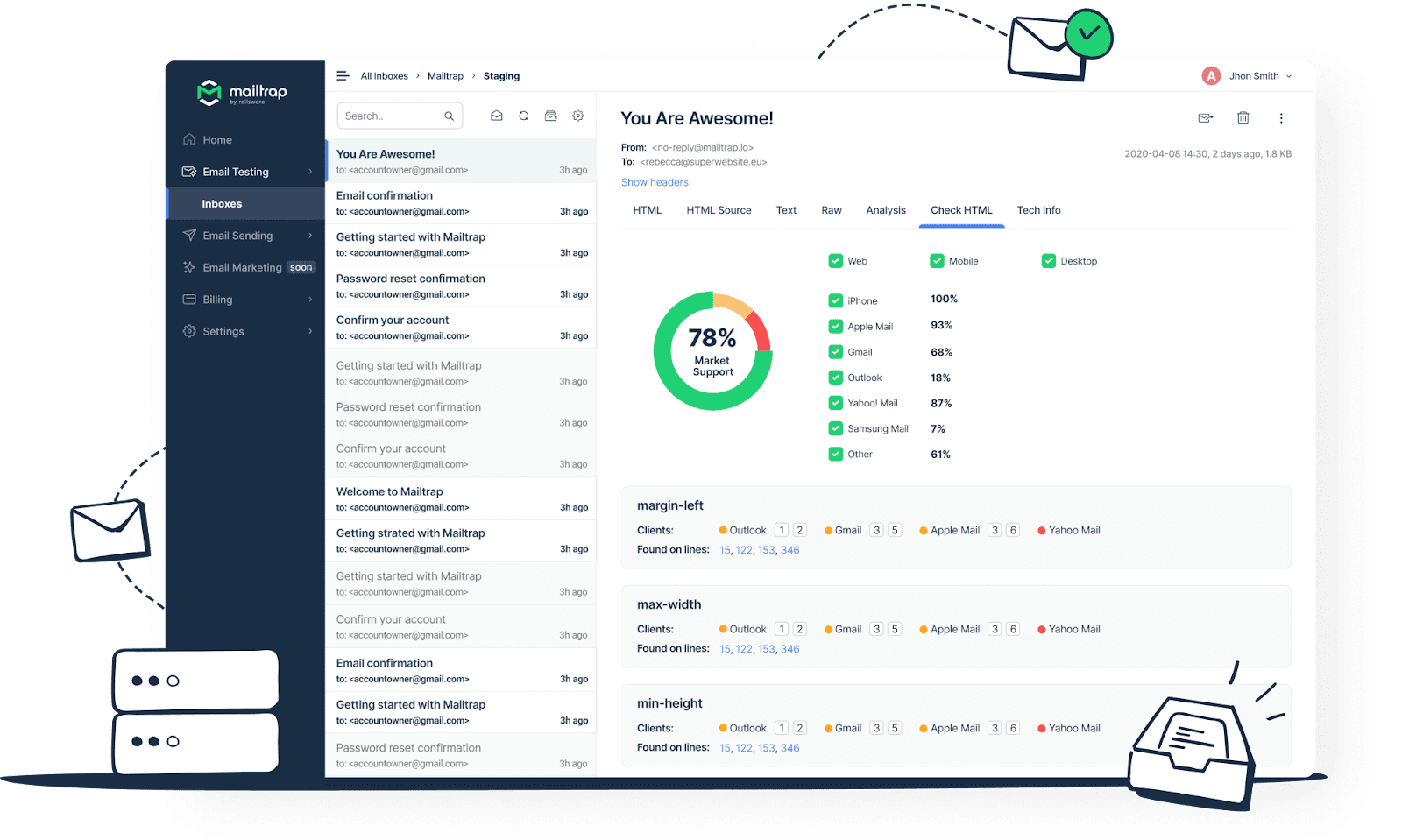 (Source: Mailtrap)
Wrapping up
Email blasts are a great email marketing asset that can help increase all kinds of metrics, from engagement to revenue. But you need to know how to do it right.
To see remarkable campaign performance, define your goals clearly, segment and clean your contact list, stay consistent in email frequency, along with content and design, personalize your messages and subject lines, and keep your emails engaging and responsive to mobile.
At the same time, there are things to avoid when it comes to this technique. These include mistakes like buying email lists, spamming and sending too many emails to your recipients, and neglecting campaign testing and optimization.
Was this article helpful?
Thanks for your feedback!