29 October 2019
Holiday Email Marketing: The Ultimate Guide
You have probably heard that last year in the USA alone the Christmas retail sales generated impressive $720 bln. And other holidays can also boast about these impressive numbers!!
Doesn't it make us want to get a share of the pie?
But wait a minute!
We need to think the strategy through because holiday email marketing differs from regular promo emails and requires a somewhat different approach.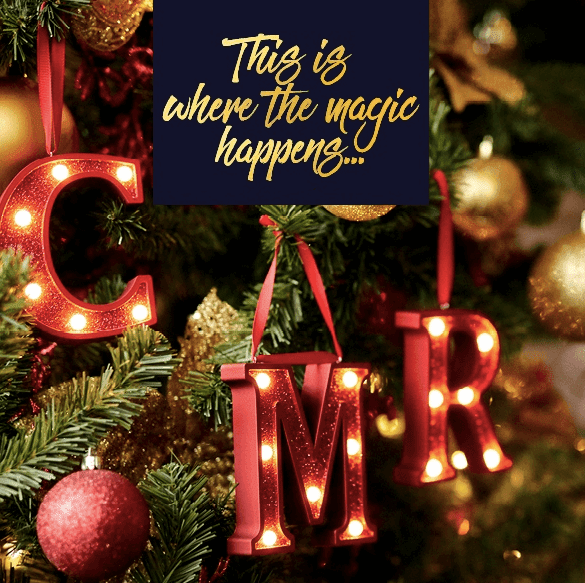 Start with the holiday!
Holiday
No matter how trivial this sounds, but you need to start with investigating and realizing the traditions of a particular holiday. Say, you can send a greeting card on Christmas or Easter, but you never do that on Black Friday, as the latter is associated with big sales!
Types of holidays emails
Now you need to think through what your email will be about — it could be just a greeting on holidays, a sales announcement, or an interesting value proposition. Because it affects your email content, design, offer, date when you send this newsletter out and even the number of emails you need to send for a particular holiday. (We'll cover the best time to send emails and email series topics later.)
Types of holiday emails are, as follows:
Value offer with discount/sales.

Sales announcement.

Greeting card.
When is it reasonable to offer a discount and when is it better to send over just a greeting card?
In a nutshell, a week/weeks/month prior to the holiday, you'd better offer a discount to all subscribers.
And on the very holiday, you should send a warm greeting card with touching wishes and sincere gratitude to active buyers/clients.
1. Emails with value offers — discounts and sales
Is it a fixed % off sitewide or a personal birthday-related discount? Or are you offering a new gadget at a lower price to all customers? Once you decide on that, proceed to the way you are going to present it.
This could be a direct message — a big bright banner with an image of your product item, for instance.
You can easily build sophisticated banners, place copy over images, wrap it in decorative fonts with Stripo in under 10 minutes — due to embedded photo editor and banner block.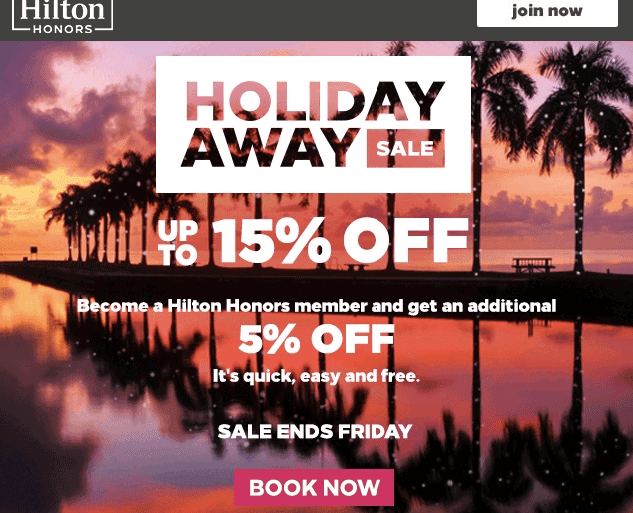 If you know your customers well, as you have collected a whole lot of data, including their preferences — make a personalized offer. This could be a personalized discount on their favorite products.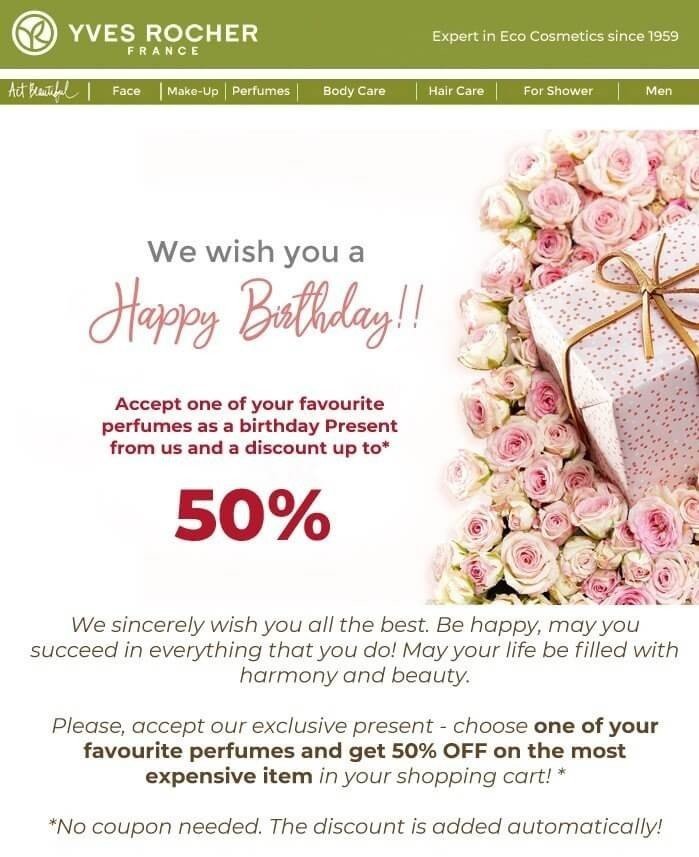 Important to note: holidays can serve as a good reason to start your reactivation campaign. Feel free to reach out to inactive contacts with your generous value offer.
Quite often you may want to add a countdown timer to your holiday emails to let consumers know how soon your sale expires.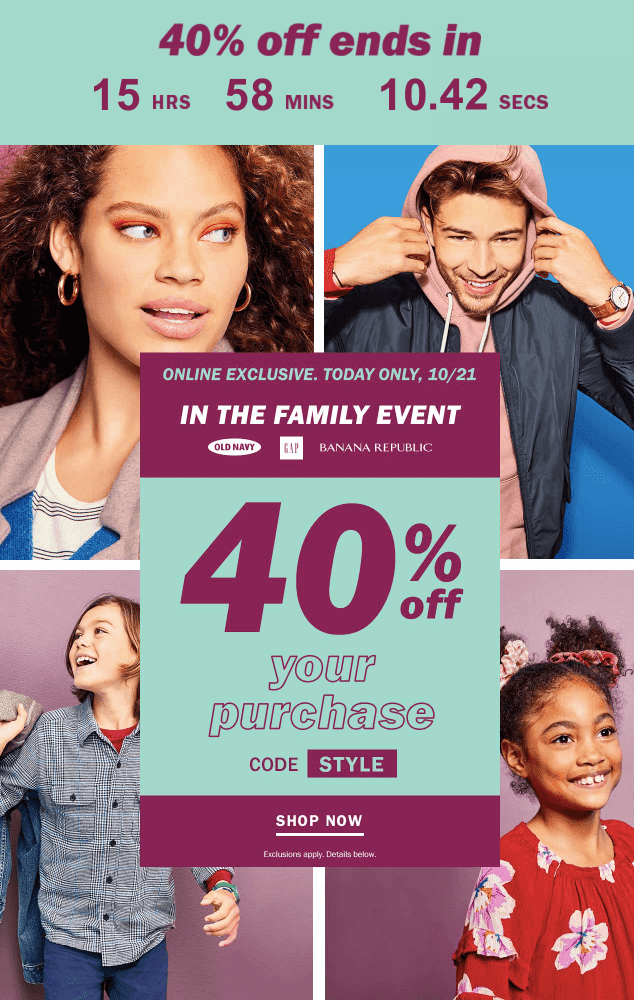 2. Sales announcement emails
This type of email will be of great use when you want to "prepare" customers for your sales. It often goes as part of a series.
It can be a single email of a kind before the sale or a sequence of them. It totally depends on your strategy and the time that is left before the holiday.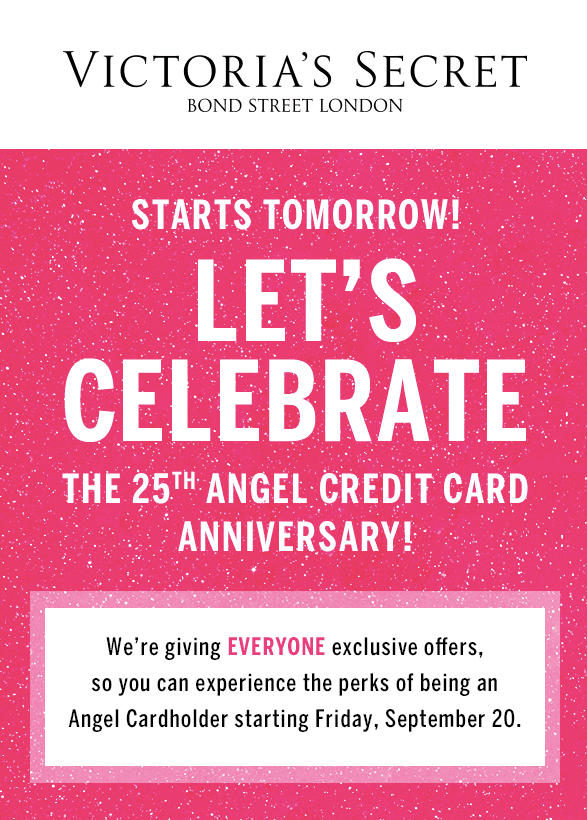 3. Greeting cards
When reaching out to consumers to congratulate them on a special event, you need to build a really emotional email to make a good impression.
You can add a video where your entire team or CEO recite some poems or speak from the bottom of their hearts.
The head of your company could also express his or her gratitude in a written form. This works really well for birthdays, Christmas, and milestone emails.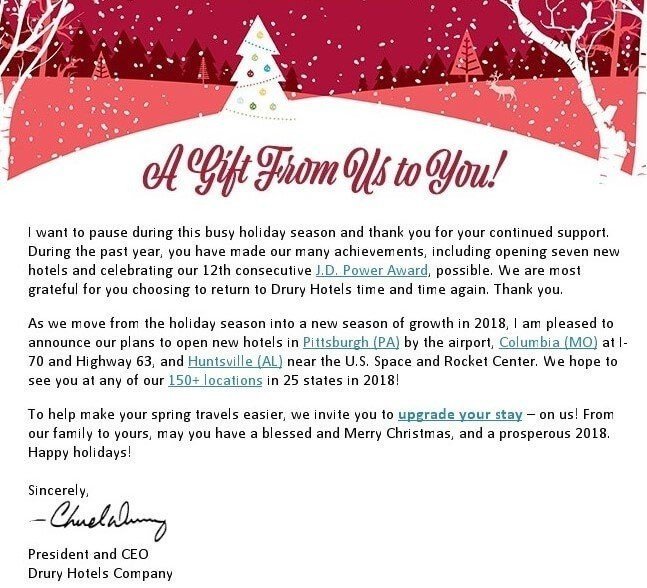 End these emails beautifully. If it is sent on behalf of your CEO, then add his or her e-signature.
Design tips to consider when building a holiday email
When it comes to holiday email marketing, you are welcome to use all your rich imagination. Emails of this kind are to set and spread the holiday spirit.
When building an email with value offer or sales announcement emails, you can decorate any element of your emails: from banners and product cards to headers and footers, including contact information.
Most brands just draw Santa's hat over their logo. If you wanna try something less common, add Christmas balls or Christmas lights to header and footer. Animate them if you like.
Decorate buttons. In Christmas emails, they may be covered with snow, but in, say, Halloween emails, they can be covered with a spider web or dust to make them look spooky.
In other words, you should make them as festive as you want — no limits. Just make sure all design elements look harmonic and complement each other.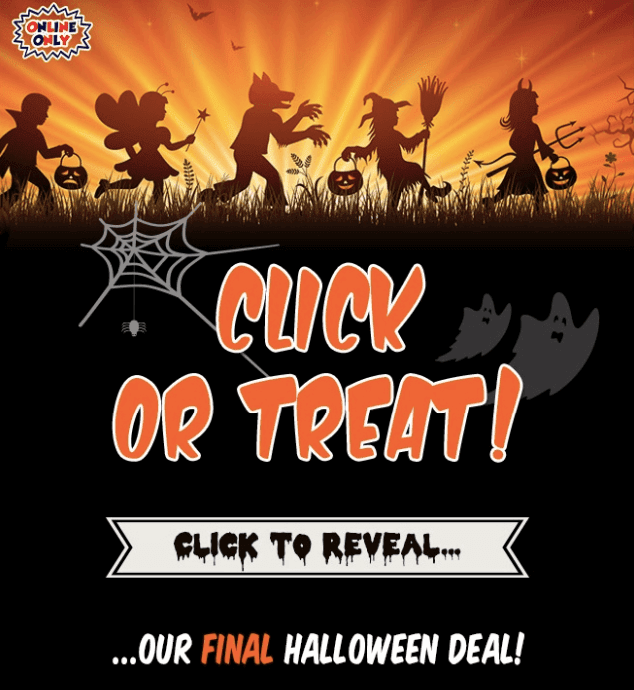 Important to note:
Decorative buttons are usually made of images which are located above the banner.
Here we need to consider the value offer per se as the design strategy may differ.
Highlighting product items with lower prices
When reducing prices on particular items, you are supposed to highlight them.
You could place a close-up image, a detailed description over a banner. But what should you do if you've cut prices for a few items and want to highlight them all in the first screen? As we know, the first screen gets more views and more clicks than any other element of your emails. AMP carousel will be of great use here.
It is a perfect opportunity to present 3-12 items with close-ups at once.
The AMP technology is now supported by desktop's Gmail, Mail.ru. Soon, Outlook and Yahoo will support this technology too. And in the near future, Android and iOS will also support AMP in Gmail.
b) Presenting your sitewide discount
When announcing a sitewide discount, you do not necessarily have to add photos of some products. Besides, in this situation, photos may even confuse recipients — they may think other items are sold at regular prices.
So, what can you do? Build a banner that shows the amount of the discount. This could be a static image or a GIF.
During the Christmas season, for example, you are welcome to use CSS-animation with falling snowflakes as a banner to enliven seasonal newsletters.
c) Letting your customers choose or "win" their discount
You can let your customers guess or "win" the amount of their discount for this particular event. Interact with recipients.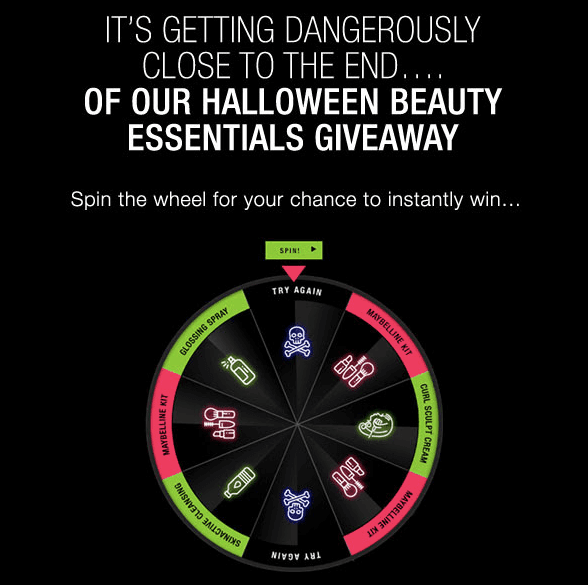 Buttons like this make customers think they can choose the amount of the discount or win a gift and convince them to click it.
It will certainly improve your CTR. Be sure to provide a really generous offer in order not to disappoint your subscribers.
Use your rich imagination to never let customers get bored.
Though, if you offer a 70-80% discount, you do not necessarily need to amuse subscribers. The chances they will click-through are pretty high.
Building a greeting card
When reaching out to customers to congratulate them on a holiday, you can build "eCard-styled" emails.
Important to note: When building a greeting email, no matter how tempting it is, never make it as a single card.
Though it may look like a card, it should contain multiple elements. Otherwise, your email might not pass spam filters. Besides, if for some reason, the image in such emails is blocked and is not displayed in recipients' inboxes, they will see nothing at all.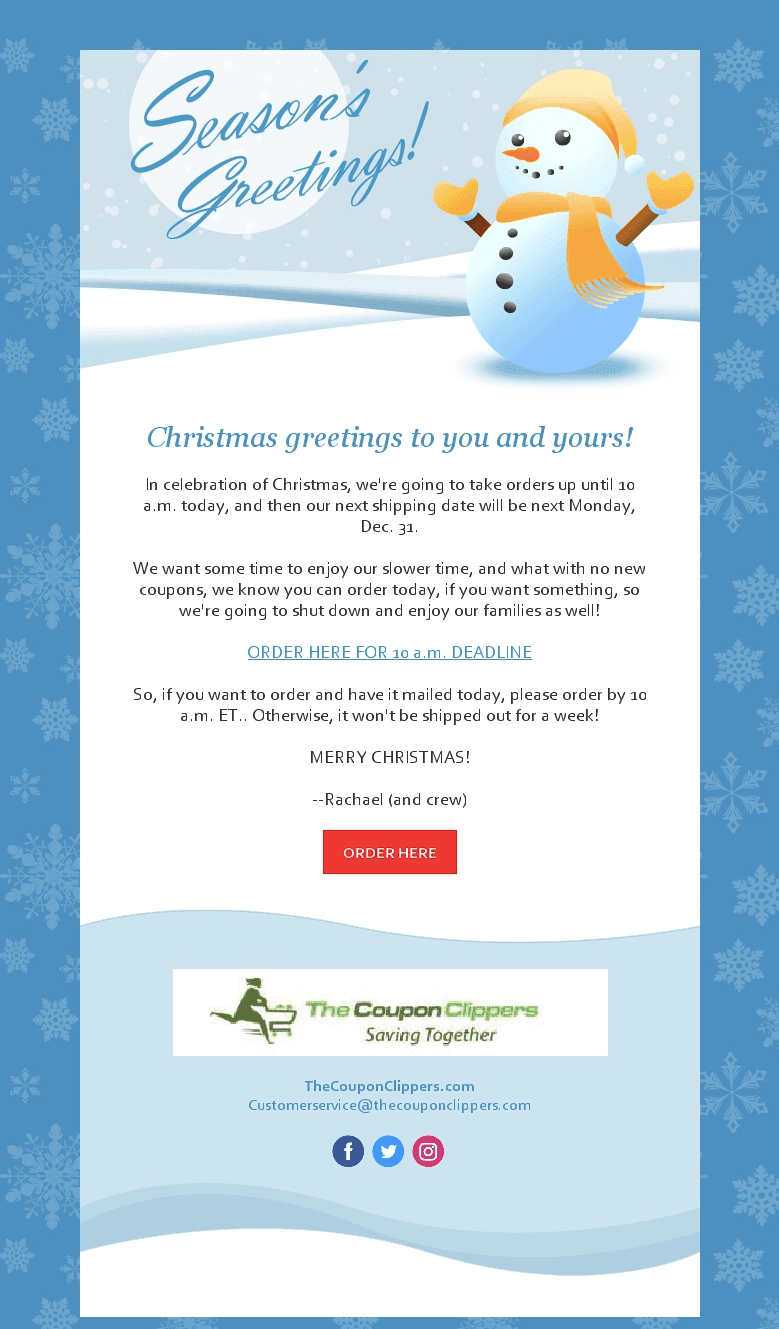 This holiday email example by The Coupon Clippers consists of a whole lot of small elements and pieces. If you want your email to look like this one — just add small parts to your email and set a complementary background.
Subject lines for your holiday emails
Here we want to cover just 3 basic rules that will help your holiday emails stand out among loads of other incoming emails in recipients' inboxes.
1. Specify the reason why you are reaching out
Is it a major Christmas sale? Or a sitewide discount? Remember to mention it in the subject line.

You may also announce the duration of this event.
2. Add emoji in holiday email subject lines
As we've said above, holiday email marketing's first mission is to set and spread the holiday spirit. Emojis will help you with it ;)
Besides, emojis in subject lines increase the open rate by 3,29%.

Would you agree that emails with emojis are more noticeable?
3. Inform customers about free shipping
74% of customers say that free shipping matters a lot, especially on holidays.
So, if you offer free shipping, make sure to mention it in the subject line.
Picking the right time to send holiday emails
It all depends on your email content and on the holiday.
When offering a coupon, you'd better do it beforehand to give customers time to shop with you before the holiday comes.
For instance, Back to School emails are to be sent in August or July.
Your Black Friday email campaign can be started in October, a month before the Day X.
As for Christmas, did you know that 40%-60% of presents for this holiday are bought during the 4-day weekend — Black Friday through Cyber Monday?
But we strongly recommend that you run a sequence of emails.
For instance, you send an email to announce the start of your sale.
Next email should go to those who did not open your previous email.
A few days prior to the very holiday, send your last email to those who did not shop with you to remind them to buy presents for family and friends.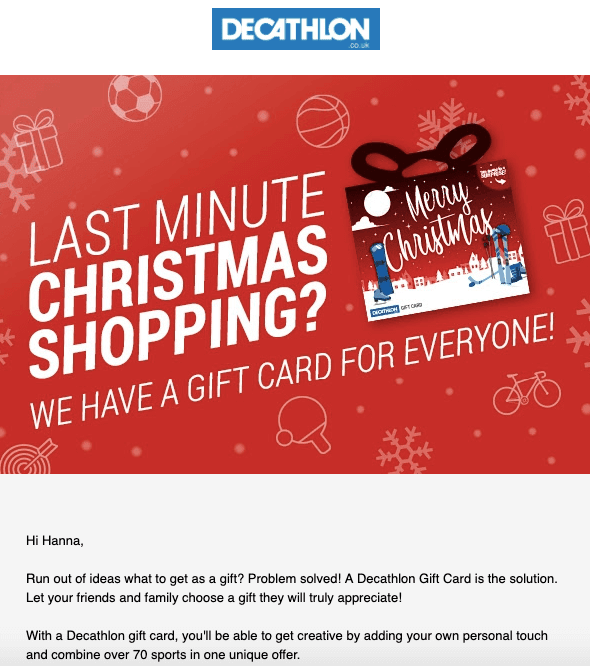 Remember to write a respective subject line.
On the very holiday, you may send a greeting card to all active users just to show your appreciation.
Calendar of big holidays worldwide in 2019-2020
Stripo has prepared a number of templates for most of these holidays. Examine them, pick one and customize it according to your brand style — build festive emails to reach out to customers in no time.
Halloween 2019 — October 31.
Thanksgiving — November 28.
Black Friday — November 29.
Cyber Monday — December 2.
Christmas Day — December 25. Most Western Christian Churches.
New Year — January 1.
Christmas Day — January 7. Most Orthodox Churches.
St Valentine's Day — February 14.
Women's Day — March 8 (in Eastern Europe alone).
St Patrick's Day — March 17.
Catholic Easter - April 12.
Orthodox Easter - April 19.
Mother's Day — May 10.
Memorial Day — May 25.
Father's Day — June 21.
Independence Day — July 4 (in the US alone).
Labor Day — September 7 (in the US alone).
Halloween 2020 — October 31.
Final thoughts
We are convinced that these tips will help you run more powerful and effective holiday email campaigns. For more holiday email examples, please refer to the related blog post.
Use prepared HTML email templates to save time on crafting holiday emails.